Today I would like to tell you about RoxyPenguin Vocabulary Builder app, and I must say, it's a nice tool for language enthusiasts and learners alike. This app offers a bunch of features that make it a must-have for anyone looking to expand their vocabulary and language skills.
One of the standout features of this app is its support for up to 50 different languages. This wide range of language options sets it apart from many other language-learning apps on the market.
The app seamlessly combines learning with entertainment through its fun mobile game. With over 20 exciting game levels, it keeps you engaged while you build your vocabulary. The gameplay is not only enjoyable but also effective in reinforcing your language skills.
The personal dictionary and custom translations feature are incredibly handy. You can tailor your learning experience to focus on words and phrases that matter most to you, ensuring your progress is both relevant and efficient.
I love the daily reminders that keep me on track with the words I'm learning. It's a great way to establish a consistent learning routine. Plus, the widget provides quick access to the main features, making it easy to practice and learn on the go.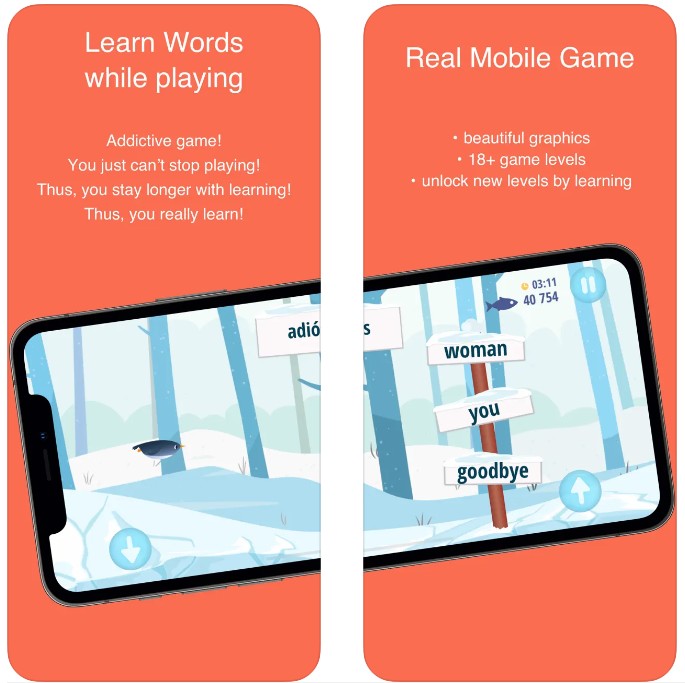 The app's beautiful and informative dashboard is a visual treat. It provides a clear overview of your progress and learning goals, making your language journey all the more engaging.
RoxyPenguin even offers text-to-voice functionality, allowing you to hear the correct pronunciation of words, which is incredibly useful for language learners.
What's more, the app includes cool stickers with idioms about languages for iMessage, adding a touch of fun to your conversations.
Lastly, the data backup feature ensures your progress is never lost, providing peace of mind as you embark on your language-learning adventure.
Considering everything mentioned above, RoxyPenguin Vocabulary Builder is a versatile, informative, and entertaining language-learning app that caters to learners of all levels and interests.
RoxyPenguin Vocabulary Builder is an educational app designed to enhance your vocabulary and language skills in an engaging and interactive way. Whether you're a student looking to improve your word knowledge or a language enthusiast, this app offers a fun and effective method to expand your vocabulary.
The app features a wide range of vocabulary lists, allowing you to choose specific categories or topics that interest you. With over 1,000 lists available, you can focus on areas like business terminology, SAT words, or even vocabulary in various languages.
RoxyPenguin employs a unique approach to learning words by providing definitions, example sentences, and synonyms. It also incorporates gamification elements to make the learning experience enjoyable. You can test your knowledge through quizzes and games, making the process of acquiring new words both challenging and fun.
Additionally, the app supports various languages, making it accessible to users around the world. Whether you're a native English speaker or looking to improve your English skills, RoxyPenguin Vocabulary Builder is a versatile tool.
While the app is free to download and offers a wide selection of vocabulary lists, it also offers a premium subscription that provides additional features and ad-free usage.
In summary, RoxyPenguin Vocabulary Builder is a valuable app for anyone looking to enrich their language skills with a diverse range of vocabulary lists and engaging learning activities.
With its extensive language support, engaging gameplay, and comprehensive features, it's a valuable tool for anyone looking to enhance their language skills.