Shells Collector is a cute little game that provides a truly enchanting experience. This is a perfect blend of relaxation and challenge.
You may also like: 15 Free Physics Based Games for Android & iOS
The gameplay is simple yet engaging. Basically, it's a serene and visually pleasing game that transports you to a tranquil beach, where your sole mission is to collect beautiful seashells and group them in threes. You move between seaside locations under the palm trees to collect shells in all of them. Different shells give you different amounts of coins.
The visuals in this game are vibrant and sweet. The beachscape is picturesque, with golden sands, blue waters, and colourful shells – everything to transport your mind to a relaxed state, as if you were at the seaside. I enjoyed the vibrant pastels of the game: the colour palette alone helps you feel like you're on vacation.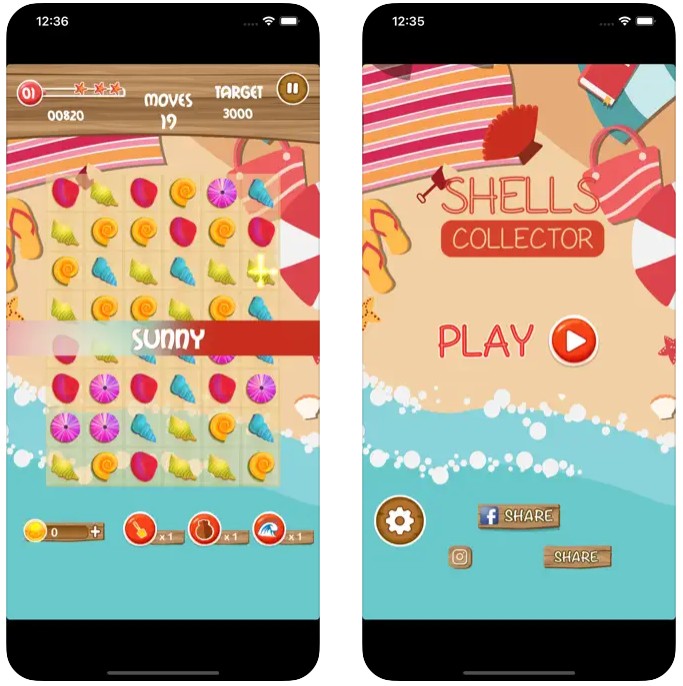 It's a bit like a relaxing puzzle game, where you need to strategize your moves to maximize your score. To improve your score and climb up the leaderboards, you collect coins. Or, alternatively, you can log in daily with Facebook: this adds 500 coins to your score every day. Plus, you can share your results on Facebook: this may add a competitive edge to the game that can keep you coming back for more.
You may also like: 15 Best Strategy Card Games for Android & iOS
The game is free, but you have the opportunity to purchase some extra perks and features. For example, you can invest in a bigger bag to collect more shells.
Shells Collector is suitable for kids aged 4 or older. Also, is doesn't collect any of your personal data, so it's a perfectly safe little game.
To me personally, Shells Collector turned out to be a pleasant and soothing game that provides a perfect escape from the daily grind. It's easy to pick up and play, yet challenging enough to keep you engaged. The beach setting is a true visual treat, and the gameplay is both relaxing and mentally stimulating.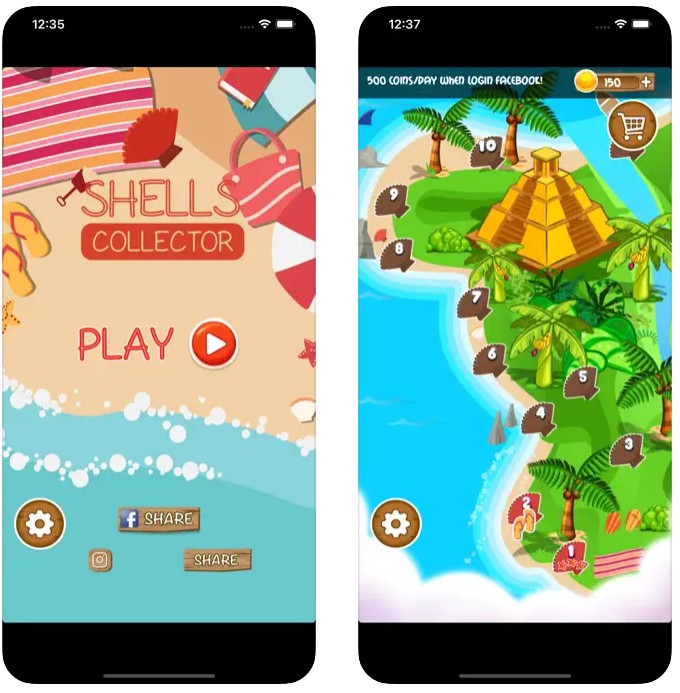 Shells Collector is an interactive mobile app that allows users to learn about and collect virtual shells from around the world. Developed by Pix2Play, this app combines education, exploration, and entertainment to create a fun and informative experience for shell enthusiasts.
Shells Collector offers a virtual collection feature, where users can collect and display their shells. By earning points through various activities, such as identifying shells correctly or completing mini-games, users can unlock new shells to add to their collection. The app uses stunning graphics to ensure that each shell is visually appealing and authentic.
In addition to the educational aspects, the app provides an opportunity for virtual exploration. Users can take a virtual trip to different beach locations around the world and search for shells in realistic environments. The app utilizes augmented reality technology to enhance the experience, allowing users to use their device's camera to find and collect virtual shells in their surroundings.
You may also like: 15 Best Team Buidling Games for Android & iOS
Overall, Shells Collector is a captivating app that combines education and entertainment to create a unique and engaging experience for shell enthusiasts. Whether you are a beginner or an experienced collector, this app offers an immersive journey into the world of shells.