You can find dozens or even hundreds of personal items in every home, especially if you've lived in the same place for several years. Keeping track of them all on your own is quite difficult.
Yet, this is an important issue, especially if you live in a hotbed of natural and other disaster risks. For example, in the event of an earthquake, your personal belongings in your home could be ruined. There are many such situations and they are widespread.
It can be difficult to save things, but you can get a full recovery if you prepare properly. With these best home inventory apps for insurance, you can be sure to get all the help you need in the aforementioned situations.
If you have to find out the value of your home inventory, then try these best home value estimator apps.
NAIC Home Inventory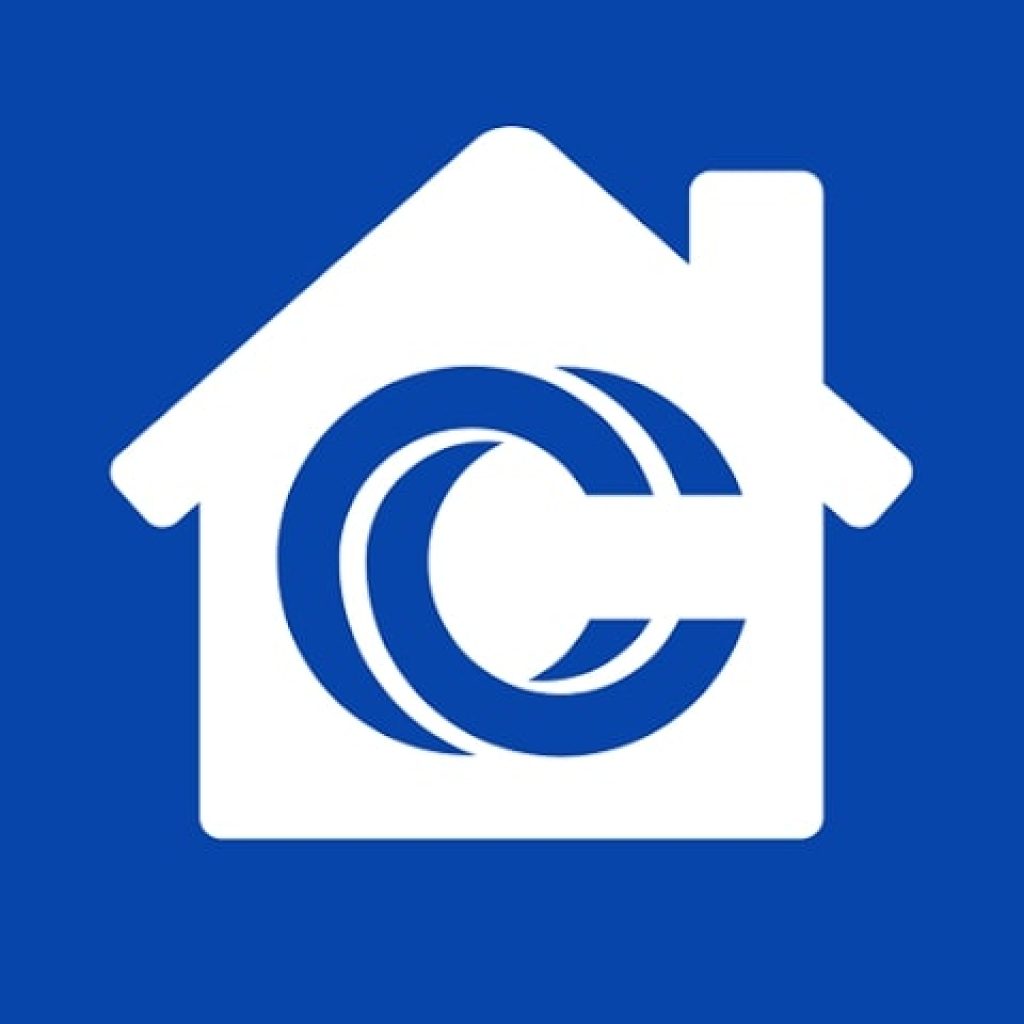 NAIC Home Inventory is a program that will give you the ability to take pictures and scan barcodes of your household items.
The app also has tips on weather-related disasters and insurance claims. Reimburse all losses through your insurance company.
What's more, you can create home inventory lists through this app. You'll be able to collect items and arrange them by room, and category.
Don't forget to do a code scan so you know all the information you need about your inventory. With this program, you will always be prepared for the unpredictable situations of renters, homeowners, and disasters.
Besides, if you want to file a claim for anything, the app will work as your mentor for the next steps you need to consider or take.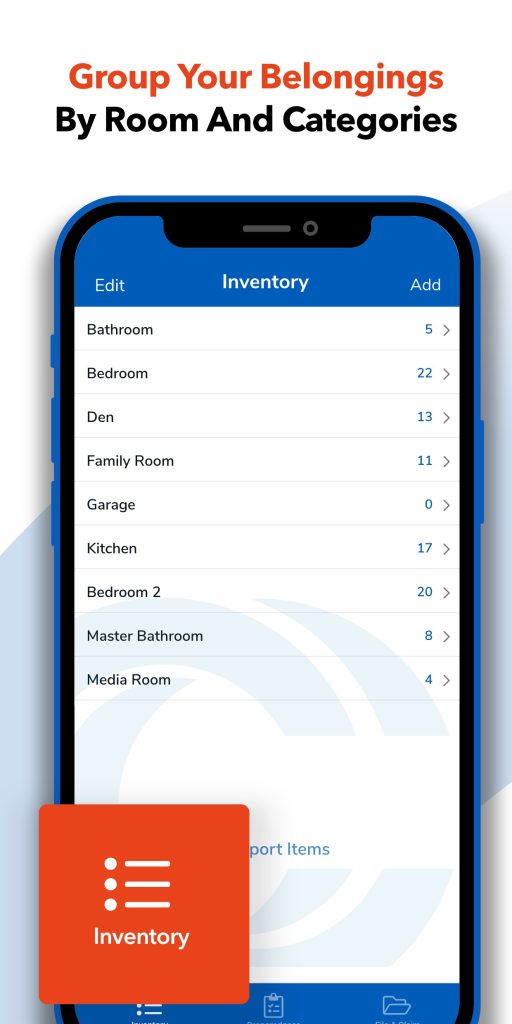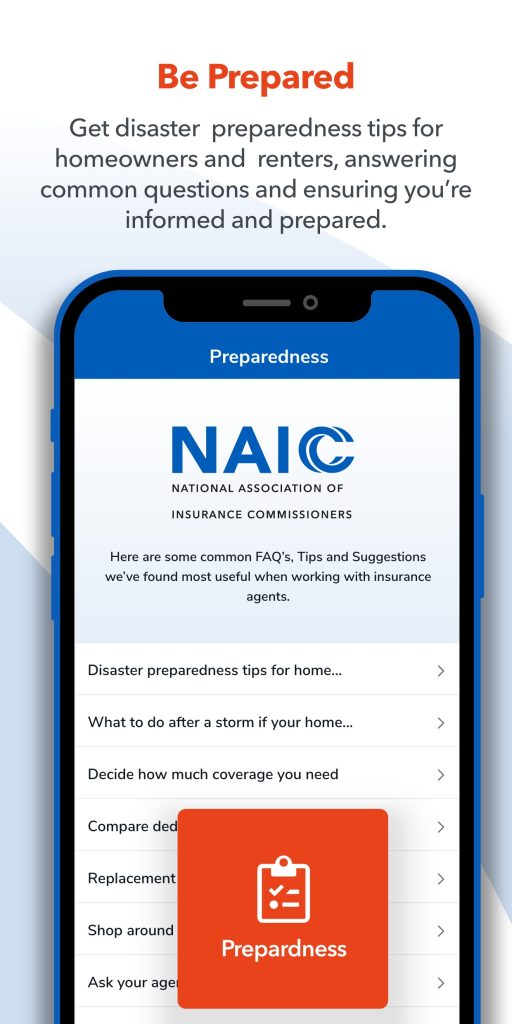 It will also provide you with the resources you need to complete the process. The app takes care of consumer protection. All the necessary tools are provided to help you understand claims and insurance.


You may also like: 9 Best Property Maintenance Apps for Android & iOS
HouseBook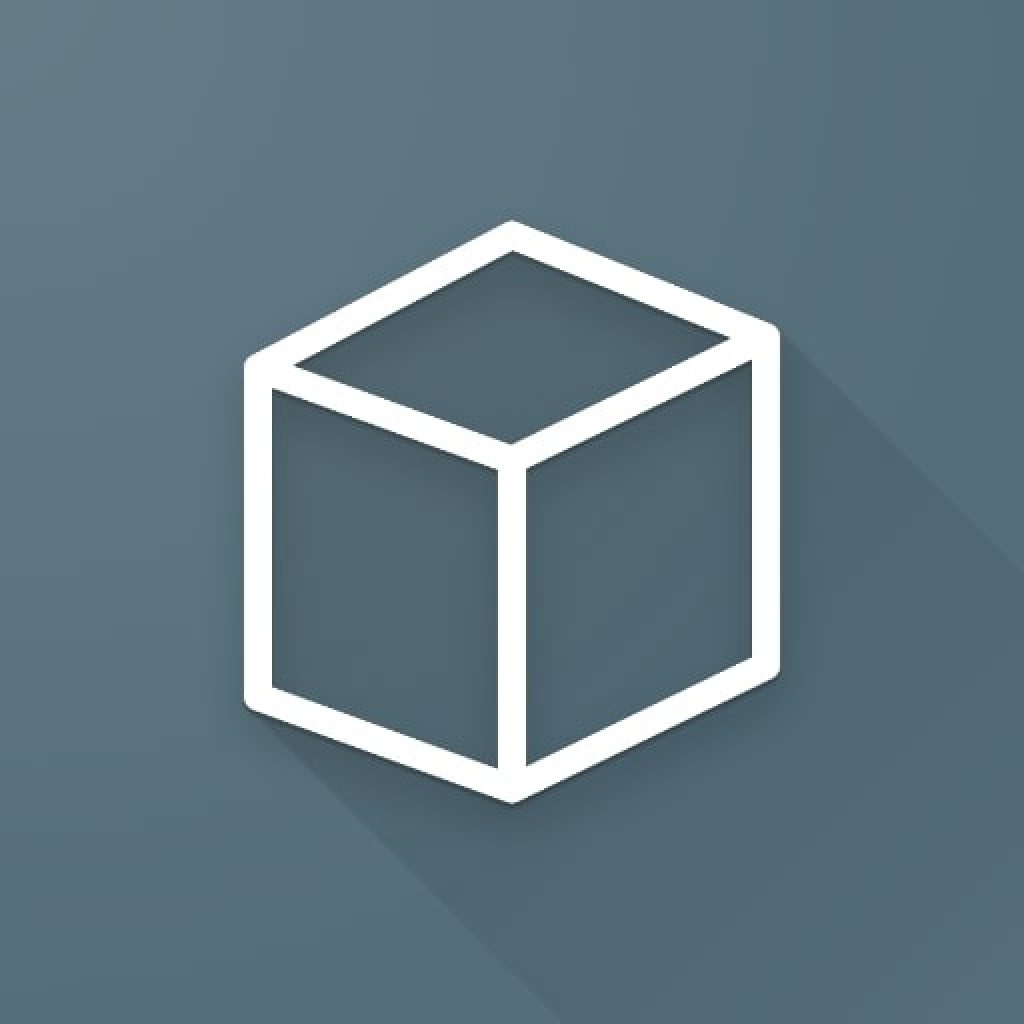 HouseBook is a program for keeping track of your home belongings. You need to enter all the data of things, take pictures, and scan them into the app.
In the case of the loss of a mobile device, all data will remain in the system's cloud. Besides, the entire inventory can be viewed through Google Assistant from different countries and languages.
If desired, it will be possible to share a link to your lists with family, and neighbors and let them add their inventory.
This app is handy in that you can add a log there, taking into account all the things you might need insurance for. What's more, you'll be able to share your living space with renters and show them all the items you have. Share the exact equipment with people.
The app will also make it easier to find things around the house, and ask for the house book in the voice assistant.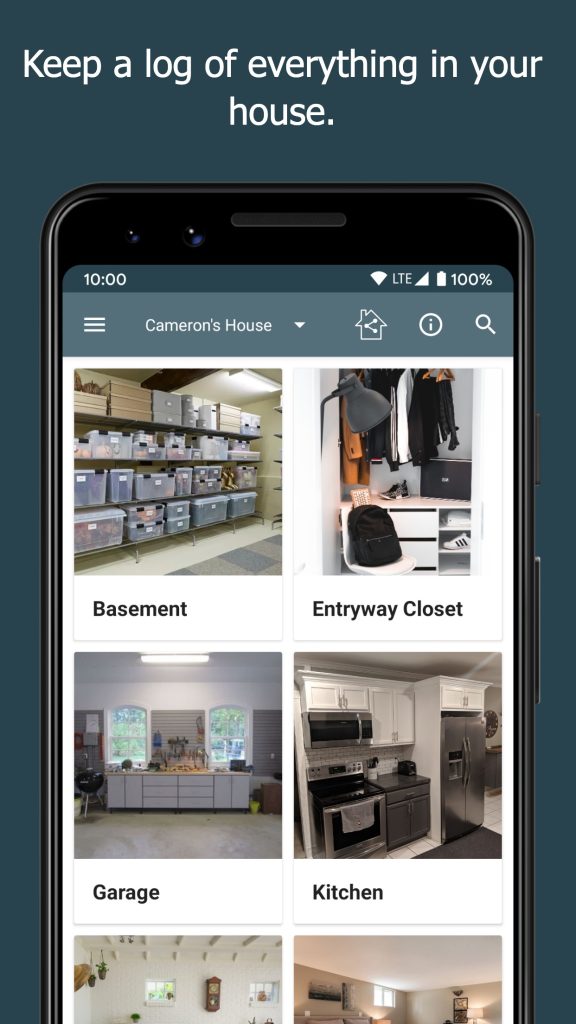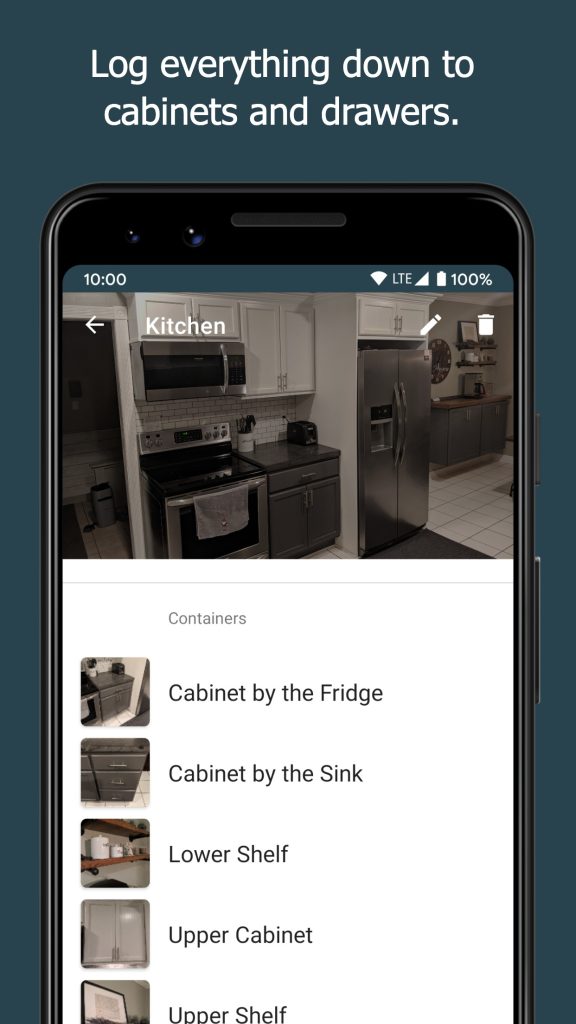 Note that HouseBook only accepts items that are permanently in the same space, so you can't drop off your smartphone or money.


You may also like: Best Home Inventory Apps With Barcode Scanner
Homer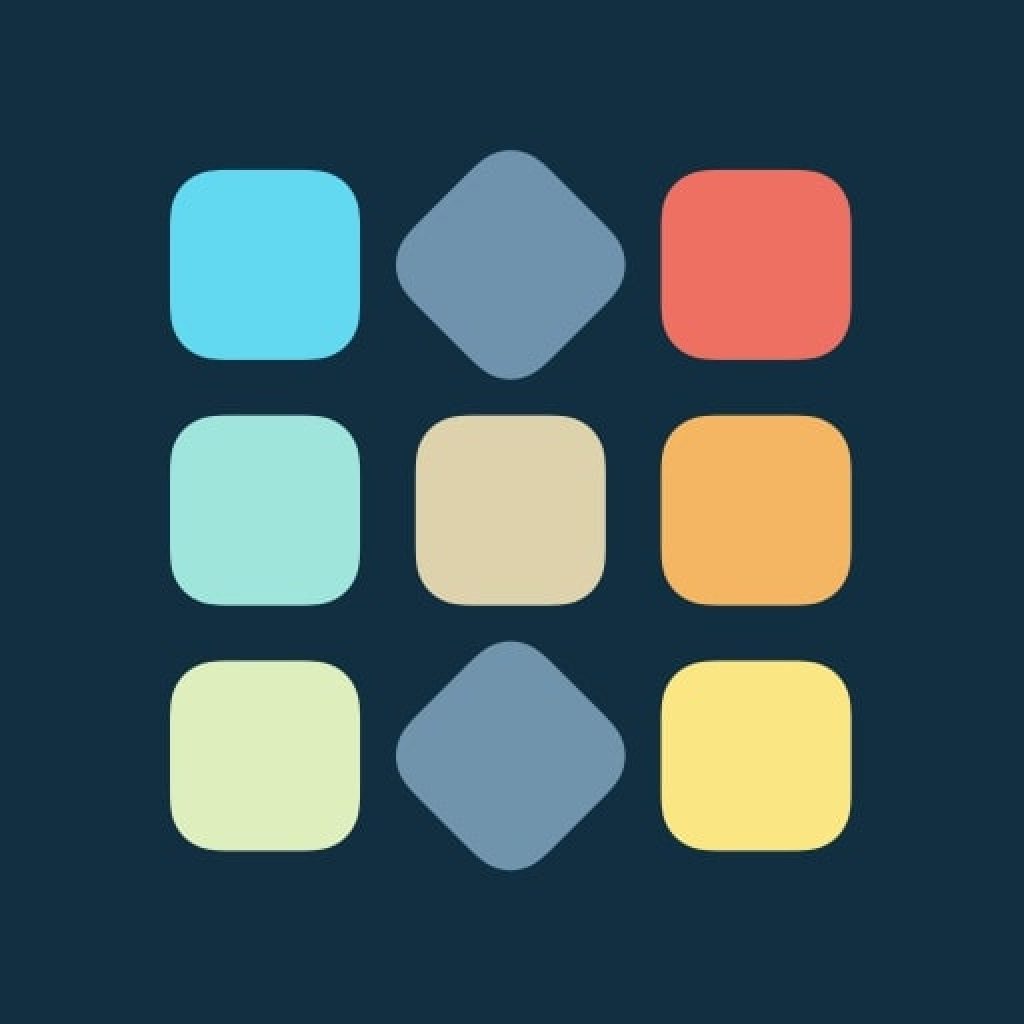 The Homer app lets you add all your family, house, and other important information to your system.
Data will be stored at all times, no matter where you are, you can keep track of everything.
Organize all files and necessary documents that have a personal purpose. Put all home-related documents in one place, everything related to the garden, and the kids, in other folders.
Besides, you will be able to add extraneous, interesting information, tips, and links. Add everything you need and enjoy all the benefits of the app comfortably.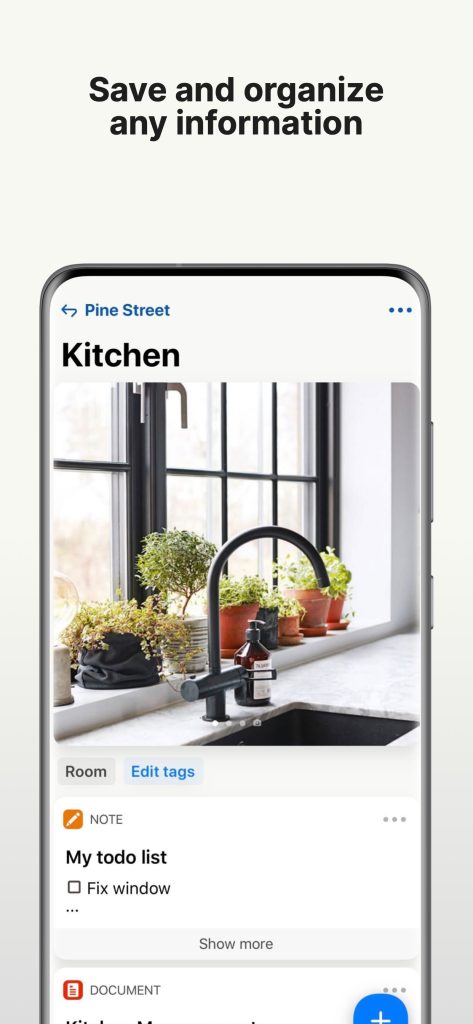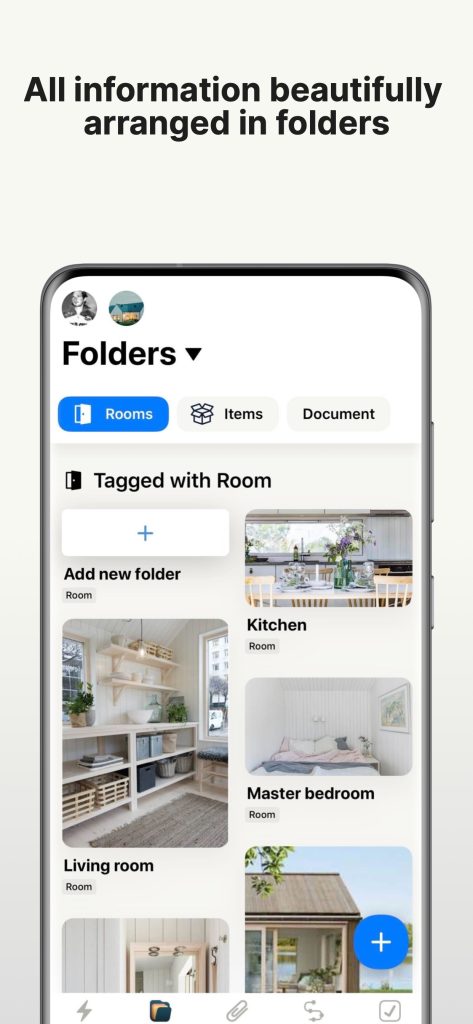 Don't worry about security – your data is safe. Install Homer and get all the inventory you need.


Sortly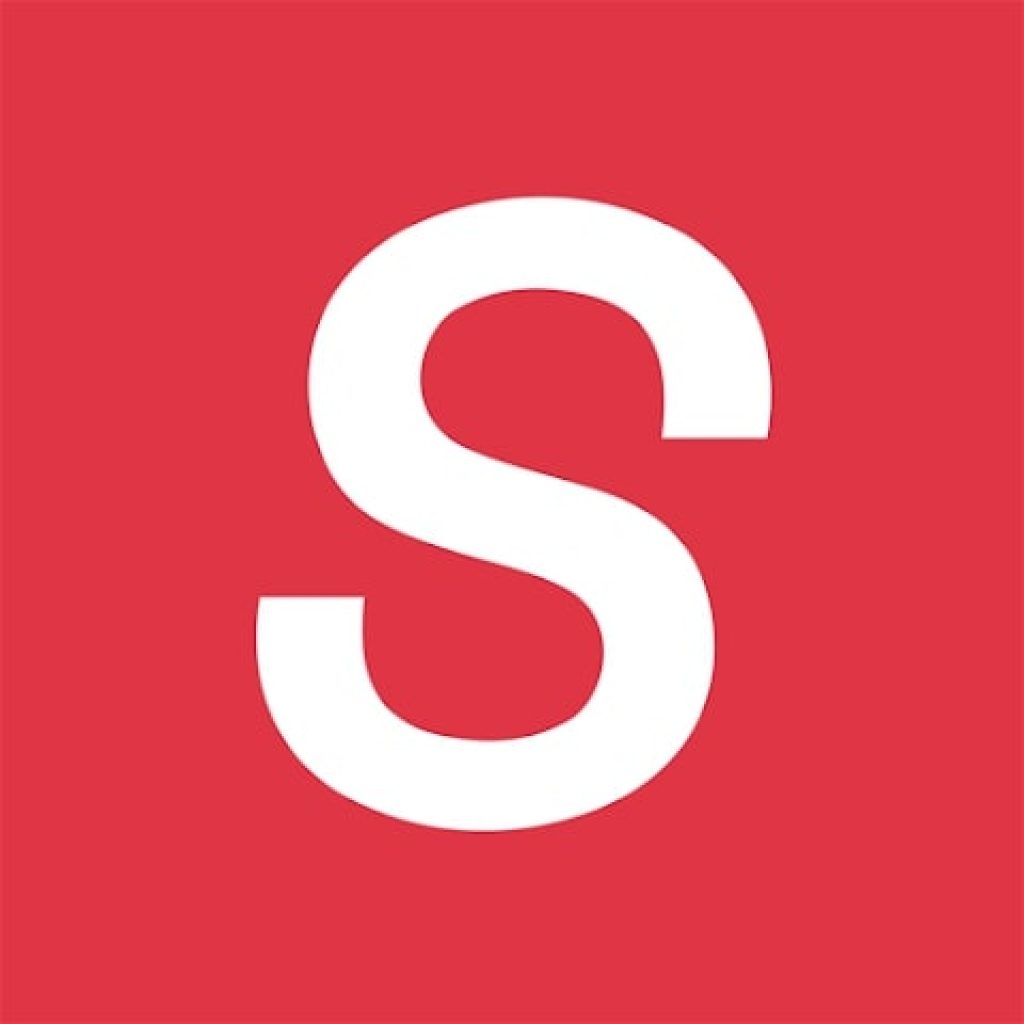 Sortly is an inventory app that you can add absolutely anything to. This is exactly the kind of program with which you can manage your home stuff without too much trouble.
Keep track of the location at all times. Sortly starts up in minutes, it requires no special guidance or training. The program is used by many businesses.
It's worth noting that the system works with a network connection. Add items that are in every room of your apartment. The data entered into the app is synchronized in the cloud, which is convenient.
Browse your inventory through snapshots, and sort documents by subject. What's more, be sure to scan barcodes and add to items so there's no confusion. Take advantage of special labels that will automatically combine folders.
Customize your logo for your team or customers. Set up alerts in the app so you don't miss anything. What's interesting is that you can keep track of your users here.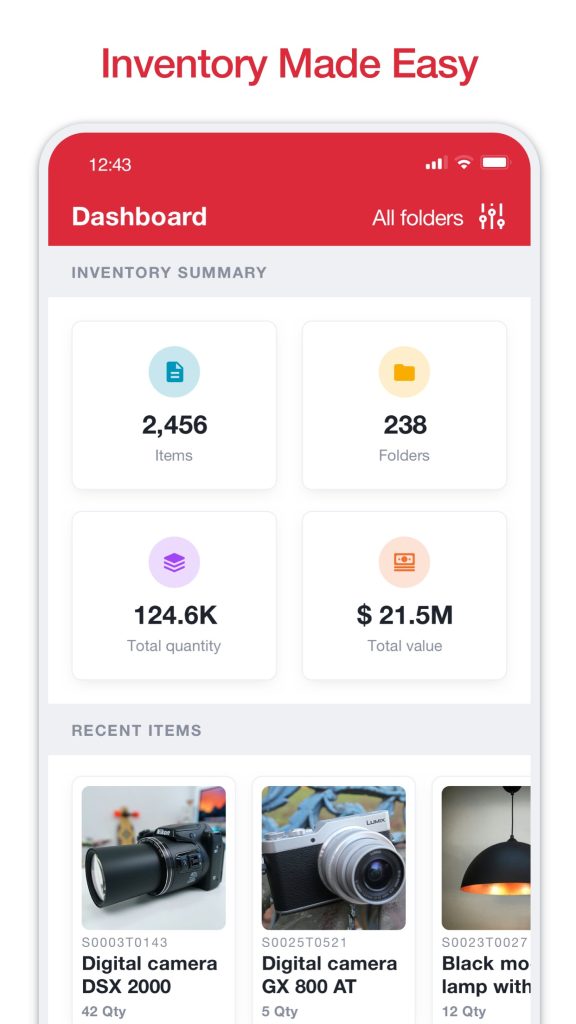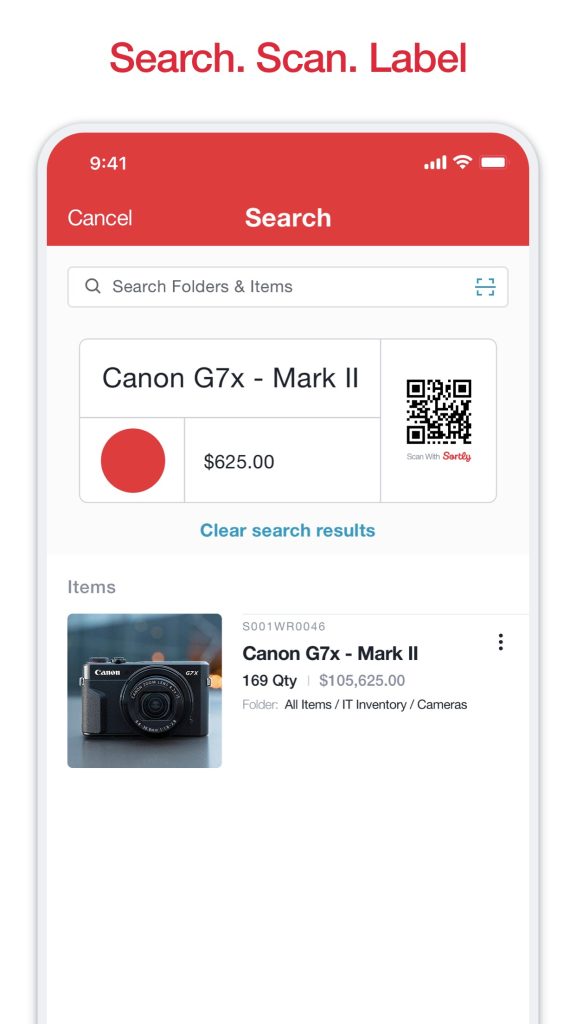 No wonder Sortly is so popular because you can get your lost data back within 90 days and you can import and export data here.


Zoho Inventory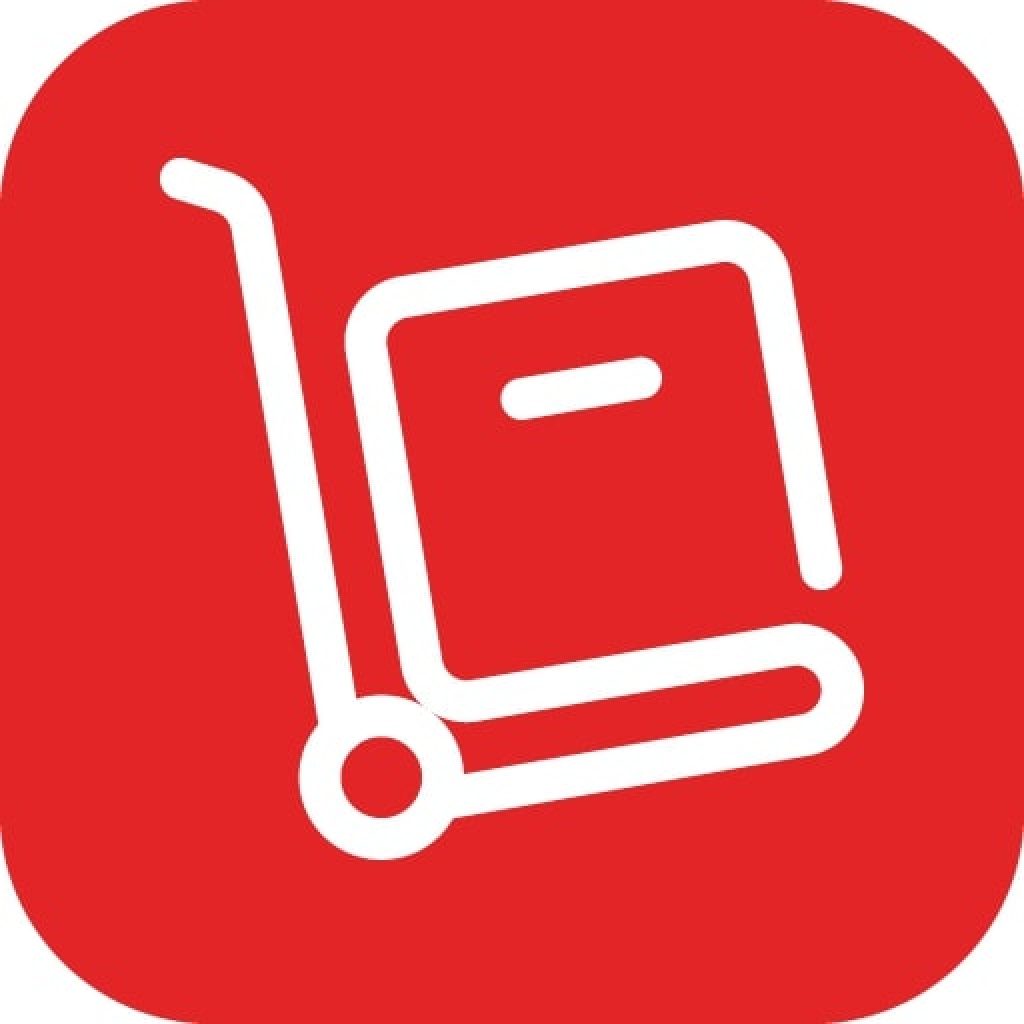 The Zoho Inventory app allows you to efficiently and quickly manage all the things in your home. No longer will you have to use spreadsheets as it is a long process.
The program perfectly manages various contracts, receipts, and other data. It has been downloaded by more than 50 million users around the world, and this is not surprising, as the system is user-friendly.
Before using it, consider all the various management features. You will be able to track the total amount of items sold, you can always create sub-groups of inventory.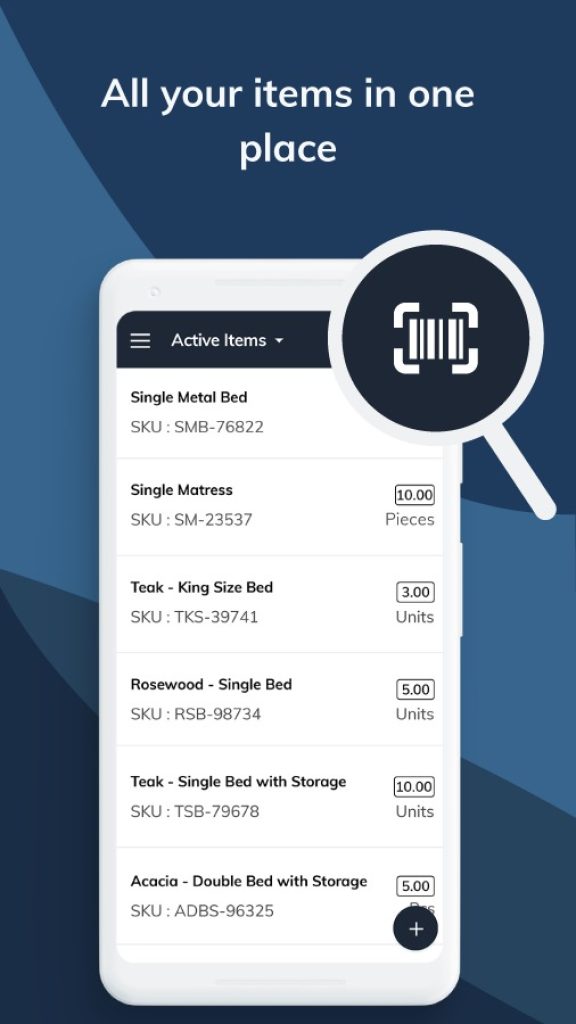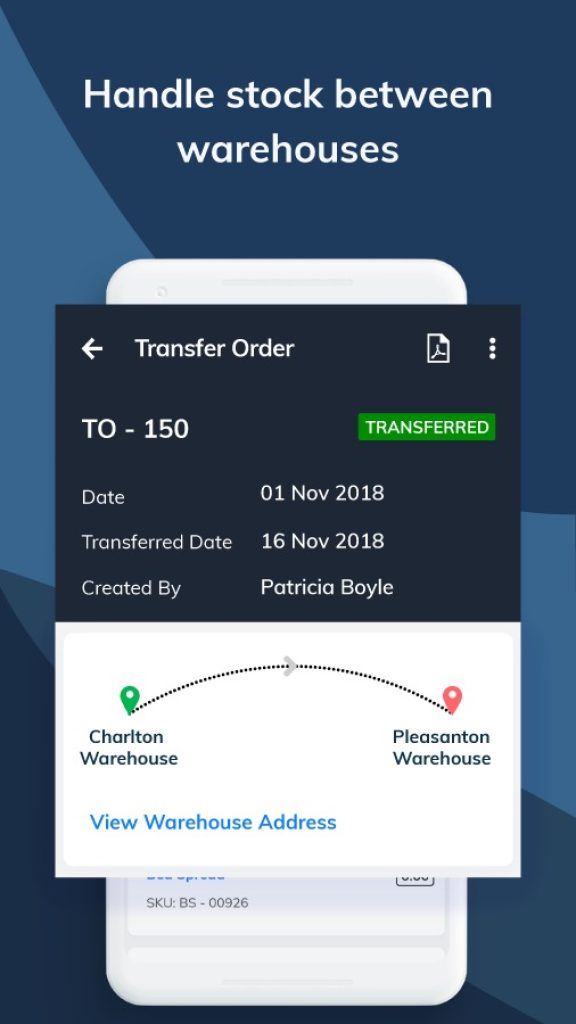 What's more, scan items, and find out information from photos. To send lists with home items conveniently, make shipping labels. Download Zoho Inventory, explore all the features of the app, and enjoy.


My Stuff Organizer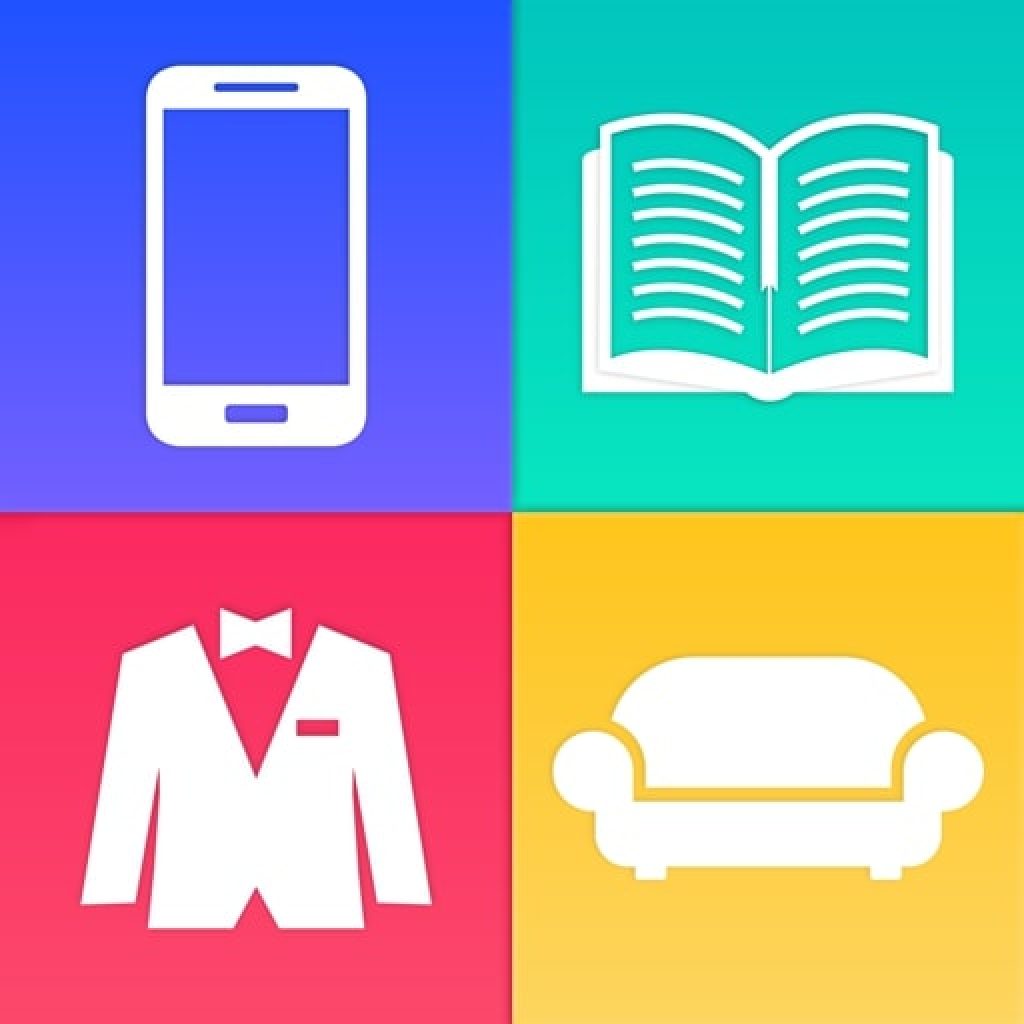 My Stuff Organizer is a handy app for managing your home's inventory. It's a really useful program that will put your room in order by knowing what's in what place. Do you often lose things? Then you need this app.
Keep track of large and small items, you will not be able to lose anything, using properly this service. The program has some interesting features. To get all the information, use the monitoring.
It is possible to switch between functions using the tab bar. What's more, you can add product barcodes here to examine detailed information. Keep everything here that is in your house all the time.
The app is also handy in that you can always keep track of people who have borrowed your items. You should like the feature of tracking money spent on items you've purchased.
Keep track of warranties, prices, and place of purchase. Regardless, you can always type the item you need into the search and the item generator will find similar items nearby.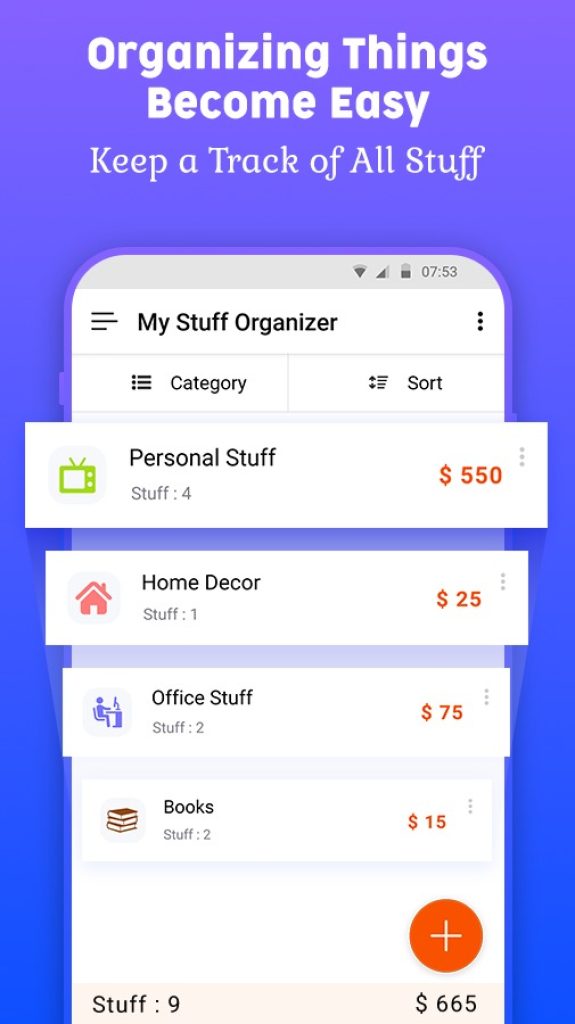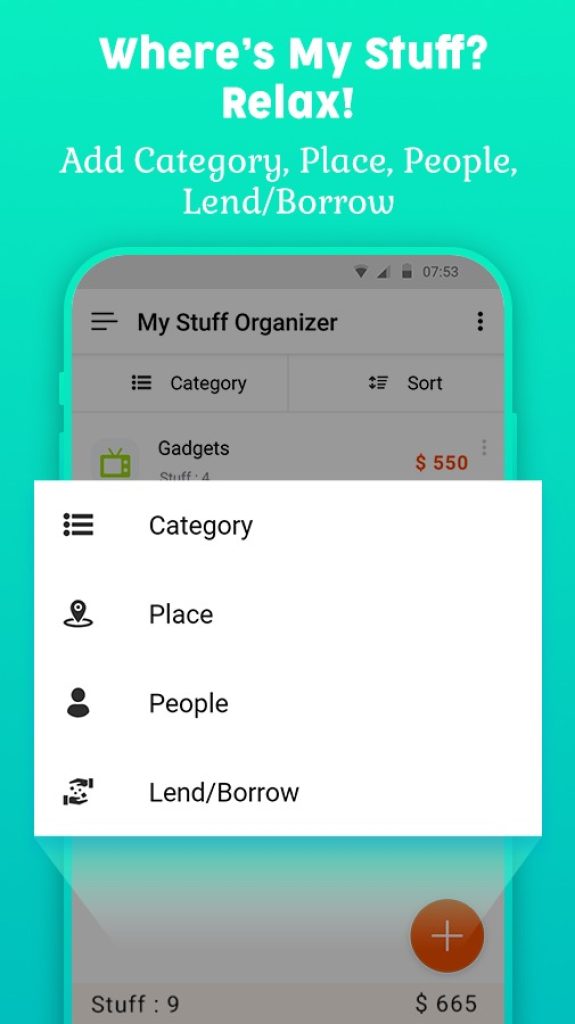 Back up your inventory so you don't lose everything you need if you lose your device.


You may also like: 11 Best Home Security Apps for Android & iOS
Encircle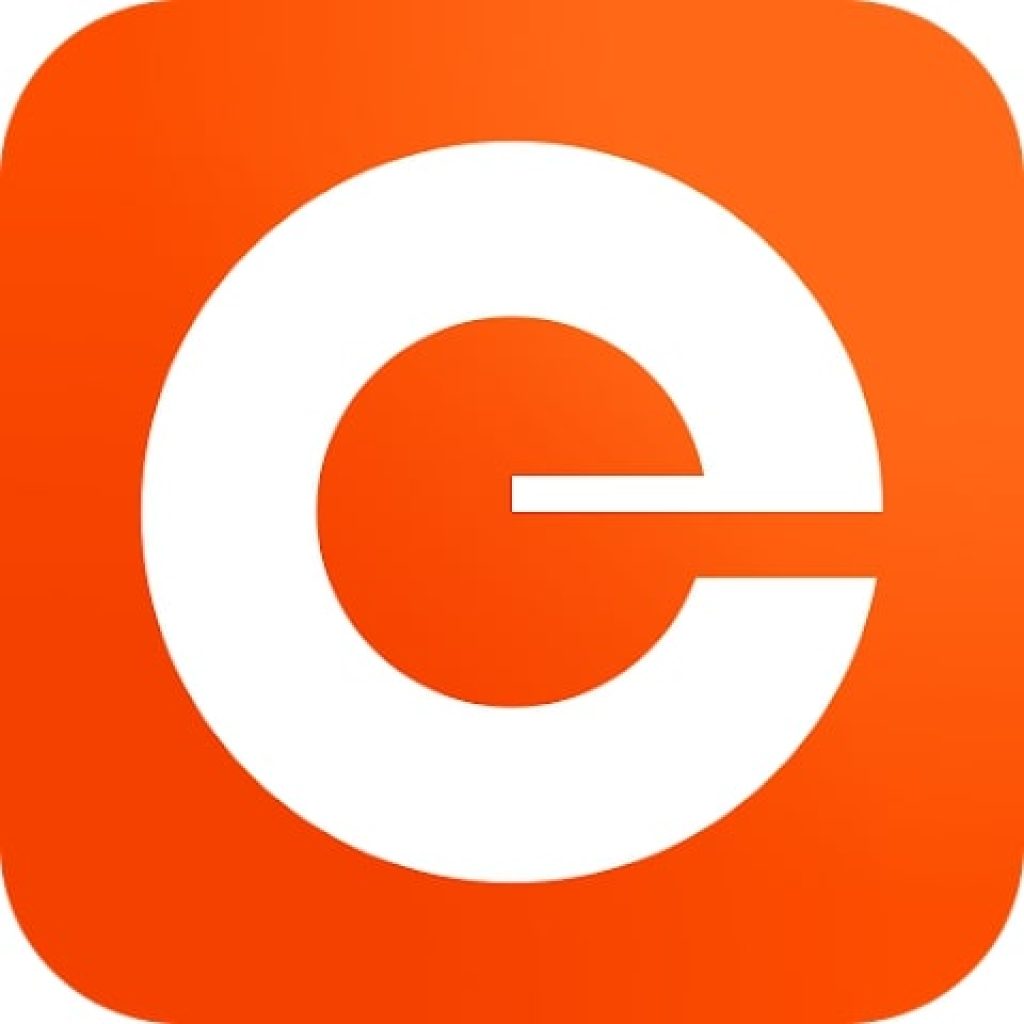 Encircle's a unique program for home inventory and insurance consultants. The app has many tools for reconciliation and detailed scope on your smartphone.
Here you can quickly create reports in PDF. You won't be able to lose anything because there's a special process for tracking. Always know all your stuff that is within your living space.
This app is great as a moving aid. Besides, this app is also capable of conducting trips and virtual check-ins.
You will also be able to keep all your important data in one place and not lose it. Use the functions here safely in flight mode.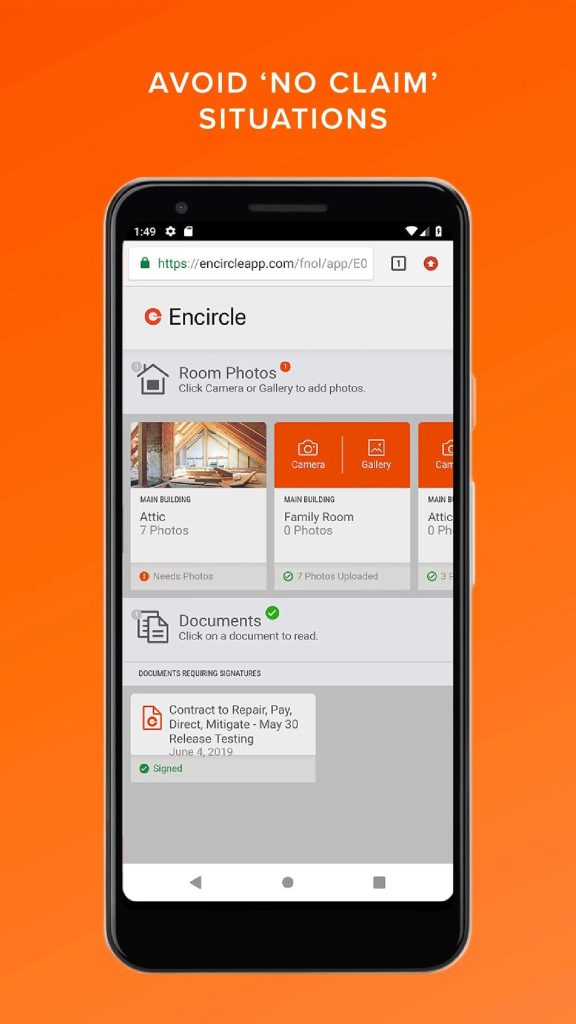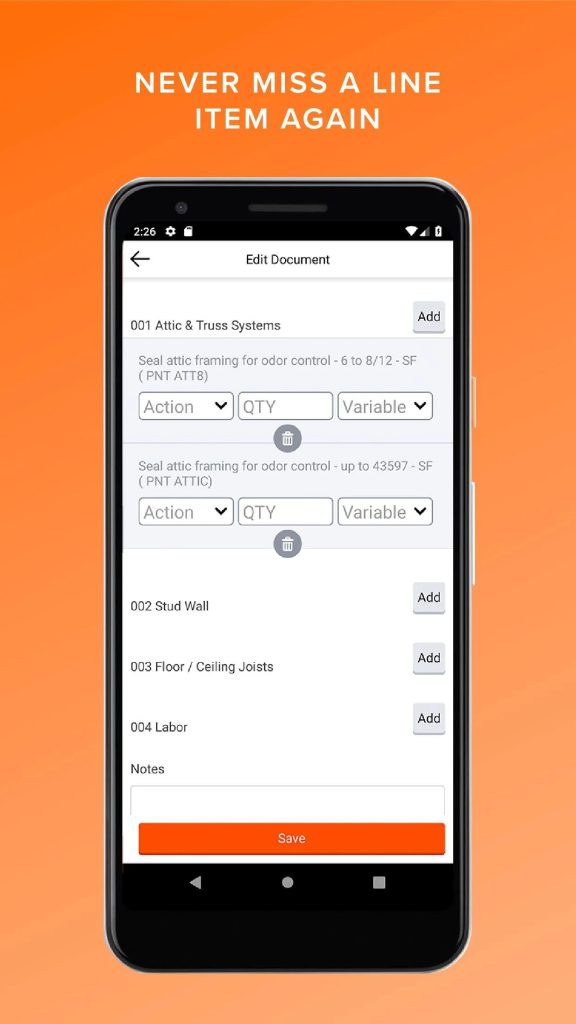 It is worth noting that in Encircle you will be able to choose the position of contractor, insurance specialist, or homeowner.


All My Stuff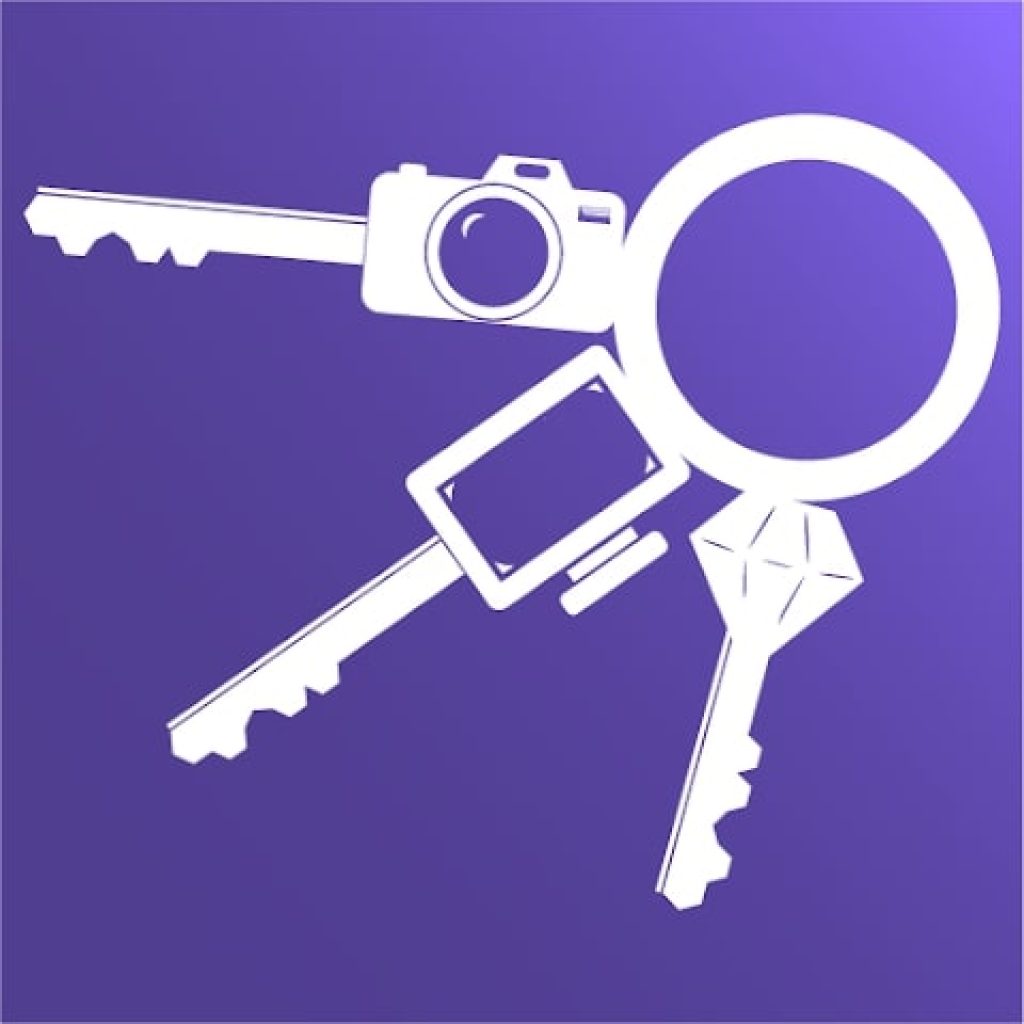 All My Stuff is a program for organizing things around the house. This app will remember for you where and what is lying around.
If you have always forgotten the location of items and kept looking for them, this app is perfect for you. No need to move anything, the system will remember all the things in real life.
Use the convenience of the program anywhere. Add rooms, hallways, parking lot entrances – all the areas where you keep your stuff.
Beautify the area and make it just like in real life. Then, having arranged everything, start adding inventory by entering all the requested data, including snapshots.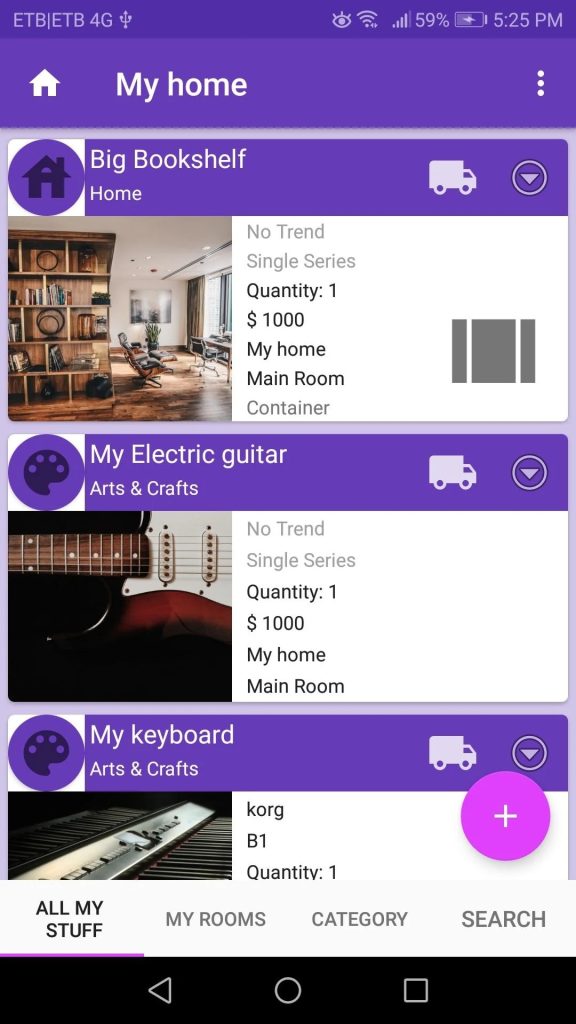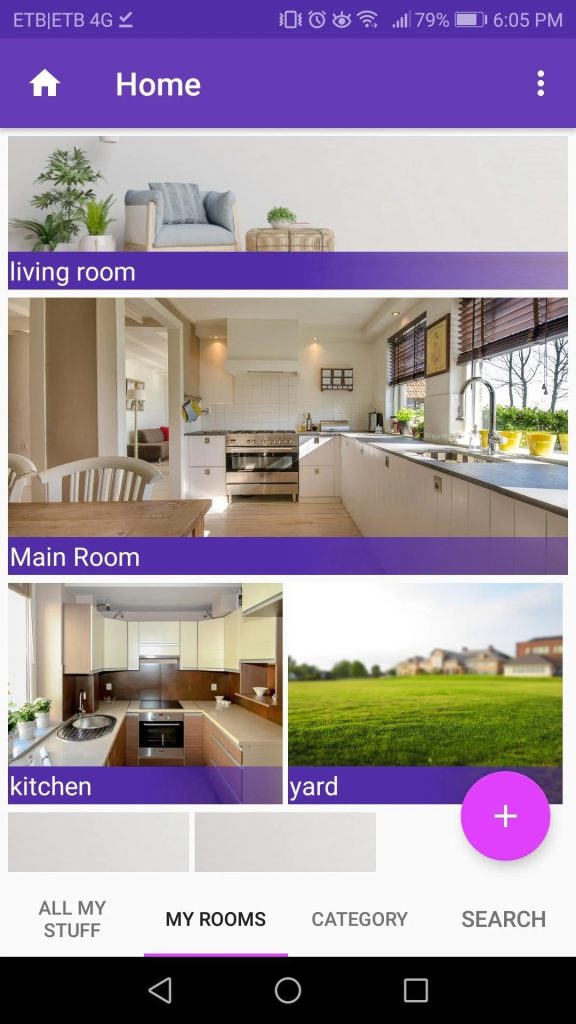 If suddenly there are too many things, you can move them, using a special button. Items lying in the same container are controlled with a single tap. Enjoy using the clever All My Stuff program.

StuffKeeper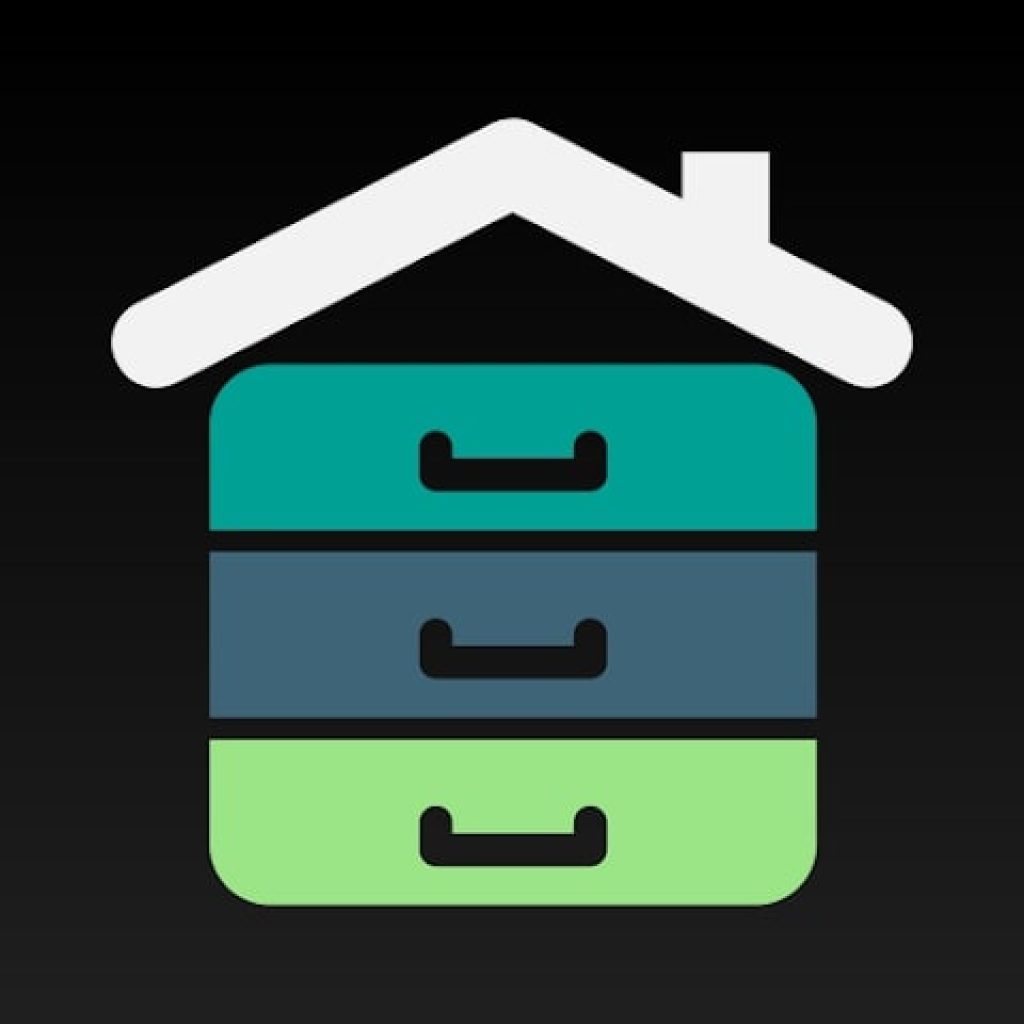 The new multifunctional app StuffKeeper is great for keeping things safe and finding them.
Such a program can always come in handy and help in the difficult moment of losing some inventory. Quickly find clothes, keys, accessories, and more.
Now you won't have to spend a lot of time searching, trust the smart system. StuffKeeper will also help you avoid spending money to buy a lost item.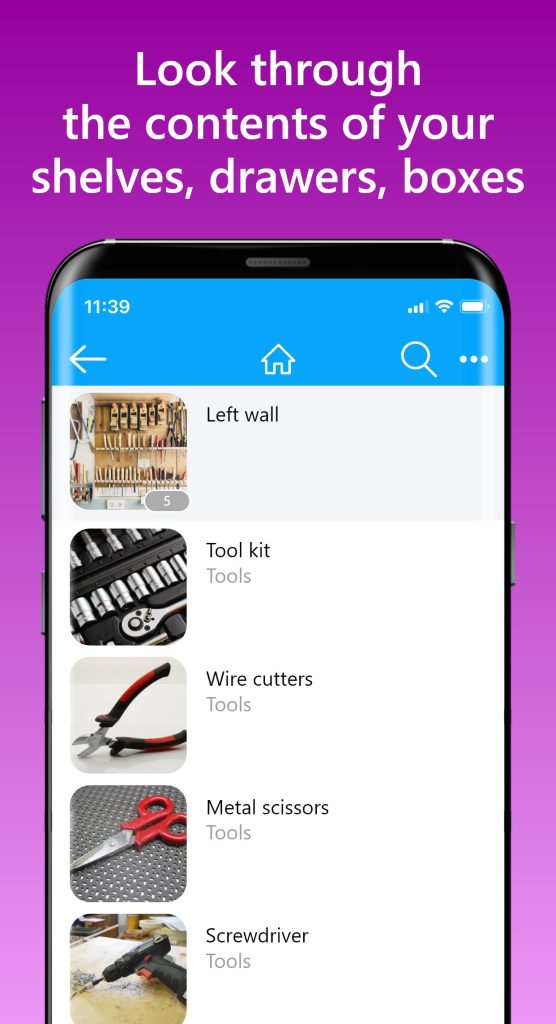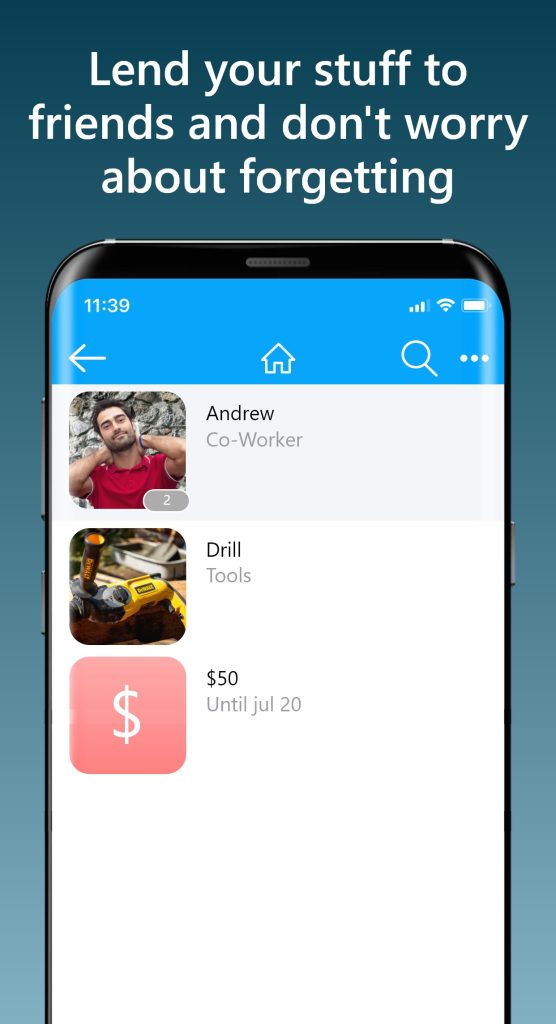 It's also a great service for preventing the loss of possessions in the event of some kind of disaster. You will be able to use it to contact your insurance company.


Itemtopia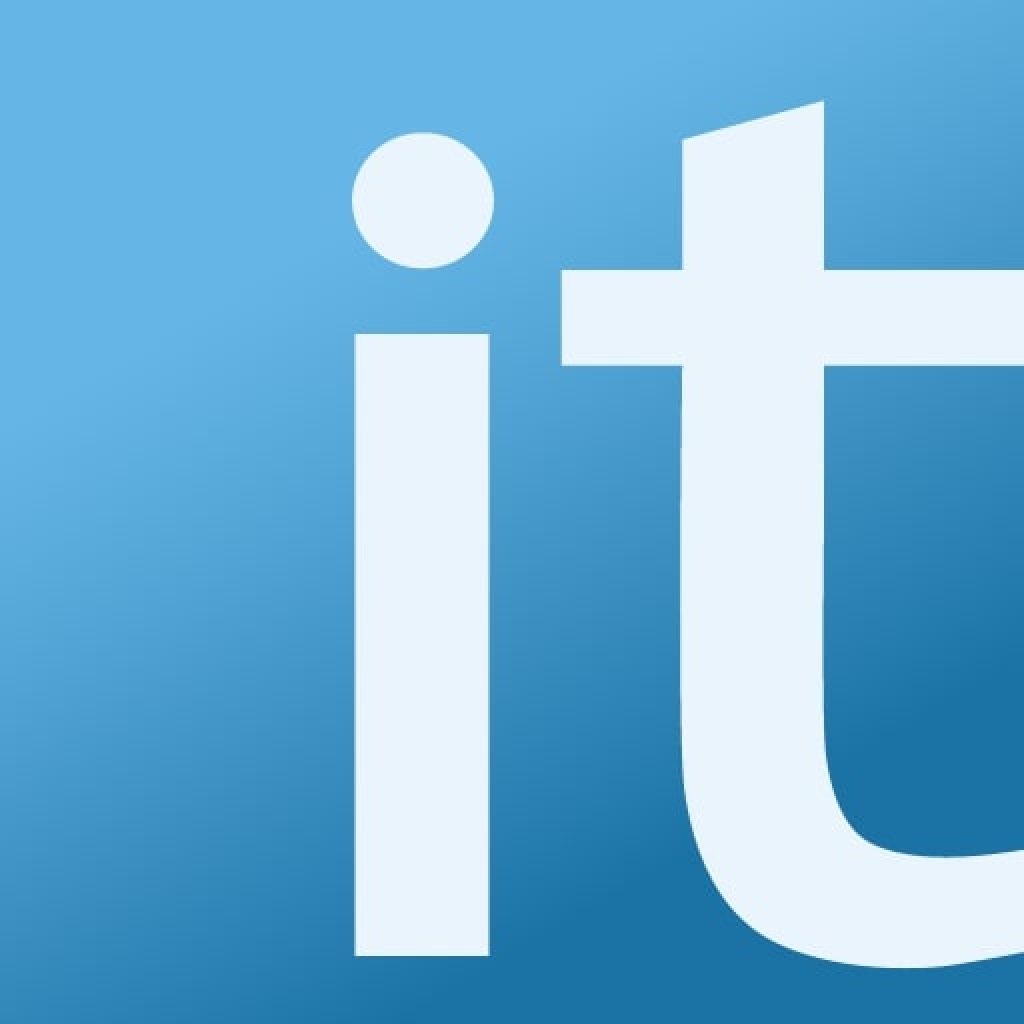 Itemtopia is a new software for collecting information about items in the house. Once you install the app, it will start keeping track of everything about your possessions.
Optionally, it will additionally be possible to take pictures and upload documents and notes. No wonder this app is so popular because the program is the leader among all its few competitors in the field of management.
The app has no ads. It is worth noting that to save all the important information, in case you lose your phone, you need to make a backup. There are interesting features here, for example, you can use several devices at once by creating one common account.
The program will track all receipts, all debts, and more. The system has been running for many years, so it's reliable for controlling your life organized.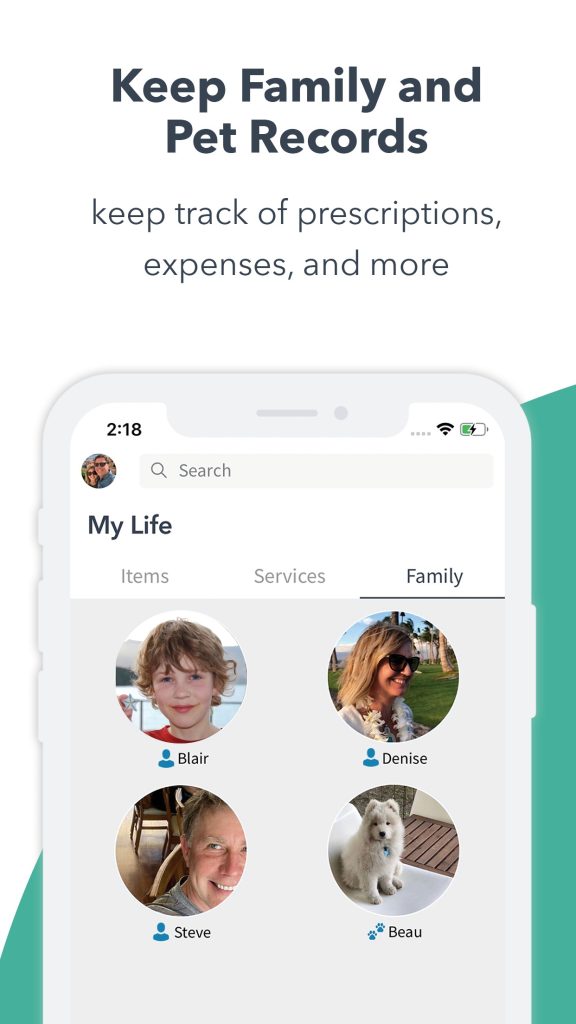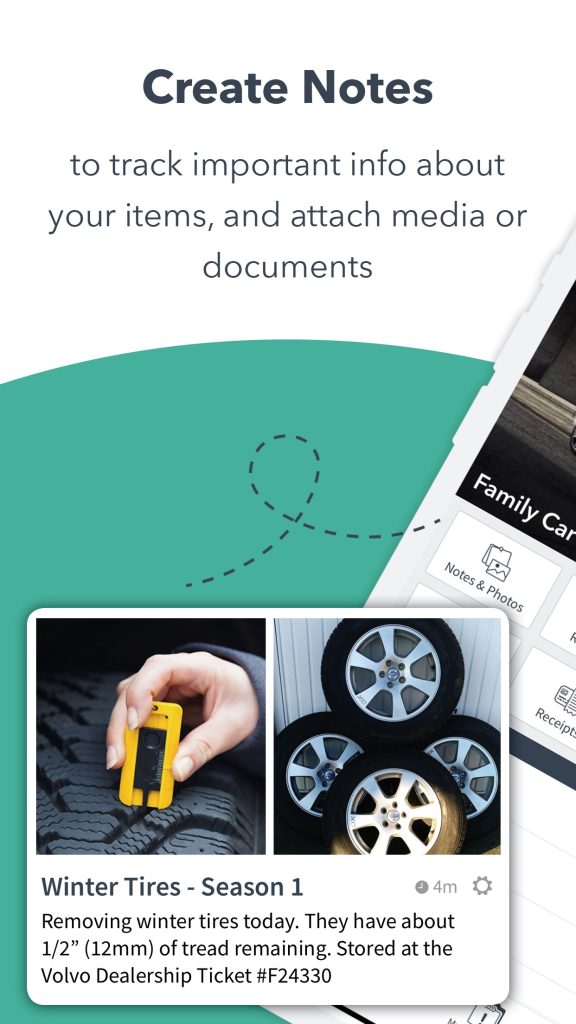 Use the services, track expenses and income, and set reminders. Enter the required query in the search to find what you need faster. The data syncs automatically in the program. You can enter Itemtopia with airplane mode enabled.


You may also like: 11 Best House and Apartment Hunting Apps for Android & iOS
Home Inventory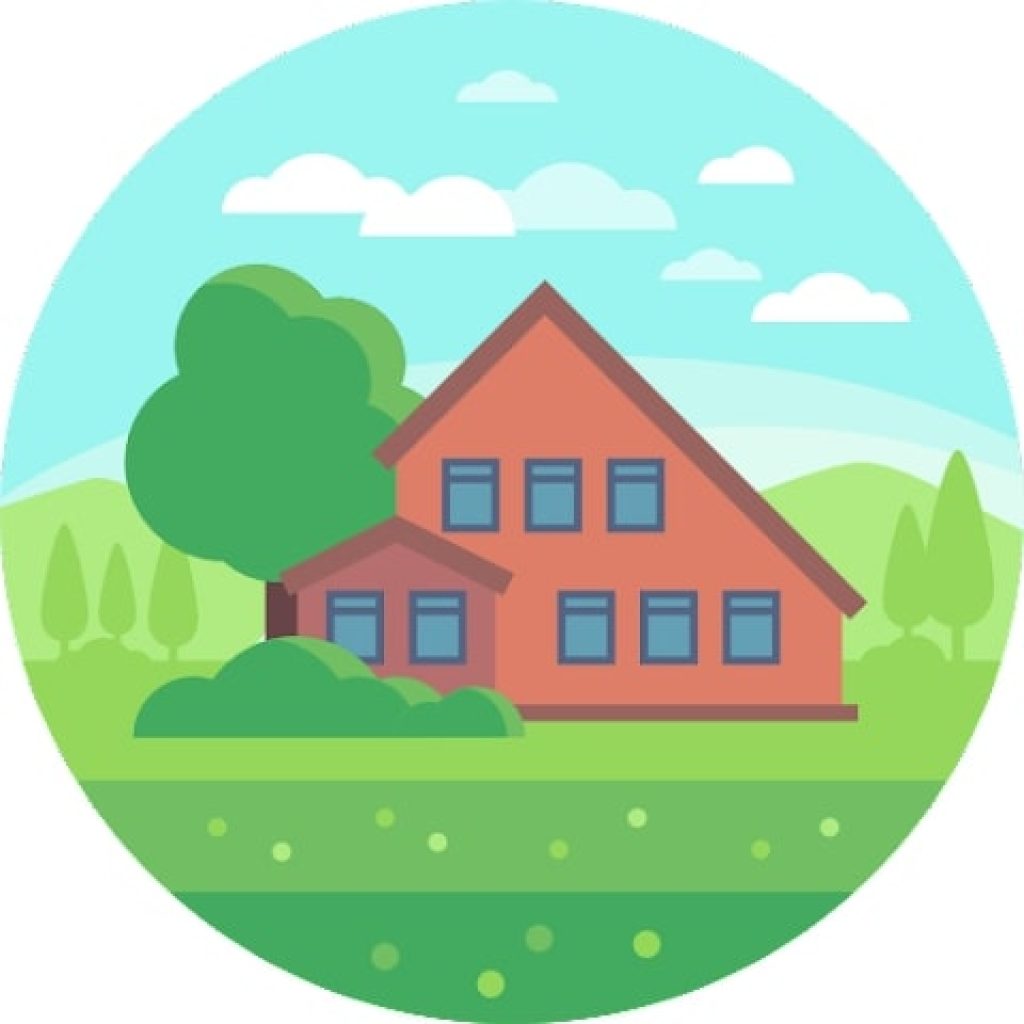 The free Home Inventory program is a reliable tool for keeping track of things in your home. You also need it to keep receipts, various warranties, manuals, and notes.
It's a simple but fairly well-known app that you can trust and start downloading all your data and inventory. Soon you will stop losing things, the system will be aware of the location of every item you have entered into the system.
The design of this app is top-notch, the graphics are excellent, and you don't need to learn how to use it, because the controls are as clear as possible.
Besides, you will be able to create new groups of objects with a mark of its name, but before you enter the name and address of the subject. All descriptions, prices, shelf life, and information should be included too.
Keep your items for years to come in great condition and separate yourself from unnecessary items lying idle. Do import and export all your data, and create reports in a format you're comfortable with.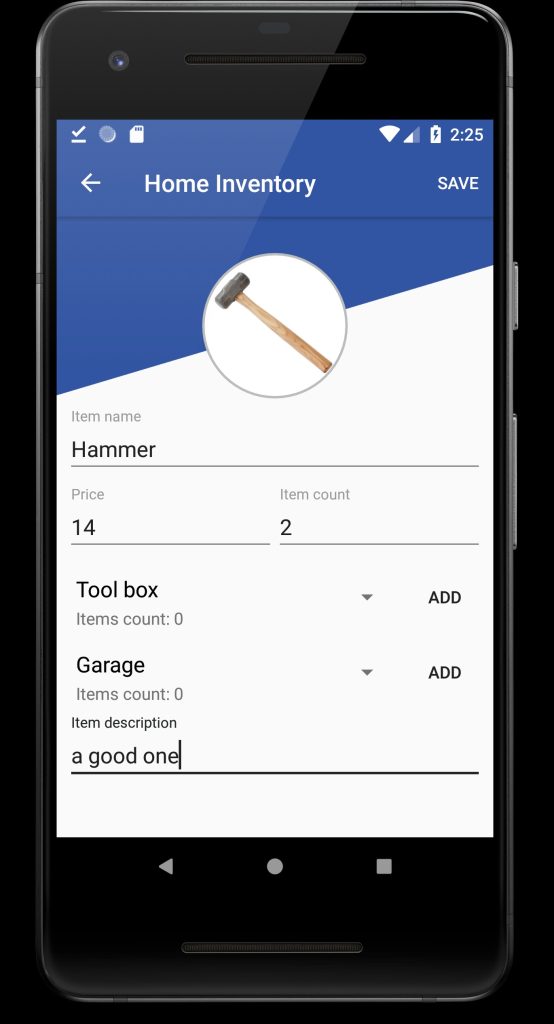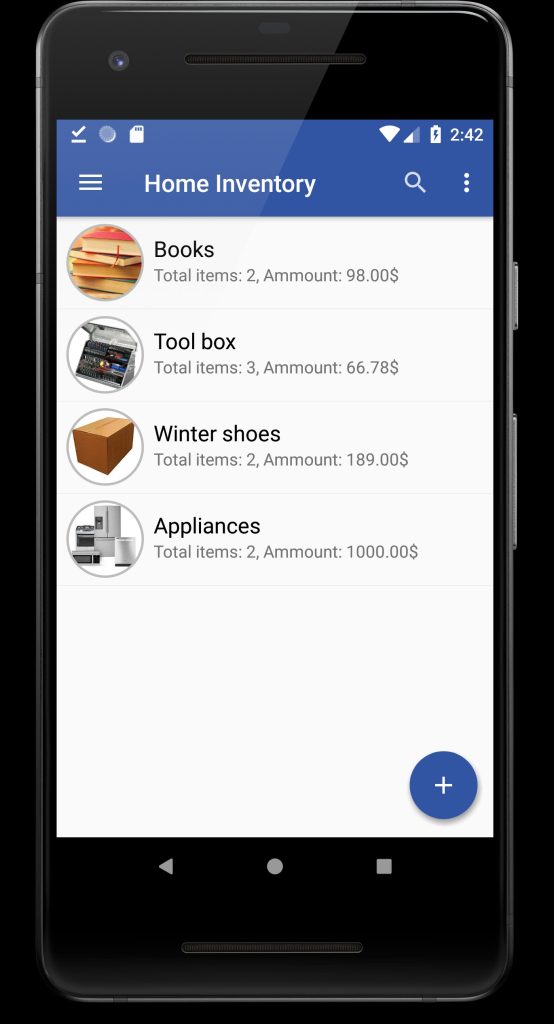 Get rid of clutter in your home. Use the lists of items created in this app when you contact your insurance company. Install Home Inventory on your mobile device and leave your feedback on the app's performance.