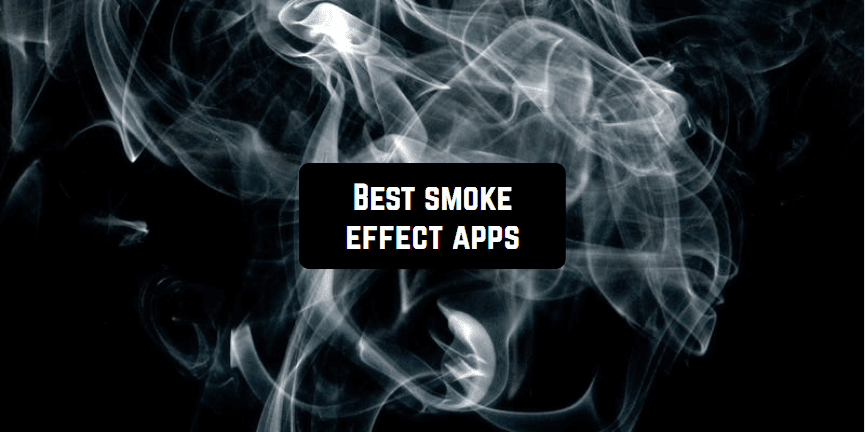 Smoke effect can look pretty cool on pictures. There are many great apps for applying this effect. The majority of them were created exclusively for Android, but we've managed to find a couple of good ones for iOS as well. To find out what they are, scroll down the article!
1. Smoke Effect Photo Editor
Smoke effect photo editor is a prank app for Android. Everybody knows that smoking is harmful to human health, that's why you don't necessarily need to smoke a cigar in order to make that cool-looking picture. Why damage health when you can just fake it? With this app, it becomes much easier! Just select a picture, crop it and add the smoke-effect that you like. What's more, you can add stickers to make your picture look even more stylish.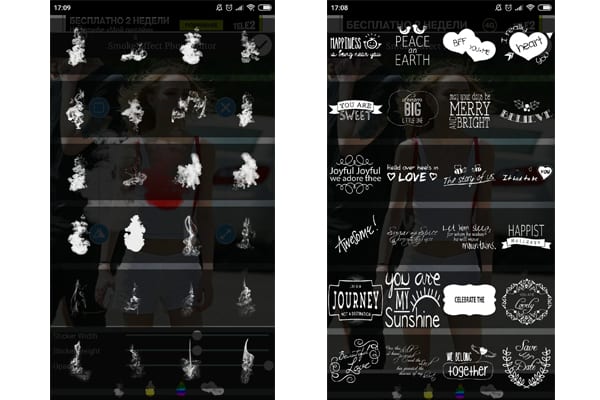 There are over 50 smoke effects. That's quite enough to make anyone capable of finding the right one! There is only one drawback in this app – ads. Video-ads are very annoying. They make you waste your precious time which is always unpleasant. On the other hand, one ad is worth a dope result!

2. Smoke Effect Photo Maker
Smoke effect photo maker is one more Android app full of smoke effects. It has three different categories of them: white smoke effects, rainbow ones, and colorful ones. The latter two can be used to simulate those wonderful pictures that are sometimes made by professional photographers.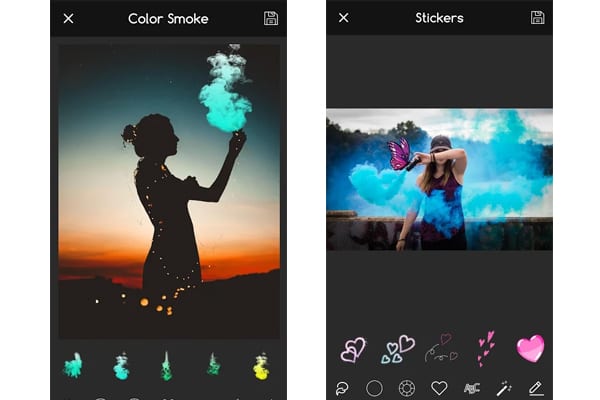 The app also has stickers. Plus, you can add text if you want. There are different fonts you can apply to your text to make the picture look even more unique and just the way you want to. The ads are present, of course, but at least they are not videos. In sum, this is one more great apps to dabble with smoke. Get it now and try it!

3. Smoke Effect Photo Maker (iOS)
There is a similar app for iOS or is it better to say: there is an app with the same name for iOS? Anyways, this smoke effect photo maker has lots of various smoke effects including such a cool one as circles. Many people try to learn this trick (making circles). If you haven't managed to do that yet, you can always fake it till you make it! Just use this app.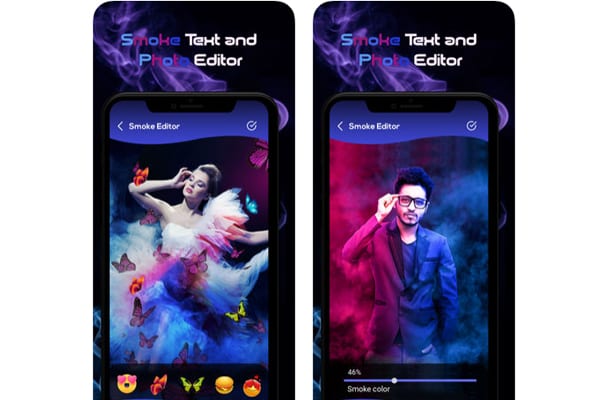 Besides smoke effects, the app has some other tools that let you work with text. You can change a font style, add stickers and emojis. It is like at the beginning of the 2000s! The only drawback of the app is that it is not lightweight at all, however, the big weight is the cost for all those amazing features. So if you want to apply a smoke effect to your picture on iOS, this is a nice tool to start with! And the best thing is that it is absolutely free.

4. Lens Distortions (iOS & Android)
Lens distortion is an app with which you can add real-life fog to your pictures. Of course, smoke and fog are different things but sometimes we need both. Besides fog simulation, the app also has some other effects – mostly light effects. All the effects are of really high quality because they are based on actual optical images.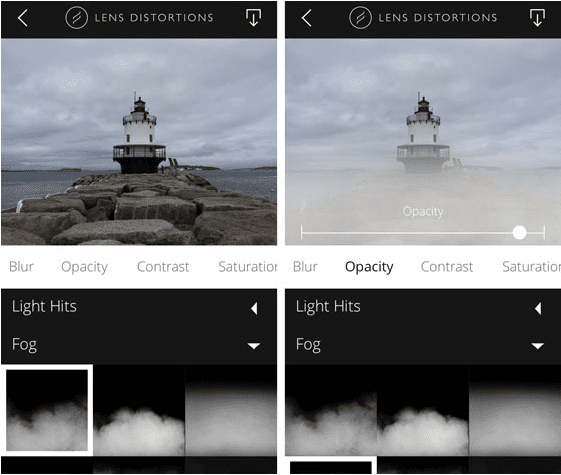 You can customize such settings as blur, opacity, contrast, saturation, etc. The fog feature is not free but since it is the closest-to-reality one that you can find, it may be worth it. Of course, if the work you're doing is of paramount importance, then there are no doubts you should try this app. The app is only about to be launched on Google Play, but you can already try a so-called 'beta-version'.
To wrap up: if you fail to take good pictures in foggy weather, don't worry! You can always download Lens Distortion in order to reach the same results.
5. Smoke Effect Photo Editor
Yet another smoke photo editor for Android. You've never smoked a cigarette, shisha or joint? That means you can prank your friends or parents by making them think that you have. The app offers you smoke effects of different shapes and colors. You can rotate them, resize them and position them wherever you like. All of that, of course, allows you to make the effect seem even more real. All the relatives will be shocked!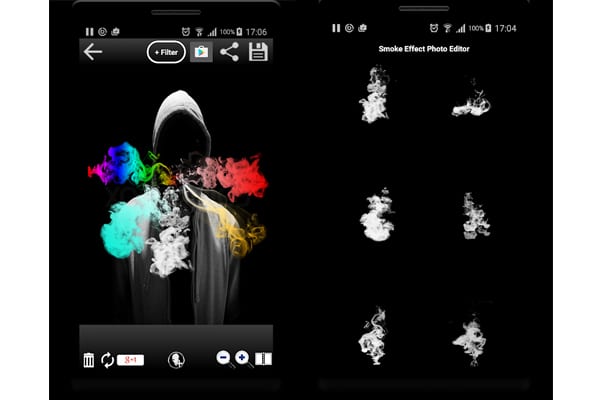 The app is not that heavy. Of course, it has got ads but it also has got quite a positive feedback. So if you are determined to fool your friends by showing them your 'outrage', download this app and do that!

6. Smoke Effect Art Name
Smoke Effect Art Name is a bit different from the rest of the apps on this list. It is not about adding smoke to pictures – it is about adding it to names. If you've ever wanted to make a good logo, this one is for you! Besides, the app can be used in order to wish your friend or relative a happy birthday. There are 100 fonts and styles, 200 stickers, and 15 smokey backgrounds to choose from.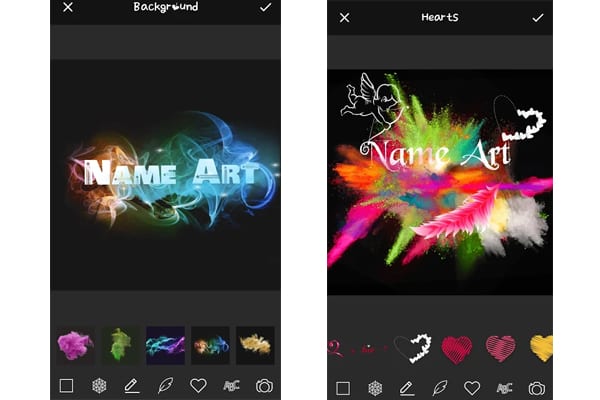 In a nutshell, this app is great for decorating texts. It can serve different purposes and different people. Download the app now and do some magic! There is a similar app on the App Store however its rating is not that high. So, if you own an iOS device, just explore your options on your own!

7. Smoke Effect Photo Frames
Smokey pictures, smokie letters, smokey eyes… Smokey frames? That's right! Even frames can be 'made of smoke'. In fact, this app combines a number of features. It has lots of beautiful frames, a basic smoke effect, and tools to create calligraphy art. Plus, there are lots of cool stickers to make your social media pictures look even more unique!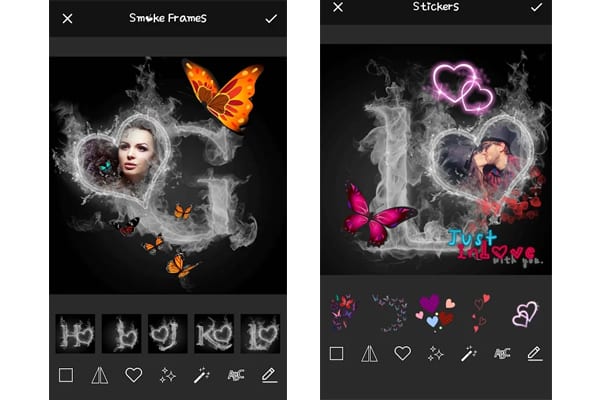 Upload a picture, do some editing and get an amazing result! Explore this app by yourself – it surely has lots of stuff to discover.

---
To end up with, the smoke effect is a very broad term which can be applied to different things. First of all, you can use it to joke around trying to persuade someone that you've smoked a cigar or maybe something else. Then, there is just natural smoke that will add a special atmosphere to your pictures. And, lastly, there is a smoke effect that is used to beautify letters, names, and even frames. Depending on your needs, you can choose and download you like most. We hope this information has helped you. Stay tuned & be smart in choosing app!