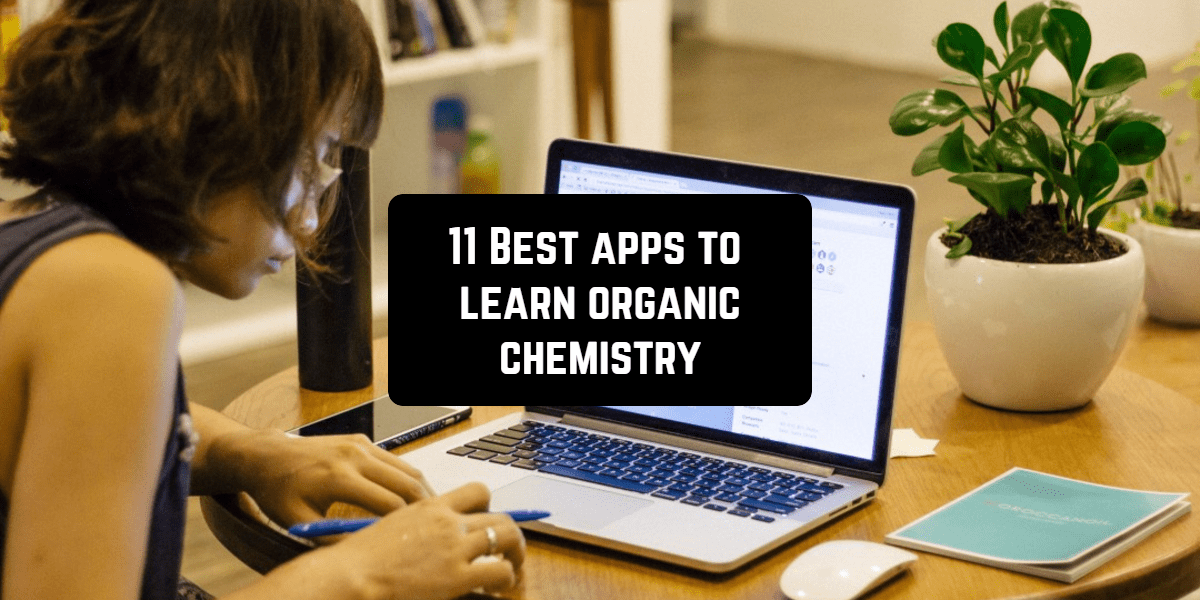 Organic chemistry has always been one of the hardest subjects to learn. Complicated explanations, tricky equations, and messed descriptions were often ending up with a mess in students' heads. Another problem is that professors not always can teach it properly so students could understand it.
But now the solution has finally arrived – with 11 best apps to learn organic chemistry you can finally get clear with all those formulas and elements and decide for yourself in which way you want to learn this controversial subject.
Organic Chemistry Practice
This app covers the full range of purposes for those who are interested in organic chemistry. Whether you are a college student, or you would just like to know more about this subject – you will find any information here. Not forget to mention that organic chemistry often is one of the most crucial subjects in school or universities and students struggle a lot to learn it.
The app will help to understand the main concept of organic chemistry. Here you can find the information about different aspects and units of it. The app also includes tests so you could practice your skills and realize how well you know organic chemistry.
Another useful option of this app is that it has visual cards which will assist you in your way of learning terms and names. So now you can train day by day until you reach a desirable result and it's really convenient.
Moreover, you can personalize your studying plan and make your own accents on what is really important to learn for you. There is also a function in the app which is called "Find a tutor" in case if you want to find a person who would like to help you with the studying process.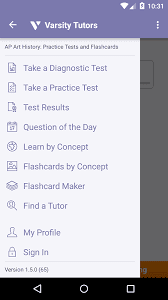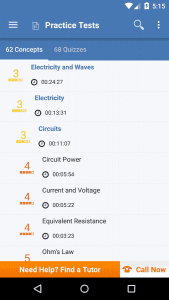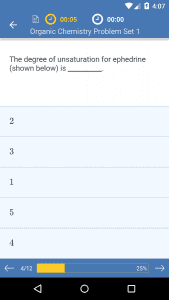 back to menu ↑
Organic Chemistry Essentials
This app can become a perfect completion to your main textbooks and works on organic chemistry. The advantage of it is that it was designed by a former organic chemistry instructor. It covers a lot of topics so you could find any type of information that you are looking for. Reagents, synthetic strategy, and organic reactions – these all you can find in this app.
What is more, it will give you useful tips and tricks on how you can deal with the reactions and study more efficiently. Just launch the app and you get to the main menu with a list of basic topics in organic chemistry. Choose one that you are looking for and then you will be guided to another list of commands that you can do. Then choose one unit that you would like to study and you can get away with it.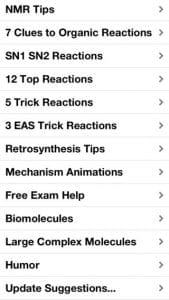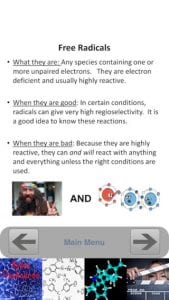 back to menu ↑
Chemistry Formula
If you need a pocket book with all chemistry formulas in it – here is the application for you. You will also find a number of equations, reactions mechanisms and detailed description of them. One essential thing to remember here is that all these are made for intermediate students so you probably can't start using it with zero knowledge in chemistry.
It covers all the aspects of Physical Chemistry, Inorganic Chemistry, and Organic Chemistry. School students will find this app irreplaceable when it comes to difficult tests because organic chemistry often requires extra practice.
It can be also useful while preparing for the graduation exams. All you have to do is to choose the unit of chemistry that you would like to explore and you will get tons of information on the screen of your gadget.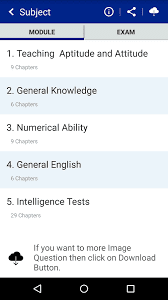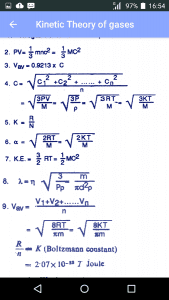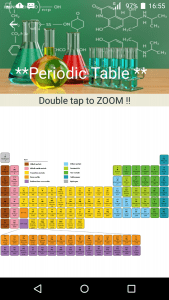 back to menu ↑
Molecules
This is an interactive app which will help you to understand how the molecular system works. What you do here is moving the elements with your fingers and build them into different chains of reactions.
You can rotate the molecules by moving your finger across the display, zoom in or out by using two-finger pinch gestures or pan the molecule by moving two fingers across the screen at once.
When all the chain is finished you can see a beautiful 3D result showing you the full connection. That way you may learn the nature of chemical reactions better and not being afraid of painting these on paper. However, this app is made only for moving molecules into chains. If you are looking for the theory as well you should go for another app.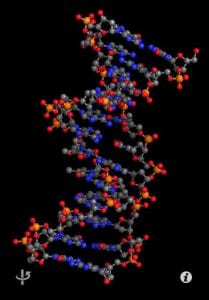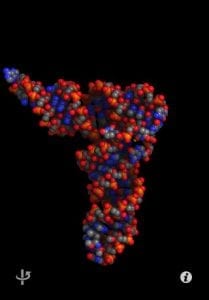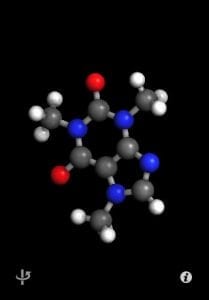 back to menu ↑
Chegg: Textbook Rental, 24/7 Homework Help + More
If you are tired of giant and heavy textbooks which take a lot of space and bring minimum efficiency then here is your solution. This app allows you to have access to all these books 24/7 right in your pocket. Find a book you need by taping a title into a search bar.
There is also a possibility to buy books online. It is very convenient because you can easily handle all your homework task whenever you are. If you feel like you need additional information you can check into the digital library which counts more than 2 million books in it. Still, if you haven't found the information you've been looking for, just take a photo of your task and send it to the community.
There is a huge chance that you will find an answer to your question with which you are struggling within your homework because the data is really impressive. And if you have an emergency case, the online tutor will help you at any time. So don't waste your time and go look for the necessary studying here!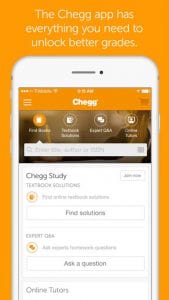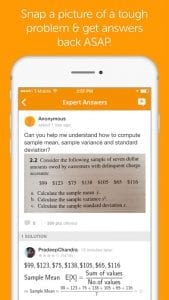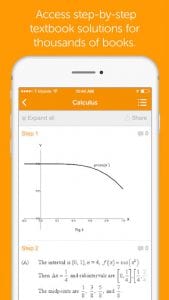 back to menu ↑
Chem Pro: Chemistry Tutor
Have problems with learning organic chemistry? Well, you're not alone here. That's why the developers present you this app which is aimed to guide you through the complicated world of reagents, formulas and chain reactions.
Launch the app and you will discover an unusual library with more than 80 video lessons that cover the entire year of AP and General Chemistry, cards which will help you to remember all the needed elements and polyatomic ions, as well as some essential tools: a periodic table, a molar mass calculator, a unit converter, and an equation sheet. In other words, from now on you can forget about your problems with your homework.
If you're still not sure you can read thousands of amazing reviews by students all around the world. The app will help you to prepare for an upcoming exam, train your weaknesses. Many of solutions are shown in video lessons. Check all the topics in case you want to learn more about organic chemistry. With these flashcards, you can easily memorize 42 basic elements, 42 common polyatomic ions, common acid names, chemical colors, and the 13 VSEPR molecular geometries. Other tools useful in chemistry will make your work much easier.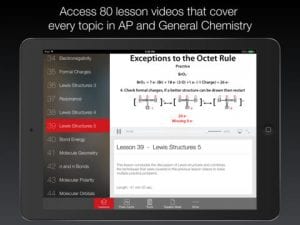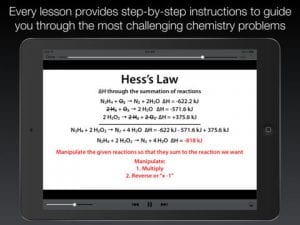 back to menu ↑
ReactionFlash
The main goal of this app is to provide you with the full information on chemical reactions and their kinds. After using it you will get the general idea of how all these elements in chains work. There are a lot of literature on this topic.The app was developed in consultation with Professor Dr. Erick M. Carreira of ETH Zürich, the app covers over 600 hundred named chemistry reactions. So now you know for sure that you will learn really essential information without extra facts. It has a number of flash cards with which you will remember all reactions. If you want to do some training you can go to the quiz. The app contains all kinds of information about the organic chemistry – from the very basic to recent discoveries. All you have to do is to choose the unit that you would like to review and start memorizing.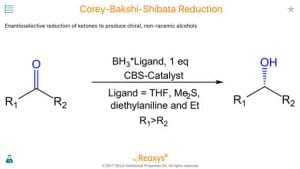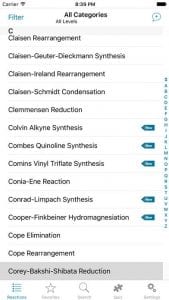 back to menu ↑
Elemental
This app covers a range of topics related to the organic chemistry. It includes work with chemical structures – you can understand and learn them by drawing, possibility to calculate cheminformatics properties, sketching different chemical reactions, Dropbox uploads support & file association back from the Dropbox App, ability to view a periodic table and many others. In general, the app looks much more simple than the previous one so it is possible to say that people who prefer less than more will like this app for learning organic chemistry. Here you won't find any extra features as searching a tutor, etc., it's more a handy app. Still, it has all the main packages of information to provide you with all the necessary information about the subject. By the way, here you can save your drawings and send them via e-mail.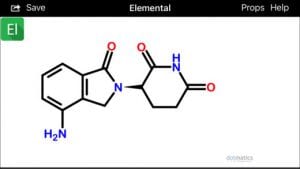 back to menu ↑
Learn Organic Chemistry Nomenclature LITE
We all think that those people who get away with all the organic chemistry learning stuff are just lucky. Well, now you can get lucky too. This app will provide you with all the skills needed for learning this complicated subject. It's not a secret that the most difficult part of it is probably memorizing organic compounds. This app includes clear, concise, interactive lessons on how to name the compounds commonly encountered in an organic chemistry course. After each lesson, you can check how well you understood the material by taking a small test.
Alkanes, Cycloalkanes, Alcohols, Aromatics, Ketones – all those elements that you were afraid before will be remembered in no time. After each quiz watch and analyze your mistakes. The app was created by a well-known chemistry professor so the learning process is well-organized. What is more, the app has the simple and clear design which is comfortable for users.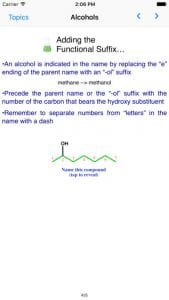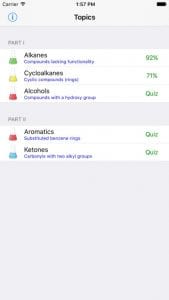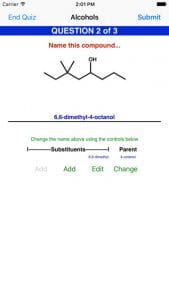 back to menu ↑
Organic Chemistry!
It doesn't matter if you study at school or at university – you will find this app useful anyway. All the necessary knowledge from the subject of organic chemistry are collected here. Preparing for an exam? Check out this app. As always, it includes flashcards in order to make learning process faster and easier for you. Original design will be a bonus. Watch the drawings depicting chemical formulas and reactions, mark the ones you want to remember and learn it. There are also tests which are made for you to train your skills in organic chemistry. MCAT, DAT, PCAT, OAT, GRE or any other exams will become easier for you to pass your training with this app.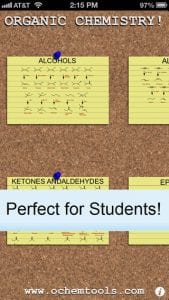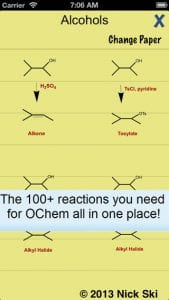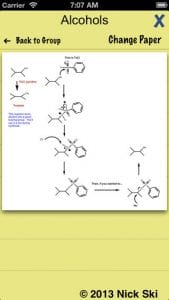 back to menu ↑
Organic Chemistry Flashcards
This app is full consists of tests. For those who want to evaluate their knowledge of organic chemistry, this app will be a good match. A lot of flashcards, slides which are made for fast learning and reviewing the information.
You can choose any field of organic chemistry and practice it – just click on the necessary unit in the menu. Addition Reactions, Substitution Reactions, Elimination Reactions, Coupling Reactions – all of these you can find in here. You can overview large topics briefly or dig deeper and click on the specific field of chemistry. For example, if you want to learn only the information about reactions just select those categories.
When you are answering the test the correct answer is shown immediately. Scroll through the questions and do them all. This app includes a smart questions feature which reduces the chance of seeing a question you've already answered correctly. You know what the structure of propane is, why keep reviewing it? By the way, the positions of questions are always random so don't worry that you'll remember the answers by a certain order.