If you'll try to remember the most addictive mobile games of all time, snake games will definitely be on the list. That's why these games are still haven't lost their audience even after years — you'll always want to come back to them.
Luckily, there are lots of snake game apps for Android & iOS that bring you a good old experience with modern additions. These games come in different styles — from fantasy 3d to retro so there's something for everyone. Plus, the majority of these games cover a multiplayer mode so you can play with your mates as well.
Enjoy time-killing addictive games? Then check out these best flower matching games.
Here are the best apps in that category you may try. Take a look!
Snake.io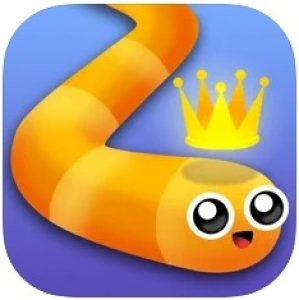 Let's start with the traditional snake game loved by millions of players worldwide.
From first sight, the concept of his game is as simple as it can be — your goal is to grow a small snake into a big one by eating whatever comes on your way and bypassing barriers. Herewith, the game has incredibly cute graphics and you get to adjust your slither to match your taste.
For instance, you may go with a classic slither, a fantasy dragon snake, a ninja slither, or even a corgi one. It needs to be said, you'll need to pass a couple of levels to unlock all the desired appearance options but it is totally worth it. As for the game, replay, it's smooth and has no lags so you won't lose the level cause of a glitch.
Besides, the same as an MP mode so you can fight with your mates on the same field to see who'll last the most. You can also battle with random worldwide users if needed. The MP mode covers a leaderboard so you can fight for the #1 rank among all the others. In case you're not in the mood for that you can always spend hours trying to beat your own score.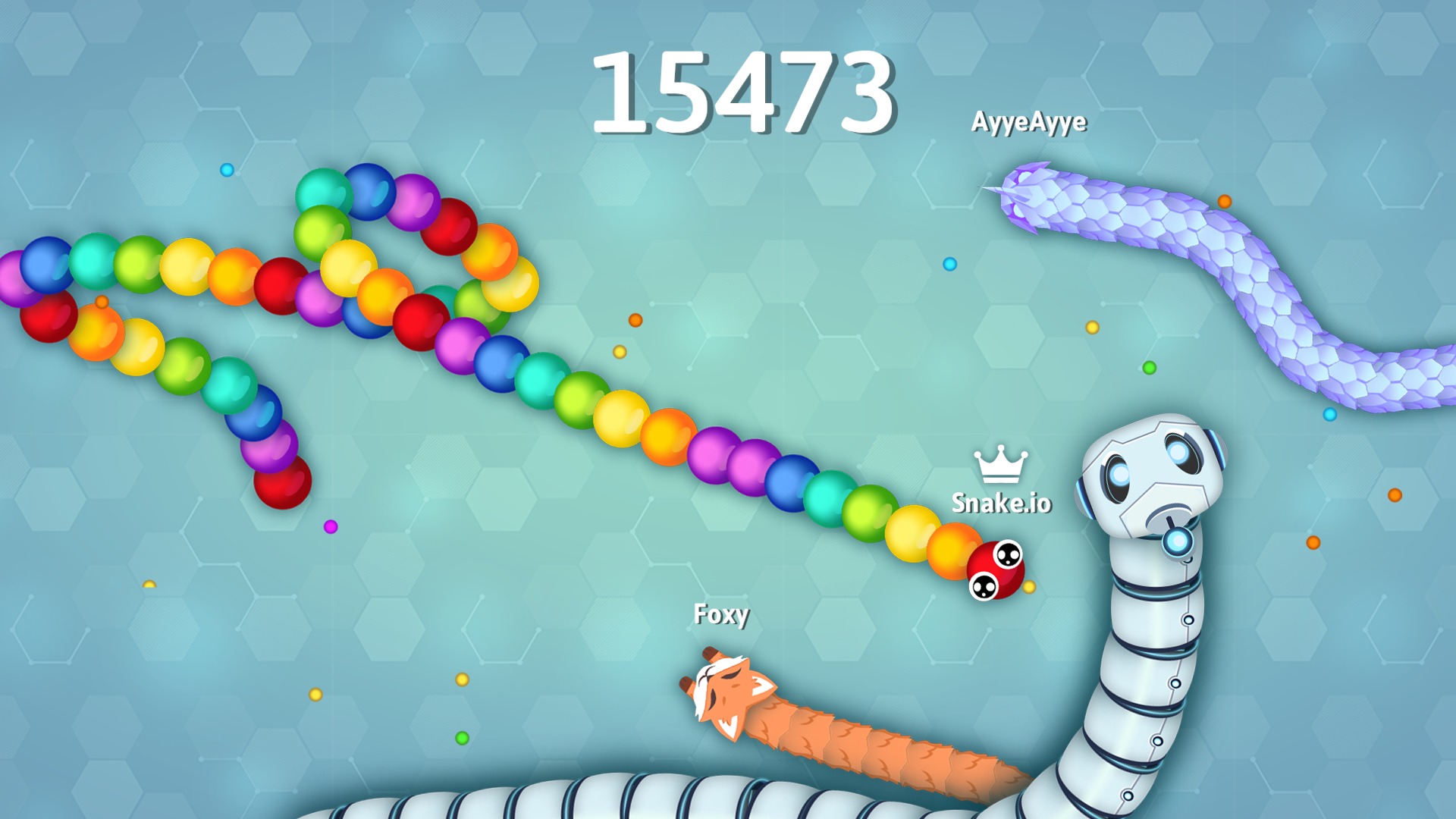 You may also like: 15 Free Multiplayer Puzzle Games for Android & iOS
Snake Rivals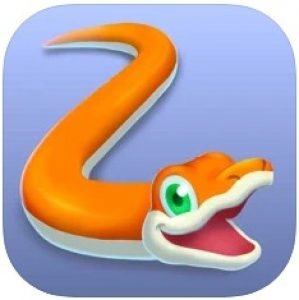 This is a 3D snake game that lets you face other serpents.
The mechanics of this game is beyond classic — you start as a tiny little snake (or a worm — as you like) and the goal is to eat the food on your way and grow as long as possible. Herewith, you need to avoid crashing into obstacles that get more and more challenging the longer your tail is.
Plus, this is an MP game, so there are other snakes on the same field. Thus, you'll also need to not run into them either which adds up to the difficulty. The game covers lots of beautiful 3D locations such as a flowery field, a first, or even a badland. You can also unlock various skins and play with your snake's look.
It needs to be said, the game only has an MP mode so you can't play on your own. However, if you don't like to battle with others you can just forget about it and play at your leisure. The game requires a web connection as well so keep that in mind.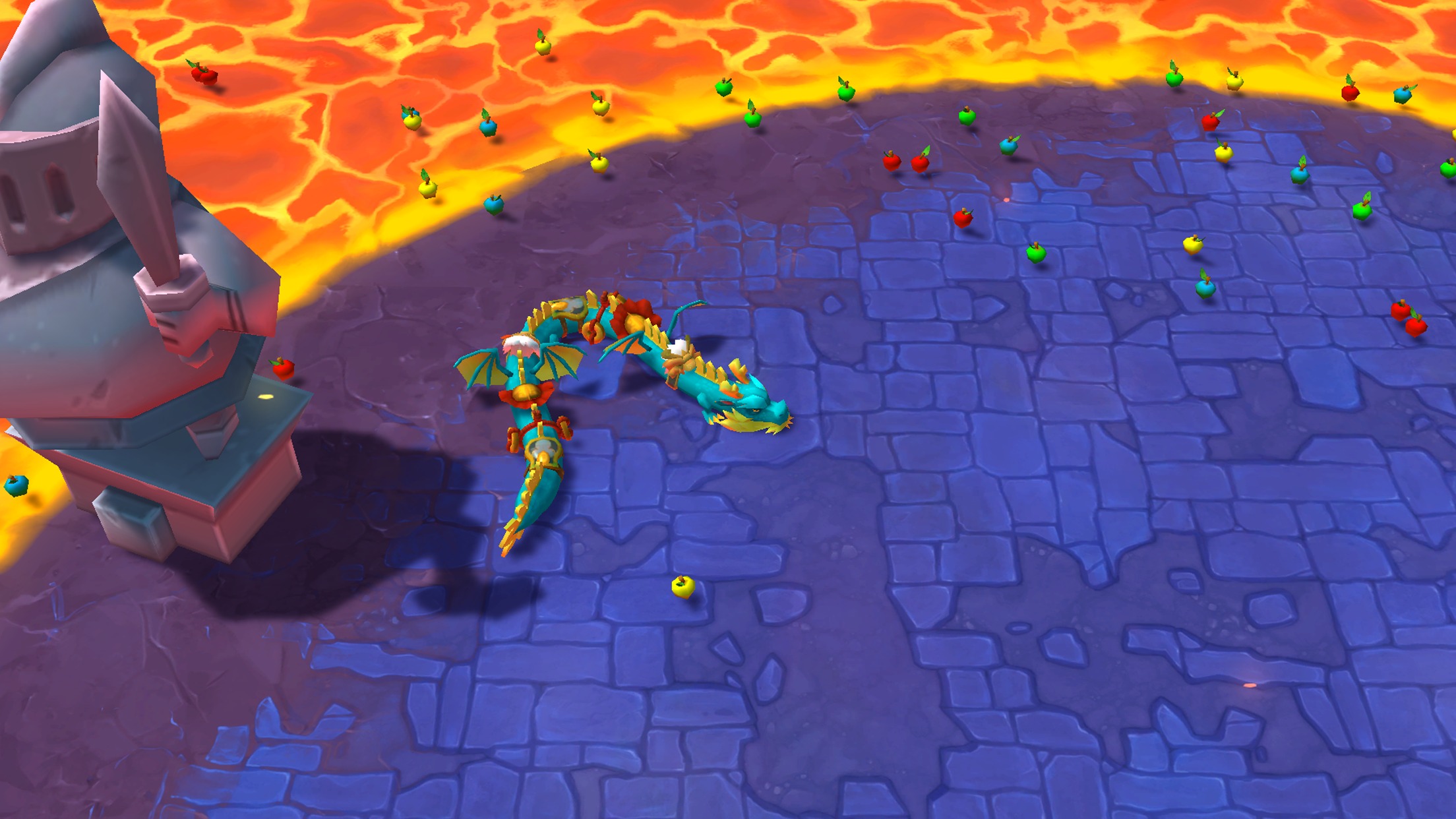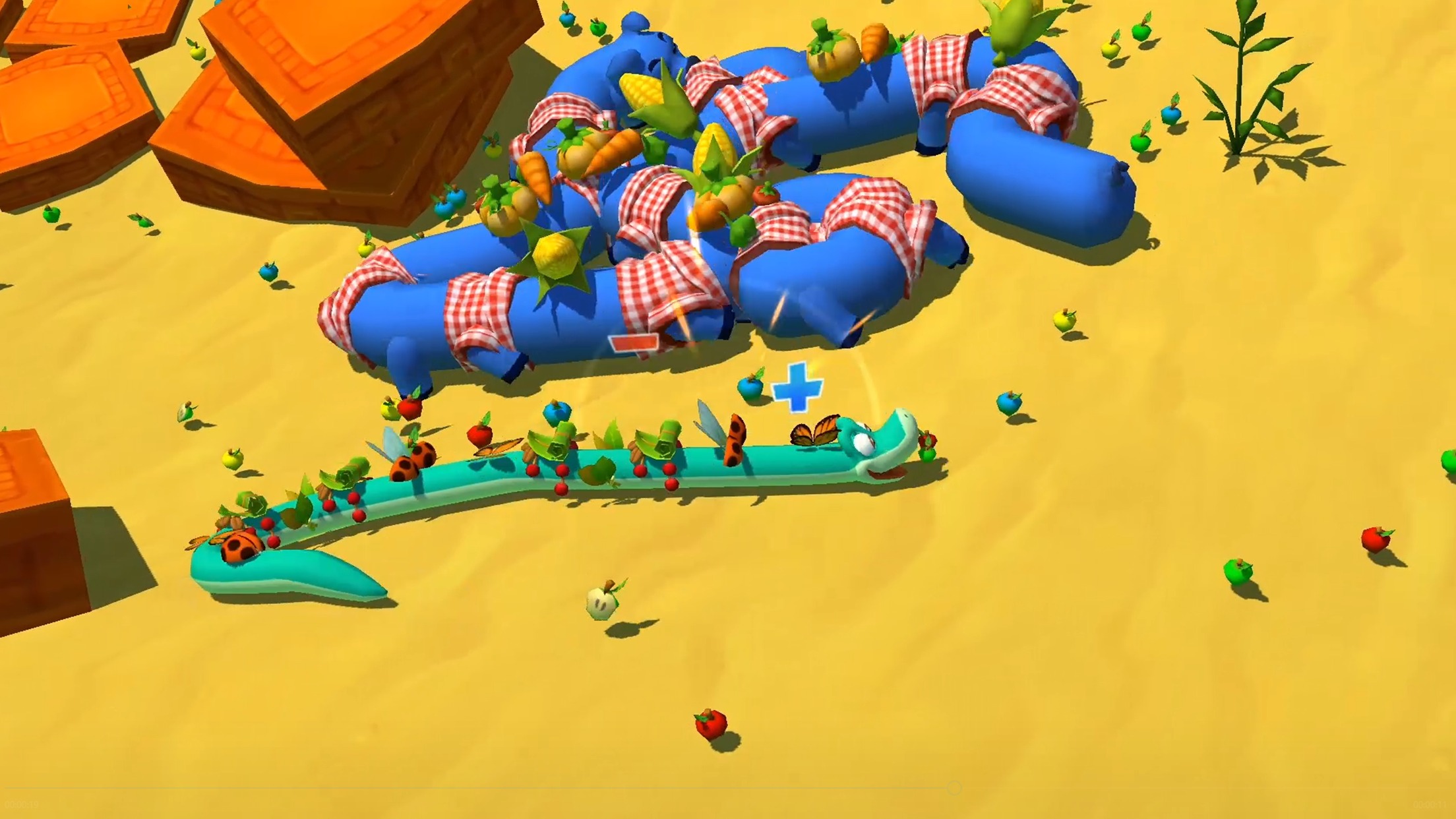 Little Big Snake
Here we have a next-level serpent game that will please the fans of the original and the ones who like innovations.
This is an MP game that aims to compete with other slithers for leadership. The mechanics are classic — you need to grow your slither by consuming fruits on your way while avoiding obstacles and all that. Herewith, you not only need to avoid crashing into other snakes but you can also attack and destroy them.
Next, when your opponent is destroyed and vanished from the field you can absorb his power and energy to get longer (sounds a bit creepy but it's actually fine). Plus, you can eat the nectar, collect various artifacts and items that can boost your exp. Each level will bring you rewards and yes to the next one.
The game also lets you try various skins. The majority of them take time to be unlocked but that's the whole point of the game, right? Plus, these are not just visual skins — they bring you energy and health points as well. Some skins are all dangerous-looking while the others make your snake look like a pirate or a line of burgers.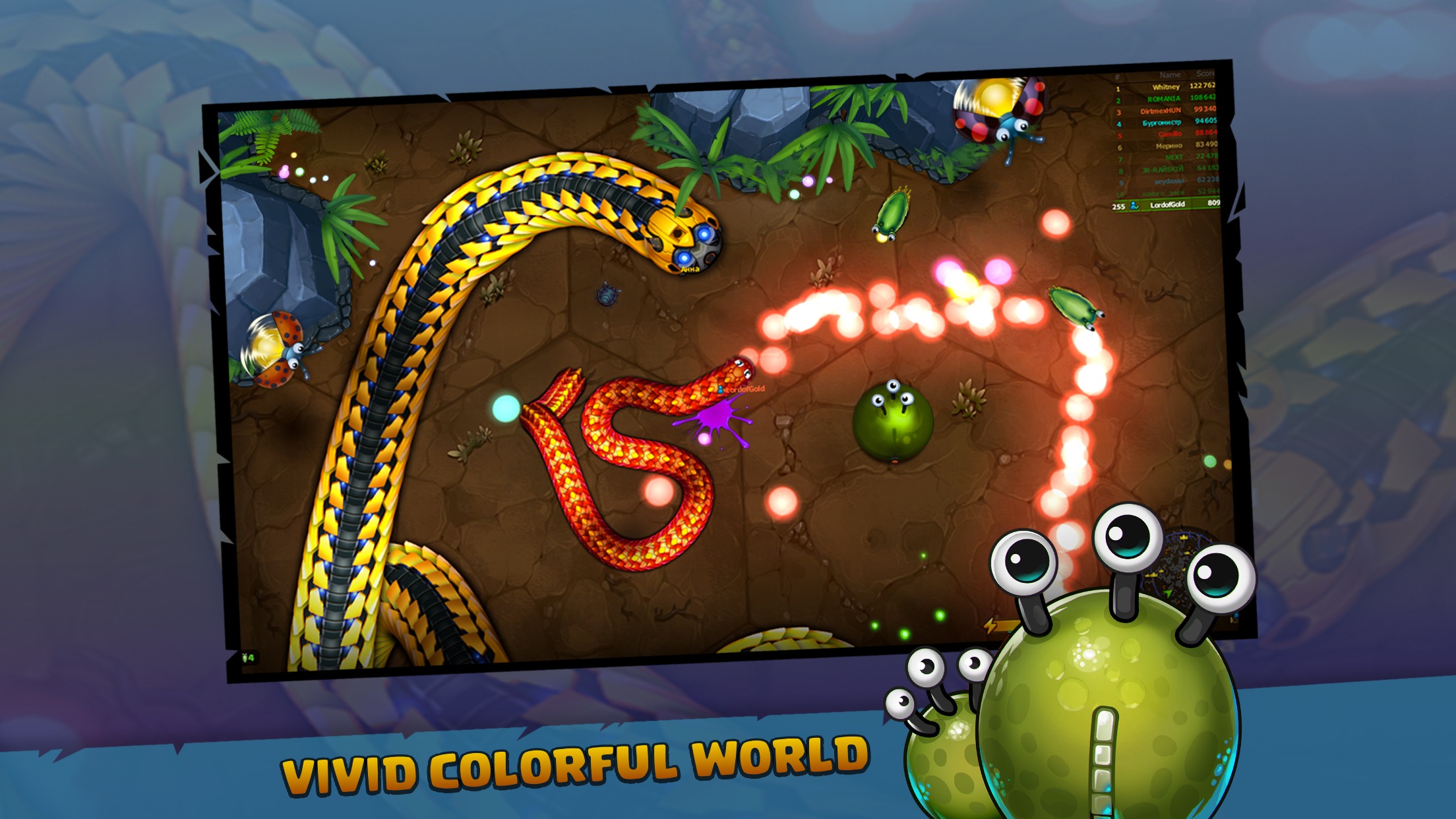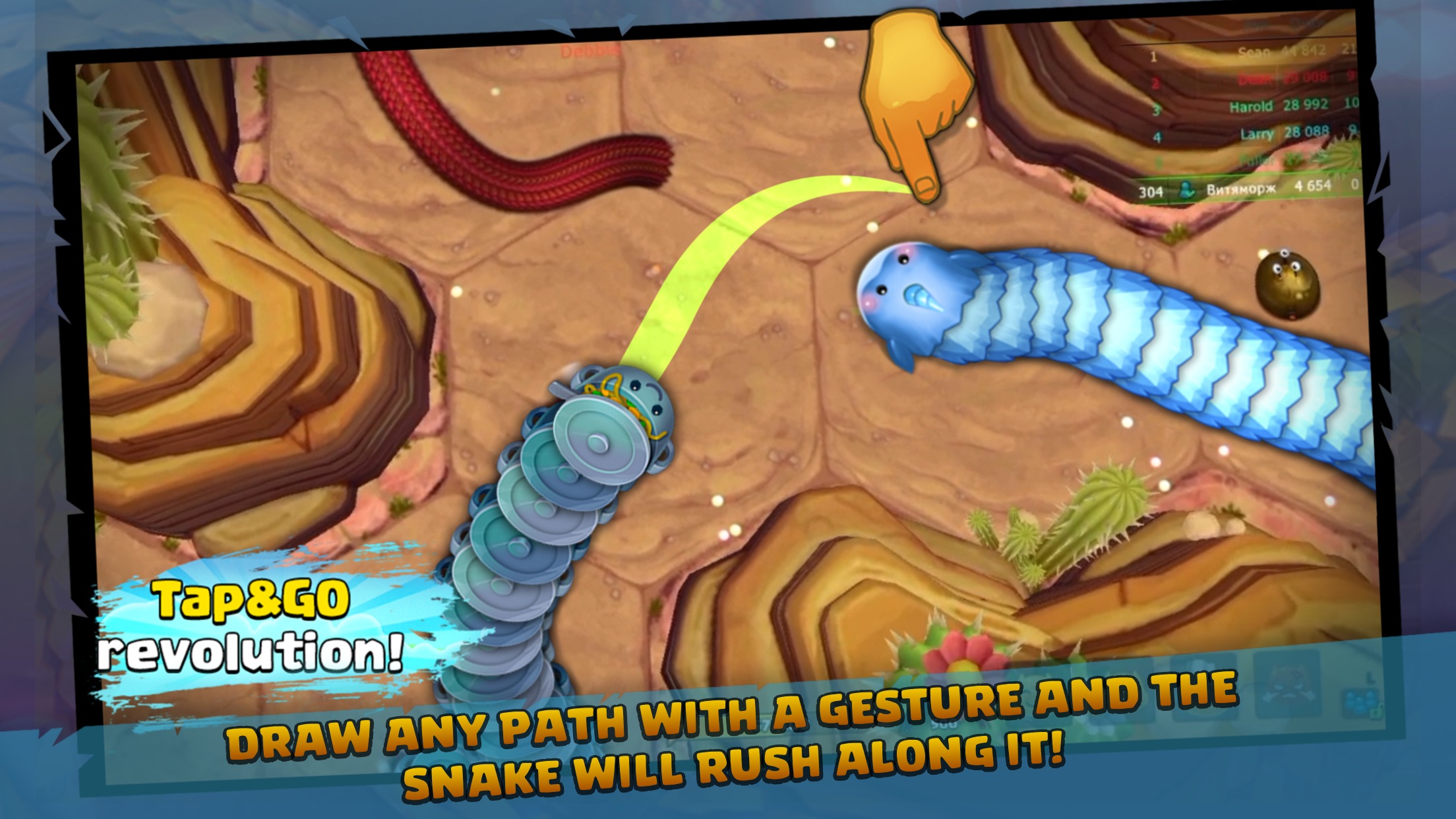 slither.io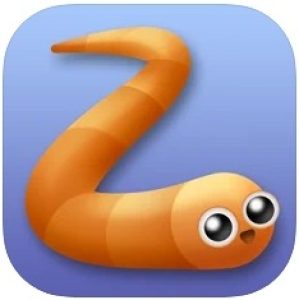 This is a 3D version of a time-proven serpent game.
To be fair, this game is as classic as it can be. Thus, if you wanna catch nostalgic feelings without that many innovations — this is your cup of tea. The app gives you two options — you may rather play against the AI or battle with online contestants. Herewith, your goal remains the same and it is to become the longest slither of all.
As you might've guessed, there are other serpents with you on the field. Thus, you'll need to avoid crashing into other players cause if you do — you'll collapse and the game will be over. However, if other snakes will crash into you — they will die and you'll get to eat the energy left of them.
The coolest thing is — it doesn't really matter how large your snake is. In fact, the larger you are the more difficult it is for you to maneuver. As for the interface, it's quite minimalist and intuitive so no worries there. The bg of the field is always the same back surface but you can switch skins of our character to not get bored.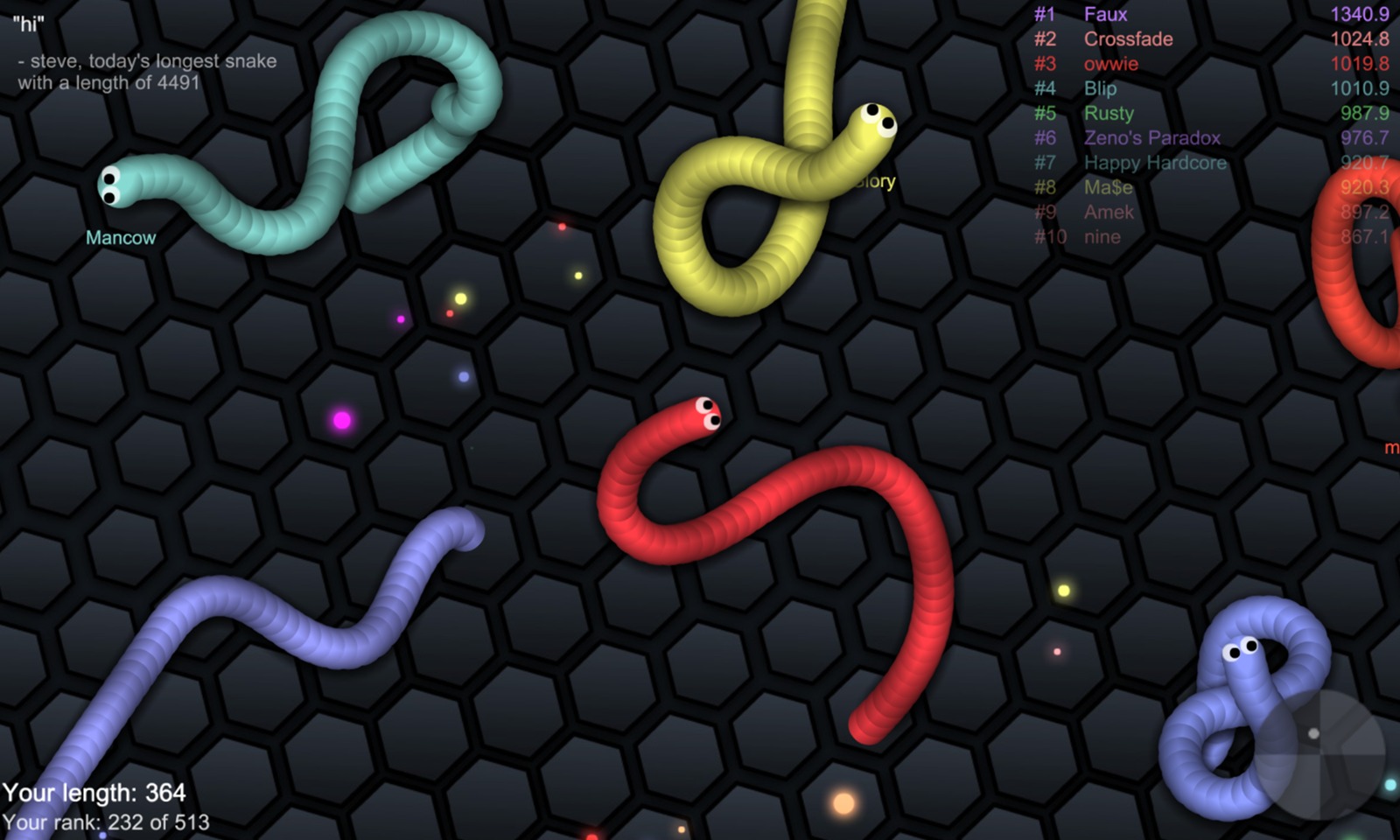 Snake Game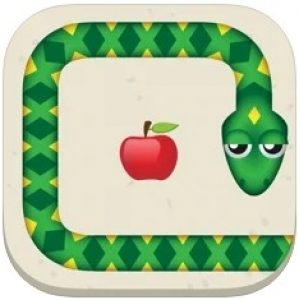 If you're not chasing a modern-looking snake game — this is the one.
This game will bring you to the nostalgic retro atmosphere of the original serpent games. Needless to say, the developers took inspo out of the traditional snake game and gave it a bit of a modern look. Herewith, the game covers 4 gaming styles for different moods. TO be more specific, you can go for a classic snake, retro one, the "snake on steroids" and a master one.
All the styles come with unique playgrounds and designs so you can switch them according to your mood. As for the mechanics, they are always the same. Your goal here is to move within the field and eat food that comes on your way. Herewith, you need to avoid smashing into the field's borders and other obstacles on your way.
As time goes, your snake will become longer and longer and it will get harder to not hit your own body. Plus, there are lots of boosters that can help you progress faster. The game doesn't have an MP mode so all you can do here is to beat your own score or and over again.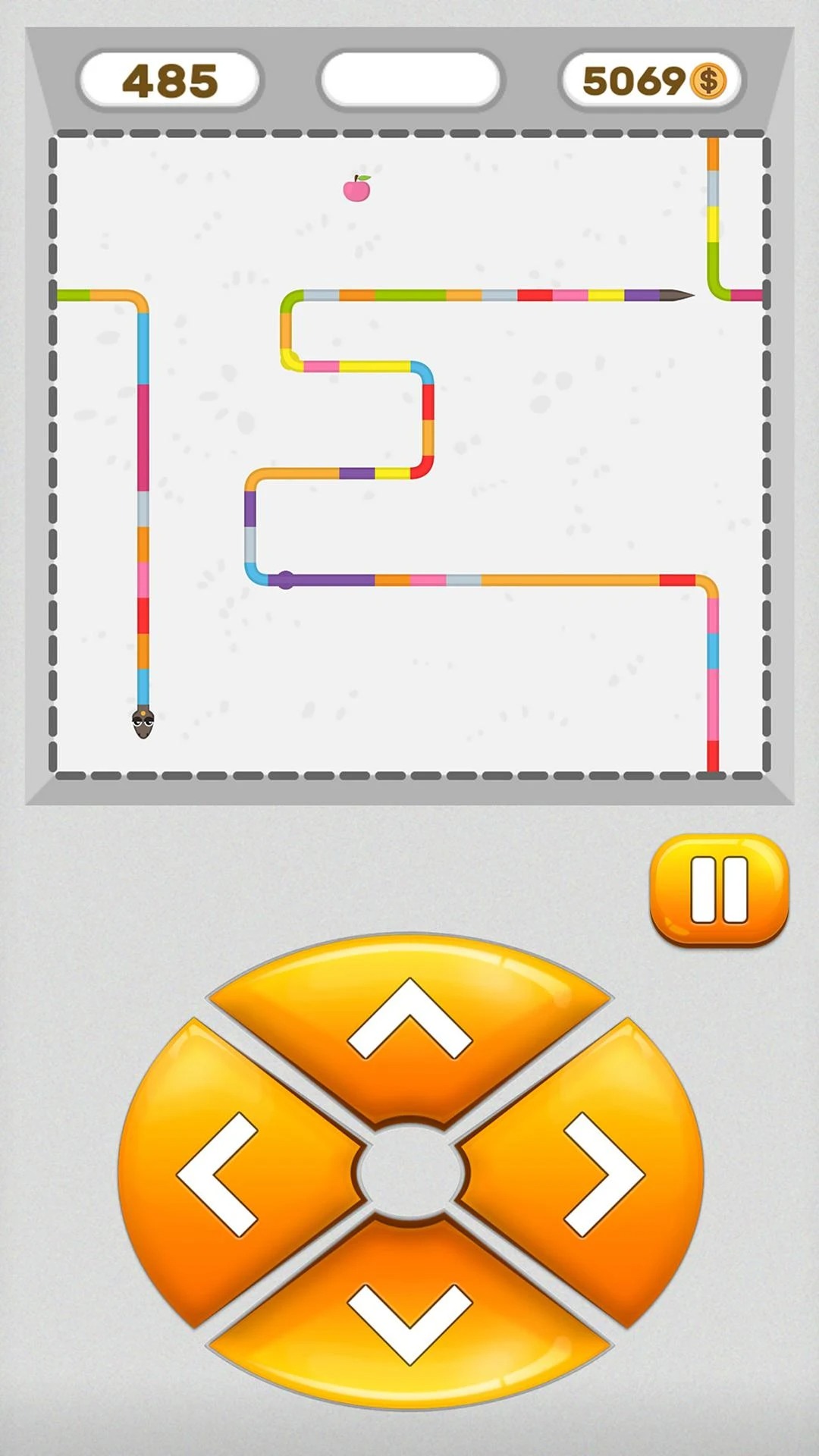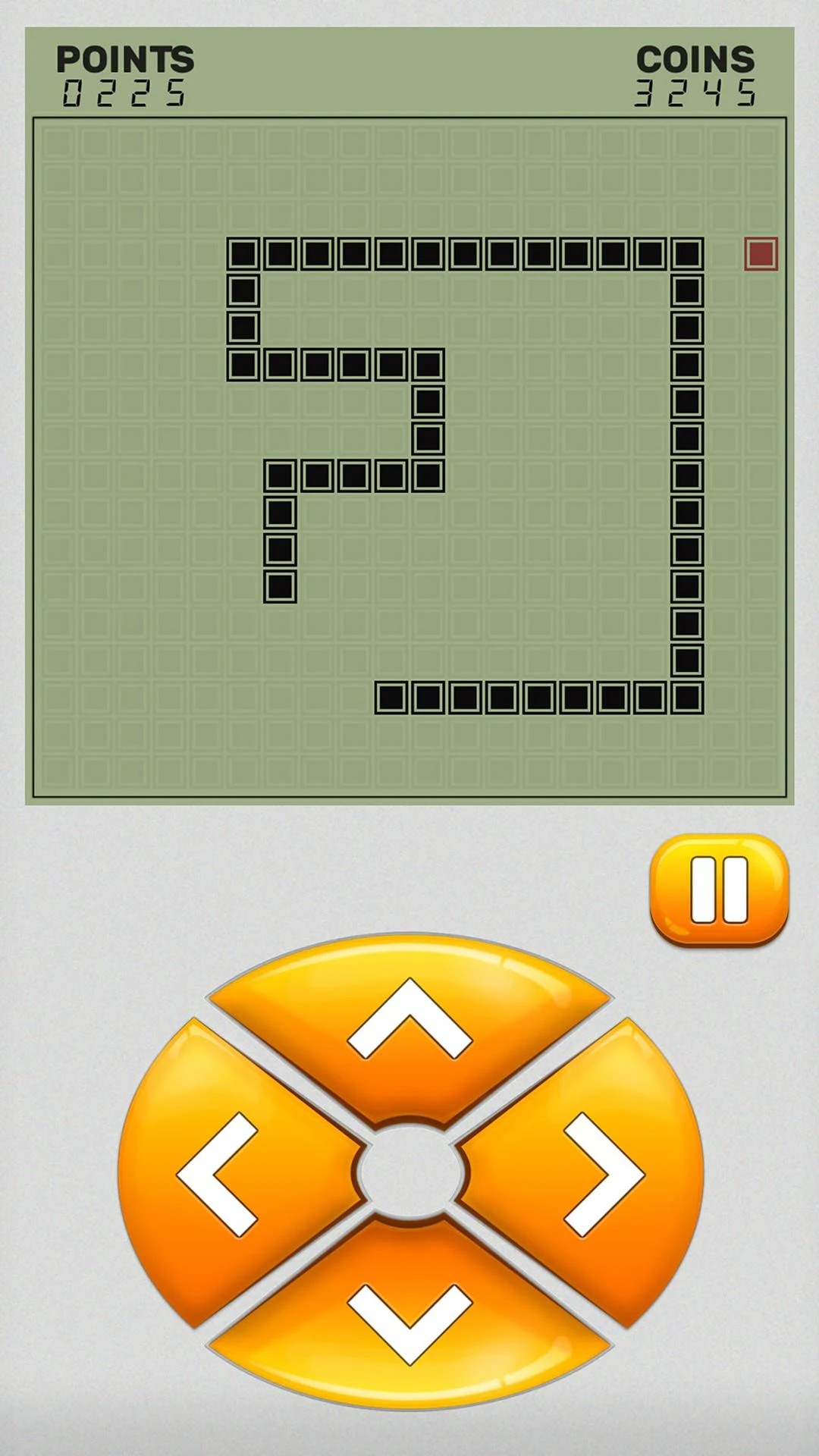 Snaker.io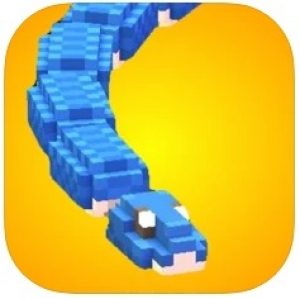 Moving on to the 3D block snake game that will keep you busy for a long time.
It needs to be said, this app doesn't have an MP mode so you can only race with bots. The rules are all the same — you need to move around the endless arena and kill other snakes to get their powers. Your goal here is to let your snake become as big as possible which is more complicated than you might think it is.
First of all, the slithers in this game move incredibly fast. Thus, the bigger your snake gets the harder it is to not run into other snakes or other obstacles on the way. If other snakes hit you — they will turn into fruits and you'll get to eat them. And if you'll crash into them you'll be eaten as well.
The longer you play — the faster your slither moves so you need to be as concentrated as ever. Another thing that needs to be mentioned is ads — there are lots of them. Nevertheless, you can get free stuff just for within it. Wanna unlock new skin? Just watch 30 secs of ads.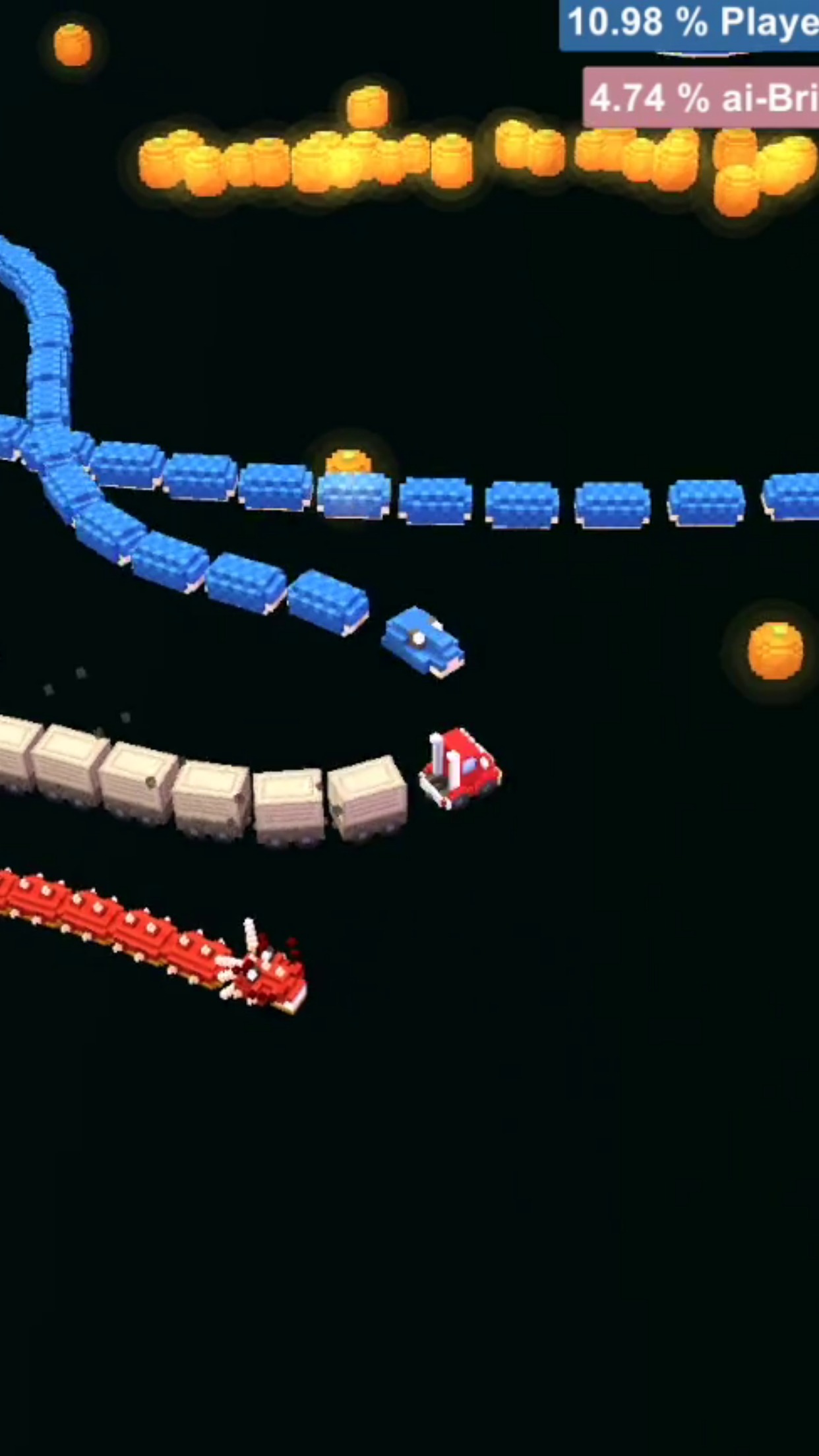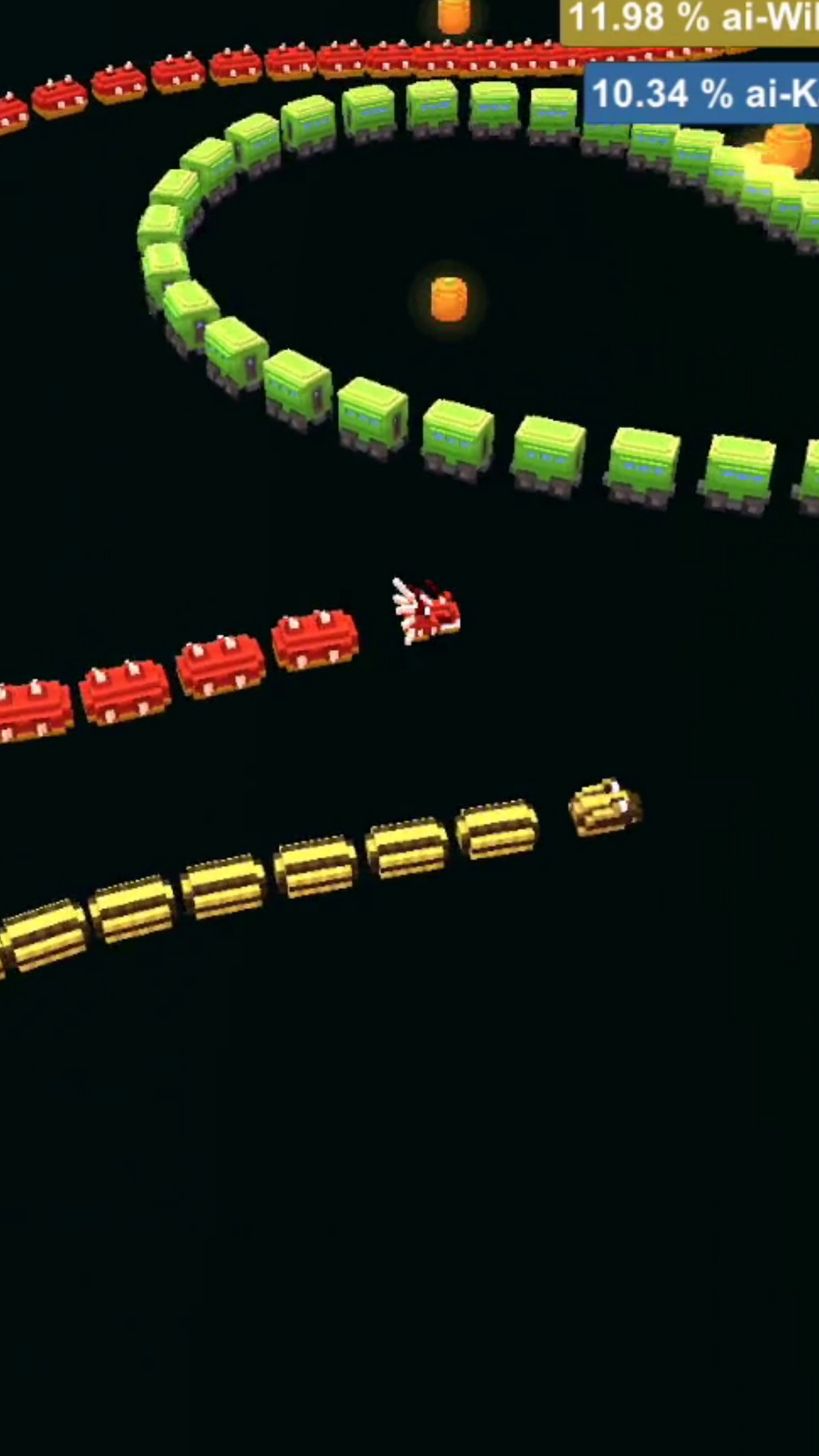 You may also like: 8 Free Sandbox Multiplayer Games for Android & iOS
Snake Hunt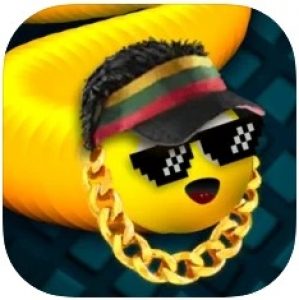 This is a causal snake game with a fun meme setting.
From the first glance — this game is a classic representation of the genre. However, if you'll try to play it you'll quickly realize it's not. This game is filled with easter eggs to meme culture — in video and audio format — so you'll have lots of fun playing it. There are also lots of fun skins you get to unlock — from skeletons to lightsabers.
The rules are quite classic — you need to move your snake around the black arena, eat all the yummy that comes your way, and stay alive as long as you can. Herewith, there are other players on the field, and you can defeat and eat them as well. It is getting done easily — just make them run into you and that's it.
You can also trap other snakes by circling them. The thing is your competitors can attack you too so you need to avoid running into them as well. The game also covers various boosters that let you move faster, level up your health, and so on. There are also daily challenges you can attend to get bonuses.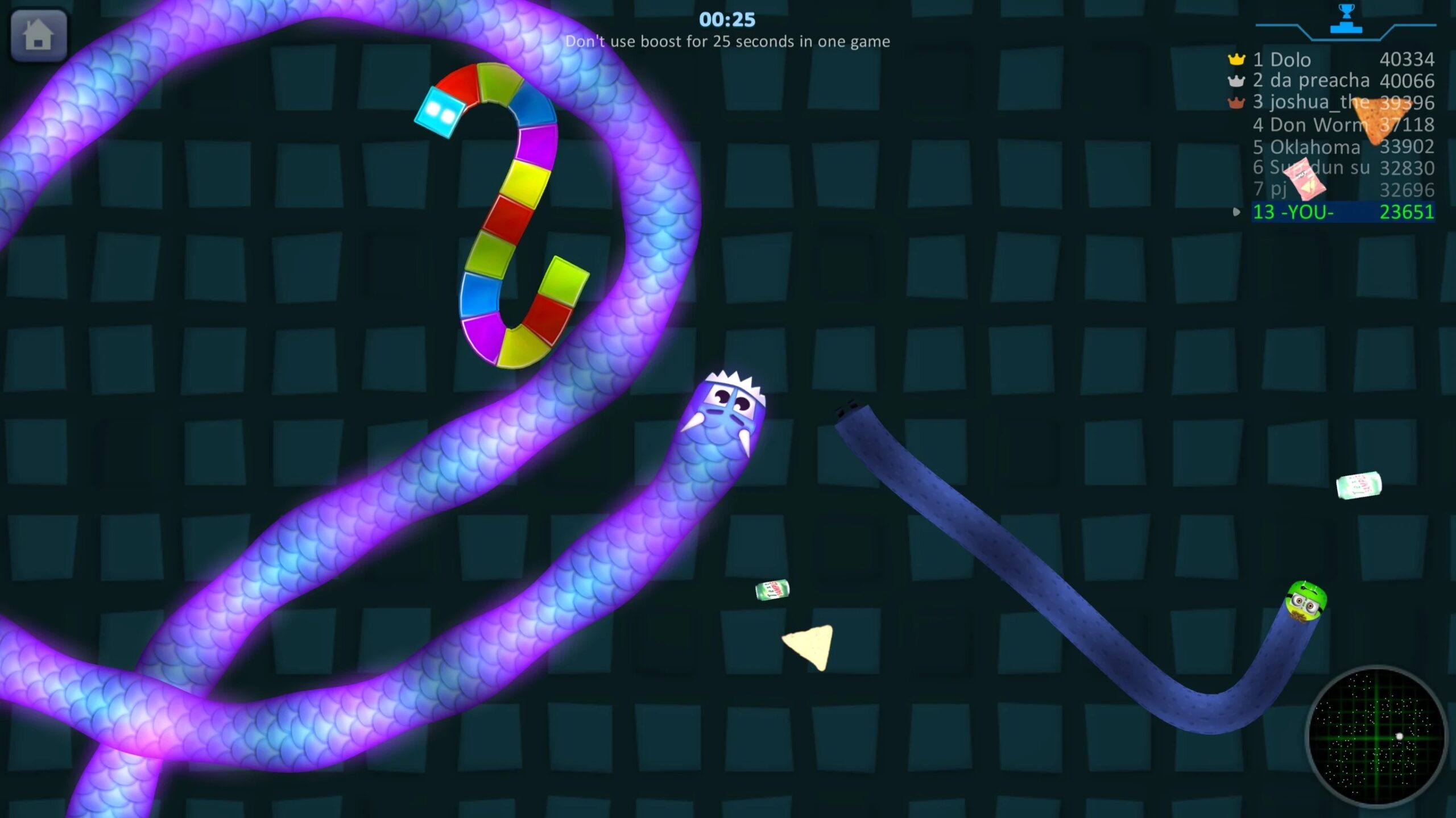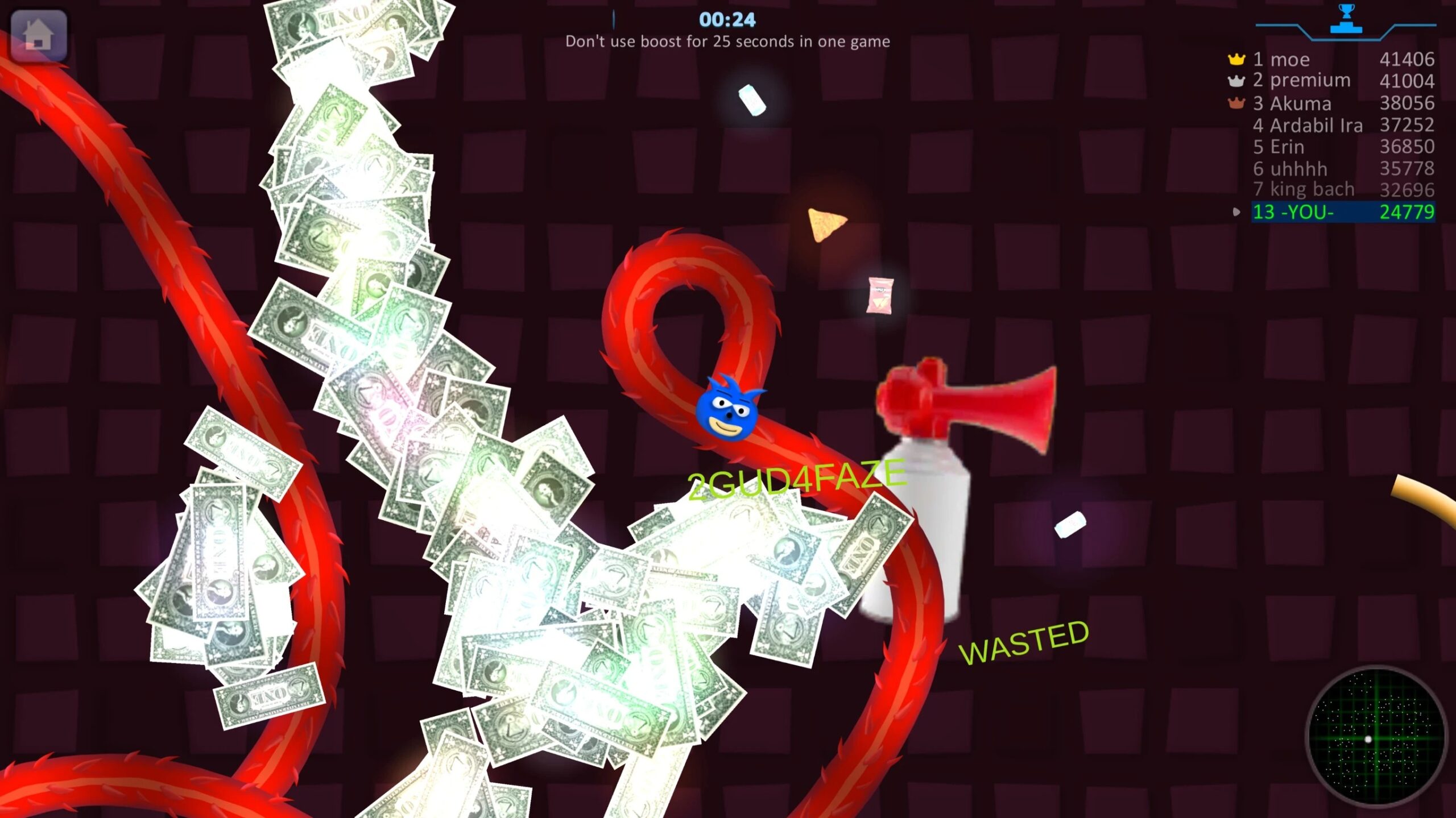 Snakes And Apples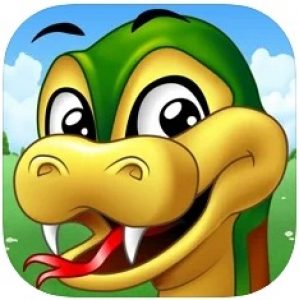 The name of this game fully reflects its concept.
According to this game's rules, you need to make your snake eat all the apples on her way but in the right order. Sounds easy, isn't it? The trick is, the arena is filled with obstacles you need to avoid. To be more accurate, there are stumps, bumps, rocks, and more. The game is based on an increasing difficulty system so the rounds will get more and more challenging.
However, if you ever feel stuck at one point you can always use tips to continue. The game covers hundreds of levels so you can spend weeks playing and not reach the end. Plus, the arena includes underground passages that will help you to navigate and stay away from dangerous barriers.
Along with passing the levels and beating your own score, you can also invite your mates for a challenge. The MP mode lets you race with mates to see who's the smartest and the fastest one. As for the graphics, everything looks bright and cute and there are lots of locations you can try.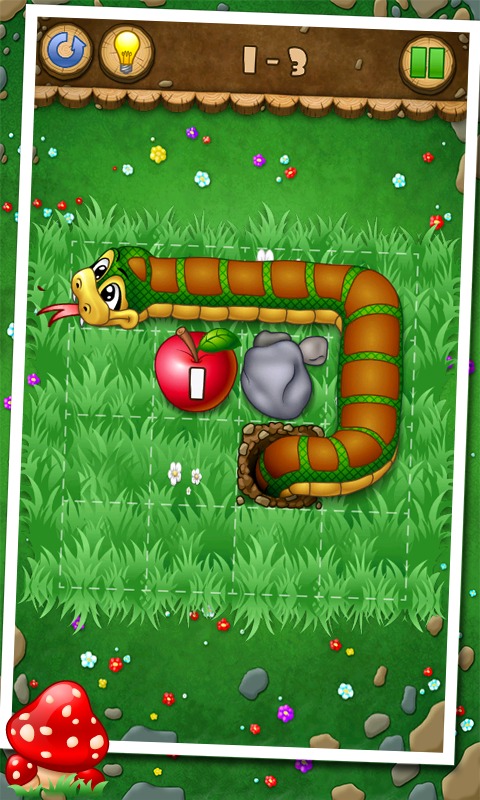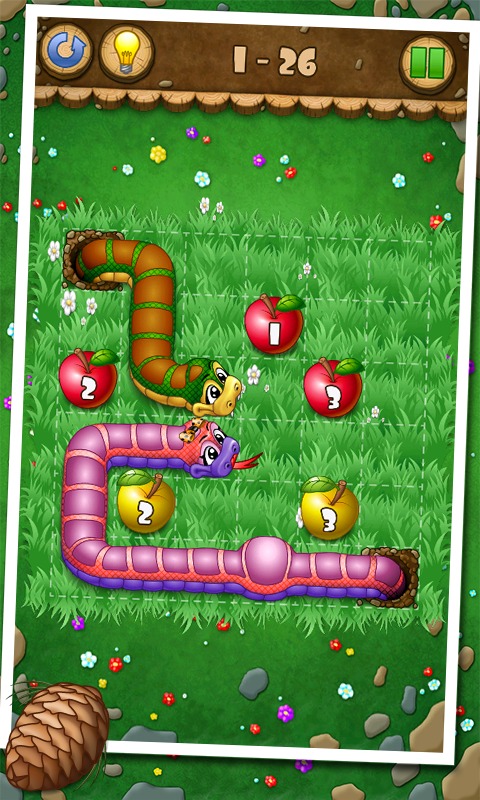 Worms Zone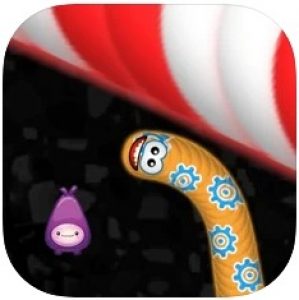 Next, we have a slither game that is a bit craze and extra. This one is for the ones who love dynamic action and a good-old competition.
The game runs on an endless level system so you can play for as long as you get to stay alive. As for the graphics — the arena's big is black o all the bright worms and snakes look extra bright and catching. The game covers dozens of skins you can add to your wardrobe to become the stylish snake of all.
The mechanics are simple — you need to move through the field along with other snakes and collect bonuses and food on your way. But don't forget this game is a competition and other snakes will try to get you down. If you'll rash into other worms you'll lose, and they will get to eat your energy.
This rule works both ways so you can trick other snakes to run into you. You can also trap other worms by circling them and make them hit into something. The more food and energy you consume the larger you get and it will be more difficult for you to avoid opponents and obstacles.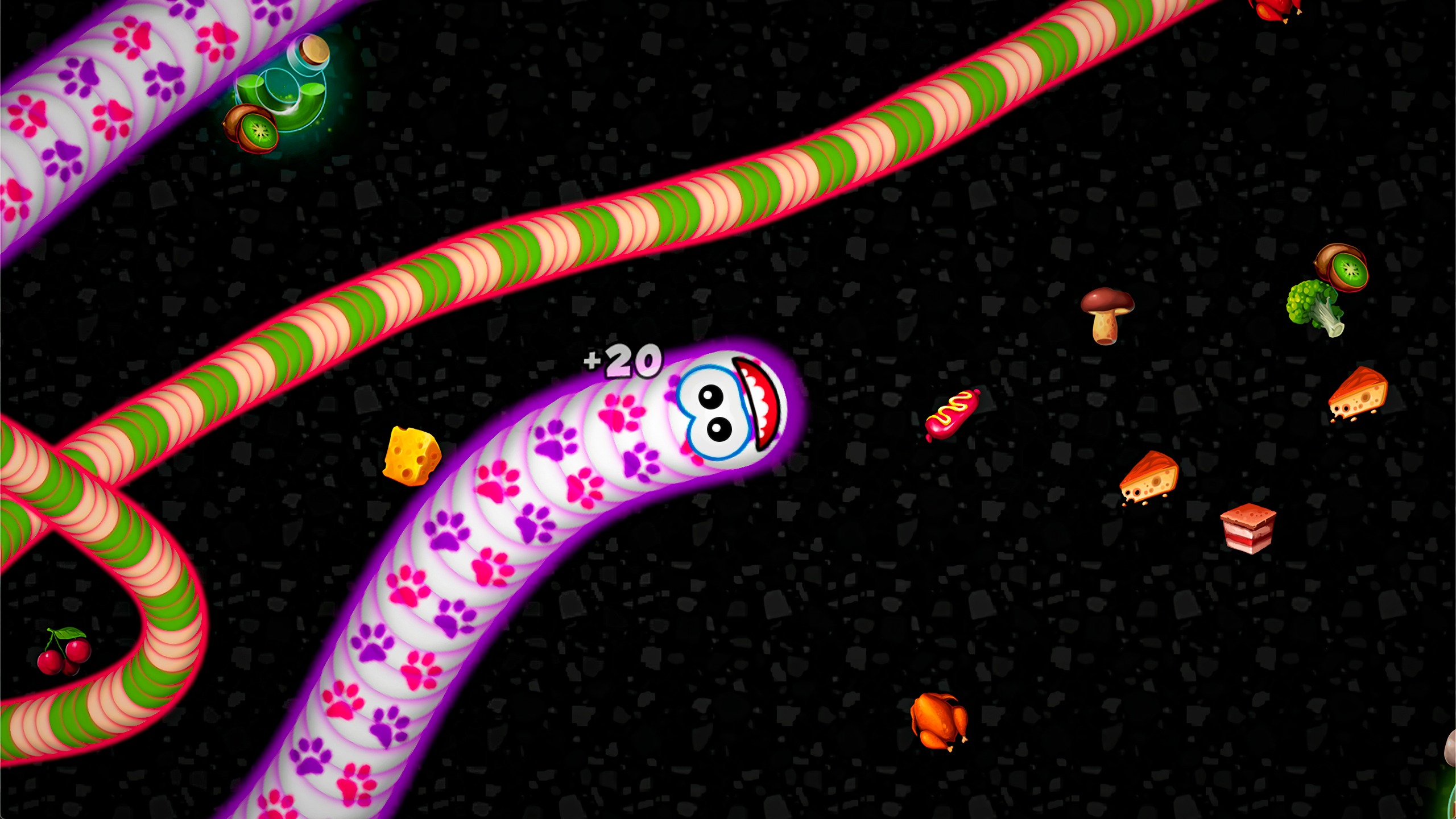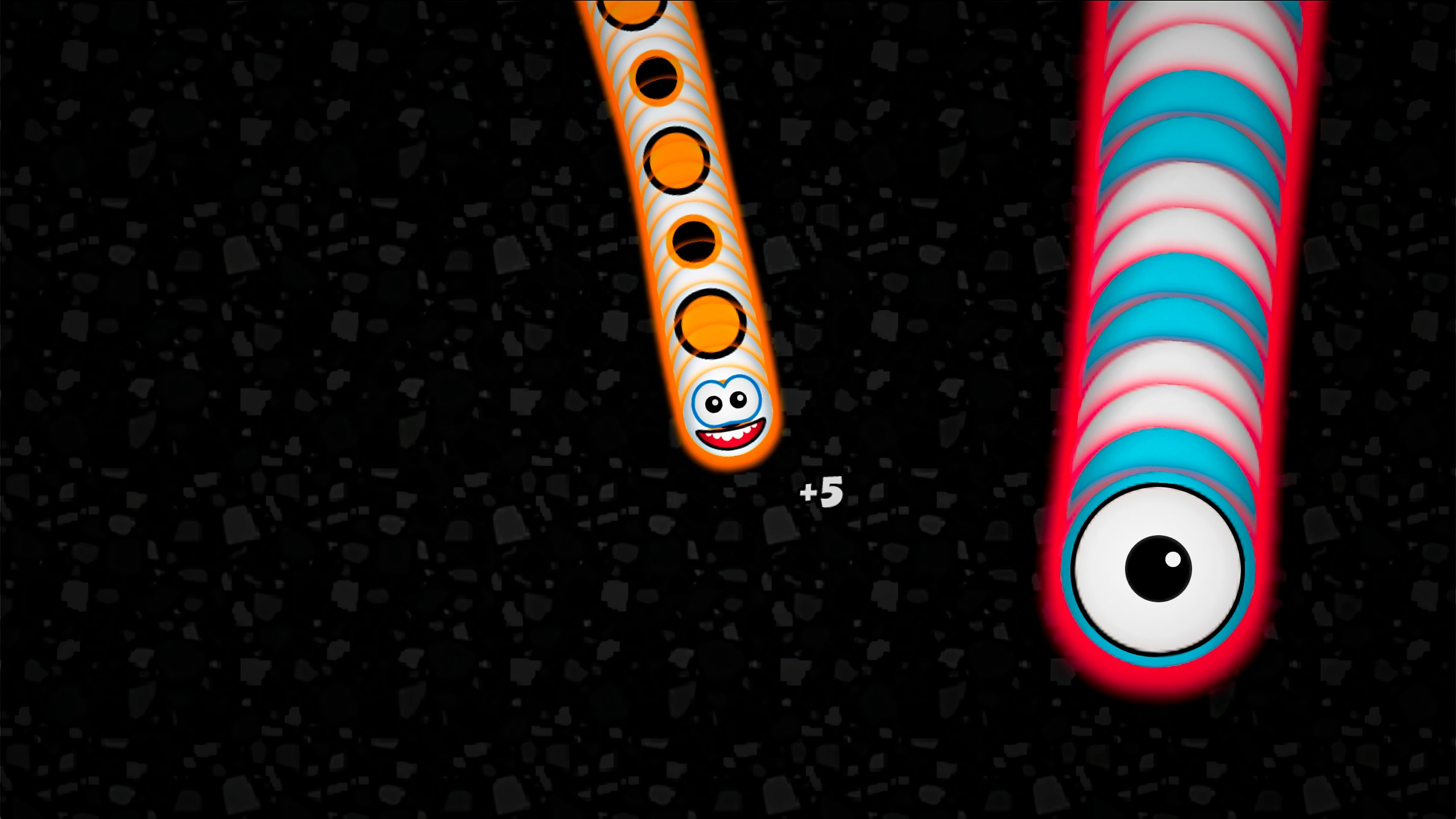 Snake Off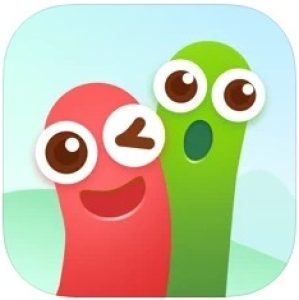 This is practically your good-old snake game but with a little upgrade.
It's a multiplier game that lets you battle with other snakes in an adorable setting. The gaming field looks like a squared paper and all the snakes are cute and colorful. The gem covers various skins you get to unlock and try.
As always, all the players start with tiny snakes and the ones who grow the largest and survives the longest — wins. You'll need to move around the field and eat colorful dots on your way. If the head of your snake will hit other snake's be — you'll die and turn into colorful dots yourself.
The same goes for the other slithers so if other snakes will crash into you – you'll get to eat what's left of her. You can also use boosters to raise your speed and attack other players if needed. The game also covers various and rewards you get with each level. Plus, you can choose between an endless and 5 min mode according to the time you have.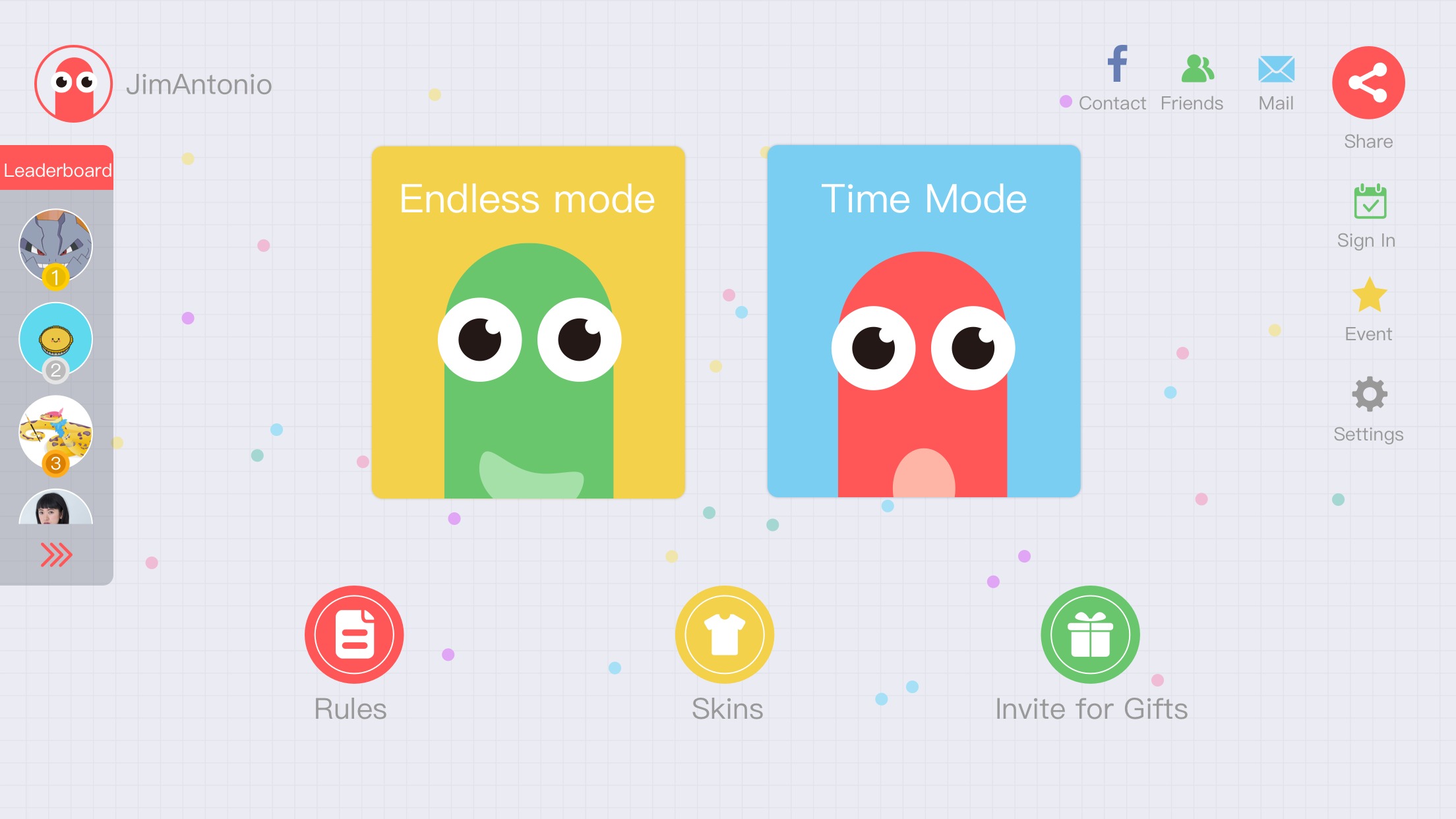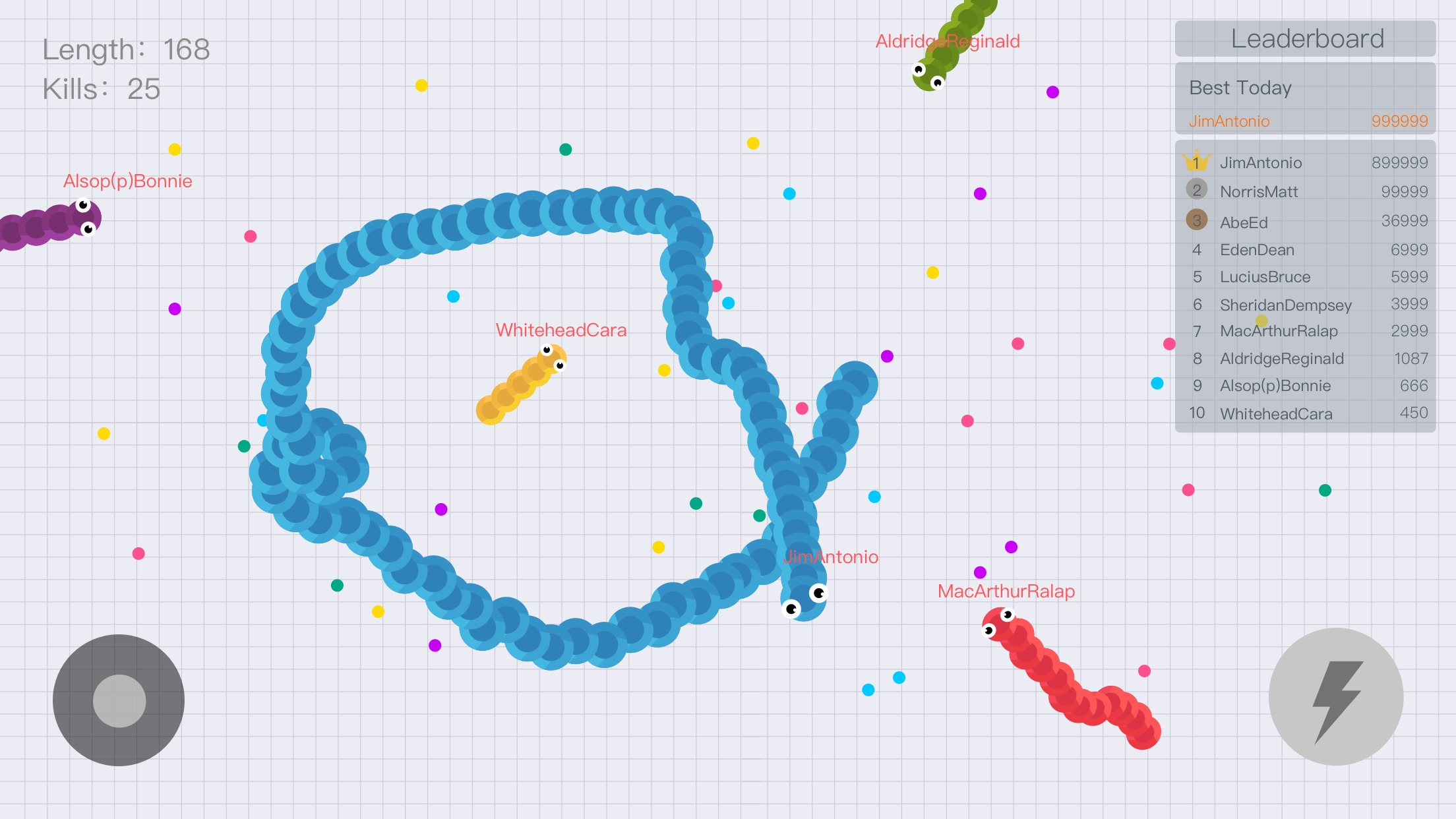 Snake '97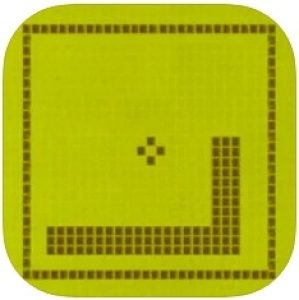 And lastly, we have the app for all the retro vibe stans out there.
Missing the good-old Motorola mobile you used to have? This game will remind you what it's like. More to that, the game covers 7 different old-phone settings you can switch according to your needs. Your screen will look exactly like an old mobile with a snake game on it.
The app recreates all the old controls and even the sounds of the buttons so you'll fully feel the atmosphere. As for the controls, you'll need to tap on the buttons you would tap playing with a push-button mobile. The rules are all the same you need to move around the field, eat food and avoid barriers that can kill you.
Plus, you need to not crash into the field's borders cause they will get you killed as well. You start as a tiny snake and as you eat you'll grow bigger and bigger which makes the game more complicated. As it's a recreation of a classic snake game, there's n multiplayer mode so all you can do is to beat your own score all over again.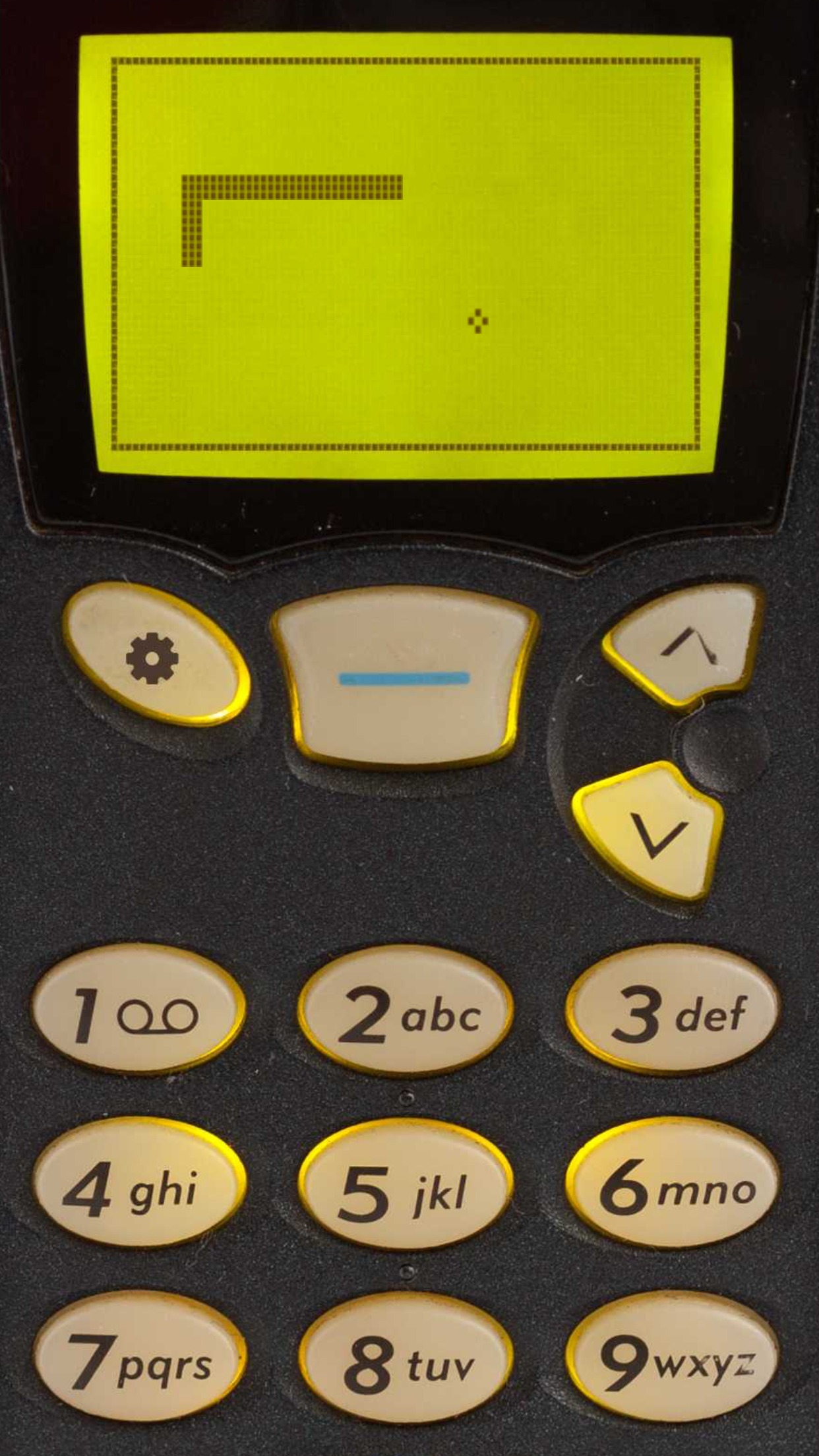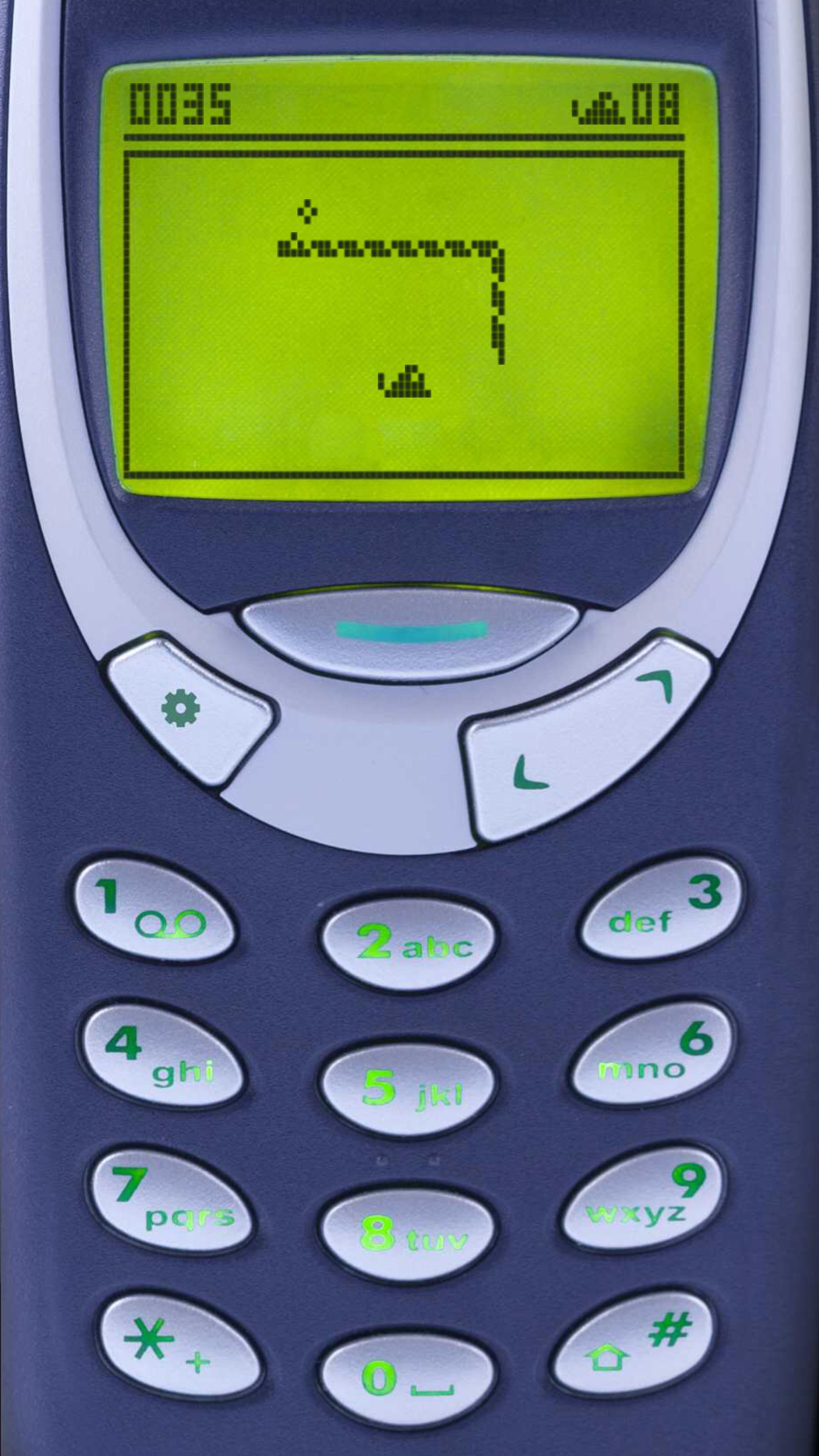 You may also like: 13 Best Multiplayer Games with Voice Chat on Android & iOS
Snake Lite – Worm Snake.io Game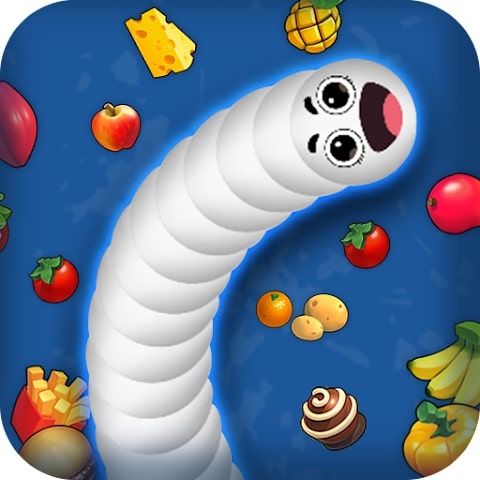 Snake Lite is a mobile game in which you will control a snake, trying to eat as much food as possible and become the longest on the playing field.
You will have to battle with other players in real-time to determine who is the best. Or you can choose offline mode to compete against artificial intelligence and bots. A ranking table will be located on the screen to keep track of your achievements.
Depending on the number of points you have scored, you will move up the list. Different mods of your snake are available to you in the game. You can choose a unique color and even attributes.
Improve your snake for the points received in the rounds. Increase your hero's stats and parameters to win and achieve better scores. Avoid collisions with other snakes to stay on the playing field as long as possible.
Activate extra abilities to defeat more enemies. Collect all the food on your way and increase in size. This will help you eliminate more enemies and gain victory.