Softros LAN Messenger app is a safe messaging platform that allows you to send and receive immediate messages. Now it is available for all Android devices. So let's take a deeper look at why this app is worth downloading.
Data security is a huge issue nowadays. In order to better protect it, you can use the best fake GPS apps.
At first, we have to admit that this app features its simplicity of usage. When you open the messenger, there is no need to create a special account or install a server, so you can get straight to the subject. The menu page contains all the necessary options – you can chat with individuals or create group chats.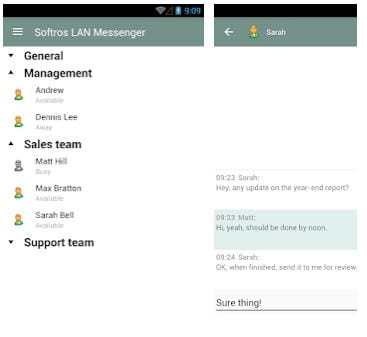 Softros LAN Messenger app works as a traditional messenger. The major advantage of this app is the fact that it adapts to any device – tablets, mobile phones, or even computers. Plus, there is no need for a constant Internet connection, that is why you can use it anytime you want!
Moving on, the app has a special option that allows you to divide users into custom groups for better convenience. Apart from sending messages, you can send significant files and documents for your coworkers.
By the way, if you want to protect your apps from any intruders, use the software that allows you to hide apps.
Softros LAN Messenger app boasts a convenient minimalistic design that ensures simple navigation. Due to its user-friendly interface, you will immediately find out how all the functions work there. Moreover, it comes with a non-commercial version.
The manufacturer guarantees a high level of security. The integrated chat program's AES-256 encryption keeps your data confidential – so, you do not have to worry that it will be shared with third parties.
In case of any glitches, you can contact technical support. The customer specialists are ready to tackle your problems at any time.
When you chat in the super-secure messengers, it can be hard to track when the person used the app for the last time. To avoid the guessing game, use the last-seen tracker apps and you're going to have no doubts.
Softros LAN Messenger app is a must-have tool for all Android users. Moreover, it is compatible with Windows and Mac systems. The app enables you to keep in touch with your teammates wherever they are. If you want to create a friendly and hard-working team, you should definitely try this app. We believe you will not regret it!