11 Best Status Shuffle Apps for Android & iOS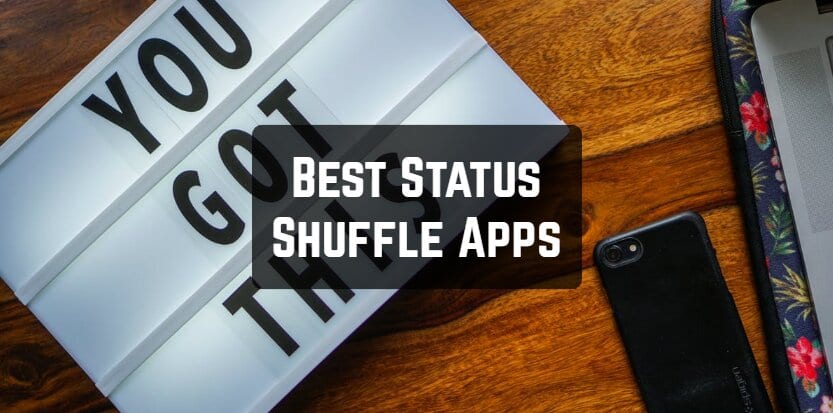 We live in a fast-paced world. Sometimes we get tired and exhausted. We need some motivation. Where can we get it? You can get inspired by reading great quotes.
You don't need to carry a collection of inspirational quotes in your bag. Books can be heavy. Download the special status shuffle apps on your smartphone. They will help you to be inspired and motivated.
You may also like: 22 Quote Apps for Android & iOS
You can read one quote a day to be motivated. Send these quotes to your friends. They will appreciate your care and attention. Are you in love? Are you sad? Do you need motivation?
You can find a quote for any mood. You can send statuses to your friends to support them. The quotes are a perfect way to be motivated and happy. There is a list of the best status shuffle apps for Android and iOS. Try them all or choose only one.
50000 Status Quotes Collection
This is a great app that will allow you to have a whole collection of quotes on your phone. All quotes are sorted by topic. Choose a topic and enjoy motivational quotes.
You can send inspirational quotes to your profile. Your subscribers will be happy to receive inspiration. This app is completely free. It works without an Internet connection. It has quotes for all occasions.
The app will allow you to copy quotes. You can paste them in photos or send them to your friends. Share quotes using other apps. The design of the app is nice.
The app has a collection of congratulations. Send them to your friends' birthdays or anniversaries. They will be surprised. The app doesn't take up much space on your smartphone. It has been downloaded more than 1 million times.
You may also like: Top 10 Apps to Save Whatsapp Status Without Screenshot
Best Quotes and Status
Are you still looking for a beautiful quote for your status on What's App? Actually, despite the widespread opinion, many people do still pay attention to the quotes that you have on your status there – so that one little thing can make or ruin an impression of you.
For all the Android users, you can use this app to find the best status quotes for your social media and messengers. All the quotes are divided into the categories, and when you just open the app, you can scroll through them and choose the one you like more.
Then, find a quote that you feel related to, tap on it and it will be opened in a separate window. From there, you can either copy it or share it via social media. Overall, this is a pretty standard Android app for quotes.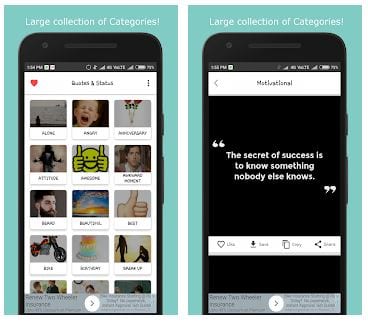 Best Quotes, Status & Sayings
Well, of course, you can choose any quote to place to your status. However, that quite might be a really deep, meaningful, and wise, but it just isn't meant for being placed in the status on social media. That's why all those quotes app are meant to help you to find the best-looking (and sounding quote for your accounts!).
This is a very classical app for social media statuses and quotes, and it is similar to other apps for Android on this list. As always, all the quotes are sorted into categories so it would be easier for you to find the quote of the meaning that you like. What is more, you can find here not only a plain text but also the beautiful wallpapers with quotes.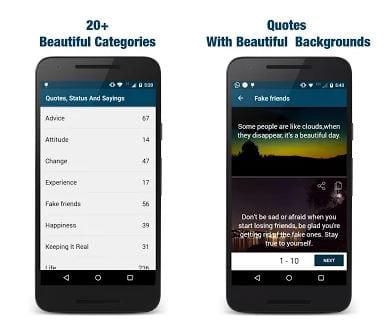 Best Caption and Status 2020
This app will be more suitable for the female audience, first of all, because of the cotton-candy interface design. And by the way, this is one of the most popular apps on Google Play. The distinctive feature of this app is that it truly contains a lot of quotes for every life situation. Just choose the one you like more, copy it to your status.
What is more, Best Caption and Status 2020 might be extremely useful for those who want to do a post on social media, for example, on Instagram, but don't know how to write a beautiful text to it.
Find the quote that matches your pictures most in this app and collects tons of likes! By the way, the app has only positive reviews by its users on Google Play.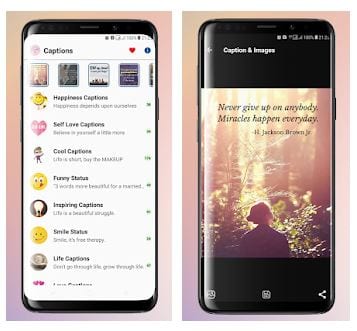 Status Quotes for 2020
Even though choosing the beautiful quote for your status on messengers and social media is considered to be cheesy and even stupid nowadays, many people still do that. And actually, if you pick up the sentence or a phrase right, it doesn't seem borings and actually looks good with your overall profile.
This app contains only the best quotes for status which are trendy in 2020. The app contains more than 10 thousand quotes – definitely something to choose from.
For your convenience, all the quotes are divided into categories, so it would be easier for you to browse in the app. Also, all of them are presented in that way, so it would be easy for you to copy or share any quote that you will find in this app.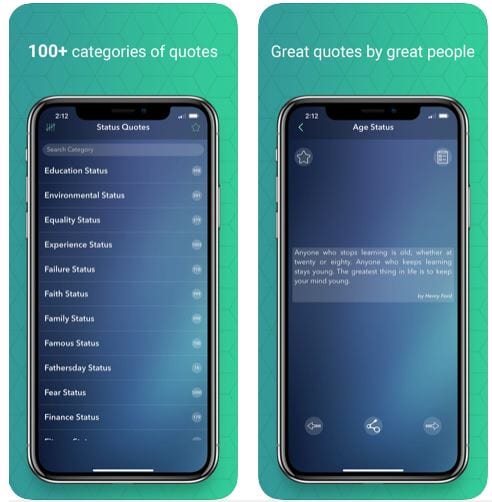 Romantic Quotes Latest Status
Are you planning to spend a romantic evening with your soulmate? Read romantic quotes and statuses to know what to say at the time of pauses. Your soulmate will be delighted.
This app has a large collection of romantic quotes. This is one of the best ways to make your evening unforgettable. The app has many categories of quotes. Hug quotes, kiss quotes, wedding quotes, and others are waiting for you.
The design of the app is very convenient. It is easy to use the app. The navigation is intuitive. You can share your favorite quote and status directly from the app. Ads won't distract you. You can use this app as a book. Read quotes when you are on a bus or stuck in a traffic jam. You can get a lot of motivation by reading inspirational quotes.
Best Status Collection
This useful app is suitable for frequent status shuffle. Change your status on social networks every day. Surprise your subscribers with wise quotes and motivating phrases. Share heartbreaking statuses and show your feelings.
This app will help you express your feelings. You can make your boyfriend or girlfriend smile. Send them funny statuses. They will laugh for a long time.
Surprise your sweetheart with romantic quotes. Your love will get stronger. You can start and end your day with motivating and inspiring quotes. The app has categories of quotes.
If Valentine's Day is coming soon, find a nice greetings for your soulmate. Add quotes and statuses to your favorites list. You can always find them quickly. The app has been downloaded 500 thousand times.
Awesome Status & Crazy Quotes
You will find more than 100 thousand statuses and quotes. The app is different from other apps with crazy quotes. It's funny. Send them to your friends to cheer them up. Put statuses and quotes in the description of your photos on Instagram. You will receive hundreds of likes and new subscribers. This is the way to glory. The app sorts quotes into categories. Choose a category and read quotes.
Do you like music? Read music quotes. Are you an emotional person? Then try emotional quotes. Everyone will find what he or she likes. The app has a simple interface. The navigation is intuitive.
If you liked the quote, add it to your list of favorites. The app is tiny in size. It doesn't take up much space on your smartphone. Inspire yourself and your loved ones!
Quotes, Sayings & Status
The design of this app is very modern. You will like the background. You can change the background of the app. Choose what you like. You can choose ready-made backgrounds or create your own.
Open the gallery and select a photo. The app will crop them and add to their backgrounds. The app has many categories of quotes. Select the desired category and read the statuses. You can add status to your profile on social networks.
The app can work without the Internet. You can read beautiful quotes and statuses anywhere and anytime. Share statuses via social networks.
Add quotes to the favorites section. The app has a huge base of quotes. You can find a quote for any reason. Congratulate your friends on using quotes. Getting ready for an important speech? Find a wise status in the app.
You may also like: 9 Free Beep Test Apps (Android & iOS)
Best Status Shuffles
This is an extremely simple status app for iOS. Here you will be able to find the beautiful quote for your status on social media. The interface of the app is rather obsolete, and there is a big chance that the app isn't going to function on the latest versions of the iPhone.
However, those who are into that old school style will definitely appreciate this app. Just browse through the quotes, tap on it and it will be opened in a separate window. It is made this way so it would be easier for you to cope with the quote or tap to share it on social media.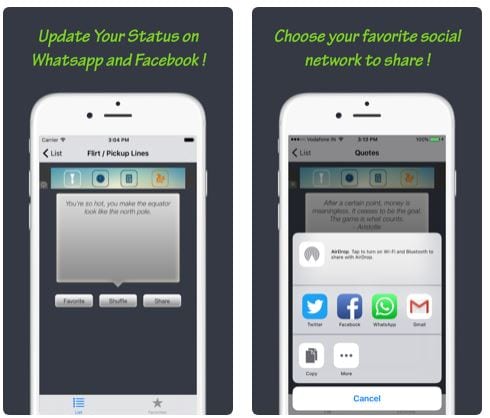 You may also like: 11 Best Apps that Block Social Media (Android & iOS)
Quotes & Status Funny 70000+
As you can see from the name of this app, it will be a perfect choice for those who are looking for the biggest database of status quotes – here you will find more than 70000. You could literally browse this app for years and still discover something new for your status every day.
This app isn't that much popularity yet however, it is still a good one to go for. Well, it has not the most convenient interface design ever, but, taking into consideration its huge collection of quotes for the status that can be forgiven.
The app also has some amount of ads, but the banners are usually located in the lower part of the screen, so they don't interfere with you anyhow.