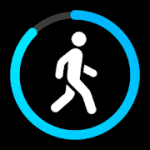 How often do we hear from friends and acquaintances, "I move so much in a day, I am so tired, but I do not lose weight at all"? Sometimes it happens. But not always fatigue shows the level of your physical activity.
Office work, for example, often involves a sedentary lifestyle, and people of such professions are not athletes. Doctors recommend to take at least 10 thousand steps a day, and this is as a regular activity. You can check whether you are following the doctor's recommendations with StepsApp.
Initially, after installing the application, you will have to drive your biological parameters – this is for accurate measurements. Height, weight, gender – everything is standard. After a small registration, you can start learning about the application and its functionality.
On the main page, you can see information about your physical activity – the number of calories burned, the distance covered, the time spent and, most importantly, the number of steps. To count the steps, you just need to take your smartphone with you wherever you go.
Taking into account the way of life of modern society, we always keep the phone with us. Your activity will be tracked automatically – with the help of GPS-positioning and sensors built into the smartphone.
The appearance of the application – dark background and neon colors – attracts attention. Minimalism, clear lines – all this shows the seriousness of the application. You can change the color scheme in one touch – a total of 6 colors are available for every taste.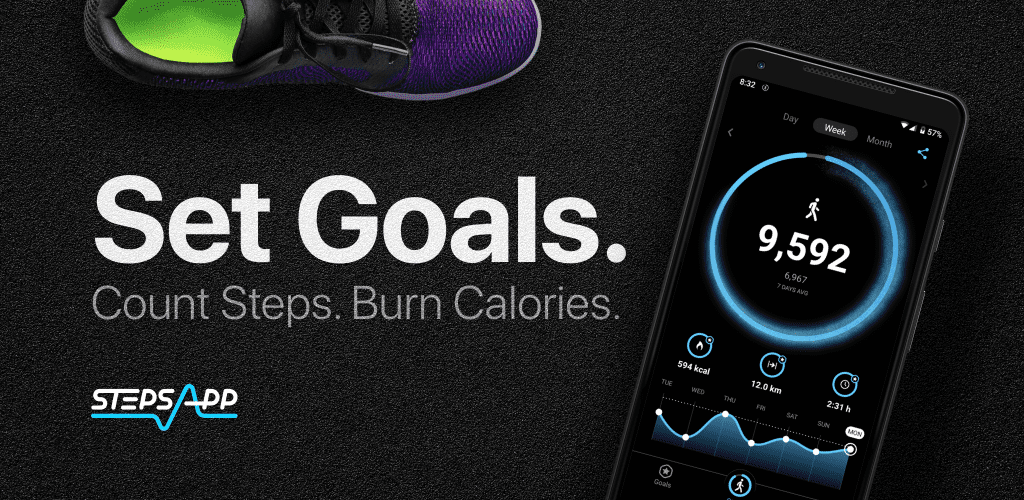 You can easily monitor your physical activity. The app syncs with Google Fit and Apple Health. This gives you the ability to keep track of your workouts, weight, parameters, and overall physical activity in addition to the steps you take.
This way, you can also count your total calories. Activity is clearly shown in charts and graphs. You get a weekly summary report, as well as daily and monthly statistics. So you can make plans for training on specific days.
When you reach your daily goal, you will receive a notification with congratulations. At the same time, you define the goal yourself. According to medical recommendations, the average person should take about 10 thousand steps, but you can set goals taking into account your work and employment. You may also share your results on Instagram, Facebook or Twitter.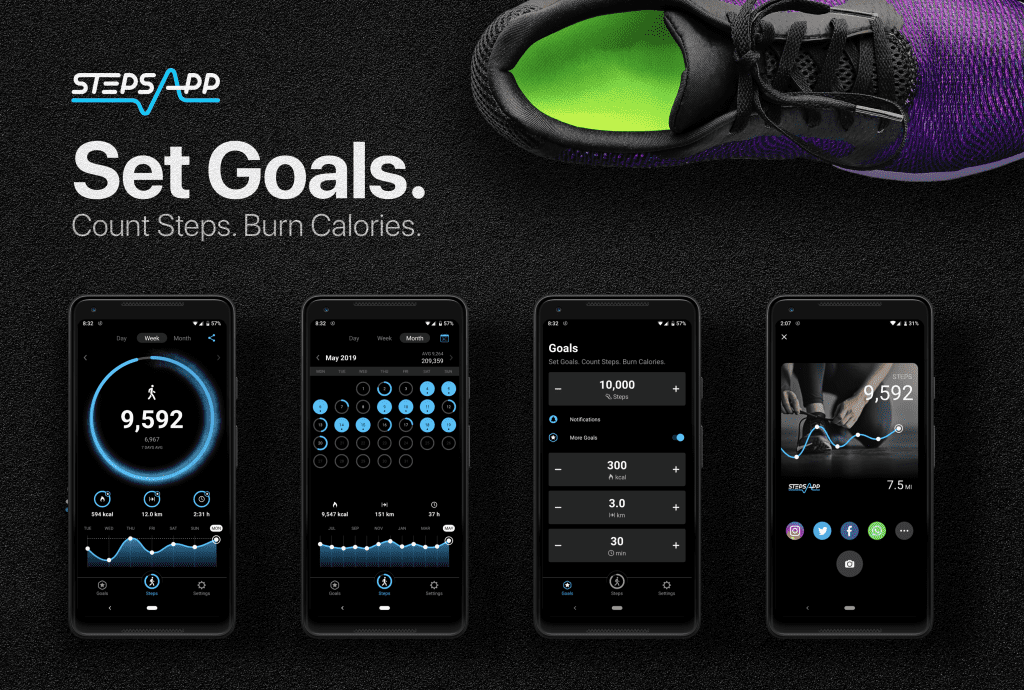 StepsApp, like any quality application, has a Pro version. It has advanced functionality and features. However, in the free version of the application, you can see all these features – you just can not use them.
Firstly, in the advanced version, you get rid of advertising. In general, there are no annoying or pop-up ads in the app, but at the bottom of the screen, there is always a strip with third-party content. Some people are getting annoyed when they see ads, so the feature is very useful.
Secondly, on the main screen of your smartphone, you can immediately see the basic information for the day. Burned calories, traveled distance. So you can roughly understand how much more effort you need to make to achieve your goal and how to plan the rest of the day. Improve your level of activity.
Third, importing data from Google Fit and Apple Health gives you a complete analysis of your activity. By analyzing the data, you can add or remove activity and track your overall progress on weight.
And, of course, the look of the app. StepsApp lets you customize the design, change color, and make the activity graphs brighter and clearer in the Pro version.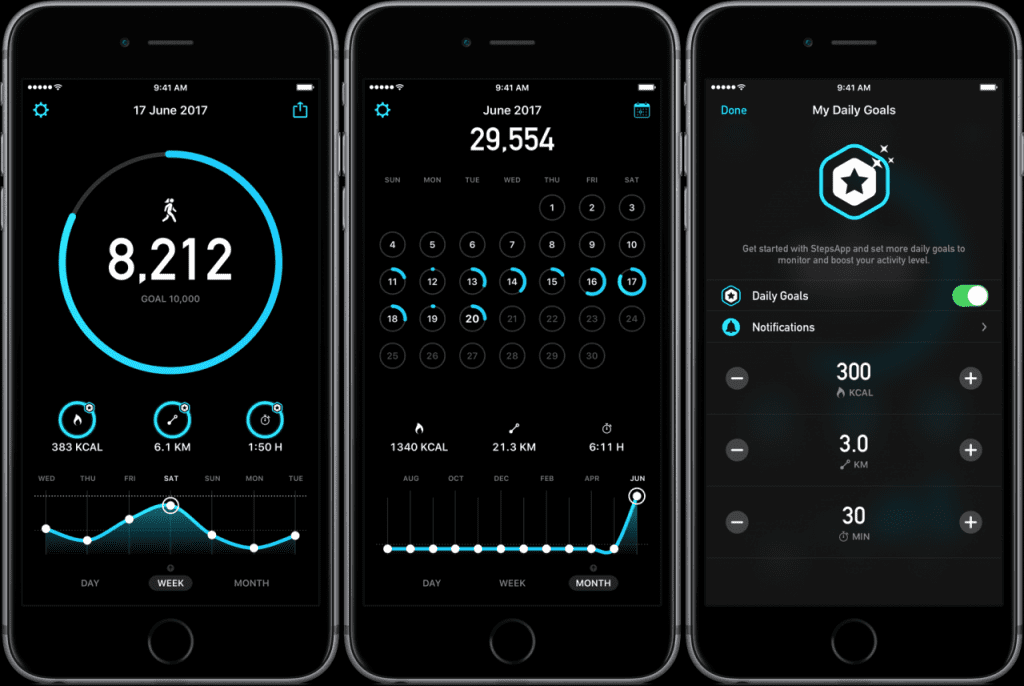 Keeping track of your activity these days is essential. For your health, it is not enough just to watch your diet, but also to be active and add a little sport to your life. Regular exercises and general physical activity will help you maintain your health and even improve your physical performance. Keep track of your progress using StepsApp with ease on your smartphone. And by purchasing a Pro version, you can maximize the comfort of using the app, making it easier to stay active.