Have you ever wanted to practice Tai Chi? This article has you covered.
There are lots of Tai Chi Apps for Android and iOS that can help you improve your health and bring more balance to your life. Tai Chi practice requires slow and calm movements so it is suitable for people all ages and physical training levels.
In case you're interested in other yoga and meditation techniques make sure to have a look at this article.
Here's the list of 7 best apps that category that worth your time.
Yang Tai Chi for Beginners 1 by Dr. Yang
Let's start with an app called Yang Tai Chi for Beginners 1 by Dr. Yang. This app holds dozens of Tai Chi video lessons that will help you learn all the techniques.
In the first place, the main point of this app is o make you feel like you're having personal lessons with a world-acclaimed Tai Chi master. Thus, each lesson includes a detailed explanation of every Tai Chi move so that even beginners could understand it.
The tutorials in the app will show you the basic part one Tai Chi form which usually takes years of practice for students.
It needs to be said, the lessons will be valuable for beginners and masters at the same time. The program in this app will teach you how to relax and give you full-body workout complex.
Plus, you will learn how to take control of stress, understand your breathing and body coordination, and even discover how to make your immune system stronger.
Along with that, the app teaches you martial art aspects of Tai Chi and explains to you all the wellness profits of Tai Chi.
Besides, there are a number of health issues that Tai Chi can help you to overcome and there are lessons about that too. However, you can only have access to one hour of lessons for free and if you want more you will need to make a one-time payment.
In the long run, if you want to learn Tai Chi methods wherever you want, be sure to try the Yang Tai Chi for Beginners app.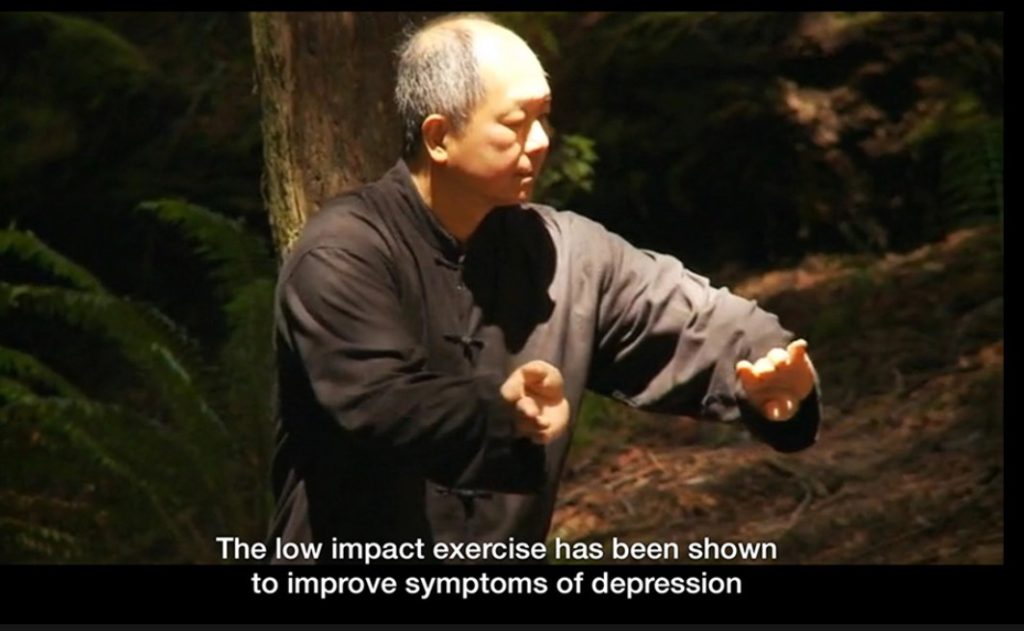 You can also check: 11 Best Stretching Apps for Android & iOS
Tai Chi For Health
Tai Chi for Health is a fitness app, which will teach you the Chinese Martial art of Taijiquan.
Before you start following the instructions on the app, you are welcome to learn more about the history of Taiji. Click on the "initial" mode, where you will find buttons Introduction,
What are Tai Chi, Tai Chi benefits, Principles, and Foundations.
These buttons are self-explanatory and helpful when you dive into Chinese Martial Arts, as you do not have to search for information on the Internet, it is all in this program!
The next step would be to go through Tai Chi principles. The "Principles" section of the app contains all the rules of this Martial art, and it will give you information on how to prepare for the performance.
When you are ready to perform Tai Chi, click on the "Practice" button in the main menu. There you will find a list of all 24 forms of Tai Chi, and short videos explaining the exercises.
If you are willing to become an expert in Tai Chi, you can also do some reading on the related terminology in this application. Moreover, by clicking on "Pictures", you will find photos of various equipment used for this martial art.
Tai Chi for Health will help you stay fit, and learn more about Chinese culture!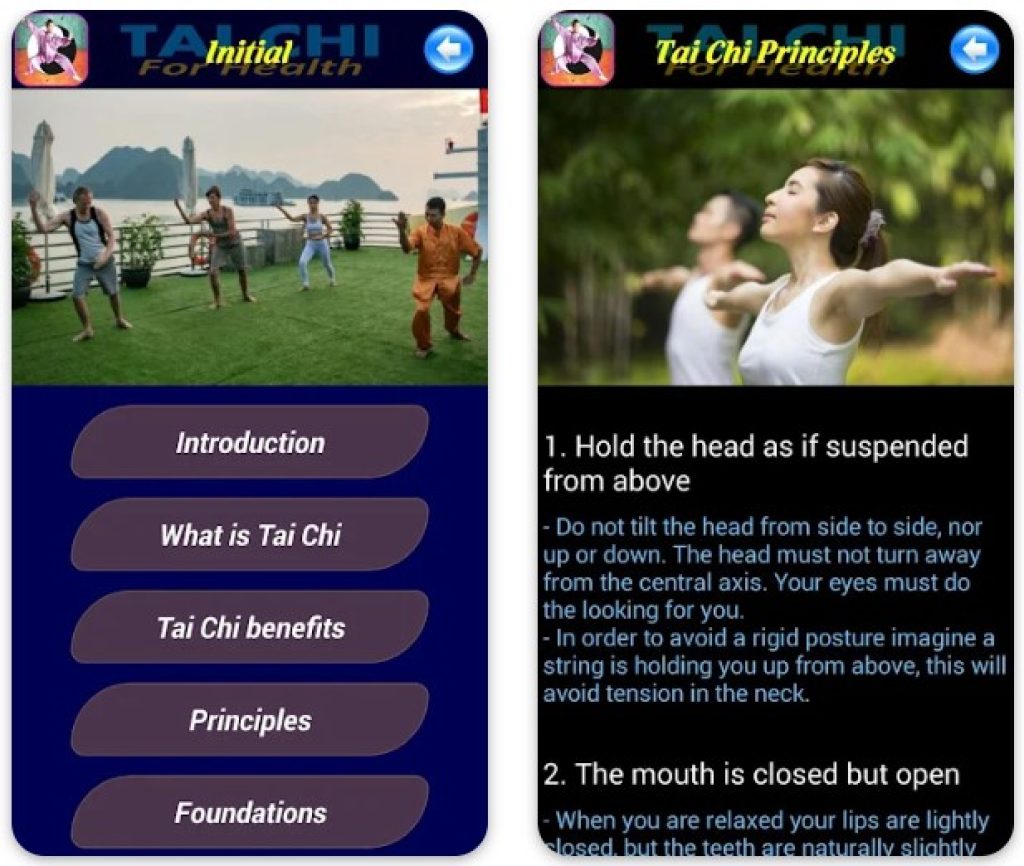 Tai Chi Chuan
Tai Chi Chuan is another app that can help you learn Tai Chi meditation techniques.
As you probably know, Tai Chi is a martial art that is remembered for both fighting methods and health gains. By this token, this app covers workouts for both of those directions.
The most beneficial thing about Tai Chi is that all the physical workouts and stretching techniques are easy and gentle so even beginners can accomplish that.
Plus, the tutorials in this app are proper for people of all ages so even your grandma can learn Tai Chi. As it was already mentioned Tai Chi practices have proven health profits and there's a list of health issues it can help you to overcome.
By the same token, the learning program in this app requires daily training so it can help you to burn calories.
Furthermore, the app has an introduction part that tells you the history of Tai Chi and its advantages. As for the meditational part of this app, there are meditation methods that can help you to rest after a long day of work, get an energy boost before studying, and much more.
There are even programs that can help you get better sleep and control your anxiety and breathing.
To crown it all, if you want to practice Tai Chi methods by simple training lessons, give the Tai Chi Chuan app a try.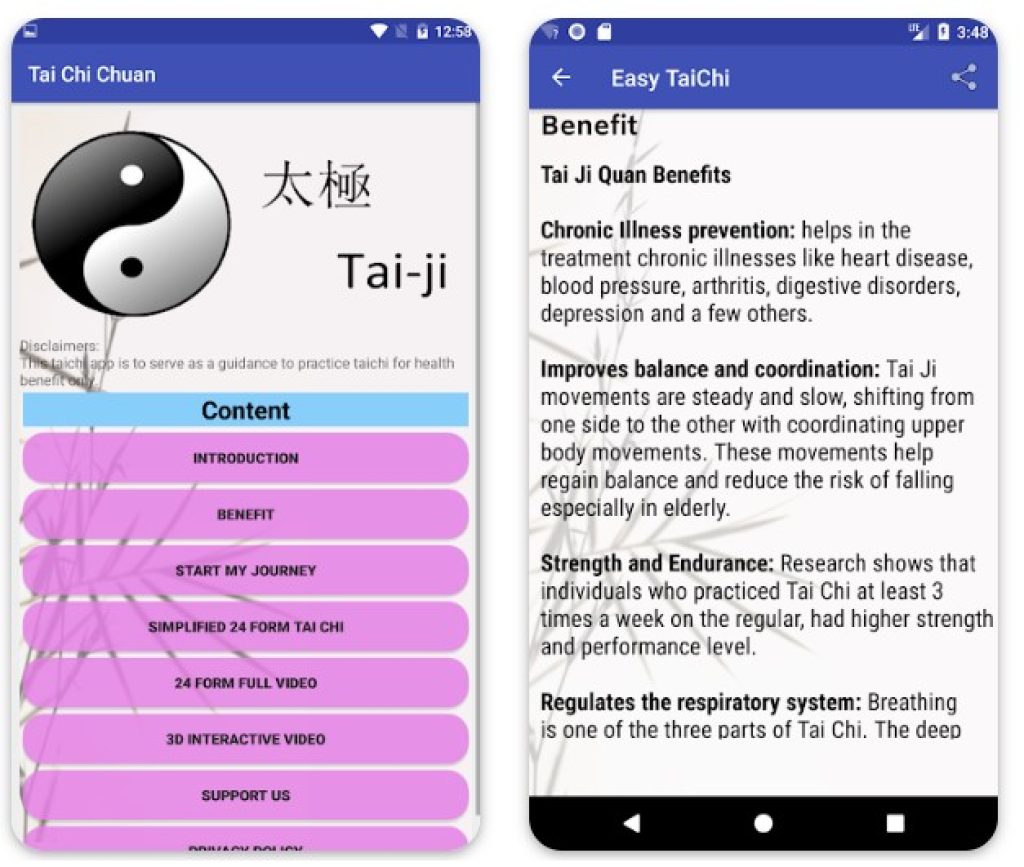 Learn Tai Chi
Learn Tai Chi is a great app for those who want to exercise unusually! As you can see from the title, using this app you will be able to learn the principles of the Chinese Martial Art Tai Chi, and perform it yourself!
Unlike other similar apps, this one teaches various forms of Tai Chi like Brocade, White Crane, and Shibashi.
The first icon that you see on the screen is "Featured", which will introduce you to Tai Chi, and tell you about its history and popularity among the Chinese.
Lessons is where you can find a number of tutorials. The videos describe the proper breathing technique and, of course, show you how to perform a Tai Chi exercise.
You can find all the videos you have watched before by clicking on "My stuff" button.
If you don't have enough time for exercising, there are moves you can do while at work or school, like footwork exercises, which do not require you to stand up. If you had a stressful day, you should try standing meditation, which will help you calm down.
New lessons are added every month, so you will always learn something new with Learn Tai Chi!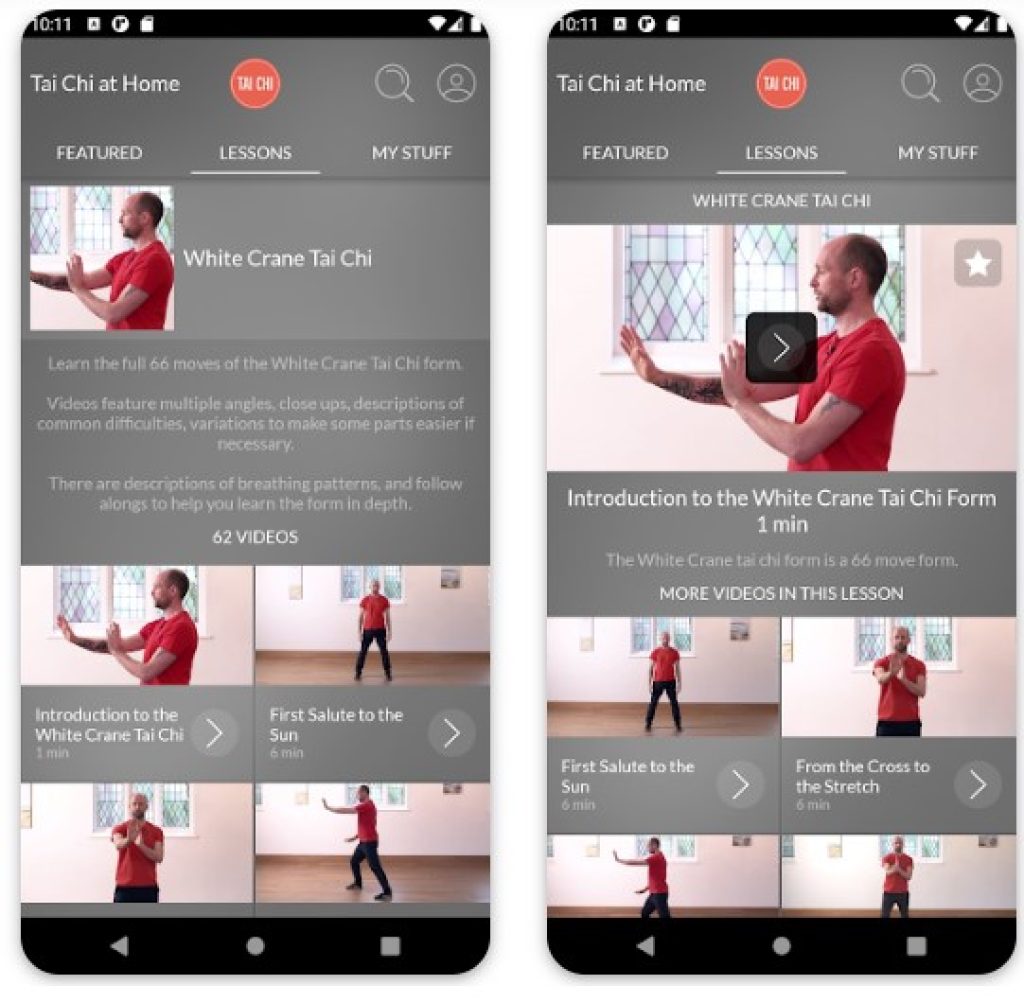 Tai Chi for Beginners 24 Form (YMAA) Helen Liang
Tai Chi for Beginners 24 Form (YMAA) Helen Liang is an app made for people who are just starting to practice Tai Chi.
As its name supposes, the app includes training tutorials made by the master of Tai Chi Helen Liang.
The tutorials cover the most common six-minute Tai Chi techniques that you can practice anywhere you want.
By the same token, as all the videos are made for beginners it shows you the techniques from different angles and step-by-step instructions,
Each technique in the app will be explained to you in six minutes which is extremely helpful if you're in the rush. Nevertheless, you will still be able to see the benefits Tai Chi gives to your health. To be more precise, you will notice to have better sleep, more energy, and a lack of anxiety.
All the videos can be downloaded in case you'll want to watch those without the internet. However, only a small part of video materials can be watched for free and you will need to commit to a one-time payment if you want to keep watching.
To crown it all, if you want to practice Taci Chi but you don't have much time to spend on it, try the Tai Chi for Beginners app.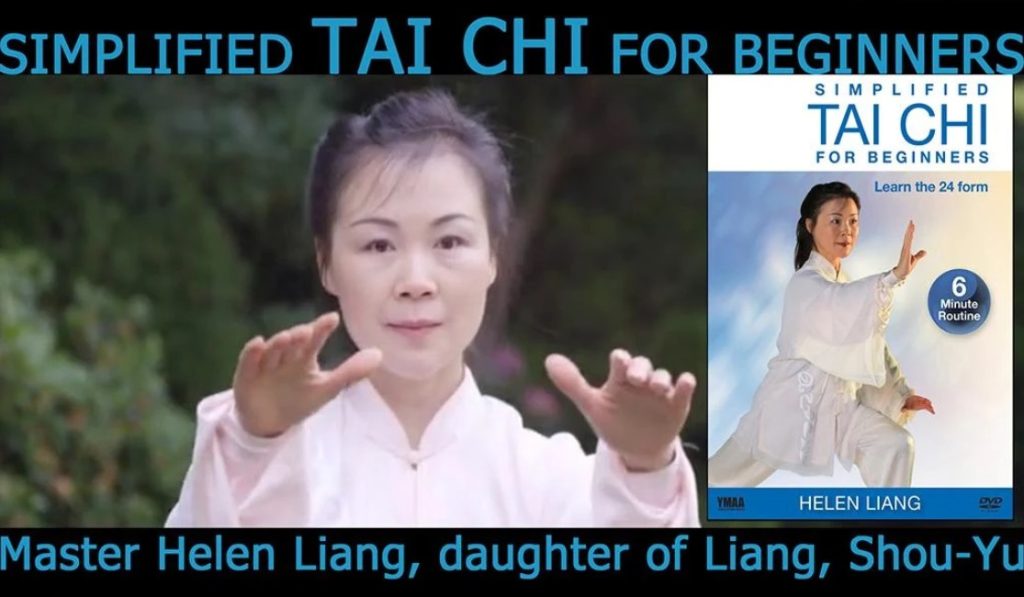 Check also: 9 Best Apps to Watch Sports Highlights (Android & iOS)
Taichi Temple
Taichi Temple is a learning guide for all the people interested in Tai Chi. The main point of this app is to help you learn Tai Chi day by day.
Plus, there's a two-hour video that explains everything you want to know about Tai Chi so you'll know about all the fundamentals, poses, terminology, and even the way you need to breathe to get the best results.
The app gives you the feeling of private lessons with the master but is better as you can practice on the go.
Along with that, all the learning, methods in the app has been used for over thirty years now so you can be sure everything is authentic. Plus, the workouts are progress step by step so you start with a quick warm-up which leads to longer workouts.
To be more precise, there's a breathing practice, basic Tai Chi activities, and the Yang style.
The app has eight levels ad once you're done with all of them you can customize your own training program that matches your lifestyle. You can also add adjustments to your training schedule whenever you want. You can also sync the app with your smartwatch or fitness bracelet and track your scores.
The app has no subscription packs and you don't even need to log in if you don't want to.
All in all, if you're looking for a Tai Chi dictionary, give attention to the Taichi Temple app.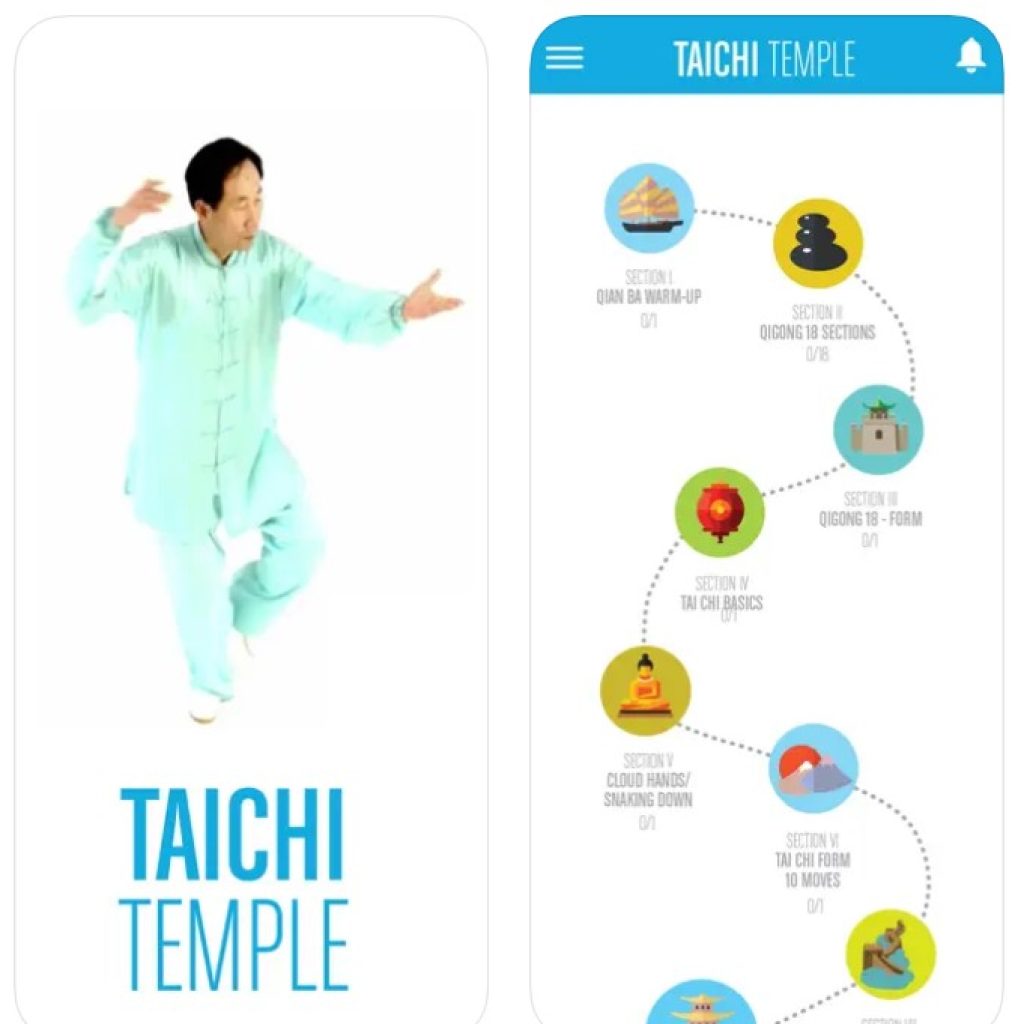 Tai Chi
Thai Chi is an app for mild stress management. It is perfect for people who can not cope with their stress or self-control.
The application presents many various combat techniques related to each other with a detailed description.
Thai Chi has its roots in China and right there it was proven that an app helps to provide long-term benefits for your body, soul, and mind.
Developers promise that at the start of the study of the materials, it will be possible to get the same harmony with your body again, as it once was in childhood.
The philosophy of the app rotates around cycles, balance, and overall is a way of correct moving in life.
The Thai Chi app is extremely easy to use. When you first log in, a side tab with a table of contents opens. You can go to some sections such as Home (where the table of contents is available), What is Tai Chi, History of Tai Chi, Styles, Symbols, Forms, Moves, Tips, and Benefits.
Each of the chapters contains a written description, different related images, and Internet links. For those who are especially interested in the history of this application, there is a button About the program that is available for exploration.
A nice addition is pictures that fully correspond to the themes of the sections, as well as the ability to reload the page if there are any problems (this is done using the button at the top left corner, in the form of a circular arrow).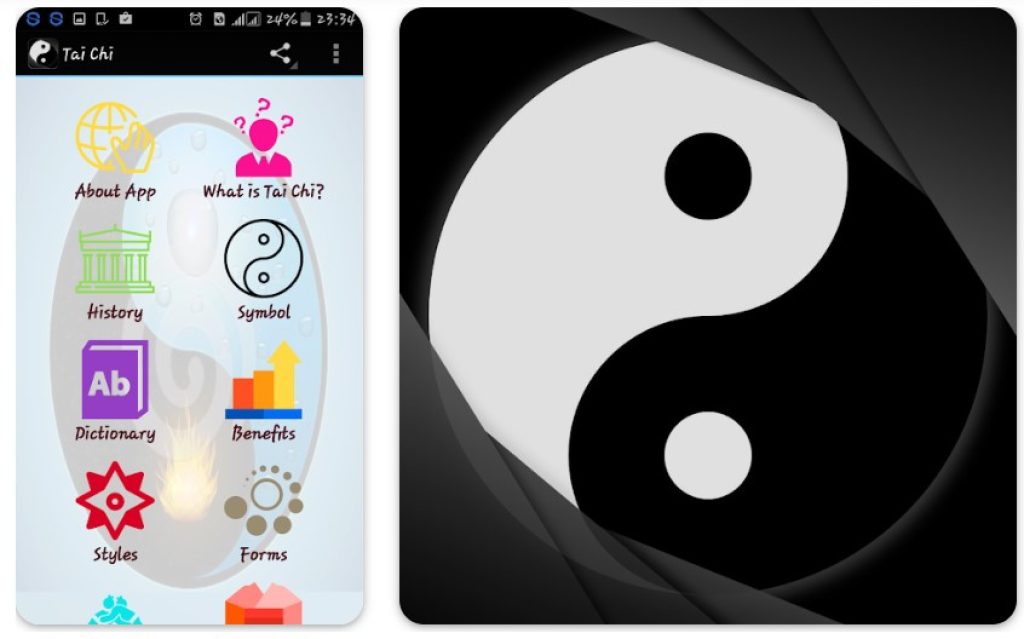 Tai Chi For Seniors
We would also recommend you pay attention to this app since it's developed to help elder people to learn Tai Chi and maintain a healthier lifestyle in general.
The app offers a range of video tutorials and guided sessions that can be done from the comfort of one's own home, making it a convenient and accessible way to improve one's health and fitness.
Here you will find a variety of Tai Chi exercises and routines, each designed to promote balance, flexibility, and relaxation. The videos are easy to follow, with clear instructions and demonstrations, making them suitable for beginners and those with limited mobility.
There is also progress tracking in the app and customized routines, allowing users to tailor their practice to their specific needs and goals.
Additionally, the app is convenient to use, allowing users to practice Tai Chi from the comfort of their own homes, without the need for expensive equipment or gym memberships.
Overall, this is an interesting and extraordinary app for elders who want to continue keeping their active physical lifestyle, and with the convenient interface design using this app is a breeze.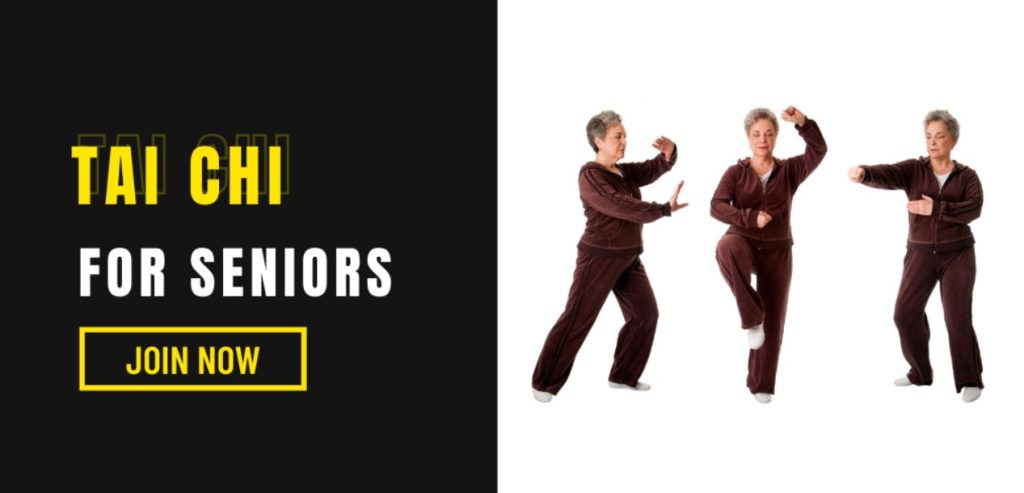 You may also like: 7 Best Fitness Challenge Apps
7 Minute Chi – Meditate & Move
An interesting app that combines meditation with Tai Chi workouts. But this combination isn't the main thing that 7 Minute Chi can bring – let's take a closer look.
The app's main features include a variety of meditation and movement exercises, each designed to promote relaxation, stress reduction, and improved physical health.
The videos that you can find here are easy to follow, with clear instructions and demonstrations, making them suitable for beginners and those with limited experience in meditation or movement practices.
There is also a possibility to create your own workouts, but this option will be more suitable for advanced users.
And even though when in some places the interface design might seem a little bit plain, the whole elements and animations are done decently, and it makes the user experience better than in other apps of this type.
Overall, the 7 Minute Chi app is an effective and convenient tool for those looking to improve their physical and mental well-being through the practice of mindfulness and movement. The app combines an interesting approach with a polished interface design and this makes it a must-try for this list.