Almost all of us would like to hear what others are saying in our absence. To eavesdrop and find out a little bit of new things is sometimes useful and interesting.
By the way, if you urgently need to find out hidden information, take advantage of these best spy apps with a free trial.
For any reason, you can use these best super hearing apps for Android & iPhone. They will make your phone a great listening device that can hear at a very long distance. So, try them all or choose the one that fits all your needs.
Ear Scout: Super Hearing
Ear Scout is a mobile app that empowers you to expand your abilities and explore the sounds of your environment. With the help of modern technology and algorithms, the app turns your smartphone into a unique device and helps you hear sounds that are happening far away from you.
The app comes with a highly sensitive microphone capable of projecting sounds in a wide range of frequencies and amplitudes. Thanks to this, you will be able to hear sounds that are happening far away from you.
The program offers several modes of operation that are adapted for different situations. For example, the increased volume allows you to hear quiet sounds. Listen to birds singing outside the window, the sound of the TV from another room, or even the sound of the wind.
You can discover new features of your smartphone and enjoy sounds that were previously unnoticed.
Take advantage of the Noise Reduction feature. This is a mode that focuses on suppressing noise and ensuring optimal sound quality. Thanks to this mode, you can comfortably listen to music, talk on the phone, or watch videos without worrying about intrusive environmental sounds.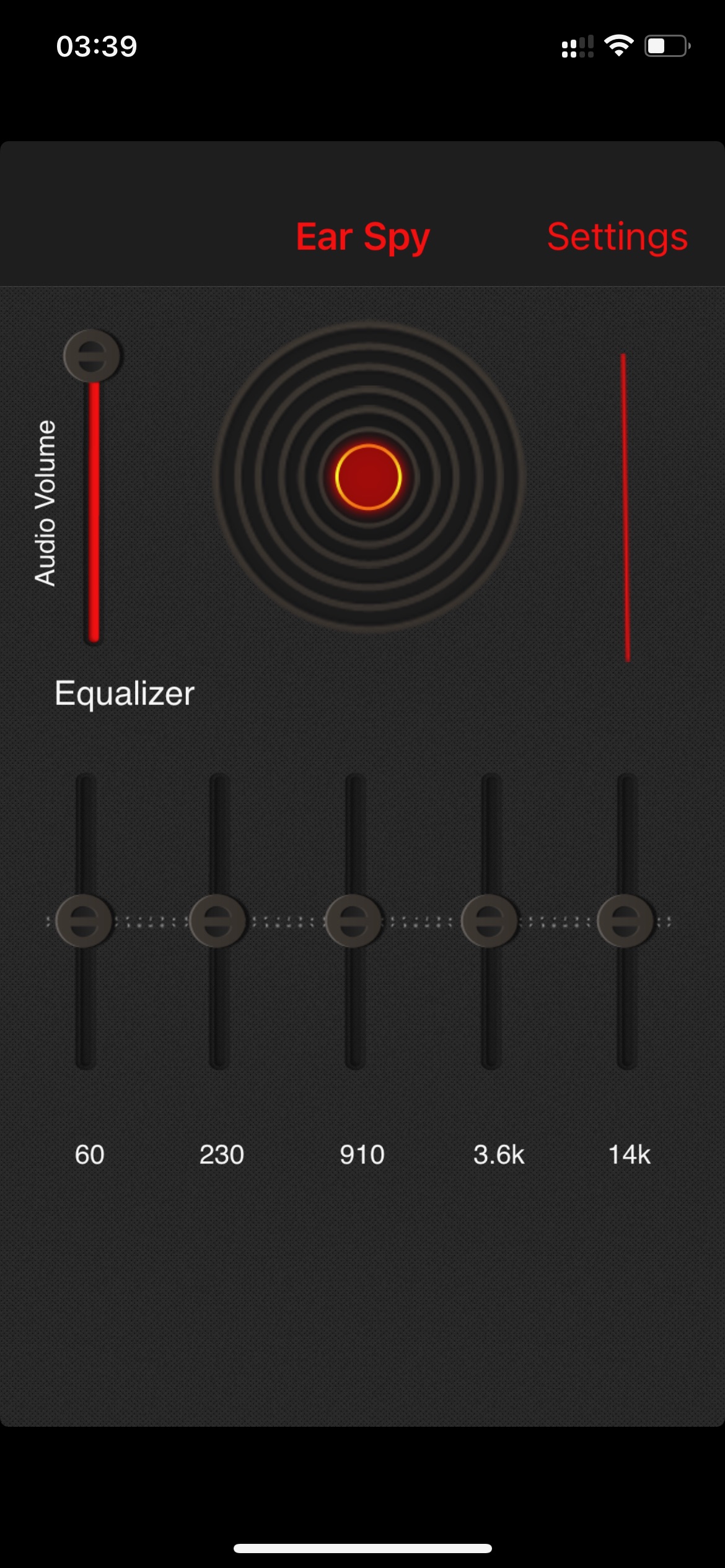 The app allows you to customize sound settings according to your individual preferences. Adjust volume level, frequency response, and other settings to create the optimal audio experience. Record sounds and use them for more detailed analysis or future listening.


You may also like: 11 Best Ear Training Apps & Websites
Hear Boost: Recording Ear Aid
Hear Boost is a mobile app that allows users to enhance the audio experience on their smartphone and enjoy clear and loud sounds. This app helps to recognize even the most distant sounds with its built-in multi-functional microphone.
The program allows you to amplify sound and improve audibility even in noisy places. It uses advanced sound processing techniques to increase its volume and clarity, which allows you to hear and understand speech better.
Hear Boost uses a versatile sound equalizer that allows you to adjust the sound according to your preferences and needs. Using the equalizer allows you to improve certain sound reproduction parameters for a better and more comfortable listening experience.
The app also has a sound recording feature that allows you to save important conversations, events, and unusual sounds. Adjust the audio gain level, select or activate automatic equalizer settings, and set your own parameters for optimal sound perception and recording.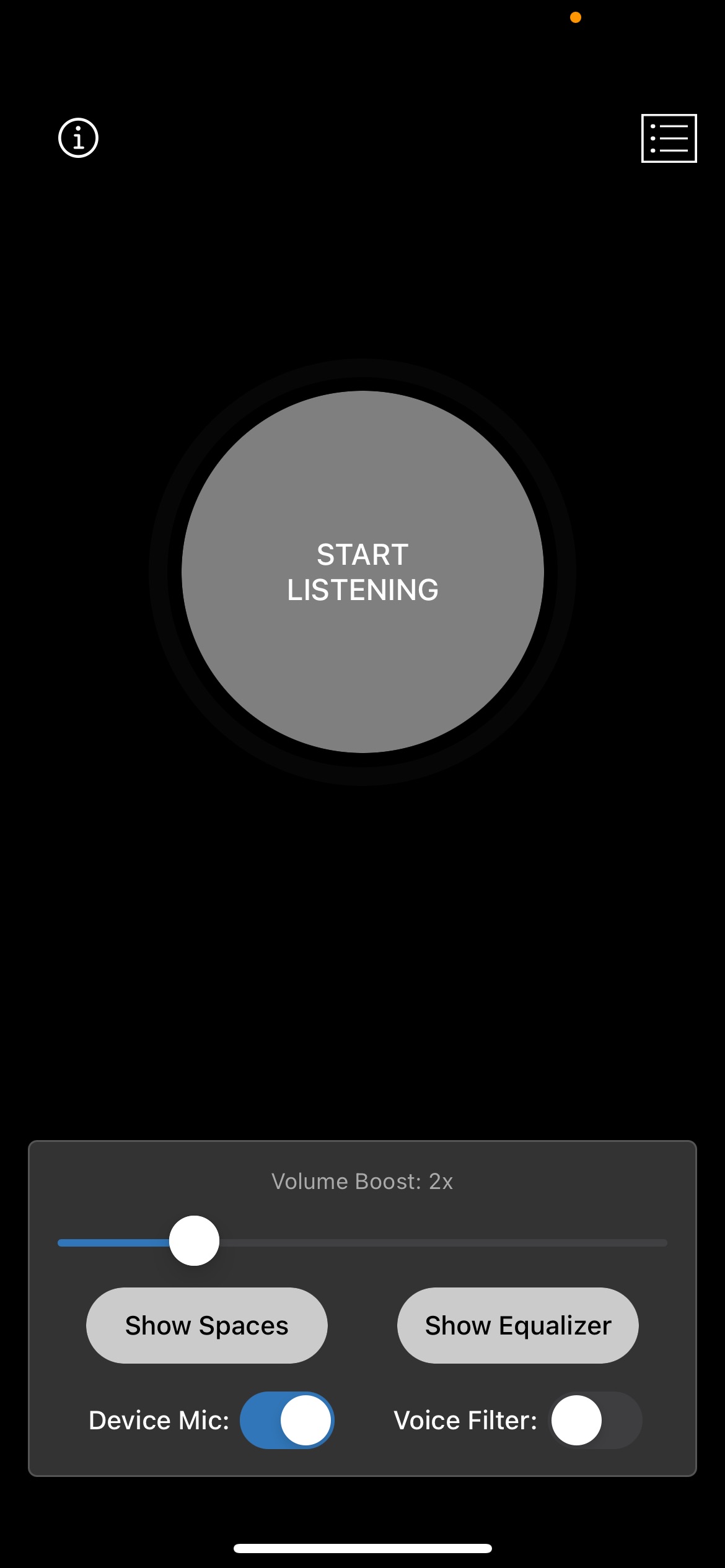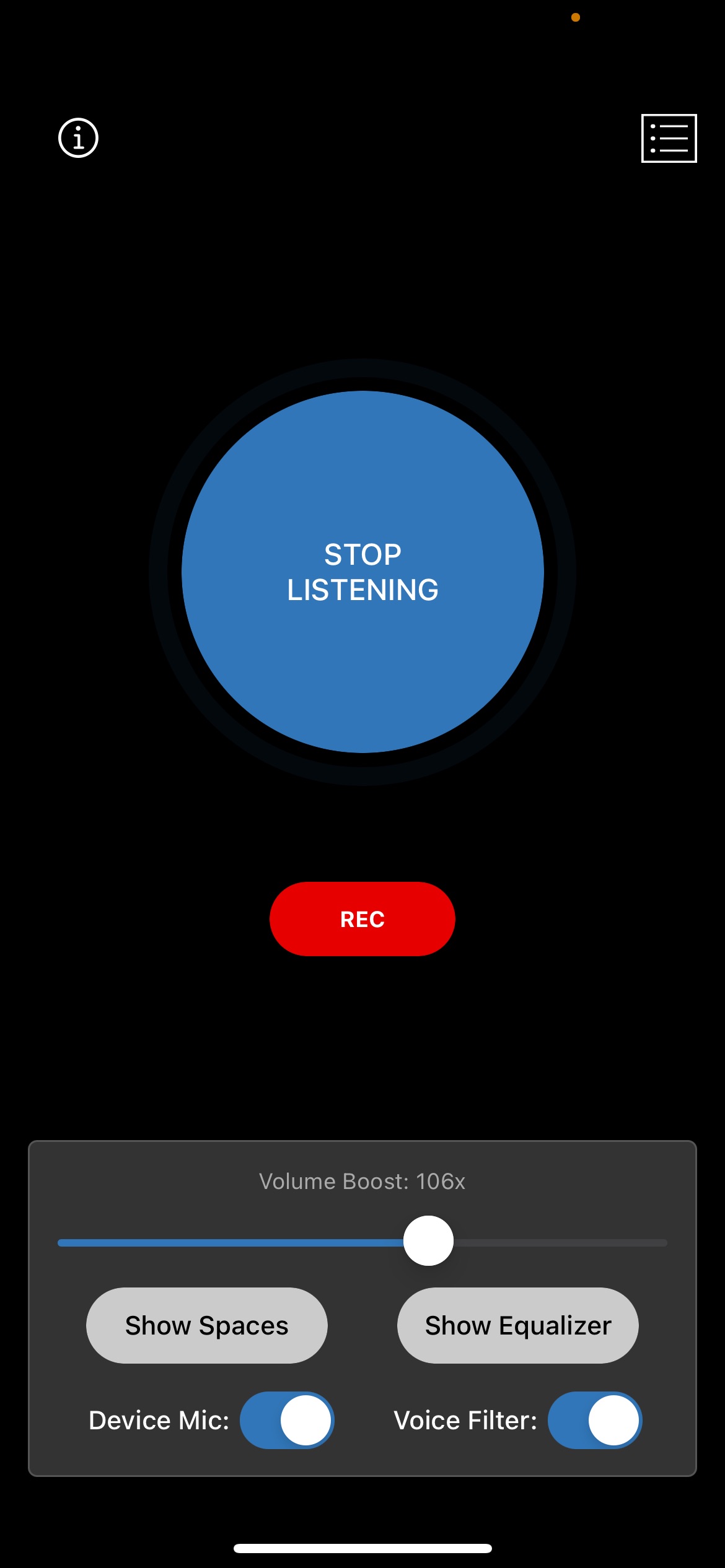 The app has a built-in volume boost limiter that protects the user's hearing from strong noise or unexpected loud sound effects. Record sounds and export them to other platforms. Save the app's installed settings to use them in the future.


Spy Ear – Listen To Next Door
Spy Ear is a mobile app that allows you to listen to the sounds and conversations going on around you. When launched, the app automatically activates the microphone of the mobile device. To do this, you need to grant permission to use the microphone in your device's settings.
The app can capture and record even the quietest sounds. Adjust the volume both while listening and after playing back recorded files. Save the set parameters to use them in the future.
The program supports the function of sending recorded files through different social networks and services of your device.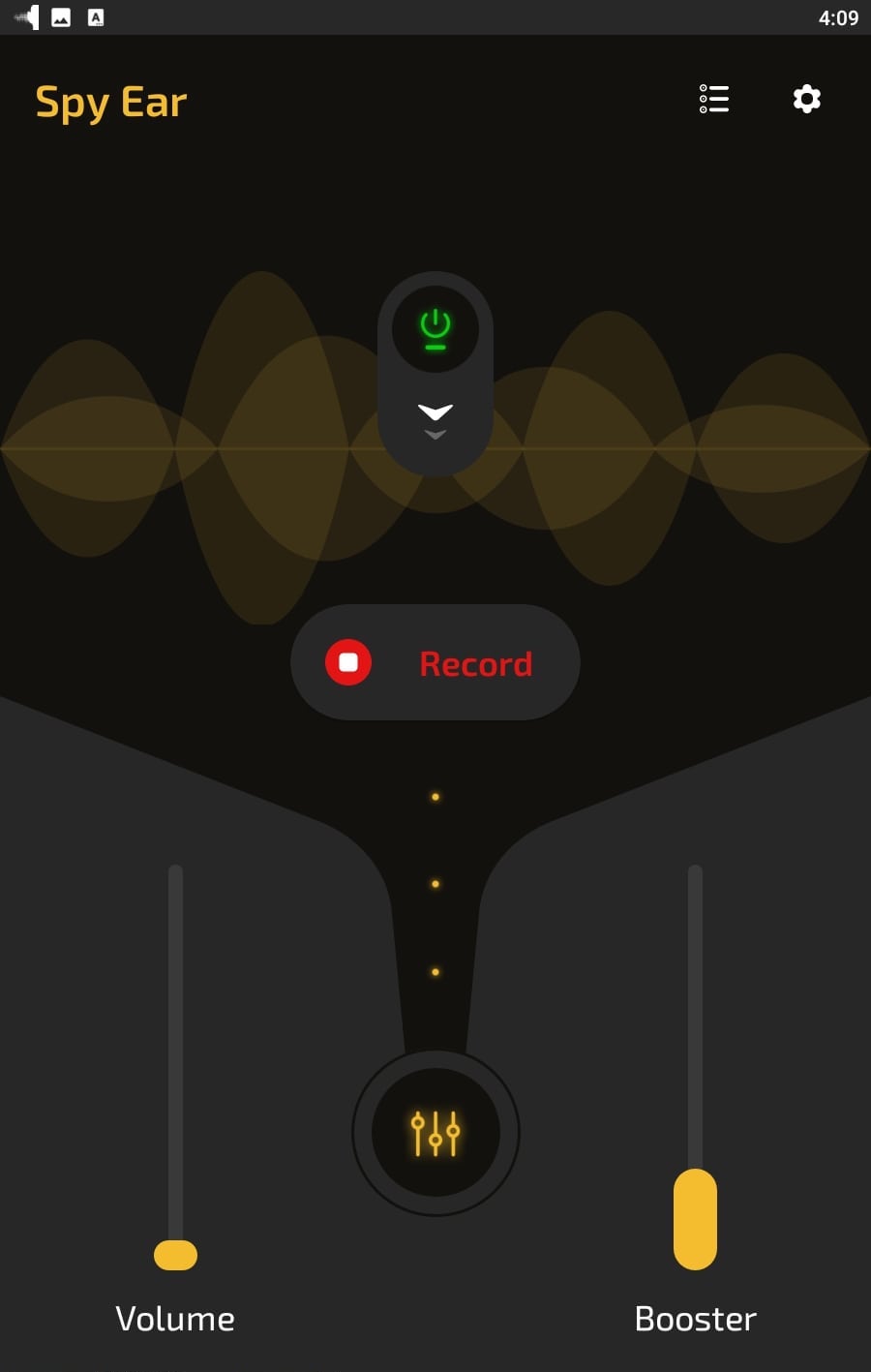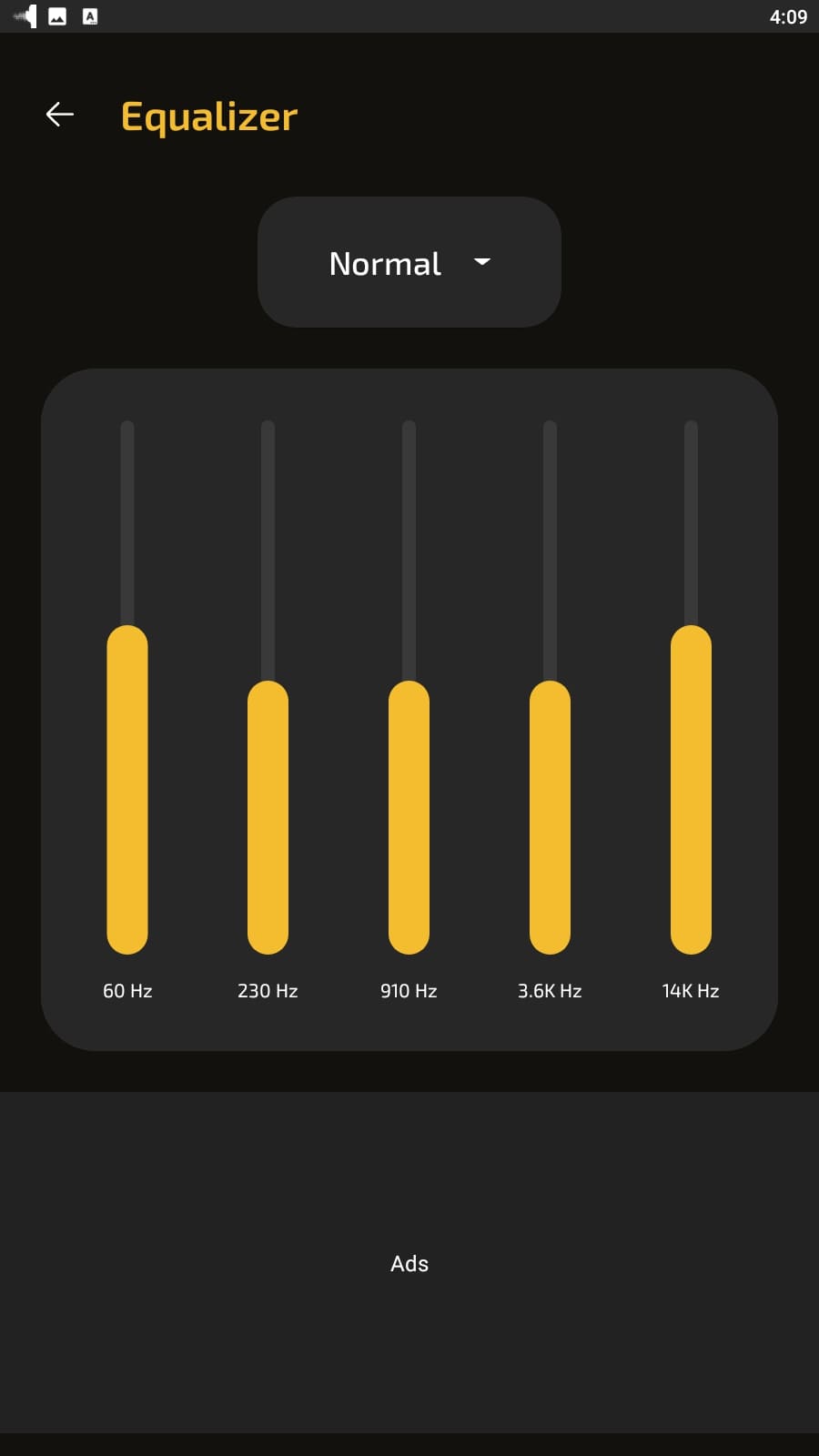 Spy Ear does not collect any personal information of the user and does not share it with third parties. For extra protection of personal information, set a password on mobile app.

Spy Super Hearing
Spy Super Hearing is a mobile app that allows you to expand your abilities to hear those sounds that are far away from you. With the help of multi-functional settings and the use of a powerful microphone, the app allows you to hear even the quietest of sounds.
You'll be able to hear rustles and conversations in the distance. Use noise reduction and equalizer to focus only on the important details. Tune the app to a specific frequency range.
Take advantage of the recording feature. Enable it in the settings so that the app automatically starts recording and saves sounds to internal storage. You can later listen to them or share them with other users via any online platform.
Customize the way your smartphone works when you enable this app. For example, you can prevent the screen from turning off while listening to or recording sound effects. To hear quiet sounds adjust the settings in the preferences. Increase the volume, bass, and other indicators.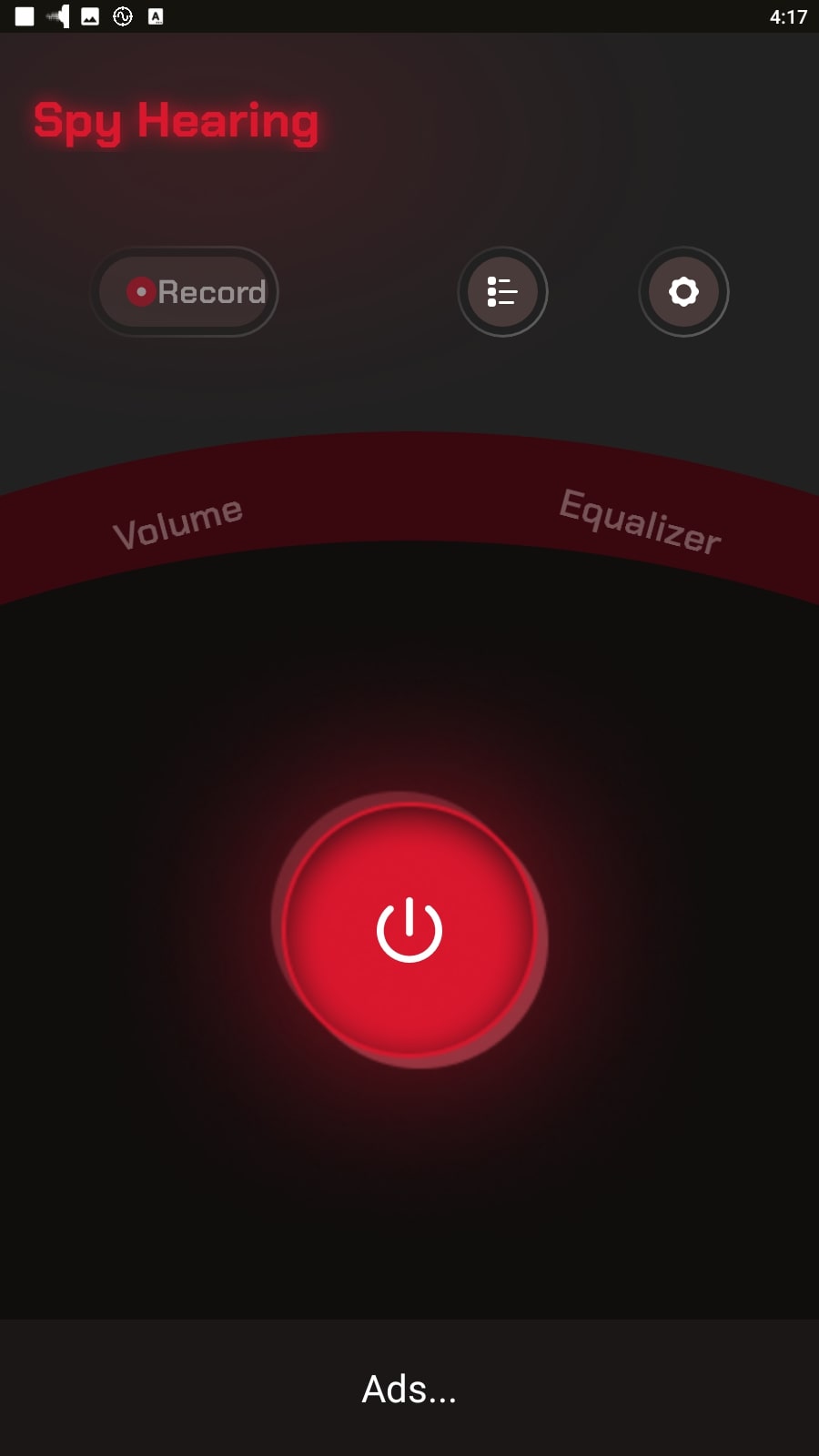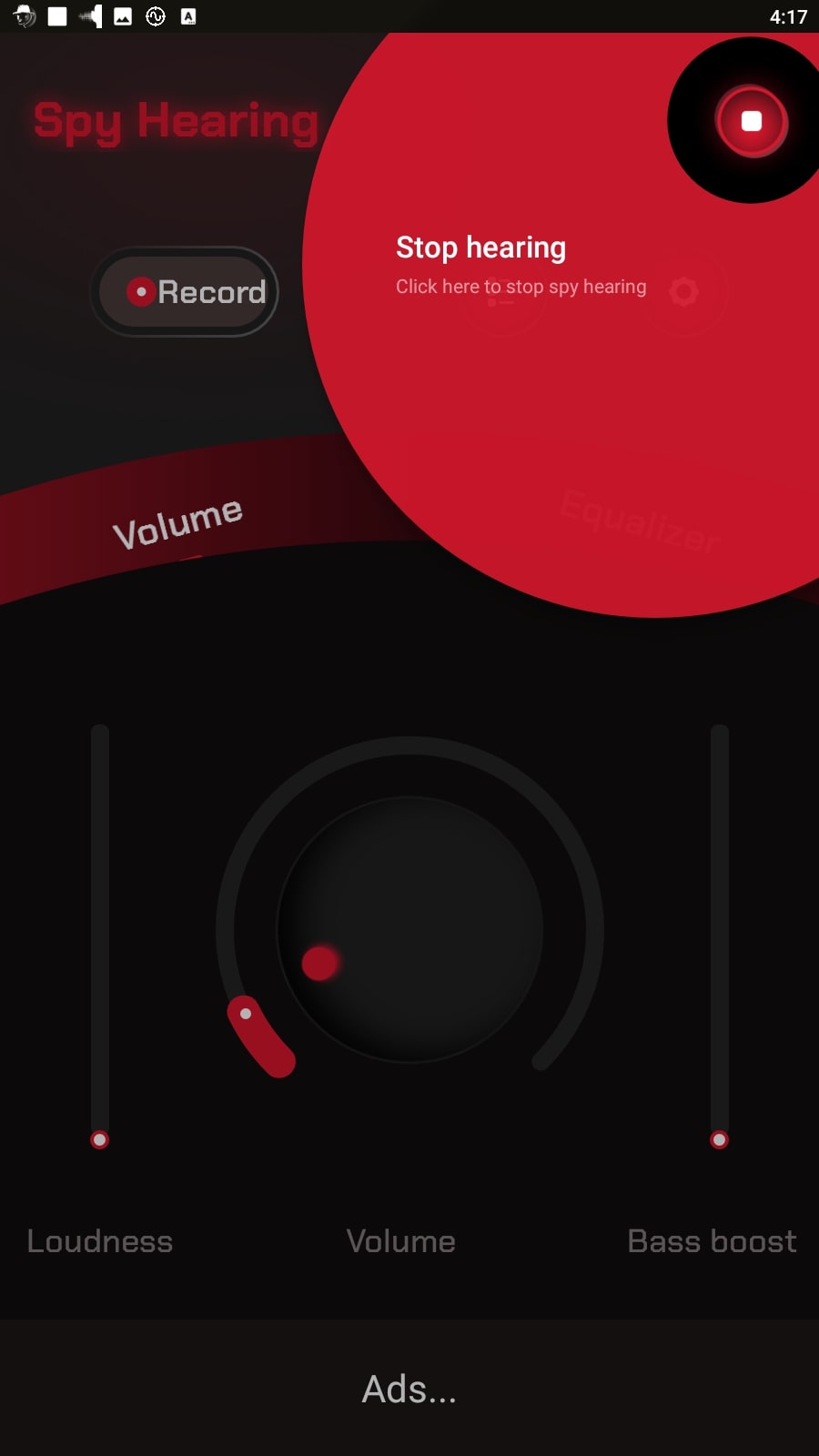 To protect your personal data, set a password on the app.

EAR SPY: Listening Device, Mic
Ear Spy is a mobile app that helps you listen to conversations and sounds even at a far distance from you. Leave your smartphone in a certain place and listen to everything that happens around it thanks to the recording feature.
You can hear even the quietest noises thanks to the sound amplification feature. Record them so that you can listen to it afterward. Save them to your device and play them back so you don't lose important information.
Adjust the sound amplification level according to your preferences. This will allow you to improve the quality and clarity of the sound when playing it live or broadcasting it in a recording.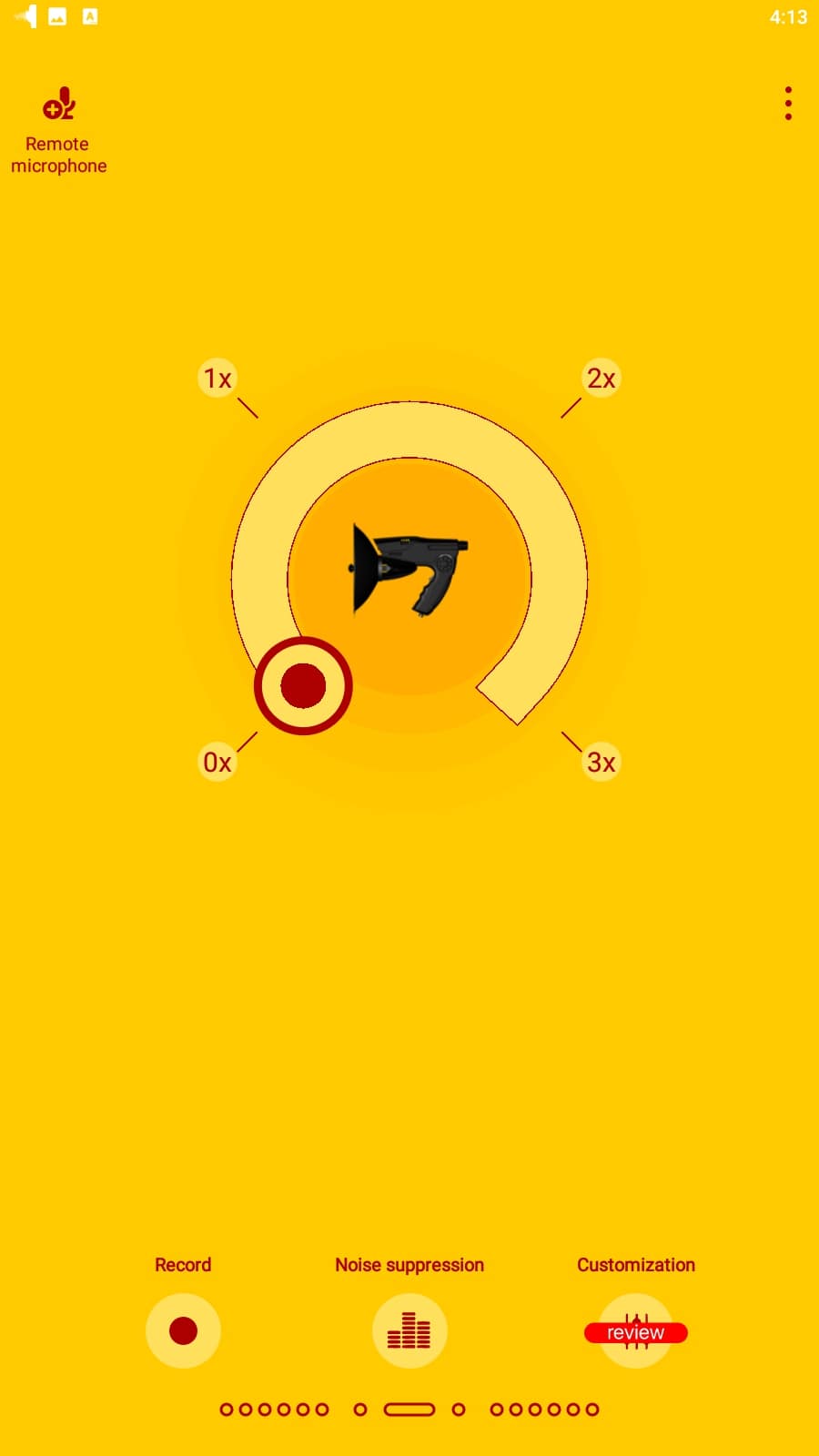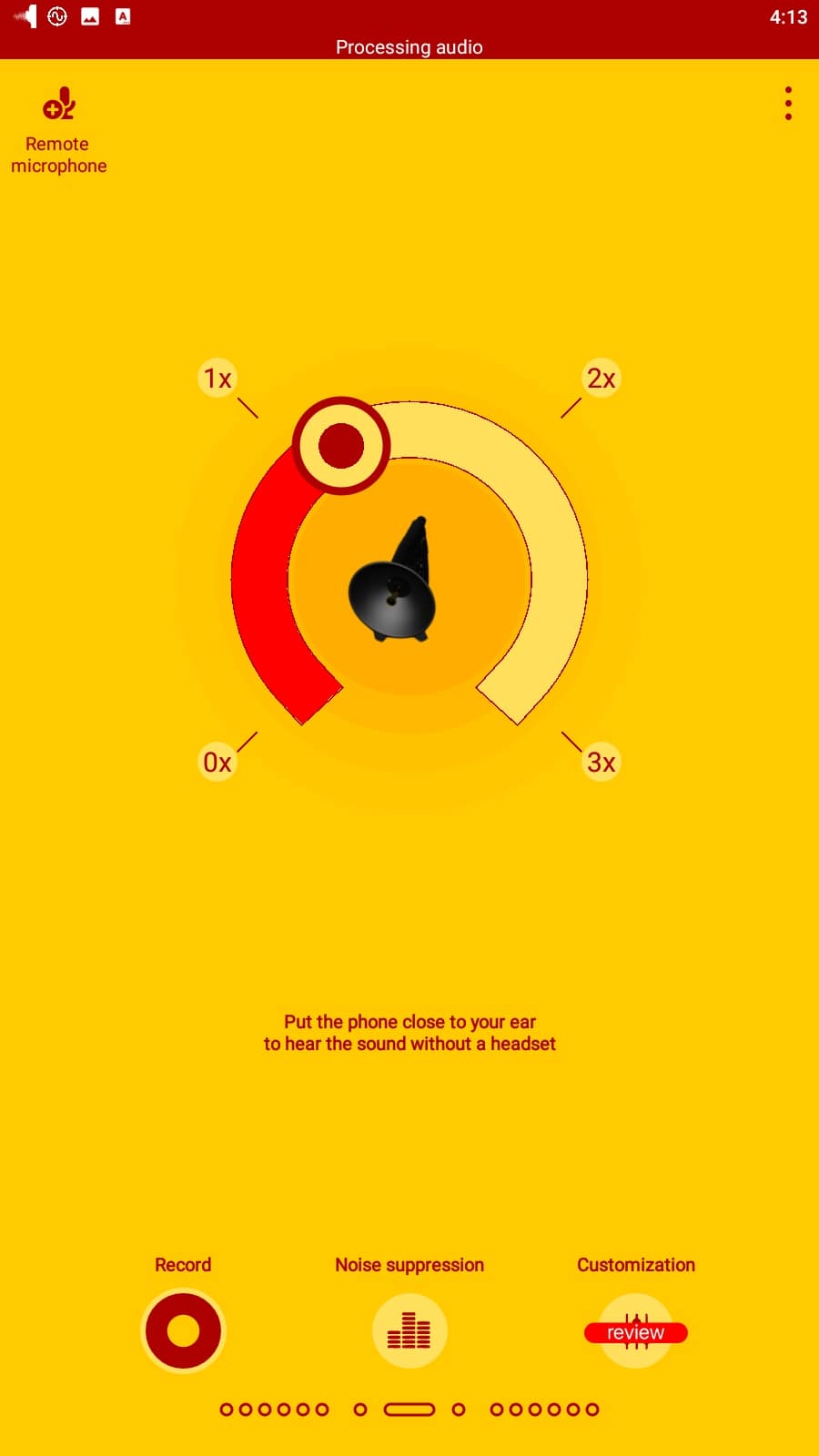 The app is free for all users. But it has paid features and ads, which can be disabled by activating a subscription. With it, you will get access to an unlimited number of recordings and more extensive functionality.

Hearing Clear: Sound Amplifier
This app helps you to easily hear and clearly perceive different sounds and conversations. It gives you the possibility to customize the sound amplification and amplitude. Adjust each parameter according to your needs.
If you want to reduce background noises or amplify the voice of your conversation partner, you will need to adjust several settings on the main screen of the app. Different sound amplification modes are available.
Reduce background noise with the Noise Reduction feature. It highlights the main sound source and focuses on it, reducing ambient noise. Adjust the equalizer to make sounds clearer and crisper. Adjust the volume with handy sliders to hear even the quietest conversations.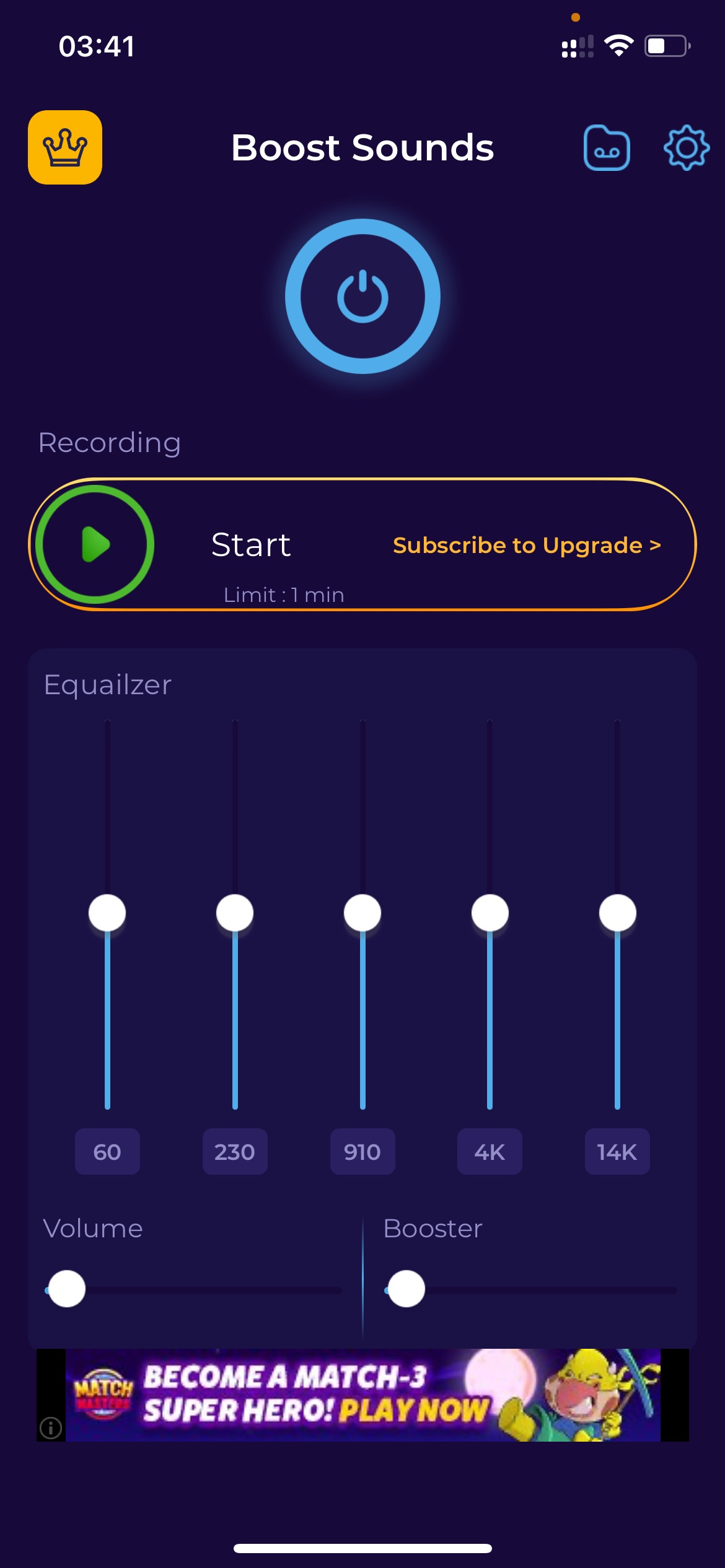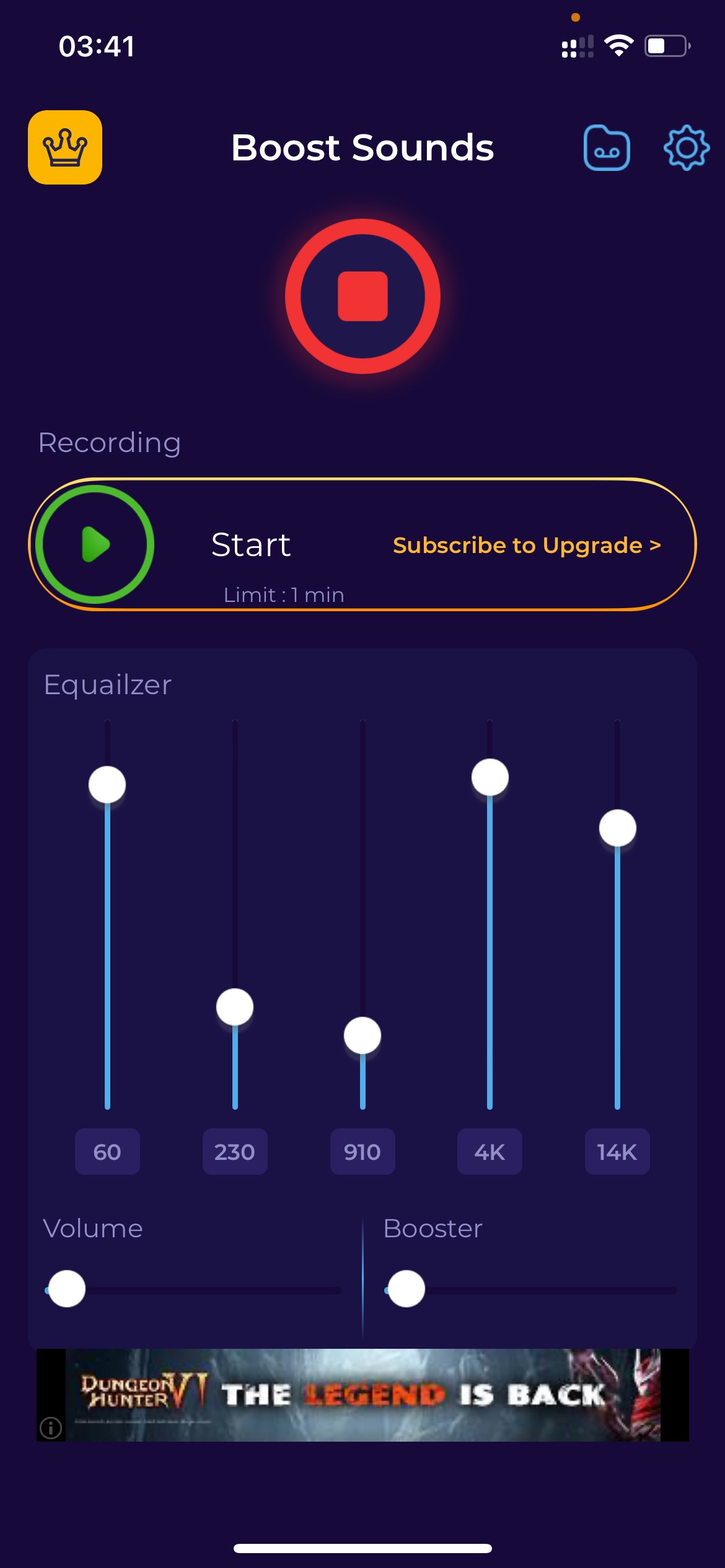 Thanks to optimized operation, the app consumes minimal power even when running in the background, ensuring long runtime and saving battery life. Record sounds within the app and save them to the built-in storage. Use them for listening or exporting to other platforms.


You may also like: 12 Best Microphone Apps for Android & iOS
Spy Hear Through Wall, Record
This is a mobile app that provides features to listen to sounds through walls and record audio on your smartphone. Control volume level and audio quality to get the clearest playback in your recording.
Record all audio with sounds on your smartphone and save them for later use inside or outside the app. Share your recordings with other users through various social media and online platforms.
Your data and recordings will be saved only on your device and only you will have access to them. This ensures complete privacy and protection of your personal information.
Set up a timer so that the app will automatically shut down after a certain time. Set notifications to be aware of any changes to the app. Use the special feature to keep your screen on. It won't go off while the app is running, allowing you to monitor the recording and all the settings.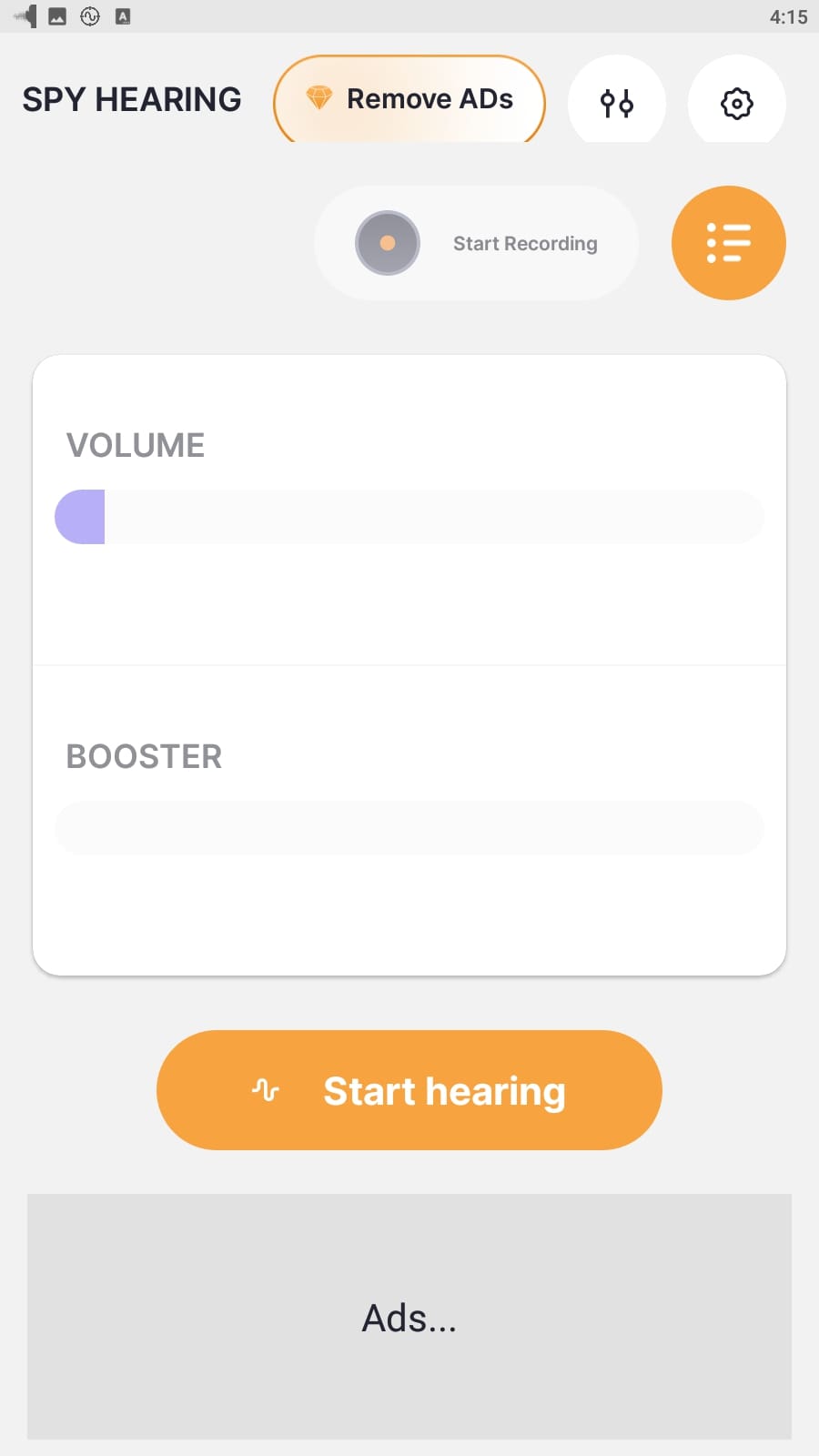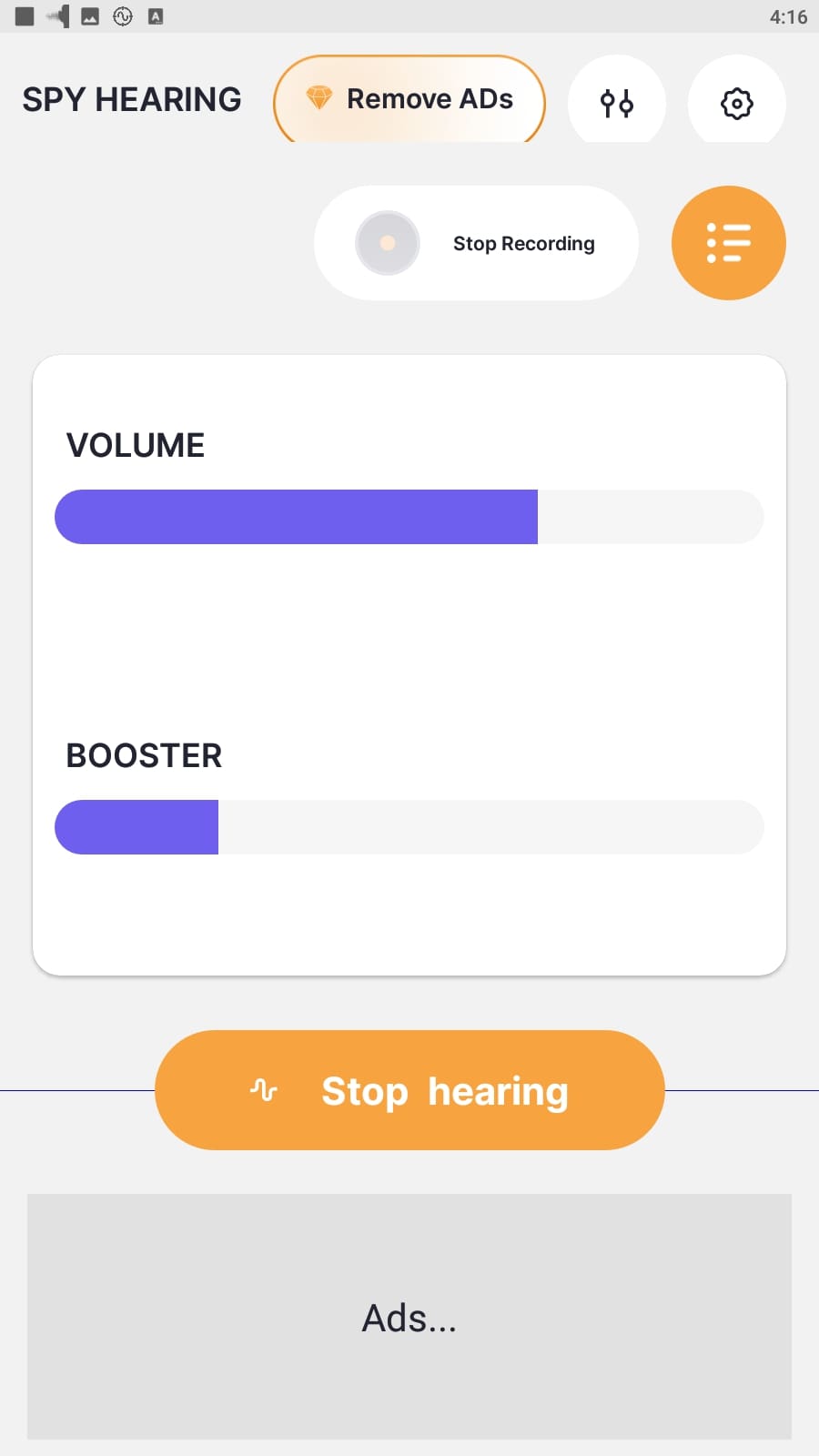 Adjust volume and other settings for both playback and recorded audio. Listen to recorded sounds and delete low-quality files to free up space on your device.

Super Hearing from Distance
This is a mobile app that allows you to hear sounds from a great distance using your mobile device's built-in microphone. Adjust the volume level and frequency range to improve sound clarity and avoid background noise.
Remove background noise. This will make the sound clear and homogeneous and thus pleasant to hear. The settings can be set independently using the sliders.
The app also offers the function of recording sounds for further listening or exporting. You will be able to save recordings in high quality and share them with other users via online platforms and social networks.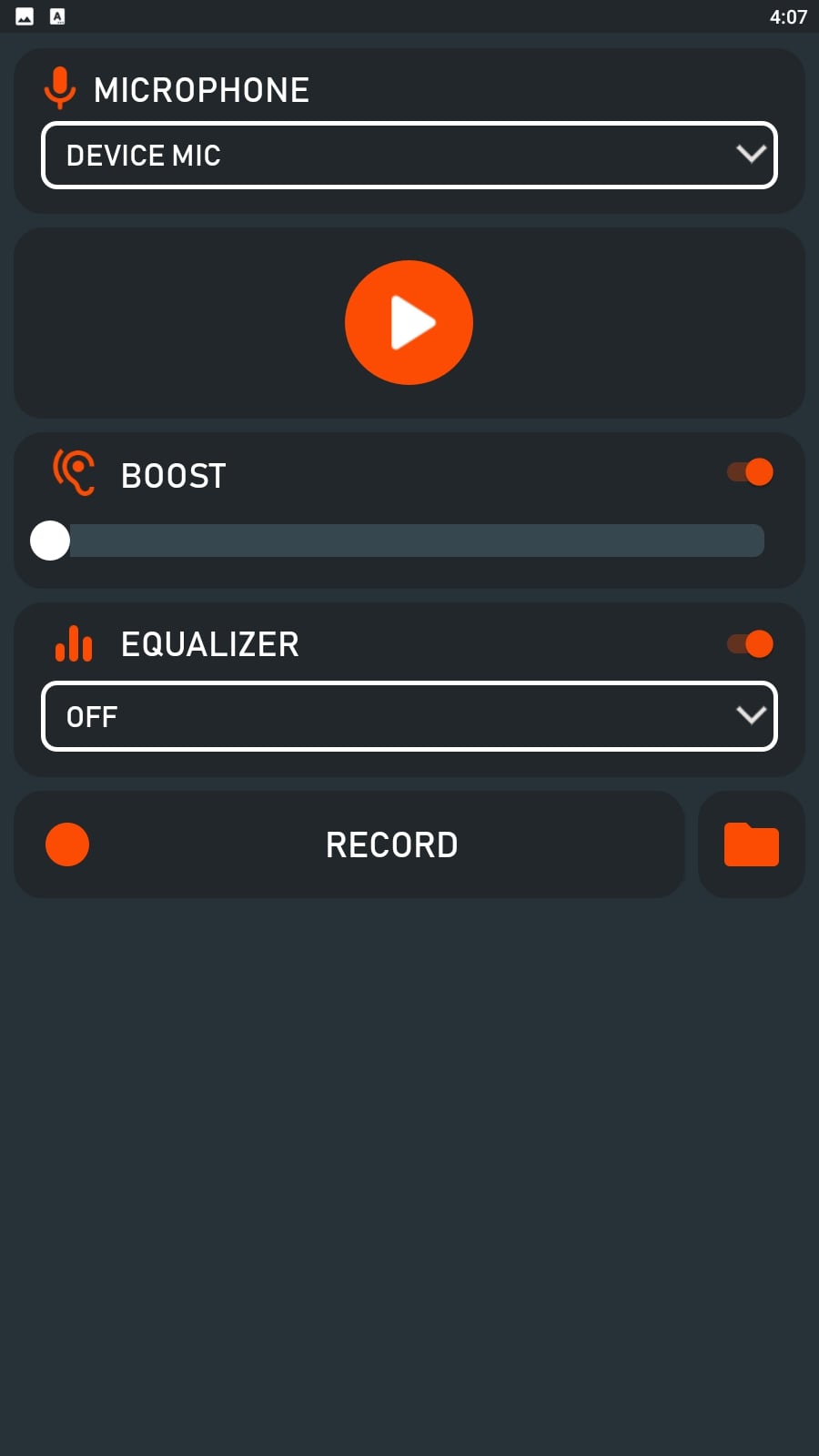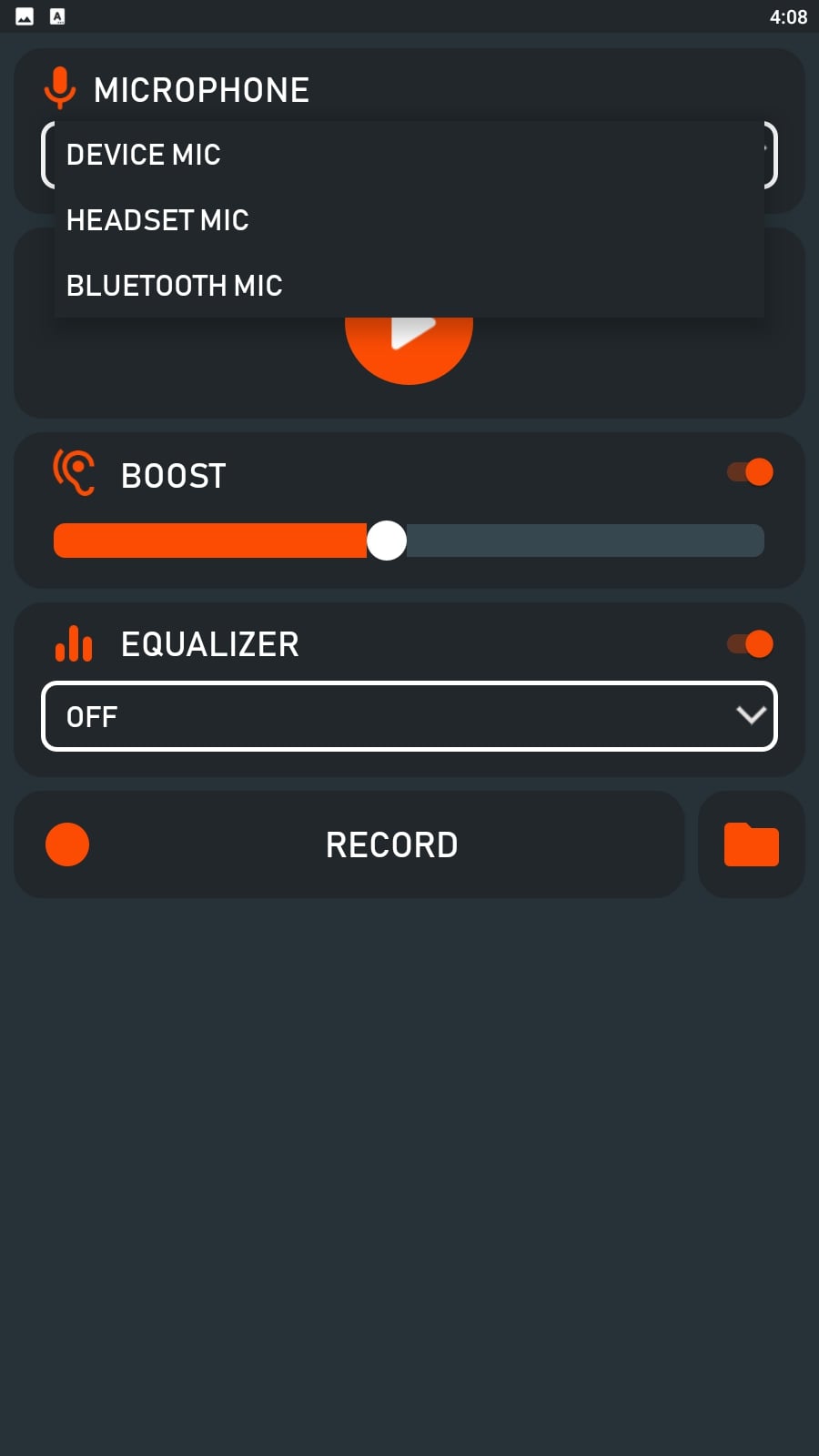 The Super Hearing from Distance app ensures the security and privacy of user data. Headphones or hearing aids that support synchronization with Android devices can be connected to the app. The connection is available via Bluetooth wireless network.

Super Hearing Volume Amplifier
Super Hearing Volume Amplifier is a mobile app designed for those who want to improve their perception of sounds. Using your device's built-in microphone allows you to recognize and produce any ambient audio signals.
The app automatically makes all noises louder using advanced sound processing algorithms. This allows you to hear any conversations or sounds even in noisy places. Customize the sound amplification level based on individual preferences.
Turn various sound filters on or off to enhance certain aspects of your recording and suppress extraneous noise. The app also offers a built-in equalizer so you can adjust volume levels for different frequency ranges.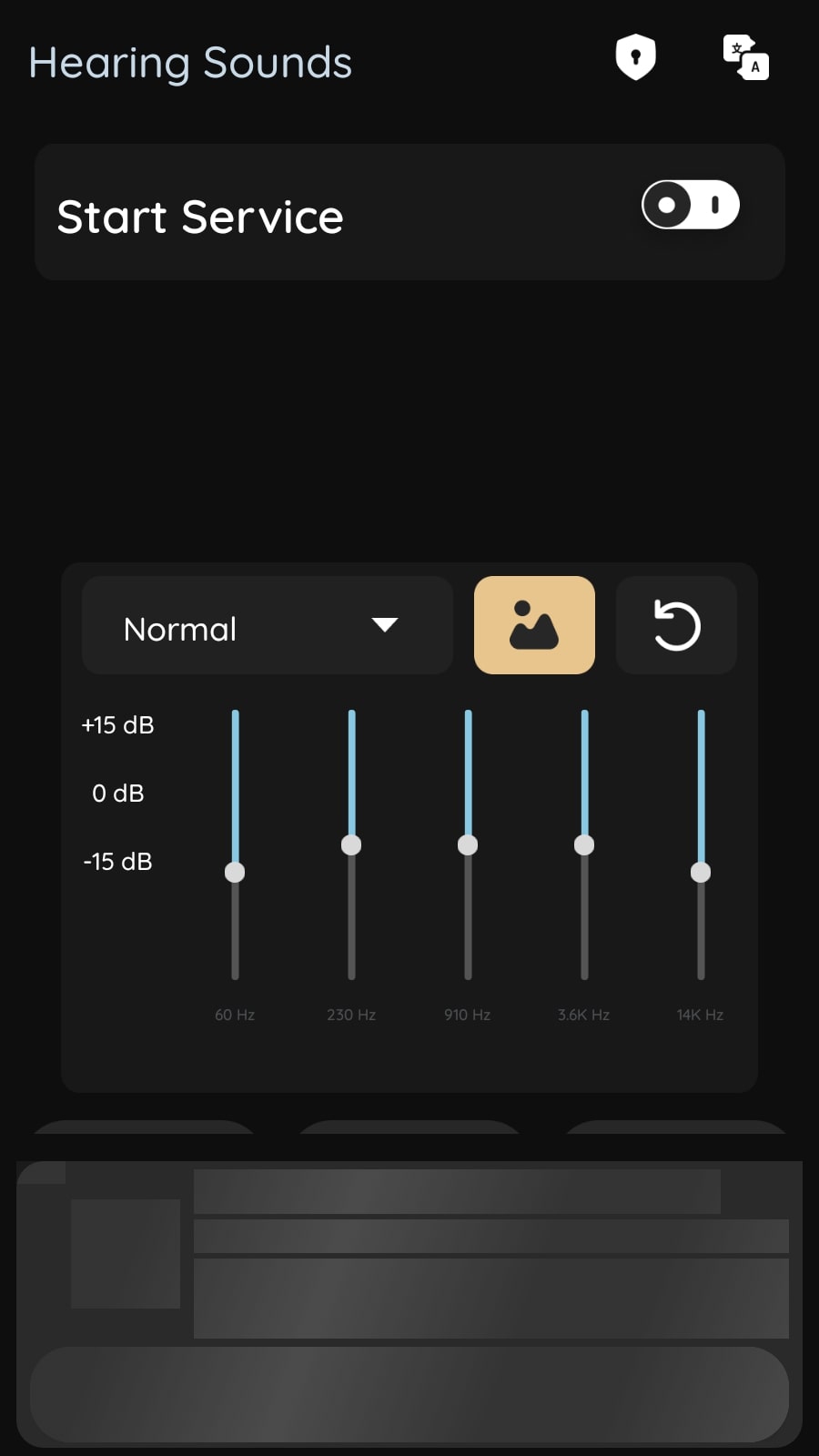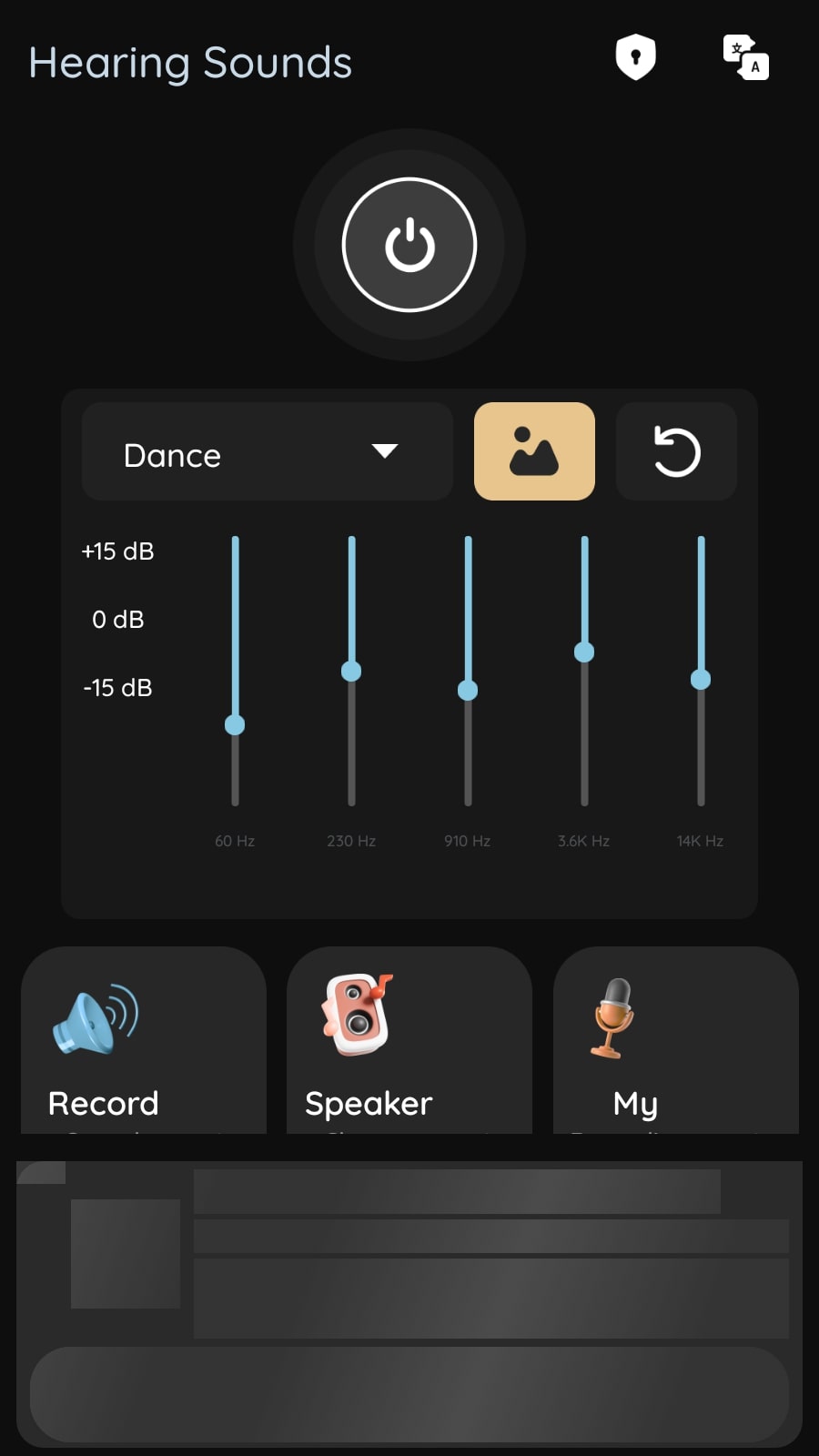 The Super Hearing Volume Amplifier app has a customizable design, allowing you to change its appearance with different themes and color schemes. You can save your sound recordings in the app and listen to them later even in offline mode. Or export them to other platforms.

Super Ear – Hearing Enhancer
Super Ear is a mobile app that will help you improve your hearing abilities. With it, you will be able to hear any sounds that occur even at a great distance from you.
The app allows you to hear speech and other sounds with greater clarity and definition through the use of the device's built-in microphone. Independently activate the optimal settings for each sound. Use them to remove ambient noise and amplify the desired sound.
Additionally, adjust the equalizer settings to emphasize certain frequencies and improve the listening experience. Record sounds to save interesting moments, speech, or other sound effects for later listening.
Take advantage of the noise reduction feature to help you focus on specific sounds and not be distracted by external noises.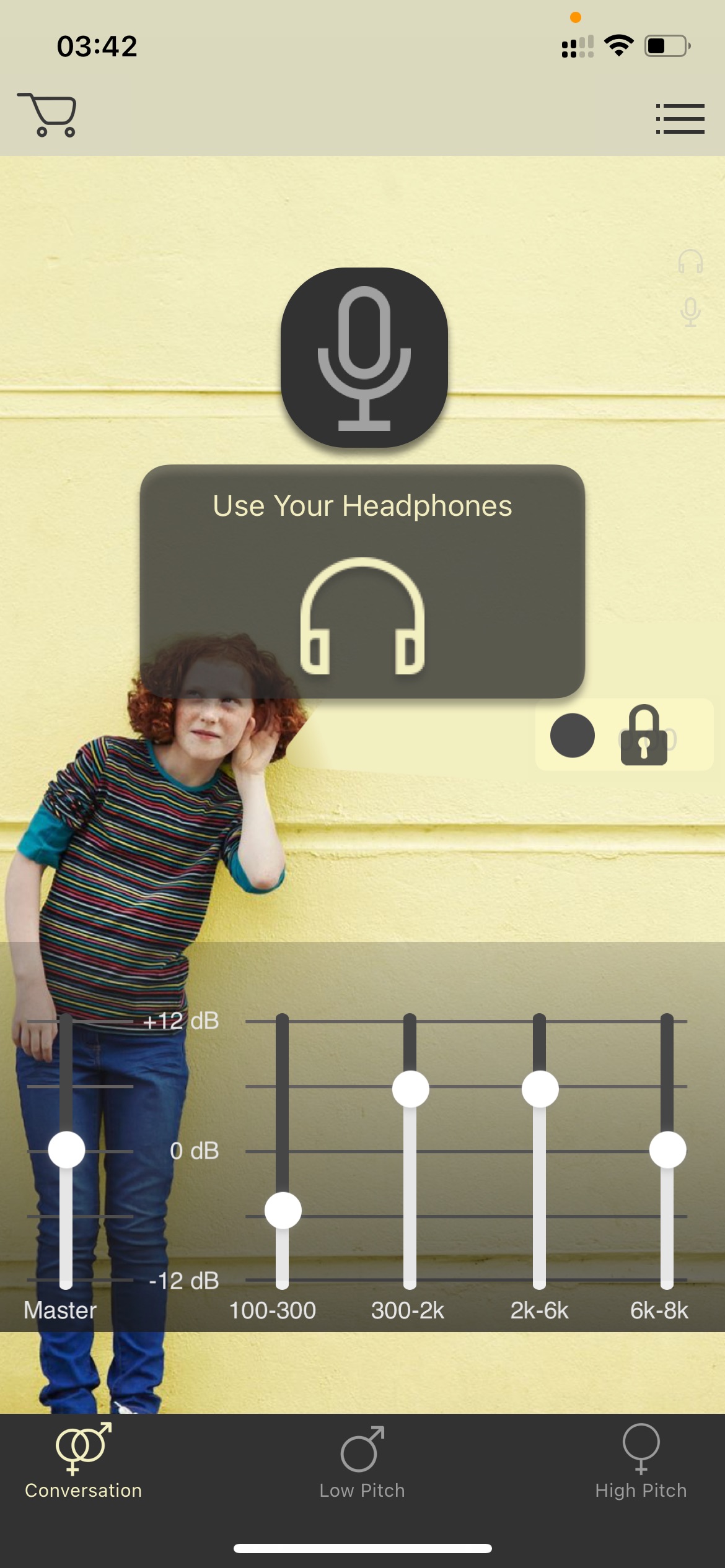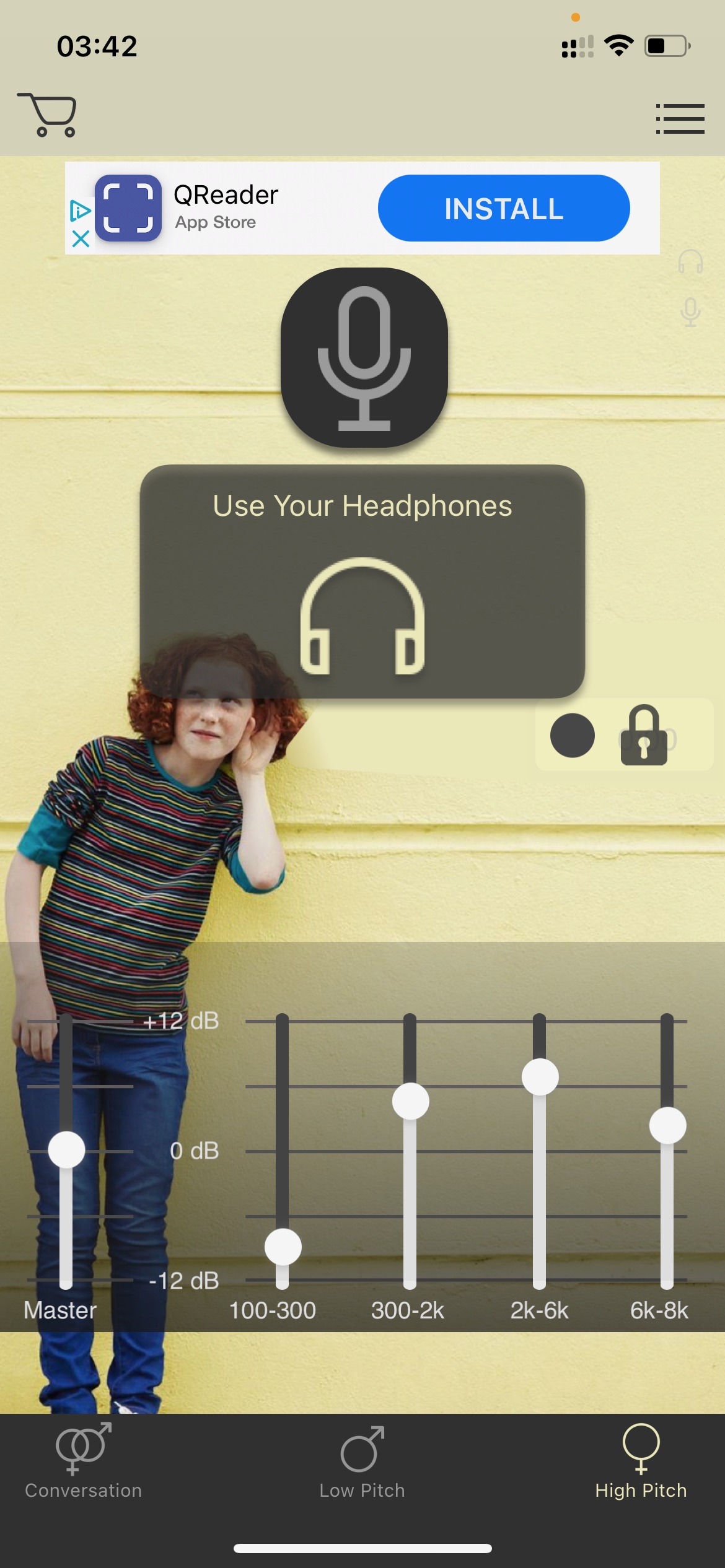 Connect the paid version in the app to get access to advanced functionality. With it, you can use the program without ads, get unlimited access to listen to and record your sounds. You can pay on a monthly or weekly basis.

You may also like: 11 Best Listening Device Detector Apps (Android & iOS)
Hear Clear: Hear from Distance
Hear Clear is a mobile app designed to improve sound reproduction. It offers a wide range of tools to help you hear sounds from a great distance with maximum clarity.
With the help of various parameters and settings, you will be able to improve the sound reproduction in both operating and recording modes. Amplification feature helps to improve the perception of sounds at a distance.
You will be able to hear conversations in the street or behind the wall without noise or other interference. The audio enhancement feature filters out background noise and reduces it as much as possible, making voices and sounds clearer and more understandable.
Adjust the equalizer settings for clearer sound in all environmental conditions. Change bass and frequency settings.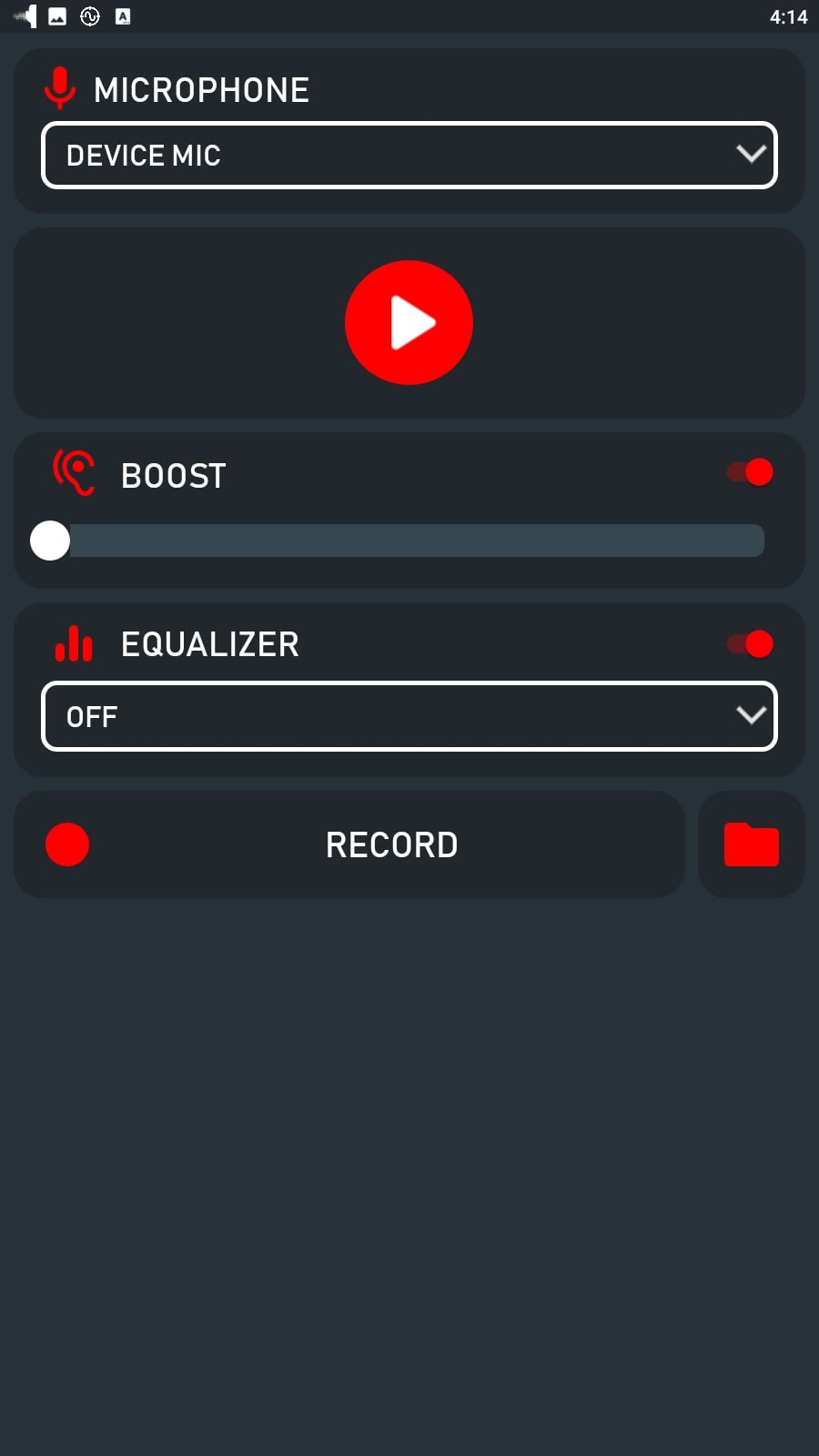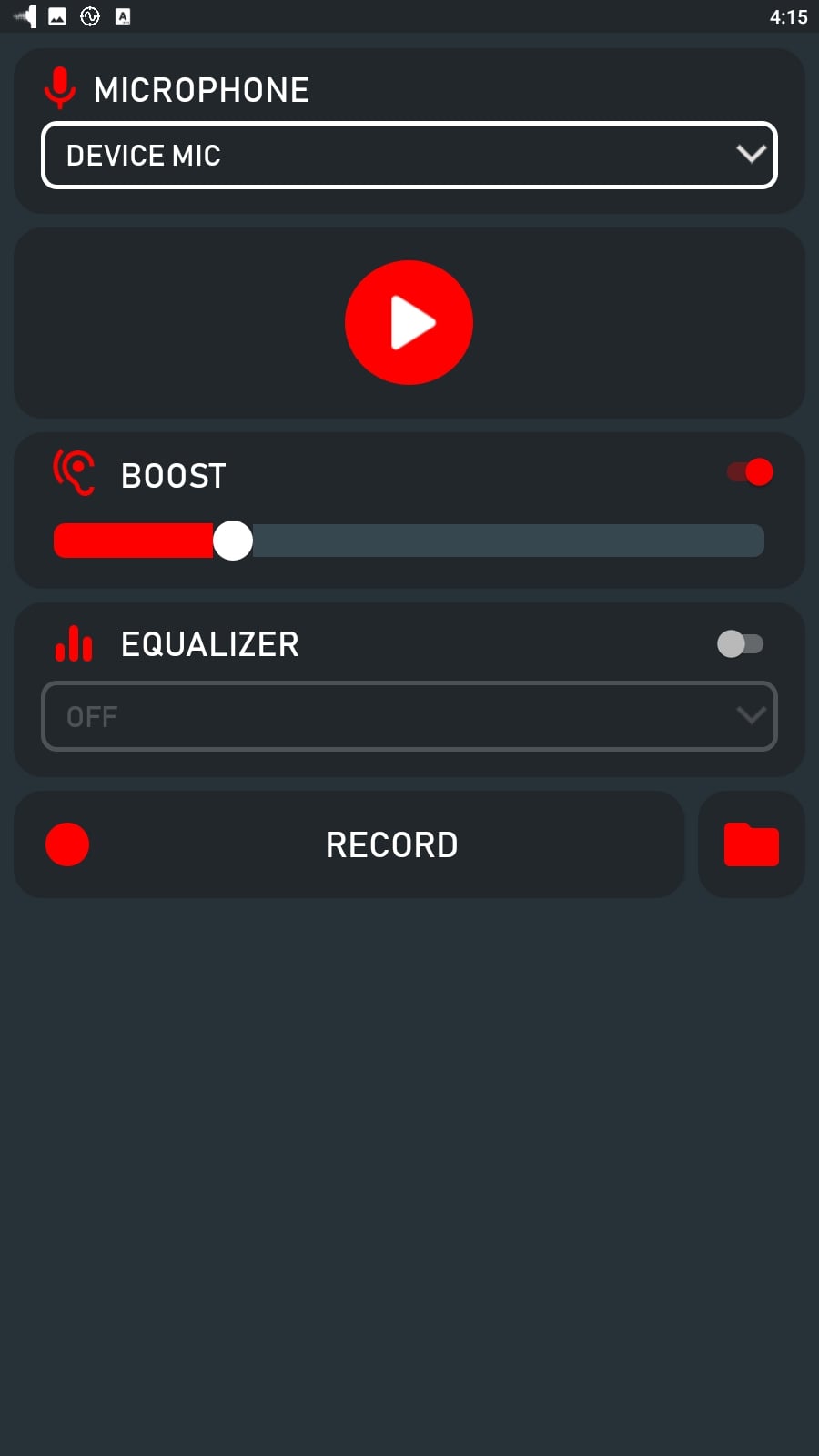 The app has a recording feature that allows you to save snippets for later listening. Set the app to run in the background so that recording continues even when the screen is off. Store your finished recordings inside the app or export them to other platforms to share with users.