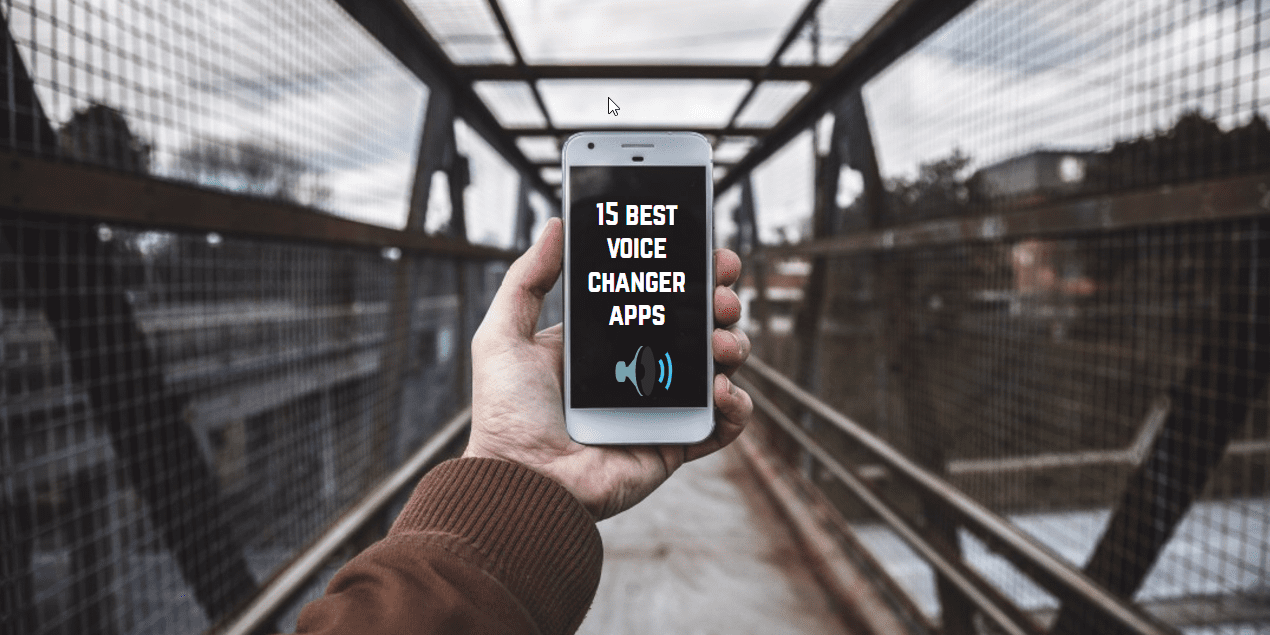 Surely each of us once wanted to learn how to change your voice beyond recognition, to play by phone your friends or family. Some people with great acting talent managed to achieve this goal, but most were disappointed when, despite all the efforts made, they were quickly recognized and the spoof fell through. With the appearance and development of computer technology, a huge number of simple ways to change your voice with the help of audio-deforming software have appeared, and this post is dedicated to them.
Would you like to talk like an unbalanced old man, or maybe like a cartoon character or just as a representative of the opposite sex?
Unfortunately, there are not so many good programs for these purposes. Nevertheless, if you want to have fun, I think you can find an application in the list that will suit you and allow you to change the voice in the right way.
Voice changer with effects
Voice Changer With Effects is a very simple application with the help of which you can record voice and apply dozens of fun effects. After applying the effects, you can save the clip in the memory of your phone to set as a ringtone, alarm clock, etc.
The list of effects that you can use is quite extensive, and more importantly, they are pretty good. Your record can be voiced by a voice of Darth Vader, Bain, Optimus Prime, alien, death, demon, robot, drunk and many others. If you like the effect applied, you just need to click on the button next to the 'play' button to save the audio file to your phone's memory or share it via any social network or chat client.
Voice Changer With Effects is a really fun tool for creating sound effects with which you will have a fun time, turning your friends' voices into the voice of Darth Vader or other legendary characters.
From time to time, all of us like to have fun. Someone goes to a bar with friends, someone – in a movie, and for someone, it is enough to have karaoke on his phone. Here is a selection of 20 Best karaoke apps for IOS & Android.
back to menu ↑
Voice Changer by Androbaby
The Voice Changer by Androbaby is one of the oldest voice-changing applications, but it's still a good choice. The application uses the FMOD sound engine and works very well in general. There are slightly less than two dozen effects, including the popular "Chipmunk", "Helium" and others. The app has a lot of unique and fun effects including "Backwards", which significantly changes the meaning of what has been said, as well as the effect of the old radio receiver, which changes your voice according to the name, deserves attention.
If you want to play your friends or just laugh at the company, then this application will help you with this. Record your own or friends voice, apply various effects and listen what happened! An excellent mood is guaranteed!
back to menu ↑
Best Voice Changer
Best Voice Changer is an application that records and changes your voice. You will be able to apply many different effects to make it sound like you are on an airplane or on a noisy street or under the sound of rain.
You can also make your voice sound slower or faster, simulate the voice of a robot, cat, chipmunk or other characters. The last option allows you to add a chorus or echo effect. After you have recorded your voice, you can save the recording to the device's memory or make a ringtone out of the recording.
Best Voice Changer is a good app for experimenting with your voice, so you can achieve very funny sound effects.
back to menu ↑
Helium Voice Changer
Helium Voice Changer is an application that allows you to record audio or video and apply to them an effect that will make your voice sound on the recordings as if you inhaled a portion of helium.
The application works very simply: press the record button to start, and after you press the stop button, you will hear your voice with the effect of helium. Convenient and simple. You can use Helium Voice Changer in the same way for video: start recording, and after stopping, you can play video with already changed voice. All video and audio that you record using the application will be saved to your own application gallery, which you can access by clicking on the icon in the upper right corner.
Helium Voice Changer is one of those applications that are good to laugh a few times. Although the utility of the application is rather limited, it will at least make you smile more than once.
back to menu ↑
Voice Changer, Sound Recorder, and Player
Voice Changer, Sound Recorder, and Player – the application is more (if not only) for pampering. You can laugh with friends and have a good time in the company of this application. Sometimes it happens at the right time.
The application includes many effects that can change your voice in a variety of ways, including the popular filters "Chipmunk", "Helium", "Darth Vader" and others. There are also several solutions for science fiction fans. You can change the tone and modulation, if you want, each filter comes with a lot of different modes.
I'm glad that by applying any effect, you do not erase the original sound and you can always return to the source. You can save your records with the applied filters on your phone and share it with someone else.
back to menu ↑
Change your voice to anything
If you need a fun and simultaneously necessary application to change the voice, the Change your voice to anything app will be an excellent choice. It will bring a lot of positive emotions to your smartphone and the ability to create your own ringtone and share it with friends with a few finger-clicks. Naturally, such an application will suit to children, especially when they hear their voice in the edited version of "Chipmunk" or "Bee". That's why the Change your voice to anything is gaining almost a solid 'five' for all the testing time and its results.
back to menu ↑
Voice Changer by e3games
Voice Changer by e3games is another of the many applications for voice modification, which uses the FMOD sound engine. Thus, you will find many similar effects which you can find in other applications based on FMOD. In fact, there is not much difference between this application and the analog from Androbaby. The only reason to try this app is if you do not like the analog of Androbaby, and you are very fond of yellow colors. Voice Changer by e3games works well, so it all depends on your taste.
back to menu ↑
Best Voice Changer
If you always wanted to correct your voice slightly or even change it beyond recognition, then for you there is the Best Voice Changer application, which at the same time can amuse you and your friends, adding to the voice so funny sound special effects that you can burst out laughing.
The Best Voice Changer is a cross-platform app and suitable for all versions of Android. The installation file itself weighs very little and will not load the memory of your smartphone.
back to menu ↑
Voice Changer App – SoundBoard Effects for Vine
Have you ever thought that one-day ordinary chat rooms can become unusual? In fact, only some changes are needed to make your voice heard!
Voice Changer is the best choice: with a wide variety of effects, you can create something different and even add sounds of the environment. You can do anything, the limit is only your imagination! Optimized interface design allows you to record your voice with one click.
Features:
– Many effects for selection
– Optimized interface design
– Ability to save for future changes
– Packages of various effects
– Access to social networks
back to menu ↑
Voice Changer Plus
This application for the iPhone and Android devices can not be called a serious tool for working with your own (and not only) voice, but as a relaxer and a mood boost the program fits perfectly. Its essence is very simple: you record your voice with the built-in recorder, then select a sound filter, your voice is processed and you get what it turned out as a result.
The set of filters is quite good and not inferior even to some desktop programs for PC. You can change your voice to a chipmunk and feel like a rescuer from the cartoon Chip'n'Dale, or turn into a robot with the help of the filter of the same name or even become an organ … in general, there is the mass of effects (more than 40). Have fun!
back to menu ↑
Voice changer for kids
Voice Changer for Kids, based on the name, focuses on the children's audience, but in fact, anyone can use this application.
The application for changing the voice contains almost three dozen voice effects, including all the most popular ones that you will find in other applications. Voice Changer for Kids remains easy to use, and most controls are represented by large buttons that you can not skip. This is also one of the few applications for changing the voice, built on Material Design. It has a very similar application-clone, but it does everything the same.
back to menu ↑
Voice Changer (Prank)
Voice Changer (Prank) – this application, as the name suggests, allows you to change your voice by adding various effects. Your voice may sound like the voice of a chipmunk, a demon, an alien or at a fast pace.
In addition to the main function in Voice Changer (Prank), you will find several others. For example, the application has a separate tab with dozens of buttons and funny sounds: farting, belching, stadium horns, shots … – all this and much more. Another interesting feature of Voice Changer (Prank) allows you to hold the device in front of your face, replacing your mouth with a moving picture of another. When you speak, your mouth will also move in real time – this is a fairly amusing effect.
Voice Changer (Prank) is an application that offers much more than you can expect from it. And although it does have a lot of advertising, it will please you with a rich set of functions.
back to menu ↑
Simple Voice Changer
Simple Voice Changer is an application that allows you to record your voice and play it with the use of ridiculous effects. You will find more than a dozen different effects to make your voice sound faster, slower, like a robot's voice, a chipmunk or even as a demon's voice. You can also play the recording backward.
After processing the sound, you can save the result in the device's memory or even set it as a ringtone. You can also share your work on social networks, including Twitter and Facebook.
Simple Voice Changer is a fun application for changing the sound of a voice, and a simple and convenient interface makes the whole process of converting audio recordings easy and convenient.
back to menu ↑
Change Your Voice
Change Your Voice is a program that allows you to change your voice. You can replace it with the voice of a humanoid, a robot and a lot of others. First, record your own voice and edit the record as you wish.
Pros of  Change Your Voice:
– The application can be used as entertainment instead of games;
– Intuitive and simple interface;
– You can immediately send sound joke to your friends in several ways;
– Change Your Voice will help you make your own unique ringtone or music voice card.
back to menu ↑
Call Voice Changer IntCall Make Funny Phone Calls
Do you want to play your friends on the phone? So, you can change your voice in real-time and add cool sound effects during phone conversations using the voice converter IntCall for your phone. This is the best application for funny phone tricks. One click is enough to make the voice high and funny or low and scary.
Downloading the app, you will have an ability to diversify communication: you can add funny sound effects, including the voices of characters from cartoons, songs for a birthday, congratulations in different languages and much more! Please note that telephone calls are made via the Internet using VOIP technology. Make sure that your Internet connection is secure before using the application.
Turn your next phone call into a fun adventure! Install the voice converter IntCall for your phone right now!
Conclusion
It was a selection of funny programs, which are able to change your voice beyond recognition. Today, to change your voice, you do not need to exert a lot of effort. It's just enough to download the app for changing the voice on your phone and talk into the microphone. Well, have fun!