Surely each of us once wanted to learn how to change your voice beyond recognition, to play by phone your friends or family. Some people with great acting talent managed to achieve this goal, but most were disappointed when, despite all the efforts made, they were quickly recognized and the spoof fell through.
With the appearance and development of computer technology, a huge number of simple ways to change your voice with the help of audio-deforming software have appeared, and this post is dedicated to them.
Would you like to talk like an unbalanced old man, or maybe like a cartoon character or just as a representative of the opposite sex?
Unfortunately, there are not so many good programs for these purposes. Nevertheless, if you want to have fun, I think you can find an application on the list that will suit you and allow you to change the voice in the right way.
You may also like: 11 Best hidden voice recording apps 2019
Voice changer with effects
Voice Changer With Effects is a very simple application with the help of which you can record voice and apply dozens of fun effects. After applying the effects, you can save the clip in the memory of your phone to set as a ringtone, alarm clock, etc.
The list of effects that you can use is quite extensive, and more importantly, they are pretty good. Your record can be voiced by a voice of Darth Vader, Bain, Optimus Prime, alien, death, demon, robot, drunk, and many others.
If you like the effect applied, you just need to click on the button next to the 'play' button to save the audio file to your phone's memory or share it via any social network or chat client.
Voice Changer With Effects is a really fun tool for creating sound effects with which you will have a fun time, turning your friends' voices into the voice of Darth Vader or other legendary characters.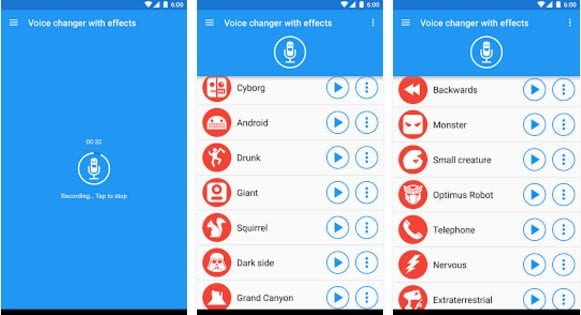 From time to time, all of us like to have fun. Someone goes to a bar with friends, someone – in a movie, and for someone, it is enough to have karaoke on his phone. Here is a selection of 20 Best karaoke apps for IOS & Android.
Voice Changer by Androbaby
The Voice Changer by Androbaby is one of the oldest voice-changing applications, but it's still a good choice. The application uses the FMOD sound engine and works very well in general. There are slightly less than two dozen effects, including the popular "Chipmunk", "Helium" and others.
The app has a lot of unique and fun effects including "Backwards", which significantly changes the meaning of what has been said, as well as the effect of the old radio receiver, which changes your voice according to the name, deserves attention.
If you want to play your friends or just laugh at the company, then this application will help you with this. Record your own or friends' voices, apply various effects, and listen to what happened! An excellent mood is guaranteed!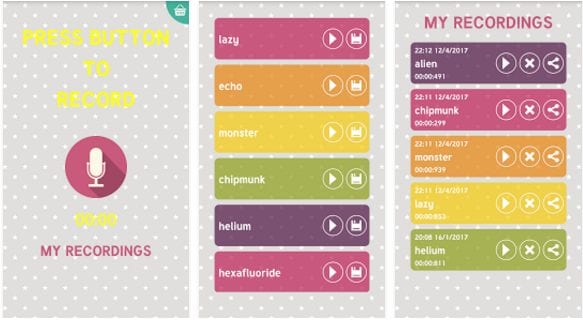 Best Voice Changer
Best Voice Changer is an application that records and changes your voice. You will be able to apply many different effects to make it sound like you are on an airplane or on a noisy street or under the sound of rain.
You can also make your voice sound slower or faster, simulate the voice of a robot, cat, chipmunk, or other characters. The last option allows you to add a chorus or echo effect. After you have recorded your voice, you can save the recording to the device's memory or make a ringtone out of the recording.
Best Voice Changer is a good app for experimenting with your voice, so you can achieve very funny sound effects.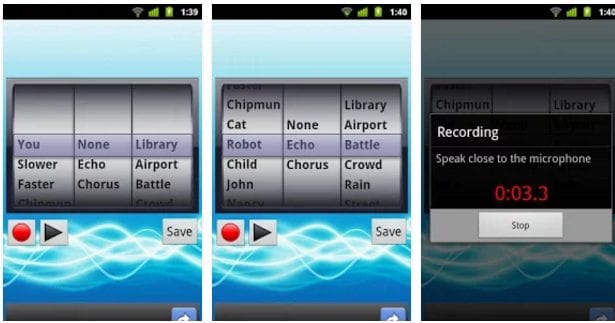 Video Voice Changer for Video, sound changer
For all of those who are working with the video content, mostly with apps like Instagram, TikTok or Likee, where you make short videos on your phone and you need to have a set of a program allowing to create a good meme fast, this is a nice app to have for the voice editing and changing.
This is quite a popular app because it provides so many sound effects! But first of all, it is worth mentioning that this Voice Changer can convert the speech into the text – curious feature for an app like this.
Then, you can record your voice and choose one of the dozens of filters – like, the car is riding on the background, make your voice sounds scary, and so on – the rest you will figure out from this app yourself. And, of course, you will be able to save all the audios.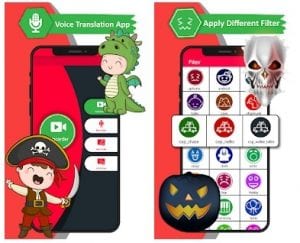 Voice Changer, Sound Recorder, and Player
Voice Changer, Sound Recorder, and Player – the application is more (if not only) for pampering. You can laugh with friends and have a good time in the company of this application. Sometimes it happens at the right time.
The application includes many effects that can change your voice in a variety of ways, including the popular filters "Chipmunk", "Helium", "Darth Vader" and others. There are also several solutions for science fiction fans. You can change the tone and modulation, if you want, each filter comes with a lot of different modes.
I'm glad that by applying any effect, you do not erase the original sound and you can always return to the source. You can save your records with the applied filters on your phone and share it with someone else.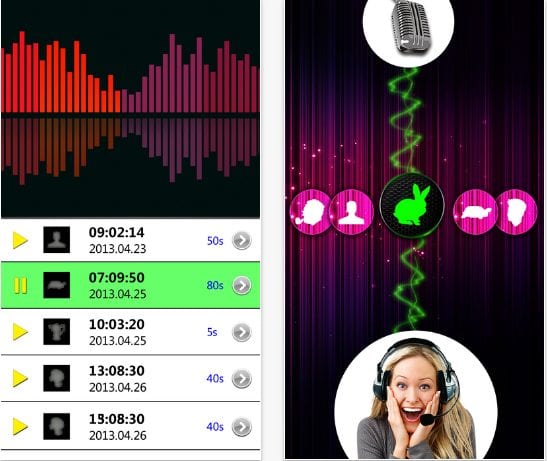 VoiceTooner
As you can see, changing your voice into cartoon characters is quite a popular thing. This is the app that is fully dedicated to this – now you or your friends can start speaking with the voices of your favorite protagonists (and antagonists as well).
It is no secret that most of cartoon have more or less similar character voices, so in VoiceTooner you will find the "templates" of the voices – robot, squirrel, zombie, giant, and so on. Simple, but lots of fun.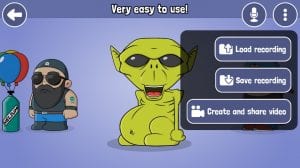 IntCall
You will be surprised how popular this app, which is, at the first sight, seems super simple. It only tells us that the pranking calls are still maintained their popularity because this software is exactly for that. You can alter your voice, call your friends and tell them something they don't expect like they lost their documents or it's FBI or something.
The settings of the app allow you to change the tonality of the voice, so you can pretend to have an opposite gender – if you're a female, you can turn your voice into man's, and all the way around. You can add various effects to the voice, to sound scarier or sillier. At least once you should try to call prank someone!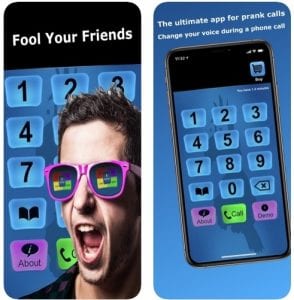 Voice changer – Music recorder with effects
Many people want to sing beautifully right here and right now, but unfortunately, it is impossible. Or wait… With all the technologies that we have now, you don't need to take vocal sessions forever because this app will make even the most impossible voice sound like candy to our ears!
Thus, this is a vocal voice changer. If you want to record a song for your family or a date, or you want to make a funny recording or you just want to have fun – this voice changer will be a great help for you.
Moreover, even professional vocalists can find this app useful because it allows them to set the pitch where it is not precise or add the echo effect or layer the voice. And this is not even it!
There is a number of funny voice effects which you can use just for fun like in other apps. In other words, this is quite a multifunctional app for those who like to experiment with their sound.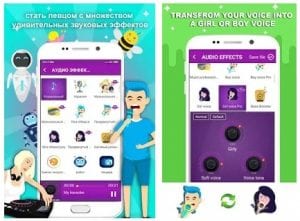 Voice Changer App – SoundBoard Effects for Vine
Have you ever thought that one-day ordinary chat rooms can become unusual? In fact, only some changes are needed to make your voice heard!
Voice Changer is the best choice: with a wide variety of effects, you can create something different and even add sounds of the environment. You can do anything, the limit is only your imagination! An optimized interface design allows you to record your voice with one click.
Features:
– Many effects for selection
– Optimized interface design
– Ability to save for future changes
– Packages of various effects
– Access to social networks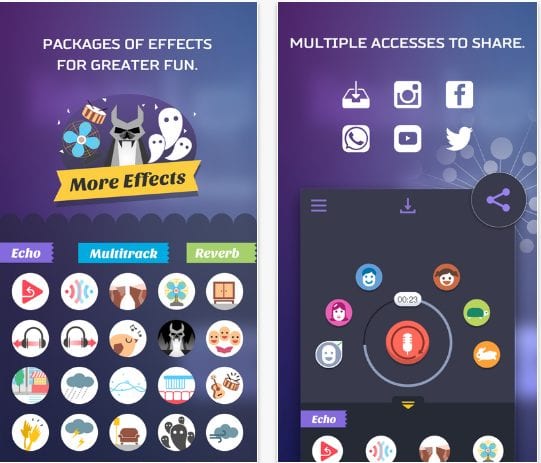 Banuba
This is the app for those who are looking for a little bit more than for a simple voice changer. In fact, this is a multi-functional editor – audio and video. Actually, it is extremely convenient to have everything in one app – if you like these fun things, this is a "must" for you.
First of all, you can edit videos by applying cool stickers and filters on it. There are also various masks which are popular in Snapchat.
Along with the masks, the voice will be changed as well. You might say, that there are similar apps, like Instagram or Snapchat, but the thing is this one provides a much better variety of masks and doesn't require the Internet connection for work.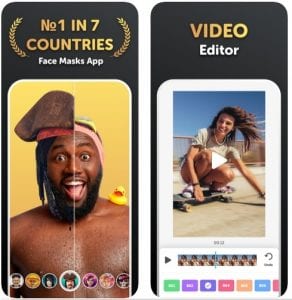 You may also like: 9 Best squeaky voice apps for Android & iOS
Voice changer Audio Effects
This is the best choice for those who like to sing. If you feel like your voice doesn't sound good enough while you're singing, or it sounds too "dry" then try this app to improve the situation. In comparison with other apps on this list, this app is much more detailed and professional, as it allows you to edit your voice at various frequencies.
For example, you can add lower frequencies of mids to the recording if you feel like it. Besides, the app brings the possibility to layer the effects on several voice tracks, which means the effect will turn out to be clearer and better.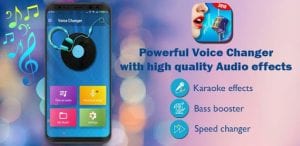 Voice Changer Sound Effects+
This app for changing your voice is way more powerful than others. It provides the whole package so you could change your voice in detail, setting up frequencies and changing aspects and tonalities of the initial voice, which means this app is only for those who are ready to invest their time in it.
It includes voice effects such as Lori, male voice, female voice, child, robot, alien, funny, etc. predefined by the platform. Moreover, the distinctive feature of this app is that it allows you to change the voice in the real-time, for example, you can turn the filter on and call someone – your voice will sound changed.
More importantly, it uses a unique sound change algorithm + technology to support chat sound change, so that you can use the sound change in social software such as Twitter, Facebook, etc.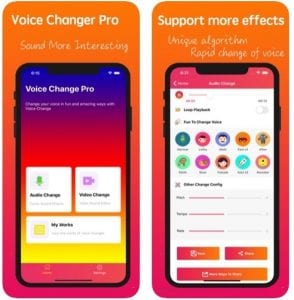 Celebrity Voice Changer
A really interesting app which is super fun to use with your friends. As you can tell by its name, it allows you to change your voice into the celebrities' ones. You will find a whole bunch of celebrities in the main menu, the voice of whom you can get if you want.
This voice changer could be especially useful to create birthday wishes for your friends and family – you just need to figure out their favorite celebrity. Plus, this app really does work and really does make your voice sound similar to celebrities, unlike many other apps that just "dry out" your voice.
By the way, it is important to remember that this voice changer doesn't work without an Internet connection. When you will be making a recording, the app will delete all the silent moments automatically.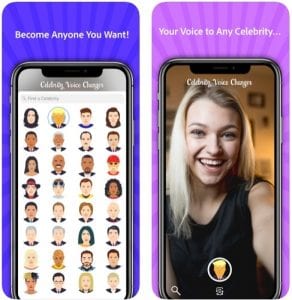 Vocie Changer by Aleaf Games
The app which is extremely convenient to use. As you go to the main menu here, you can see that you are able to record your voice, layer effects, or choose a record from the library. There are more than 20 effects for changing your voice. Plus, the interface design is very fun and colorful – but it's not annoying at the same time.
The effects here are quite curious: you can change your voice into being drunk, being in the cave, a squirrel, helium, monster, and many other characters.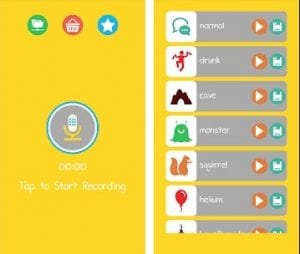 You may also like: Easy Voice Recorder app review
Voice changer by AndroidRock
When you open this app for the first time, you might no like it that much since it has a little bit an obsolete user interface. However, it is so simple and convenient in usage that we can forgive it some flaws because the effects presented here are really good to change your voice.
First of all, you need to make a recording of your voice. You can do that by recording in the app or choose one of the tracks which already exist on your phone. Then, the app will redirect you to the effects and you will be able to experiment. If you want, you can choose the robotic style, a child, an old man, a chorus, and a number of others.
However, if you want to change your voice on the professional level, this is not exactly a suitable app for that. It is more for entertainment purposes, so everyone will hear your voice is changed.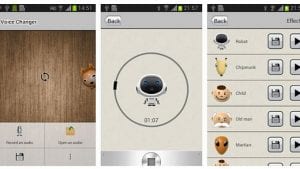 Conclusion
It was a selection of funny programs, which are able to change your voice beyond recognition. Today, to change your voice, you do not need to exert a lot of effort. It's just enough to download the app for changing the voice on your phone and talk into the microphone. Well, have fun!