Ideas for decoration of an apartment, changes in the interior or even some construction projects come to our mind all of a sudden. At such moments, it is unlikely that you have a roulette or other measuring instrument at your fingertips.
Perhaps you do not even have anything like this – often roulette and huge rulers have only people who are self-repairing or their hobbies require such tools. Sometimes there are large spaces that are difficult to measure even with a tape measure.
In this case, you will like the applications that will turn your smartphone into a real measuring tape. Want to know the size of your room? Easy! Wonder how big your computer desk or even your notebook is for homework? In a matter of moments, you'll get information from your smartphone. We've found 12 of the best apps for you that turn your smartphone into a roulette.
You may also like: 6 Best Land Measurement Apps By Walking (Android & iOS)
Tape Measure – Measure with your phone
Need a mobile and quickly accessible tool to measure all things around you? Then this application will definitely satisfy all your needs. Developers didn't limit themselves to roulette alone and added many other features to Tape Measure.
So, in addition to tape, you can use a level – a bubble tool that helps you determine if the part is level. This can be especially useful when you're hanging pictures, shelves or attaching something to a wall. Even attaching a hook to your clothes requires an even position!
Tape Measure is loved by many designers and professionals in interior design and real estate, as you don't just measure the area and parameters of objects. You are also able to build a floor plan as quickly and easily as you can.
When you purchase a PRO subscription, the app gives you access to all of its tools. Before purchasing, you can try out all the functions in the trial mode.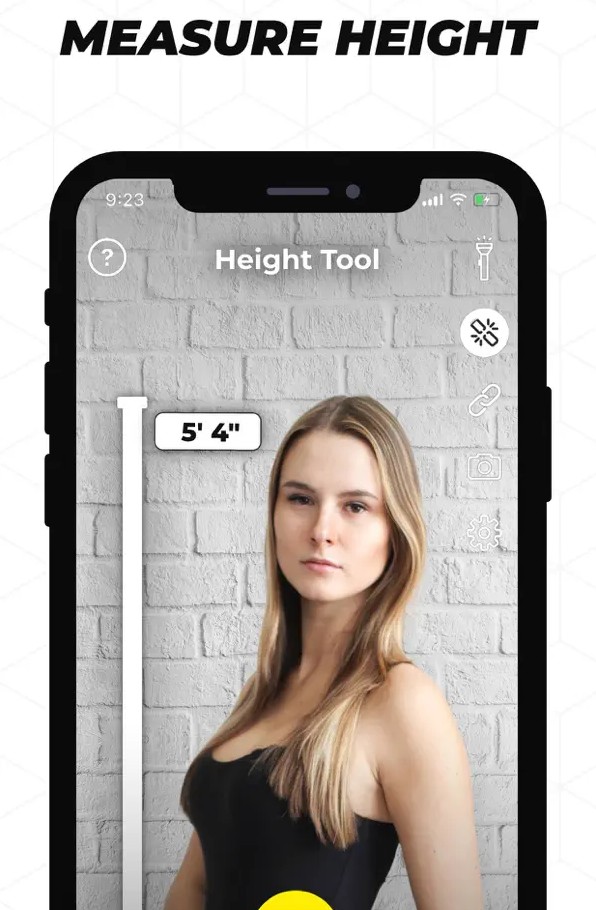 You may also like: 15 Best Measure Distance Apps for Android & iOS
EasyMeasure – Measure with your Camera
When you want to know the distance to a piece of furniture, your height or the parameters of a sufficiently large piece of furniture, you can use the EasyMeasure app for this purpose.
The app will tell you how far away you are from the objects that are visible through your smartphone camera. You'll even see the measurement process – the screen will display a 3D grid of space.
This is possible because many modern cameras can automatically detect AR. EasyMeasure will determine the angle you're holding the phone at, and that will give you a more accurate result.
The use of AR technology is a virtual reality in which everything has certain dimensions and distances. The developers understand that the data cannot be extremely accurate and indicate the measurement error.
Also EasyMeasure can work in different units of measurement – in settings it is possible to choose metric or imperial units. If necessary, you can use the user manual to understand how to get the most accurate results possible with just a smartphone and EasyMeasure camera.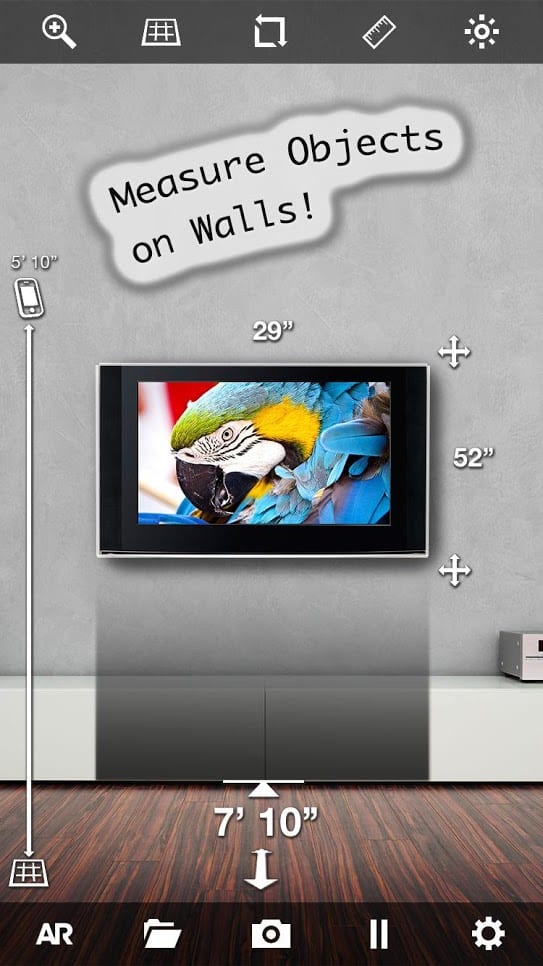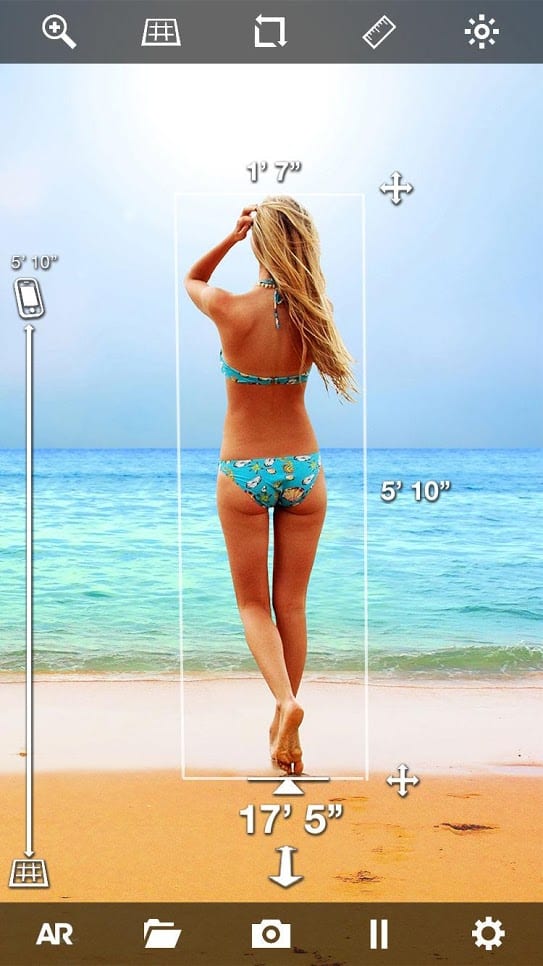 Ruler by NixGame
From time to time it is necessary to present several units of measurement at once. If you are weak in math or just used to using only one measurement system, Ruler can help you and convert all the data into the units you need. You can even determine the thread pitch of objects.
Ruler puts your smartphone's measurement scale – a ruler – on your screen. It measures items accurately and easily – even if you've only used a regular ruler before. The length can be measured on both sides of the device, but you have to hold it in place.
All measurements can be made in 4 basic modes – plane, line, level and point. Of course, you can measure objects simply by putting them on the screen, but it is more convenient to bring your smartphone to the object of interest.
By the way, it is also worth noting that Ruler works in 15 languages – unlike other applications that work only in English. Easily start your measurements – just touch the screen and start the process!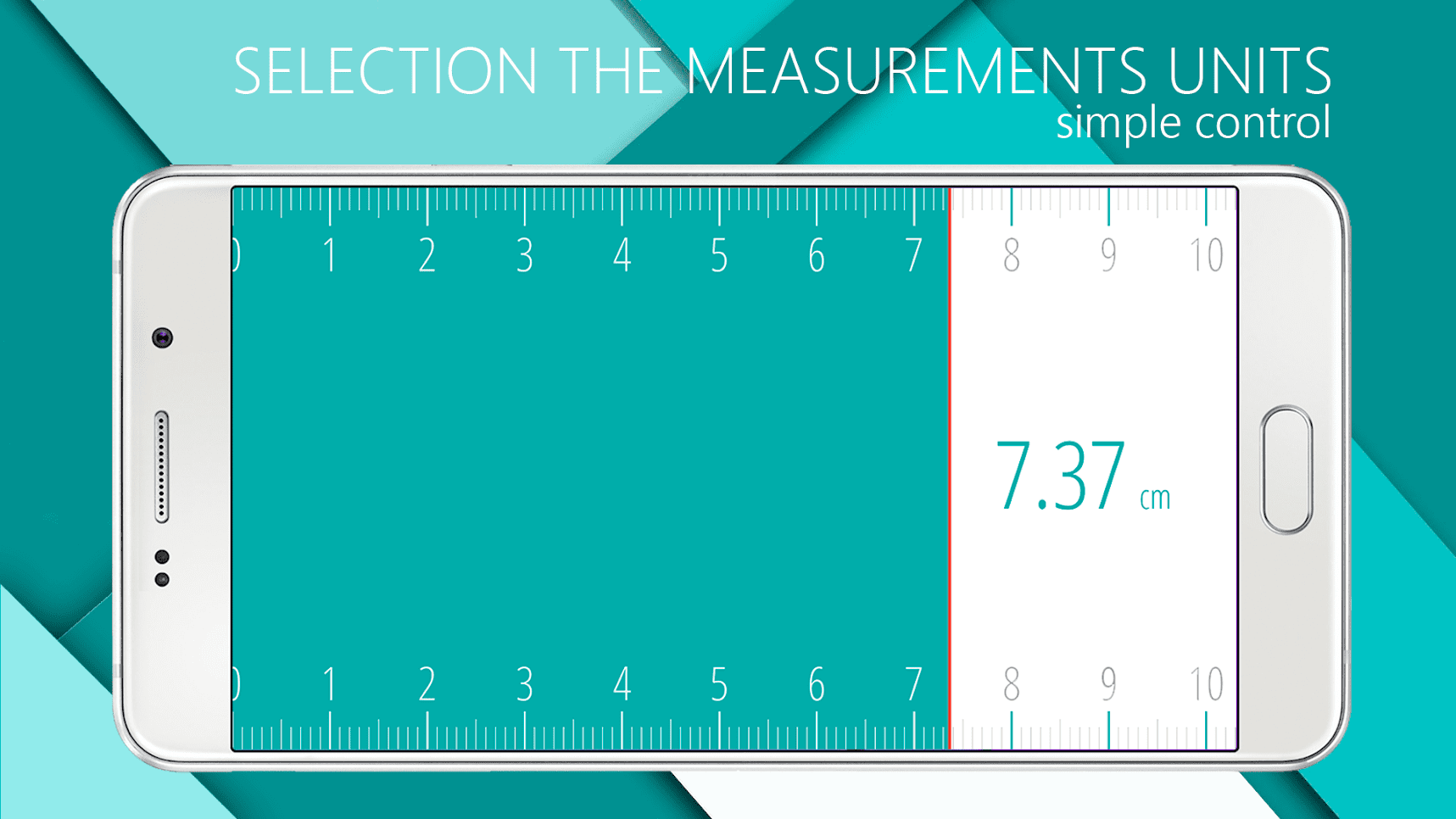 Ruler App – Measure length in inches + centimeters
The Ruler App – Measure length will become your personalized ruler on your smartphone screen. The interface is simple and fast, minimalist and feature-rich.
You can choose the measurement system right away – the Ruler App has basic imperial and metric units of measurement. The app is easy to use on both your smartphone and tablet – only the scale and size of the ruler will change.
In case you notice that the changes are inaccurate, you can calibrate the Ruler App. This is done using a standard real-world ruler – point the camera at it and adjust the values so that the dimensions on the screen and in life coincide.
It's also worth noting that you won't lose your measurement results – the entire history is stored in the app. It is also possible to copy and paste the data immediately after the measurement into another application – if you need to pass the parameters to someone else.
The Ruler App – Measure length will always be in your pocket and you can easily measure the size of all the items you are interested in. The app is very simple, yet useful and functional.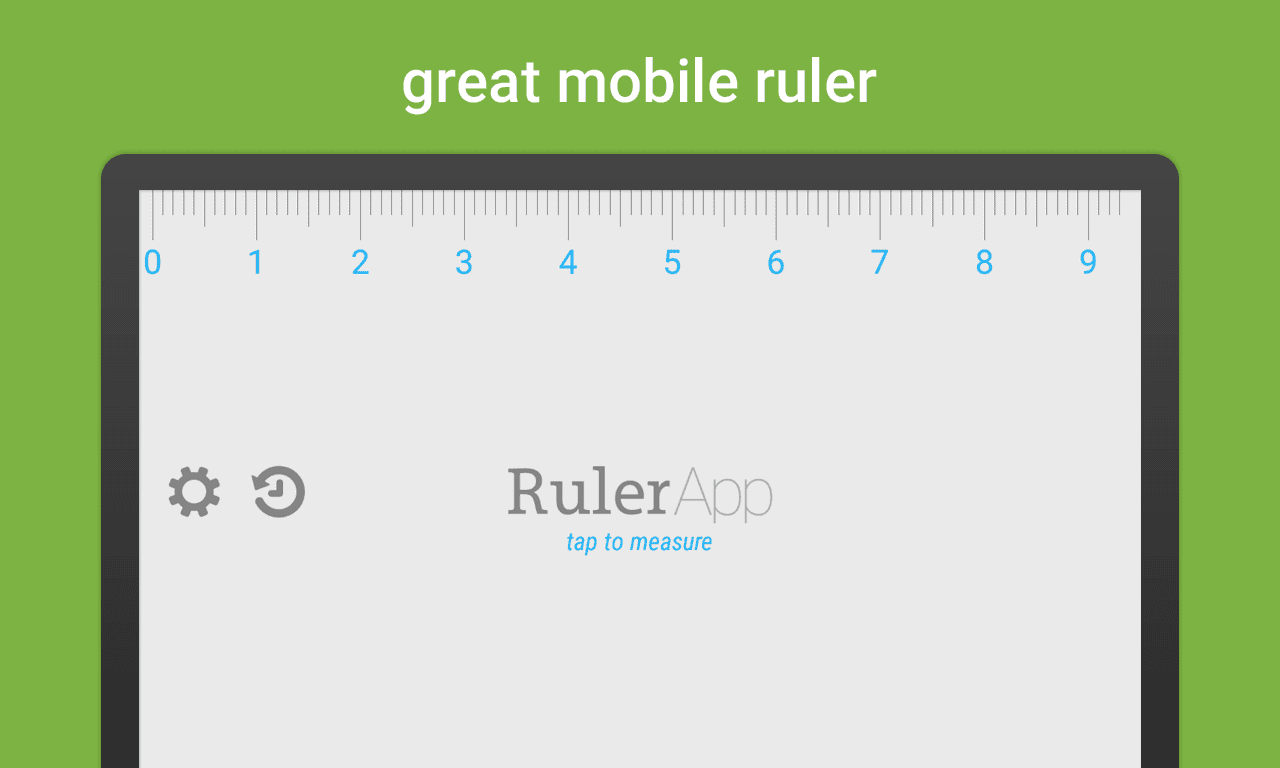 Ruler App – Camera Tape Measure
You may have already realized that many of the applications presented in this article will use ARCore technology. The augmented reality perfectly defines the surface planes and the application measures their parameters. Measurements are made by taking pictures or simply pointing the camera at a subject – this is how the data will be displayed on your smartphone screen.
You can use the Ruler App as a ruler. If other apps don't guarantee you accurate data, this service will give you the accuracy you need. This is because the Ruler App requires some "basic" items, the dimensions of which are standard around the world and known to the application. For example, one such item is a credit card, which is available to almost all people.
To measure, you need to place the item you want to measure and the item that is standard for an application in one plane. Adjust the limiters for both things so that it is possible to determine the scale and location.
Measurements are available in several measurement systems – meters, feet, ides, and so on. In addition to the dimensions, it will be possible to calculate the angles as well as the area and perimeter.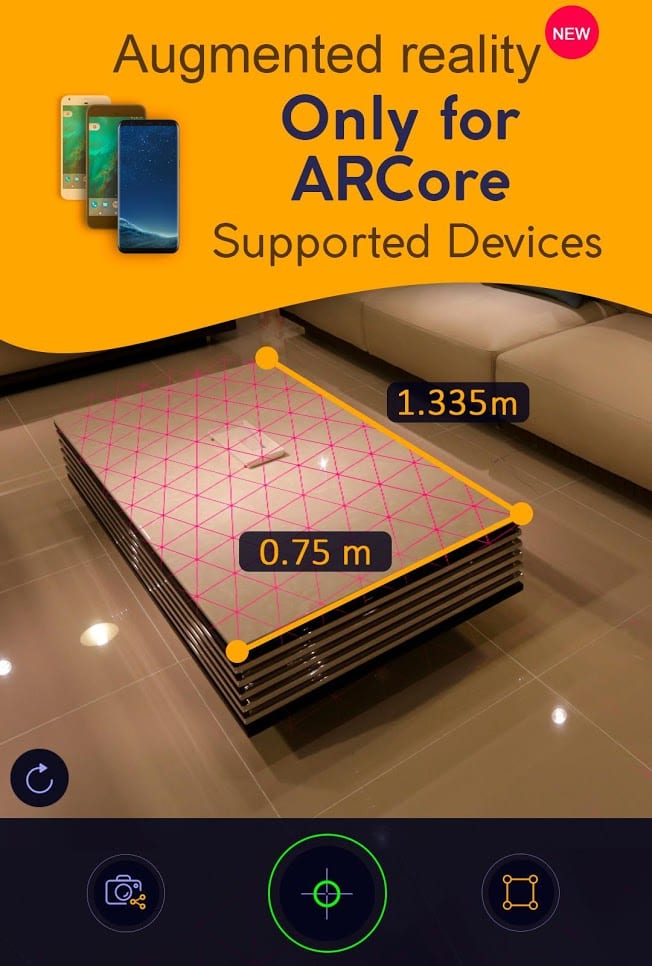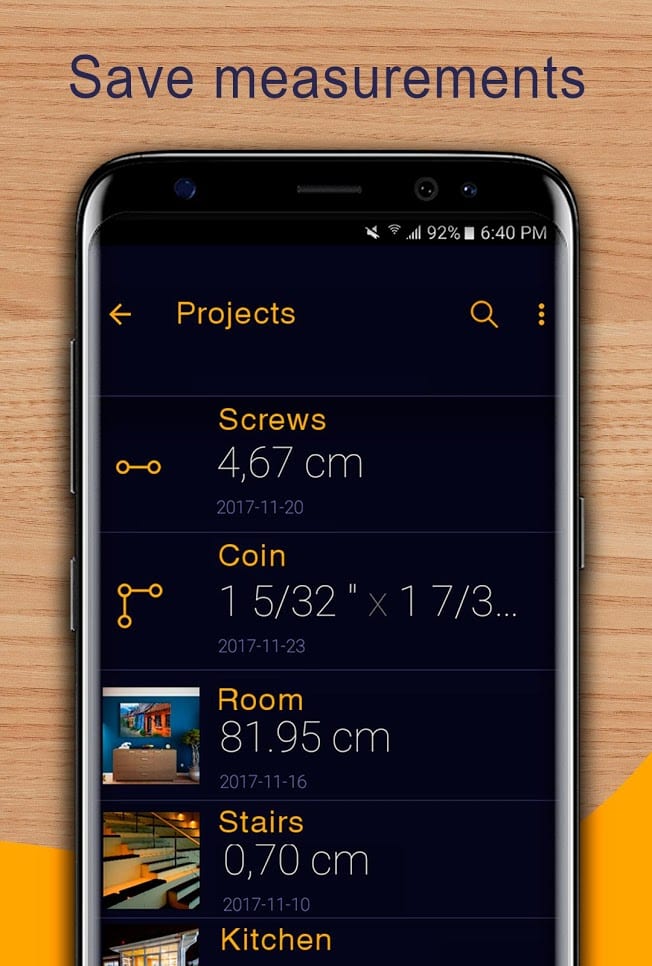 Measure Tools – AR Ruler
This nifty app turns your smartphone into a versatile measuring tool, and it doesn't measure just any ordinary stuff; it measures the kind of things that make you go, "How big is that?" From the length of your living room to the dimensions of your favorite painting, this app has got it all covered.
Measure Tools – AR Ruler offers various types of measurements, including distance, area, and even volume. You can measure the length of objects simply by pointing your phone's camera at them and tapping the screen. It's like magic, but with science!
But that's not all; this app comes with extra tricks up its digital sleeve. You can take screenshots of your measurements, add annotations for clarity, and even save your measurements for later. Plus, it works in both metric and imperial units, so you can measure in whatever system tickles your fancy.
In general, I can say that Measure Tools – AR Ruler is the pocket-sized measuring buddy you've been waiting for!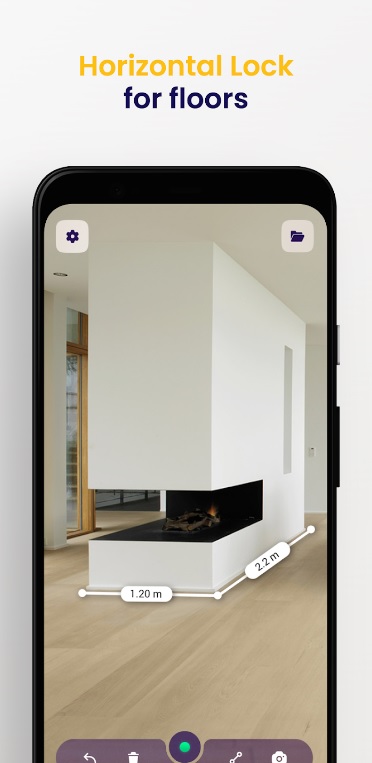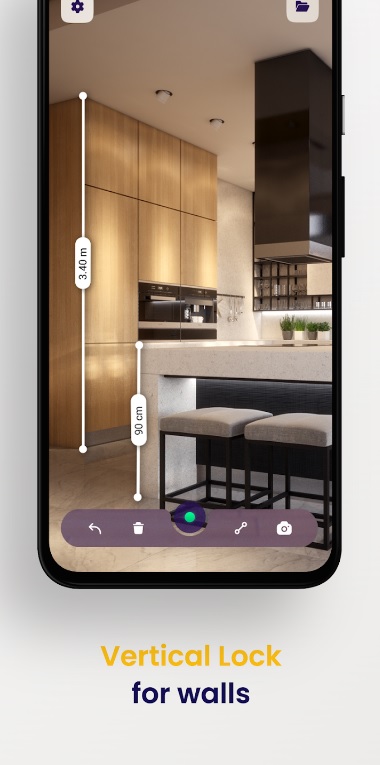 You may also like: 13 Best Apps to Measure Humidity in House (Android & iOS)
MEAZOR
So, what exactly does it measure? Well, almost anything you can think of! Whether it's the length of your living room, the dimensions of that new piece of furniture you're eyeing, or even the area of your backyard for that weekend DIY project, MEAZOR has got you covered.
But wait, there's more! MEAZOR doesn't just stop at linear measurements. It can also calculate areas and volumes. Need to figure out how much paint to buy for that oddly-shaped wall? MEAZOR's got your back. Planning a landscaping project and want to know how much mulch to order? MEAZOR can handle that too.
Also, MEAZOR is user-friendly. Just point your phone's camera, tap a few buttons, and voilà – you've got your measurements in a jiffy. It's like having your own personal measuring assistant right in your pocket.
So, whether you're a DIY enthusiast, a professional builder, or just someone who likes to know the dimensions of things for fun, MEAZOR is the app you never knew you needed.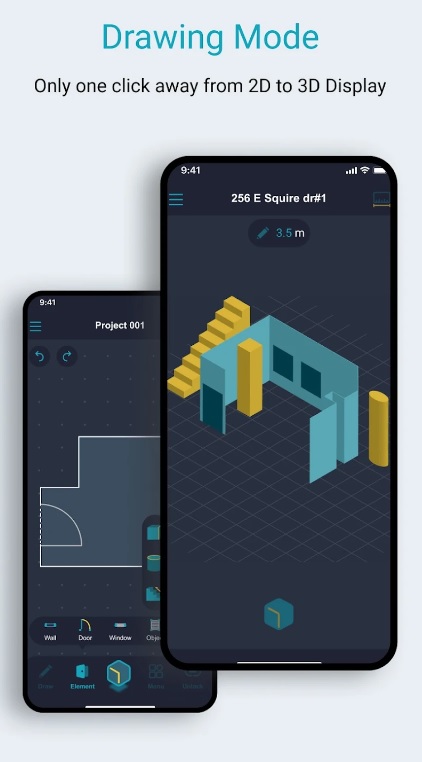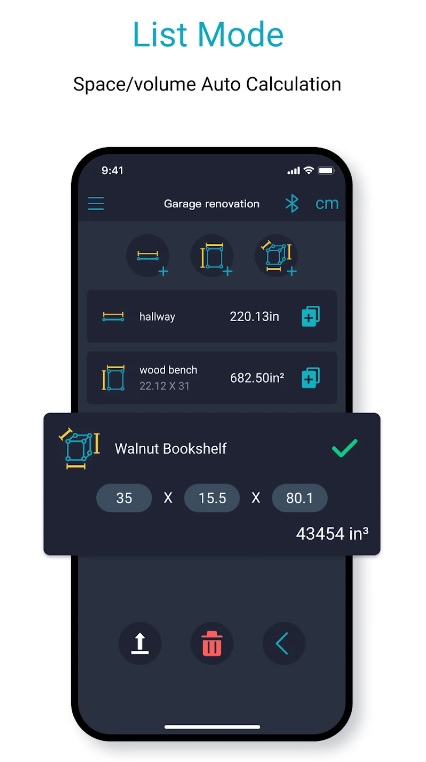 AR Plan 3D Ruler – Camera to Plan
Are you planning some kind of relocation plan or real renovation in your apartment? Looking for a suitable house and walking around a lot of objects, but can't remember them all? Then try AR Plan 3D Ruler next time.
This application is a real innovation in the world of measurement services. Instead of a tape measure, you use a virtual ruler to make all the necessary measurements to create a 3D room plan.
So what's so innovative about AR Plan 3D Ruler? First of all, of course, the application measures the perimeter and floor area, so you get a room plan. As a result of these measurements, you get a classic plan of the rooms – a view of them from above.
Secondly, AR Plan 3D Ruler measures the height of walls, as well as memorizes the location and size of windows and doors. Besides the classical 2D plan in the form of a projection of a view from above, the lateral plan or a scan of walls is accessible to you.
The measurements are saved, and you can easily send ready-made room plans by e-mail. AR Plan 3D Ruler lets you determine if and how comfortable this space is for you.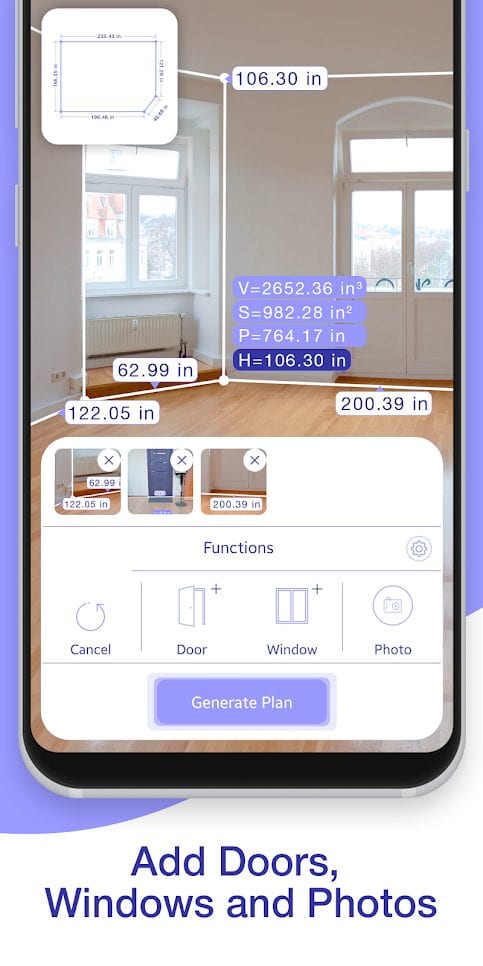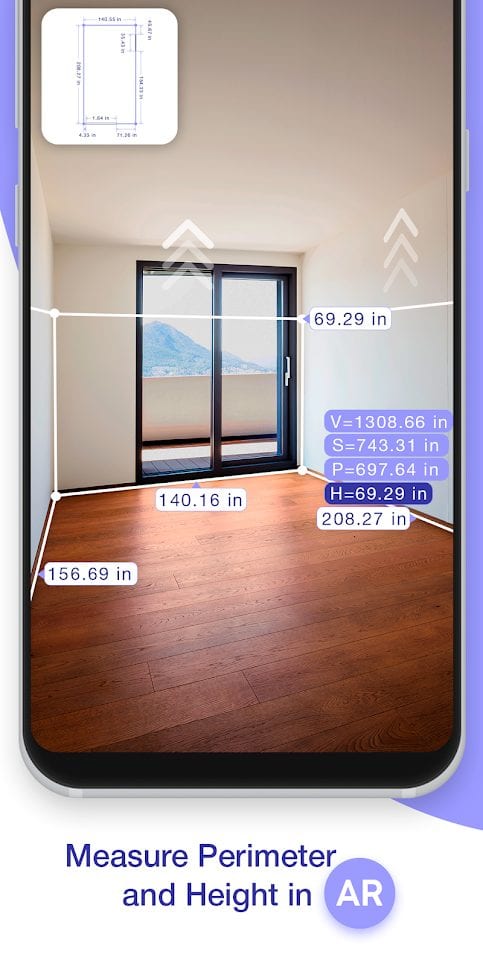 CamToPlan – AR tape measure
Are you having trouble using a laser meter? Getting used to the traditional way of measuring and don't want to change anything? To avoid carrying the ruler with you, you can put it in your smartphone. CamToPlan can be used for both professional and personal use – you can measure everything – length, distance, surface area.
All of the measurements you make will be immediately added to the file. You can export them to PNG, PDF or DXF format in just a few seconds. Measurements are made using ARKit technology and use all the sensors on your smartphone – such as an accelerometer, for example.
The application analyzes the image from the phone's camera and gives details of the image parameters. CamToPlan also determines the angle at which you hold your smartphone. Measurement is available both horizontally and vertically, and there is no need to clean the furniture for use in the room.
Maximum accuracy is ensured by your approach to the object, although the developers warn that there is no guarantee of accuracy. All these features are available to you in the Premium version, while the standard version has limited functionality. Try CamToPlan and you may want to purchase a subscription.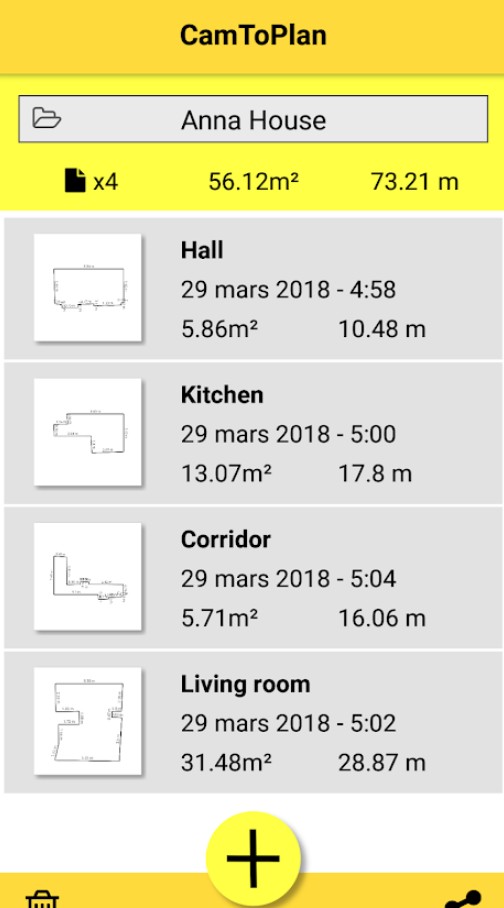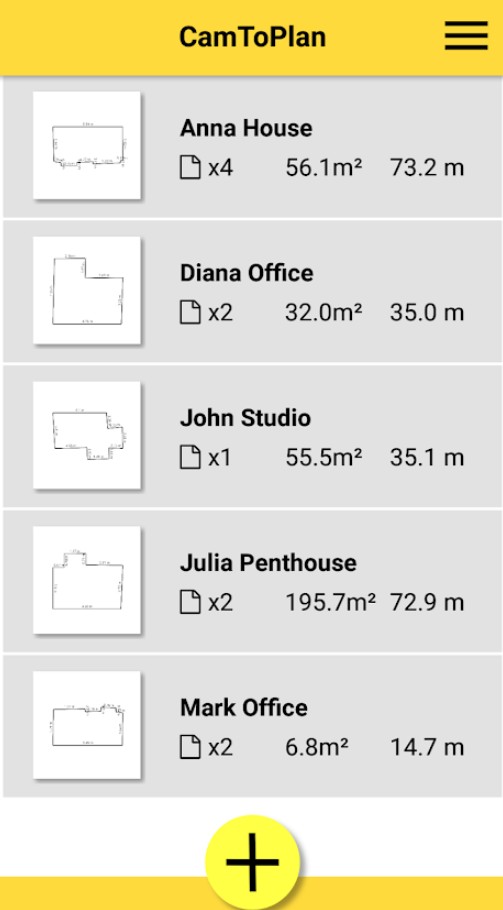 Tape Measure Camera Ruler AR
Did you ever think that you would be able to know exactly the distance to each object that is in your field of vision? Do you want to surprise your friends by telling them how high the nearby buildings are or how wide the wall is? Tape Measure Camera can provide you with all this data by superimposing dimensions and distances on 3D images.
If you're a builder, architect or real estate agent, you'll be able to use the app without having to carry the tape measure with you at all times. Quick measurements will not slow down your workflow, while providing all the necessary metrics.
Of course, if you're using Tape Measure Camera for accurate calculations and drawings, it's still best to use a true ruler – the service may have an error. Sure, you can choose the right measurement system, but there are a few nuances to the job.
In the free version you have limited measurements, as well as a small amount of advertising – so if you are irritated by advertising banners, we recommend you to buy the Pro version. There you will be able to measure the area, the distance to the camera, as well as will be disabled ads.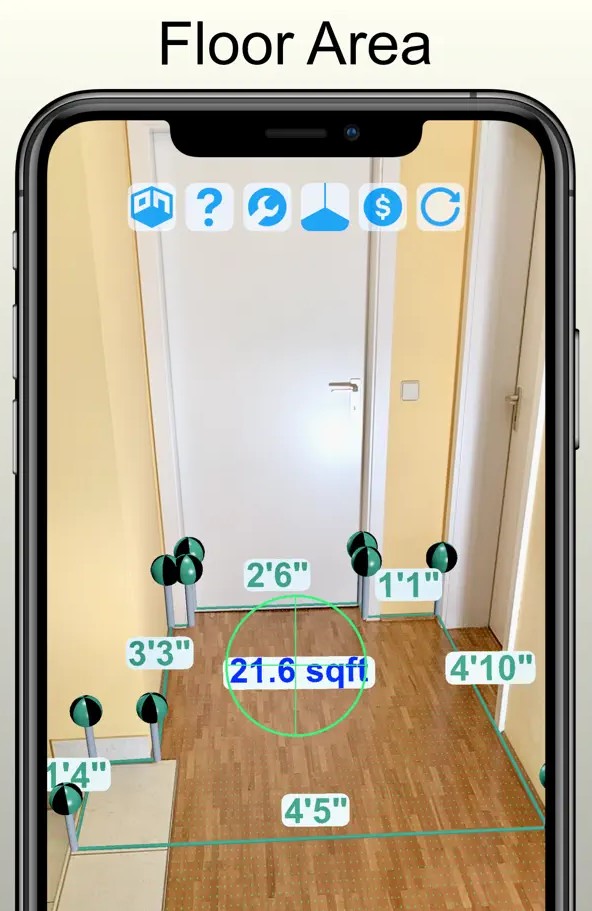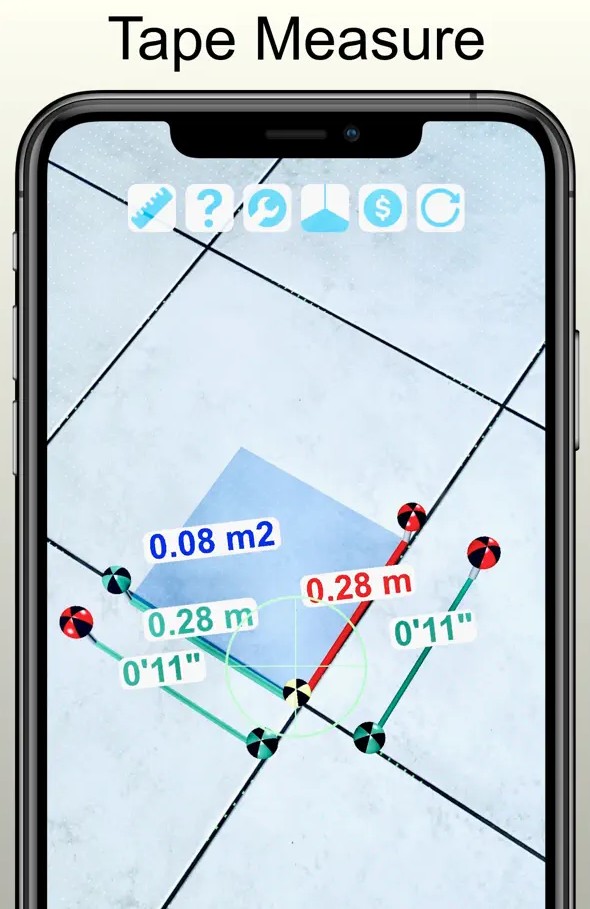 Smart Measure
This app is like having a magical measuring tape right on your smartphone.
With Smart Measure, you can measure various things like distance, height, width, and even the height of a tree or a building, just by using your phone's camera.
The app offers a range of measurements, making it super versatile. Whether you need to measure the length of a room, the height of a wall, or the distance to an object, Smart Measure has got you covered.
Now, for the best part – it's free to use! You can download and start measuring right away. No need to worry about hidden fees or pesky subscriptions.
Smart Measure uses your phone's camera and the power of technology to give you accurate measurements. It's easy to use, and the results are surprisingly precise. Plus, it's a handy tool for DIY projects, home improvements, or satisfying your curiosity about the world around you.
So, if you ever find yourself in need of a quick measurement and don't want to carry around a clunky tape measure, give Smart Measure a try. It's the smart way to measure things, and it's right there in your pocket.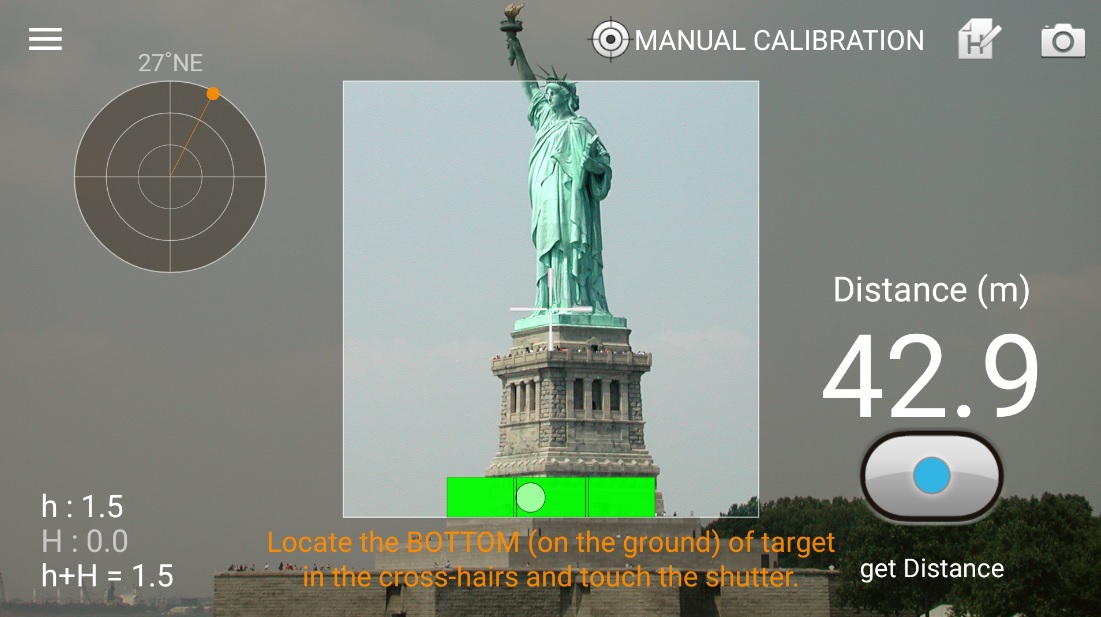 You may also like: 25 Best Home Design Apps for Android & iOS
AR Ruler App
The AR Ruler App is a program that uses augmented reality technology to measure various objects using your smartphone camera.
It allows you to calculate linear dimensions in centimeters, meters, millimeters, or inches.
It is also possible to calculate angles on 3D planes, area, perimeter, volume, and height of objects.
AR Ruler can also be used as a rangefinder to estimate distances from the mobile device camera to a specific point on a plane.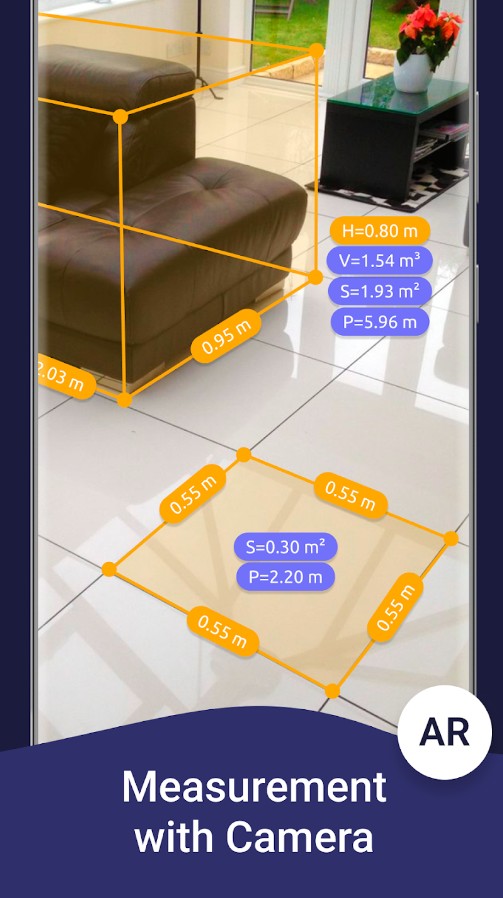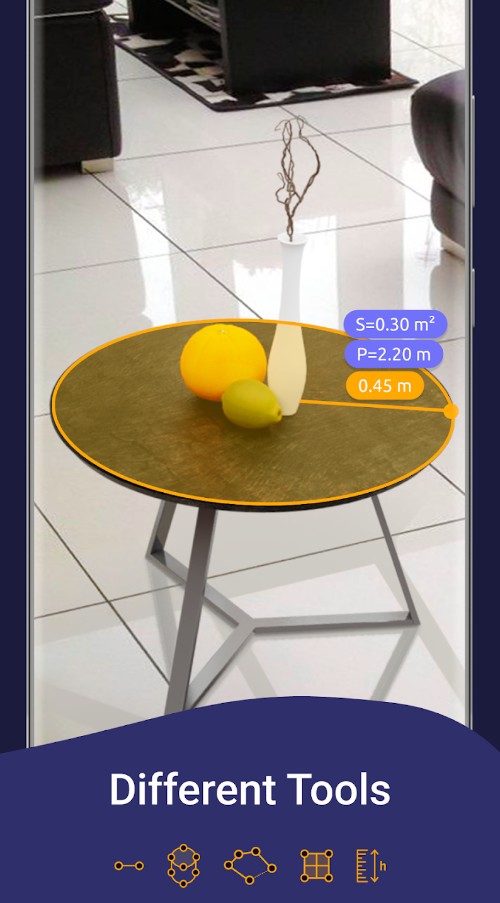 Of course, we can't say that all these applications will give you accurate dimensional data – to the nearest millimeter. No, you should keep in mind that all the data are estimates and will not replace the real tools.
If you need to know the exact figures – for example, for a professional job – it's best to use the standard measurement method. And such applications will simply make your life easier and also be useful in your daily life and shopping.