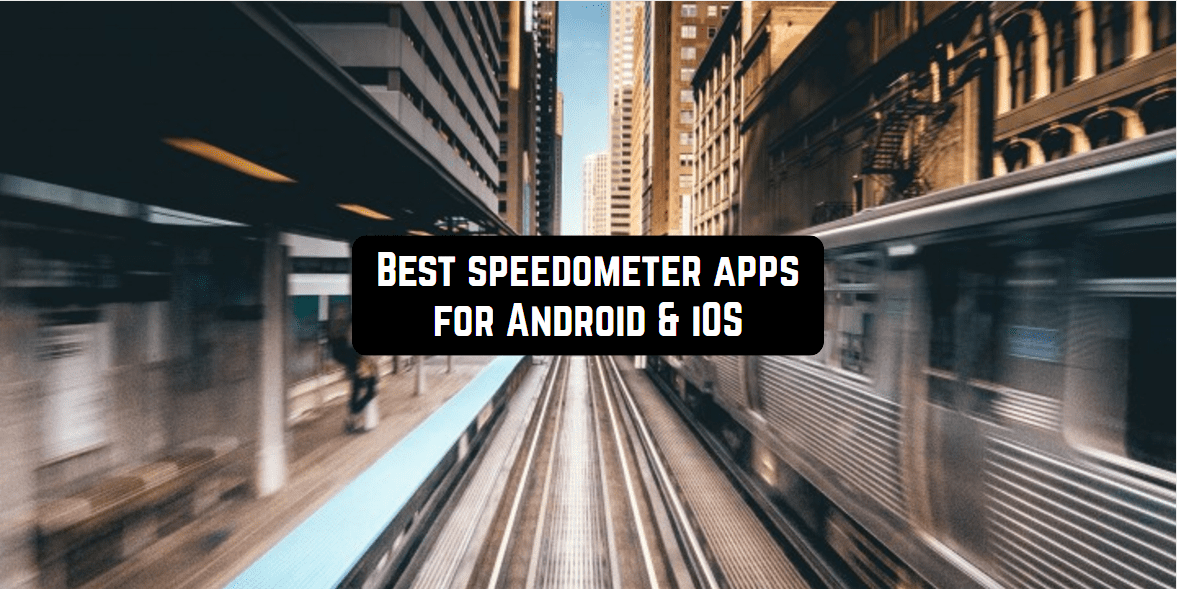 You don't need to buy a special device for measuring speed anymore. Your phone can easily replace it! Just download one of the speedometer apps from the list below and Bob's your uncle!
Speedometer apps for Android
1. Ulysse Speedometer App
Ulysse is a speedometer app for safe driving. And it is so much more than just a speedometer! For starters, the app's main screen shows time, date, battery charge and, of course, speed. Then, there are two useful buttons that integrate the app with your music player (Spotify, Pandora, etc) and your navigation app. So, as we can see, Ulysse Speedometer is a bunch of driving tools collected in one place.
More than that, when you exceed the speed limit, the app notifies you by making a special sound. After driving, you can view the history of your drives which contains average speed, overall distance, periods of moving and periods of idling, etc. Download the app now to get all of these amazing tools!
2. DigiHUD Speedometer
DigiHUD Speedometer is a very nice minimalistic app that has got everything you need. You can change the colors of the interface, which is cool. DigiHUD, just like the app above, can work in a background mode, which means you can check your email, navigator or any other app without stopping the work of this app.
You can set a speed limit you wouldn't like to exceed and the app will let you know if you're exceeding it. The app will also let you learn your driving's peculiarities, such as average speed, distance, and time.
If you don't like additional stuff on your screen, don't think twice, just get this one and enjoy!
3. SpeedView GPS Speedometer
SpeedView is one more speedometer app that uses your GPS to get the most accurate speed results. The app will save you from getting a ticket, which means it will give you a signal when you exceed the speed limit. You can set your own speed limit if you want to.
The app has a background mode and it shows compass. What it also shows is the history of your drives with speed and distance – everything as usual. You can even download this info in a text file and save it on your MicroSD card. So, just one more great speedometer app!
4. Speedometer GPS Pro
Speedometer GPS Pro is an app that is currently free (but usually not), that's why we decided to share it. The app has two modes in general – for cars and for bicycles. The main screen shows such measurements, as duration, distance, start time, max and average speed, altitude, heading. You can save all of these after driving/cycling and view them later. The history of drives is shown in a very convenient way – you can see it on the picture down below.
What you can also see (right in the process of going somewhere) are satellites and your speed chart. The coolest feature though is a map mode when Google Maps does its job just like it usually does it, but there is a small table above your screen that contains distance, speed, and duration of your drive. So, if you like the description of this one, you should definitely try it!
5.  Speedbot GPS/OBD2
The coolest feature of Speedbot is probably themes that are taken from sport cars designs and turned into something very stylish. Other than that, the app is just a usual speedometer with a bunch of measurements shown on the screen. There is also history that reflects the style of your driving. Other than that, the app is pretty simple.
If you need something simple and at the same time good-looking, this is exactly what you need!
Speedometer apps for iPhone
6. Speedometer
This one is probably the simplest speedometer app on the App Store. Black & white screen, on which only speed is shown; settings that contain just units of measure (mph, km/h, knots), and that's literally it.
Not everything is as simple as it seems though. If the number on the screen becomes transparent, it means that the accuracy diminishes and vice versa. So, if you need a simple app that shows you your speed, this one is for you!
Enjoy retina display together with this incredible simplicity!
7. Speedometer 55 GPS Speed & HUD
This Speedometer has got all the necessary features for driving safe and well. First of all, it shows your speed. If you start to exceed the speed limit, the digits on the screen become red. And if the speed limit is exceeded, the app will make an alarming sound to notify you of that.
Secondly, the app has an altimeter which can be useful if you travel in different places. There is also the recording of your speed and some other parameters. It can be used as evidence of your innocence. Avoiding speeding tickets with Speedometer 55 is inevitable! By the way, do you know why the app is called Speedometer 55?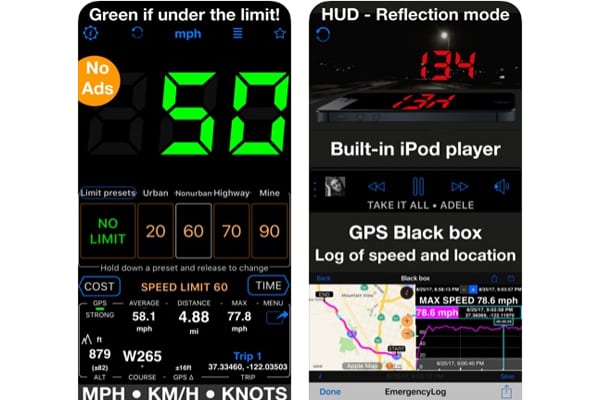 In sum, this is a very sophisticated speedometer with lots of classy features! You should definitely give it a try.
8. Speedometer Free Speed Box
Speedometer Free Speed Box is a fine speedometer app that has all the most necessary features. It measures speed and distance. The results can be shown in one of the three most popular units – mph, km/h, and knots. More than that, the app has got an embedded compass, which can also turn out to be handy. And last but not least, the app has got three beautiful themes. So, just one more cool option for ya!
Also read: 15 best compass apps for Android & iOS
9. Speedometer Free Speed Limit Alert + GPS Black Box
This speedometer app is for those drivers who sometimes don't notice that they drive too fast. When you exceed your preset speed limit, the app changes speed digits' color, from green to red, and makes a loud sound.
Among other features, which are many, are such measurements as average & max speed, altitude, distance. The app records the speed of your last 20-minute drive, which you can use as an evidence of your innocence. What's also cool about this one is that it has an embedded player, which means you can listen to music and change songs without leaving the app! How cool is that? Get the app now and never pay for over speed again!
10. HUD Widgets — Driving widgets with HUD mode
Above, there are quite a lot of apps that have a head-up display (HUD) mode. This one focuses mostly just on it. HUD Widgets app is a package of useful widgets with useful information on them. Every driver would want to have something like this!
There are such widgets as speedometer (obviously), distance, clock, weather, eco-driving, etc. They can be shown in different styles, including retro ones, such as Cadilac. HUD mode requires at least a little bit of darkness – it can be used when it's dark outside or when it's raining. In order to use it, just put your phone in the horizontal face-up position and that's basically it.
The app also counts your fuel consumption and your driving score (how good & safe your driving skills are). A very complicated app, this one! Get it now, you certainly won't regret it.
---
That's it for speedometer apps. I hope you enjoyed the article. Drive safe and be smart in choosing apps!