What about you? Do you satisfied with your phone's battery life?
Many people face a problem of a lack of charge every day and ask their friends, colleagues and accidental pedestrians for a charger or to call somebody. The paradox is a telephone dies at a very inopportune moment every time. For example, you quarrel with your girlfriend and a battery is flat! But it seems to her that you hang up the phone, while your phone is really dead.
Today's market of smartphones is full of a variety of models and they come loaded with all sorts of features. Everyone can find his cup of tea: if you loves taking selfies- improved camera is for you or maybe you appreciate a clear image and good-quality display- people takes care of it due to the retina display. But, nevertheless, you need to pay your attention to a battery life of a phone you are going to buy soon, whether it is long or short. According to the statistics, (IDC survey) revealed that 56% of Android buyers, 49% of iPhone buyers and 53% of Windows Phone buyers said that battery life was an important reason for them while selecting a particular device.
I think it will be curious for you to look at the results of another research. An issue was to find out what phone model has the longest battery life.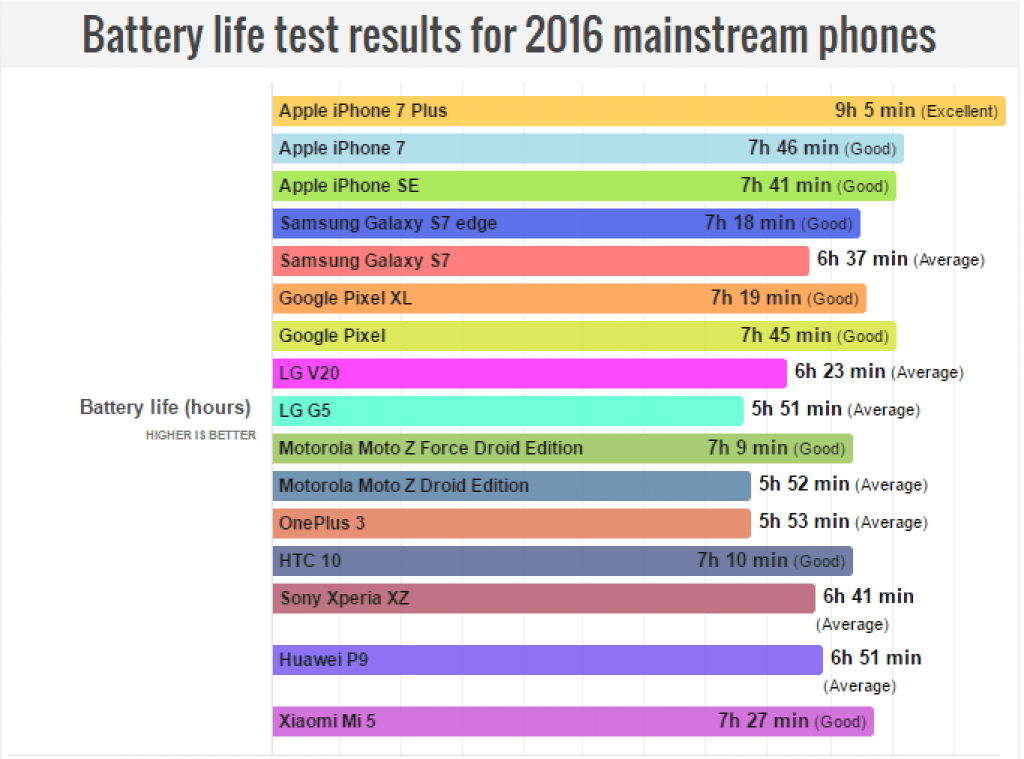 But there is another way to save your battery life without buying a new phone. You and your friends who are tired from your endless askings. We want to show you a list of apps that are able to save your battery life.

---
By the way, check our other posts on this theme. Especially I recommend you visit a category " How to"! The post "How to charge your iPhone faster. 7 ways"  will show you some ways that you didn't know before. Moreover, there is my favorite list of apps that helped me out many times –"15 best voice to text apps for iPhone & Android"
1. Battery Doctor (Power Saver)
This app wants you to join other 300 million users who have already installed Battery Doctor and enjoy using their gadgets up to three days. Yes, such apps really have a positive effect on a battery life, so the developers promise you to save up to from 50 to 60 % of battery charge.
As for features, like the previous app, Battery Doctor also shows the statistics how long your battery will last under a variety of situations such as playing mobile games, surfing the net or swiping Instagram or another social network. In this way, you can see what is the most "hungry" app that drains a lot of power.
Apart from, you get accurate battery remaining time; accurate charging time remaining; schedule power saving modes for work/class/sleep and more; a unique 3 Stage Charging System and that kind of things.
More than 8 million people voted for this app, forming the rating about 4.6 stars out of 5.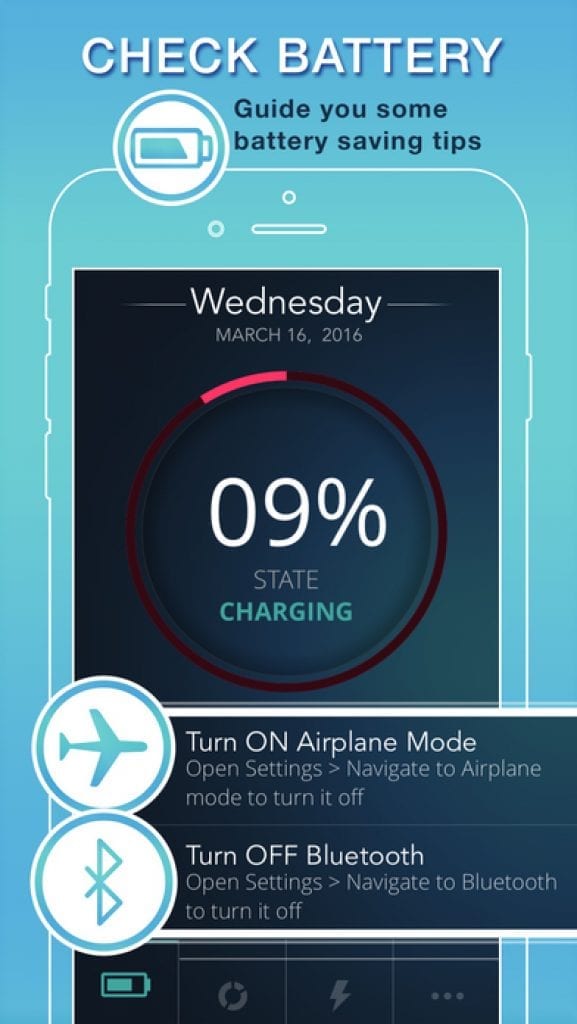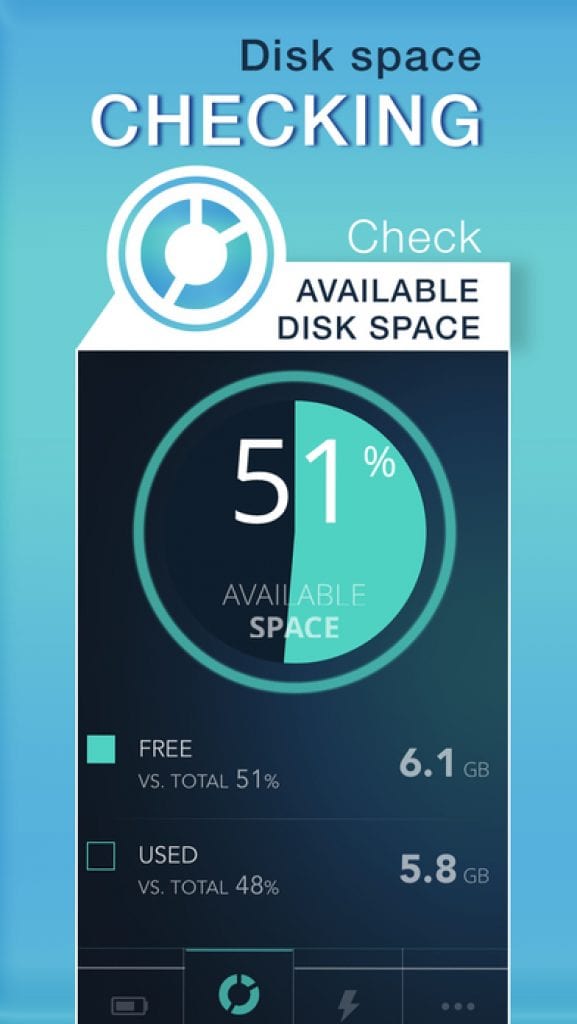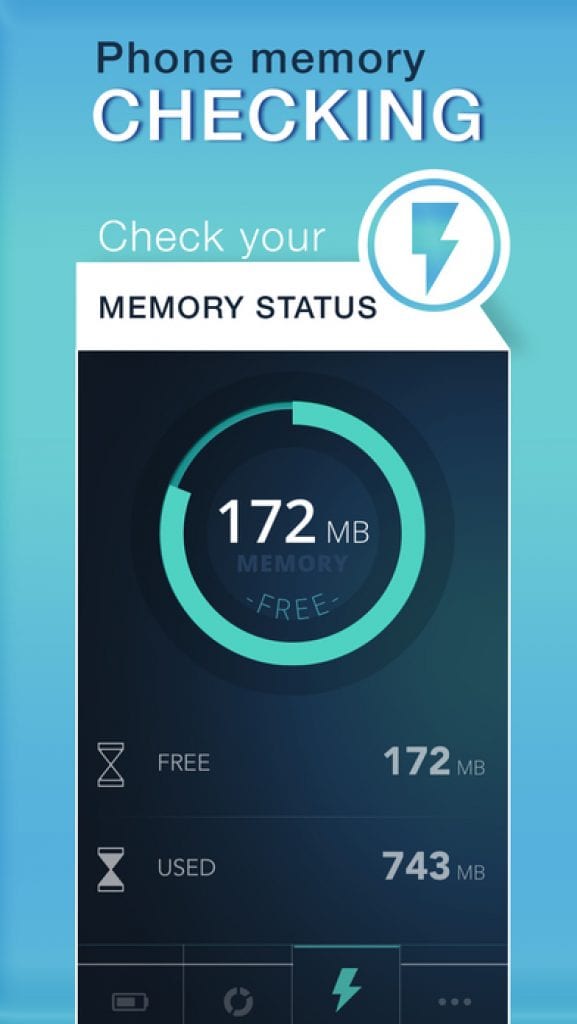 Get it on Google Play Store
2. 2 Battery – Battery Saver
Another perfect battery saver, working, unfortunately ( or maybe, fortunately), on Android only.  This app uses the way of extension many hours to the battery life by managing Internet connection intelligently and in the background. One of the valuable features is an automatic switching of the second battery. As for other features, there is no necessity anymore every time to turn in or off the Internet connection. This app extends battery life by using a smart algorithm to turn on/off the Internet connection, reduce battery consumption and data usage, but still keep the important background data synchronized.
What is more, it gives detailed information about battery draining and telephone usage. All indicators are shown in the bar chart. Every time your battery level is low or full the app will warn you. All these features and a lot more are available for free, but there is a paid version that, in addition, supports night-mode and blocks any ads.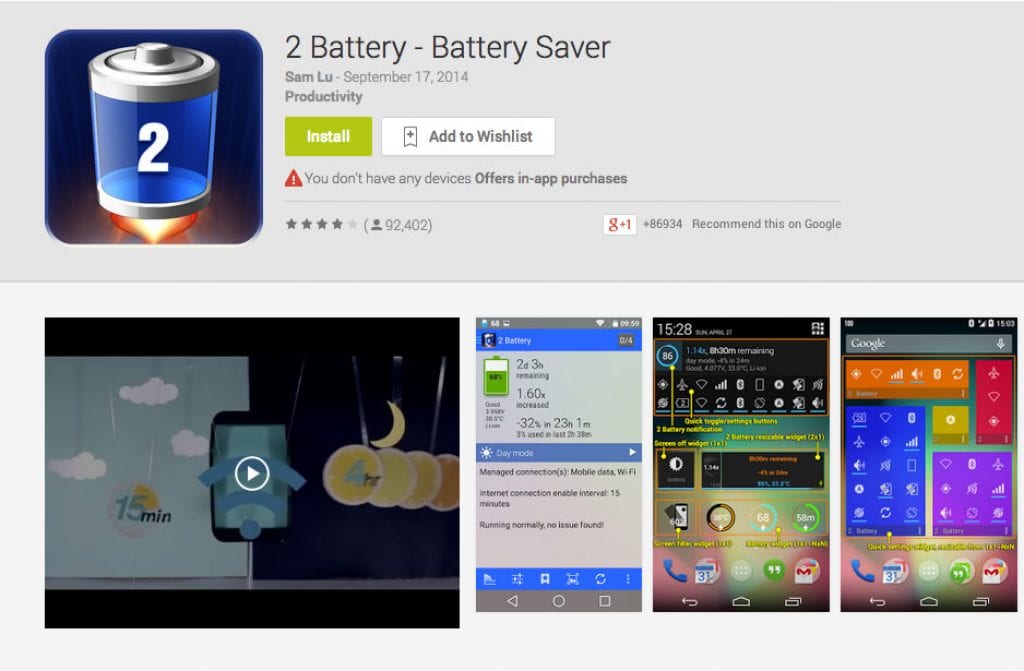 Get it on Google Play Store
3. Battery Magic: Battery Life Battery Stats Battery Charge & Saver all in one
As for this application, it is a battery life extender which automatically learns how you use your smartphone and adjust the smartphone settings on the basis of learning. It can be seen that this app is designed well and an interface is very friendly to use. In a question of indicators, it is clearly seen what app drains most of the energy.
As for features,  there are two versions, provided with their own features, you can choose from. The free version includes the monitoring the battery life and what apps influence it. You can see your everyday usage in hours and minutes, whether it is a talk time or playing games, surfing the net or swiping social networks and pages, wi-fi working, video and audio playbacks and etc.
Paid version includes  Charge Alert, Full Cycle Maintenance Charging and an ability to use your own photos from an album as a battery themes.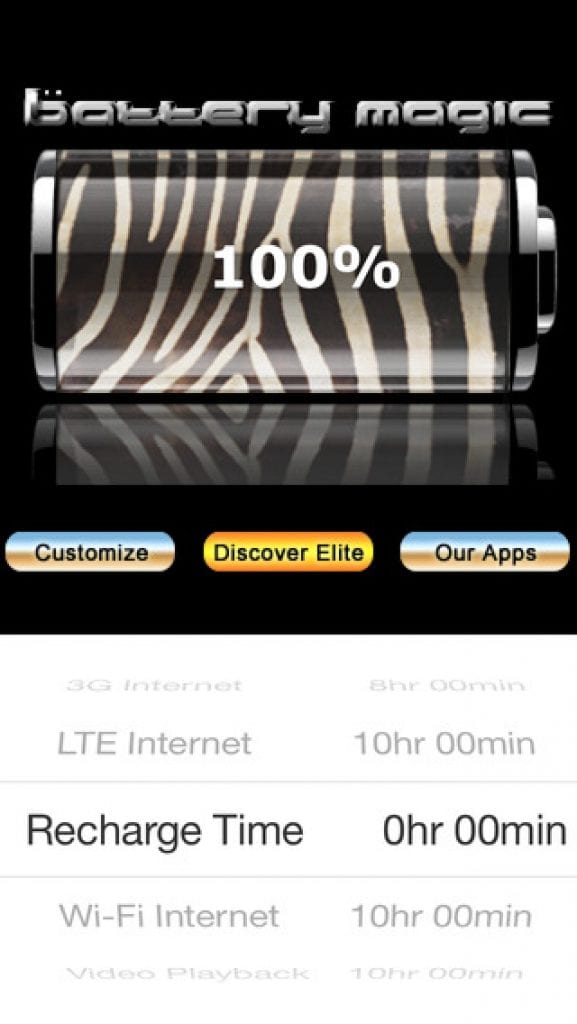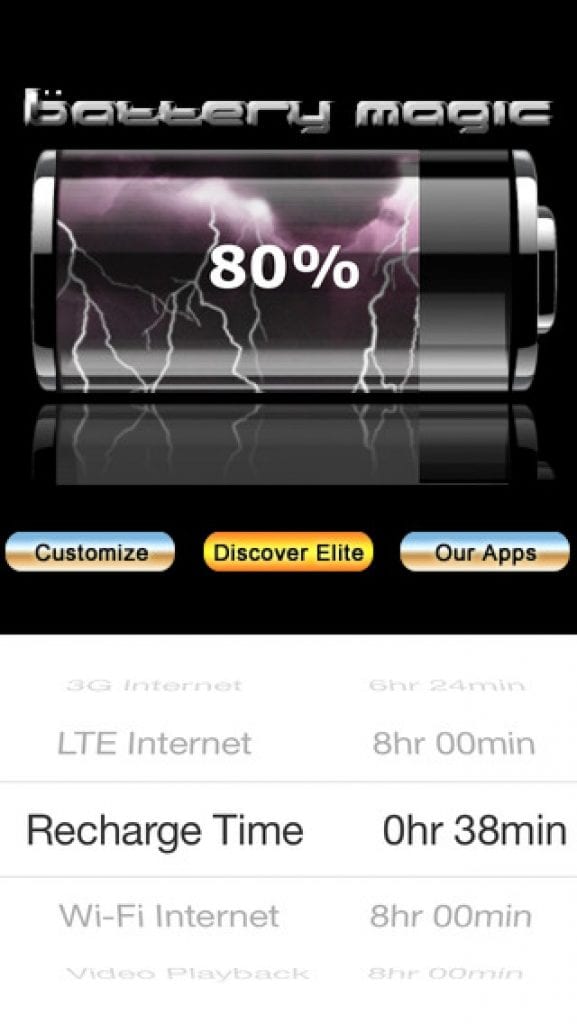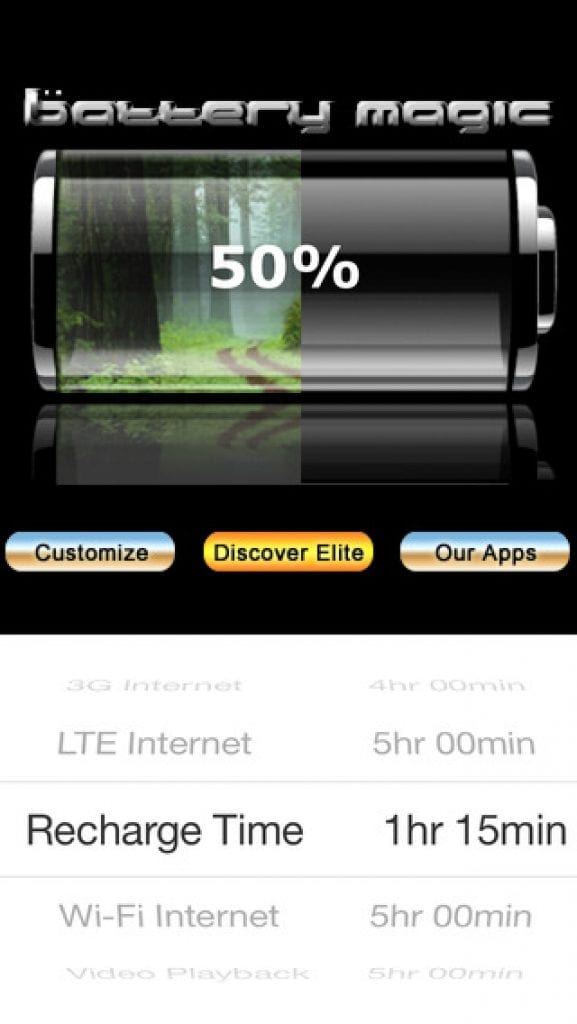 Get it on AppStore
4. System Status Lite – CPU, battery, storage monitor
Optimization is a vital process that is necessary for your iPhone to it works properly and efficiently. System Status Lite is the perfect app for monitoring and optimizing your iPhones processes. First of all, it makes sense for me to notice about a great graphics and nice design, which allows finding all necessary parameters quickly and without any inconvenience.
What is it monitor? Of course, I begin with battery monitoring that includes graphical battery level display and tips ( low, middle or full charging). This way you can use to see how much energy a particular app drains or usage for hours and minutes. It will help you to observe the most " hungry" apps and limit the usage for a little. Apart from, there are disk, CPU, operating system and cell and network monitoring included.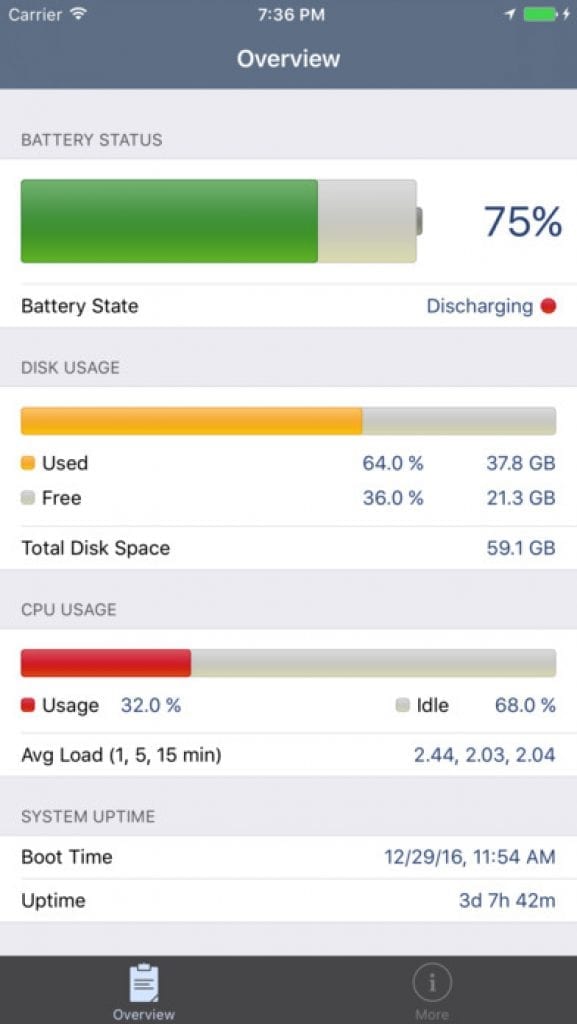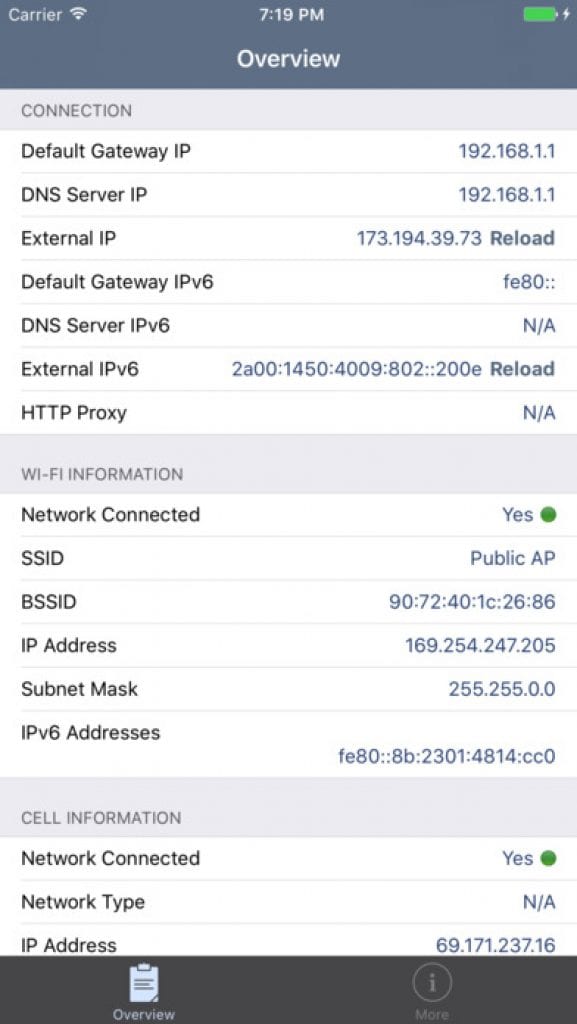 Get it on AppStore
5. Power Battery
This is an app that really helps! How many times per day you face the problem of a short battery life, you definitely should know that some applications, processes and enable connections to drain lots of energy and this cause a lack of charging. This smart app could supply functions of customizing power saver mode, running-app optimizer, battery power monitor, memory manager & clean and so on. But let's look at every feature in turn.
First of all, pay attention to a power save feature that includes an authoritative papers algorithm. It provides you with an information about how long your device will live under a variety of situations such as watching video clips, listening to music, reading, surfing the net and so on. And, of course, it shows power consumption that all apps drain. Moreover, the app detects the apps- parasites that drain energy while not using and notify a user about this. Apart from, you can customize a power save mode – when the Wifi should be turn on and turn off, time-lock and that kind of things. In this way, you will optimize your phone's work.
Another feature is that Power Battery provides you with Memory Manager feature. Memory optimizer accelerates the speed of your device. Optimize and clean your smart device, make it running smoothly.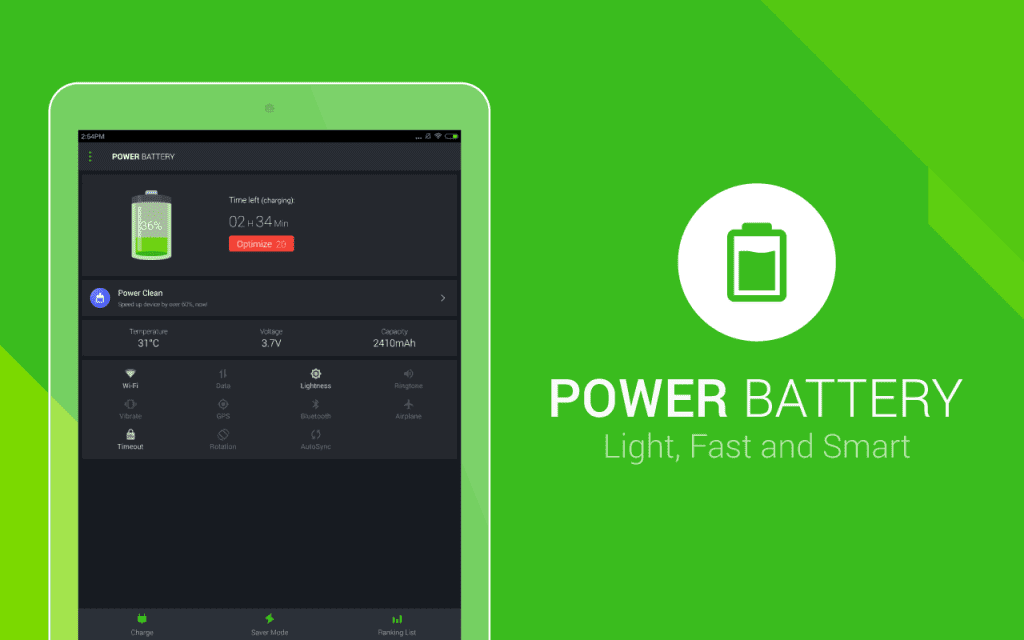 Get it on Google Play 
6. Best Battery Saver
Another well-designed and effective battery save app based on Android platform.  We described a lot of similar apps, and their functions are not different from each other. But every app has its own features. This power manager exactly knows what is helpful for your phone's battery. If you don't take care of your phone, it will let you down at a very unpleasant moment.
As for apps' features, to begin with, such point as different battery saving modes: Normal is for a normal working process without any optimization; Smart-Saving is a combination of normal working process and intelligent saving battery; Extra- Saving is for optimization most of the features, leaving 3G calls, but working normally; Extreme-Saving mode saves only telephone calls and messages; The last mode is Sleeping Mode that leaves only alarm clocks and disables other functions.
Apart from, it displays your battery statistics & current charge percentage so you can see what apps drain the energy most of all, such apps that are not particularly working, but waste the energy are also detected.
If you have some problems with working with this app just use very intuitive and powerful tool. Everything is easy to use.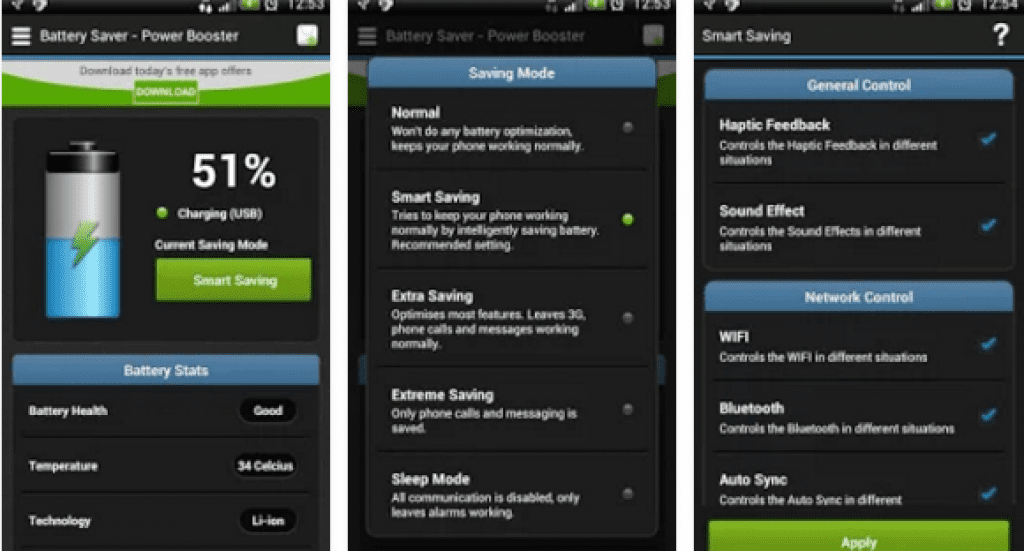 Get it on Google Play Store
7. Battery Saver – Battery doctor, Fast Charger & Power Manager
A very simple application for iPhone users that definitely face the problem "Where is my full charge?" Due to special algorithms, it helps you to save up to 50 % battery life and allows to continue playing, talking, watching videos and surfing the net.
As for features, the app shows detailed system status with all threats for the battery life, protect it properly and provides you with a battery consumption list of full apps draining the energy.
Speaking about the design, I can say that it is one of the most minimalistic, but at the same time ergonomic and elegant designs standing out among the others." Less is more" is about this app.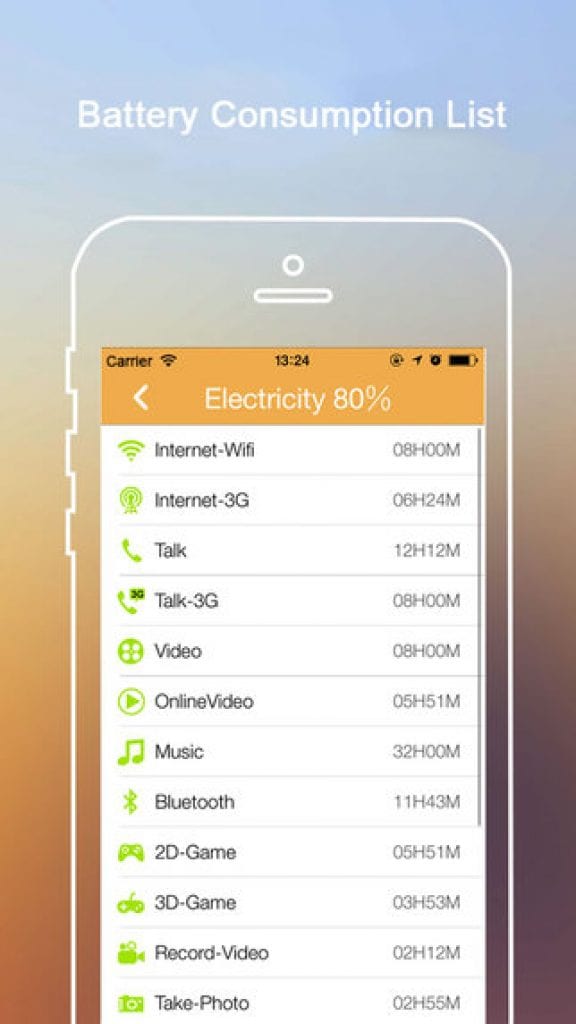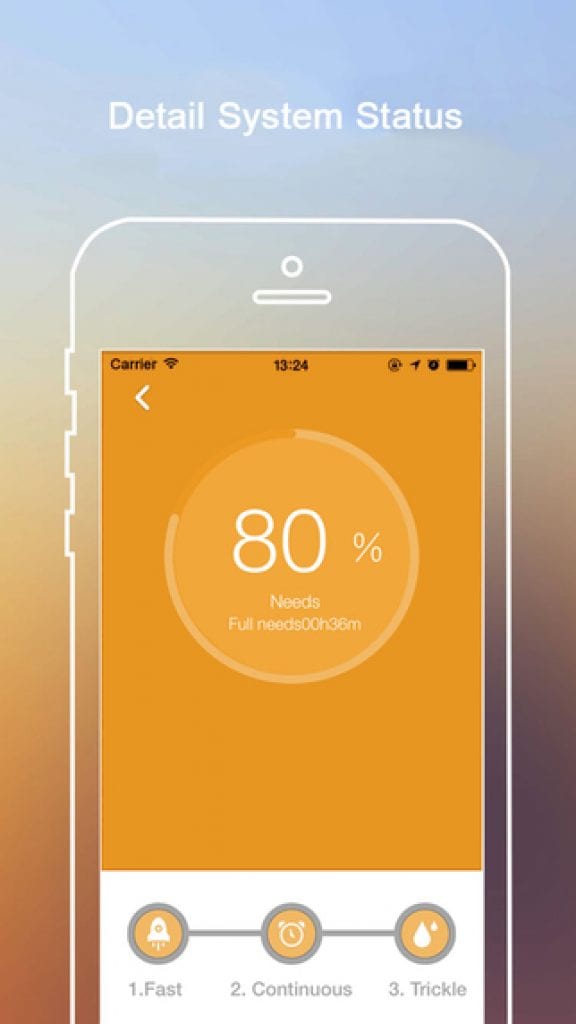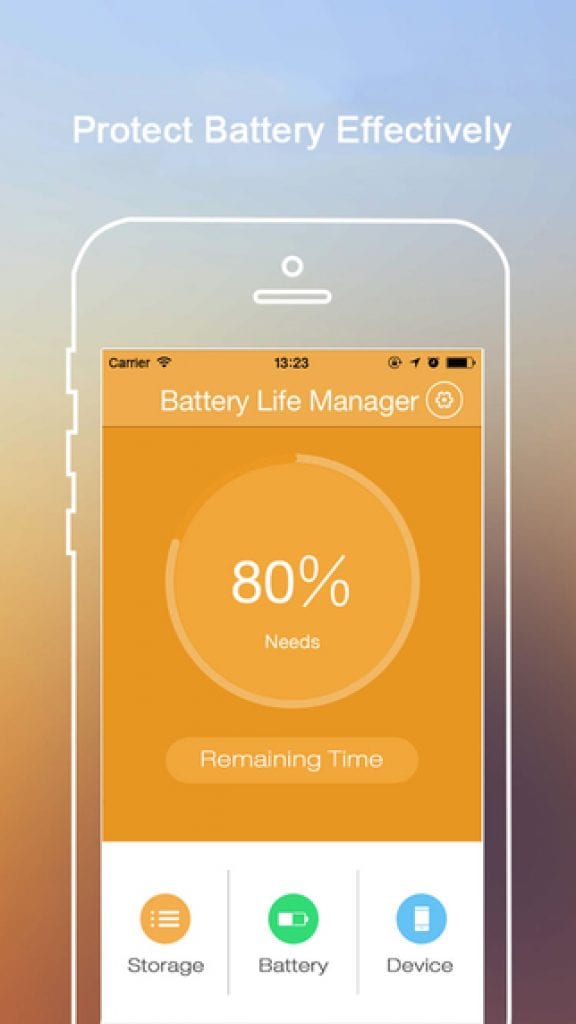 Get it on AppStore
8. iBattery Free
Did you notice, that developers creating apps for AppStore pay a lot of attention to the design and extraordinary content? Well, and they do it every time! iBattery Free definitely prove this point of view. You know that iPhone's battery life is about 8-9 hours of normal using. I think each of us asks himself:" What is the remaining time in hours and minutes of apps I use". So, iBattery Free is a good way to find it out. iBattery Free is a tool that displays the current battery level of your iPhone or iPod Touch using a percentage output and a bar indicator
Detailed output of your battery life helps to every user to find the best way to optimize his device's working process. For example, a battery status notices you about a low charging level and you can observe and control it, watching the statistics. The app displays the remaining time in hours and minutes for the most common usage scenarios of your device: Standby, the Internet connection (Wifi enable or disable), Talktime, watching videos, Listening to audio and playing games. Interesting that most of battery life drains to surfing the net and swiping social networks ( I think, it is disease, actually)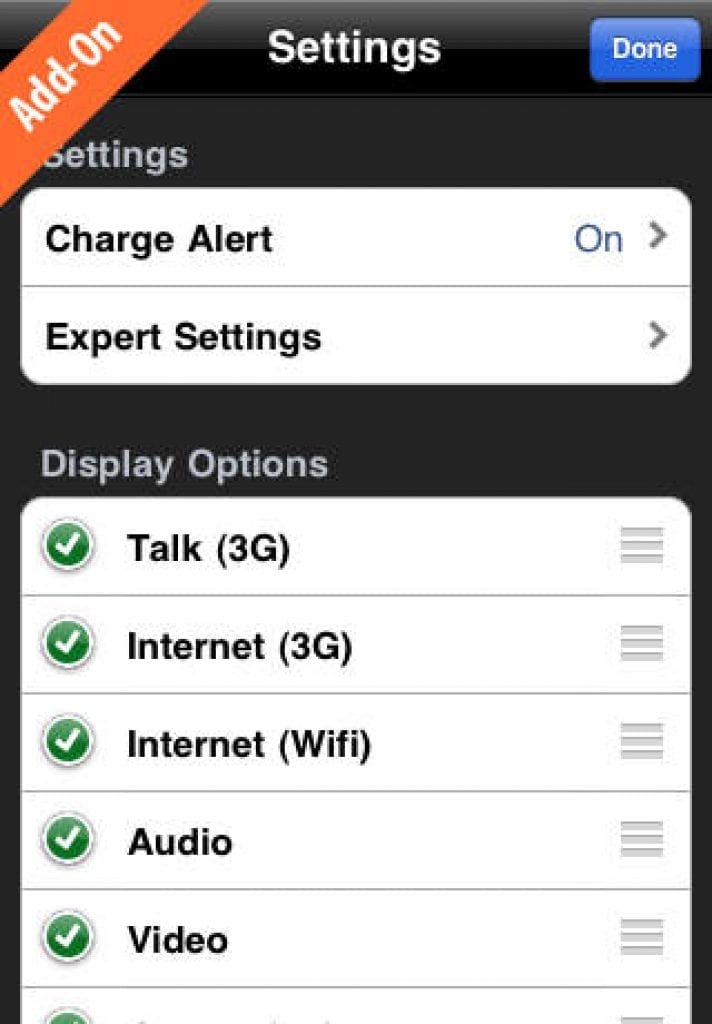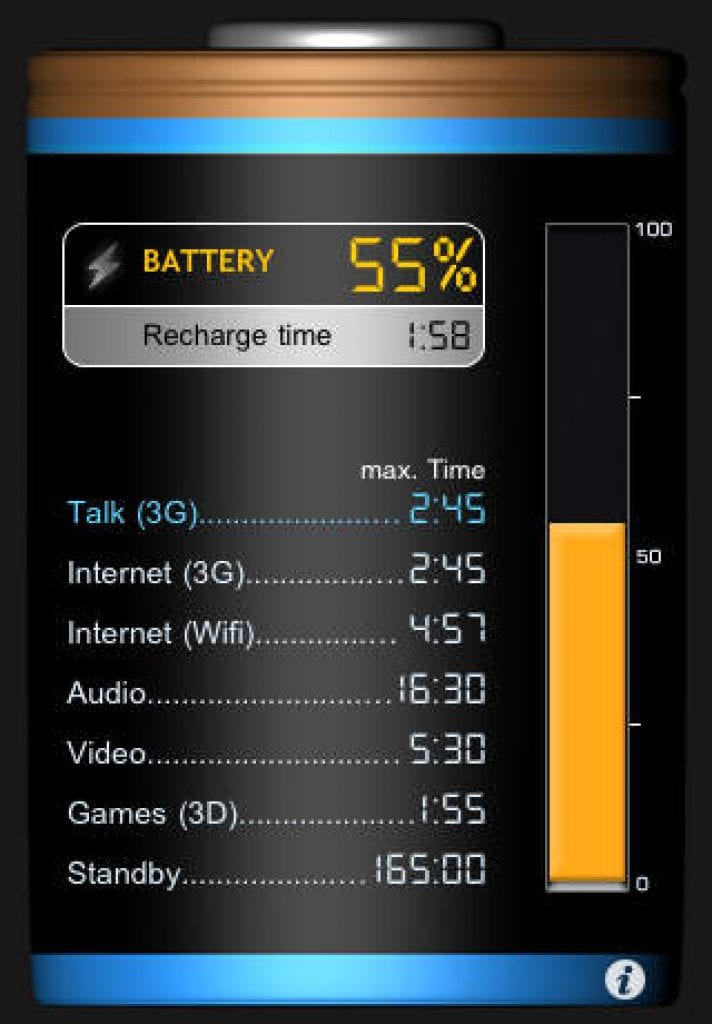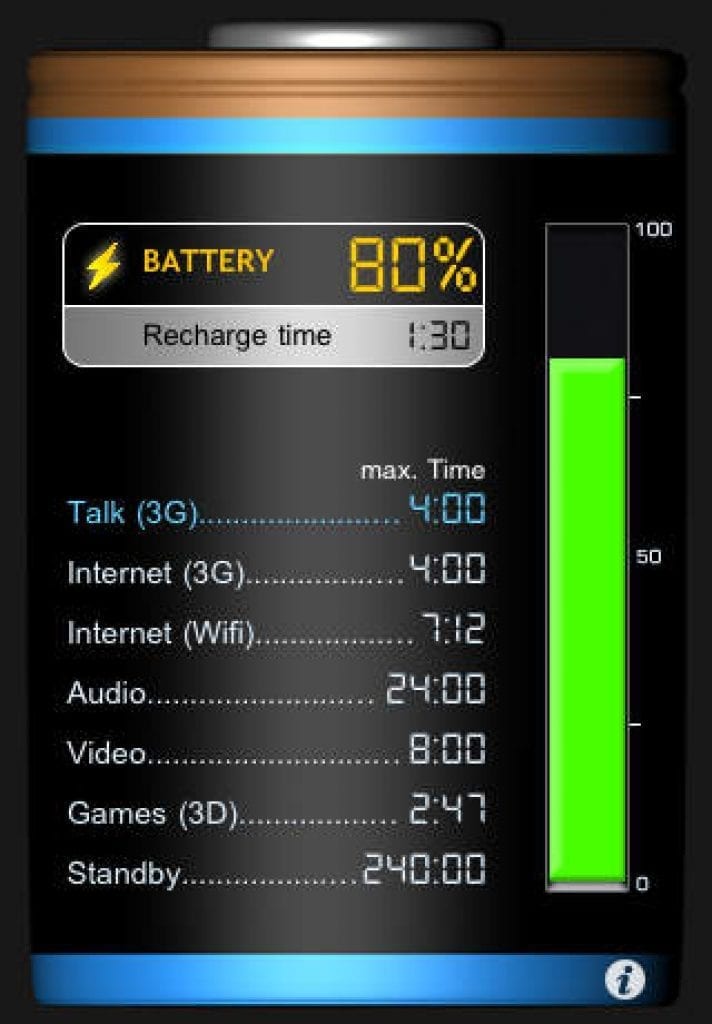 Get it on AppStore
9. Deep Sleep Battery Saver
Deep Sleep Battery Saver really takes the idea to a whole new level- to a level Deep Sleep Mode. What is it about? Well, when you turns on the Sleep Battery mode, Wi-Fi, 3G connection turns off, background apps are stopped. Some people compare Deep Sleep Mode with the Airplane Mode, where all features, requiring the internet connection, are not available. Therefore, most using apps are not working, including Twitter, Facebook, Google Service, YouTube and etc. It then constantly wakes up in order to download email, sync Facebook status. It's defined by deep sleep frequency and woke up duration.
As for other features, in a free version, there are 5 pre-defined profiles: Gentle, Balance, Strong, Aggressive, Slumberer. They vary in frequency, duration, and other settings.
As for paid version, custom profile settings become available, such as separate between weekday vs weekend settings, smart selection of apps that will be stopped during DC, control over networking, at the night mode – all features are not available.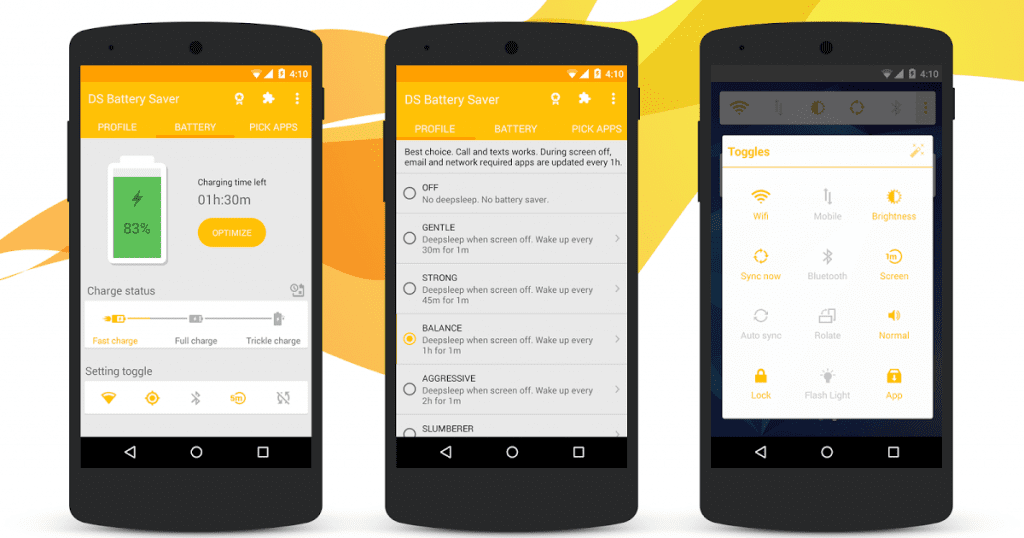 Get it on Google Play
10. Bataria – Battery Saver
Bataria – Battery Saver is a helpful manager that controls the level of a battery life, keep it working and extend the battery life. It provides a user with a status bar battery and 1×1 battery widget to get a full access to the statistics, indicators, remaining time and that kind of things. In other words, it is a simple to use battery save app that really can help you to extend the life of your phone at the right moment.
As for features, when the battery life level is low, the app automatically turns off all the power hungry resources such as Brightness, Bluetooth,  Background Data Sync, Wi-Fi and etc. What is more,  you can face key features such as battery saver, battery widgets, an active application manager ( like Siri or Samsung task manager), status bar percentage and auto-power saving when the battery level reaches a specified percentage. Apart from, Bataria is also an ability to choose from various colorful themes.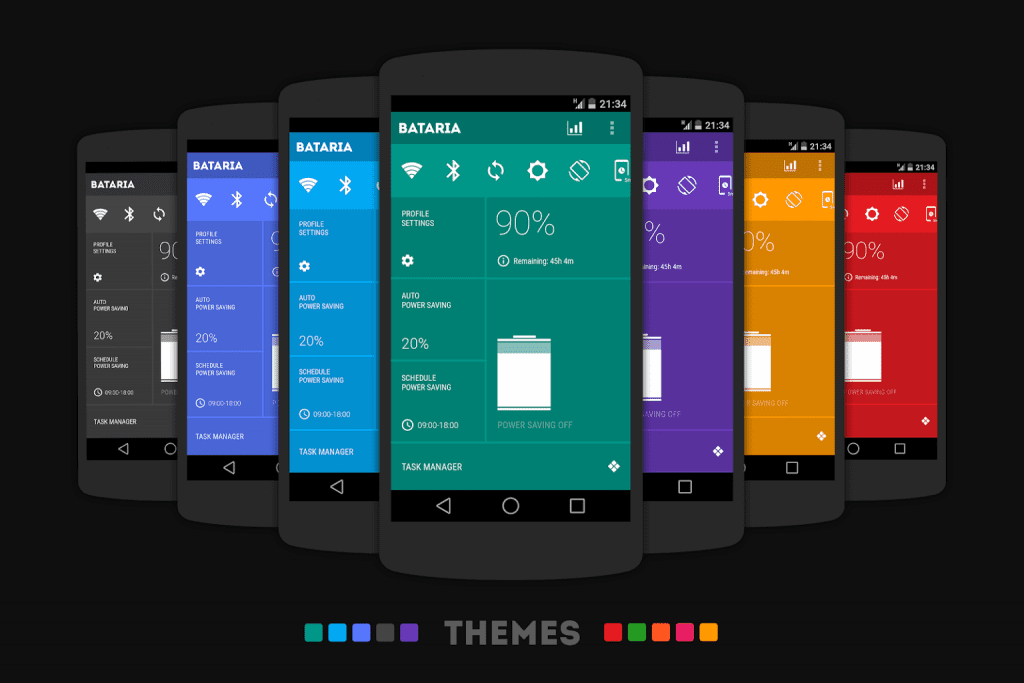 Get it on Google Play Store
11. One Touch Battery Saver
When the power is insufficient for your device, you can click "Power saving" mode to activate the mode. At the time the following changes will occur: inactivate WIFI, Bluetooth, GPS location system, background light vibration, and synchronization. Activate silent mode. You can also press "setting" button to personalize items you want to close. Click "Power saving" button again to close the mode and return to last activated mode. Two kinds of desktop widget(1×1,2×1) to help you quick start and close power saving mode. Key features: Battery Monitor, clearly shows the status of battery life and usage. Apart from, there is switching & managing Wifi, Bluetooth, GPS, background light, sound, synchronization in one touch, saves battery with efficiency.Last but not least, Self-Customized Saving Mode, a user can adjust the battery saving setting freely to fit each one's needs.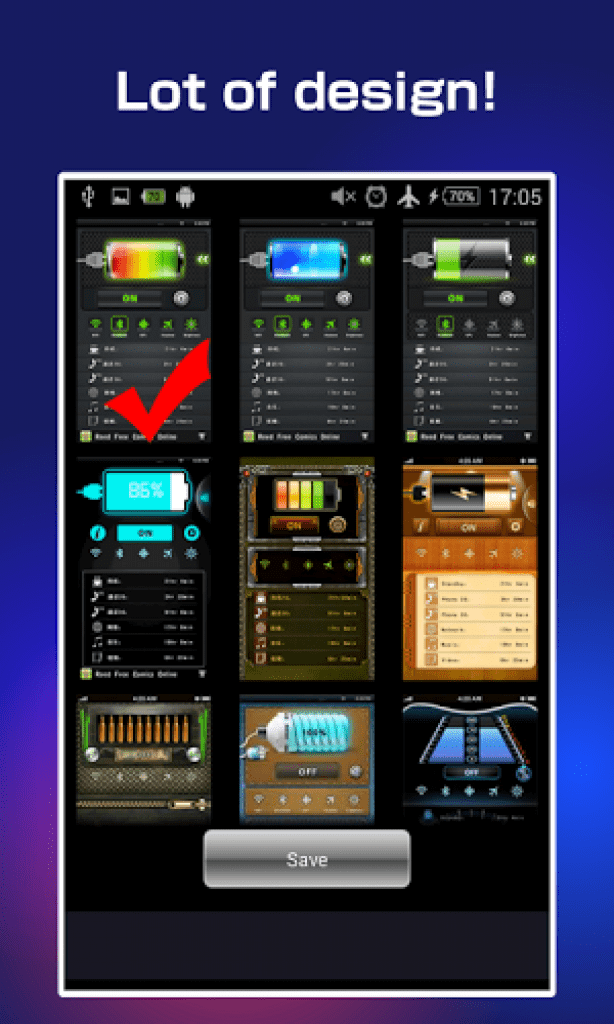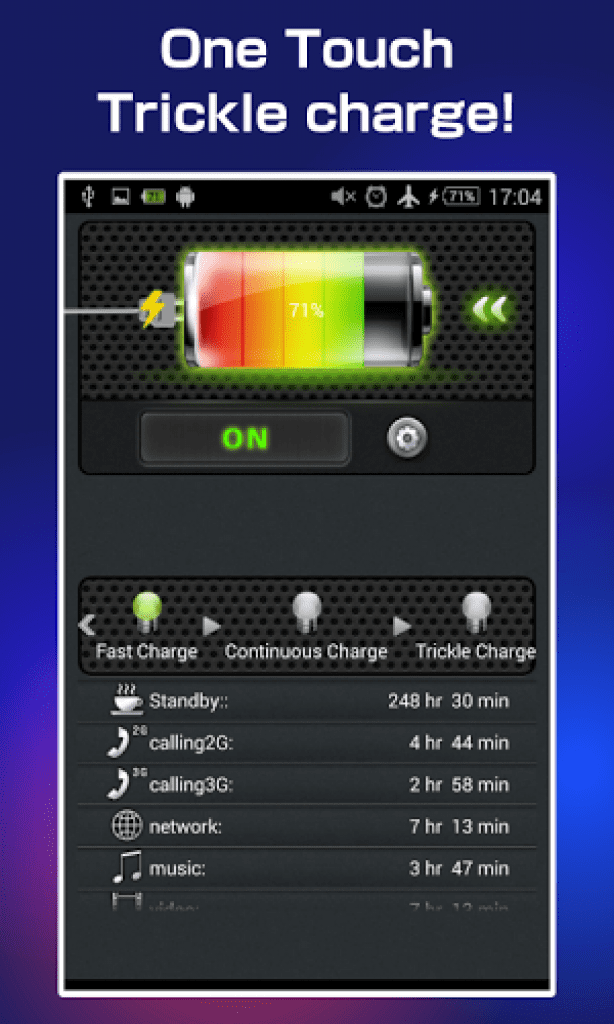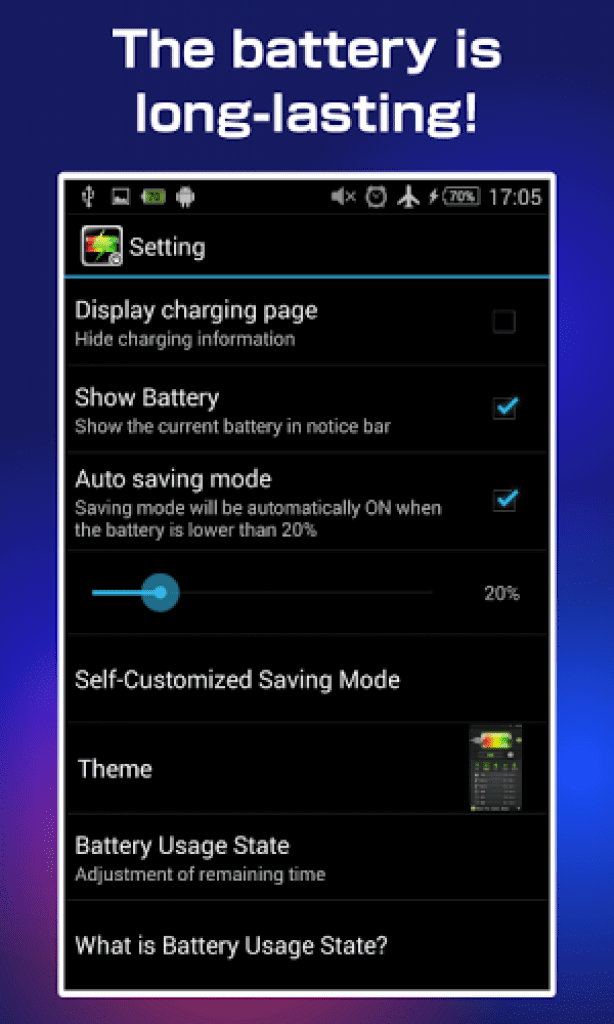 12. Snapdragon™ BatteryGuru
Snapdragon™ BatteryGuru can extend battery life by intelligently making changes that help optimize device functionality on Android devices. This app delivers longer battery life with fewer charges. Intelligently learns how you use your Snapdragon-powered smartphone and optimizes your device without disabling smartphone functionality
Requires no user configuration – Snapdragon BatteryGuru automatically learns and adjusts the smartphone settings so you don't have to
After a 7 day initial learning period, Snapdragon BatteryGuru learns the user's behaviors and continues to operate in the background, deepening its understanding of the user and further optimizing battery life over time. Snapdragon BatteryGuru uses your location to know the places where you have access to Wi-Fi. It does not use GPS, but instead uses Android's low power network location mechanism to find your approximate location.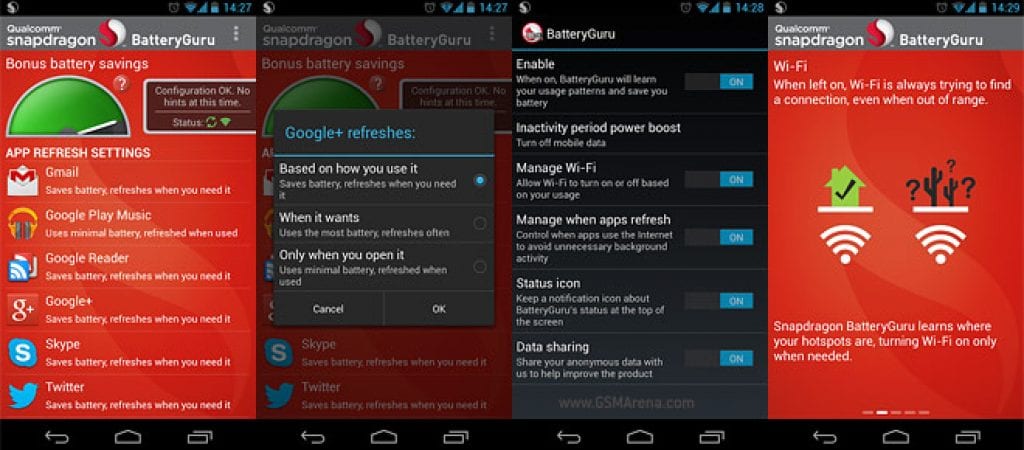 13. DU Battery Saver
If you want to increase your battery life up to 50 %, immediately get DU Battery Saver on Google Play or AppStore. It is easy to use and has a simple interface, one-touch controls, and healthy battery charger stage features, you can solve battery problems and extend your battery life so there will be no problem to work with it. Moreover, DU Battery Saver is absolutely free to download.
As for features, this app provides you with useful information about what apps drain too much power and remind a user about high consumption apps. If you give a request, you will be shown indicates how much battery power will be extended if you use 1-tap saving. Apart from, smart pre-set modes give you a full control over customization so you can choose a mode that fits your energy usage. Another cool feature is a real-time Smart charge feature that allows a user to see the status in real time, accurately estimating remaining charge time.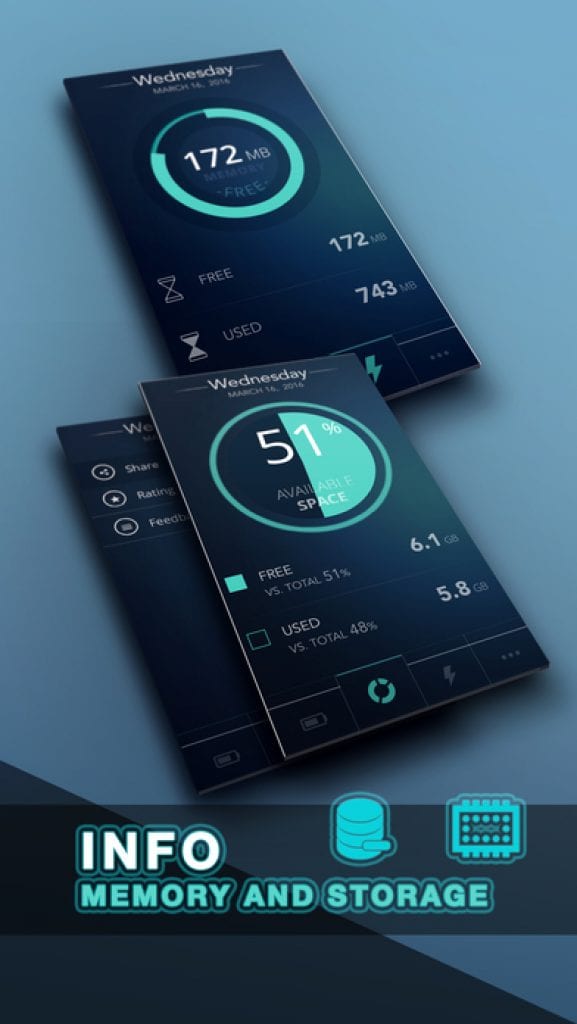 14. Battery Manager Pro
Speaking about this app, it, in turn, is supported only on iOS devices. Hope in the near future, we will see it on Google Play Store. Now the statistics show that indicators have achieved about 1.5 million installs all over the world.
Battery Manager Pro is designed to help users make the most out of their battery when power is at a premium.
As for features, the main feature is that the app drains only 1% battery accuracy, but get a lot of benefits to a user. For example, you can see how much battery will remain if you listen to music for some hours or watching TV.
Moreover, you can see how many time you spend playing games, surfing the internet, talking with friends.
The developers promise that their innovative tips and tricks will provide your phone with a long battery life.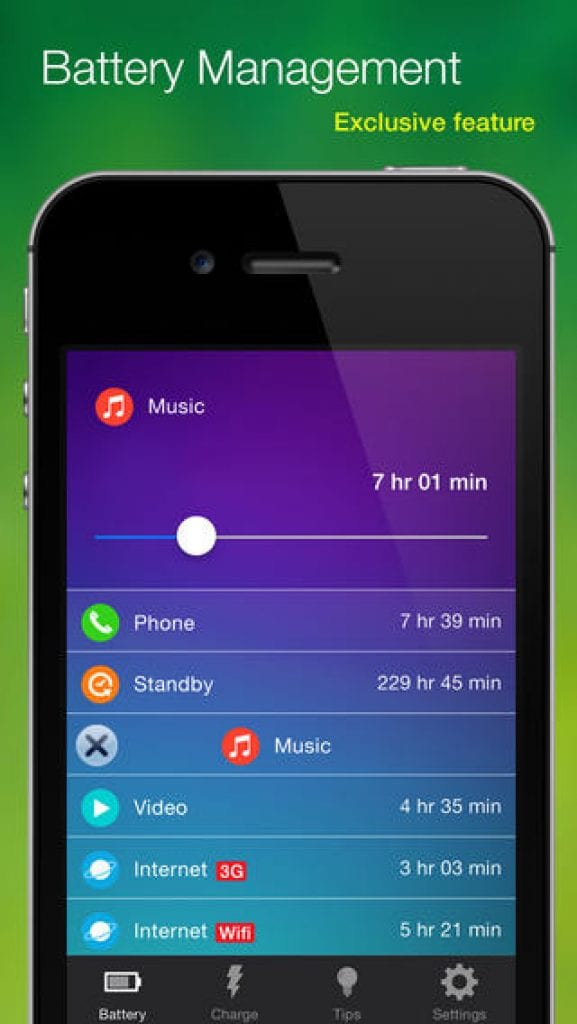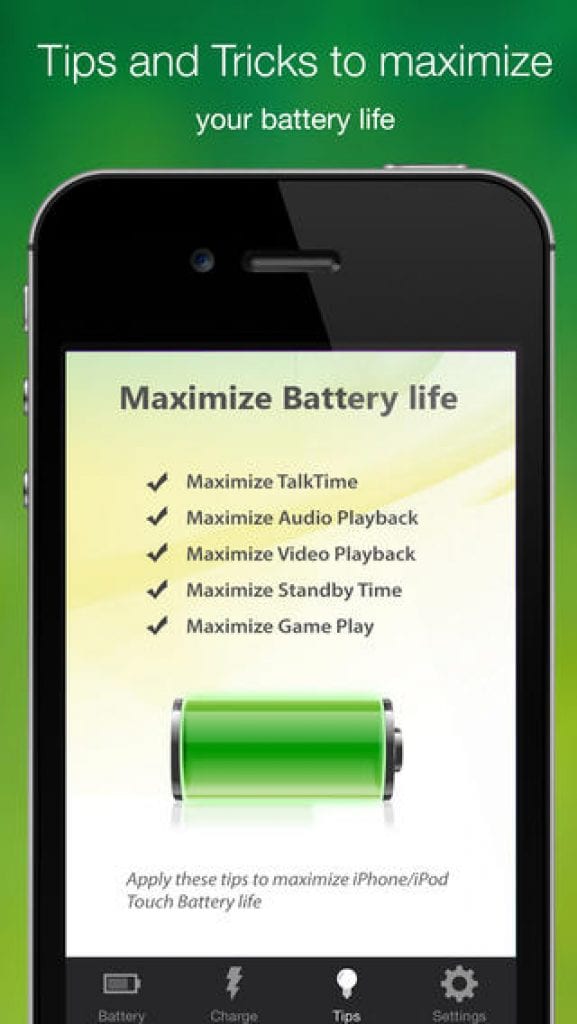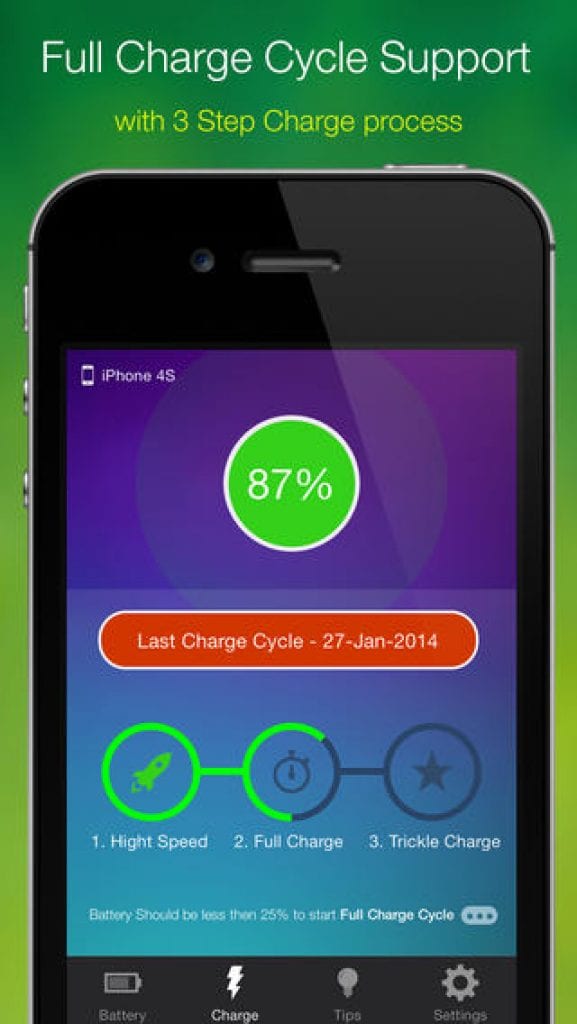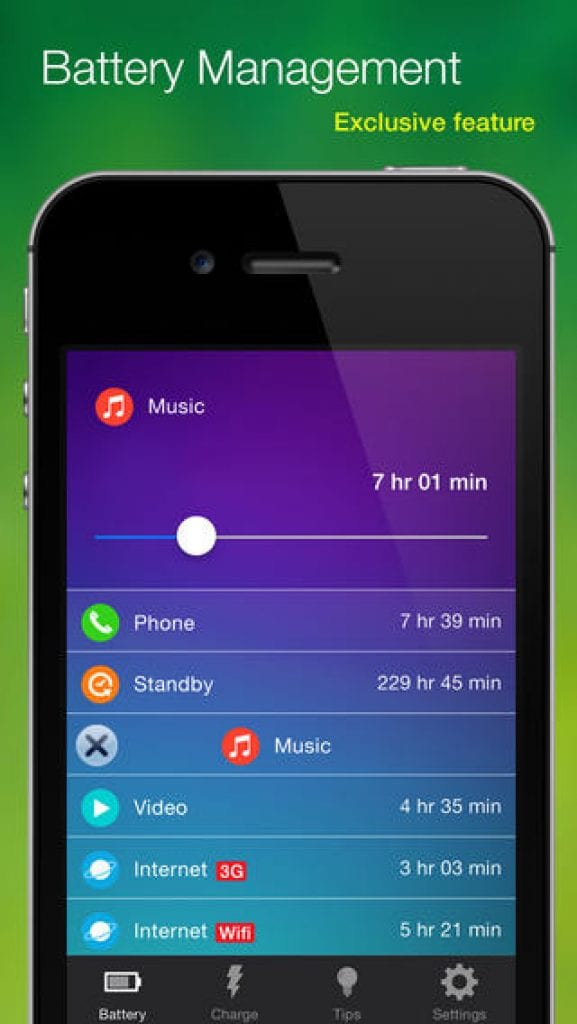 15. JuiceDefender – battery saver
For people who are in search for powerful battery life manager, I highly recommend you to download Juice Defender. It was designed especially to extend the battery life of your Android device and manage most draining applications like 3G/4G, Wi-Fi connection, but we will talk about it a little bit later.
As for features, if you think you are not capable of keep power consumption under control you are mistaken. This app gives you an ability to disable connection if the battery indicator is low, schedule regular synchronization events, manage the connection ( enable or disable) for separate apps, customize auto-toggle WiFi depending on your location and an ability to connect to free Wifi and so on.
Apart from, you get colorful and understandable home screen widgets that show usage of specific apps and services for hours and minutes. For example, this way helps you to observe how much energy a particular app drains.
5 Preset Profiles (from default mode to full customization) and easy to use mobile interface add more benefits.