Recently, the delivery of various goods directly to the door of your home has become really popular. Not so many people choose to go to the store on their own anymore. Instead, they order goods online. In order to deliver all the goods on time, workers are needed.
Usually, work in delivery helps to earn extra money, so many people are wondering where it is most profitable to work. Therefore, in this article, we will look at the best package delivery apps to make money. More apps to make money just by using your Android or iOS device can be found in this article.
Doordash
Doordash is a really popular American food delivery service, which specializes in restaurant food delivery. With the help of this app, the delivery people registered in the app will be able to see the buyers who currently need the delivery of products from the grocery store or from the restaurant.
The advantage of working in Doordash is that you can be your own boss. This means that each delivery man himself or herself regulates how many hours they will work and what orders they will take.
Therefore, it is quite easy for employees to select orders by the nearest location and complete more deliveries in a day. What's more, when an order is completed, the app automatically encourages customers to generously tip delivery people.
Also, employees can easily increase the amount of money earned per day in several ways.
Workers can complete daily challenges. This means that you need to complete a certain number of deliveries in a limited time and then get an extra amount of money for this.
Employees can use Peak Pay. This means that they need to deliver orders during the busiest hours. Such hours are during lunch, dinner, or whole weekends.
Thus, delivery men can earn between two and ten dollars per delivery. This amount of money doesn't include tips. Moreover, in some cities, workers are allowed to deliver orders on bikes, scooters, and motorcycles.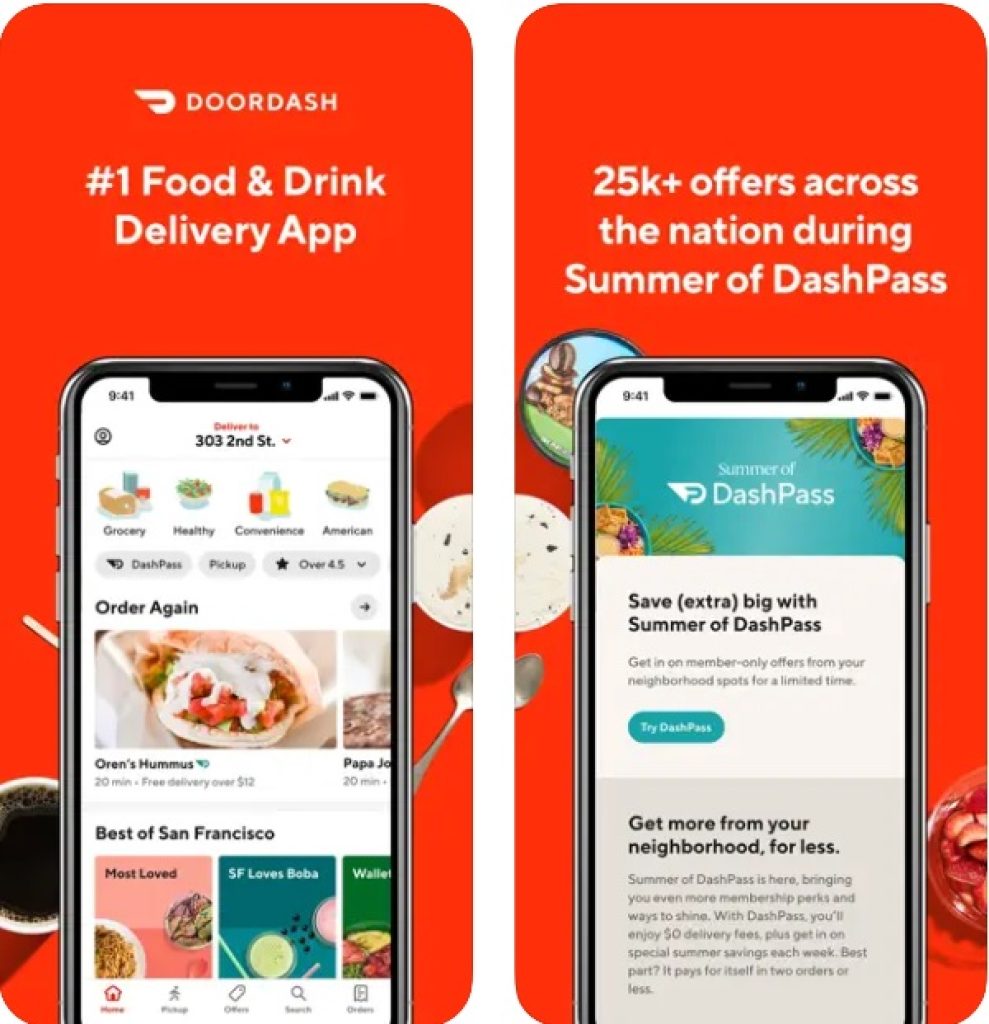 You may also like: 7 Best Food Safety Apps for Android & iOS
Instacart
With the help of the Instacart app, users can easily earn extra money by collecting an order and delivering it to the address of the customer.
As with the Doordash app, here, users can choose the most convenient working hours for themselves. This is not only more comfortable for delivery men but also increases their productivity.
Also, users can control the number of their earnings themselves, because the more orders they manage to deliver, the more they earn. In order to use Instacart, users need to have their own car or any other means of transportation with the help of which they can get the order to its destination.
Also, knowledge of the layout of products in stores will help employees, because then they can increase their speed of collecting and delivering an order.
Moreover, even those who don't have a car or who don't want to deliver orders directly can work here. Such workers need to collect the order in the store, and the client himself will come and pick it up.
One of the downsides of this app is that you need to make all the shopping on your own as well. This means you need to spend more time and effort on each delivery.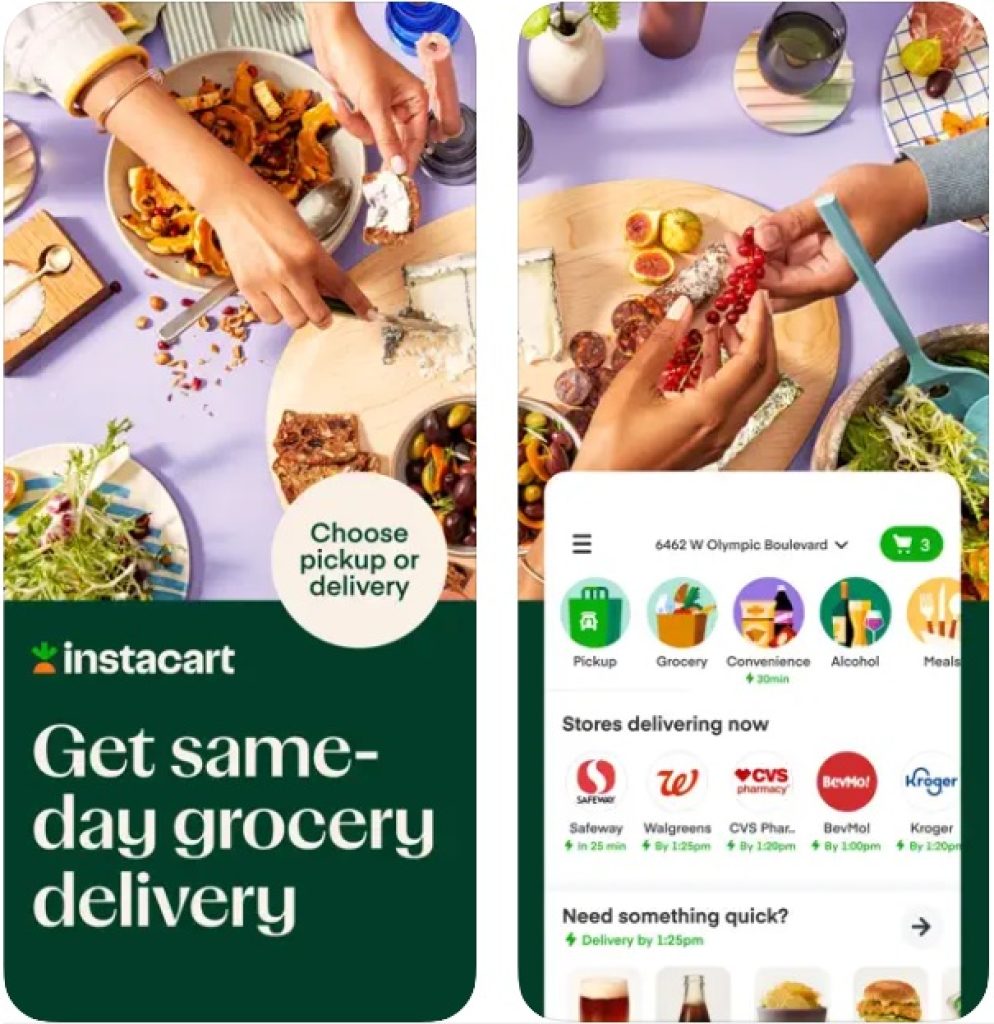 Postmates
With the Postmates app, employees can easily search for orders and fulfill them. The list of possible items for delivery includes:
restaurant meals
groceries
liquor store orders.
Such a wide variety is definitely a big advantage because it is then easier for delivery men to find orders that are best for them.
What's more, Postmates is really popular among customers due to its fast delivery speed. This factor also adds even more to the possible number of orders that delivery men can choose from.
Future Postmates employees should keep in mind that in this app, work ethic and background are of great importance when hiring delivery men.
The advantages of this app include the fact that workers can independently create their own schedules. Employees are also allowed to use scooters and bikes for delivery.
However, one of the disadvantages of this app is connected with tips. The app doesn't automatically suggest or encourage customers to tip delivery people. This significantly reduces the possible income from working at Postmates.
Also, this app is characterized by sharp fluctuations in the number of orders during the day. So, for example, there are much fewer orders in the early afternoon or late at night than at other times of the day. This can make it difficult for some delivery men to work the hours they want.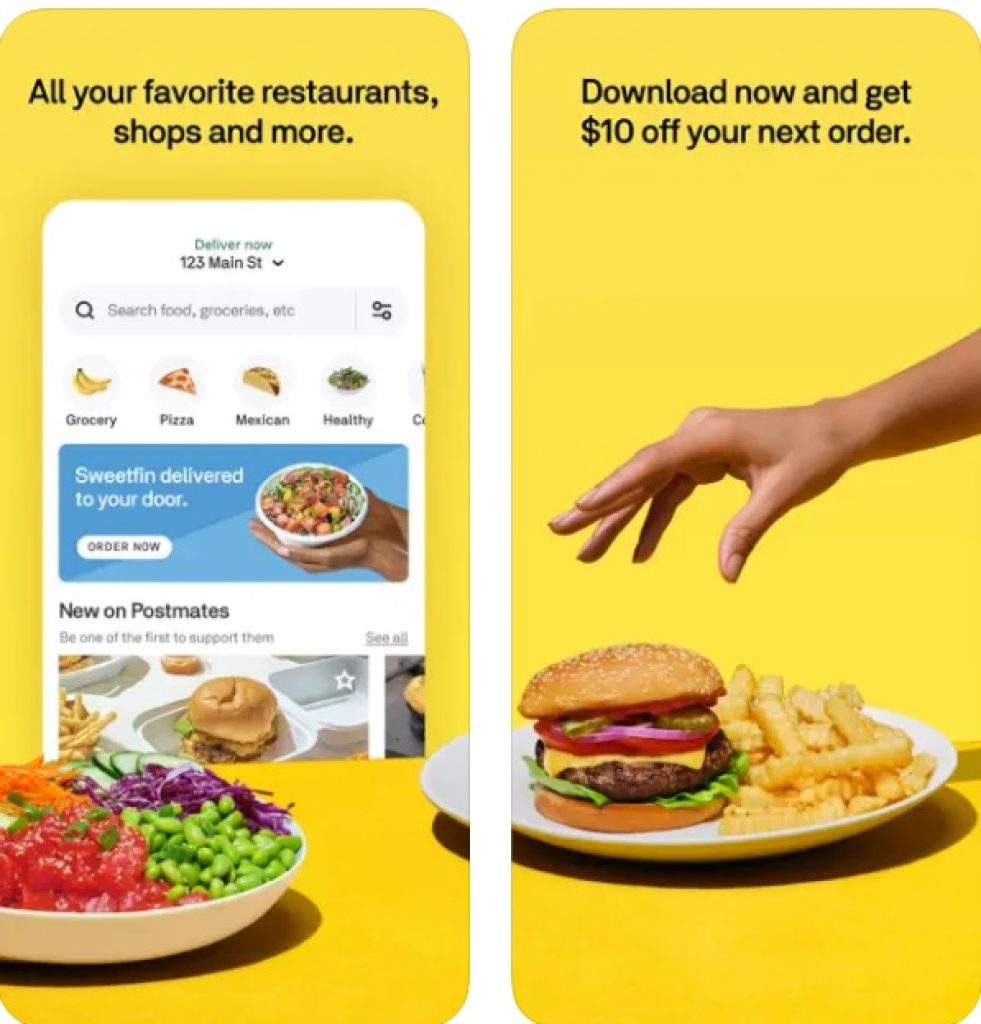 Uber Eats
Uber Eats is an app that is in some sense similar to regular Uber. However, here, workers need to deliver food to the right place, not people.
As in other similar apps, here, users can independently create their own schedule and choose which orders to deliver. Moreover, users can choose the transport by which they will deliver orders. Deliverymen can choose:
Car
Scooter
Bicycle, and other convenient transport.
Also, this app allows you to withdraw the cache from the app up to five times a day, which is extremely handy. However, it is worth considering that the age of the delivery person must be at least nineteen years old.
Moreover, here various bonuses are available to deliverers. For example, newcomers to the delivery of goods can receive a bonus of $1,000 for completing a certain number of orders in a limited amount of time.
Also, employees should take into account that they themselves will have to pay for parking in the city at the time of delivery.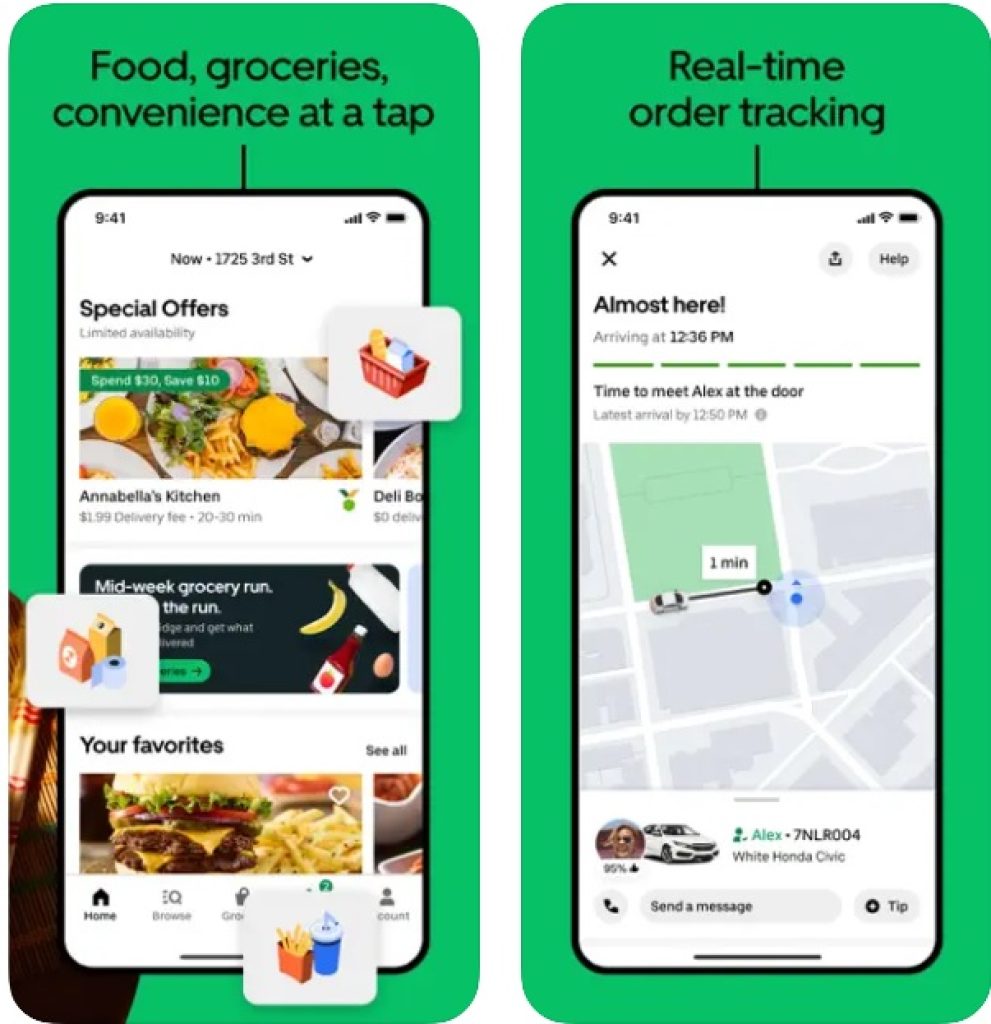 Shipt
The Shipt app can help its users make money by shipping groceries to other people. Delivery men will be able to easily receive stable extra money thanks to weekly payouts.
In order to work in Shipt and use this app, users need to have their own car, with the help of which they can deliver orders to customers. Users also need to be over eighteen years old and be able to lift about forty pounds.
These requirements are connected with the need for workers to independently buy products, take them to the car, and then deliver them to the client.
One of the most significant advantages of this app is that Shipt creates a whole network of such delivery people. Thanks to this network, they can easily communicate with other delivery men and share tips on shopping and making more money faster.
Another great benefit of this app is that the delivery people keep the full amount of the tip to themselves, which only adds to the amount of money made.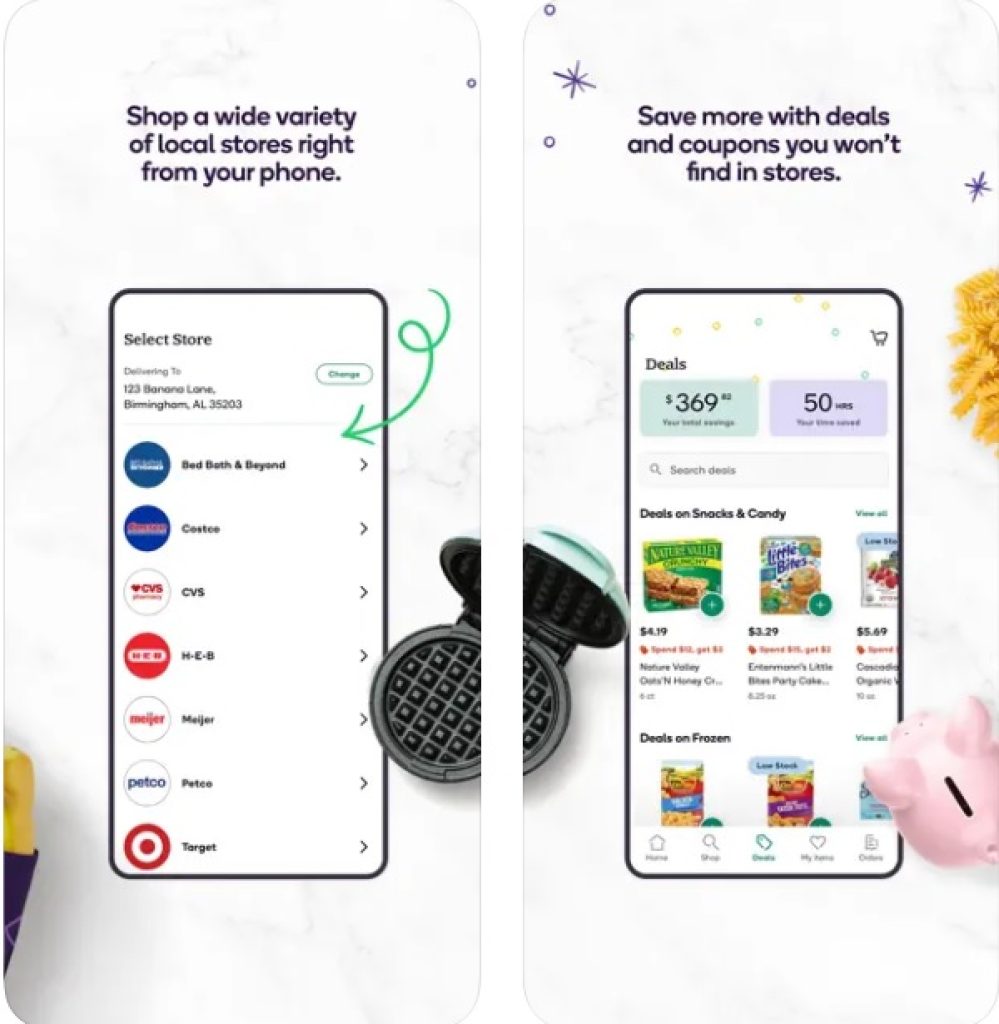 Favor
Favor is a delivery service that mainly operates in the major cities of Texas. Therefore, it isn't as popular as other apps listed above. This is a small disadvantage of this service because people from other states don't have the opportunity to use it and earn money there.
Here, delivery men can deliver food and essentials to customers across the state. It's a fairly straightforward and user-friendly app with a clear interface. It allows workers to apply for a job today and start working tomorrow.
Moreover, even if the delivery people don't have a car or a driver's license, they can still work in this delivery service. For example, they can use their bicycle or any other available means of transport.
Although Favor isn't a widespread app across the US, it has a loyal customer community. This means that orders are always there to be completed.
Also, workers can plan their schedule in advance, because this app has a guaranteed minimum pay rate. Moreover, deliveries can increase their income, because they can keep the entire amount of the tip for themselves.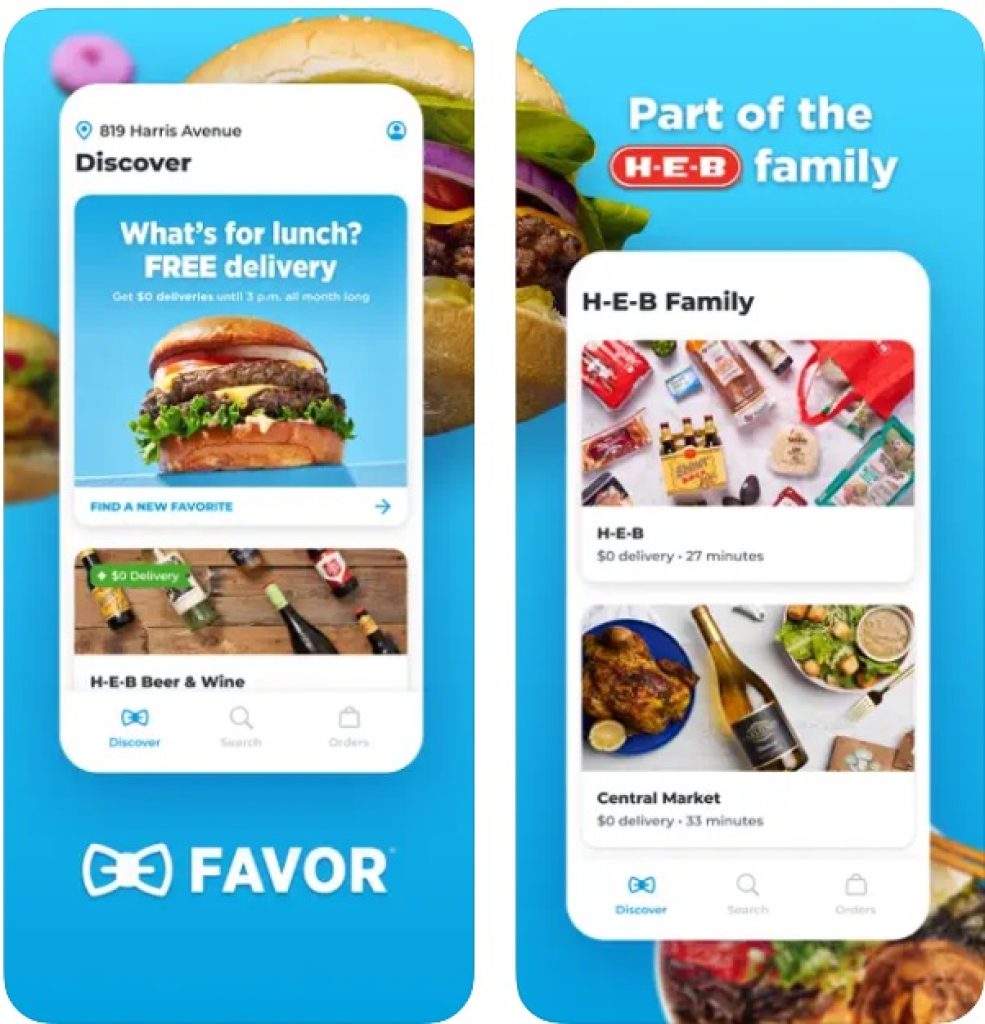 You may also like: 15 Best Food Coupon Apps for Android & iOS
Caviar
In the Caviar app, almost anyone can try themselves as an order courier and get extra money from such work. In order to work at Caviar, a person must be over eighteen years of age and have a vehicle to deliver the products. Delivery men can use such vehicles as:
However, in each city, the vehicles allowed for use during delivery may differ. A driver's license is also required if the delivery person drives a car or scooter.
Caviar is definitely really convenient for workers because they can choose to receive payments after each delivery. The app also has a reliable support team that you can contact if you need help or have a question.
Another great benefit of Caviar is that they give bonuses to workers for making deliveries during busy hours. Therefore, delivery people have an incentive to work when there are a lot of orders.
However, this app has some downsides. Since this isn't such a popular delivery service, there are slightly fewer customers here than in Doordash or Instacart. This means that it will be more difficult to earn more money here.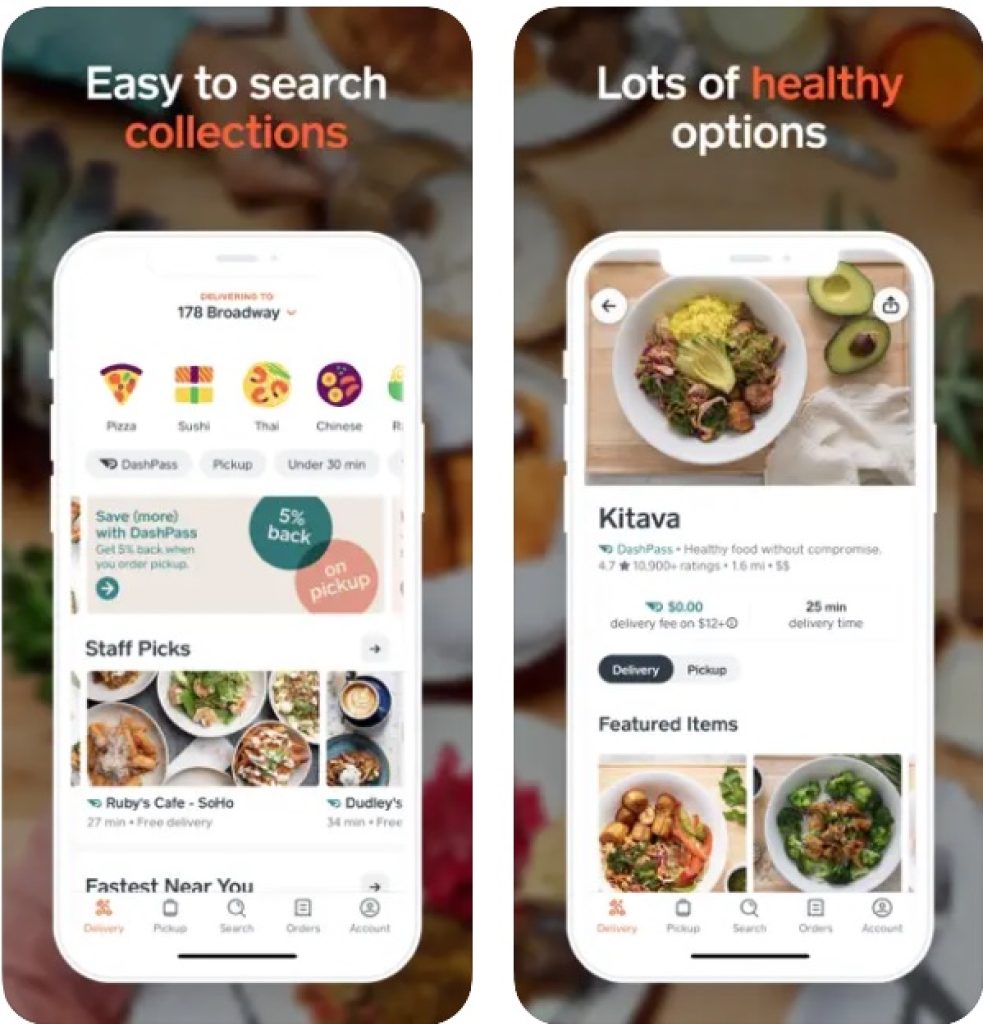 Amazon Flex
AmazonFlex is Amazon's delivery service. Here, workers can deliver not only food but also other parcels. However, compared to other delivery services, here the rules when hiring staff are much stricter.
For example, in order to work at AmazonFlex, a person must be over 21 years old. It is also necessary to have a medium or large four-door car. And of course, you need to have a valid driver's license to drive a car with parcels.
The salary of AmazonFlex employees directly depends on the number of orders they managed to deliver. Therefore, a larger car that will fit orders will help you earn more.
The advantages of this app and service include the fact that salaries are paid here twice a week. There is also no shortage of customers here thanks to the popularity of Amazon.
One of the downsides of Amazon Flex for some workers is the fact that customers can order anything. This means that some orders can be quite heavy.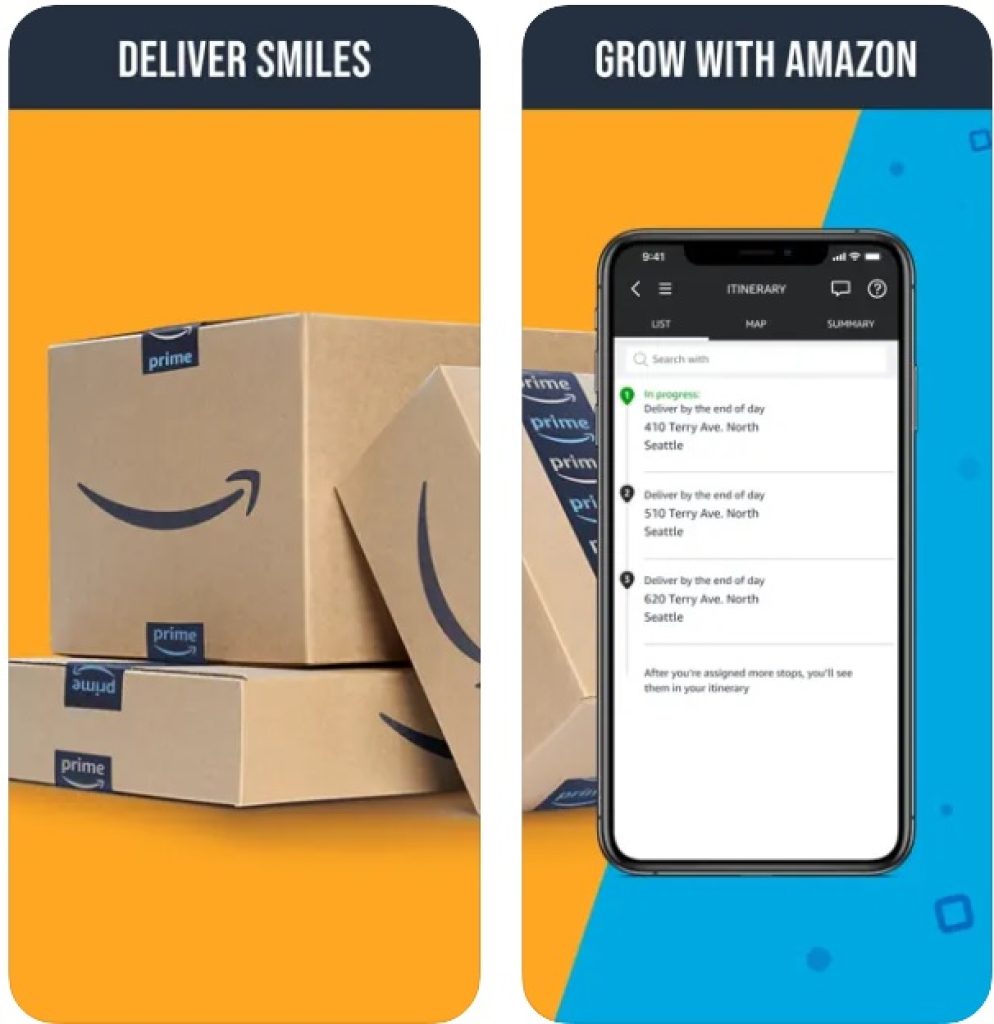 Grubhub
Grubhub is a service and app mainly focused on delivering orders from restaurants. However, now this service has expanded and delivers orders from grocery stores.
This app gives its employees the freedom to choose when and with what orders to work. For example, while Grubhub encourages delivery people to schedule their work schedule in advance, workers can easily open the app and take orders as soon as they have free time.
The recruitment criteria here are also slightly stricter than in other services. For example, an employee must be over nineteen years old to join the Grubhub delivery community. In some cities, such as Las Vegas and Chicago, employees must be over 21 y.o.
They also need to have a car and a driver's license in order to deliver orders. Moreover, delivery men will never be left alone with a problem, because there is a dedicated support service.
In addition, employees here can easily increase their earnings because the app encourages customers to tip generously. In the app, employees can see detailed information about each order. They can see:
total payout
pickup location
drop off location.
However, there aren't so many incentives and bonuses in this service that would encourage delivery men to work more efficiently and earn more.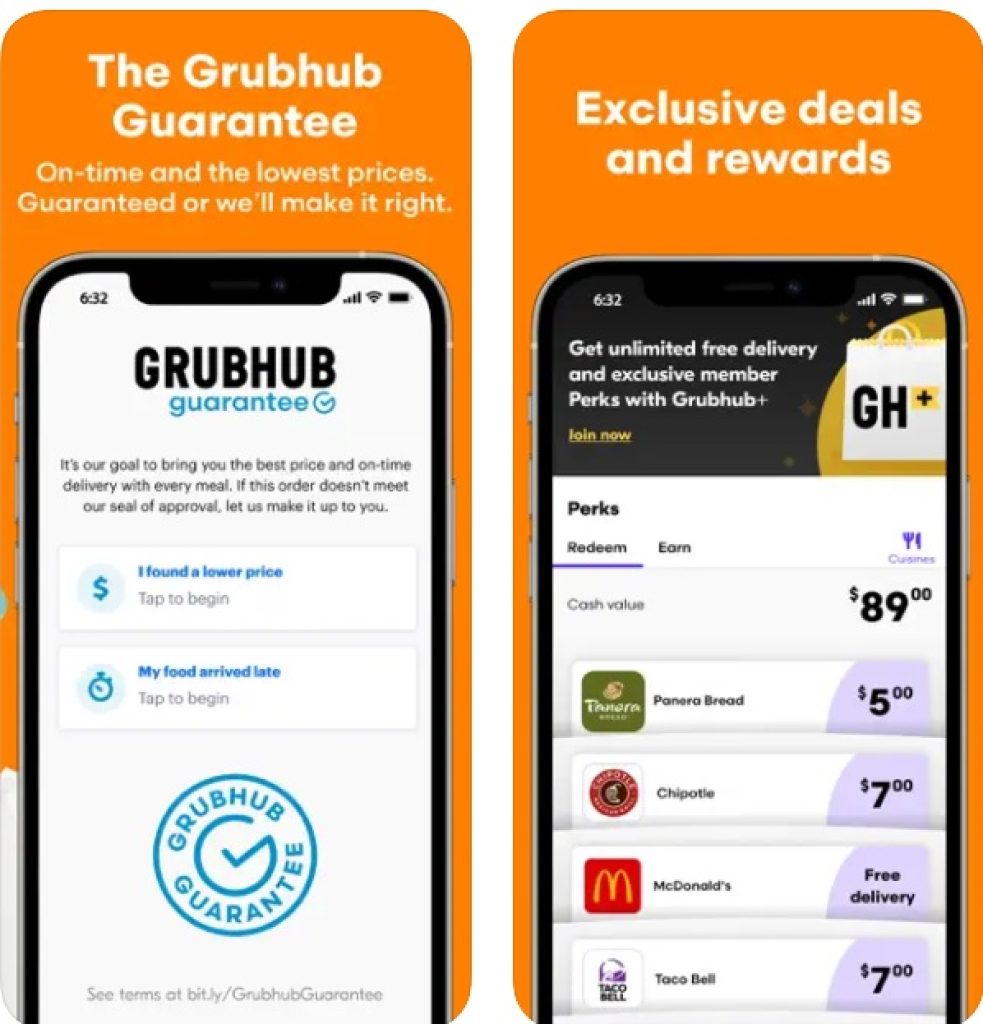 Gopuff
GoPuff is a delivery service and app that allows customers to order a wide variety of products. Workers will have to deal with such products as:
Groceries
Snacks
cleaning supplies
drinks
medicine
and even electronics directly to customers' doors.
The requirements for workers here are also a little stricter than in other popular delivery services. For example, delivery men must be over 21, have access to a vehicle, and have a driver's license. Moreover, all workers must pass a background check.
One of the big advantages of this app and service is the greater convenience for the workers themselves. Here, all orders must be picked up from one centralized location. This means that delivery people don't have to worry about parking spaces and their costs.
Also, all employees keep the entire amount of the tip for themselves and don't have to give any percentage of this money to GoPuff.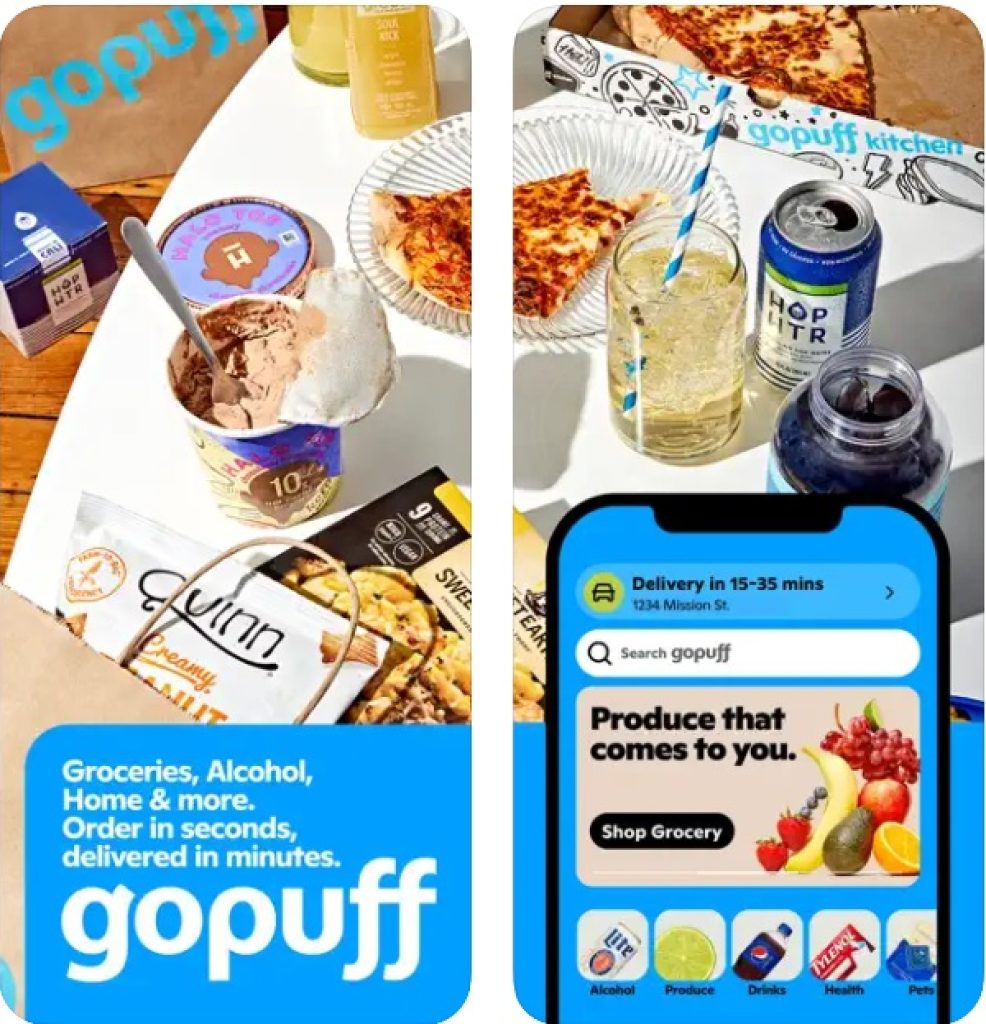 You may also like: 11 Best Free Restaurant Finder Apps for iPhone & Android
Bite Squad
BiteSquad is a service that provides food delivery services from restaurants. This service is available in fourteen states. Among these states are:
Florida
Hawaii
Minnesota
Mississippi
Ohio, and others.
The requirements for workers here aren't as strict as in the previous apps on the list. To work as a delivery man for BiteSquad, a person must be over eighteen years of age, have a valid driver's license, and pass a background check.
With the BiteSquad app, users can easily plan their working day. Users can log into the app and pre-create blocks with working hours. Then, when it's time to work, they access the app and look for the most convenient orders.
One of the benefits of this app is that employees are guaranteed hourly pay during lunch and dinner. Also, in this service, employees will be reimbursed for the cost of gasoline needed for deliveries.
Moreover, this service offers training for all employees. Therefore, they will clearly know what is required of them.