15 best compass apps for Android & iOS
The compass was invented in China a long time ago. Since then it has changed a lot – became smaller, more convenient, and prettier.
Now the evolution of this device has reached its climax – just like many other useful things in our life, the compass has gone digital. There are lots of different apps that successfully substitute the device itself and we're going to look through the best of them!
You might be wondering why would you need a compass app on your phone when you have GPS? Well, curiosity killed a cat! Speaking seriously, nowadays compass is used for lots of purposes and the most widespread of them is finding destinations in unknown areas.
You may also like: 7 Best Altimeter elevation apps for Android & iOS
For those who often go camping or hiking compass is a must-have really. So if you also like adventures, check out the list below!
Altimeter GPS with barometer
The best multi-functional GPS app that you will need 100 percent if you are going hiking or camping (or both). It is a GPS app, but if you are going to a zone with no WiFi then you will be able to easily switch to the compass.
In addition it has an altimeter and barometer – for those who are going to hike in the mountains. Moreover, the compass which is built-in in here has a place finder feature, so you will never get lost. You can track all the routes using this app, check the weather, distance – in other words, you will find everything here.
You may also like: 15 Best barometric pressure forecast apps for Android & iOS
Accurate Compass
Accurate compass is a simple app for Android devices, which works exactly like a real compass. The app is handy in use and very beautiful to look at. Its 3D view makes it unnecessary trying to hold your phone as straight as possible.
The colors of the compass and the design of the app can be customized. So if you are looking for something simple, you can get this one!
Commander Compass Lite
Commander Compass Lite for iOS is a perfect app for those who love extreme traveling. Any outdoor activity that involves going to the places that are not visited by many people will be safer if provided with this app.
Apart from compass, the app involves lots of interesting and cool features, such as gyrocompass, speedometer, altimeter, a possibility to enter coordinates and bearings, star finder and so much more.
If you are looking for something this complicated or just want to have fun while exploring different tools for navigation, this is one of the best choices. Get the app and be safe/enjoy!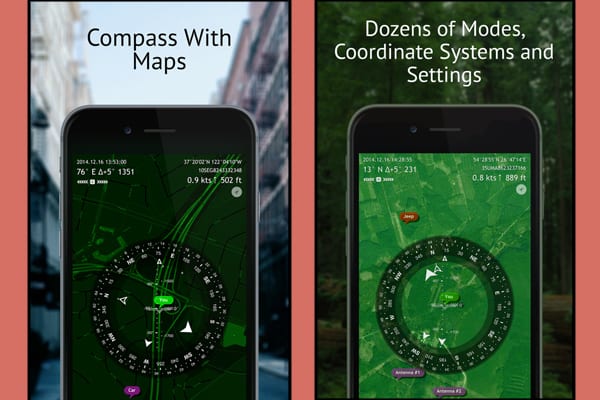 Compass
This compass app is for Android devices. Like the previous one, the app has a coordinate search. Speaking of other advantages, it is worth mentioning that the accuracy of 'finding the north' is very high. The app uses your GPS and indicates your magnetic field strength in order to avoid all the nuisances.
The stylish modern design of this Compass app and its good workability make it one of the top apps of such kind. Compass is very popular in Google Play Store, so there won't be any problems for you to find it there, or you can just tap our download button below.
3D Compass Plus
3D Compass Plus is an augmented reality compass for Android which can be quite useful both for real-life purposes and for augmented reality games such as Pokémon Go. The app shows your GPS-location and your surrounding with the virtual 3D compass on them. You can rotate the compass as much as you want to.
The app is easy and fun to use. If you have Android 5.0 or better, you can even record a video with your coordinates. We can't really think of the situations where this feature can be useful, but maybe you are more imaginative than us. So download the app and you will be always aware whether you are looking at the West or at the East!
Compass 360 Pro Free
Compass 360 Pro Free is one more popular compass app on Google Play Store. The peculiarity of this one is that it can work without an internet connection. Compass 360 Pro boasts with its ability to be accurate in all parts of the world.
That is why it is even translated into most languages of the world. So if you travel a lot and want to be sure that your compass app is precise not only in your country, get this one!
Compass by iVogel
This compass app for Apple's devices looks just gorgeous. It has a simple and intuitive design and offers lots of useful features. For example, apart from the compass, it can show longitude and latitude coordinates. More than that, there are embedded speedometer and altimeter, so you can measure your speed and the height of your location.
One more cool feature of Vogel's Compass is the ability to memorize the routes that you take and show them afterward. All and all, good looks and diverse functionality make the app one of the best!
Compass 54 Lite
Compass 54 Lite is one more app for iOS. This one detects all the geographical features of your location. The app serves as just a compass that shows directions and magnetic fields. But it also measures and shows other parameters connected with your location and weather, such as coordinates, speed, course, altitude, temperature, humidity, and pressure.
There are also embedded maps, which you can use both for looking where you are at the given moment and for tracking your path while going somewhere. Magnificent HD interface adds up a lot to the overall impression of using the app. Download Compass 54 Lite right now and you'll never get lost! (even if someone asks you to))
Gyro Compass
Gyro Compass in one more beautiful compass app for iOS. It has several pretty themes to choose from, works fast, and has a convenient user-friendly interface. The app is not full of many complicated features – it contains only a compass and GPS-location detector, which is pretty much anyone would need in the normal circumstances.
If you are not good with such apps in general, there is a video tutorial for you of how to use the app, although even without it, it is quite simple to figure out how the app works. So if you are an iPhone owner and looking for something simple and pretty, then this one is for you!
You may also like: 11 Best Offline Navigation Apps for Android & iOS
Commander Compass Go
If you want your to compass app to be with a map, then take a look at this app. Overall, if you want to go hiking and don't want to get lost, then Commander Compass Go is an excellent choice of a multi-functional navigation app.
It is packed with tools it serves as a hi-tech compass with maps, gyrocompass, GPS receiver, waypoint tracker, speedometer, altimeter, Sun, Moon, and star finder, gyro horizon, and coordinate converter.
If you have an Internet connection while you're hiking you can always save your current location. Moreover, Commander Compass Go will help you to navigate by stars.
Simple "Compass"
This is a great compass for beginners – here you won't find any complex measurements and terms, or additional functions that you don't really need – only several designs of a compass. Well, if you want, you can make it a little more advanced by adding maps to the compass and track your location this way.
You can adjust the visibility of the compass. When you are using the map mode, you can also make some calculations on the land. Plus, Simple Compass allows you to share your current location.
Compass°
This compass app for iOS is a super compass app. There is no app that is simpler than this one. There is only one big letter on the screen, which is the direction in which you are heading. If you are tired of looking into small pictures, arrows and digits, download this app and you won't be worsening your eyesight while using compass anymore!
Digital Field Compass
Digital Field Compass for Android is a fine compass app, which works smoothly and efficiently. There are also several modes – the dark ones and the light ones, which would help to get orientations at any time of the day.
This compass app is for all kinds of outdoor activities, including the ones which take place in the marine environment. Check this app out as well and be calm on your adventurous trips!
Compass
The name of this app couldn't say it easier. Nevertheless, it's one of the most popular compass apps on Google Play and you see that many users have already ranked t as one of the best apps in this category. Here you will find a precise, beautifully designed compass that works by the power of magnetic field and thus it is always accurate.
To make sure this compass is accurate, calibrate the sensors in your device and keep it away from magnetic fields. In addition to that, when using this compass hold your device flat to the ground with the display facing the sky, like you would with a mechanical compass.
You may also like: 5 Best weed maps apps for Android & iOS
Compass 55. Map & GPS kit.
For those who want their compass app to be totally fancy and with the cool graphics, this is an excellent app to go for. However, the newbies will find it difficult to use this app for the first time, since it contains lots of specified geographic information, various measurements, and indicators.
However, experienced users will find this app amazing and very detailed. Plus, you can set up the app only for yourself in the settings – for example, you can use UTM, MGRS, or Lat/Long, just pick your preference.
So these were some of the best compass apps for Android and iOS. If you liked the article, please, let us know about it by leaving a comment. We wish you to always find the right orientations both on the roads and in life. Be adventurous and, as always, be smart in choosing apps!