Have you ever played the Truth or Dare game? If yes, you know how addictive and fun it is! If not, you should give it a try because it is the best way to make a party or a date more exciting.
Most of the apps are made for adults, which is quite logical because often the questions are related to some hot topics.
By the way, if you are looking for some other games, try these free multiplayer games for couples.
There is a great number of cool options for iOS, as well as Android users. Some of them are free of charge.
Couples
Playing Truth or Dare with your partner is a perfect way to have fun and make your relationship much better and stronger. This is why we have collected some versions of this popular game for couples. You will explore hot truths and dares and make your date unforgettable!
Truth or Dare? Dirty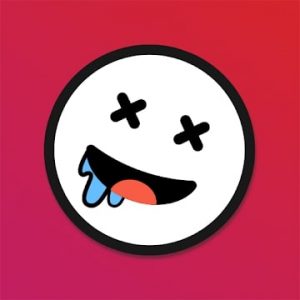 Here is one more truly dirty Truth or Dare app! It will be the best solution for naughty couples who want to have fun.
What is especially cool is that you can play this game just to relax or make it a competition. The more questions and activities you have done, the more scores you will get. This function will come in handy for parties, as well as couples.
However, there are many other nice features:
You can

use the game for free

. However, in this case, the number of truths and dares can be limited so you can see the same card more than once. When it happens, you can replace the card with the next one, though.
You

don't need to create an account

or choose the type of subscription. Just add your partner's name (and yours) to start the game.

Should you lack dares and truths,

you can always go for in-app purchases and expand the number of cards

you have. You can buy the set of cards united by one topic or buy all sets at once. This will cost you 3.99$ per week.
The app is rated 4.6 out of 5. Users love it for its provoking questions and crazy dares.
The game supports up to 20 foreign languages, including Greek, Italian, Spanish, Polish, Romanian, and many others.
The size of this Truth or Dare game is 110 MB, which is medium for this type of application.
Both Android and iOS users can enjoy it and boost their relationship.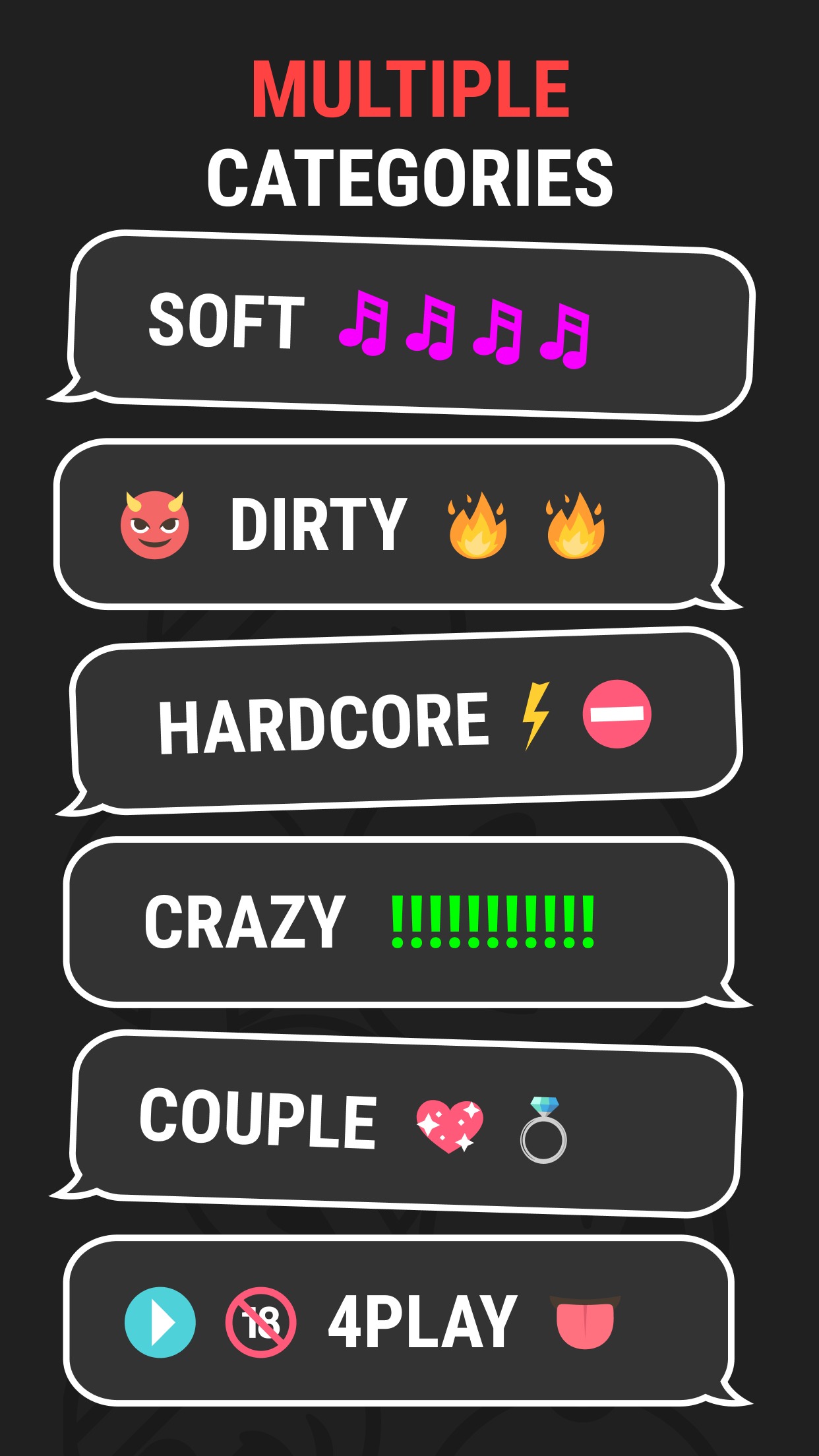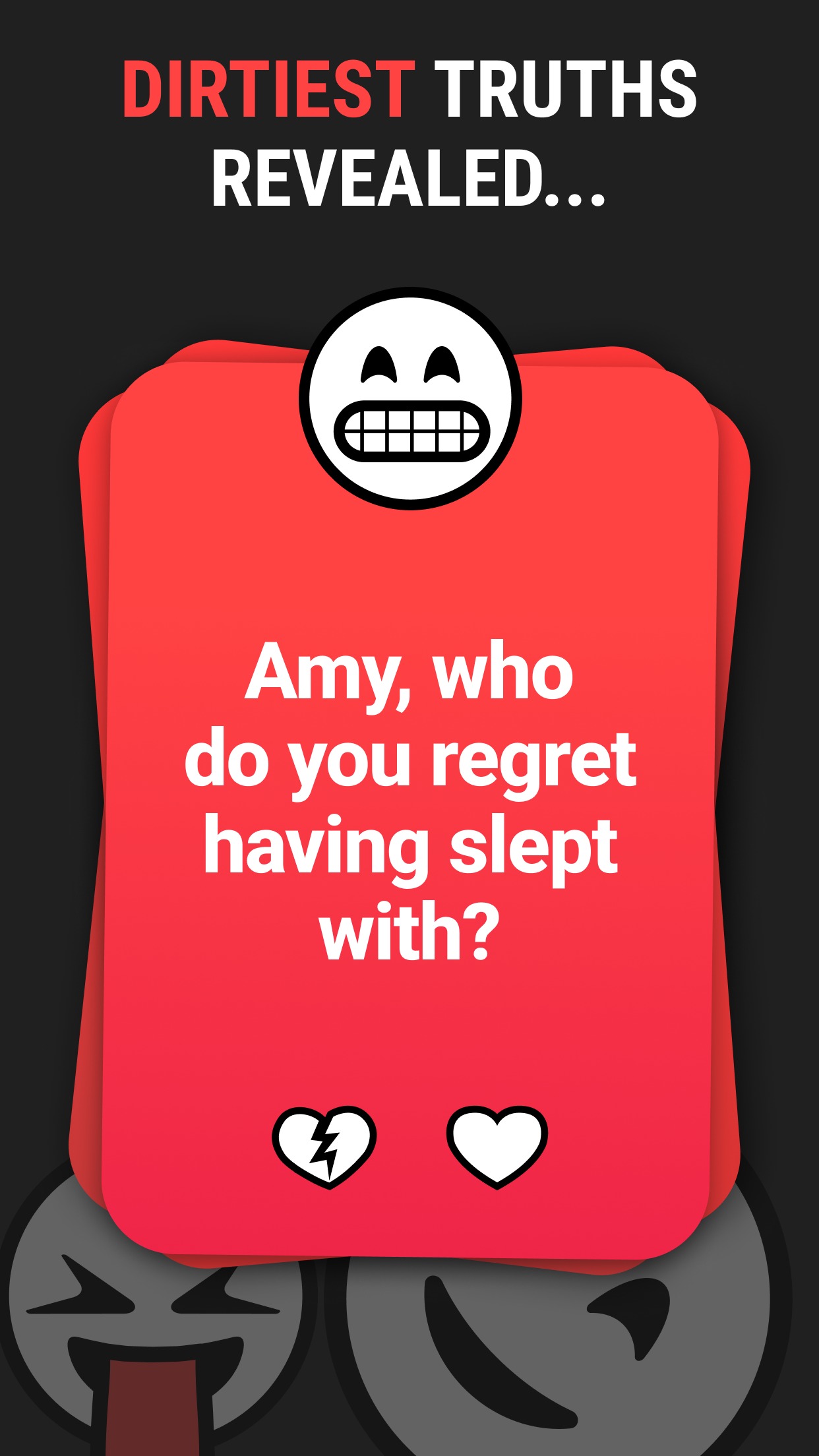 You may also like: 11 Free Android Games for Couples
Truth or Dare – Dirty Game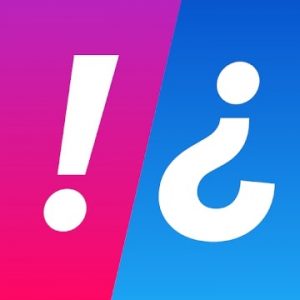 It isn't that easy to strengthen your relationship with your partner. However, now you can do it with the help of a simple and fun game. Try it to spice up your love.
Meet Dirty Truth or Dare – the game that will increase your intimacy and kick you out of your comfort zone. Sounds good!
Now let's look at the best features you will find in this game:
There are different modes

. It can be a fun mode with just nice questions, or the hardest ones when you need to tell something really confusing or do something strange.

Enjoy a simple interface.

Once you have downloaded the game, you can start playing at once.
The game is free with ads and in-app purchases. However, you can remove them for money. Still, all the basic stuff is available at no cost.
Get it now on the App Store and Google Play.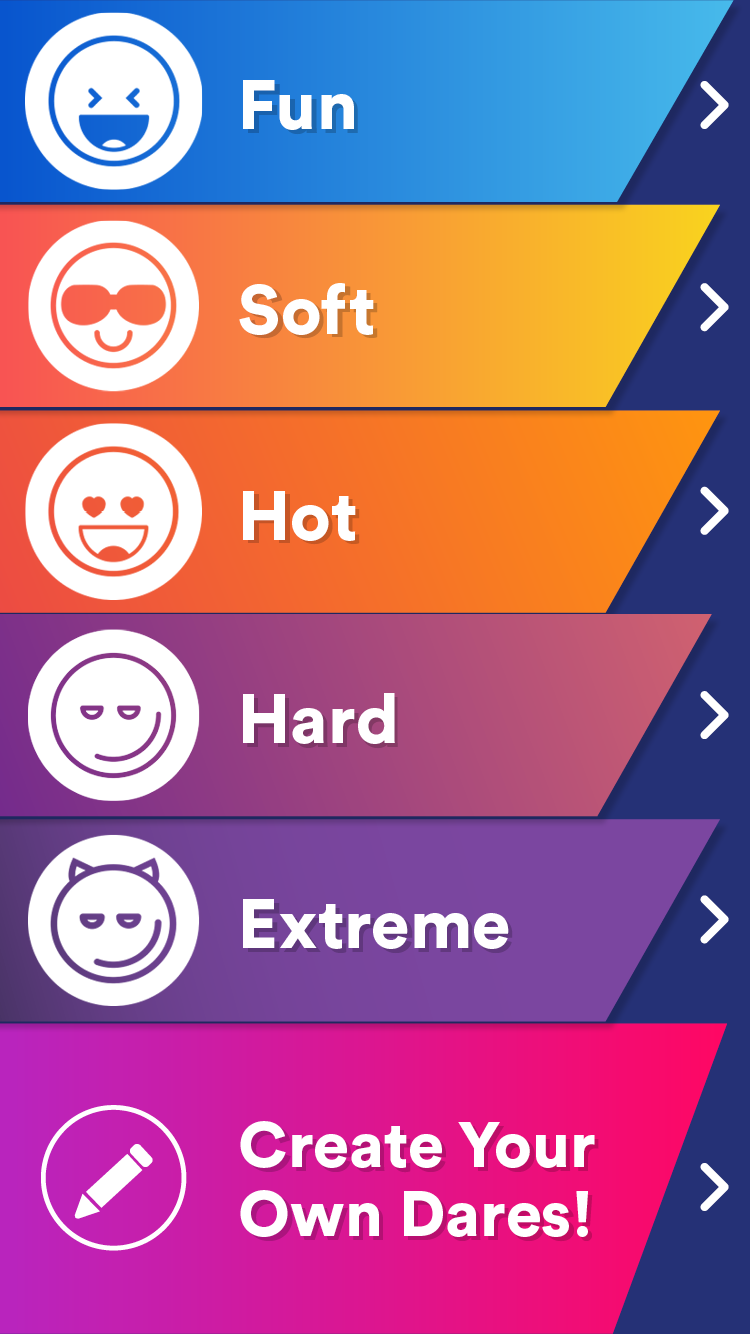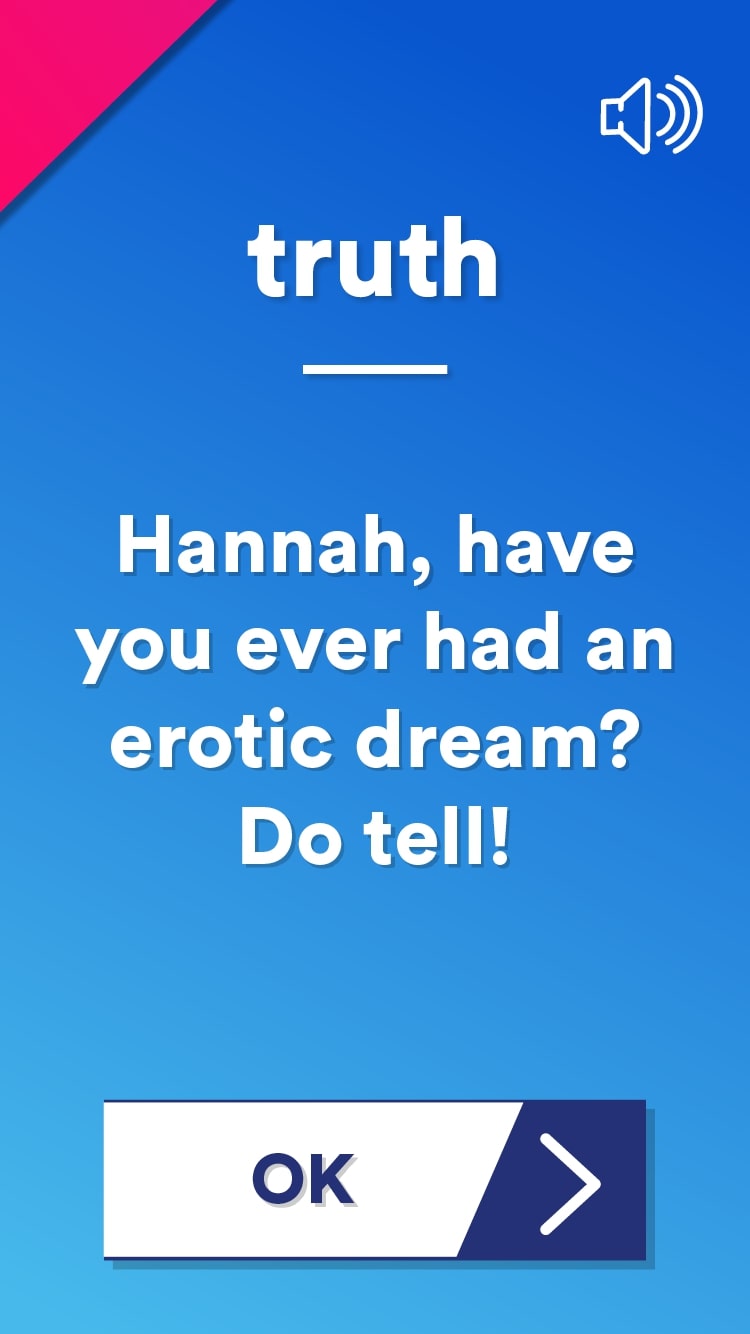 Dirty Couple Games – Naughty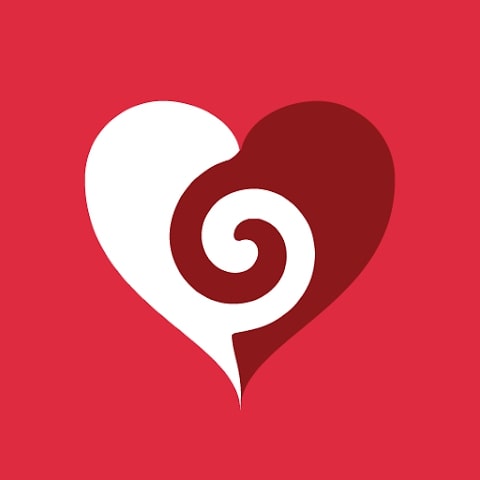 Dirty Couple Games – Naughty contains a lot of interesting and unusual ideas. It will help you get to know your partner even closer and will bring a lot of positive emotions. A great option for a romantic evening together.
This mobile game raises the intensity of emotions to the limit. In this app, all tasks are divided into 4 levels, each of which is a kind of continuation of the previous one. You can choose the initial level to warm up or immediately start with the extreme one.
Choose the questions that are suitable for a certain stage in the relationship. It all depends on what you want: to learn all the secrets of your partner, to share your secrets, or to add unpredictability to a long relationship.
The second option of pastime is throwing dice. The amount of dropped points means one or another action that you need to perform. Variants of erotic tasks are not repeated, which only adds adrenaline and excitement.
All tasks are thought out and carefully selected, so with this game you will have a pleasant and exciting evening.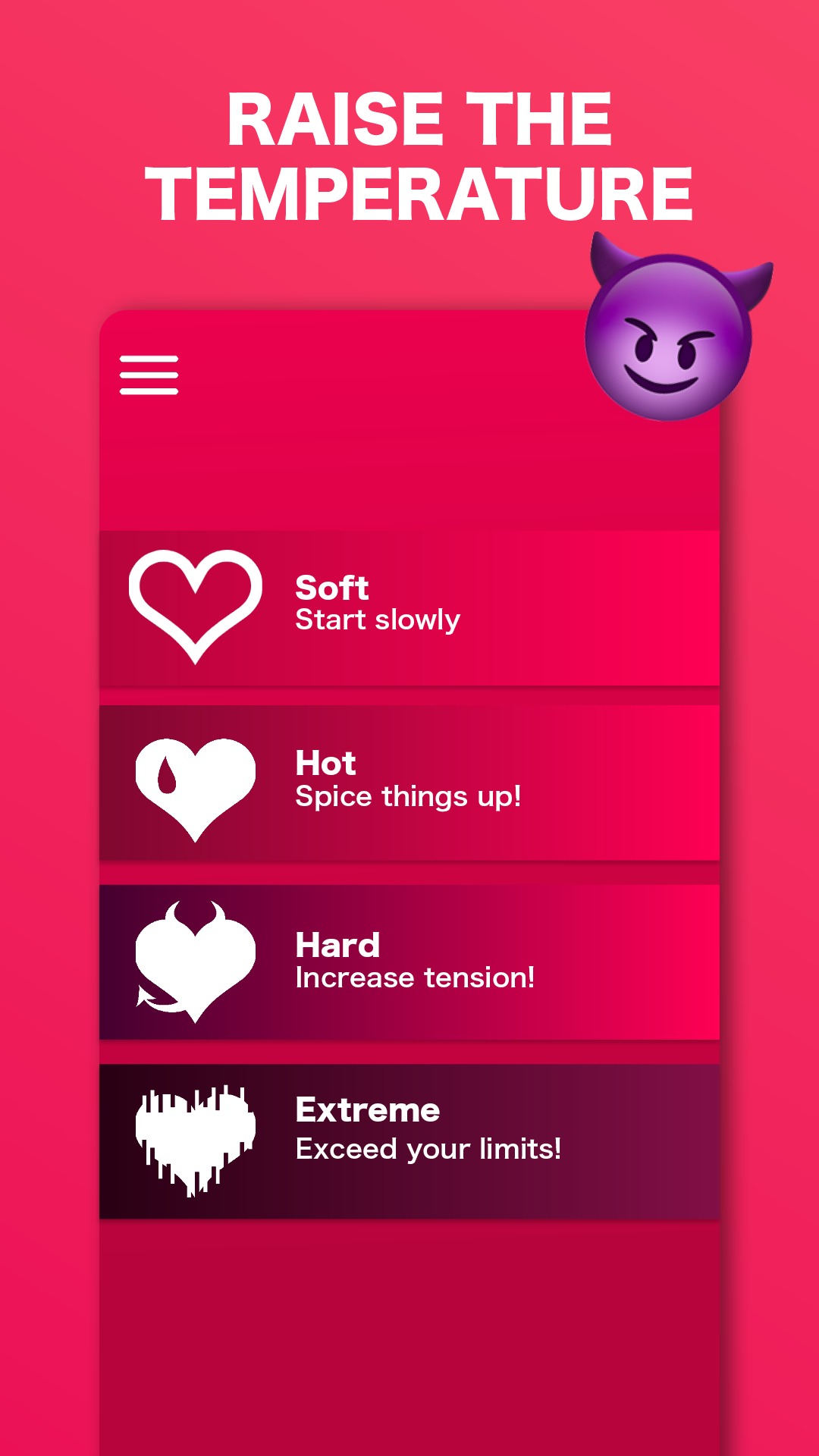 Dirty Truth or Dare for Couple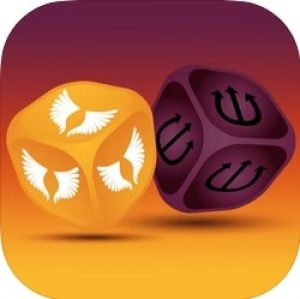 If you and your partner are looking for a hot game, then this one is a perfect choice. In general, this game can be a good option for anyone, including families and friends.
However, let's focus on the mode created for naughty couples. Here are the best features you will get:
Thousands of presets

. There are already made truth and dares if you don't feel like creating something yourself. To use these presets, just download them on your device.

Choose your custom categories

. Talk to your partner and decide what you like and what you don't. This will spice up your relationship and just relax.

Enable or disable dirty categories

. It depends on your tastes and what you think is appropriate. However, if you try it, you have the chance to increase your intimacy.

If your partner or you happens not to know the rules of this truly classic game,

check the tutorial

and find out what to do.
The game is free with in-app purchases. To get some additional cards with cool questions, go premium for 4.99$. This subscription will also remove all the ads.
The game is also pretty small. You will need 23 MB only to install the app on your phone or tablet.
Get the Truth or Dare game for free on the App Store.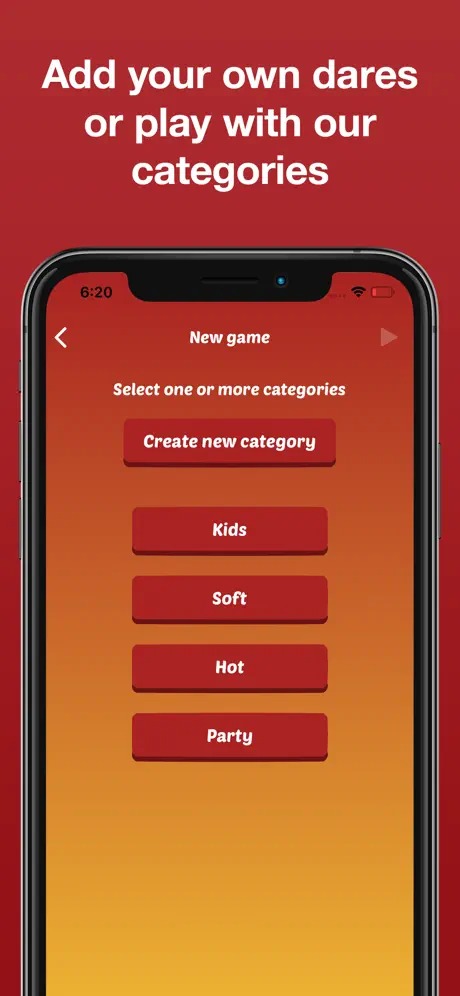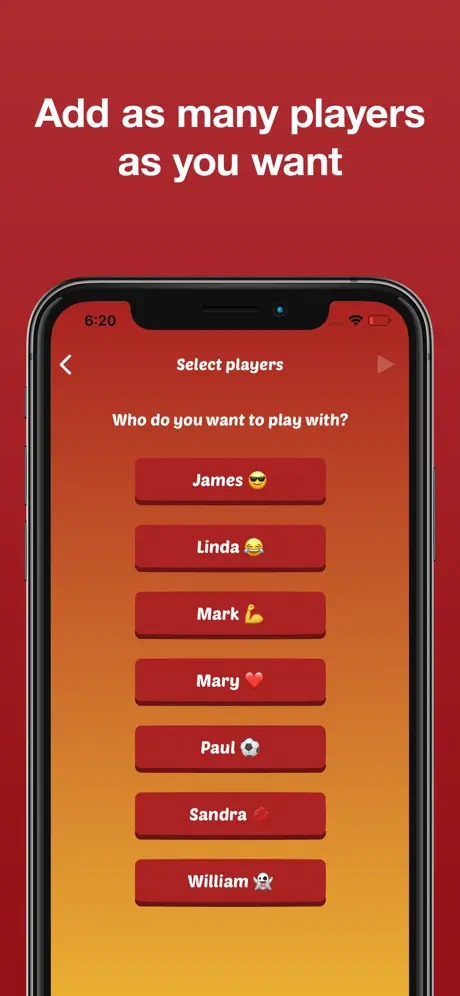 Truth or Dare Game Extreme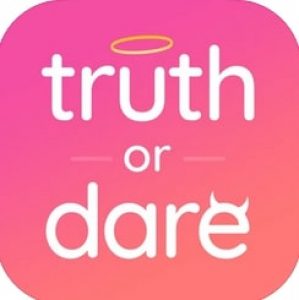 To become closer, you need to know more about your partner. However, sometimes it's too hard to talk to each other and tell all the secrets.
This is why try to do it during the game – it will be much easier! There are many modes, including the one for couples. Let's focus on this mode and its features:
Explore

hundreds of hot questions and dares

created by other users. Sometimes they will make you and your partner embarrassed. It's time for dirty talks!

The app

supports multiple languages

, such as Dutch, French, German, Spanish, Chinese, and many others.

Explore the

"Kiss and tell" mode

. It was created for naughty couples, try it for 2.99$.
If you lack functions, you can unlock all the modes available in the app. It will cost you 6.99$. This function will also remove all the ads from the application.
However, even if you don't want to pay for the app, you can still enjoy the game at no cost. In this case, the number of questions or dares will be strictly limited.
The game is pretty small – you won't need more than 30 MB to install it on your device.
You can get this hot Truth or Dare game on the App Store and get closer to each other.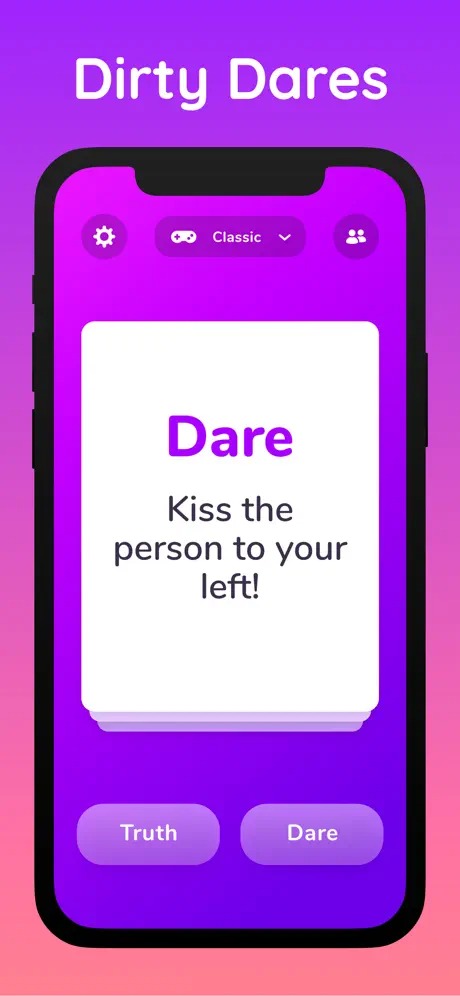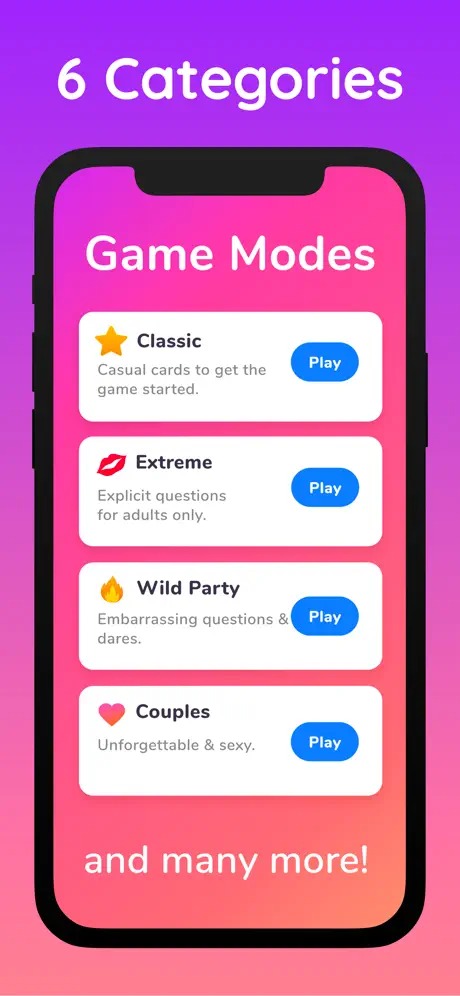 Truth or Dare Dirty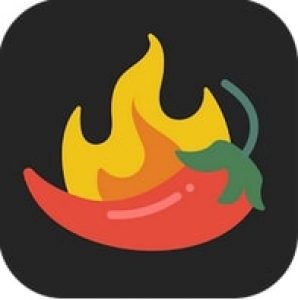 Here is another great option for couples who would like to spice up their relationship. Choose a free evening and start playing – that's it.
The game is free of charge with ads. You can also play it anywhere, with no connection to the Internet.
Let's take a look at the best option you will get right after the download:
Explore

three cool game modes

: for friends, big parties, and naughty couples. The last one is extremely spicy. It contains many provoking questions.

There are

more than 400 truths or dares

. Once you download the app, you also download these cards so that you could enjoy the game offline.

There is also

a joker card

. Take it if you want to know your fate and you don't feel like choosing yourself between truth or dare.

The support team is

fast to respond

. Should you need any assistance or you face any technical faults, don't be shy to report them.
The game itself is free of charge but the dirty version for couples is available for money only. This is noticed by many disappointed users in the comment section.
By the way, if you are looking for some other apps for couples, you should look at these best apps for couples.
The size of the app is 14 MB only, making it a good decision for those who are running out of phone memory.
You can download the application on Google Play and start boosting your relationship now!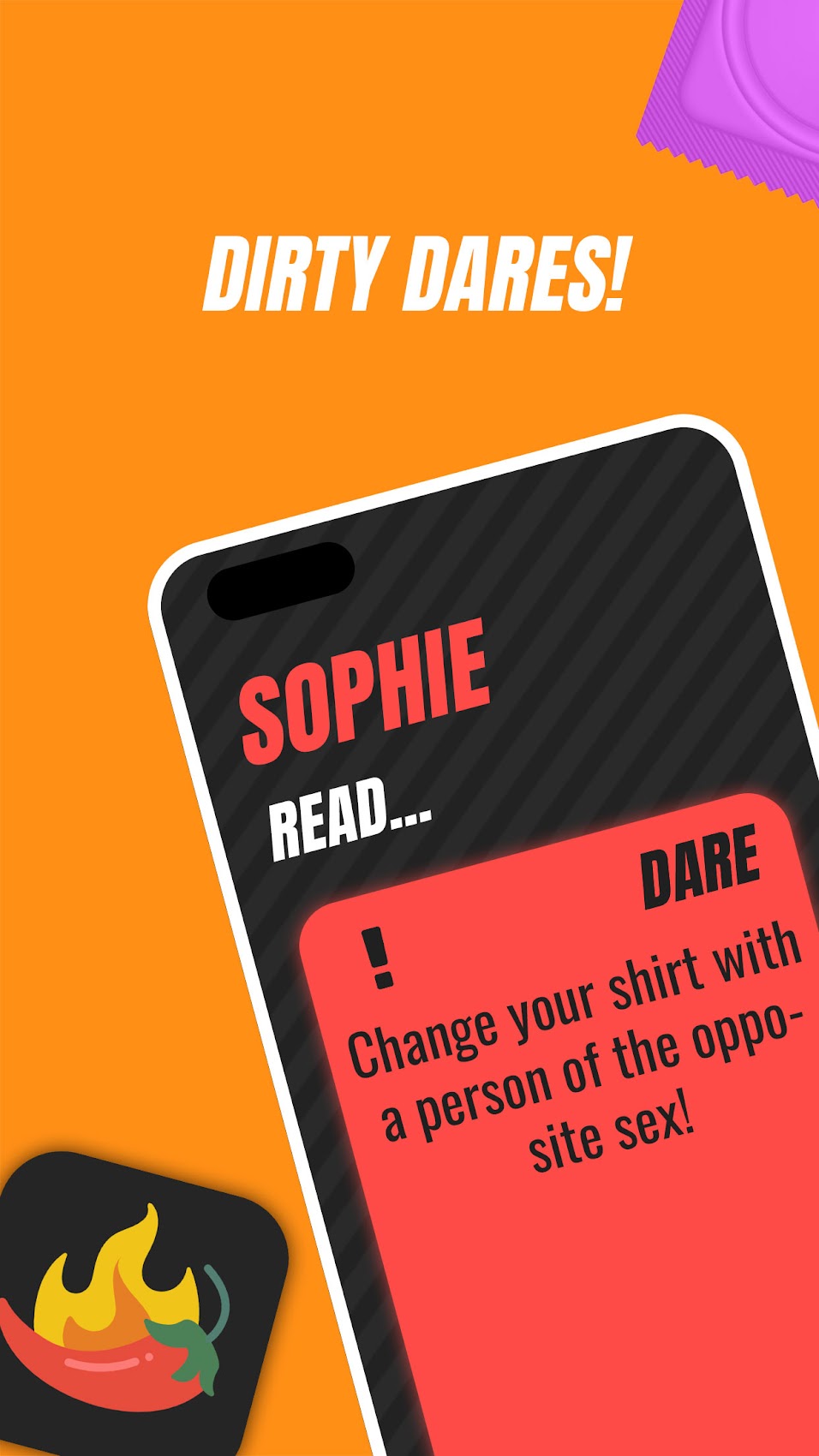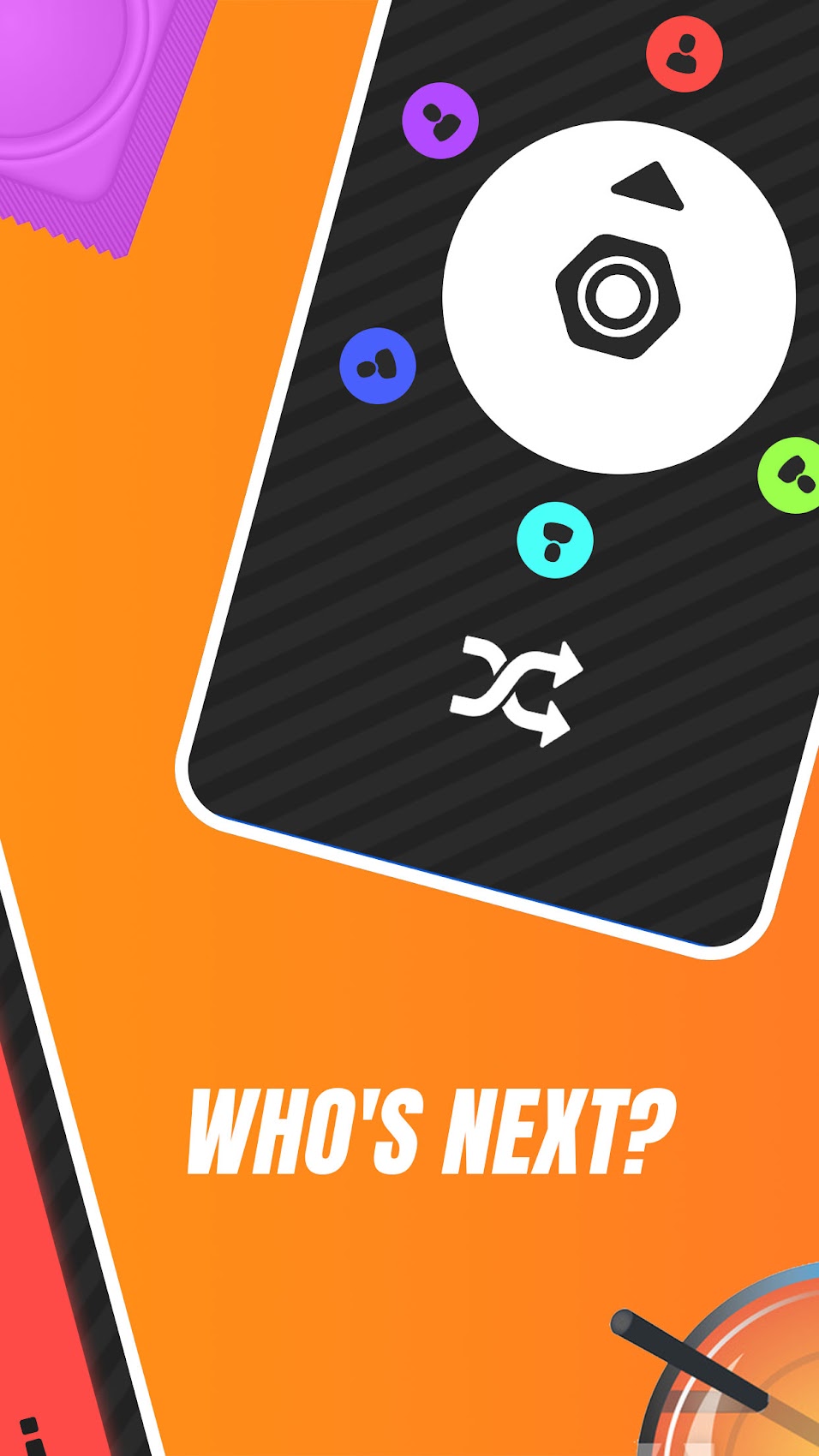 Parties
When you are at a party, Truth or Dare can be a great way to make the atmosphere funny and exciting. Most of the games will be great solutions for small group of close friends, as well as big companies. You will find the best applications for parties below.
Truth or Dare: Party Game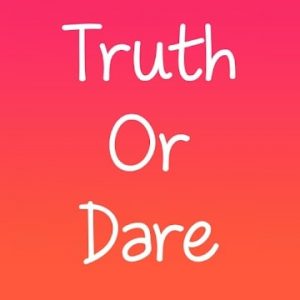 Are you planning a big party and preparing some cool activities for your guests? Sounds great, take a look at this party game.
What will you find in this classic truth or Dare game? Not only does it gives you sets of cards with cool questions but it also provides you with the following features:
Choose the categories

that appeal to you and remove the ones you dislike. For example, you might delete the naughty category if you invited teens to your party.

Add your questions and dares

. If you lack cool options, create them yourself. You can add as many as you want.

Give the players nicknames

. This function will come in handy when there is a big number of guests playing this game.
The app tracks some data about you, including your location, usage data, and identifiers. It links this information to you. However, the developer claims he won't sell the data to others.
To install the app, you need at least 93 MB of memory. We recommend playing it on a tablet, especially if you have a big company.
You can get this exciting game on the App Store, as well as Google Play for free.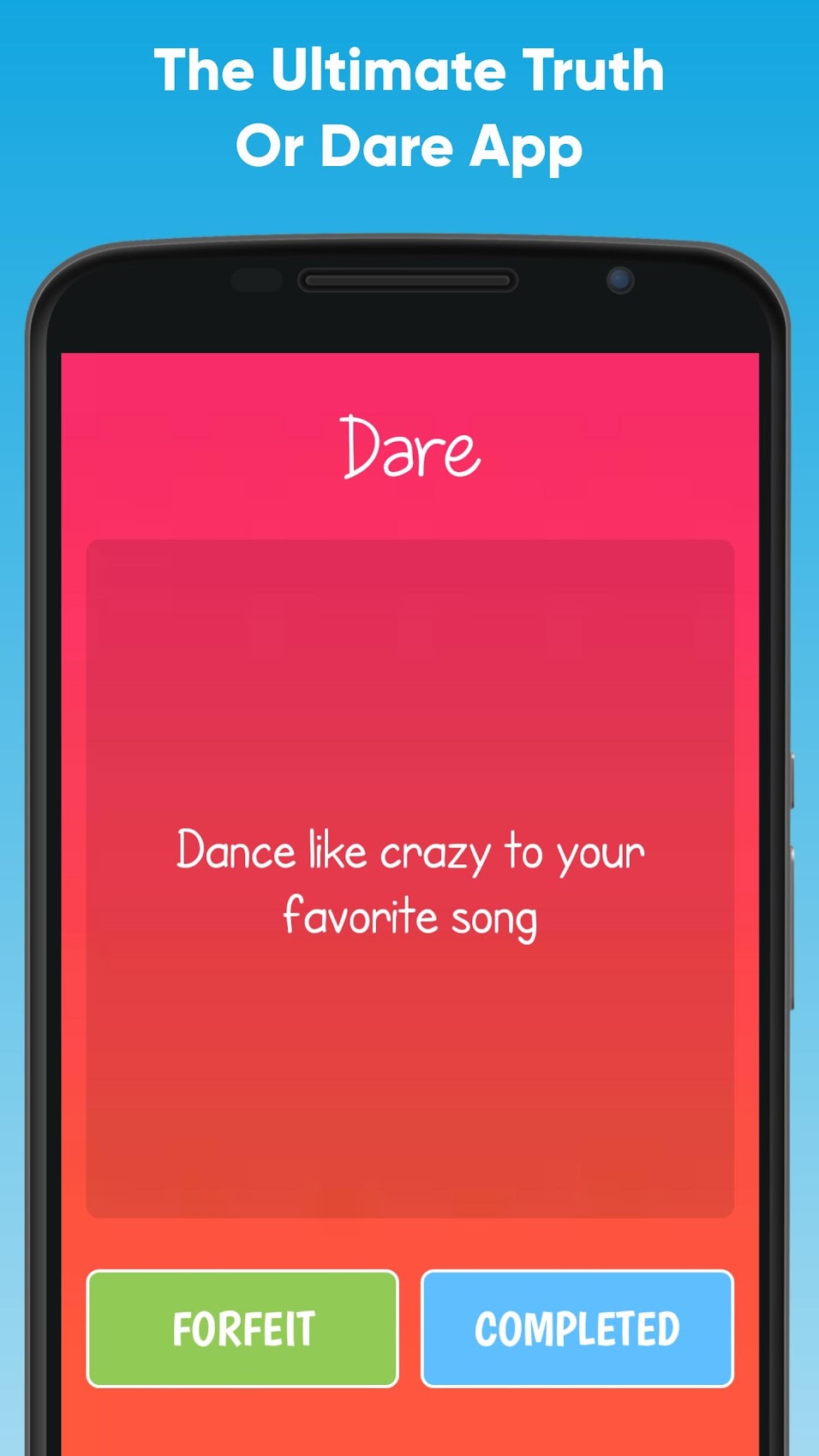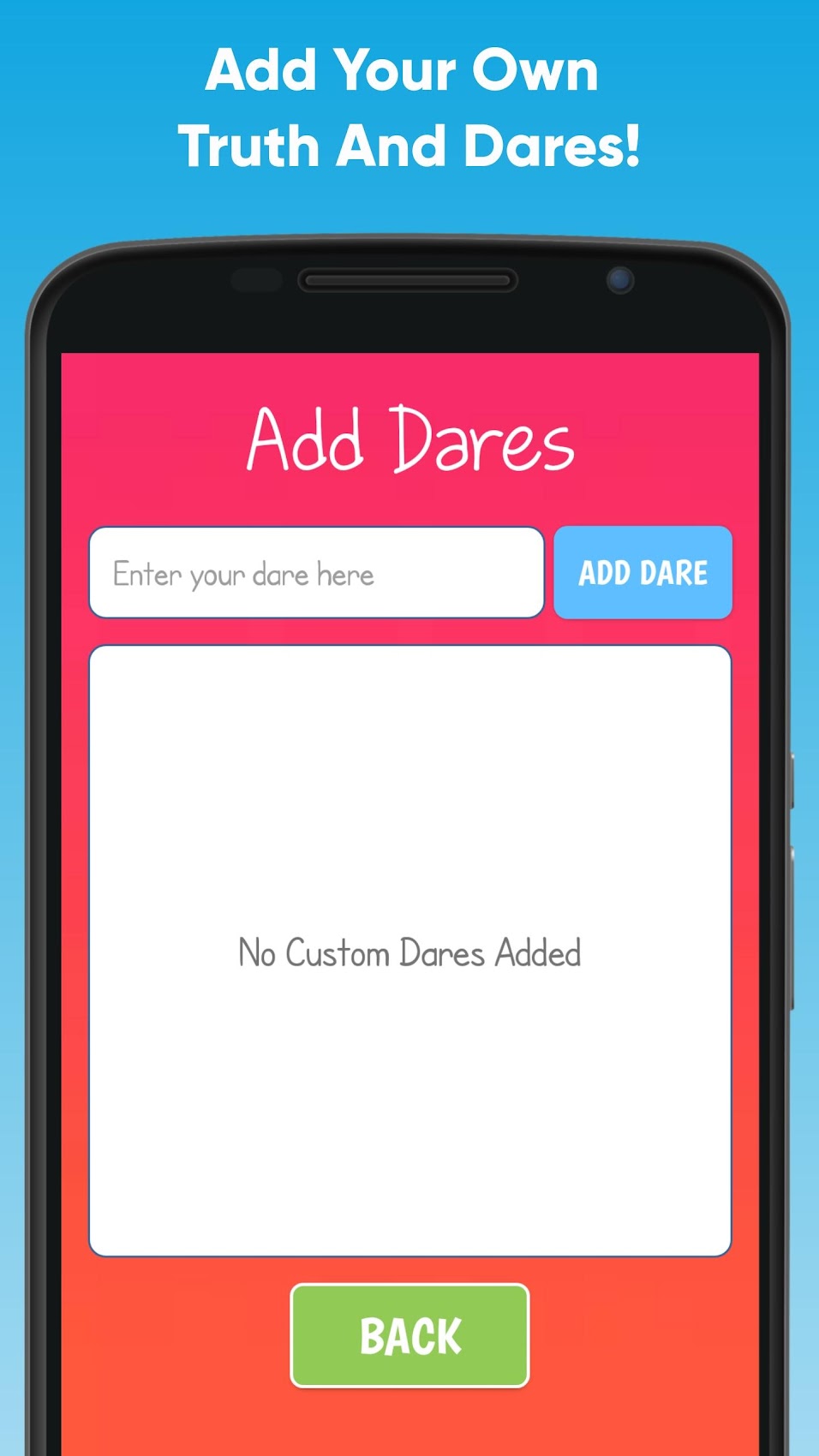 Truth or Dare – Spin the Bottle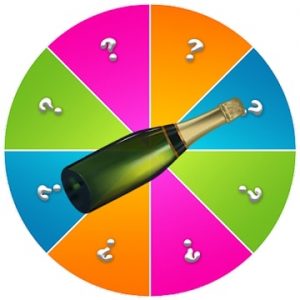 It's high time you started having fun at parties! With the help of this Bottle game, you will be able to be the most popular person among all the guests.
This app was downloaded by thousands of users and its rating is 4.5 out of 5. This is proven by thousands of positive reviews.
Here are the best features you will explore in the app:
Choose the mode of the game

. You can pick the one you like, from those categories available for teens and even children to the most naughty ones.

There is a bottle

that makes the game so exciting and dynamic. You don't read the questions or dare one by one but let the bottle choose the next player.

The

content is frequently updated

, meaning you will never run out of questions. You can add your question and dare to a huge app's database as well, enriching the game with new ideas.
The app is pretty small – it requires 77 MB to be installed on your device.
However, there is a pretty serious disadvantage spotted by many users – the time you can spend on choosing between truth or dare often turns out to be too short.
Both Android and iOS users can enjoy this cool game for big parties!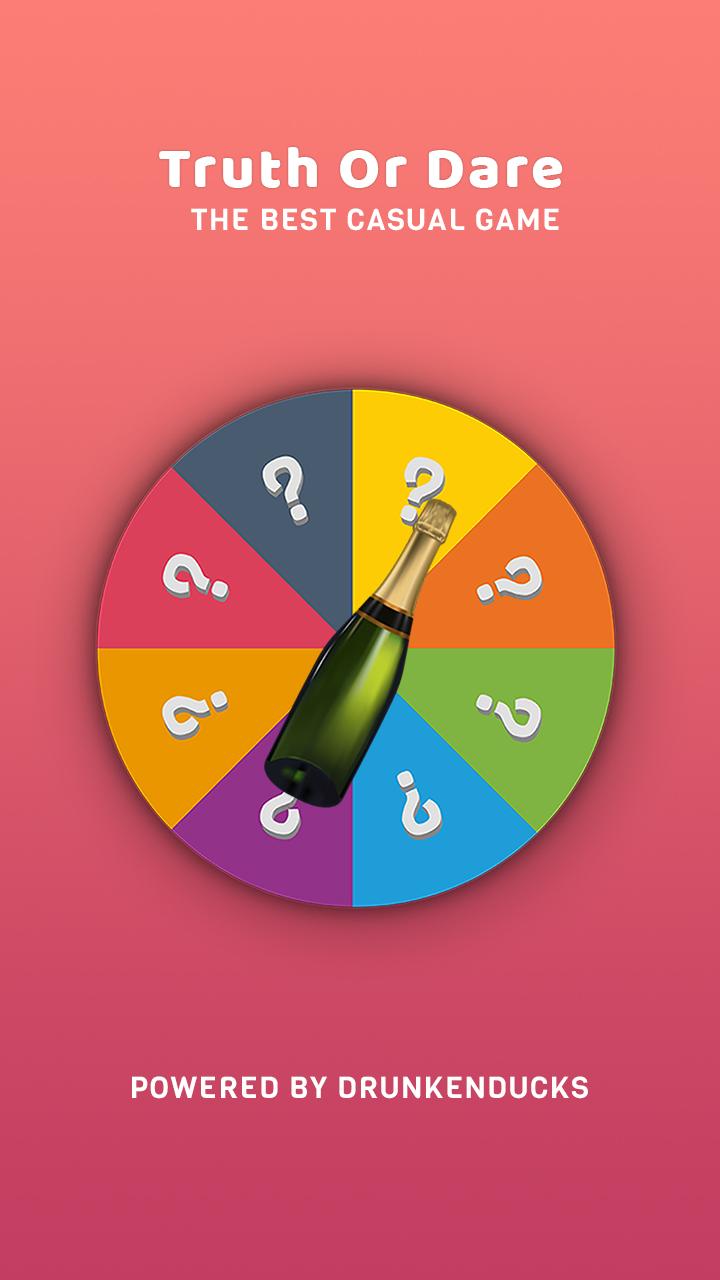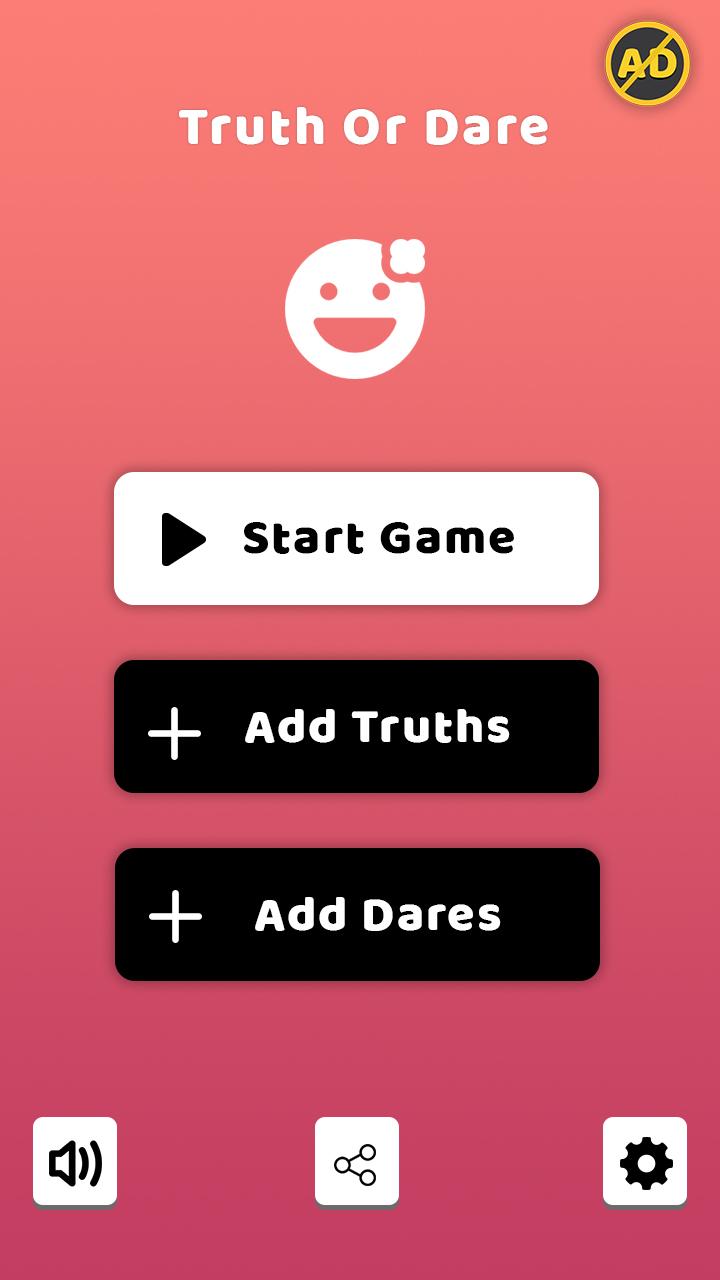 Truth Or Dare by KDR Games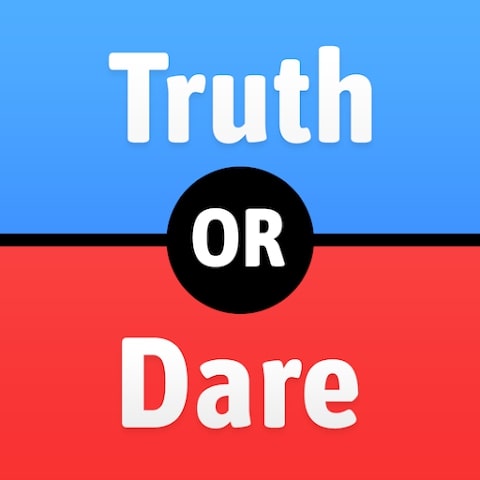 Truth Or Dare by KDR Games will be a real salvation for boring parties. One game for all occasions.
If it's raining outside the window, gather a group of friends and start the fun with the "Party" mode. Want to take your romantic relationship to the next level, choose the "Extreme" mode and show your partner everything you are capable of.
"Normal" can be chosen for an evening with friends or strangers. The game has an age limit of 16+. Any number of players can play. The questions are suitable for companies of all ages and preferences.
You do not have to think up an exciting activity for a weekend or a holiday. Open the app, choose the desired category, and get a lot of exciting tasks. Find out who is the most courageous of the crowd. Expand your intimate life with Truth Or Dare and overcome shyness together with your partner.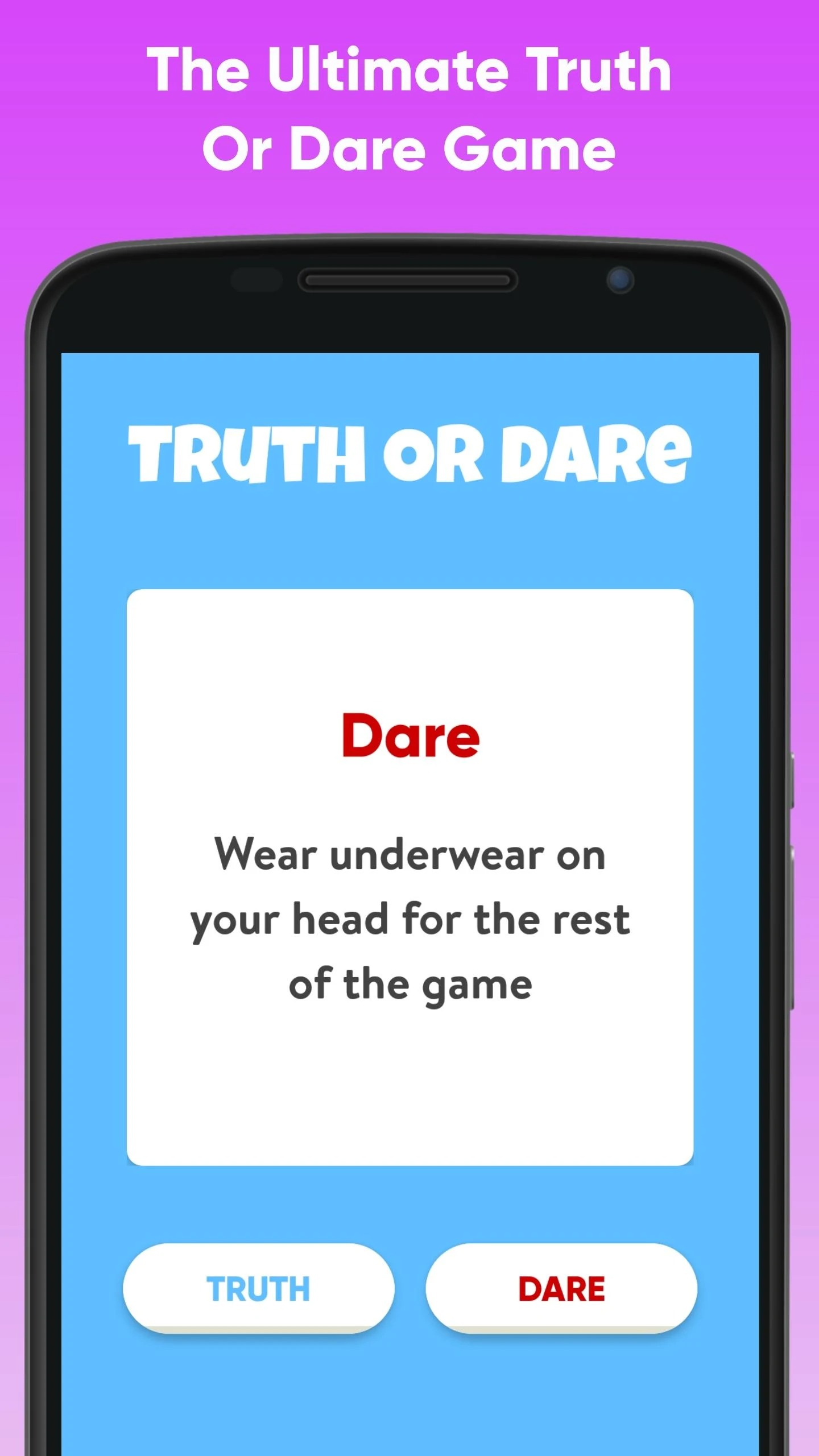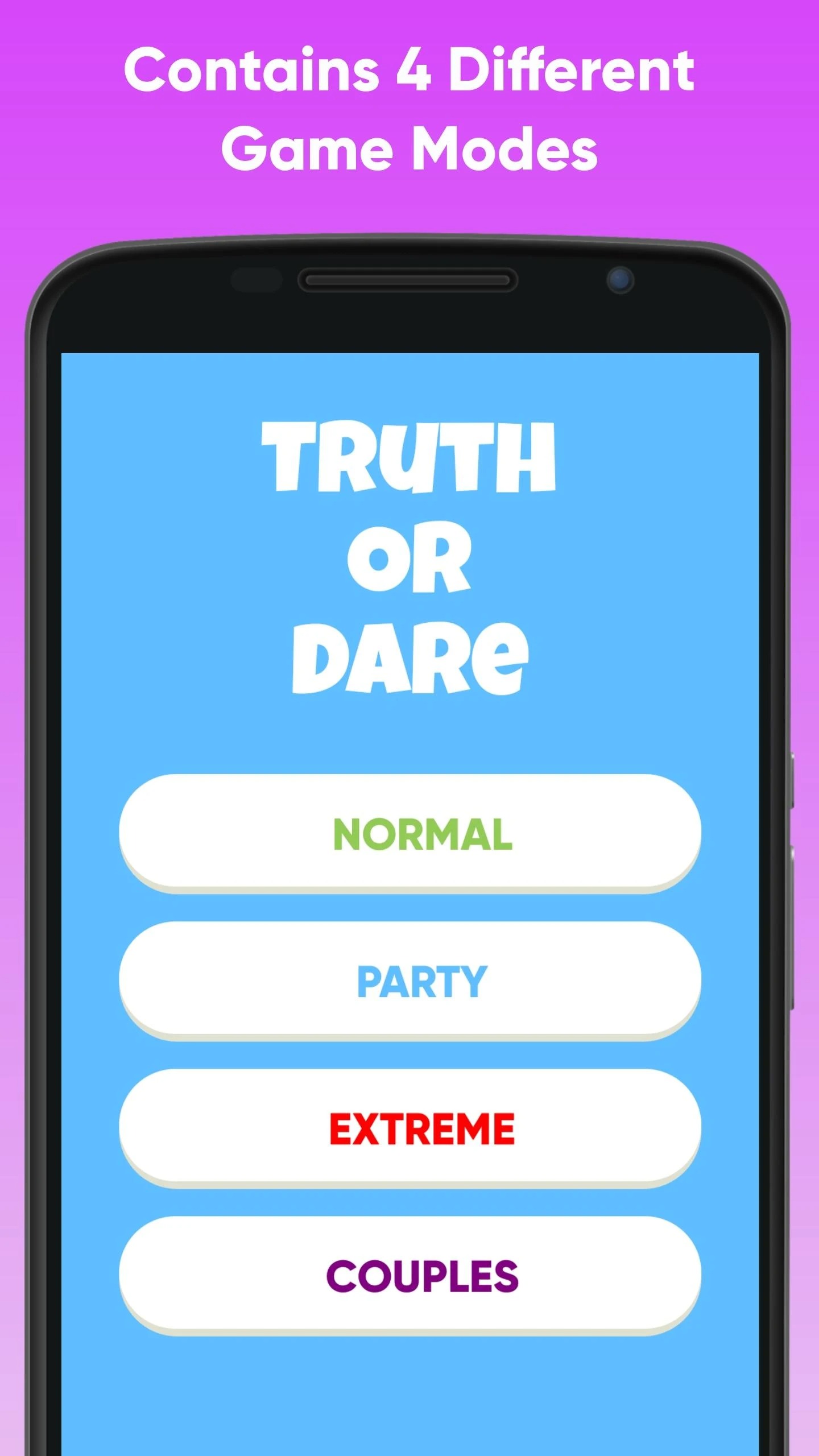 Truth or Dare by Snash Game Studio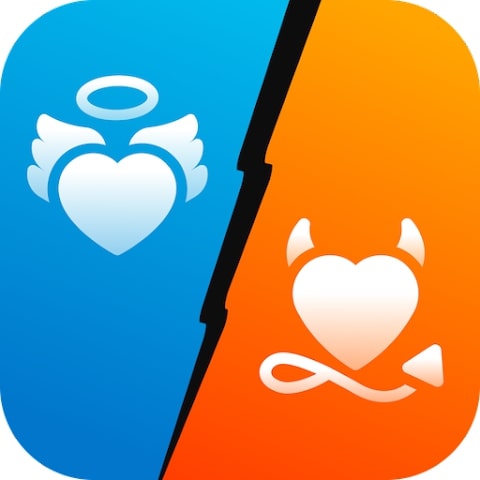 Truth or Dare has many fans all over the world. People of all ages prefer this entertainment. Answer honestly to the question asked or complete the specified task to continue further.
Learn a lot of new things about your partner and friends. The game is designed in such a way to help loosen up. Strangers will be able to get to know each other better, and longtime friends will reveal all their secrets.
The game is suitable for any party. You do not need props and long preparation. Install the app on your phone or tablet, specify the appropriate mode, and start the exciting journey. The game for a long time makes you forget about everything but the fun socializing.
All features and categories are available in a free format. Play Truth or Dare alone with your favorite person or in a large company. Questions and tasks will correspond to the chosen theme. Make a meeting with friends unusual and memorable.
Spend this evening with your lover, performing erotic tasks. To start, specify your name and gender. After that, choose the game mode and be charged with positive emotions.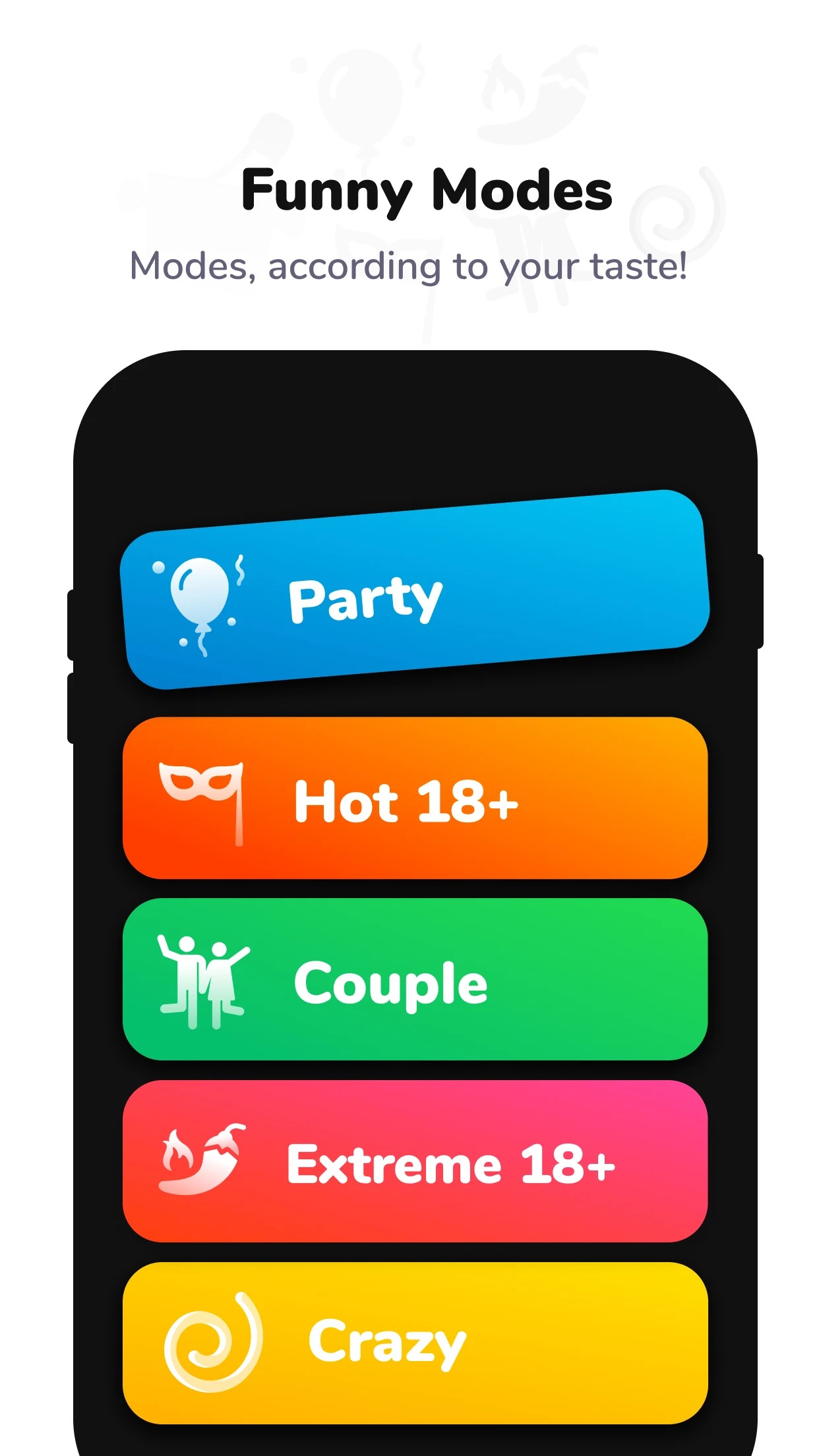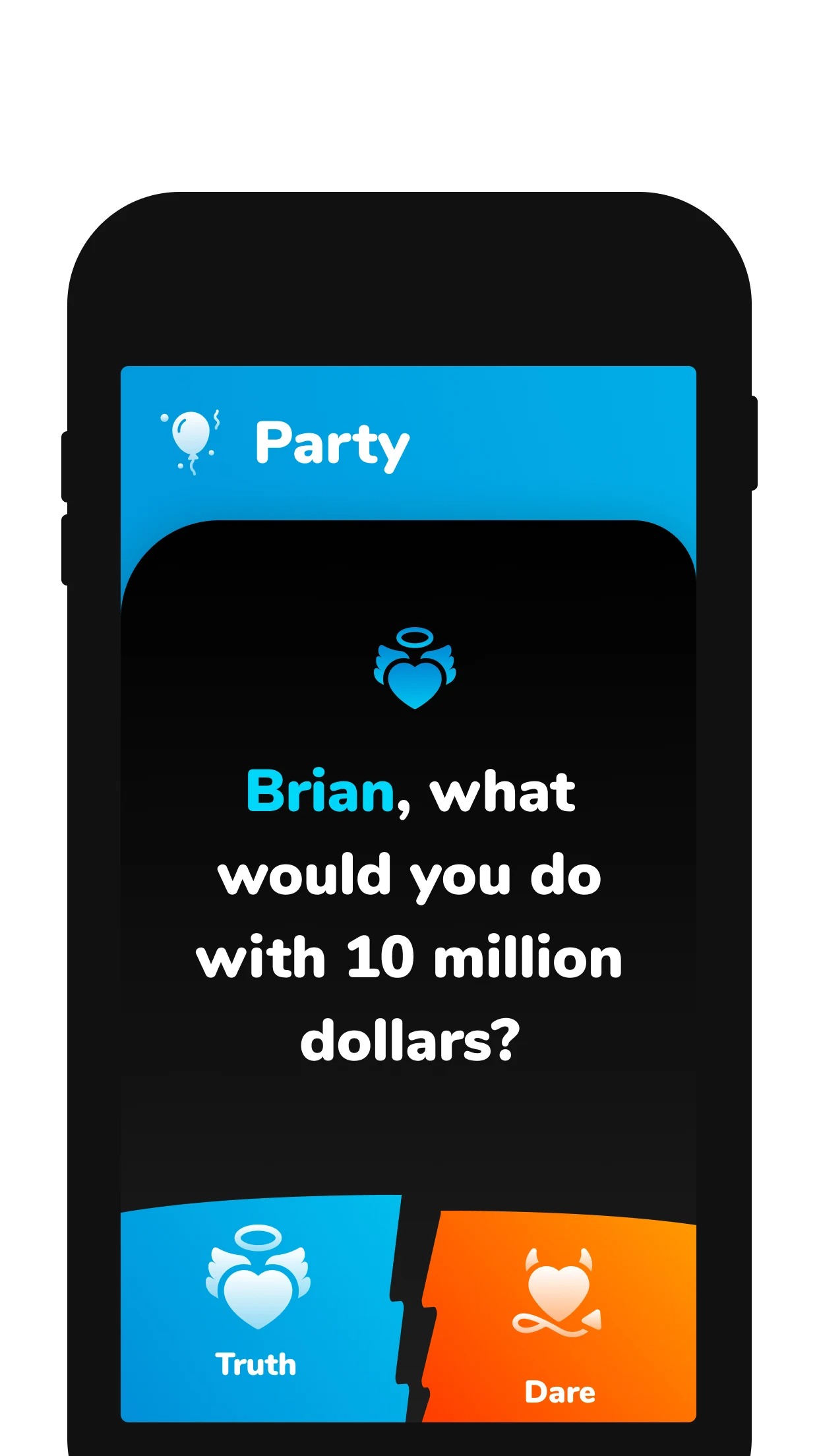 Truth or Dare by nixGames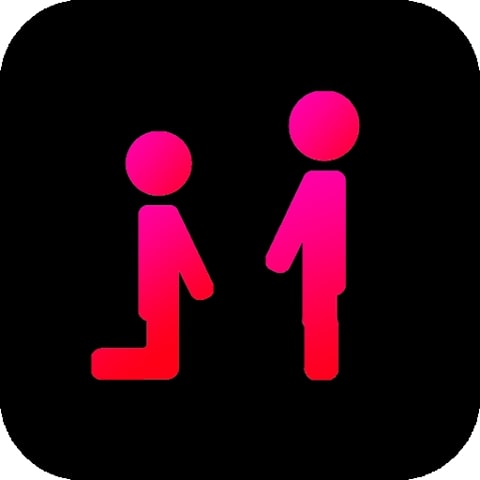 A new variant of the romantic game for couples in love. Truth or Dare by nixGames gives you the opportunity to loosen up and go beyond the usual boundaries. Become even closer to your partner and let the relationship develop without shyness.
You can play this game as a couple, or you can raise the degree of the party and find out the sexual fantasies of your friends. Make the right choice and a fun evening is guaranteed.
Choose one of the proposed categories, so that the questions and tasks maximize the situation. This game is suitable for any company, including a meeting of classmates or relatives.
More than a thousand original questions and tasks are collected here. Choose a category for the game, press the "start" button, and get ready for the most interesting.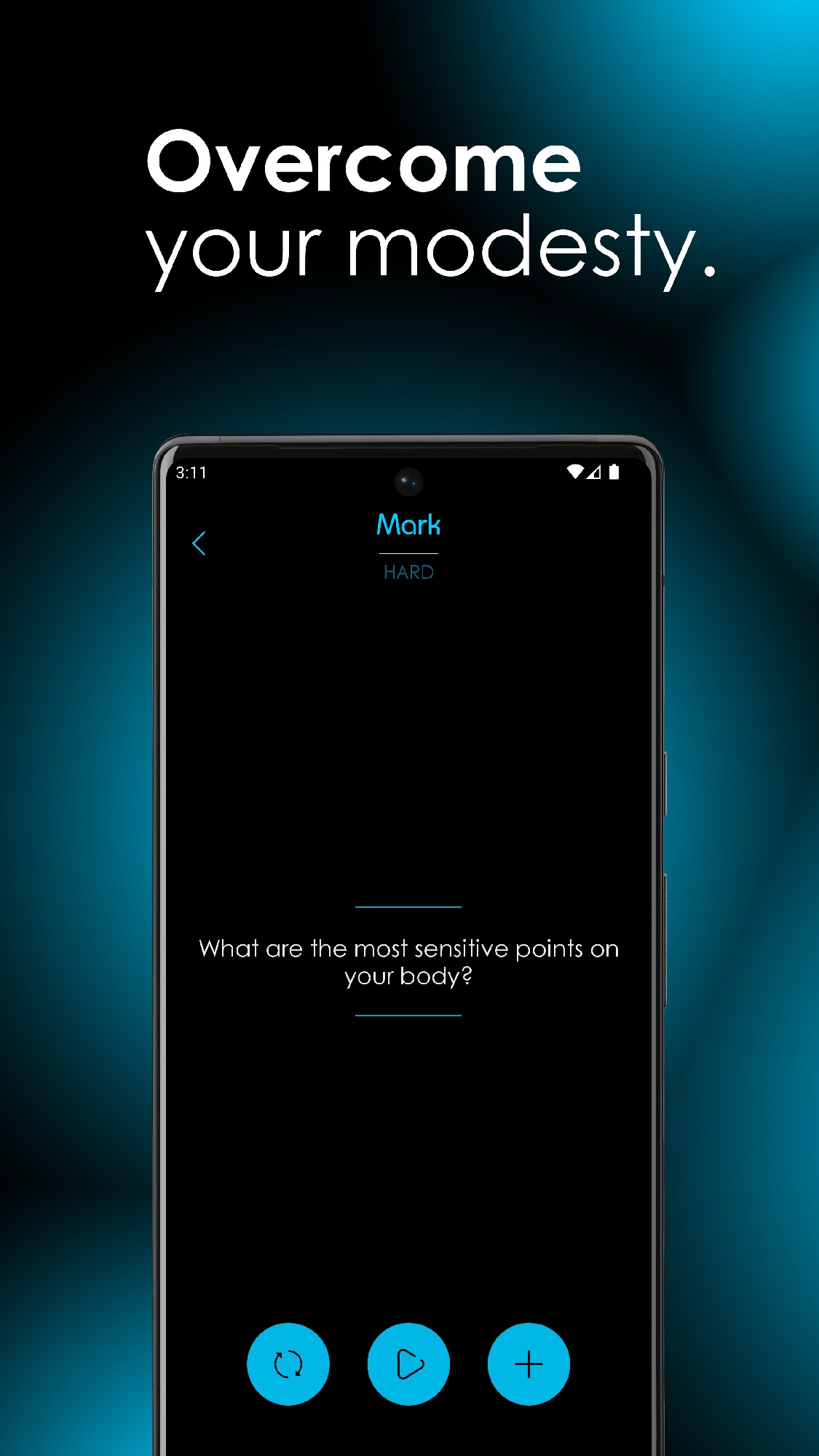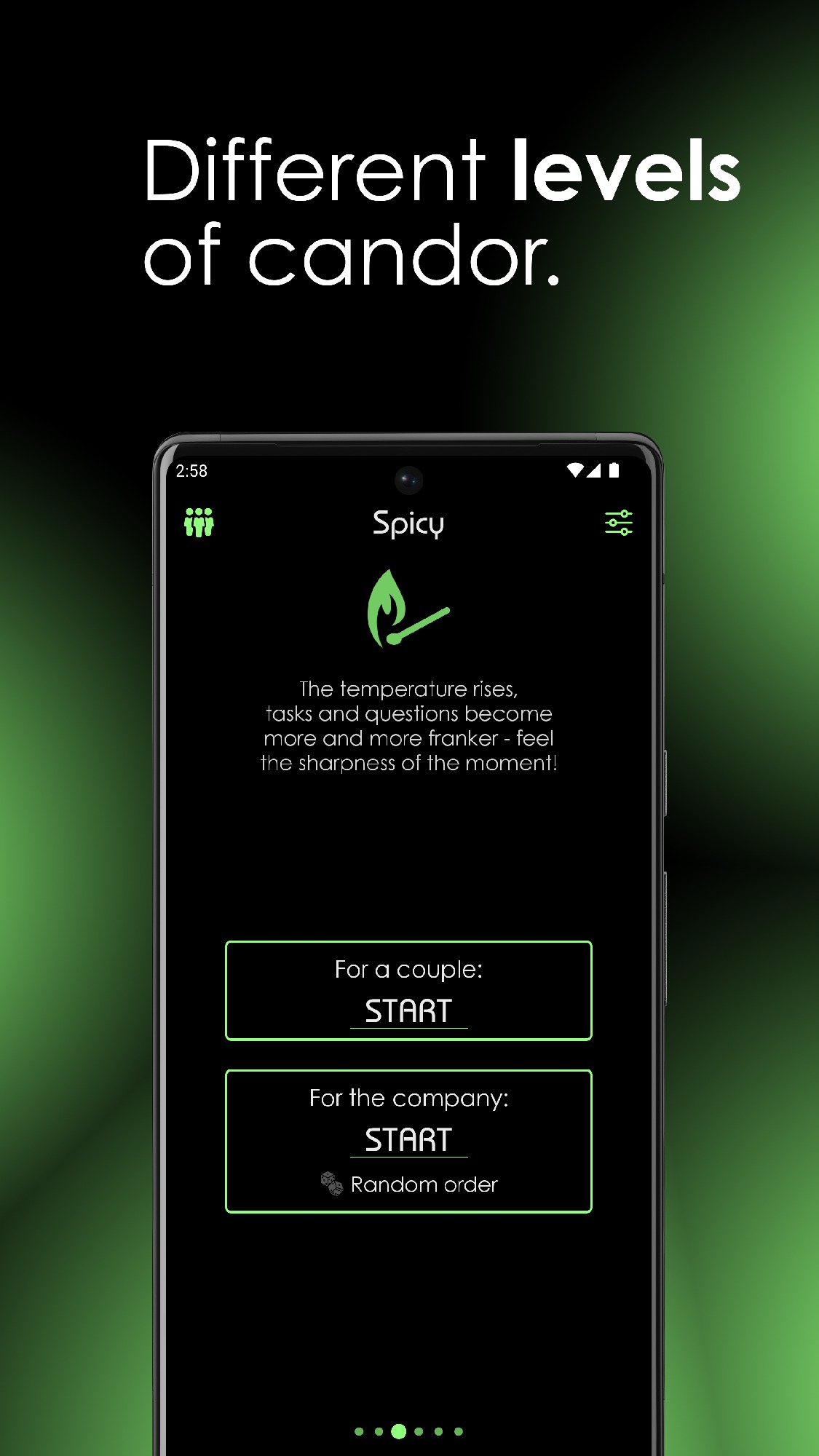 You may also like: 9 Best Dating Apps for Married People (Android & iOS)
Truth or Dare – Party Game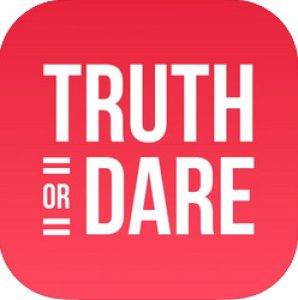 Do you want to make the party unique and crazy? Well, then this Truth or Dare application is a must for you!
When you start playing, don't be surprised if you have to kiss 5 people in a row, tell some nasty things about you, or switch your phone to Chinese. If you are ready, keep going.
Here are the best features provided by this Truth or dare Party game:
Choose one out of

three game modes

. The

easy one

contains some simple but fun questions. You can play it with teens and even kids. The

medium one

will be a perfect solution to play with your new friends or colleagues. The questions can be confusing at times but they are quite gentle in general. And finally –

the hardest one

. It contains tons of hot questions to play with your close friends.

You can

pick a card one by one or use the bottle

. We recommend the second option as it will make the game more unpredictable and dynamic.
The application is available for free with ads. They are quite irritating. To remove them, go premium. In this case, you will also get access to even more sets of questions and dares.
The premium subscription will cost you 1.99$ per week, which is very comfortable, as you can activate the subscription only when you have a huge party and disable it when you don't.
You can download the game on the App Store and finally make your party unforgettable!