Fashion is cyclical, as we all know, and trends often return after a while. The era of videotapes and video cameras has already passed by – it is hard to find a person who would buy a retro camera in our time.
However, the effects, that automatically appeared during shooting and photography, are stylish and beautiful enough that modern fashionists like. Despite the fact that such retro cameras are not relevant now, you can still get the effect of old photos.
We are not talking about that you just put a black and white effect on a photo or video. We are talking about special applications that turn a video or photo taken with a modern smartphone into real retro frames!
Some applications offer you to immerse yourself in that past atmosphere by transforming a video into a VHS footage that closely mimics VHS tapes. We've found 7 of the best iOS & Android apps for you to imitate VHS tapes in your newest smartphone.
You may also like: 11 Best Polaroid Frame Apps for Android & iOS.
RAD VHS Camcorder
A lot of celebrities use retro filters in their videos, social media publications, and so on. RAD VHS Camcorder is an application that will help you feel closer to popular people, as you will use the same effects as they do. Want to repeat a picture of Justin Bieber or Kylie Jenner? Then you'll need a special utility.
The RAD VHS Camcorder application has many different functions to help you process your pictures. These features include VHS-style shooting, changing the date displayed on a photo or video, editing a finished video, or shooting with filters applied immediately.
You can add some elements specific to your old shooting – like the date in the corner of the image, music, or something else. For those people who will be actively using the RAD VHS Camcorder in processing, it is possible to buy a paid subscription.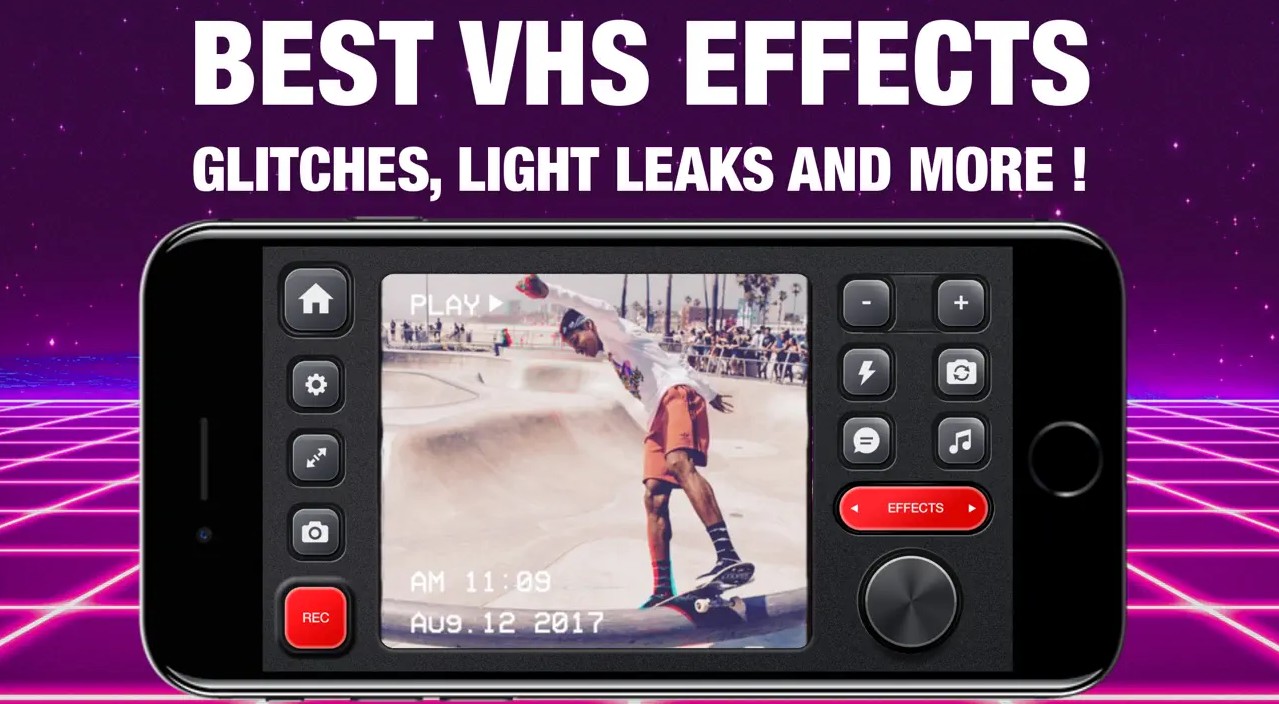 You may also like: 7 Best Apps to Add Fire Effects to Videos (Android & iOS)
Vaporgram: Vaporwave, VHS & Glitch Photo Editor
VHS is one of the effects often used in steamwave style. If you want to make your photos more aesthetic, you can easily use the Vaporgram app for this purpose.
It has a huge number of tools to customize and change your snapshots, and the interface is easy to understand from the first use. The user interface is inspired by the design of old computers, so you'll feel this style even during the editing
In addition to the VHS effect, there are other effects in Vaporgram – RGB, Glitch, 3D, and others. Also, you will be able to turn your photos into real Polaroid photos, which are becoming popular again.
Vaporgram combines an antique camera with different photo effects, as well as different elements and stickers that express the atmosphere of the pictures.
Customize the entire image to the smallest detail – even the thickness of the lines added to the photo. Use retro stickers for more style.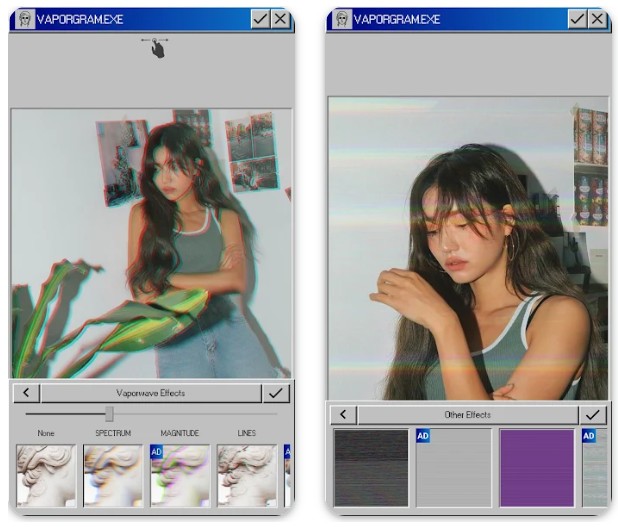 VHS Cam: glitch photo effects
This app allows you to achieve a fashionable aging effect on videos and photos.
This photo editor will allow you to make your pictures more creative. Add film effect, instagram, camera glitch, blown film.
The app interface is clear and easy to use. You can take a photo in the app and start editing it right away. You can select a photo to process from your gallery. To do this, you need to give the app access to your gallery.
The app makes it possible to shoot video already with glitches, effects. This is convenient, as you immediately see the result of your creativity.
When editing, you can also change the settings for light, color, sharpness, darken corners, and so on. After editing is complete, you can save the picture or immediately share it in social networks with their apps.
The app is quite popular. Some people find it on the recommendations of users from various social networks.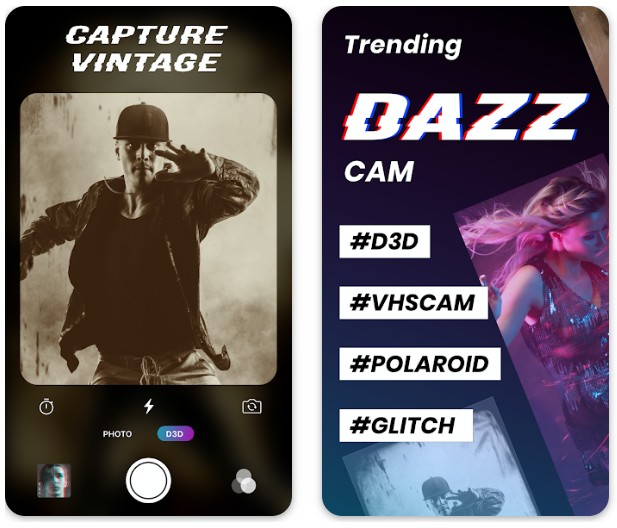 VHS Cam – Retro 80s Camcorder
The VHS effect is considered one of the best effects for the video that has ever been used. The effect automatically immerses you in the atmosphere you had in the '80s, and you can look just like you did when you were a child (either as a young person or just feel like you're in the past).
VHS Cam is an application that does a great job of emulating a real camera from the past, and that's why users download it.
Here you can start shooting videos with this effect right away – and then send them to your friends right away. It can be both a practical joke (look, I found an old camera!) and stylish and interesting content.
You can use your smartphone as an old camera because you can zoom in and out, as well as shoot in the realism style. The free version of VHS Cam has a time limit – it will automatically shoot if you buy a subscription.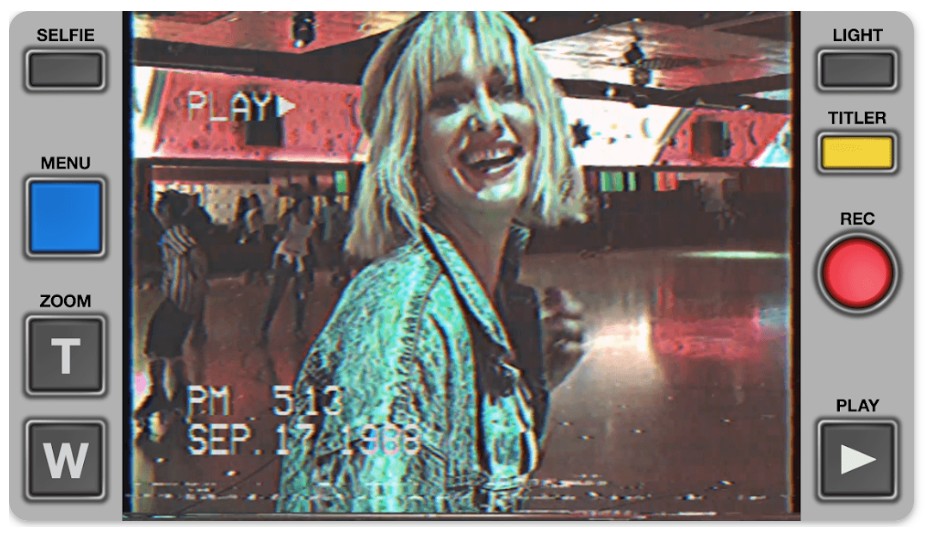 You may also like: 9 Best apps to create vintage videos on Android & iOS
VHS Cam – Retro Camcorder FX
This application has an incredibly simple interface that you will learn as soon as you start shooting. Your iPhone will turn into a vintage camera that records everything that happens around you.
If you decide to buy a VHS Cam subscription, you'll get a year of free access to a huge number of effects, as well as the full functionality of the app.
With the VHS Cam app, you can either shoot videos or overlay effects on what you've already shot. Since most retro cameras have a date displaying the time and date of shooting, it is also presented here. You can change it as you wish, as well as remove it from the image completely.
For taking pictures in the dark, your smartphone will automatically turn on the flashlight, which will also add excitement to the picture. Change the date, change filters while you're shooting and overlay sound effects and music to get great material.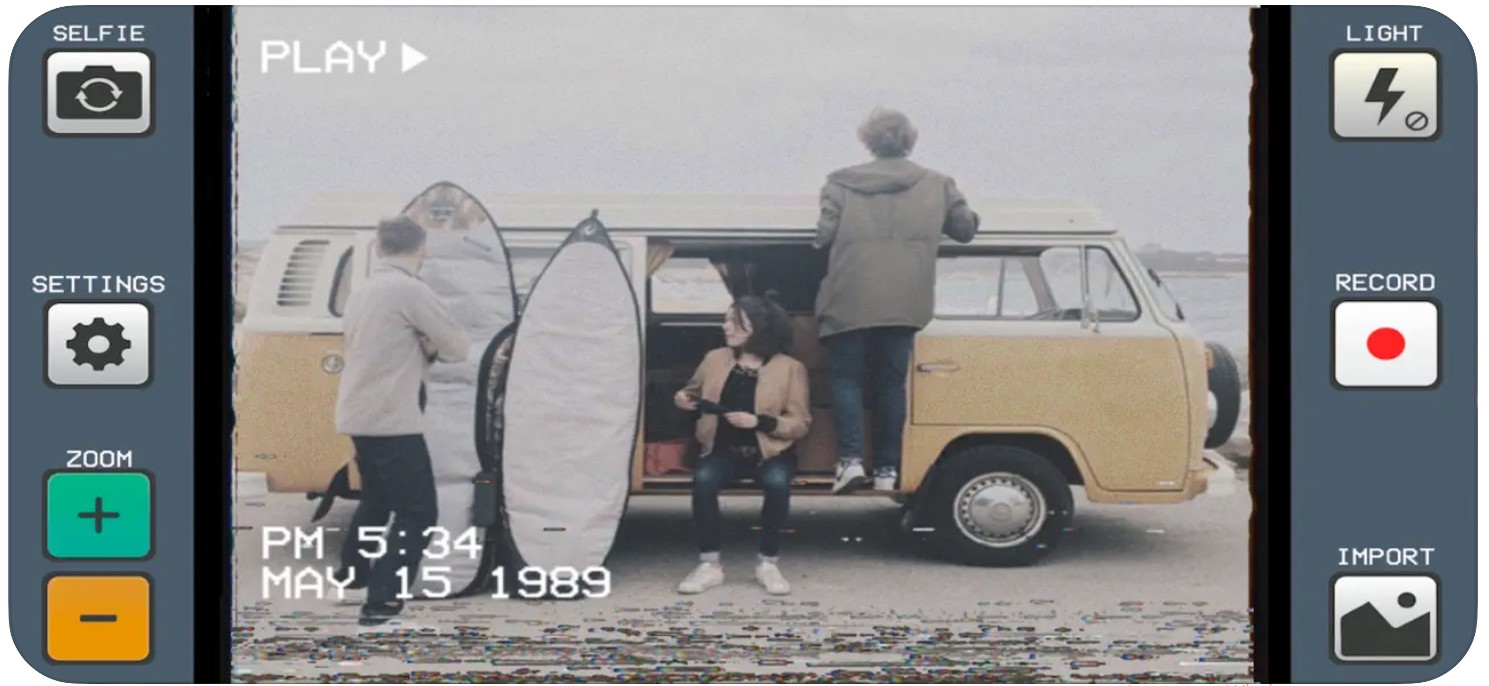 Camcorder – Record VHS Home Videos
In Camcorder, you can record videos and add a date and filter to them.
When you have first opened this application, you can download a video from your media gallery and the app will automatically add the date and time of the recording.
Users can also start recording a video within the app. If you want to switch your camera to the front or rear camera, you should double-click on the screen.
Moving on, the application also contains an embedded front flashlight. Thus, you can record videos in low-lit places.
Once all the videos are completed, tap on the Stop button. In the last stage, you can instantly save your videos or share them with friends or relatives.
One of the best features of this tool – you will not find any ads there.
To sum up, Camcorder will be an essential tool for all parties and events.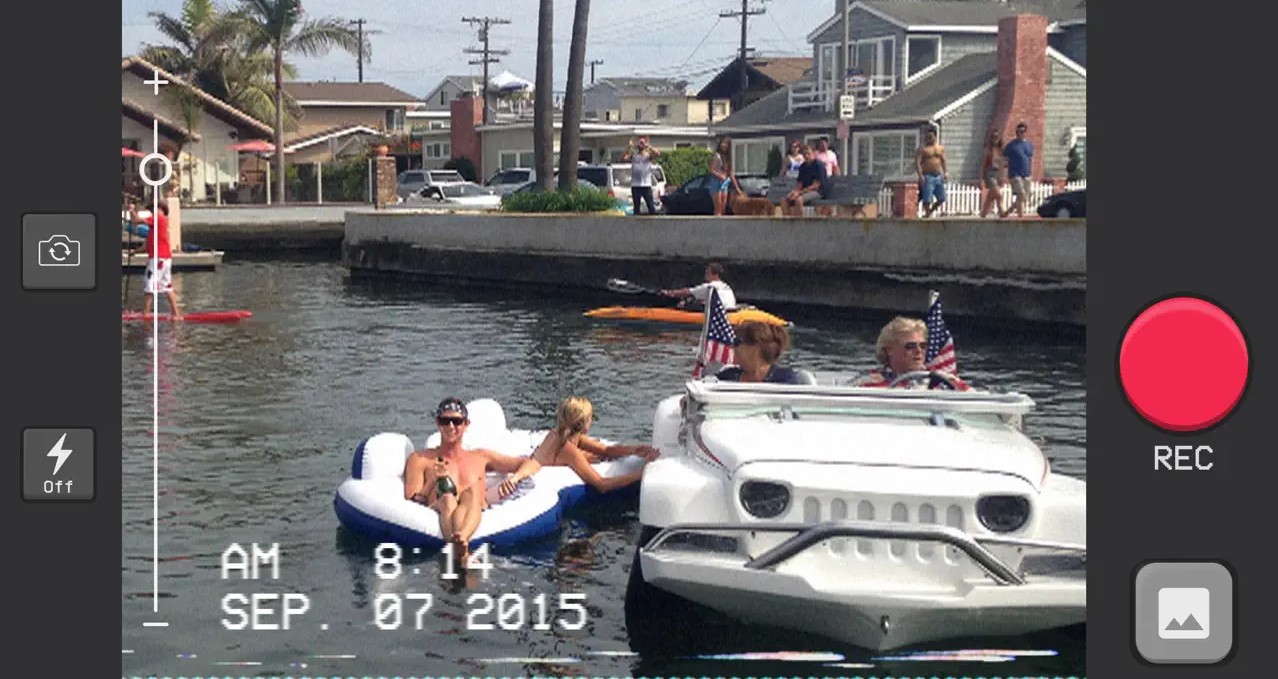 FIMO – Analog Camera
If you are in love with the style and beauty of photos taken with old cameras, now you can recreate them yourself.
The FIMO application has several different effects that allow you to turn a modern quality photo into a real retro card, which will contain all the features of a real photo. Dust, scratches, flickering, light leakage and more to match pictures from the past – it's all yours now.
All in all, FIMO has 7 different presets that follow the styles of different old film cameras. The photos you get as a result will look like real photo rolls and videos that were taken decades ago.
It is worth noting that FIMO has no advertising, and all filters are used for free. The effects you apply will really help your shot look very stylish.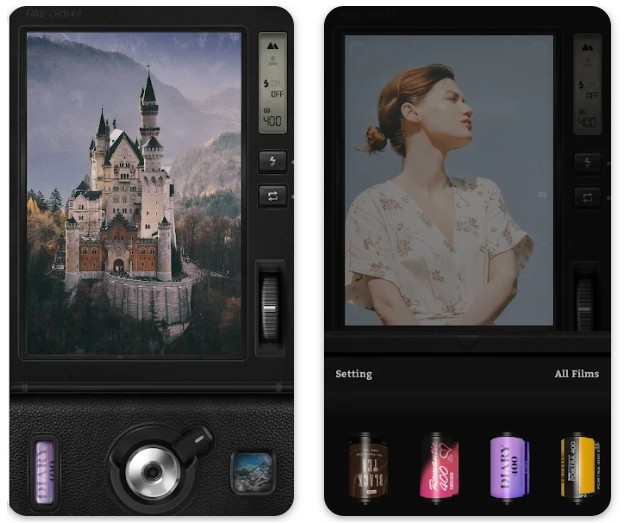 DSLR Blur Effects
DSLR Blur Effects is a photo editing tool that allows you to add realistic depth of field effects to your photos. The app provides various blur options, including radial, linear, and motion blur, that you can apply to selected areas of your photo to create a professional-looking bokeh effect.
You can also adjust the intensity, size and shape of the blur effect to achieve the desired result. The app also offers other editing features including adjusting color, brightness, contrast, saturation, as well as crop and rotate tools.
While the app provides useful photo editing features, some users have reported performance issues with the app such as slow processing times and occasional crashes.
Some users have also noted that the app's interface can be confusing, making it difficult for novice users to use it.
Application features:
Free and easy to use photo editing app
Lots of useful features to edit your photos
Application cons:
Periodic technical failures in the application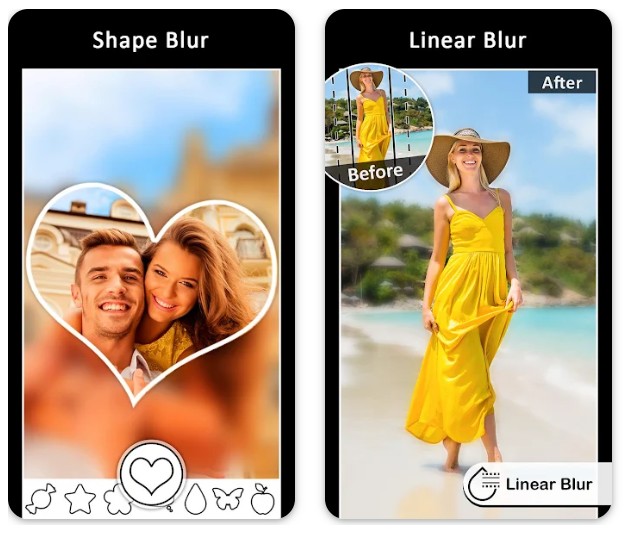 You may also like: 11 Best Apps For Combining Photos (Android & iOS)
Glitché
Glitché is a popular photo and video editing app. The app is designed to give your photos and videos a unique glitchy and distorted aesthetic. It offers a wide range of features and effects to turn your media files into works of art.
The features of the app include various filters and effects such as VHS, RGB splitting and pixel sorting just to name a few. You can also add music and lyrics to your videos and GIFs and export them in high quality.
In addition, the application has a live camera feature that allows you to capture and edit photos and videos in real time.
One of the main disadvantages of the app is that it is only available on iOS devices, so Android users cannot use it. Some users have also complained about app crashes and errors, but such issues are rare. Another downside is that some features and effects are only available in the paid version, which costs $4.99.
All in all, Glitché is a great app for those who want to add some uniqueness and glamor to their photos and videos. Although it has its drawbacks, it has received positive reviews and reviews from many users.
Application features:
Free and easy to use photo editing app
Lots of useful features to edit your photos
Application cons:
Periodic technical failures in the application