Every boy, and every girl, too, dreamed of being a scout as a child. Or at least police officers! After all, it's so exciting and interesting – investigate something, hide, work as a secret agent and talk to your allies through secret working channels.
In films and cartoons we have always seen that scouts talk to each other on the radio – so that no one could listen to their conversations and secrets of the state.
But radios are expensive, and professional devices are even more expensive than entertainment toys.
Of course, you can buy simple toys, but they will break down after just a few uses, or they will not work as real communication tools at all. But each of us today has its own Android or iOS smartphone, which we use for communication and conversations.
What prevents us from using them as a radio? Nothing! The developers have invented applications that fully imitate the work of a radio, allowing you to plunge into the secret world of negotiations and investigations. Even if you are an adult, it does not prevent you from trying them out.
We've decided to choose the 11 best and most plausible walkie-talkie apps for Android & iOS for you, and all you have to do is find them among the apps in the App Store or Google Play.
You may also like: 11 Best Offline Navigation Apps for Android & iOS
Zello PTT Walkie Talkie (Android, iOS)
When we started talking about walkie-talkie on smartphones, we couldn't ignore this iconic app. Zello is the most famous smartphone utility that will turn your device into a special walkie-talkie in minutes.
Talking about the popularity, we can immediately say that, for example, on Play Market Zello has more than 45 million users and more than 7 million reviews. Rarely can we find negative ones among them – basically, all users are satisfied.
For visual enjoyment Zello allows you to set up 2 color themes. You can change them in your smartphone settings. Once installed, you get an excellent connection – you can even record the messages you receive. Even if you're not using a headset, the sound quality will still be high.
Zello works in the background and constantly notifies you of new messages and calls. You won't miss a single call or call.
The app is also compatible with smart watches for Android and iOS – Mi Band, Honor, Apple Watch and more. You will be able to communicate in groups for free without having pop-up ads. Zello is the most famous application among walkie-talkie apps for a reason.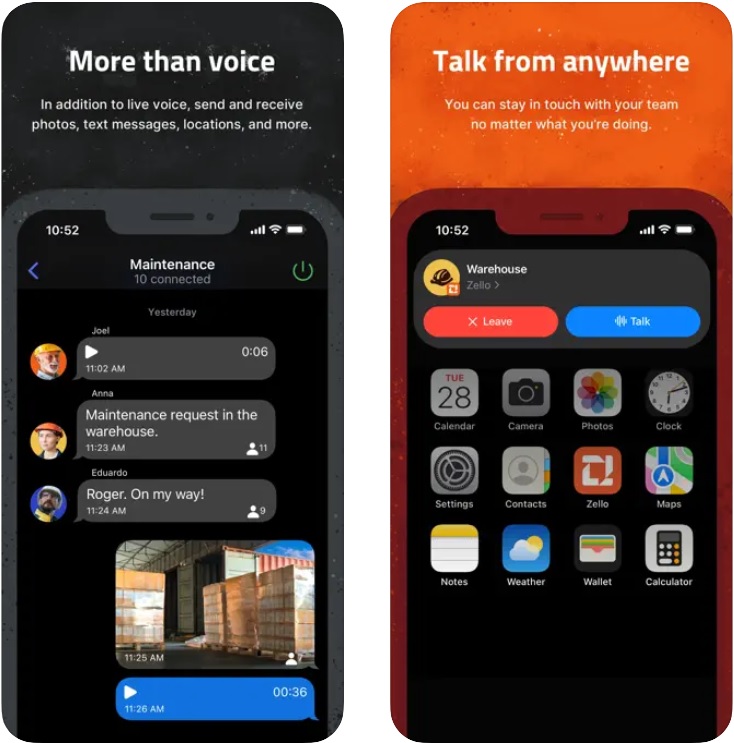 You may also like: 13 great free calling apps for Iphone & Android & Windows
Talkie – Wi-Fi Calling, Chats, File Sharing (Android)
In case you don't have access to the mobile network, either you have poor signal reception or you simply don't have a SIM card in your mobile phone, Talkie is a good solution for you. The basic principle of the application is to connect to a shared Wi-Fi hotspot, so you don't even need direct access to the Internet.
Like many of these utilities, Talkie supports group chats as well as private chats. You create an access point based on your smartphone and other users can easily connect and contact you.
In addition to standard communication, you can also provide people with access to certain files and directories on your device. This access will have the same speed as the router itself.
By the way, even if the signal is weak, you will still be able to maintain voice communication with users. The range of the access points usually varies from 50 to 150 meters, depending on whether you are indoors or outdoors.
Some people may find it pointless to have an application that only works with Wi-Fi connectivity. In fact, it is not. With Talkie you can communicate even where it wasn't possible before, for example, on a plane.
You can also organize communication inside the house, using only the router of your home Internet. In general, it can be concluded that in some situations Talkie will be a great help to you.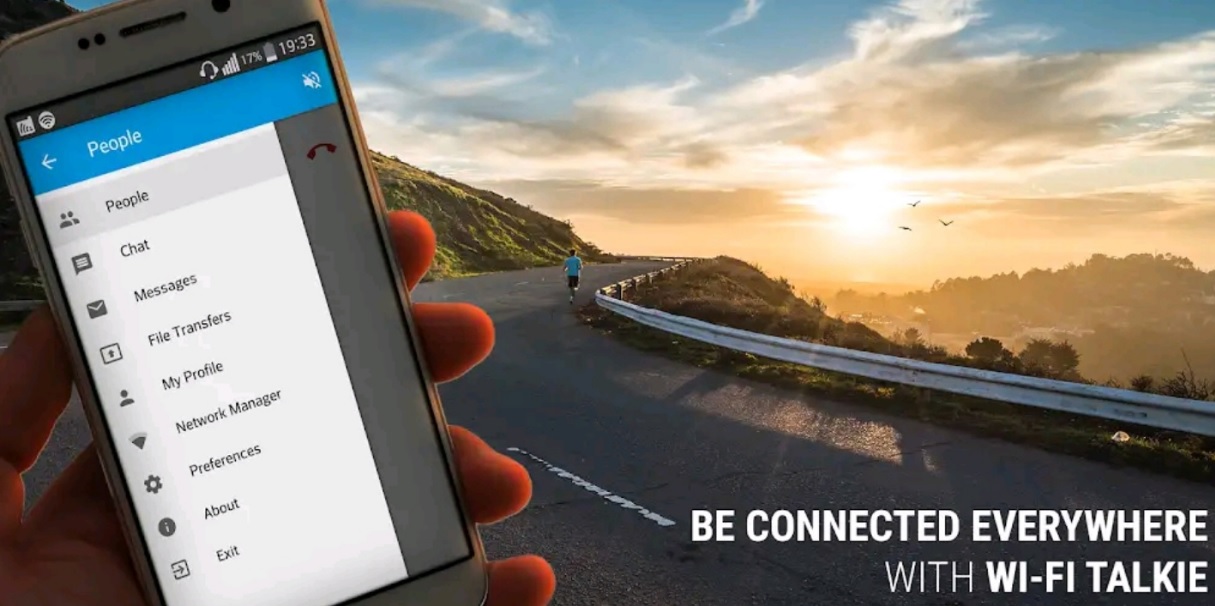 Two Way: Walkie Talkie (Android, iOS)
In case you don't want to go through the registration process, leave even the smallest of your personal data somewhere, you might like the Two Way app.
Due to the fact that Two Way doesn't store information, its energy consumption is low. That is, it is easy to call this application economical and suitable for continuous use without a high battery consumption.
The simple and intuitive interface will help you quickly understand the features of the service. One of the main features that is characteristic of Two Way is noise reduction.
You can also use a card, for example, to connect and communicate with another user. On it you can choose the point where the person you need is located and contact them. Of course, you will need to have your conversation partner connected to this channel as well.
As you can see, Two Way does not store your personal data. Accordingly, all communication channels are open and not confidential. So if it's incredibly important that you keep your conversations private and that no one can eavesdrop on them, then Two Way is not for you.
The app runs in the background, so you can receive a call or hear "Answer!" at any time. When you connect to the channels, your phone becomes a real walkie-talkie that can easily connect you to other people.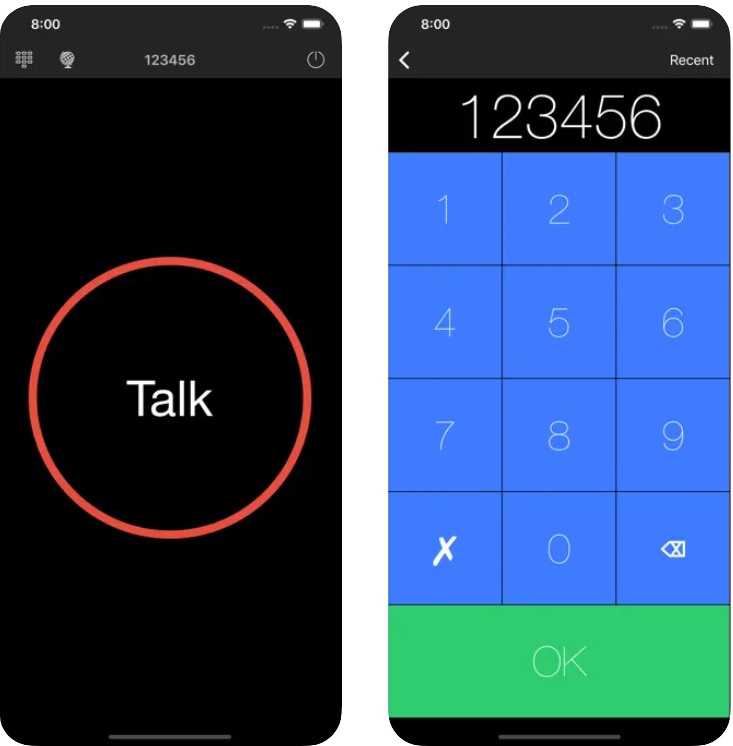 Voxer Walkie Talkie Messenger (Android, iOS)
Standard radio communications usually do not save the conversation on any device. However, you can fix this by simply trying to use your modern smartphone instead of a real radio. In fact, you can't even imagine how many functions and qualities your mobile phones can perform!
Working like a standard messenger, Voxer allows you to contact someone instantly without using cellular communication or waiting for a long time for an answer.
In addition to the banal voice message, you can use it as a messenger, voice mail or as an e-mail. Like WhatsApp, Voxer notifies you when someone else delivers, browses, or even typeset a new message.
You can start a conversation by pressing just one key. You can immediately connect with a group of people via a specific communication channel.
All basic functionality is presented in the usual version of the application, but there is also a Premium account, which requires constant payment – about $3 a month.
In this mode you can use Voxer even without being in the application itself, as well as manage the processes directly from your smartphone desktop.
All received messages can be saved and stored for 3 months – both voice and text. The possibility of autonomous use, intuitive design and clear functionality – all this makes Voxer pleasant for users.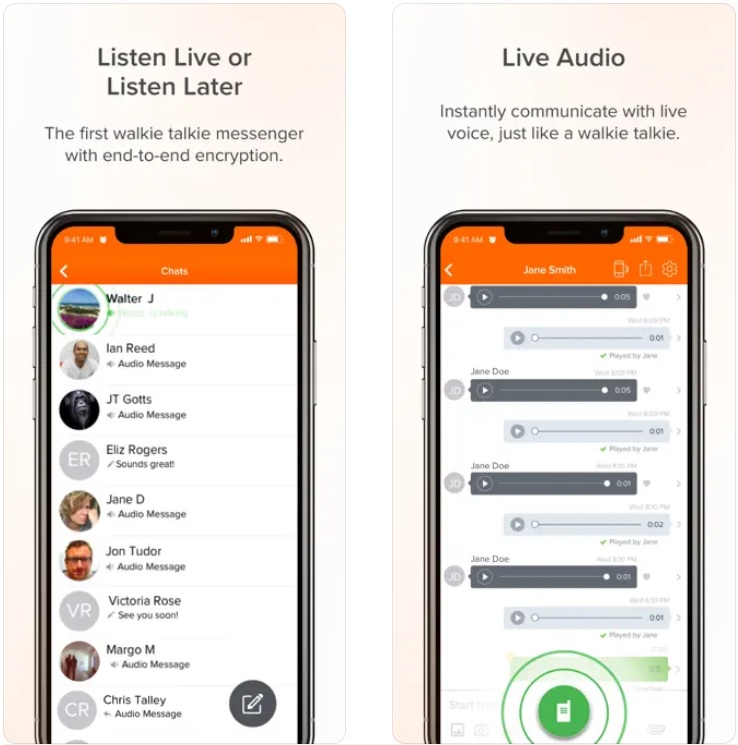 HeyTell (Android, iOS)
HeyTell is another popular application among walkie-talkie fans. If you wish, you can use it anywhere and all the time – the application can work both via wi-fi and mobile network – 3G, 4G, LTE, GPRS and EDGE.
HeyTell is completely undemanding in terms of connection speed, so you can easily use it even in case of a bad connection to the network signal.
The application itself is incredibly easy to use and you can get started immediately after installation. All you need to do is open the utility, find the right contact and connect to it.
In many such applications, the most important thing is not to miss a message, call or any other request. HeyTell supports PUSH notifications, which will simply keep you informed. Also, if you use the service on your iPhone, you can establish a connection to Apple Watch – the service supports this device as well.
In terms of security, we can say that the developers listened a little bit. There are three levels of privacy that can be set up in the app – everyone is responsible for whether or not any user can access your phone or call you.
However, most of the features provided free of charge are mostly presented only at a low level of data protection. So, when downloading HeyTell, be prepared for expenses. Although the application itself is free of charge, you will need to buy more features at the time of use to get the most out of it.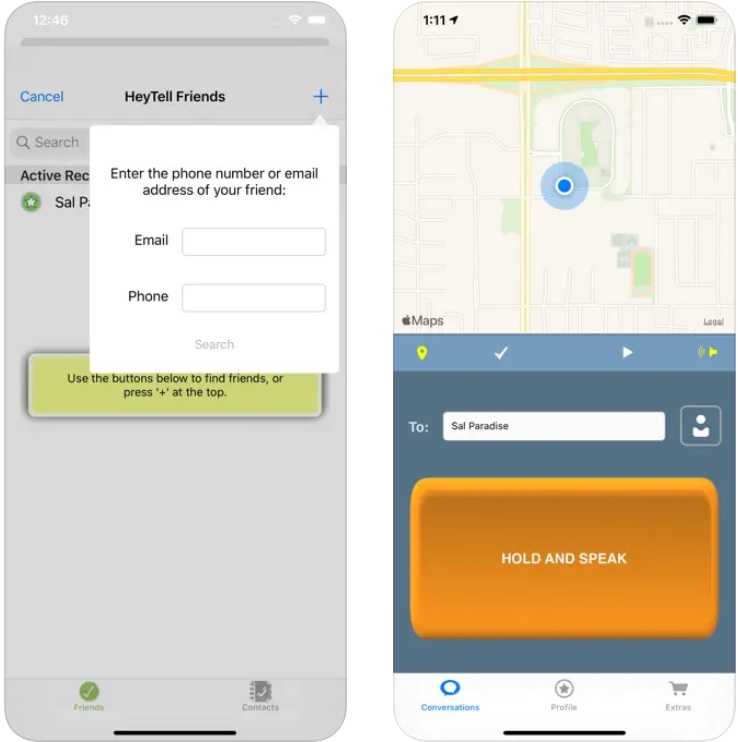 Hipal Walkie Talkie
Hipal Walkie Talkie is a useful and reliable communication tool for those who need to stay in touch with others in real time.
Users can create their channels or join existing ones, making it easy to connect with friends or colleagues.
The app also features push-to-talk functionality, which means that users can speak to each other in real time without the need for dialing or texting.
Also, while some users might prefer more eye-catching graphics, the app's minimalist design is well-suited for its primary function as a communication tool.
However, without a stable connection, users may experience dropped calls or delays in communication.
In addition, the app's push-to-talk functionality can be activated accidentally if the user's phone is not properly secured.
Advantages:
Simple and intuitive interface.
Push-to-talk functionality for real-time communication.
Ability to create or join channels for easy connection with others.
Drawbacks:
Reliance on internet connection.
Potential for accidental activation of push-to-talk.
Minimalist graphics may not appeal to some users.


You may also like: 11 Best Free Walking Direction Apps for Android & iOS
Dingtone (Android, iOS)
Free is what attracts people. Especially if the term refers to a useful application. Dingtone is a service developed for iOS and Android on the principle of Walkie-talkie.
You get assurances from the developer that when you connect to the Wi-Fi network, you can easily exchange messages and call your friends for free!
For those of you who don't want to type, or who think it's a waste of time, you might think it's much more efficient to use voice messages. In this case, the Dingtone was designed for people like you. You can start a conversation just by pressing a button – yes, it's really that simple.
International calls are made at incredibly low prices and with excellent quality – which is something even many mobile operators cannot do. No interference, no noise and no extraneous sounds on the line – just you and your companion!
You can also register several SIM cards in the application at once. So when you call you will be given the opportunity to choose the number, which will be displayed to the person you're talking to.
To summarize, we can say that Dingtone is great for making calls and performs not only the functionality of the radio, but also the standard means of communication, changing your smartphone. This is why they call it the must have application for communication via Wi-Fi!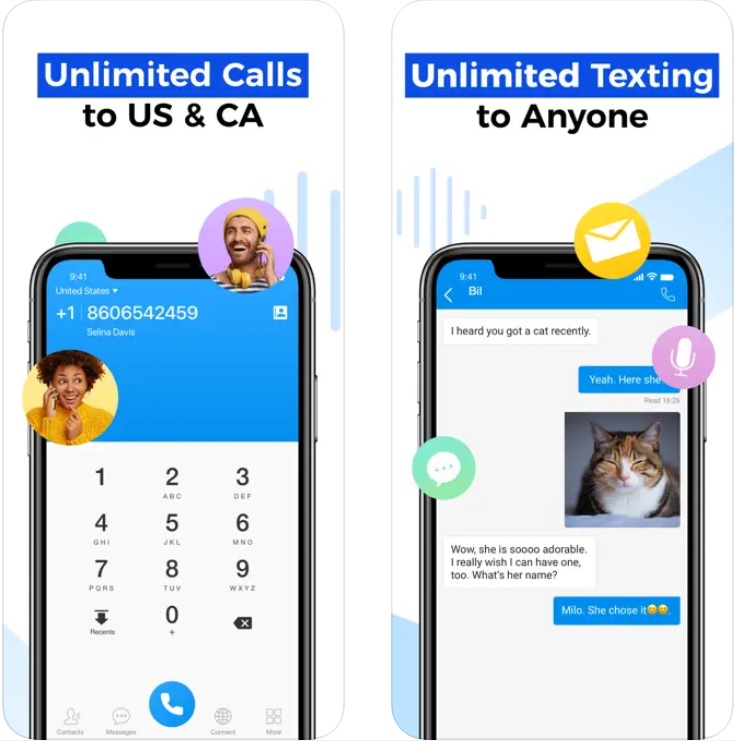 Online Walkie Talkie Pro (Android, iOS)
As we all know, the police have their own network for the walkie-talkies, but often other curious people can easily connect to their communication channels and listen to all conversations.
Online Walkie Talkie Pro works through the same open channel system that anyone can connect to and set up a connection with their friends.
The application requires access to some features of your smartphone. You will need to give access to the microphone, camera and memory.
The developers guarantee that if you don't hold down the voice recording button itself, the microphone cannot transmit or record what is happening. The camera will only be used when recording a video or photo.
The basic functionality is available in a free version, but it shows ads, as well as a limited number of channels. Online Walkie Talkie Pro has a total of 50 free channels that you can tune in with your friends.
In other words, you can ask a friend to set your smartphone to the 7th channel and connect to it yourself, so you can keep in touch. Keep in mind that you're not the only one using the channel – so anyone on the same wave will hear your conversations.
The scanning system will give you information about whether there is someone else on the channel besides you. You can find any least unloaded channel and invite one or more people to it at the same time.
Forget about calls and simple texting – Online Walkie Talkie Pro will replace many devices and turn your smartphone into a radio.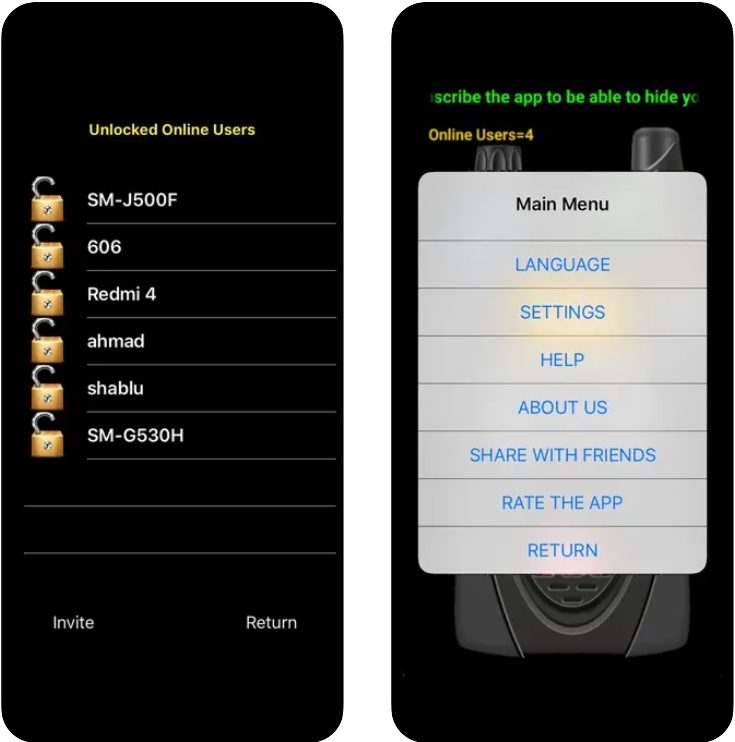 Intercom for Android (Android)
Of course, the Internet connection is not always available and convenient. In addition to Wi-Fi or the mobile Internet, many applications provide you with standard local connectivity. But Intercom also adds Bluetooth connectivity to this list of features.
Since we often face the situation that the terrain is poorly covered by the telephone network or just a weak connection, Intercom has adapted to these conditions.
Intercom works perfectly even when the signal strength is low. Also, if you're close to the person you're talking to, you can use a Bluetooth connection, so you won't even be interested in network interference.
Intercom has a voice recognition feature – this is how the app makes your speech clearer and does not transmit extraneous noises or surrounding sounds to the companion. You can also listen to your conversation partner's voice messages a little later – for example, if you can't talk at the moment or have no headphones on hand.
Intercom saves the history of your messages, so you can always view them again. You can also use stickers and smileys in your conversations, just like on social networks. You can make group and personal calls – Intercom is optimized for all conditions and requirements.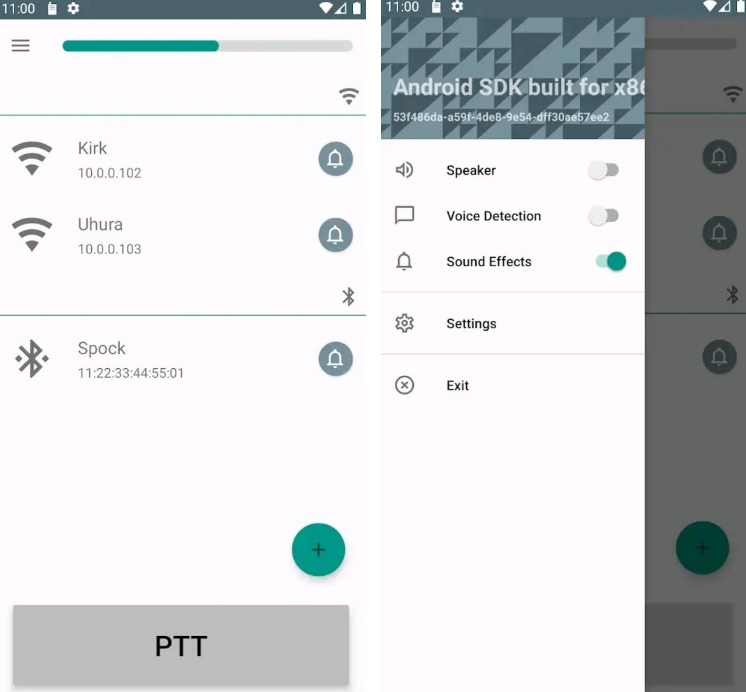 Walkie Talkie – Talk to Friends
Walkie Talkie – Talk to Friends is an app that lets users hear each other using this tool.
It is possible to create a profile and invite your mates to join the app. Once your friends get an invite, just start communicating with each other using virtual walkie-talkies.
The software works like a real portable walkie-talkie device. You should tap a button to talk and release it to listen. The app also allows you to send voice messages, which can be quite handy if you cannot communicate in real time.
Moreover, the interface is easy to navigate, and the walkie-talkie icon is quite cute. However, the lack of detailed graphics can be a bit of a downside for some users who prefer more visually appealing apps.
Anyway, there is a lack of features, such as the inability to create groups or channels.
Though, this app can be quite glitchy at times. Another downside is that the app does not work well with poor internet access. Users need a stable internet connection to use the app properly, which can be a hindrance in some situations.
If you're looking for a fun way to communicate with people, this app may be worth using.
Advantages:
Simple communication.
Cute design.
Voice messaging.
Drawbacks:
Glitches and freezing issues.
Lack of features.
Requires stable internet connection.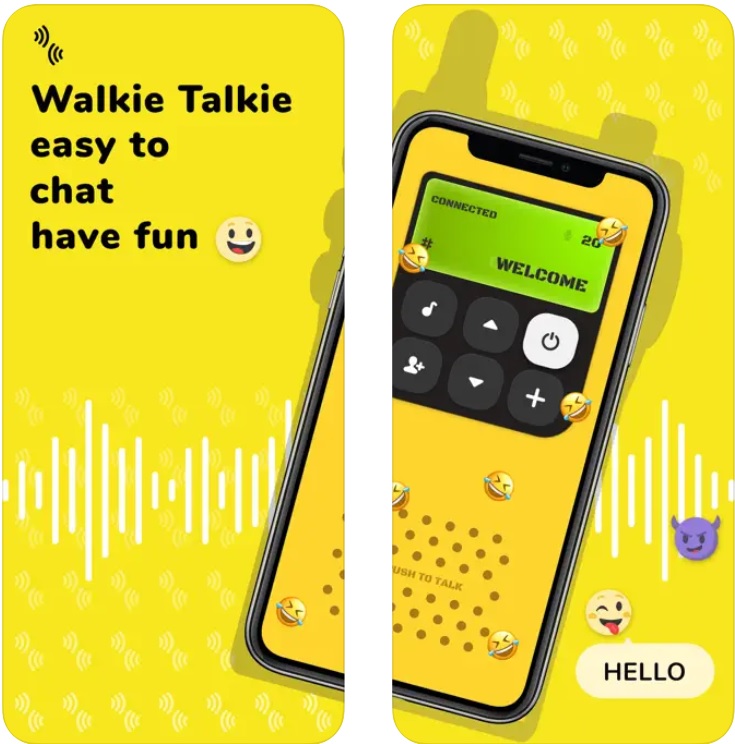 You may also like: 15 Best contacts apps for Android 2019
Walkie Talkie Pro Push to Talk
The Walkie-Talkie app is a popular two-way communication app that allows users to make free calls with just the push of a button. It's a great alternative to traditional walkie-talkies and allows users to communicate with others instantly.
The app is designed to be user-friendly and easy to use, making it an ideal communication tool for people of all ages.
As for design, the app's interface is basic. However, the simplicity of the design makes it easy to navigate, so it's not a significant issue.
Walkie-Talkie requires an internet connection to function. Without a stable internet connection, the app won't work, making it less reliable than traditional walkie-talkies.
In addition, the app's connection can drop or work incorrectly altogether sometimes.
Anyway, it's a great alternative to traditional walkie-talkies and allows users to communicate with others instantly. Also, the app is free, making it an excellent option for people on a budget who don't want to pay for expensive communication services.
Advantages:
Free communication.
User-friendly interface.
Simple gameplay.
Drawbacks:
Requires an internet connection.
Graphics could be improved.
Some users report connectivity issues.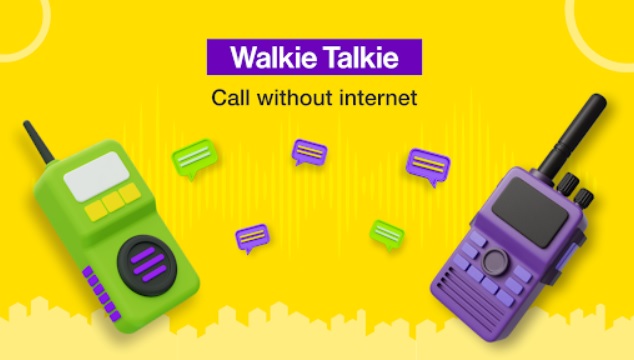 In fact, in order to feel like a little child, to play or just if you want to use the radio – these applications are perfect for you. You will be able to try out the real work of such gadgets without spending money to buy real radios or rent them.
Today, all smartphones can perform hundreds and thousands of different functions, replacing many other diverse devices. Wi-Fi router, phone, computer, book – and now your smartphone can become a real radio.
Just try to use it in this area – perhaps it will help you decide whether you need a real walkie-talkie or not. All you need to do is download the application you like!