13 Best Floor Plan Apps for Android & iOS
Today we review all of the floor planning apps that currently available on App store & Google Play and at this list are the ones that working stably.
What do you need to do before you start repairs in the apartment? If you want to enjoy the finished work, it is not superfluous to create a design project: unfortunately, many people miss this important step, planning the future interior only in the imagination, and in the end it may turn out that not everything is as wonderful as we wanted.
You may also like: 5 Best Home Value Estimator Apps for Android & iOS
To avoid such consequences, today it is customary to plan a room or apartment, where all details are taken into account: decoration, placement of sockets, size of furniture, color, etc.
If you had to sit down beforehand and draw very scrupulously, draw out all the details, today specialized companies can help to create the original design of apartments, they use special programs in their work.
Now, there are so many design applications that everyone can find a suitable tool: paid or free, professional or amateur. It should be noted that many programs for self-design allow you to create very decent plans, but they are not at all difficult to use: several minutes of familiarization with the interface and you are already a confident user.
Naturally, it is better to entrust the creation of a design project to an experienced specialist, but if you want to train yourself or develop your own creative potential by modeling the space of your room, then one of the following apps can be considered as a tool.
RoomScan Pro
The mobile application RoomScan draws a plan of your apartment in a few minutes.
This app can be useful to interior designers and architects, and ordinary people. With its help, you can easily get a plan for a room in a short time.
To get the layout of the room, you need to bypass it around the perimeter and lean the smartphone to each of the walls. The application will be able to calculate the distance to the walls and build a plan based on this data. And the RoomScan can do this for any form, not just for a square or rectangular room.
The authors of the application promise that the accuracy of its operation is quite high and the error does not exceed 30 cm.
The RoomScan is available in two versions, free and professional. The free version allows you to scan only one room, while the paid version gives you more options. You can scan several rooms and the RoomScan will connect them together to create a full-fledged apartment plan.
You can even choose the color that you like best. In addition, in the Pro version, you can add the location of the doors, rather than drag them into the ready-made plan of the apartment, as in the standard version.
In the paid version, users can put on the plan elements such as windows and doors, as well as manually enter data on the size of the elements of the room and the distance between the walls.
IOS version
You may also like: 9 Best home assistant apps for Android & iOS
Floor Plan Creator
The Floor Plan Creator program offers you not to draw plans for a permutation by hand, but to do it right on your Android device's screen.
To begin with, you will be asked to create a contour of the room, you can choose one of the suggested sample templates or draw the walls simply "by hand" while not having to worry about their curvature, the program easily equates not smooth places and you will only have to specify the dimensions.
After creating the walls of the room, you can deal with internal partitions, if any, and place windows, doors, balconies and stairs. Well, then you can arrange furniture, though its assortment in the program is not very large, but in order to think over the overall layout – this is enough.
You can change its size and color on the plan. The Floor Plan Creator has all the necessary features to allow you to dream a little about the layout in your home.
Features:
Preset samples and shapes of objects.
The ability to draw lines and shapes by yourself using S-Pen.
The ability to recognize objects with the camera and augmented reality.
Objects of furniture.
Synchronization, cloud storage.
Ability to save the project as a picture.
The Floor Plan Creator application allows you to track changes at each stage of repair and construction and make corrections on time, if necessary.
In addition, you will become a true designer and architect, because you will learn to understand the intricacies available only to professionals.
Android version
Home Design 3D
Home Design 3D is an application for beginning designers and all smartphone users who plan to repair or simply like to fantasize about the theme of the interior.
This program is a balance between functionality and ease of use: without even understanding the drawings, you will be able to compile a 3D room design.
Application work
You can work in 2D mode – make plans of rooms with the arrangement of window and door openings. At this stage, the configuration and main dimensions of the rooms are specified.
Then, you can go into 3D mode and work with the 3D model. Considering the interior from different angles, you can arrange furniture, equipment, selecting the necessary objects from the program database.
Features:
simple and intuitive operation;
a decent set of functionality;
the spacious base of objects – all necessary items of furniture and finishes;
3D and 2D modes of drawing.
Functions of the application
The program Home Design 3d is designed so that everyone can easily model the future vision of his apartment – this does not require special signs and skills. The full version of the program has an extensive base of items – furniture, decor elements, items of equipment.
You will be able to develop plans for rooms with furniture layout, and also develop a volumetric visualization to look at the future situation from all angles. Create your ideal environment in this program.
Perhaps, this application will help you come up with a future apartment design or simply dream, having developed an ideal interior. All commands are executed easily and quickly – you can easily master the application!
Android version
Sweet Home 3D
Sweet Home 3D is responsible for designing the interior of rooms in a 3D image. Together with this utility, you will be able to create a plan for the house and its individual rooms, arrange the accessories, proceed with the fascinating process of arranging furniture, as well as other interior items.
It is worth noting that the design program has an impressive collection of samples with furniture. It is possible to control the color gamut of all necessary elements.
Sweet Home 3D features:
Provision of visualization of finished projects in both 2D and 3D.
A large set of furniture and other required elements for interior design.
Replenishment of embedded content from the official site.
The developer eTeks implemented the possibility of saving your projects on the computer.
Availability of open source code in the popular Java programming language.
The latest version of the utility.
PROS:
The high speed of forming and subsequent visualization of the program of interior design.
Convenient and tightening process of arranging furniture, decorating rooms and creating a design of your house.
Sweet Home 3D is a free program whose functionality can be compared to paid analogs.
With the help of the program, you can save projects in the format of obj, as well as svg, pdf, and others.
Possibility of 3D viewing of ready models of furniture, design of rooms and so on;
There are versions of Sweet Home 3D for both the Windows operating system and Mac OS.
CONS:
During the viewing of projects in 3D, it is possible the appearance of brakes related to the load of the computer.
Sweet Home 3D will be an excellent assistant in creating the design of your apartment and its specific rooms. Use a range of options and tools, choose from an impressive list of different types of furniture, change its color scheme and much more.
The program offers not only quick and quite fascinating interior design of your house, but also provides functionality for viewing finished projects in 2D or 3D modes. Do not forget to save your projects in the memory of the computer, because they can come in handy in case of planning and realizing the real repair of the apartment.
The application has very comfortable controls and does not take much space on the computer, providing you with the main advantages of professional modeling of the interior design.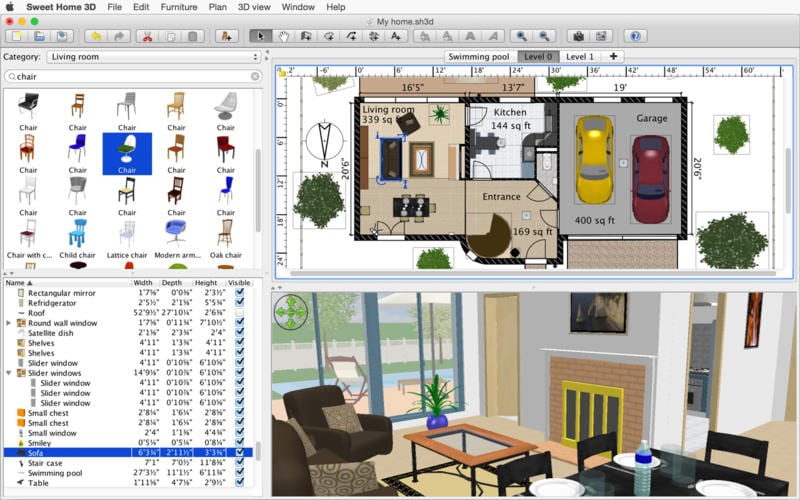 IOS version
MagicPlan
Brilliant in its simplicity, a planning application that uses a tablet camera and tags on the screen in order to take measurements of the room and immediately show the finished plan. An integration is provided for laser meters (via Bluetooth).
Excellent cope with the rooms, densely pinned furniture. Projects are saved in pdf, jpg and on their own website.
For an additional fee, you will get an access to the dxf format. In the application, there is a very large assortment of all kinds of furniture and decor objects, each object contains several modifications for more lethal interior design.
The MagicPlan application will be very useful for both professional designers and ordinary iPhone users. The main advantages of the application are visibility, simplicity, convenience and, of course, pleasant impressions of use.
IOS version
Android version
You may also like: 11 Best home planner apps for Android & iOS
Roomle
The main advantage of this application: to use it, you do not need to be a professional from the world of design. Intuitive options allow you to make an apartment plan easily and quickly, as if you are drawing by hand, only instead of a pencil – fingertips.
You can realize all your ideas and see what the apartment will look like after the redevelopment. Choose the material and color of objects, arbitrarily change the width and height of partitions, add windows and doors. Do not want to build "from scratch" – load the existing drawing as a background and build a new plan on its basis.
Though the 3D visualization is not the strongest side of Roomle, but to make a sketch "view from above" with the observance of all proportions with the help of this application, it definitely will not be difficult for you.
IOS version
Planner 5D
Planner 5D – is an application for interior design, in which anyone can create their own unique project. The functionality of the program allows you to realize all your ideas.
To work with this application, the user does not need to have any special design skills or be a programming guru. There is no need for any long and complex training.
Within a few minutes of getting acquainted with the program, you can realize your design ideas. They can be implemented from scratch, or from a demo project.
It is very convenient to work with projects under development since it is possible to view them not only in 2D format but also in full-fledged 3D. When working with projects, you can change absolutely everything, including the area, windows, partitions, etc. The program provides everything to the smallest detail.
The application is well optimized, so there will not be unpleasant crashes or hangs during design development. It can be used in tandem with Google Cardboard. All downloads happen pretty quickly. The user should remember that the program is shareware.
In order to use the full toolkit, you will have to watch commercials in some cases, and in others – to buy a subscription or unlimited access. Planner 5D – is an excellent tool for developing your own design with a wide range of functions that can satisfy even the most extraordinary requests.
IOS version
Floorplans Pro
Plan the room together with an easily managed application. Thanks to the uncommon interface, you will make up a floor plan without much difficulty. You have the ability to import existing plans, add notes and send plans by email.
There is compatibility with PDF.
Create a new layout or choose existing ones.
The ability to import files.
High-resolution mock-ups.
Add notes or drawings.
Ability to create a complex layout.
Huge selection of furniture interior.
Calculation of the area and the entire footage of the room.
IOS version
Floorplanner
Floorplanner is an application with very rich functionality that helps to draw any plan of a residential or non-residential space.
First, you draw the capital elements: walls, windows, doors, stairs, plasterboard structures, etc. Then choose the type of room. The following types of premises are available:
living room;
bedroom;
kitchen;
bathroom and toilet;
garden;
office premises;
warehouses;
entertaining establishments.
For each type of room, there is a huge range of furniture and accessories. By the way, you can use items in your room from different categories.
When placing objects and capital structures on the plan of the room, all movements are accompanied by "dynamic rulers", so the plans turn out to be very accurate. By the way, to the credit of developers and our pleasure, you can choose a metric measurement system.
How to show the world the result of your work?
The created plans of premises can be "conveyed" to those for whom they were drawn in several ways:
Send by e-mail directly from the editing window.
Generate a raster image, ensuring the readability of the plan on almost any modern electronic device – from mobile phone to PC.
Generate the code to place the flash widget on the site (in the same way as you do with the video from YouTube).
Get a link to the created plan of the room for viewing by its target audience from the Floorplanner site.
The great thing about this service is that its basic functionality costs nothing, which means drawing only one floor and five rooms maximum, but for the usual user who started repair or redevelopment – this is enough!
IOS version
Android version
Floor Plan 3D
This is a unique program that is very easy to learn, has a lot of hints, an intuitive menu, but at the same time absorbed a huge number of functions from the professional services.
Floor Plan is great not only for the interior planning of rooms and apartment redevelopment but also for creating a design project for the whole house together with a private plot.
The program has excellent graphics and great realism. So, you can choose any finish for the ceiling, walls, floor, choose any color of furniture and immediately compare how the colors and textures used are combined.
The service is simply indispensable when you need to design multi-level ceilings, create a project for a huge house. There is an opportunity to calculate the area of the room and choose furniture depending on the parameters of a particular room, not to mention the huge number of possible options for decoration.
The program eventually creates three-dimensional images that strike with its realism. This is the advantage of this application from many others because not everyone provides an opportunity to evaluate the created interior from any point.
Android version
Roomstyler
Very useful service that allows you to quickly sketch out the layout of a room or apartment quickly and without preliminary preparation, and as a result, you get a realistic three-dimensional image.
To get started, you need to register or login via Facebook. The interface of the program Roomstyler is intuitive. If you have any questions, you can see the video tutorials.
This resource positions itself as a community for self-taught designers.
This is a real social network in which you can communicate, find friends, follow new projects of successful designers, and also display your creations for everyone to see.
IOS version
HOUSE SKETCHER
You know, sometimes there is nothing better than just using simple 3D methods of modeling to make the project of floors. This app allows you to model everything in 3D mode.
Here you can create an image of your house – from the inside and outside – just like in the famous Sims game. Using the templates and tools in the app, project the walls, floors, doors, windows, and everything. You can even create a project of the backyard if you wish and add the decoration elements – of course, if you want.
The modeling of the roof is available as well. All the scales and measurements are highlighted when you point the mouse to a certain object. Moreover, there are hundreds of items of furniture for inner decor and thus you can measure if one or another item is going to fit the space.
The only drawback of this app is that the graphics a little bit obsolete and pixels are extremely visible on the picture.
The outfits that you made you can save in your library and share with the community. You can also explore the community to get inspired. In your free time, you can construct several daily outfits for each day. All in all, this is a nice app but in our opinion, it's a little bit too much of everything here.
Android version
IOS version
You may also like: 11 Best Home Security Apps for Android & iOS
Floor Plans House Plans Ideas
If you are going to build a new house, hurry up to download Floor Plans House Plans Ideas. The application allows users to choose from assorted house plans and blueprints.
Despite a great variety of options, the app is extremely lightweight. Thus, the installation will not last too long.
When you first open the app, it provides users with simple guides. After that, you will gain access to the extended list of house plans. Scroll down the screen to check all of them.
But we have to warn you that this tool has the only significant drawback – irritating ads.
Android version