Nowadays the modern market provides us with all types of food we could ever imagine. However, the food we see on the shelves of supermarkets is not always the best choice!
It goes without saying that the food you eat should be well balanced and healthy. If so, you will be able to fight obesity, some other diet-related diseases, and keep fit.
You may also like: 11 Best calorie counter apps for Android & iOS
Use the list of Weight and Food calculator apps for Android and iOS to work out your personal diet, find the motivation to achieve your weight goal, stop being lazy while exercising and combat weight loss difficulties!
Lifesum
Lifesum – Diet and Food Diary is an app that acts as a personal instructor for your healthy lifestyle. No matter what your goal is (achieve your weight goal or just make your diet healthier), the app will work out a perfect diet for you!
This app was highly ranked as the Editors' Choice app and the Top Developer app in 2016. With Lifesum you will see how much your life can change if you modify your daily eating habits!
The individual diet plan recommended to you by Lifesum is based on your preferences and your physical parameters (age, gender, weight, height, and some others). Various types of diets are available: from a low carbohydrate diet to a high protein diet. The app will choose the one that suits you best.
Apart from diet recommendations, Lifesum provides you with tips for making your diet healthier, and tips for daily physical exercises. It also brings you motivation in the order you continue moving towards your goal weight step by step. Daily reminders will not let you forget when you should eat or drink.
Lifesum also disposes of such invaluable tools as a calorie counter and a barcode scanner. The former lets you keep track of your calorie intake while with the latter you can easily track any product and find out about its content.
A macro tracker is another tool that controls whether you have reached recommended calory, fat, proteins, and other macroelements intake.
Lifesum can be synchronized with HealthKit and Google Fit and Samsung Health for Android. There also exist Lifesum Premium subscriptions for 3, 6, and 12 months. With Lifesum Premium there is a possibility to synchronize the app with such apps as Endomondo, Fitbit, Jawbone, Moves, Nokia Health, and Runkeeper.
Download Lifesum and start your journey to an ideal body and to a healthy lifestyle.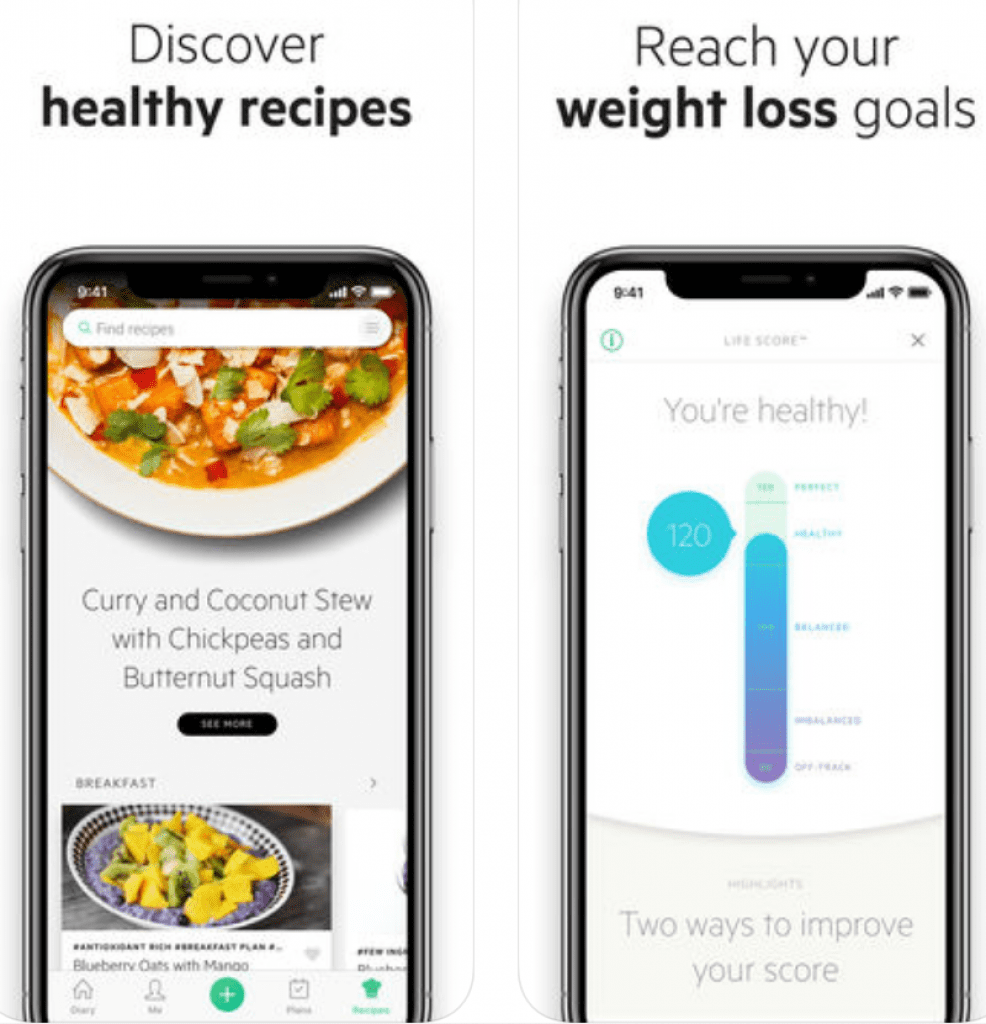 You may also like: 33 Best Health Apps for Android & iOS
YAZIO
Calorie Counter app by YAZIO permits you to control your daily food consumption and track your workouts so that the process of losing weight is nowhere as simple as it has been before!
YAZIO combines all necessary tools you need to achieve your weight goal: calorie counter, food and nutrition tracker, food diary, inbuilt personal diets and exercise programs, barcode scanner, and many others. You can also keep YAZIO in sync with Health App and SmartWatch.
There exist a YAZIO PRO extension. It will provide you with some extra functions, such as various nutritional plans. adapted to your diet; more than 100 recipes of healthy meals; diet and body statistics; extended nutrition tracker; no advertisement, etc.
According to the statistics more than 6 million people have achieved their goals with YAZIO. Join this team now!
MyPlate
MyPlate Calorie Tracker is a user-friendly weight and food tracker app. It provides you with such invaluable tools on your way to your goal weight as food database more than 2 million foods available; barcode scanner; weight tracker; water intake tracker, etc.
Monitor your food, water, nutrients intake and manage your desired ratio of nutrients with easy-to-read charts
If you need professional dietary recommendations, follow the 8-Week Meal Plan of healthy meal suggestions provided to you by MyPlate Calorie Tracker. You can even choose your preferences for diet out of omnivore, vegetarian, vegan, and gluten-free. If you need a training program, check an inserted program of workouts.
In case you lack the motivation to continue struggling with extra weight, a community of like-minded people is there to provide you with support, pieces of advice, or useful tips 24/7.
If you're an iPhone user, you can synchronize MyPlate with Apple's Health app.  iPhone, iPad, and Apple Watch are all supported by MyPlate. Along with a free version of MyPlate Calorie Tracker, Gold membership per month, per 6 months, and per year is available.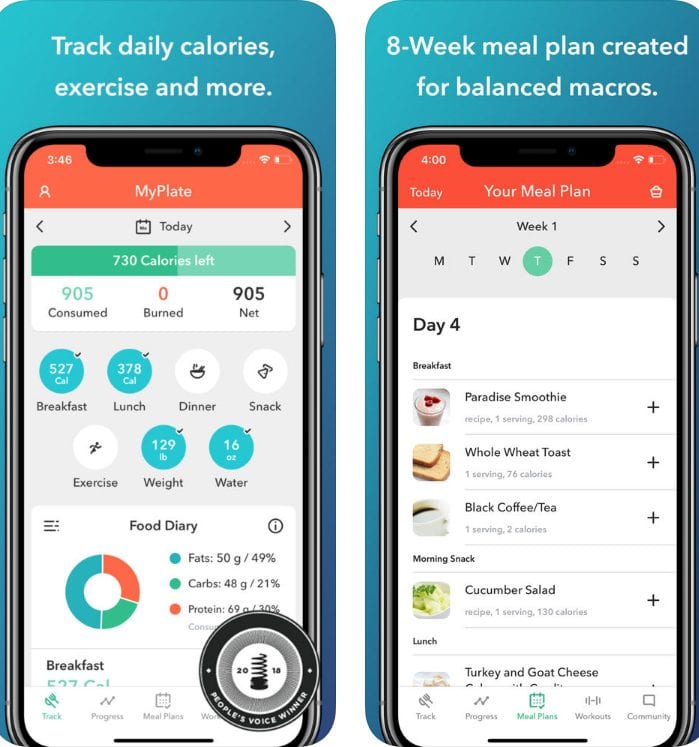 Carb Manager: Keto Diet App
In case you have already studied the subject of dieting and losing weight and healthy eating in general, you probably know that carbs are one of the main reasons why we gain weight. Moreover, carbs are probably the most tricky aspect of any meal plan – the type of carbs that you consume does make a difference.
The developers of this app took all mentioned above into consideration and made this Carb Manager that will help you on your way to healthy and effective nutrition.
The best advantage of it is that it doesn't just count calories or food weight, but it gives a wise approach to each diet taking into consideration your personal health features and counting nutrients that you actually need.
When you are eating a meal, you can just take a picture of it and the app will recognize it automatically and will count home many nutrients does this meal has. This app makes sure that you are supporting the right and healthy diet and, of course, it is going to be the low-carb diet.
The calculations of nutrients that it makes is extremely precise and detailed: it calculates total carbs, net carbs, fat, calories, protein, glycemic load, and even more. If you have no idea about low-carb meals you are free to browse through the base of recipes, that counts around 1 million various dishes.
And, of course, Carb Manager can compile a personal nutrition plan just for you.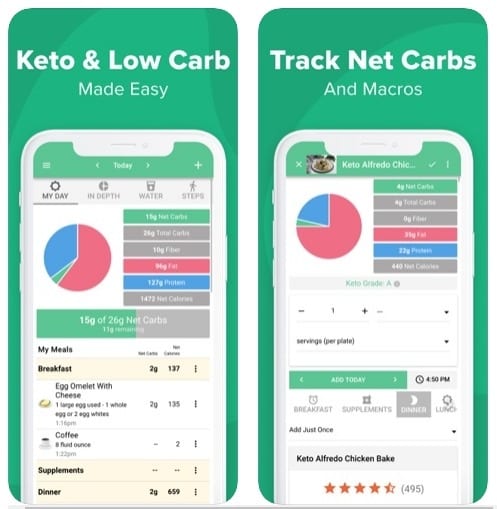 Calorie Counter by FatSecret
Since the calorie counting was claimed one of the most effective tools on the way to a fit and beautiful body thousands of various tools have occurred to help you to count the calories. However, there are only few really good apps for that on the market and this is one of them.
This app can become your complete nutrition manager by compiling a suitable menu depending on what you eat, counting the calories that you consume, and tracking your progress day by day. Besides, Calorie Counter is able to synchronize with other fitness and workout apps on your phone, so this way it can provide you the full statistics of your diet.
Another obvious thing that this app does is that it keeps track of your weight. There are more than 500 thousand recipes to choose from on a daily basis and each portion has the precise measurements of its weight, nutrition, carbs, proteins and so on.
One more cool aspect here is that you can choose the menu in the specific style: Keto Style, Balanced, Mediterranean, Intermittent Fasting, High Protein Low Carb.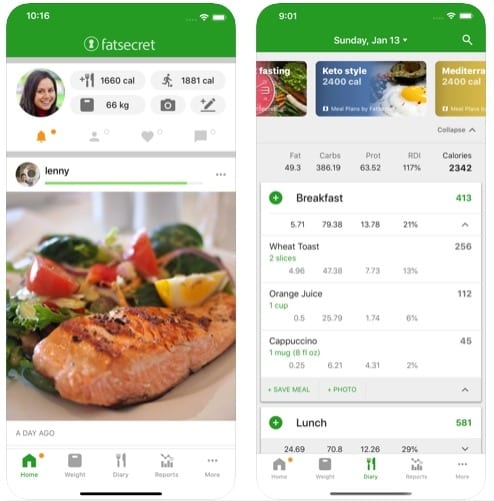 Lose It!
Don't hesitate to join 35 million people who have already started their way to lose extra pounds with Lose it! 3 days on average is a time period that allows users to see the results!
Almost 75% of users have achieved great results using this app! With over 15 million food and exercises available, an easy-to-use app Lose it! helps you to track your progress on the way to your perfect shape.
Lose it! – Calorie Counter is a user-friendly app. Log in, enter your data and the app will calculate your recommended daily calorie intake. The only thing you need to do is to adhere to it!
Lose it! disposes of a number of peculiar features: convenient barcode scanner; meal planning tool; capability to synchronize it with other trackers and devices (Fitbit, Healthkit, and others); tools that allow you to track your daily nutrients consumption, water, and calories intake, blood pressure, exercises; possibility to create weight losing games and challenge your friends to help you stay motivated on the way towards your goal; pieces of advice that will explain to you what prevents you from progressing, etc.
What is more, in 2016 Lose it! was nominated to CES Innovation Award Winner for providing the users with the ability to log food and meals by taking photos with Snap It.
There exist free and Premium versions of Lose it! Premium version provides the users with additional useful tools with the help of which 3 times more efficient results are achieved.
Here we can mention DNA-based insight recommendations on your diet, forming small communities (not more than 30 people) to work together on your personal goals, etc. Download and try this weight and food calculator app right now!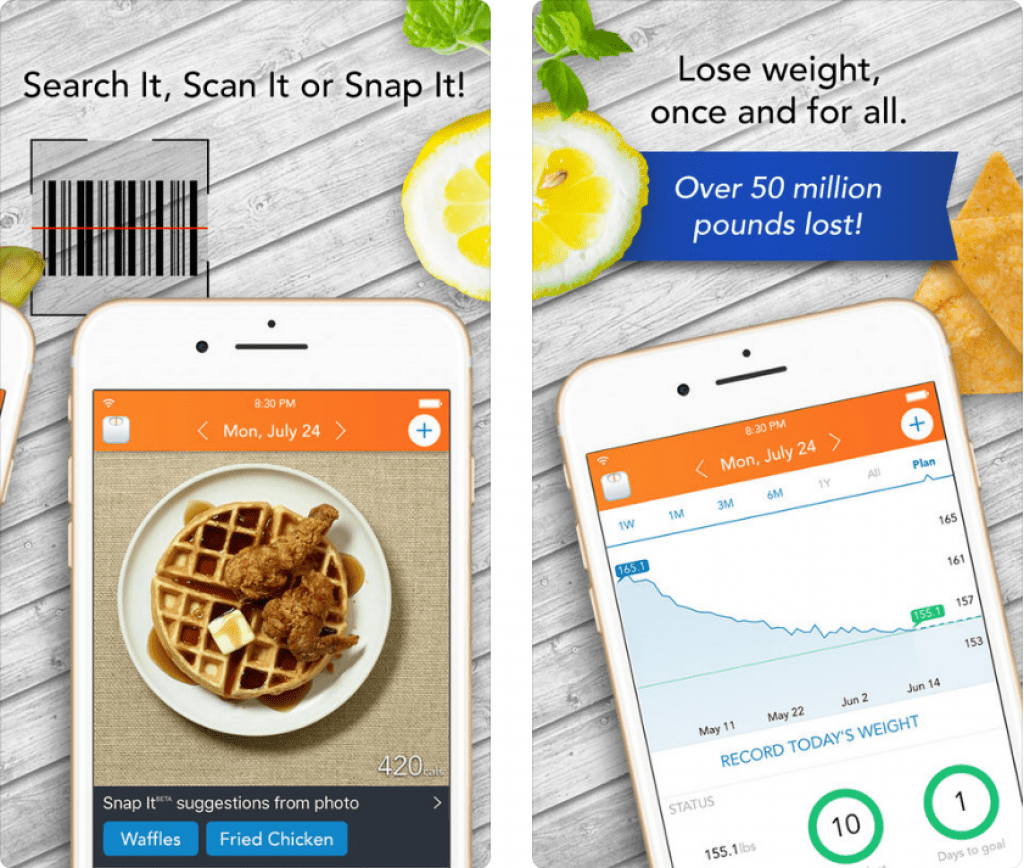 You may also like: 5 Best apps to quit sugar for Android & iOS
My Diet Coach
With My Diet Coach – Weight Loss the process of losing weight can be funny and easy. This app is defined specifically for women and it helps the girls resist the most common problems they face while struggling with extra pounds: lack of motivation, exercise laziness, food craving, etc.
In order to get started, set your goal first, follow recommendations given by the app, make tiny lifestyle changes, receive daily motivation tips, and keep track of your progress.
Along with traditional tools that any weight and food tracker disposes of (personalized diet diary, weight charts, measurements charts and graphs, calorie counter) My Diet Coach – Weight Loss provides you with invaluable motivation tools.
Motivation tools include the following: inspiration quotes and motivation photos daily, tips and tricks to fight with your setbacks, visualization of your progress in the form of charts and graphs, possibility to get a reward.
Diet reminders, daily challenges, even food cravings panic buttons are available to keep you on track. Look at a slim-down animation of your body to stay motivated and make your visual picture come true.
For iPhone users' convenience, it is possible to synchronize My Diet Coach – Weight Loss with Apple Health. After integrating these two apps, your calories consumed and burned will be imported and exported to My Diet Coach automatically.
You can subscribe to a Premium version of My Diet Coach – Weight Loss. Per month and per year subscriptions are available.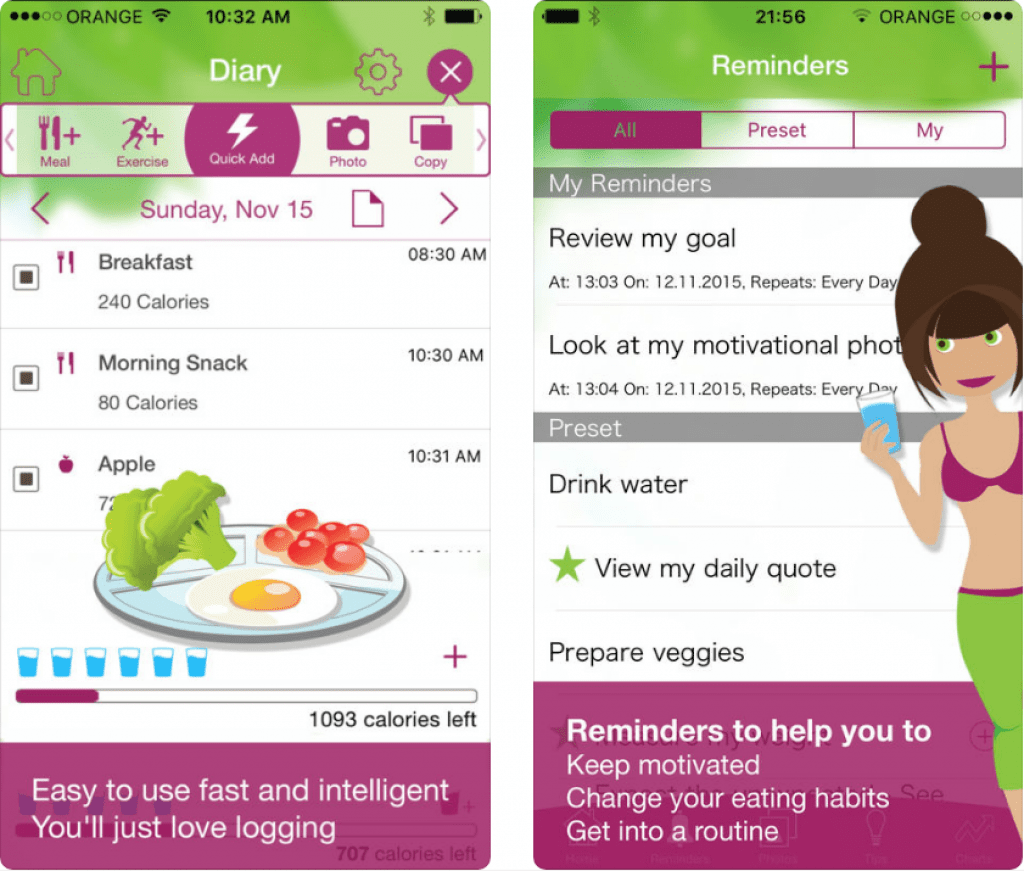 Kudolife
Kudolife is all that you need to change your lifestyle beyond recognition. Kudolife is a personalized healthy 7-day meal plan and nutrition app. In addition, it is also an activity tracker, calorie counter, and glucose monitor.
Weekly Meal Plans and balanced food recipes are elaborated by professional dietitians and nutritionists. Meal Plans consist of 28 meals including breakfast, lunch, and dinner, as well as snacks. You can get informed with the nutritional value of any meal provided to you by Kudolife.
Do you think you are bad at cooking? With Kudolife cooking healthy meals has never been so easy. Every recipe is accompanied by photos and videos that will help you prepare a delicious dish fast.
Controlling your health parameters is key to success. The calorie counter will help you control your BMI. Glucose monitor (integrated with HealthKit data) will come in handy for those who suffer from diabetes.
Activity tracker (available only for iPhone 5S and later models) will control your daily cardiovascular activities such as walking, running, cycling. With Kudolife you will definitely begin leading a healthier lifestyle, start spending less time preparing meals, increase your mood, and improve your weight management.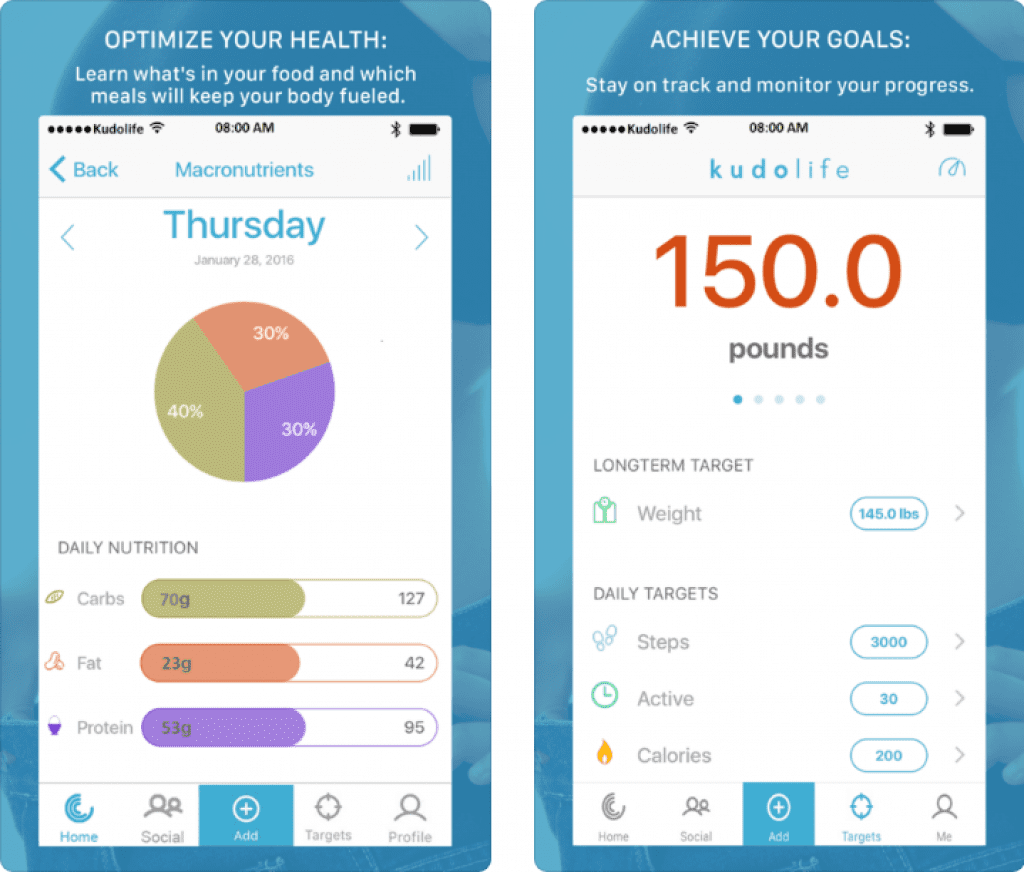 Fooducate
Fooducate is a great nutrition app that provides the fullest information about any type of meal. It was acknowledged as one of the best meal planning/nutrition apps by many influential media sources, such as USAToday, NYTimes, Dr. Oz, Oprah, WSJ, and many others.
The best advantage of Fooducate that with this app you don't have to read the label of any product anymore. Just scan the barcode on the package and Fooducate will show you how many useful nutrients it contains and how much of everything it contains in general (including the weight of each portion).
There is obviously a calorie counter that keeps track of how many calories you eat every day and how many useful calories in your meal. The app will show the number of carbs, proteins, fats, and all other elements in each food you take. A cool feature here is the app gives the grade to each meal you take (A, B, C, D).
As a bonus, you get healthy and diet tips from nutrition professionals. In addition to that, the app can track your sleep, mood, and hunger levels. Overall, Fooducate is nice for keeping the statistics of your overall diet, however, it would work great when paired with some meal planner app.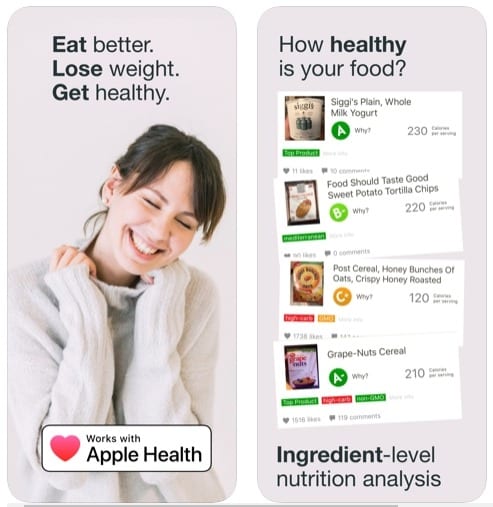 My Macros+
My Macros+ | Diet & Calories is a diet tracking app that will help you to control your weight and calorie consumption wherever your goal is to lose weight, to gain muscles or keep you healthy.
This app is unique as it was elaborated by a fitness professional. Thus, it provides you with pieces of advice of good quality.
My Macros+ disposes of a wide variety of tools: the database with more than 5 million foods are available; barcode scanner; weight tracker; water tracker; body calculator; Diet diary in My Macros+ is easy to modify: add as many meals as you want (no more strict division into breakfast, lunch, snack, etc.), add your favorite food and food you eat in the restaurants quickly and easily, choosing the size of your portion and so on.
Personalized graphs, daily reminders, and various calculators will help you to reach your goals, while the community of friends and like-minded people will let you stay on track and not give up on your way to a perfect body.
My Macros+ is able to elaborate on a personal diet. For a monthly subscription app's artificial intelligence system will draft you a plan on how to reach your weight goal.
Other peculiar features are available for My Macros+ Pro users, such as diet summary, meal timer, ability to track notes, etc. Optional subscriptions per month and per year are available. For Apple users, My Macros+ can be easily integrated with Apple Watch and Apple Health.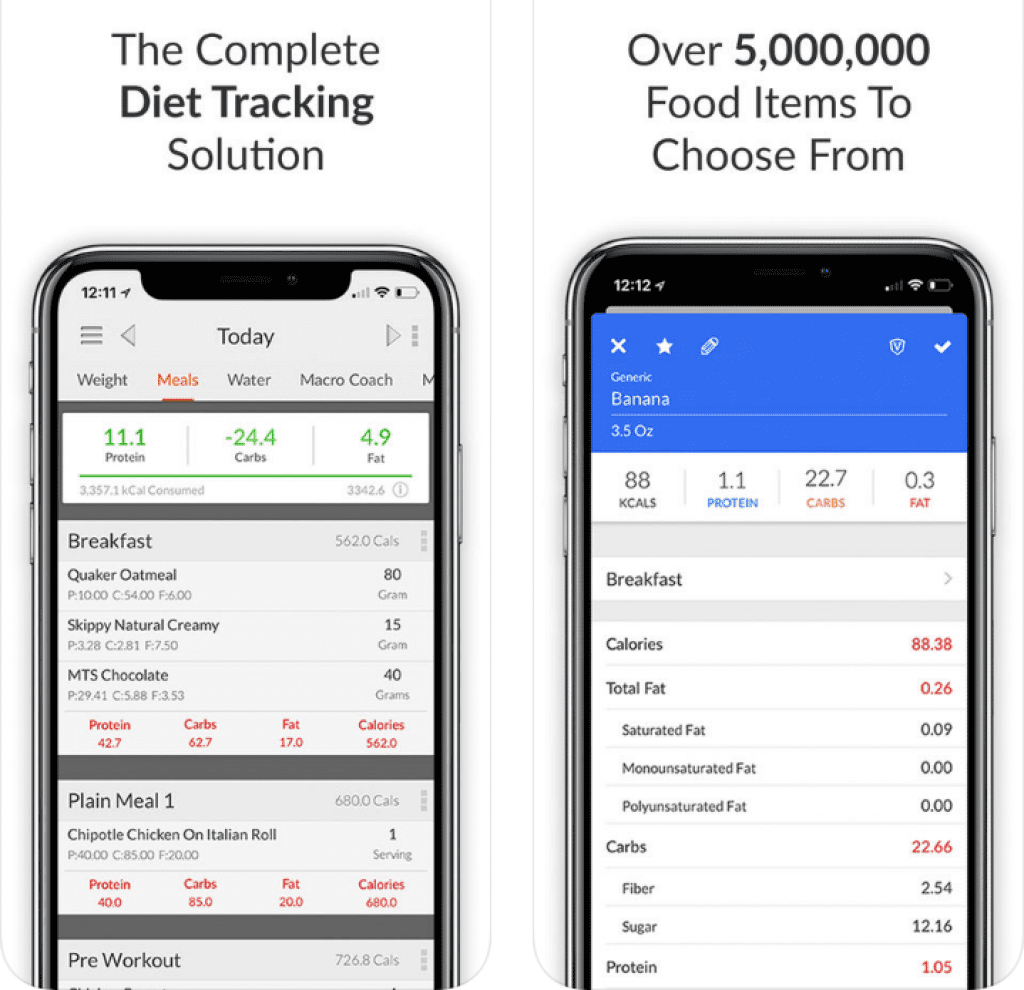 You may also like: 5 Best apps to help you to gain weight
MyFitnessPal
Today MyFitnessPal is considered to be one of the best calorie counter and diet tracker apps. It has received the approval of many users and it has been rated as the best by Consumer Reports magazine, it has been added in the editor's choice section of PC Magazine.
What is more, it has occupied the first position in the Health and Fitness app category for 4 years. Such notable editions as the New York Times, Wall Street Journal, Marie Claire, NBC, and some others also ranked MyFitnessPal as head and shoulders in its category of mobile applications.
MyFitnessPal is an app that will come in handy if you plan to lose your weight and keep fit, start a healthier diet or simply change your eating habits.
What opportunities does this app give you?
First and foremost, withMyFitnessPal you can easily track the food you eat. It disposes of a big food database with more than 6 million dishes available.
With the help of the app, you can choose healthier food for you, keep track of what you eat with Recipe Importer and Restaurant Logging tools. Another important tool – barcode scanner – is able to recognize more than 4 million barcodes for you to log food and keep track of your calorie intake.
This app is rather flexible as it helps you to save your favorite meals and create your own food recipes. It logs all the meals you have and counts the calories you consume.
The homepage gives you information about the number of calories you've consumed during the day and how much you can consume till the end of the day in order not to exceed the recommended daily calory intake.
Whether you want to lose or gain weight, set your goal, and work on reaching it! Apart from diet requirements, MyFitnessPall is a mobile fitness instructor for you. Choose or insert your own cardio and strength exercises, track your training history and synchronize with other apps and devices as MapMyFitness, Runkeeper, Fitbit, Runtastic, and many others.
Some people fail just because of a lack of motivation. Add your friends or join a community of like-minded people to share your progress with others. This will help you to keep your motivation until you reach the goal. Finally, you can get detailed feedback on your activity in the form of charts, graphs, photos, etc.
There are free and premium versions available. Subscription to your Premium app can be per month or per year.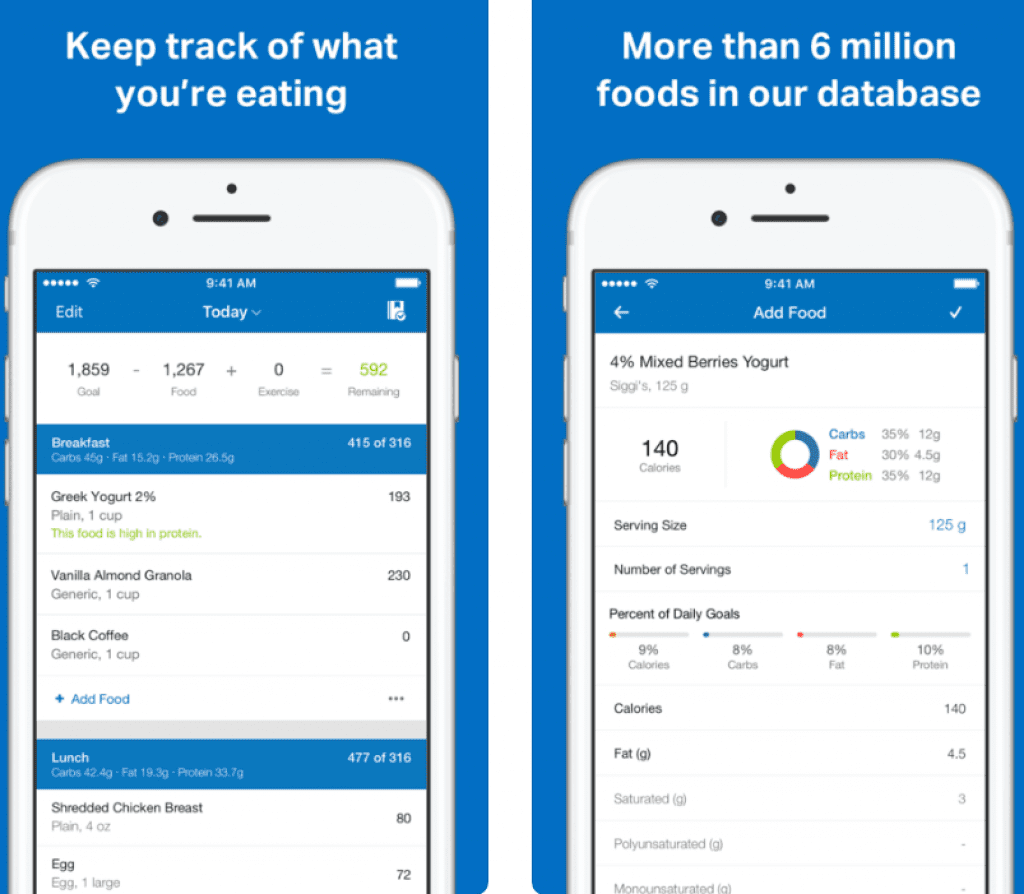 We hope that this article will be useful for you! We wish you to be never ashamed standing on the weights or watching in the mirror! Use these 11 apps to start regular exercises and stick to a healthy diet.