ASMR has become a massive phenomenon that has quickly taken over the Internet. So if you enjoy the tingling effect of ASMR, don't get past this article.
We've picked out the 8 best ASMR apps for relaxation for your Android and iOS gadgets that will help you to slip away from reality and melt into satisfaction. These apps contain multiple triggers, including nature sounds. These apps can help to fight stress and anxiety, and even cope with insomnia. Have a look!
Tingles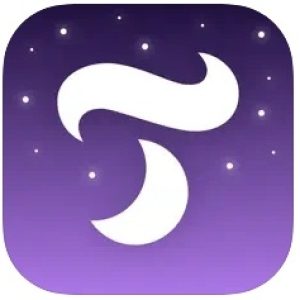 Let's start with the most popular ASMR app on the market.
If you've ever tried to find an ASMR app, chances are you've come across this one. The app has a major collection of sounds in all the popular categories, so there's smth for everyone. It doesn't only come with audio content, there are lots of full-screen vids that let you get a full-on relaxing experience.
The app can help you reach a clear state of mind, decrease stress, and more. There are even courses that teach you how to manage your sleep routine, which is cool. Plus, there's a compilation of wildlife sounds and calming music you can enjoy to slip away from reality or focus. All the content comes in high quality, so no worries here.
However, the app still has some flaws that should be mentioned. A major part of its content is behind the paywall, and the free version is pretty limited. In fact, you only get five sounds in a free pack. You'll still get run the sounds in the bg, but it is still upsetting. The paid pack comes with lots of content, so keep that in mind.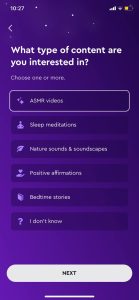 You may also like: 11 Best White Noise Apps
Mindwell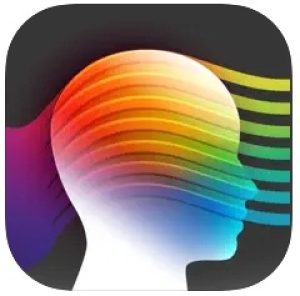 Next, there's an app to take care of your mental well-being.
This app helps to cope with all the worries and concerns a daily life could bring. It covers a series of triggers that help you to achieve certain moods. You can use it to maintain focus, get relaxed, and feel calmer and more balanced. Along with that, there's an anthology of ASMR tunes for you to enjoy.
Beyond that, the app lets you make custom compilations for different moods and occasions, which is handy. The number of lists is unlimited, and all the tunes run in the bg as well. It also provides you with a daily meditation program if needed. There are over 300 meditations and guides you can try and plenty of goodnight stories that help to fall asleep.
There are multiple kinds of meditations from 1 to 30 mins, so there's smth for everyone, Herewith, the app runs on sub packs, and the majority of its tools are for pro-subs only.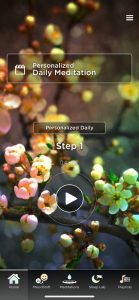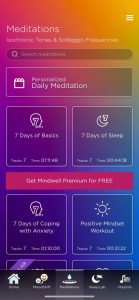 ASMRtist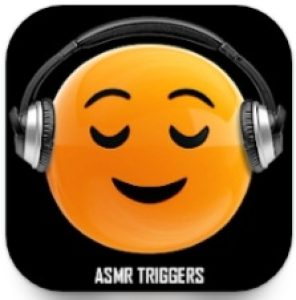 If you're on the hunt for a wide range of ASMR – this is your cup of tea.
It comes with dozens of high-quality ASMR triggers you can run and layer on each other. For now, there are already over 100 options and more is yet to come. For instance, there are such sounds as rain, fireplace, mouse wheel, stacked cups, walnuts, snow, paper, hushing, boiling water, fizzy drinks, and much more.
Sooth to say, you can find triggers for any occasion, from relaxation to focus. There are even triggers that help you fight sleeplessness and do breathing practices if needed. All the sounds run in the background, and you can turn on several triggers at once to generate a custom sound. However, you don't get to save these combinations, which is a bit disappointing.
The triggers are not categorized, so you may get a bit lost at first, but you'll get used to it. You won't get to add the sounds into playlists as well, but it's not that big of a bother. There are no limits on the amount of time the sounds could be played, but you can set a timer if needed. All the tunes are free, which is always pleasing.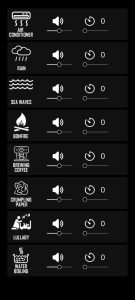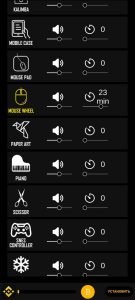 TeasEar
This is one of the finest ASMR apps for iOS you could possibly find. It comes with a bunch of tunes you can enjoy along with pleasuring games.
These are not your typical games that require lots of involvement, these are just textures that make ASMR noises when you touch them. The mechanics are simple: just choose a texture and touch the screen to make a satisfying noise.
You get to tap the screen, slide your fingers into the texture and even scratch it if needed. The app covers all the most popular slimes like confetti, honey, bubbles, and more. The new slimes come out every week, so you won't struggle with a lack of options. More to that, you get to create your own texture with a unique sound that will work perfectly for you. It's pretty simple: just pick a foundation, consistency, color, and regulate the vibration.
The app also covers a library of tunes you can listen to on the go. It includes such options as scratching, bonfire, and even dolphins (which is kinda unique). The app runs on sub-packs, but the amount of features you get for free is quite impressive. Plus, there are no ads, so nothing would distract you from enjoying ASMR.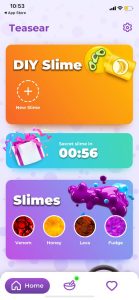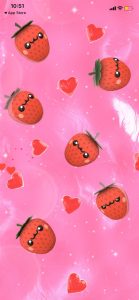 Check also: 15 Apps To Help You Sleep Well
ASMR Slicing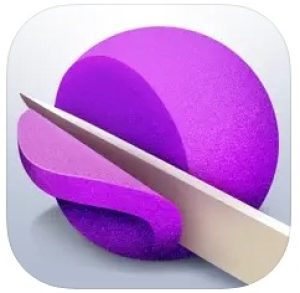 This is an ASMR game that lets you interact with different objects that make satisfying noises.
To be more specific, this app is focused on slicing stuff (which is a popular category in ASMR). It comes with solid visual effects and lets you slice plenty of things with unique noises. All the objects are made from kinetic sand, but the noises may sound different, so you won't get bored.
The app comes with a game-like concept. Once you're done with one object, you level up and move to another, more complex one. There are plenty of objects to cut: ducks, shaped blocks, and even planets. You can also try various cutting instruments to get different noises. Herewith, there's nothing to stress you out here: no timer, no score, so no worries.
Both the visual and the sound are high quality, so you get a full-on interactive ASMR exp. Although the app doesn't have any additional sounds for you to run in the bg, it helps to cope with worries and stress quite well. All the objects are free and there are no ads to ruin your relaxation.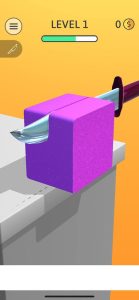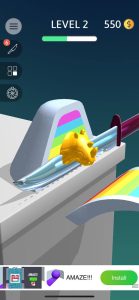 Soap Cutting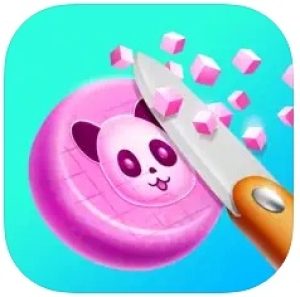 What's one of the most favored types of ASMR? Soap cutting!
Even if you're not deeply into ASMR, you might have come across some of these highly satisfying vids with soap cutting (as these are all across the internet). This game lets you dive right into soap cutting and enjoy triggering ASMR sounds for free. You'll get to try all the different ways of cutting, along with multiple kinds of soap.
The concept is beyond simple: you get over with one soap, move to the next level land unlock the new one. There are plenty of soap options to try, and all of them sound different. All the options are in various forms and textures, so you won't get bored. Plus, as you level up, you'll earn coins that can be exchanged for new supplies.
More to that, the app lets you carve the soap into small figures if needed. There are no timers or goals to accomplish, so you get to relax and play at your pace. It's fully free, but the ads will pop up from time to time.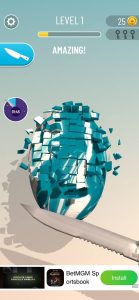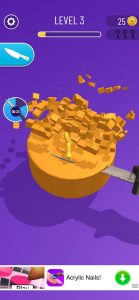 ASMR Breakfast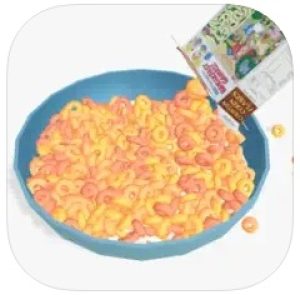 Yeah, soap-cutting ASMR is popular, but you know what beats its popularity up? Food ASMR!
If you're into ASMR, you know that food making is one of the trendiest and most satisfying types of it. This app is here to get you to enjoy the triggering noises of making breakfast. As it is a game, it comes with some rules, but not stressful ones. You'll need to make different kinds of breakfast without spilling too much milk or scattering cereals.
The better you do the job, the more complex meal you'll get next. It needs to be said, the variety of dishes is quite impressive here. There are pancakes, eggs, bacon, cereal, toast, and more. All the recipes are actually legit, so you can make real-life breakfast based on the game. Each level will bring you coins to spend on new supplies, table decor, and more.
The game doesn't have any timer, so it won't stress you out. The visual is nice and cute, and all the sounds are high quality, which is pleasing. It's also free, but comes with plenty of ads that can be annoying.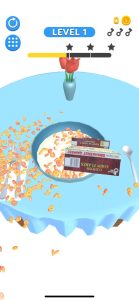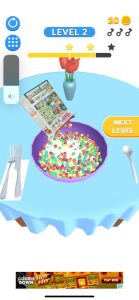 You may also check: 9 Best Noise Canceling Apps
AntiStress & Relaxing Games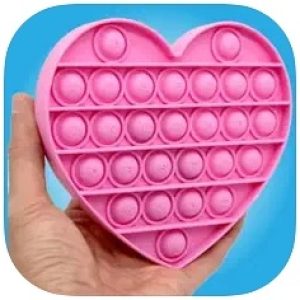 And lastly, we have a stress-reducing ASMR game.
Apart from the previous games that are narrowly concentrated to one type of ASM, this one lets you try all of them (or at least, a lot of them). The app covers over 50 relaxing mini-games that help you get rid of pressure and get distracted from your daily problems. You'll get to pop bubbles, cut soap, move meal balls, ripple the water, and much more.
There are also games that don't require much involvement. For instance, you'll get to watch the sand slipping through the hourglass, or listen to the wind chimes. Plus, there's a game where you'll need to connect the pipes to enjoy the water flow. There are even color therapy games and a drawing board to play with.
The games are not time-limited, so you can enjoy them at your own pace. It also comes with a compilation of breathing practices, and other methods of stress relief. The sounds are high quality, and the graphics seem to be smooth. However, not all the games are available for free, so you might be interested in buying a pro pack.