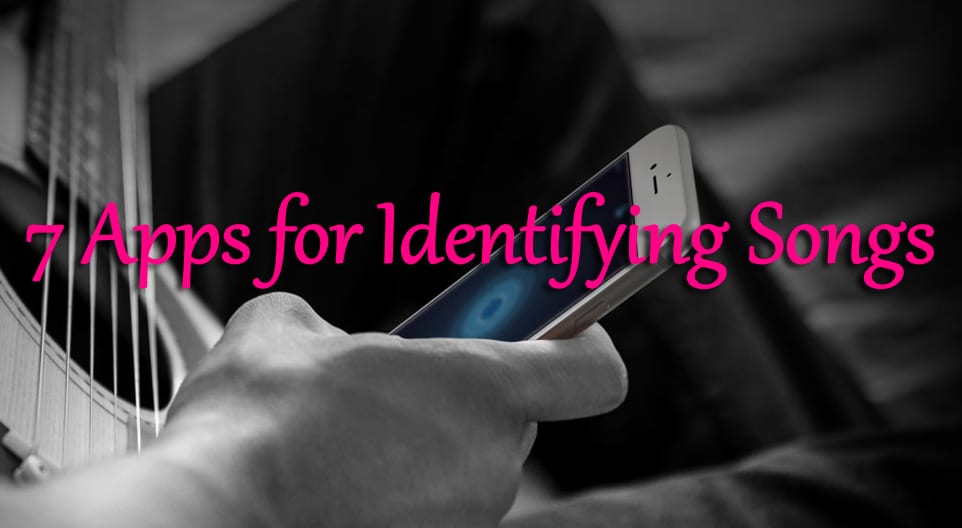 Have you ever been in a situation, when a really cool song is playing in a cafe or in a shopping center and you kind of want to know what it is in order to save it for later? If yes, you're in the right place! With today's technical advances it is just as easy as possible.
Technological progress has gone so far, that writing down lyrics and googling them afterwards are just a waste of your precious time now. There are lots of special apps for identifying anything that can be heard (from music in commercials to TV shows and even your own humming!) in just a few seconds. Give them a try and never miss a chance to save all the good stuff!
7 Apps for Identifying Songs
Shazam
Shazam is the most popular music ID app. It became available on smartphones in 2008 and since then has been gaining more and more popularity among users. The app still remains the best, when it comes to identifying songs, because of its enormous database.
Shazam is quite simple in use. All you need to do is to tap the big blue button with the logo on your screen while a song is playing and the app will give you all the information about the track. Moreover, Shazam is going to show you biography and discography of the artist.
Plus, you will be able to add the found track to your Rdio or Spotify playlist, watch the YouTube video of the song if it has one and see all the related items. There are really quite a lot of things you can do!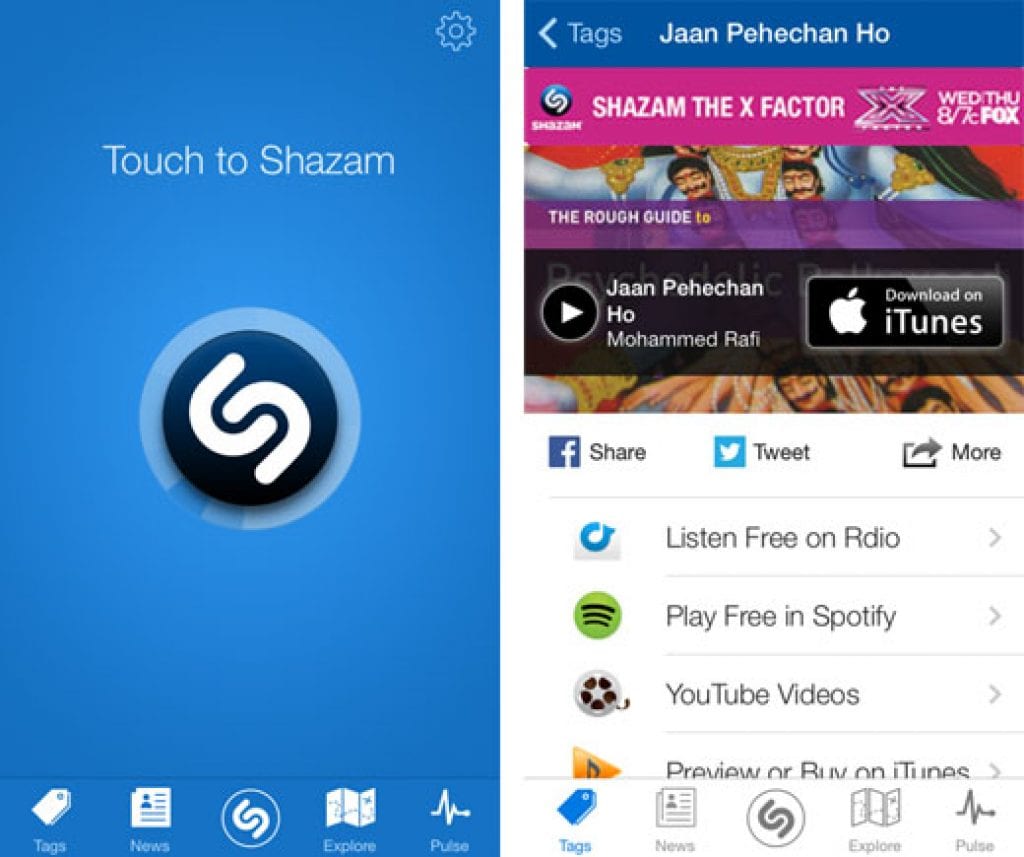 If you worry about screwing it up with turning on the app not fast enough to get a wanted song, you can enable Auto Shazam function, which allows 'shazaming' songs in a default mode. What it means is that the app will automatically be saving all the songs that you are going to come across on your way.
If you do not have internet connection at the moment when a wanted song is playing, Shazam has the solution as well: you can just record a piece of the tune and identify it later. Another interesting feature of Shazam is the ability to recognize TV shows.
Shazam is closely connected with all kinds of social networks. You can share your findings with your Facebook friends and see what it is they are 'shazaming'. What is more, you can see what your favorite artists are listening to as well! The app gives you different recommendations and updates, so you can see all the new stuff and keep up with the times.
There are two versions of the app. If advertising annoys you, you can get yourself Shazam Encore, which is ad-free. Shazam is available on both iPhone and Android devices. Even Windows Mobile and Blackberry have the app. Start using it now and do not miss a tune!
SoundHound
SoundHound is another great app, which identifies music quickly and precisely. Its features are in many ways similar to Shazam's, however there are some differences between the two apps. SoundHound is famous for its ability to recognuize songs by someone's humming.
Got a melody stuck in your head? Sing it to SoundHound and there's a good chance you'll be lucky to dind our who is the artist and other connected details.
SoundHound, unlike Shazam, doesn't display related stuff. Nevetheless, it does effectively provide all the other essential information, which is enough for an average user. You can also save tunes for later, when you're offline; and let your friends know about songs that you've found using Twitter or Facebook.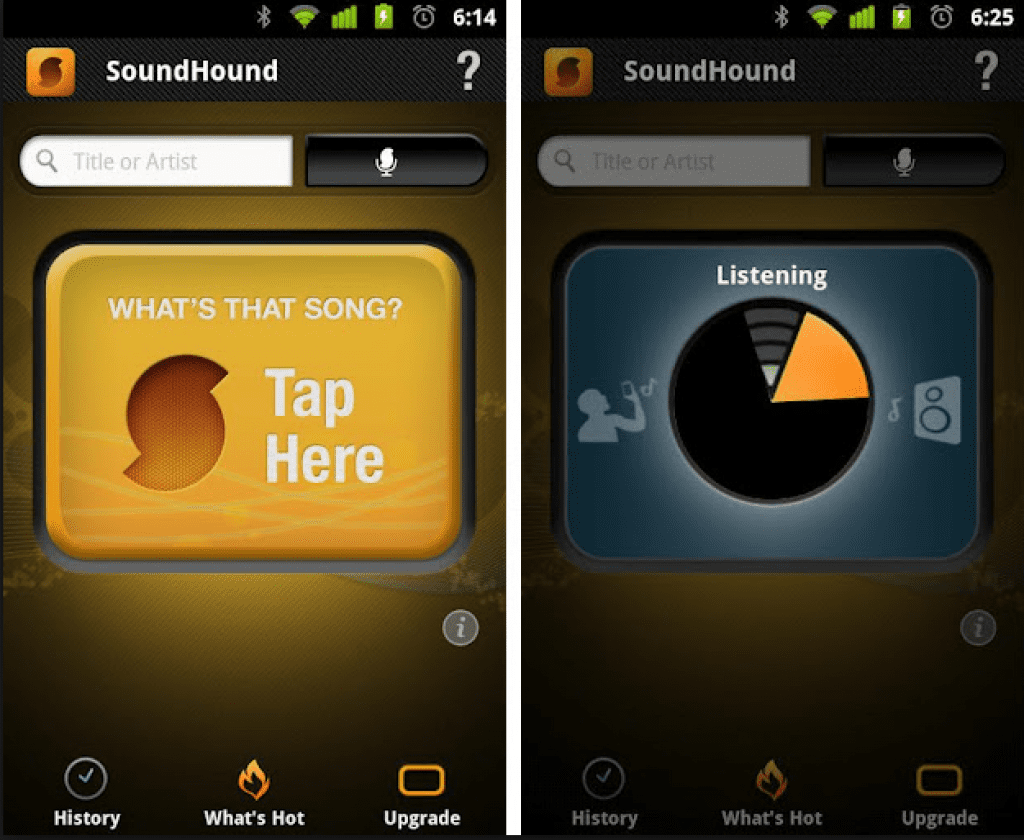 SoundHoud definitely has lots of cool features. For instance, it enables users to follow lyrics in a real time. Try this app as well – maybe it will suit your tastes better! There are also two versions, the only difference between which is the presence of advertisment.
MusicID
MusicID is less popular that Shazam and SoundHound and much simpler. Most basic functions coincide, however the app isn't fot the ones who love apps with lots of additional features. The only regime of its working is online.
After identification of a song the app gives you some basic facts about the artist; shows lyrics, YouTube videos and a list of related musicians. It also allows to go to a store to buy the track.
MusicID's pecuiliarity is the notes that you can write about songs – for example, it can be information of a place where you've heard them.
To summ it up, MusicID is a simpler version of those two apps above. Even though it lacks some features of the mentioned apps, it is still worth downloading. Don't want to drain your battery? Try using MusicID!
Musixmatch
Musixmatch is for the ones who love good lyrics. It is designed to find songs by their lyrics and shows them to a user. You can just say a couple of lines from a song and the app will show you the whole text.
The coolest thing about this app is that it can play songs along with their lyrics, creating something like a karaoke effect. It also identifies music that is playing around you, although it isn't going to show you as many details about it as the other apps.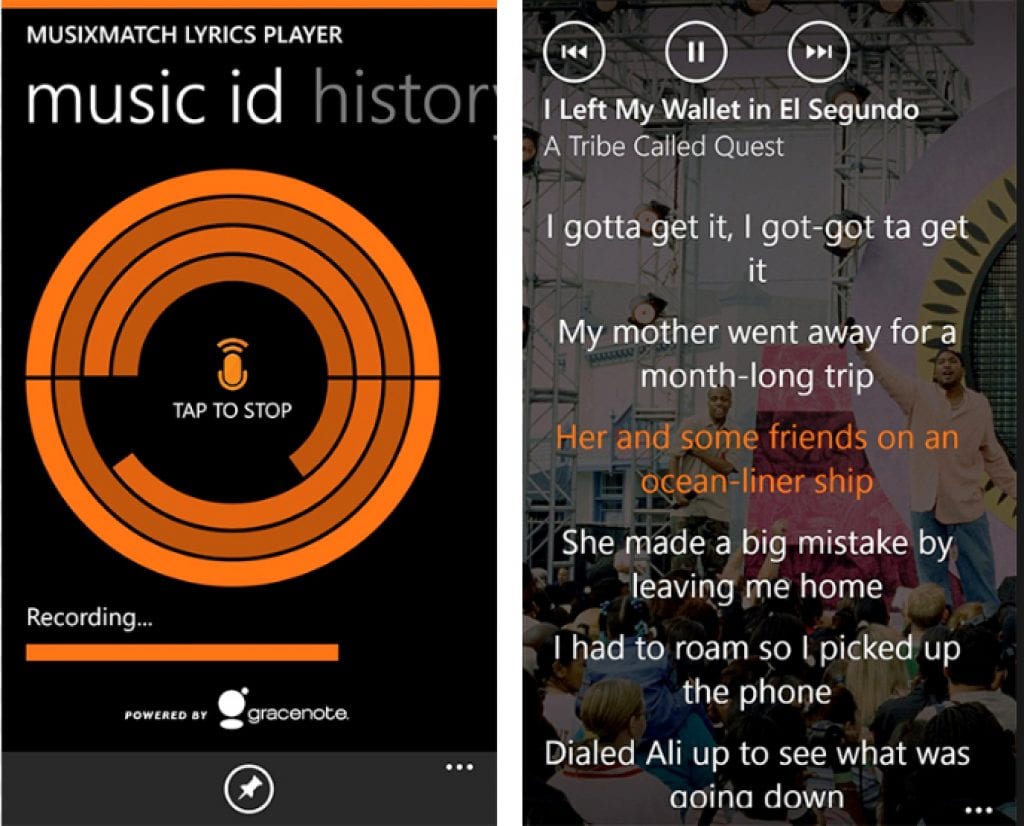 Musixmatch is also a website, which stores thousands of lyrics. The app is a good addition to your default music player, especially if you love singing. Download Musixmatch and enjoy your beautiful voice (Oh yes, we know, you have it)! An excellent mood is guaranteed!
HOUND
Hound is not like the other apps. It doesn't meant to identify music. The thing that it recognises best is your voice. You can give it all kinds of commands – ask it about the weather, the nearest public places or different kinds of news.
What interests us most here is the opportunity to search for songs and artists just by pronouncing their names. Hound shows lots of useful facts about musicians, such as their biographies, updates in social networks or tour dates.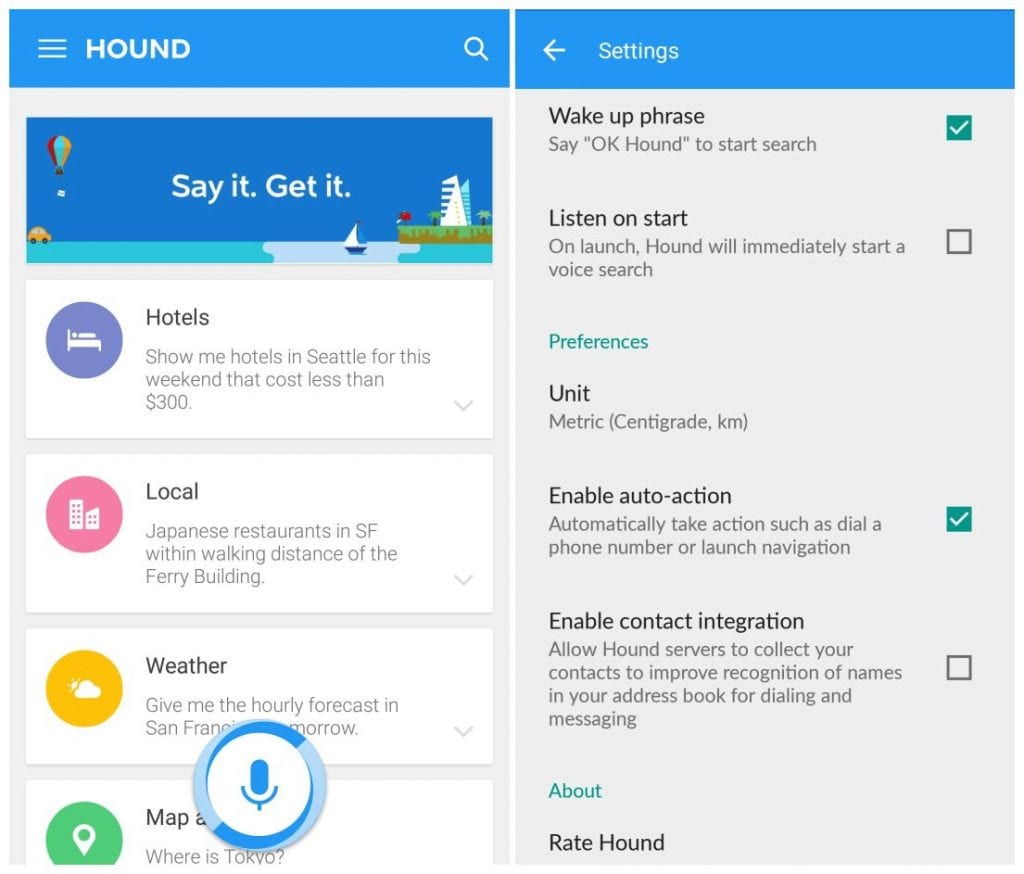 If you don't want to waste your time on typing, you should definitely get this app. Its functionality is almost unlimited. Apart from music you can learn about almost everything that comes across your mind! Get it now and appreciate the time Hound is going to save for you!

TrackID
TrackID is a product of Sony Ericsson, which is, nevertheless, available on Android devices. It is another app with the ability to identify songs just by tapping a special button while the music is playing near you.
When the song is successfully identified, the app gives you some information about the artist and his discography. It also lets you watch the YouTube video of the song. Moreover, you can listen to a fragment of the found song without leaving the app!
Another great opportunity this app provides you with is downloading some of the songs for free. TrackID can also be integrated with social networks. You can view the history of your search on Facebook, if you like.
TrackID stands out with its simple and practical in use design. If you're an owner of an Android device, you can try using this app, which undoubtedly has its own advantages.
SpotSearch
SpotSearch is another app that finds songs by their lyrics. It can serve as an addition to such apps as Shazam or SoundHound, simply because of the noise that sometimes prevents these apps from working properly.
SpotSearch easily recognizes tracks by a few words and then shows a user the links to Spotify, iTunes and a YouTube video of the song. Without doubt, the app is primarily meant for Spotify users. Although you can try using it without Spotify.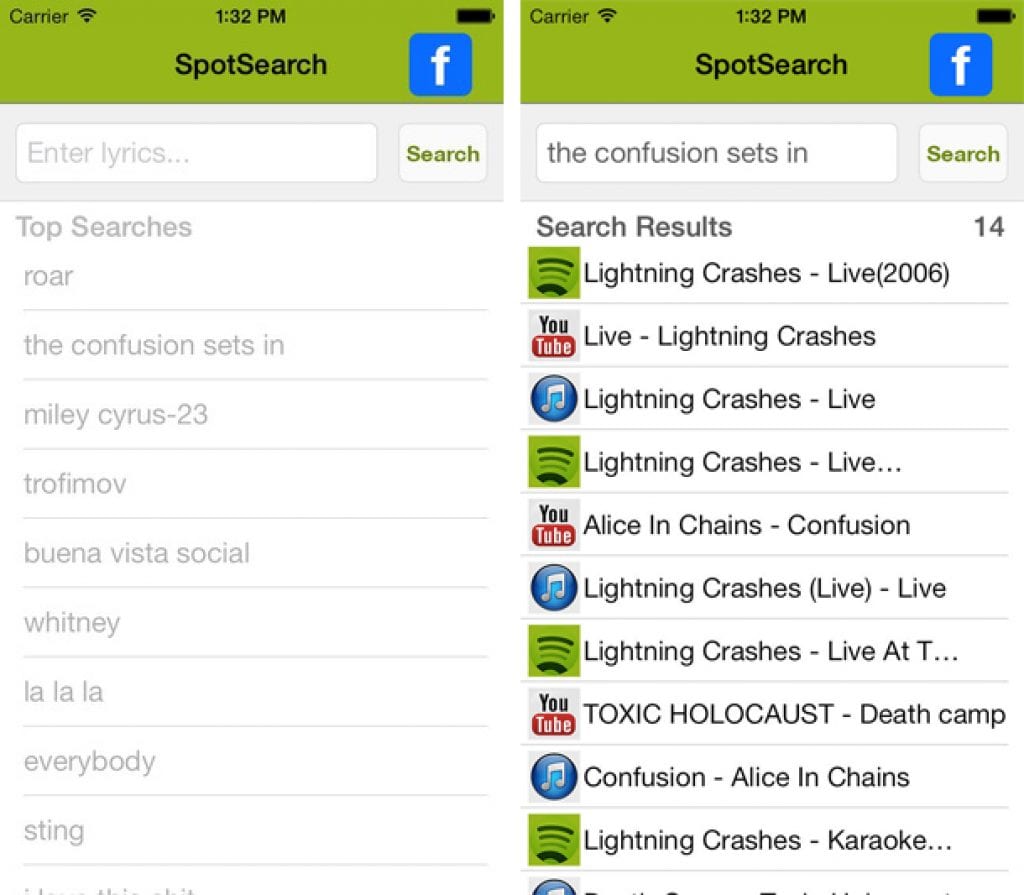 There are two versions of the app. The premium one is without irritating ads. SpotSearch is not going to overbose you with lots of information about music. If you prefer simplicity, go for this one!
We've introduced you to different kinds of apps that are of a great help in finding songs. We hope, you have found something useful for yourself and from now on won't ever miss the good tracks on your way! Be passionate about music and smart in choosing apps!