All wires have one feature in common: they are so easy to get lost. It's so annoying to look for them all over the house trying to remember where you put them, especially if you're clumsy. However, it seems like there are wire detector apps that can help this task a little easier.
By the way, the specific stud apps for Android devices can be found here.
But even though these apps claim they can find studs and so on, don't take it too seriously – most of them are just a prank.
Stud Detector
One of the most popular wire detector apps and it's available for Android devices only. It can help you to find different metallic objects, such as screws, nails, and studs, so it can work for wires as well. Eventually, everything depends on the power of your device.
It even can happen that a less powerful and older Android device can synchronize better with Stud Detector since it just has a better EMF sensor (not practical for those devices).
The interface design is literally ancient, and it's extremely simple in usage. The algorithm is the following:
Open the app
Watch the four indicators at the center of the screen
Once the app senses the wire, the indicators will light up with green
At the lower part of the screen you are also able to adjust the sensitivity of the app, however, this feature is dubious. The app has lots of ads.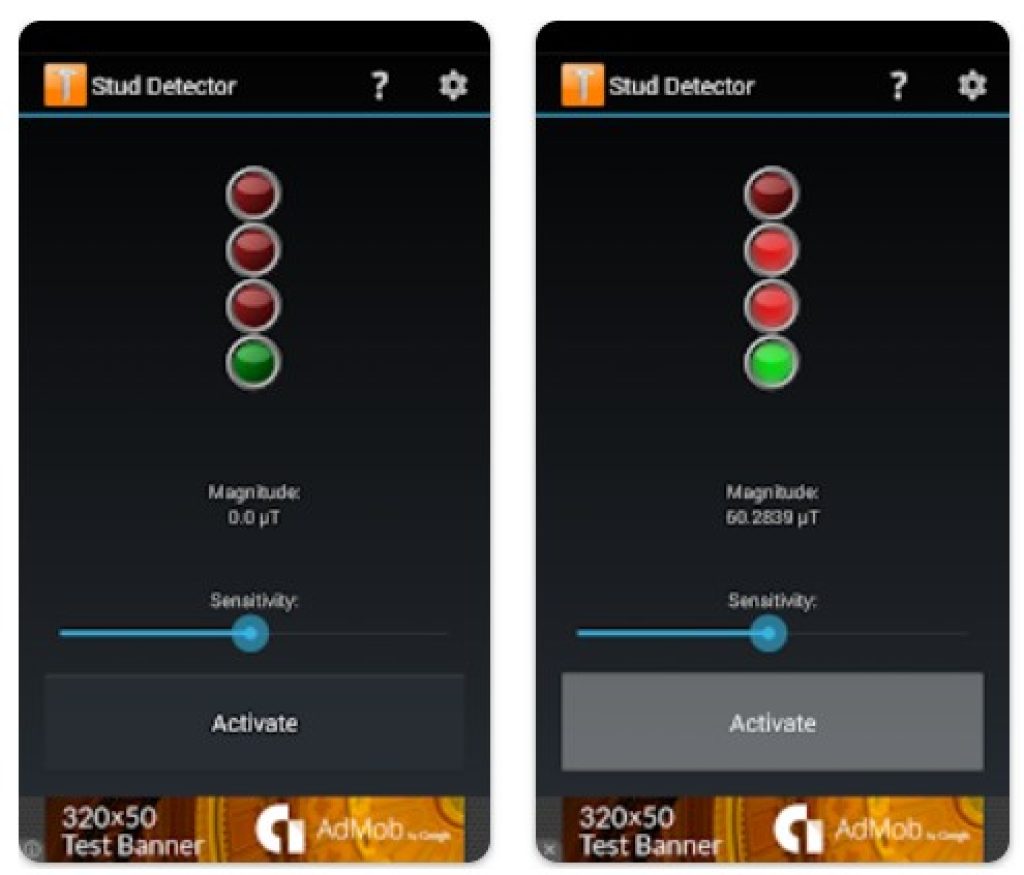 You may also like: 7 Best Altimeter elevation apps for Android & iOS
Stud Finder
This is a stud finder for iOS devices that you can try to use to find the wires as well. The wire should include something from metal though (just make sure that you're not looking for your sneaker wires).
And whether this app works or not, it is more pleasant to use than the previous app for Android since it has more diverse features and a better-designed interface. You will see that there are four categories in the main menu:
digital meter
find by sensor
in-depth detection
find by graph
Probably, for the search for wires, you will need to use the first two. However, you can play the metal searcher and try to find the wires by the graph.
However, this app also has a huge disclaimer, that its performance is limited by lots of factors, including the hardware of your iPhone or the thickness of the walls. So keep your expectations low.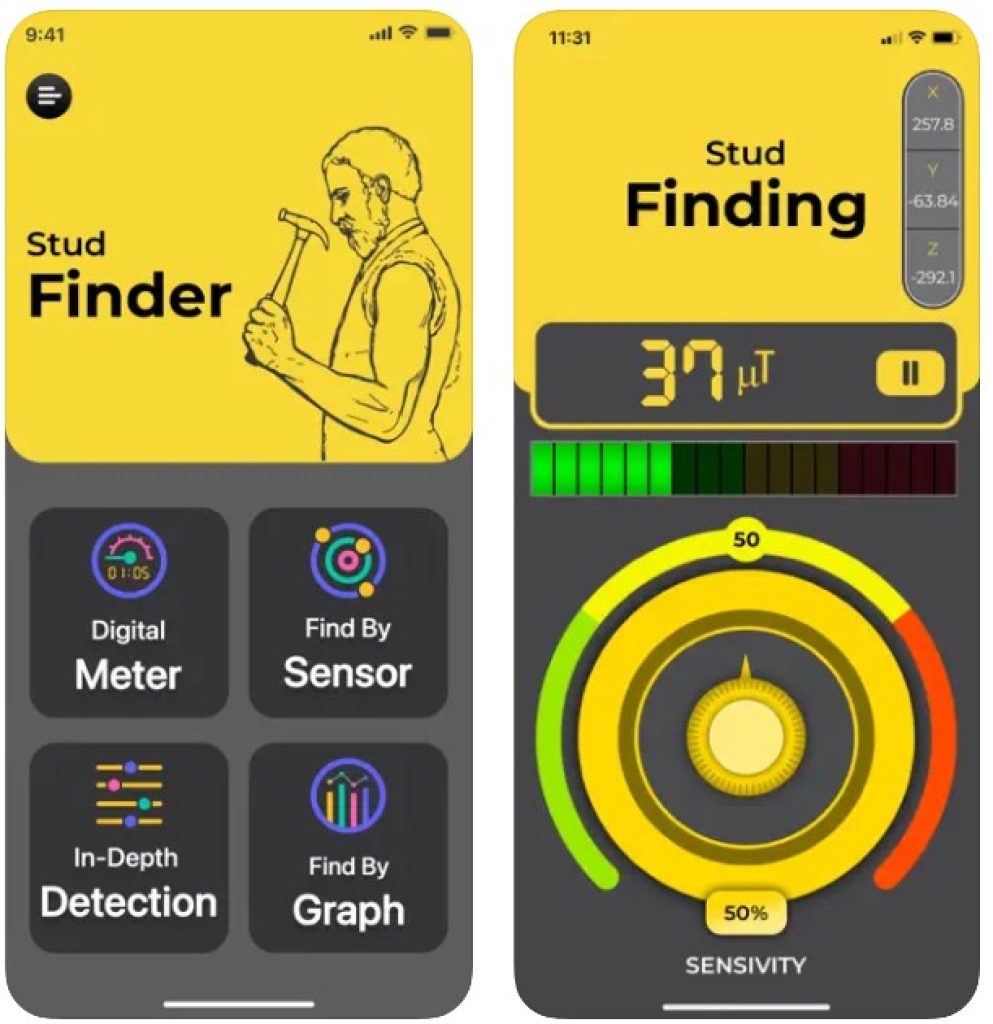 Wire & Cable Detector
Alright, in order not to confuse you, let's observe this specific wire detector app. It works in a similar way to the previous two apps which means it can find the objects by detecting the metal parts in them.
And even though the name of the app sounds quite loud it is an ordinary thing with a pretty lean interface. It doesn't even have any extra features. All you can do is to press "start" and the app will show you a round indicator that will beep and turn red as it senses the metal objects around.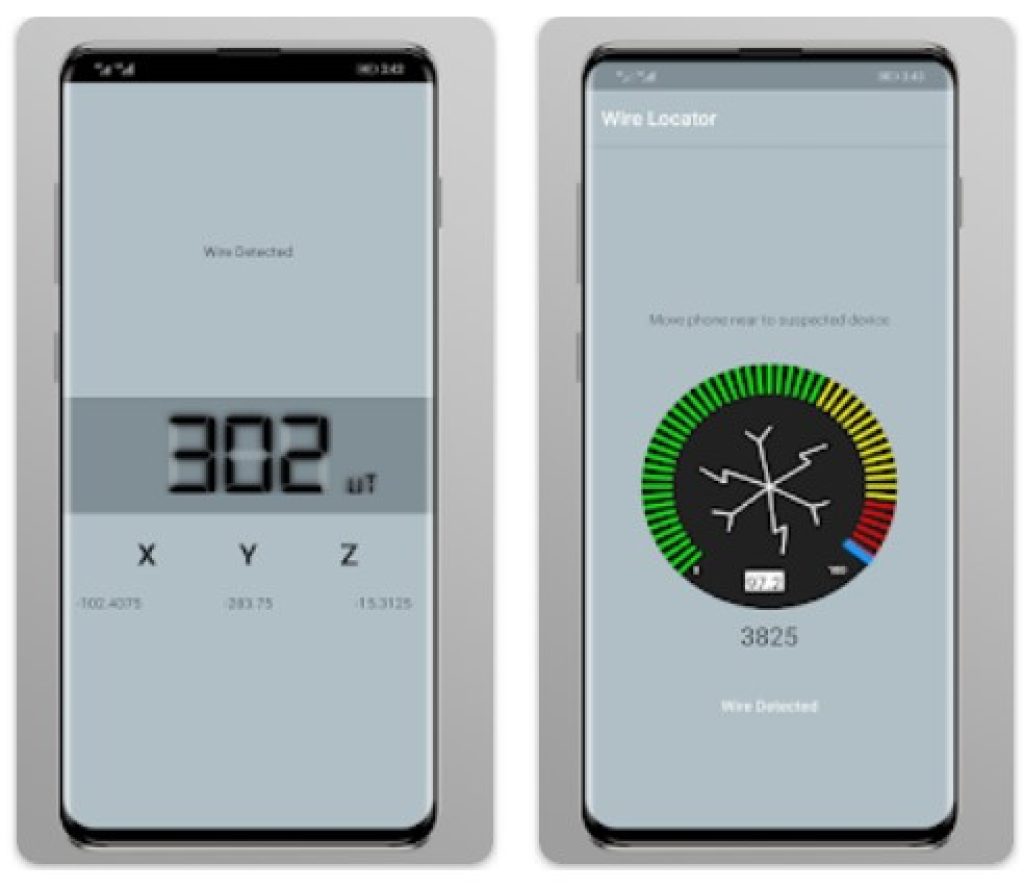 Real Metal Detector with Sound
You can also try your luck with this one. The app claims it uses the EMF detector that is built-in in your device and therefore has the ability to detect metal objects.
Here, even though the interface design is not that bright, just like in the previous case, some interesting additional features can be found. First of all, the sounds of the app are customizable, and you can adjust them to your taste.
Considering the metal detection – everything is quite boring – you just see a diagram on the screen and the meter. As you get closer to any metal objects, the device will start beeping. Eventually, everything will depend on the hardware of your device.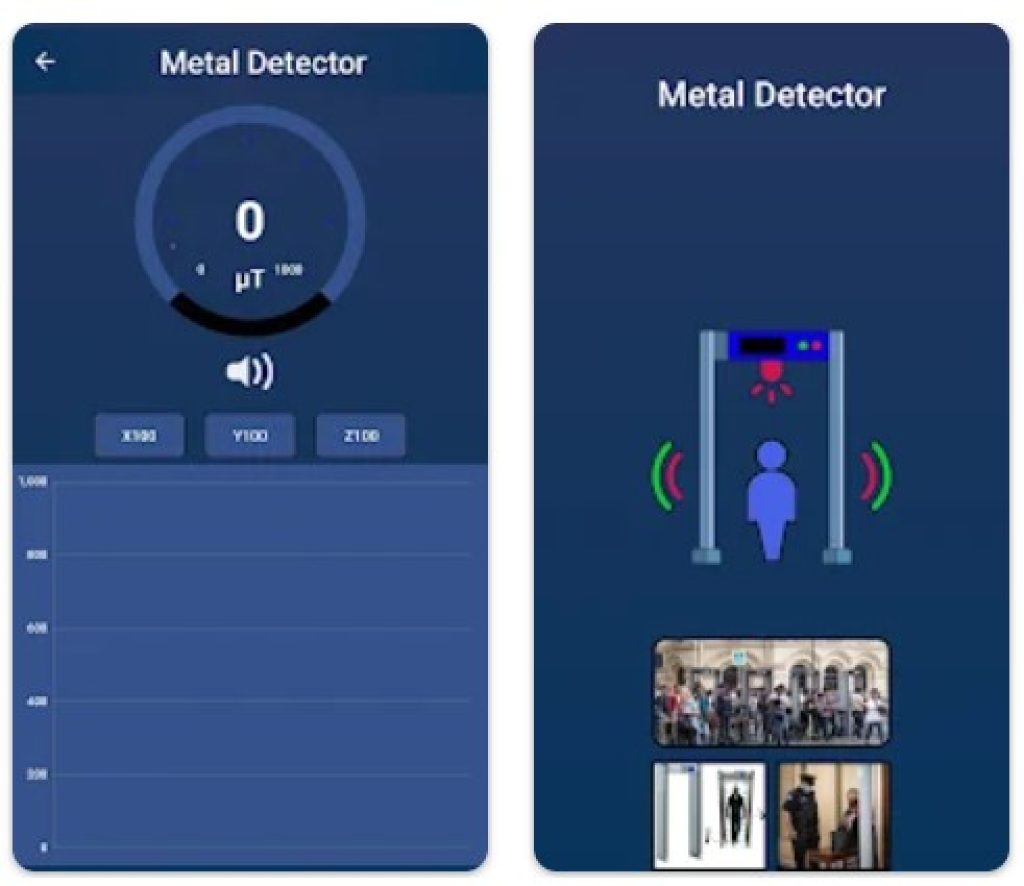 You may also like: 11 Best football prediction apps for betting (Android & iOS)
Metal Detector
Another metal finder app, but this time for iPhone. And it seems to be quite handy. This app has been on the market forever, that's why it has such an ancient design. But once again, its functionality turned out to be reliable and you can use this detector to possibly find wires.
Metal Detector is so simple it doesn't even have the main menu. You just open the app and see the detector in front of you. The only condition is that the objects that you are trying to detect (wires in our case) would have at least a piece of the real metal – steel, iron, etc., otherwise, the app is a soother.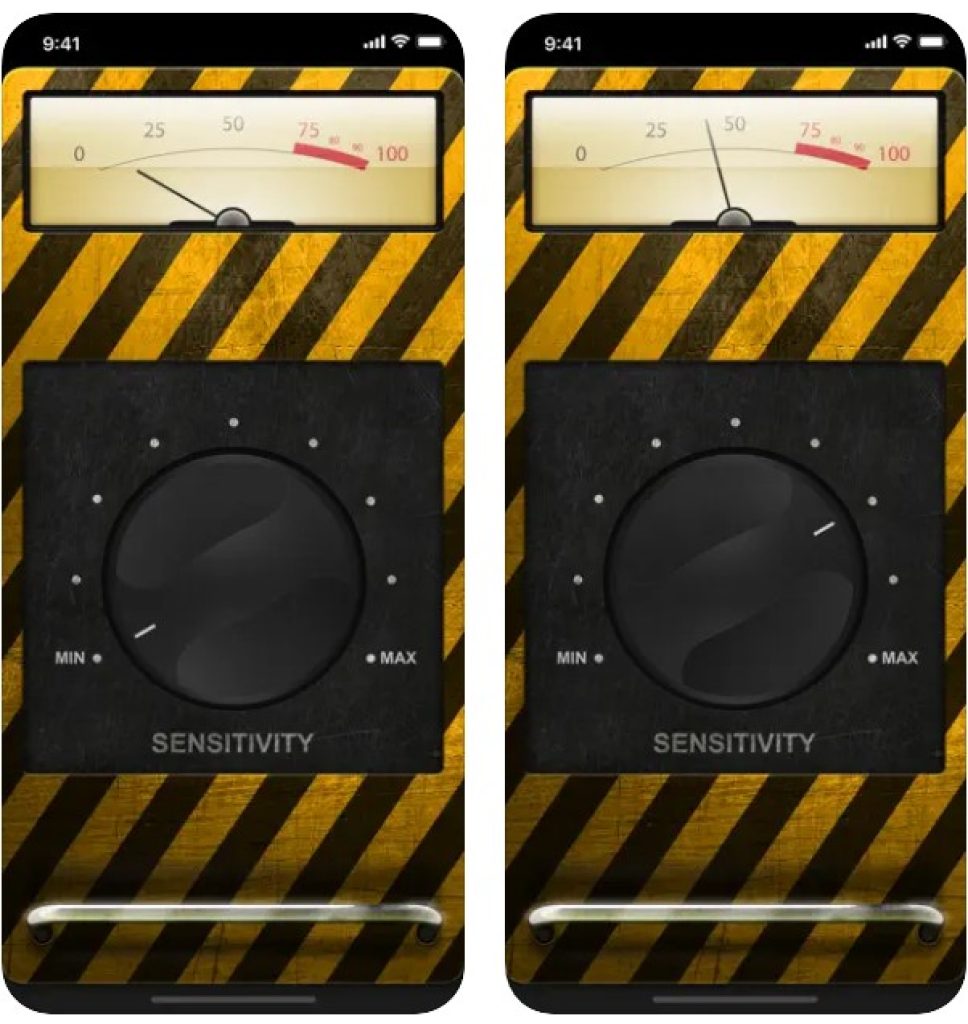 Metal Detector
So, we already have a metal detector for iPhone, now let's see the one for Android devices. With more than 1 million downloads on Google Play, this Metal Detecto seems to be working, or, at least, being pleasant in usage.
It has a modern interface design, which is already a hallmark in this category, and you can use it to find wires. There are various indicators in the app:
the distance meter
the intensity meter
protractor
Each of those is fun to use, but if you need to find wires and so on, we recommend using the intensity meter, since it will start beeping louder next to the metal objects.
Moreover, according to the users' reviews, this Metal Detector works on the majority of Android devices.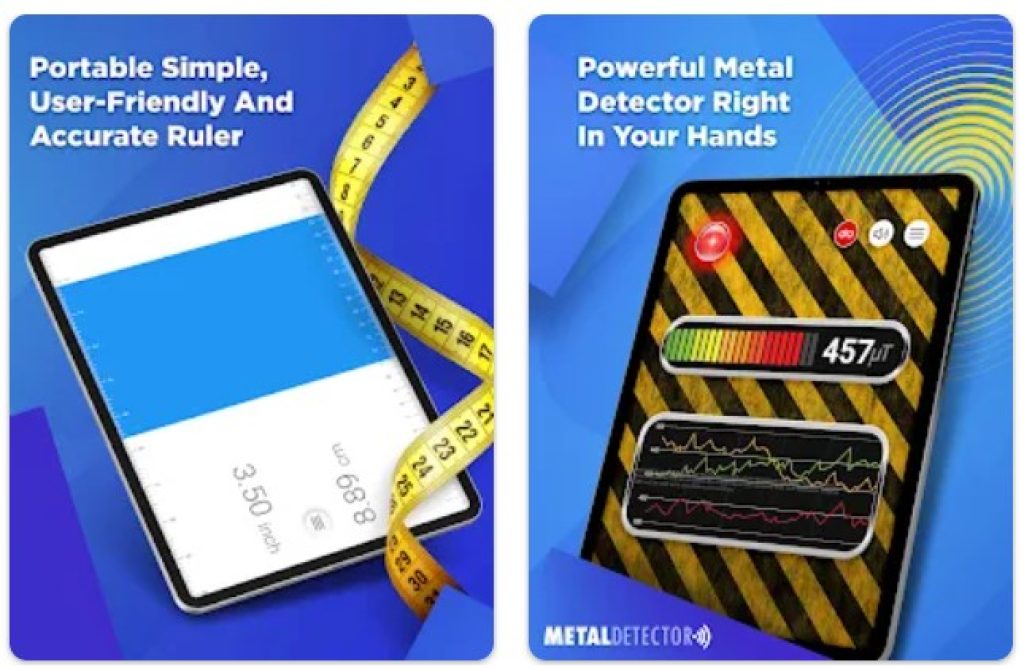 Metal Detector EMF
This app was primarily developed to detect any paranormal activity, but we all know that doesn't exist. Instead of chasing the ghosts, you can use this app to find metal objects, including wires.
The app has a single screen – a diagram of the sensitivity. When there is a metal object nearby, the fluctuation will get more intense.
The reviews about this Metal Detector are mixed. You see that on some devices it does not work properly – you can only try to download it and see if it is compatible with yours.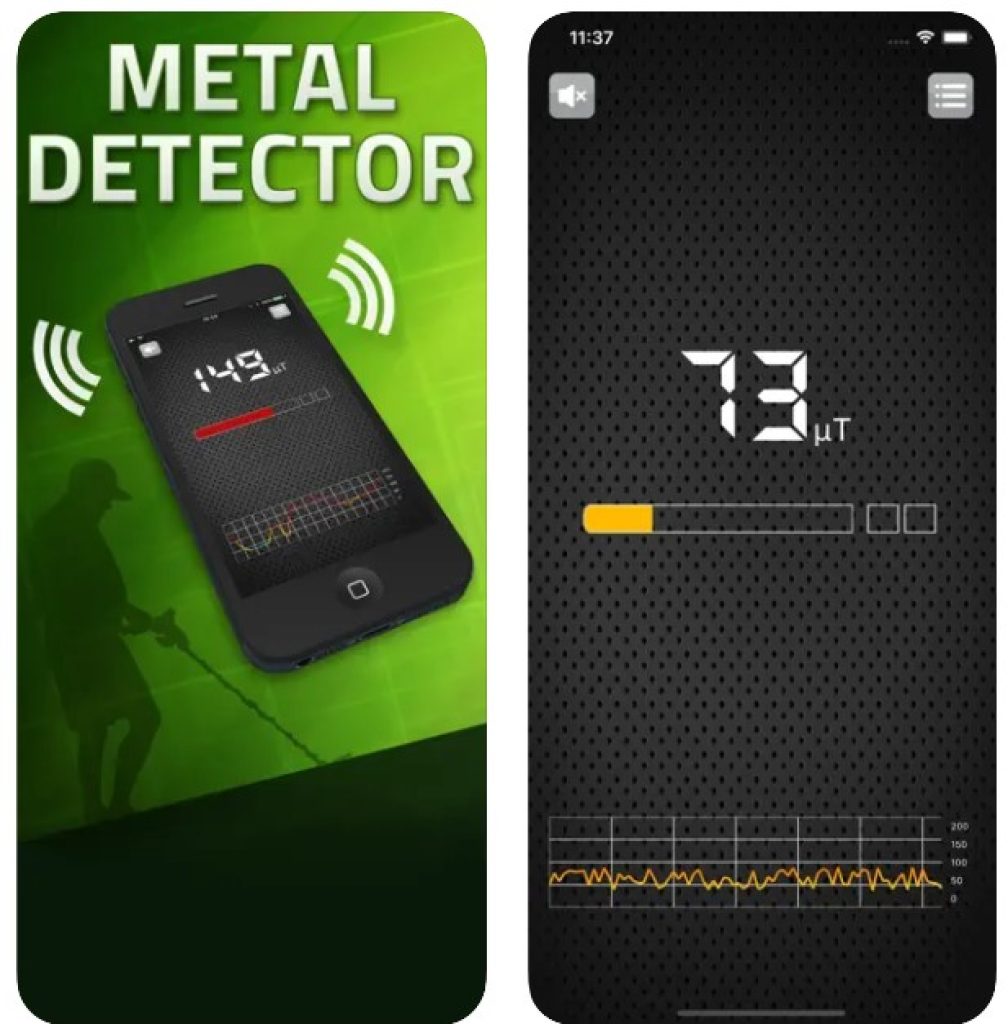 Wire Metal Detector
This is an extremely ancient metal detector, but in case you have older and less powerful Android devices, you might want to use it and it will work for you.
Even though the app might seem a little bit difficult to handle at the beginning, after a while, you will realize that it has a couple of sensors that detect the presence of metal objects around, including wires. Moreover, Wire Metal Detector is customizable and you can select the looks of diagrams and sounds.
You can even make your own oscilloscope diagram in the app. However, these additional features aren't needed if you just want to use this app to detect the presence of wires.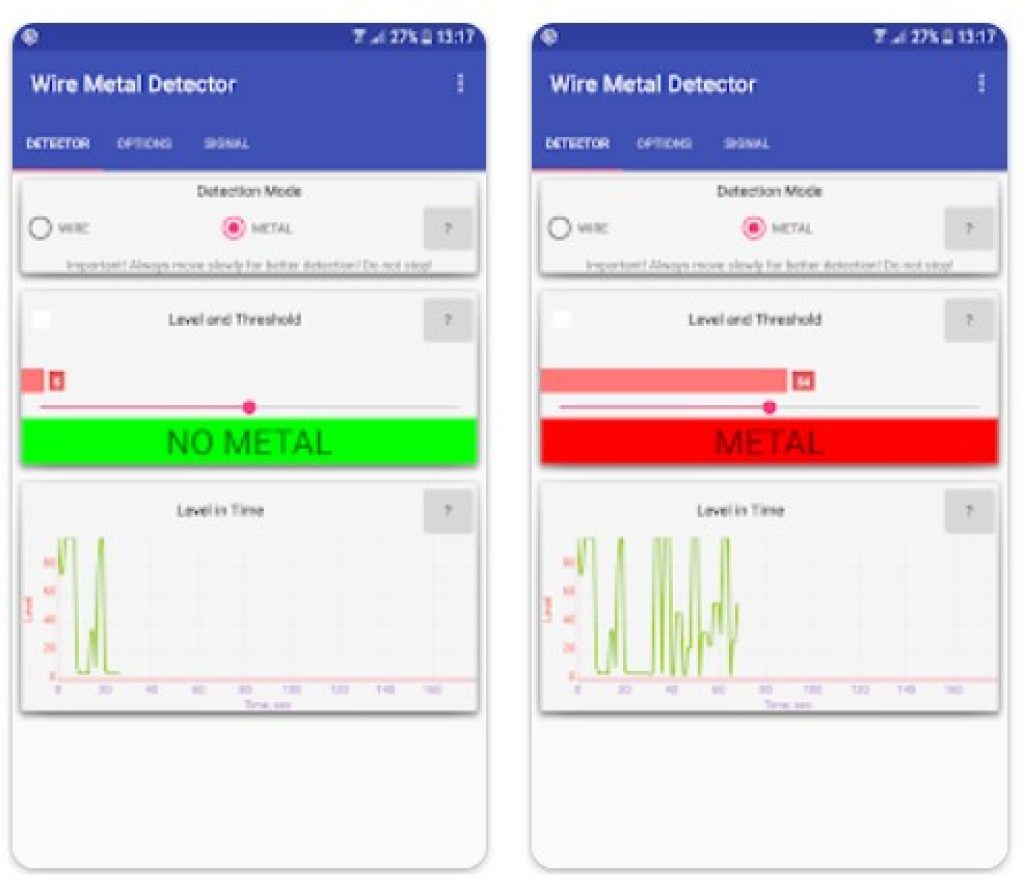 You may also like: 9 Free Live Microphone Apps (Android & iOS)
Wall Stud Finder
Yeah, we know this app is not the best offer, but there are very few good metal and wire detector apps on the market. This iOS app works just like all the previous ones, but it has one aspect – it is paid.
We recommend buying it only in case your iPhone has a powerful EMF detector, otherwise, the payment won't guarantee a good work of an app. This is probably the reason that causes so much dissatisfaction of users in the comments – just check before you buy.