In the current realities, a direction such as graphic design goes to a new level of implementation. Accordingly, in order to master it to the proper extent and show your skills in a good light, special utilities are needed. This article will feature best graphic design apps for Android.
By the way, we also recommend you to check another cool article about the logo design apps.
Canva: Design, Photo & Video
Canva is a program that combines three of the most important components for graphic design at once: a photo editor, a video editor and a promoting tool. Thanks to the developed tools, as well as a convenient interface, you can create graphically high-quality works on absolutely any device.

The developers of the utility focus on the following functions:
the presence of a large number of graphically developed samples, thanks to which you can gain inspiration for your work, as well as improve your creative abilities by analyzing a number of graphic products
the ability to put your creation on public display both in the app and in social resources like Facebook, which will give you the opportunity to get a response or even an invitation to make work to order, thereby promoting you as a performer
visualization of all data using ready-made samples in the form of presentations or a slideshow tool, as well as the ability to demonstrate your files using the program logo
a well-implemented photo editor that allows you to focus exclusively on work without the presence of distractions, such as advertising or watermarks; thanks to it, you can perform many photo operations such as editing, cropping or mirroring
There is also an incalculable number of options such as adjusting brightness and contrast, blurring and saturating a photo with different colors and other graphic tools, adding unique shades created by other users, and more.
The abundance of various stickers, emoji and GIF files allow you to add color and emotionality, and at times even personality to your design, as well as the ability to edit photos in more detail using a grid and create a collage of several elements.
The immaculate video editor allows you to create excellent video sequences in just a few clicks and has high fame among professional graphic designers, which allows you to talk about a decent standard of quality.
The availability of all necessary options for a full version of the video, namely: cutting certain points, rational and orderly arrangement of all video clips, resizing a video or graphic file to any size at the user's discretion.
You can add various video and sound effects that make your work more attractive and interesting for critics, as well as a selection of worthy tracks that adorn your video sequence.Moreover, there is a truly huge internal app library, including more than one and a half million different images and videos.
Additionally, the app has a large number of ready-made video samples and photos with watermarks; several tens of thousands of licensed audio recordings from famous artists and so on.
Canva's unique option is a smart layout that allows you to overlay your own design on a finished product, high resolution, attracting more coverage; there is a possibility of ordering leaflets and merch in printed form for the implementation of the business plan.
It's possible here to create collaborations with a particular brand, a well-known personality or even the collection of a team united by the same goal – the development of their directions.
Based on all of the above, a simple conclusion suggests itself – Canva will appeal to both beginners who are taking the first steps in this direction and professionals who want to increase their ratings and move further in this business industry.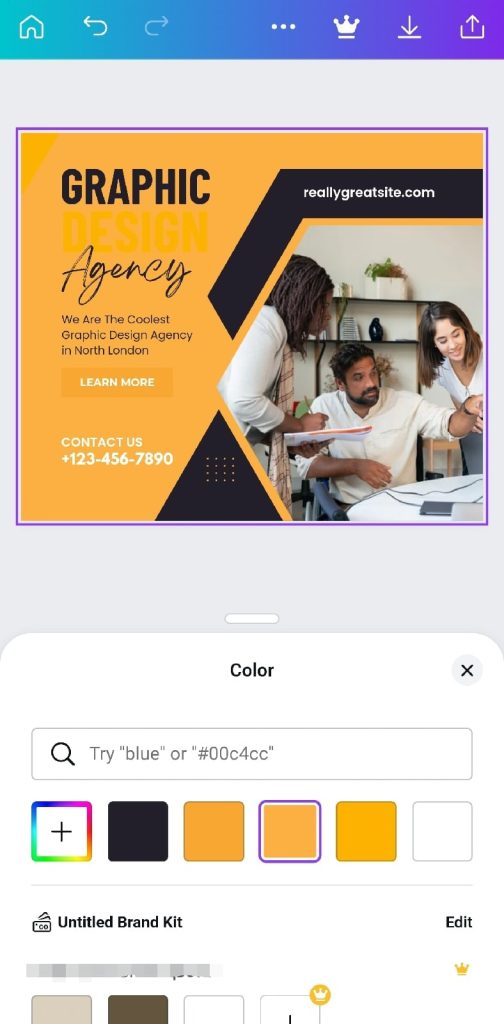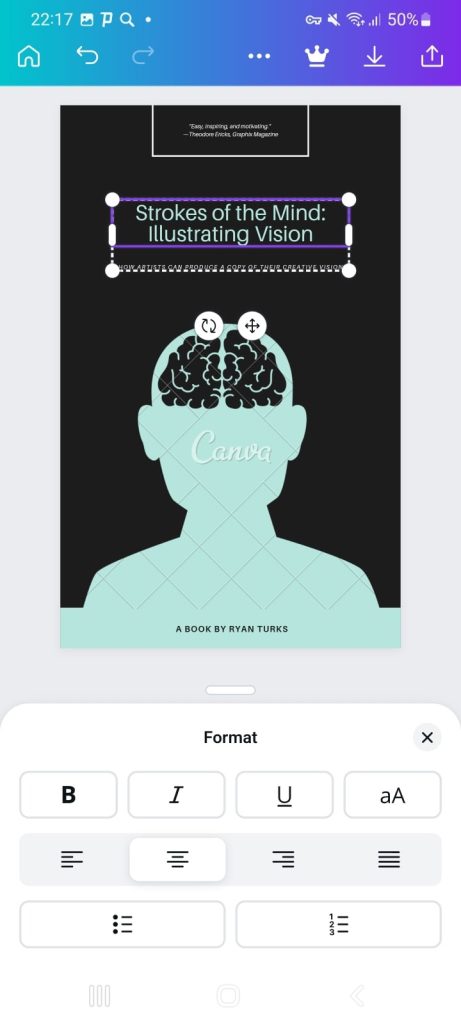 You may also like: 7 Best apps to animate still photos on Android & iOS
GoDaddy Studio
This photo editor can without exaggeration be called one of the best for the design and editing of various photos and videos, because it has everything you need to implement many actions with graphic design. You can create unique ones of their kind very quickly and efficiently.

Here are some options that make this app irreplaceable:
The customization of templates with built-in individual styles or work entirely from scratch, emphasizing your individuality; there is also a tool that allows you to create unique logos (the utility has more than several thousand images).
The option of creating attractive posters and advertisements in print, such as flyers; more than five hundred fonts are currently built into the program, thanks to each of which your work will look exquisite.
GoDaddy Studio is an impeccable video editor that in a short period of time will help you turn any video into an amazing video sequence; special filters for videos, editing them according to several parameters (for example, brightness or contrast), as well as overlaying various text and graphics.
There are countless visuals to bring interest and flamboyance to your creation, as well as attract attention and increase reach; built-in ability to add text with different styles.
Moreover, the following features can be discovered in the app:
the presence of tools such as a "masking effect," adjusting brightness and color saturation, a visiting photo revision for more detailed formatting of work, and a unique filter that adjusts image contrast
the only one in its function of creating not only works with photos and videos, but also a unique design for the site that will help you develop in a radically different direction – web design
the ability to promote on various social networks and resources, followed by a successful graphic designer, thanks to advanced program algorithms that highlight the best works in the current week in the top
Thus, we can conclude that GoDaddy Studio is a great opportunity for any user to learn design from scratch, and for a professional – an indispensable assistant in work.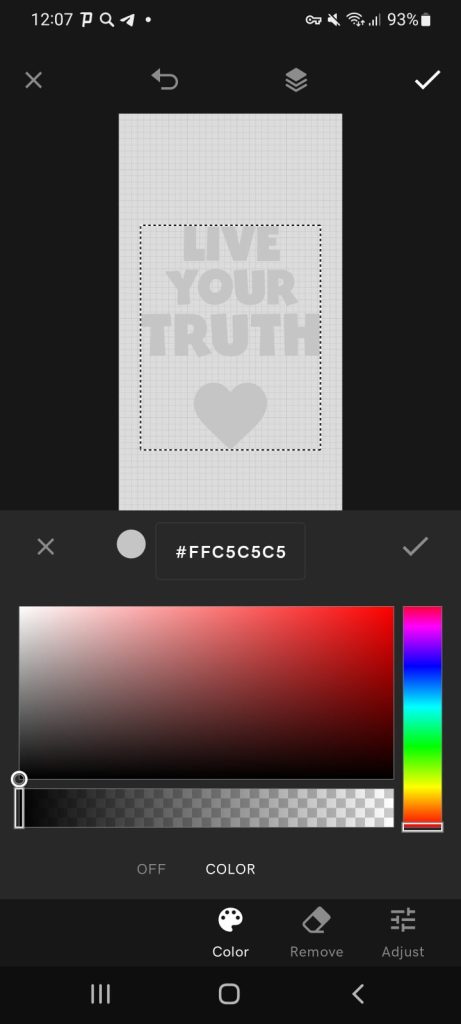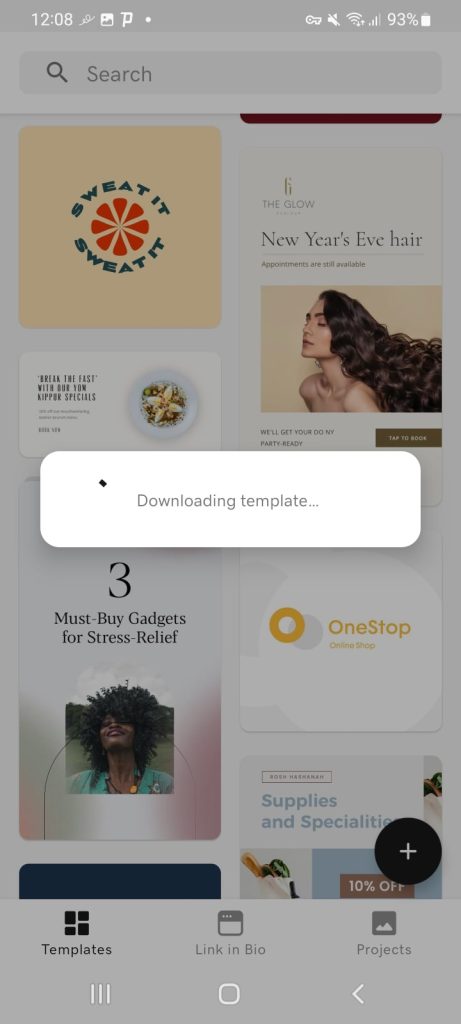 Adobe Express: Graphic Design
Adobe Express is rightfully considered one of the unconditional favorites for the right to be in leadership positions in the field of graphic design and editorial office. It allows you to work on devices of absolutely any type, from a tablet to a computer.

The program has the following characteristics:
The achievement of an excellent result literally in a short period of time, which is evidenced by the convenient interface and developed functions of the utility. For each of the tools there is a detailed tutorial for use, which will significantly facilitate the work of beginners.
The ability to choose the necessary template to promote your services on social resources and media, for example, stories for Instagram, a post to attract an audience on Facebook or Twitter, or even a beautiful design of work on Pinterest.
A huge number of tools is built in into the app to impeccably edit images and make them more alive. Such tools include many special effects and filters, various emoticons and stickers, modes of various blending and much more
There is a variety of different text effects, such as an abundance of styles and fonts of different sizes and colors, the ability to animate individual words or even phrases with subsequent rendering. Moreover, there is also the possibility of detailed editing of a single symbol
Here you will find the complete freedom of action in design both for a beginner with step-by-step tutorials according to samples of work already completed, and for a qualified professional with a large amount of experience. For specialists, it is possible to use advanced design functions
There is the opportunity to make graphic design your future work, because this app has agreements with many well-known graphic design companies, which will be happy to accept newly made and ambitious specialists into their ranks.
The auto-saving all created creations and videos here employ the ability to convert in GIF format, as well as frame-by-frame formatting of video sequences with the ability to overlay visual effects and colorful animations.
Thanks to Adobe Express, you can feel like an art creator who creates your work just like an artist draws his masterpieces. Try to download this program and you can completely make sure that you have made the right choice.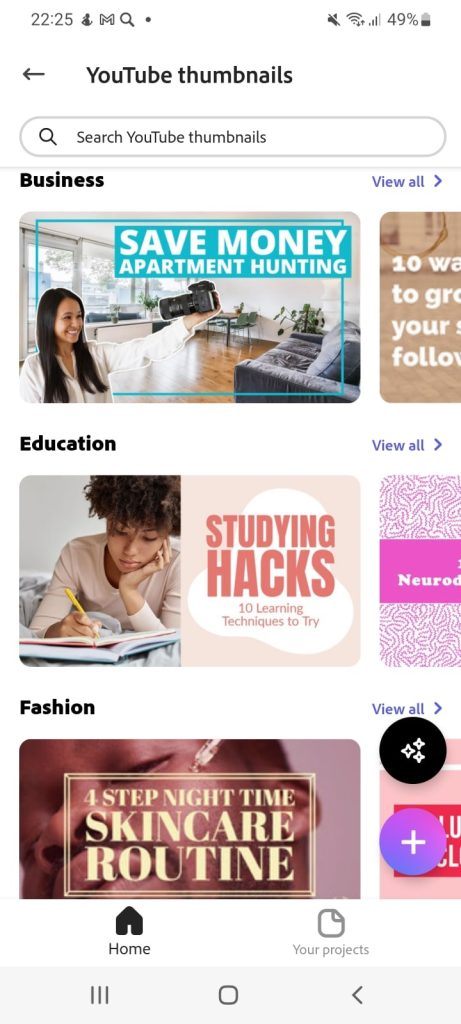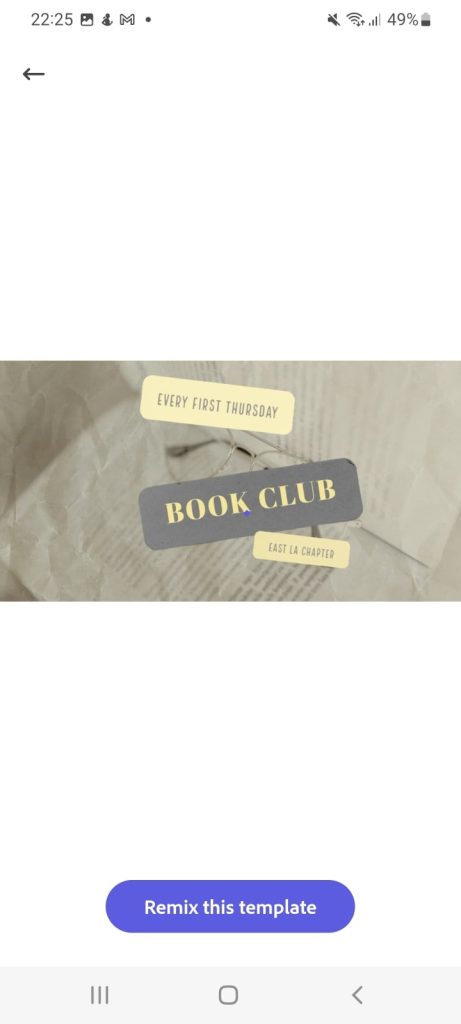 Desygner: Graphic designer
Desygner is a guarantee that your work will be edited using all standards of advanced options and tools, as evidenced by the painstaking work of the developers. This is confirmed by the famous Forbes edition, because it is in its list that special attention is paid to this utility.

The main advantages of this program that you should pay attention to:
unlimited access to a huge number of icons, logos, and other graphic elements is absolutely free, as well as constant updates with the addition of new fonts; present and the ability to use ready-made templates
the ability to diversify your photo with various graphic effects, such as grid editing, brightness level adjustment, various emoji and stickers, black and white filtering, adding contrast to work and many other equally important utilities
the ability to print graphic design from your device to create a specific PR company; this includes various flyers, booklets with descriptions of services and even some promotions that allow you to increase the status of the seller and promote it in the industry
Moreover, the app includes the communication and support on social networks like Google and Tumblr, which will show off its work and receive a rating from critics, which will improve its design abilities and reach a new level.
There is a unique opportunity to create interesting presentations that can be created both from scratch and using a template made by a specialist. It is possible to apply smart filters with which the user can bring the work to the ideal.
Detailed and clear work with all types of creations is possible here, especially with the textual component; changing the height of the line, line spacing, color, position, as well as smart scaling and a number of other functions useful for graphic design.
Based on the above, we can summarize that this app definitely deserves your attention. If you download it now, you will be sure that it can fulfill all your requirements for working with graphic design quickly and clearly.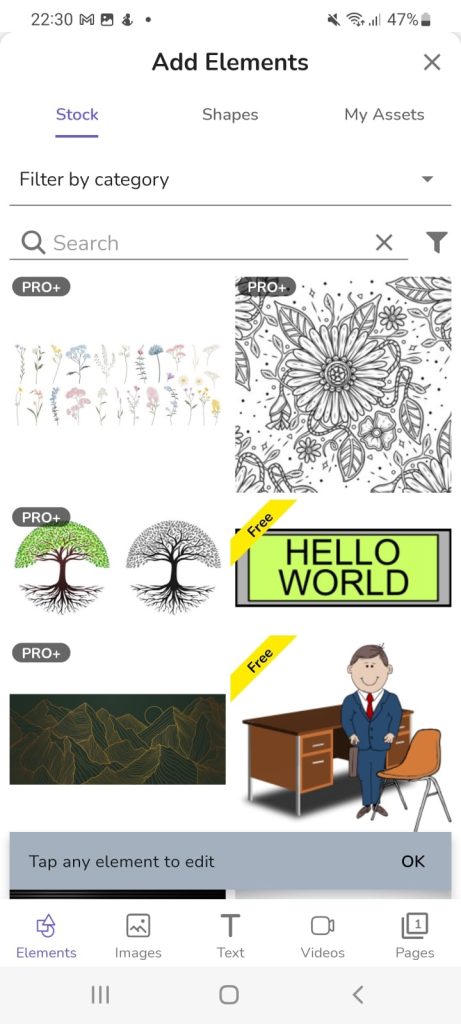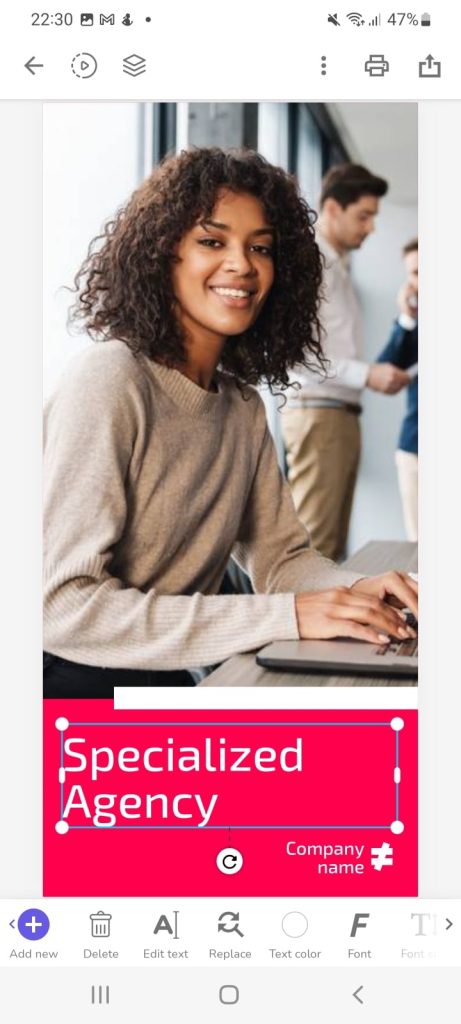 You may also like: 11 Best graph paper drawing and digital drawing apps for Android & iOS
VistaCreate: Design Editor
Vista Create is ideal for users to create any type of design, be it a PR ad company, poster or post for a social network. Thanks to the developed functionality and convenient interface, as well as ready-made samples, the work is carried out at a decent level.
The utility has a very large variation in the choice of functions of both the photo editor and the video editor.
As the most important things, you can highlight retouching photos and videos, detailing work on the background, adding various animations, as well as licensed audio recordings straight into your work.
Like all apps of this kind, this program gives good advertising and the possibility of promotion in this industry, because when you automatically save your creation, you immediately get a link to view your work, which can be shared on social networks.

In addition, the utility is constantly being improved through various updates that add more necessary content for authoring works.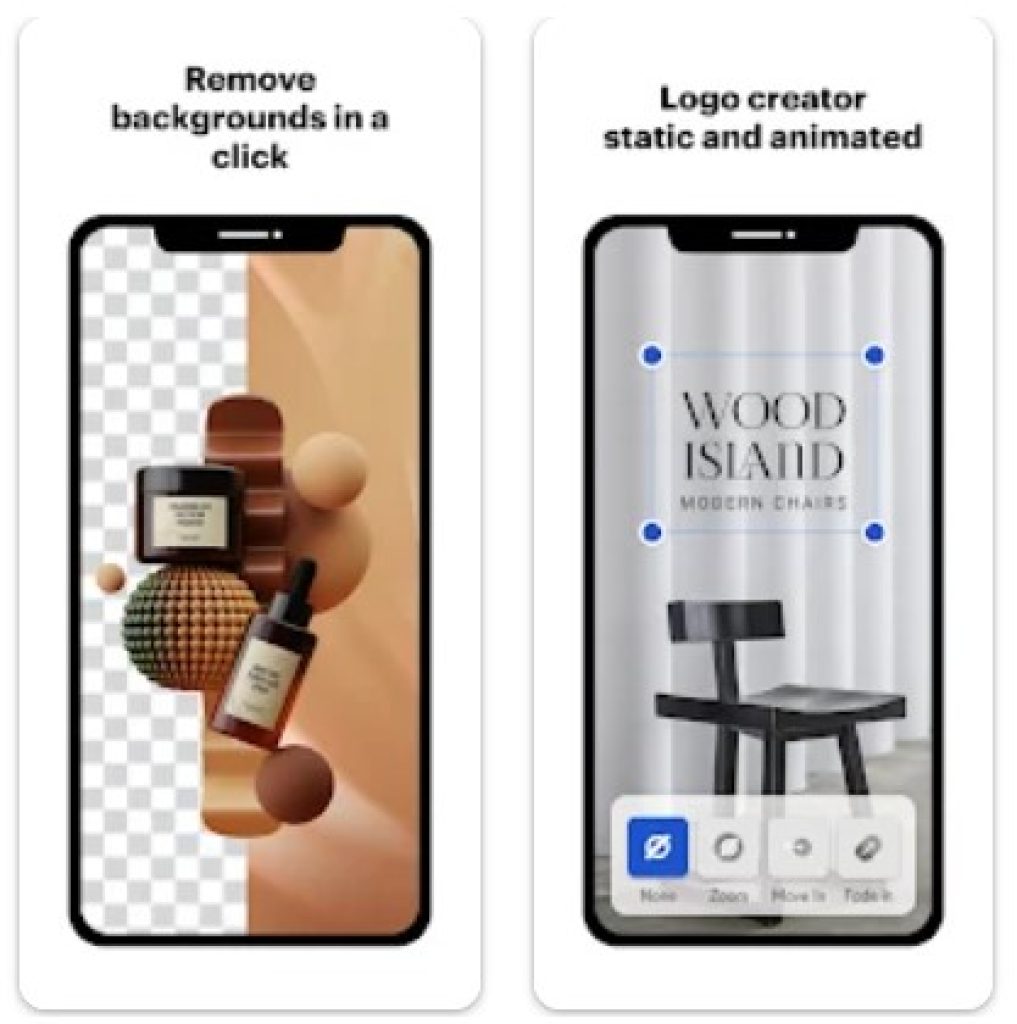 Poster Maker – Photo Design
This program can be called with confidence one of the simplest utilities for those who take their first steps in the direction of graphic design, since it has almost step-by-step instructions for obtaining the basics of graphics.
The app allows you to create a unique graphic design for absolutely any focus, be it a PR company, custom work or editing photos and videos for saving as memory. The functionality of the utility is rich in built-in samples, as well as an abundance of various stock photos and videos, as well as formatting tools.
The most important option of this utility can be called ArtLab, because it is this tool that allows you to borrow a huge number of logos and other design elements. The program uses a large number of tools to ensure that the design will be interesting as well as for both the creator of the work and the audience.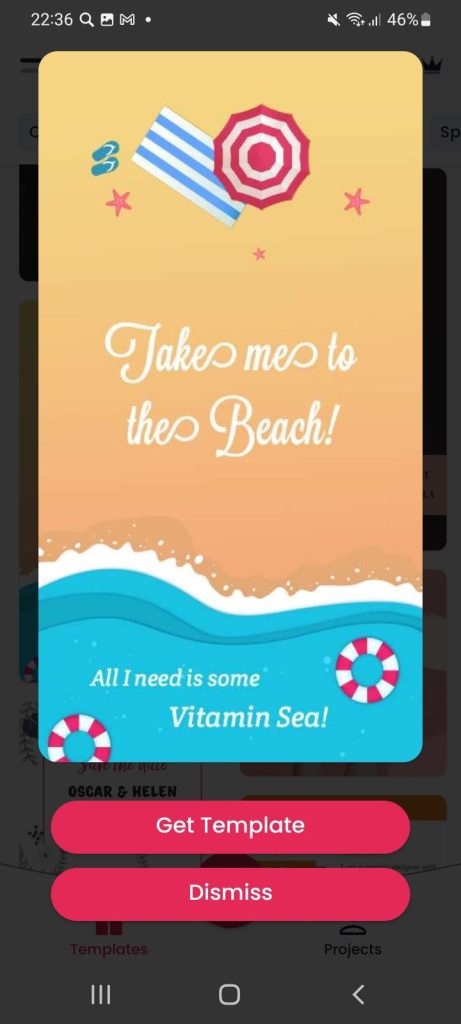 Logo and design creation
The main focus of this app is to create unique logos and emblems for later use in working with various companies, as well as increase awareness among ordinary users. The library of free emblems is updated daily.
The utility can be called unique in its kind due to the fact that it is very clearly detailed for creating both logos based on the model of ready-made works of other authors, and for creating an emblem from scratch. The program was created in such a way that it suits both beginners and professionals.
A nice bonus of the app is the fact that Logo and design creation separates all the created samples according to a specific topic, and also makes it possible to make several backgrounds and overlays, as well as add interesting formatted text.

Your created work is saved automatically and can be uploaded to a resource in order to receive coverage and criticism.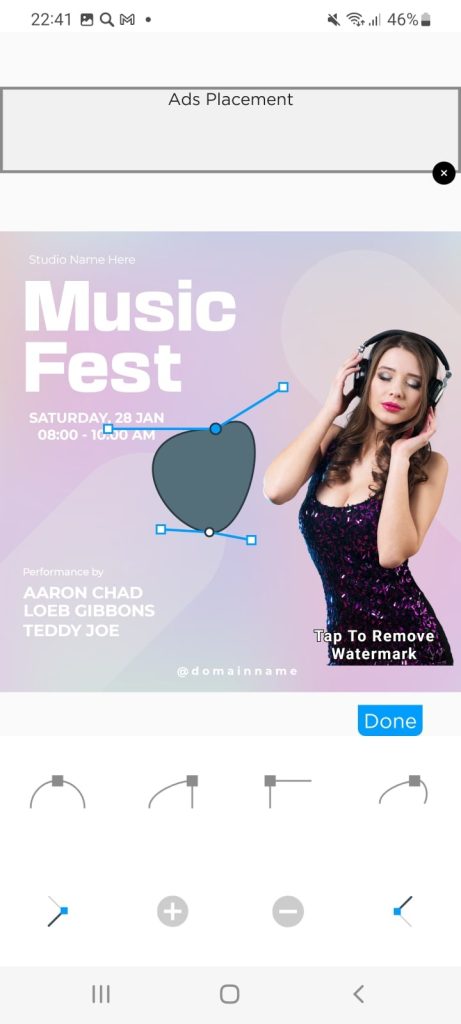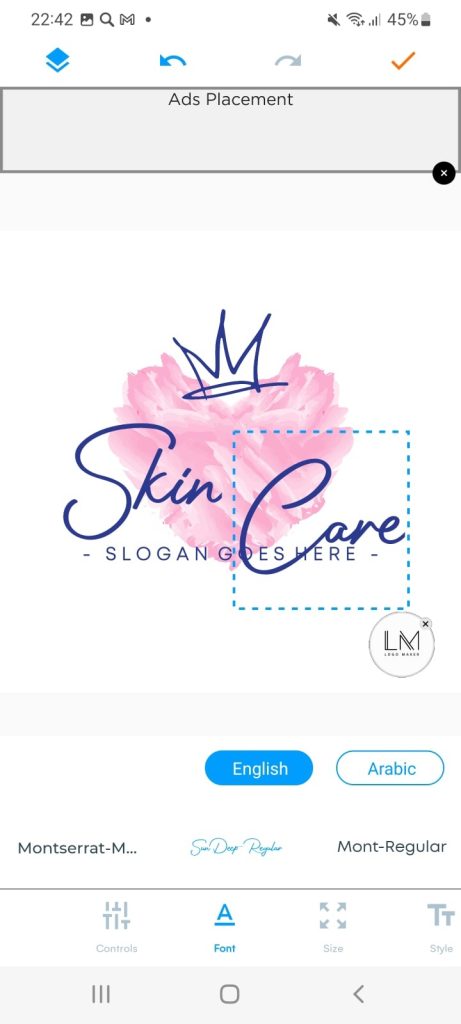 Sketchbook
This app can be safely called one of the best programs for editing individual drawings, because the developers paid attention in most of this particular direction. All artists, illustrators pay tribute to this utility for a sophisticated set of options and a convenient interface.
In the program, you can use a wide range of brushes of different lengths and thicknesses, for example, markers, strokes, a pen and many other options. All tools of the utility are very easy to configure, so even the most inexperienced user will not have problems using them.
In addition, the app has added more than five options for different layers with overlay modes that provide comfort and convenience when changing individual details in drawings. A simple interface designed for creating eskziz will allow you to fully immerse yourself in the work of a graphic designer.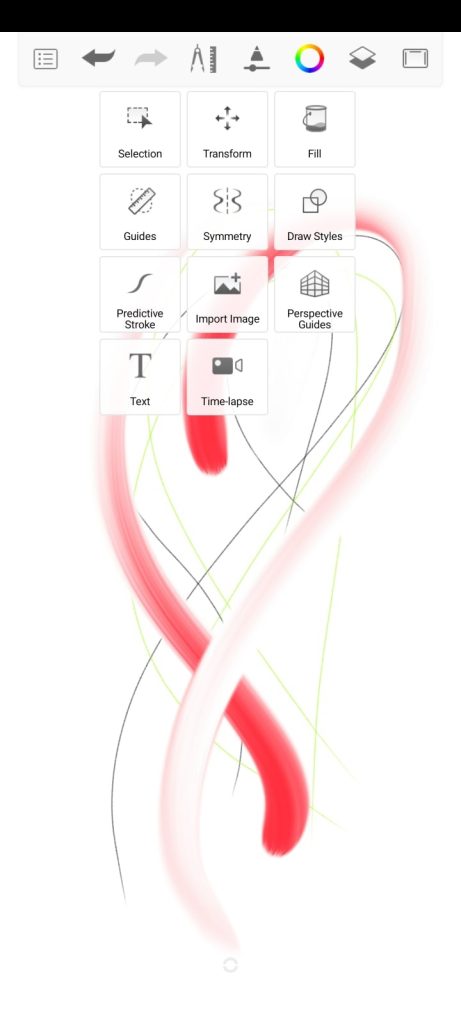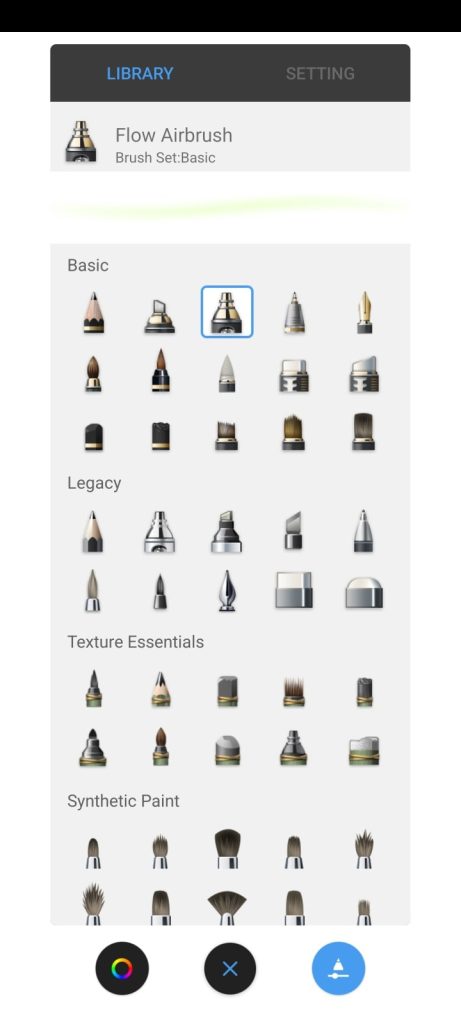 Ibis Paint X
Ibis Paint X can be called one of the best assistants for working with creating unique graphic design thanks to the abundance of various tools designed for this. In addition, the program contains a training course of lectures to obtain the necessary basics of work.
The most important tools in this utility are a wide range of brushes, including more than several tens of thousands of instances, an incalculable number of different fonts, overlay modes, strokes, ruler function and clipping mask.
The app is constantly being updated with new options. It is worth noting that the brushes of this program are able to work out more than sixty frames per second, as well as edit the configured parameters for more detailed work. Download this app and make sure you need this program yourself.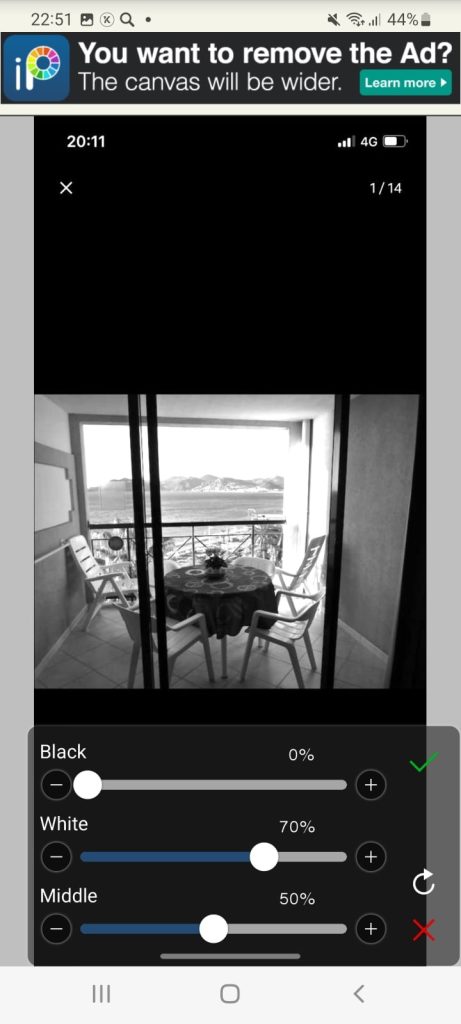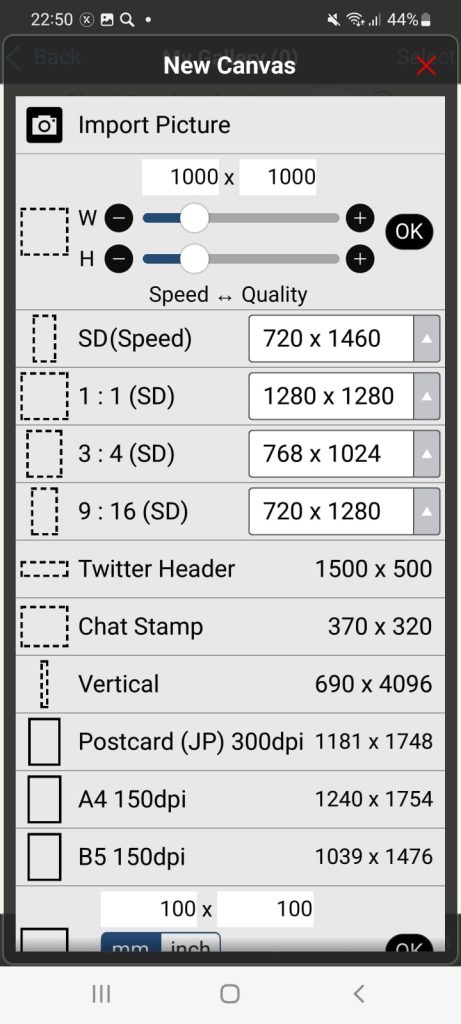 Flyer Maker, Flyer Designer
This utility allows you to create unique flyers and promotions, which allows you to characterize the designer exclusively from the positive side. Everything in the app is configured as simple and convenient as possible, you just need to perform a number of simple actions with tools and you will get the result.
You can choose a ready-made sample or create your own flyer from scratch, add a video, photo or soundtrack at your request, debug a specific image, crop a photo into a certain shape and many other actions. Save in various formats is available.
Even if your work has already been posted on the site, you can hide it at any second and edit it to post a new one that will look, perhaps, radically different. Try using ready-made samples as a beginner and you can move very much in this industry.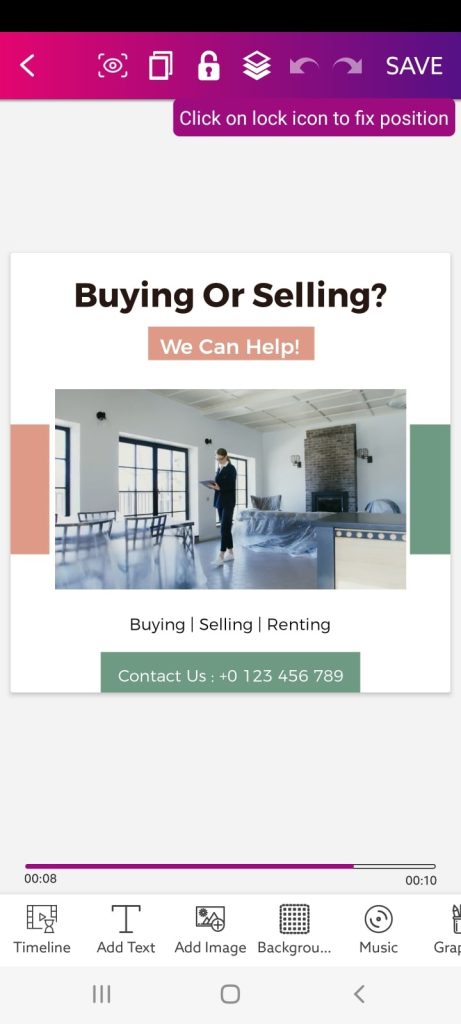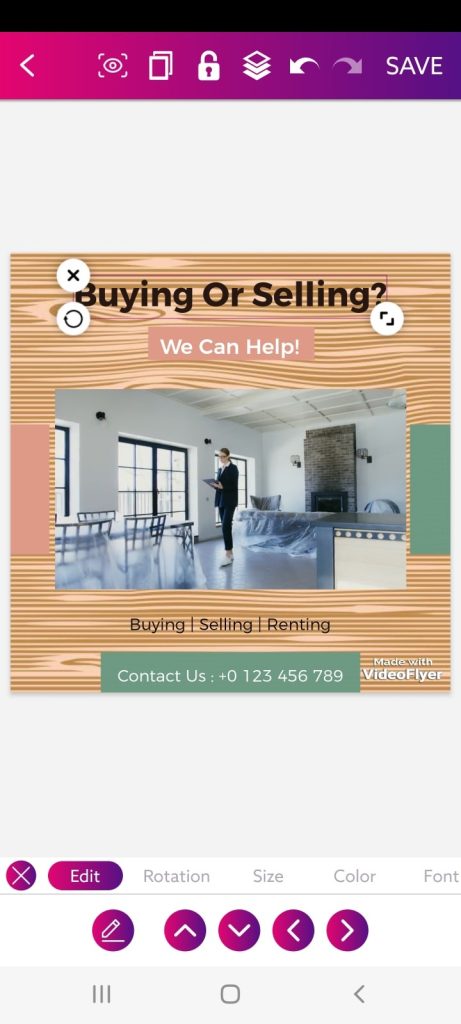 You may also like: Free 15 drawing apps for Android
Pixlr
Pixlr allows you to reveal all your creative staff even to the most inexperienced user due to its developed functionality, as well as the variability in the choice of style of work. Try to take inspiration from the work of other users by viewing their work on various social networks.
The main functions of this app are to create collages with photography using a large choice of layout and background, overlay several photos at once and mix them using double exposure, as well as give photos and video brightness due to various visual effects.
A nice bonus of this app is the function of creating masks and superimposing various stickers, emoji, logos, as well as photos and videos to give the work personality. Download this app and take your first conscious step to working as a graphic designer right now.