High-intensity interval training, including Tabata (20 seconds of exercise, 10 seconds of rest), as well as circuit training (mixing different types of workouts), is extremely good at improving both aerobic and anaerobic health. Such efficient types of training, however, require observing time, which can be a bit problematic… without the right app!
Try more ways to stay healthy with these best 7-minute workout apps.
With one of the apps from the list below, you won't need to worry about time – a workout timer app will do this part for you so that you could concentrate on what's really important – exercising! So, check the list, choose the app you like most, and enjoy your training!
Note that first come the apps suitable both for iOS and Android, then only for Android and then only for iOS. You can click on the category you're aiming for in case of scrolling down is not an option!
Tabata Stopwatch Pro
Tabata Stopwatch Pro is one of the best interval workout apps both for iOS and for Android. Despite the fact that the app is almost completely free, it contains a huge amount of useful features! You can use it for HIIT, kettlebells, running, bodyweight exercises, and a lot more.
This is how the app works – you hear different kinds of beeps that warn you of when to start your training and when to pause it. There is also voice guidance, so if you don't want to rely on some beeps, you can choose this option instead. For some sports, it might be convenient that the colors of digits showing rest time and workout time are not the same, so if you wish, you can rely on your sight instead of your hearing.
There are many other cool features this app has to offer, like counting burnt calories, recording time or uploading a music playlist. Add to this a modern minimalistic design and here it is – the perfection! However, not everything is so easy. TSP has got two significant limitations which can be removed only by making in-app purchases.
The app allows you to customize such pre-settings as workout time, rest time, warm-ups, but you can't save all of these in order not to waste time on repeating the customization process over and over again. The other limitation concerns using the app with a locked screen – this one makes the app with no purchases practically unusable if you want to use it for running, for example.
Luckily, there are many separate apps for runners that have not only got interval training mode, but also many other cool features.
As for TSP, this is a great app and if its limitations don't bother you or you are ready to pay for removing them, download the app right now! If not, below there are many other options for you!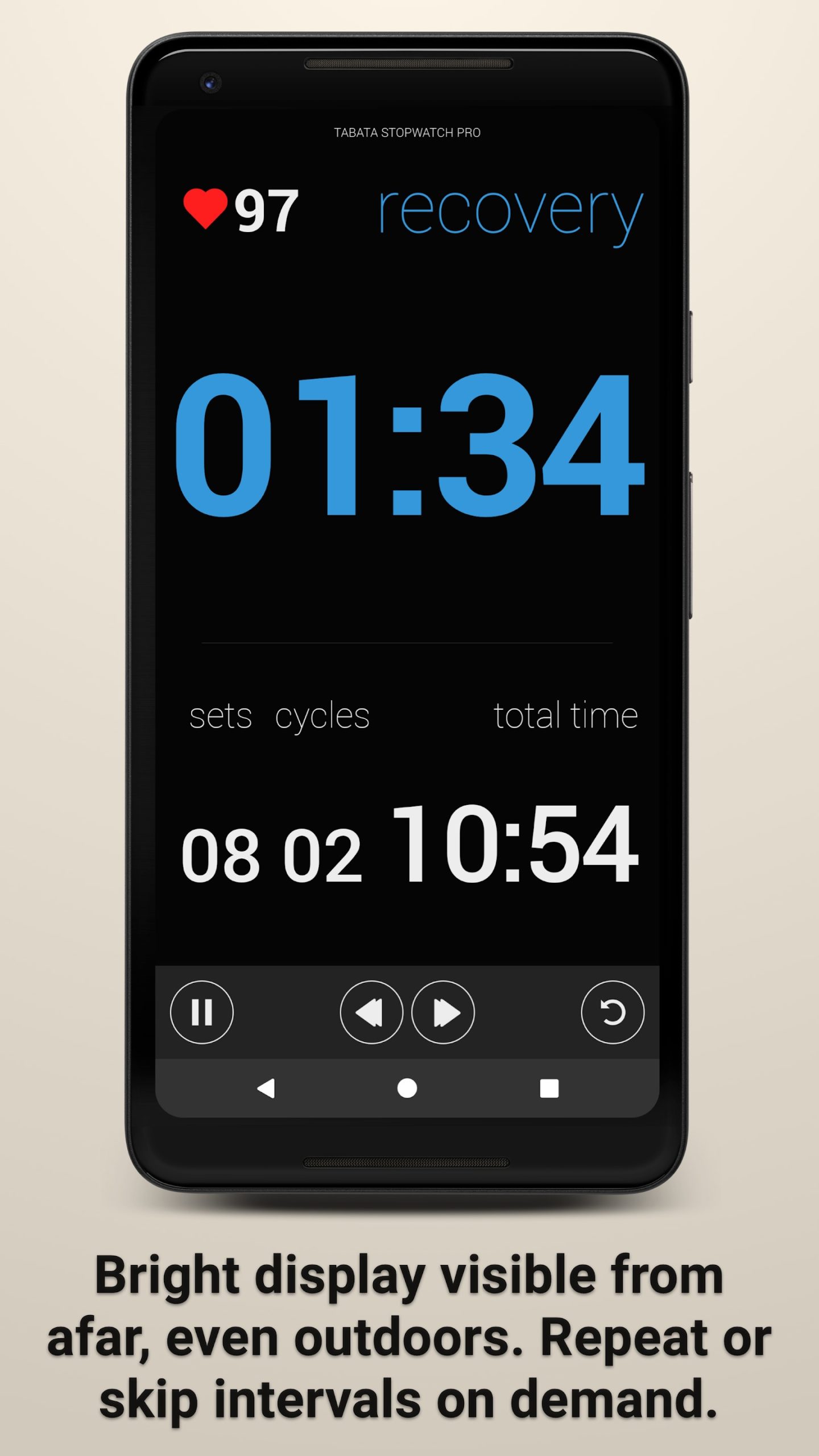 You may also like: 25 Best Running Apps for Android & iOS
Exercise Timer by NeuronDigital
This is a handy and multifunctional app designed to keep track of various workouts and exercises. Thanks to its convenient functions and clear interface, the app can be mastered even by beginners and used at home.
The app gives you the opportunity to create and customize your own workouts. Here you can make lists and include in them all the exercises that should be performed in a certain time. You can assign different times and intervals for each of them, taking into account the rest.
Create your own workouts by setting the number of repetitions required. This allows you to create customized timers that will suit your requirements and physical capabilities.
The app also includes a feature to track and save your workout results. You can view the history of your completed workouts, check your progress and see the results of your efforts. This will allow you to identify easy and challenging exercises, as well as customize the ideal time to perform each one.
The app will also automatically calculate the number of calories burned based on the number of exercises and the time you spent on them.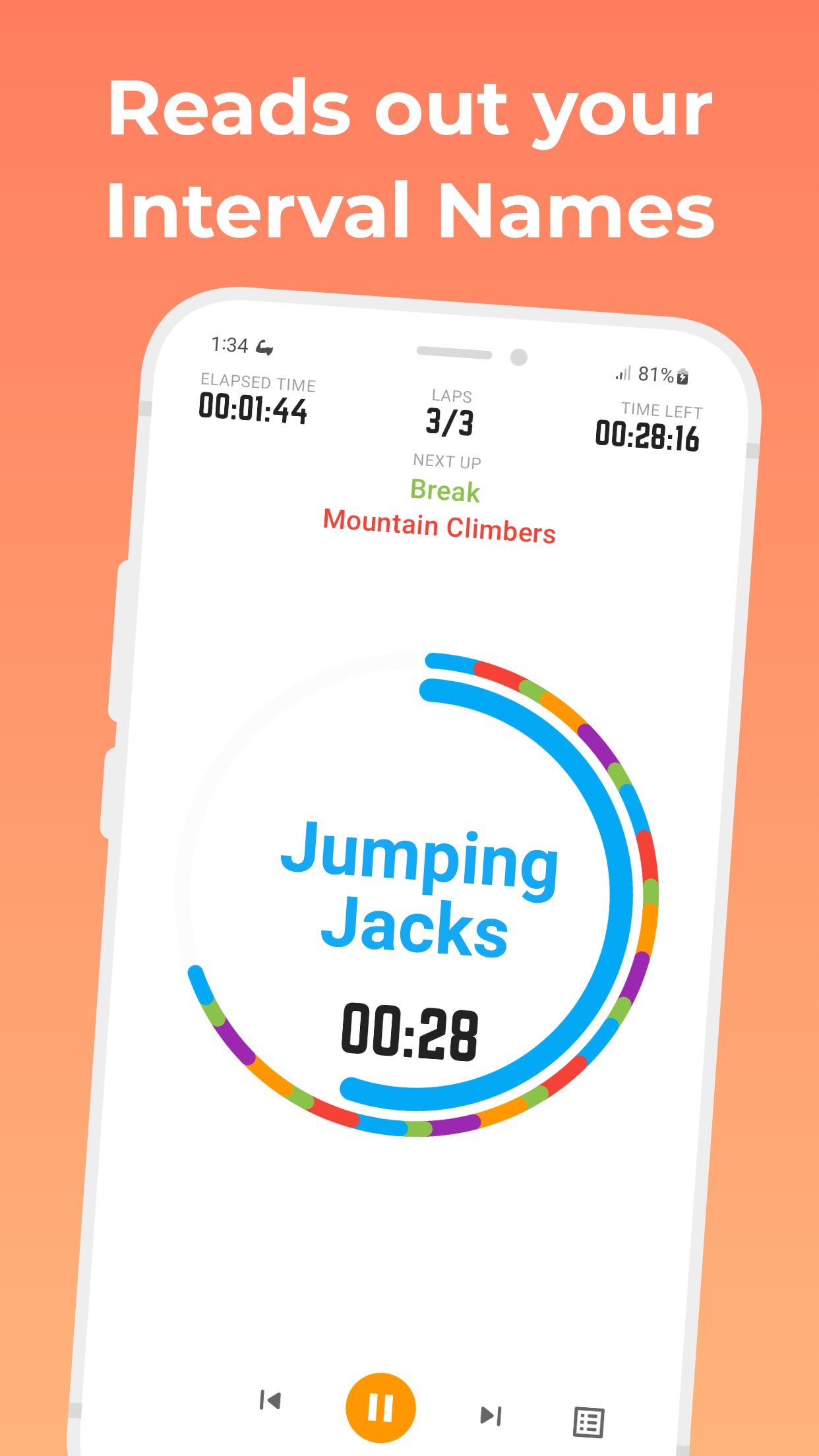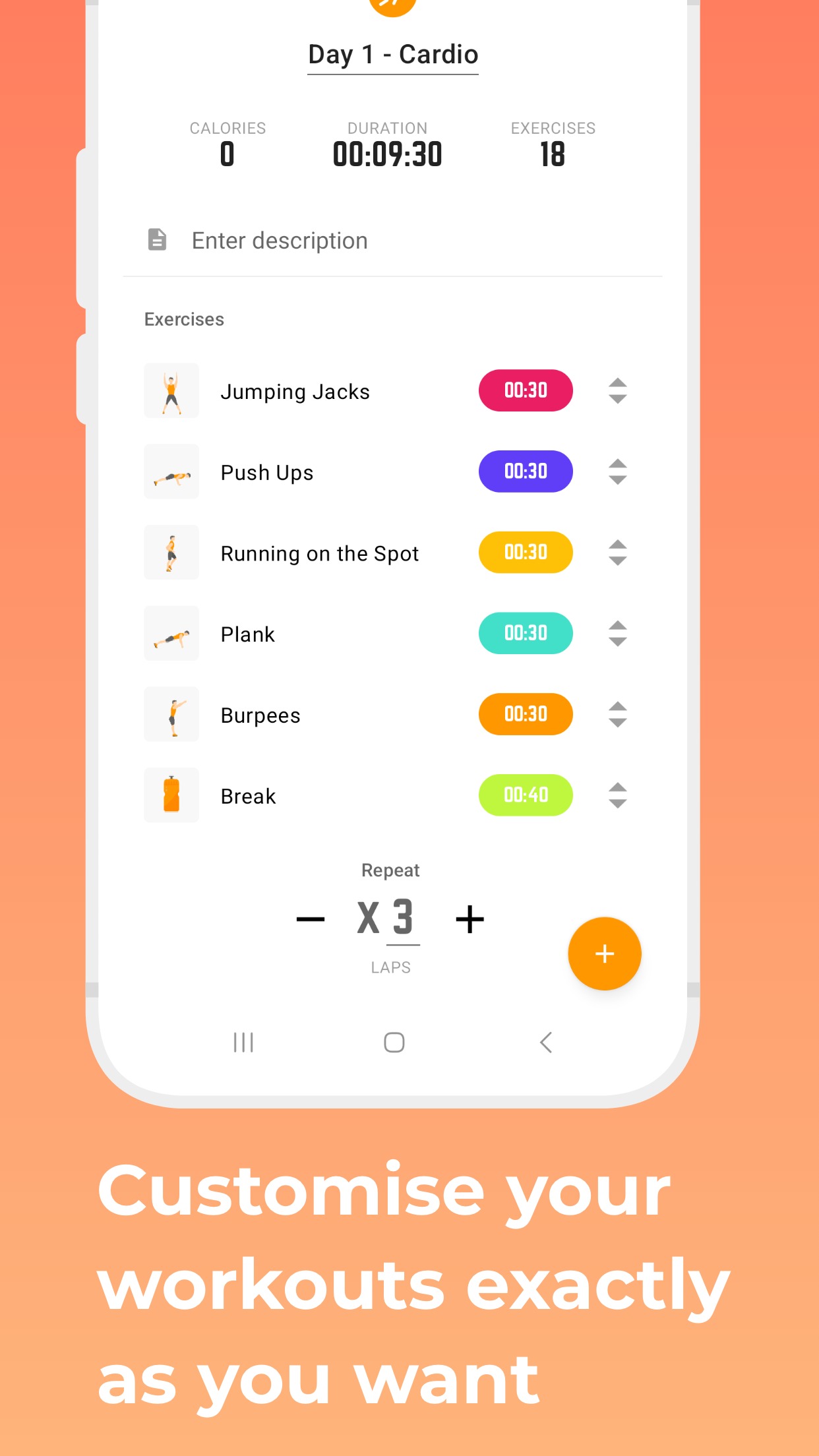 Interval Timer: Workout, HIIT
This is a unique workout timer. Choose certain intervals, number of repetitions and approaches, as well as time for rest between each exercise.
Here you can schedule your workout and choose any convenient time for each exercise. This allows you to exercise according to your physical capabilities and your body's needs.
Receive audio and visual notifications about the beginning and end of each interval. Stay on track with your exercises and maximize your workout time. Even if you exit the app, the timer will continue to run in the background, so you won't have to hold your phone and get distracted while you work out.
The app also allows you to analyze your results and make adjustments to your workouts if necessary. Clear controls allow you to start, pause or reset the timer with just a few taps. Workout data is saved in the app, so you don't have to reset the time for each exercise.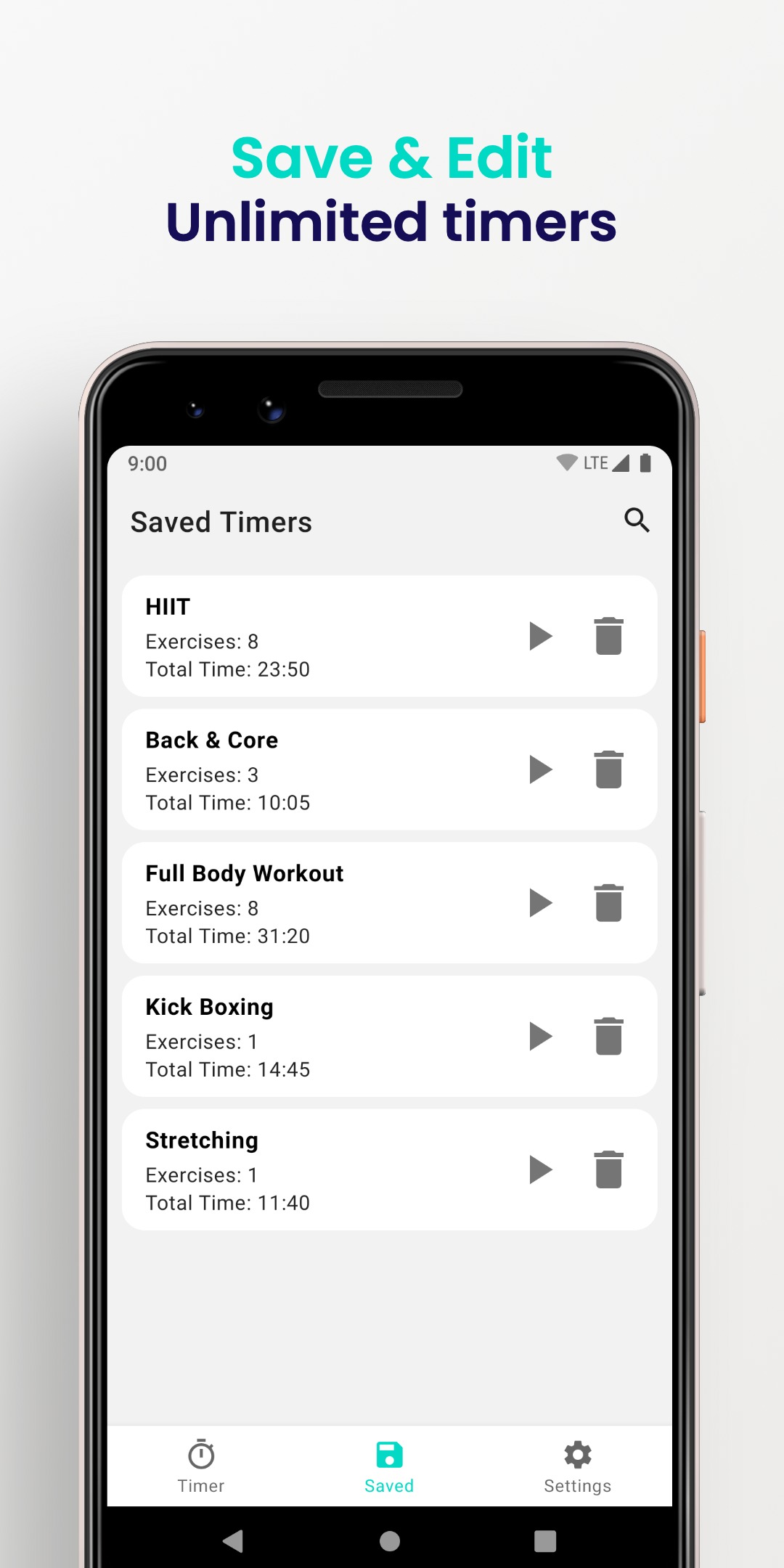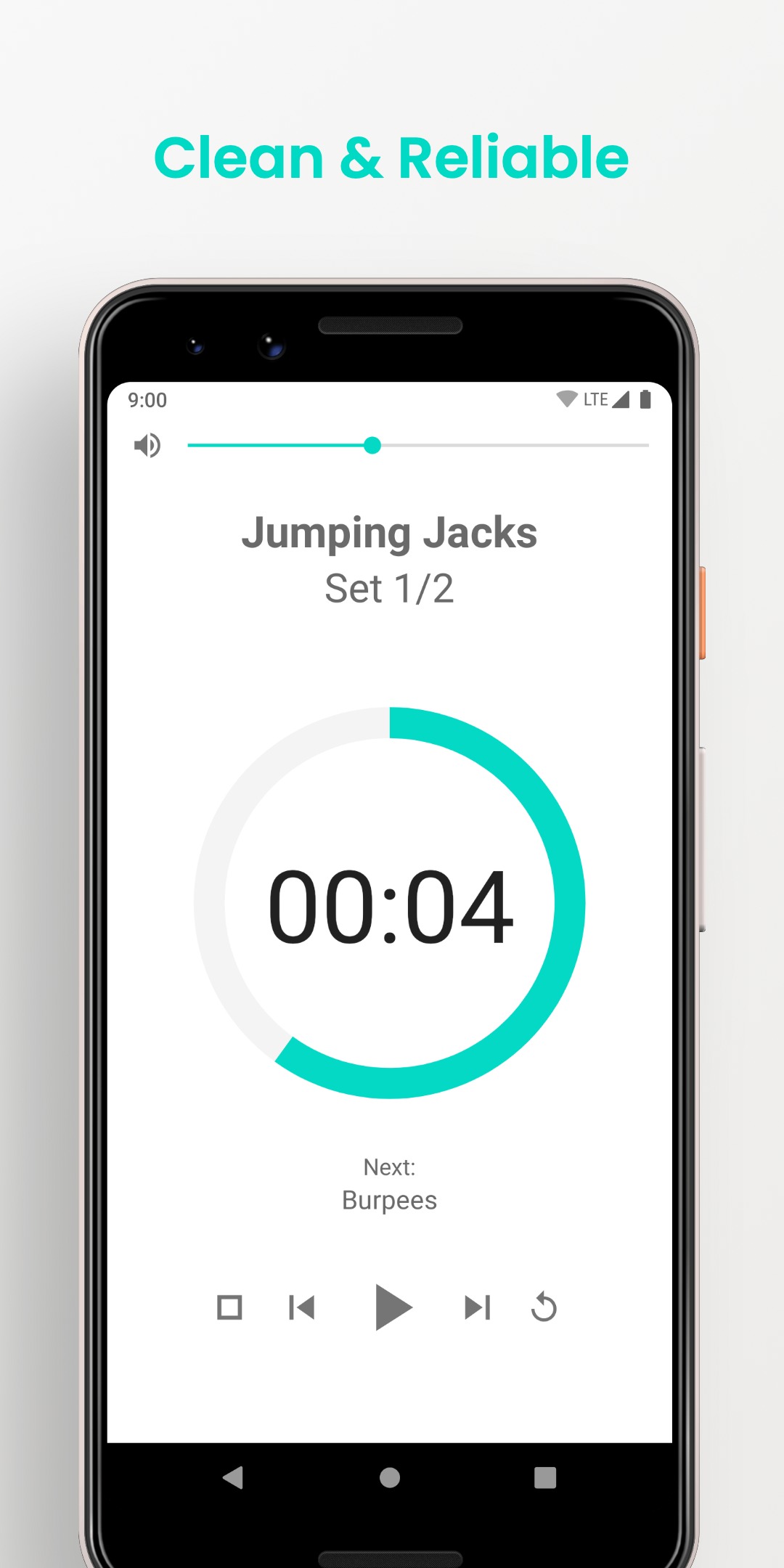 Seconds – Interval Timer for HIIT & Tabata
Seconds is the last app on our list that comes both for Android and iOS. The app boasts about being the most advanced one out there. And really, the features are quite impressive. This one, unfortunately, also has that limitation on saving your timers.
The in-app purchase allows you to even import and export timers for training, but if you don't want to spend your money on that, you have to go only with ready templates. The good thing though is that the app has these ready templates! In fact, not just one or two, but for all kinds of interval workouts – HIIT, Tabata, Circuit.
Among other advantages of the app are a nice clear interface and a possibility to assign music to each interval. So, download the app, check if its intervals suit you, and enjoy it! If they don't though, there are plenty of other apps down below!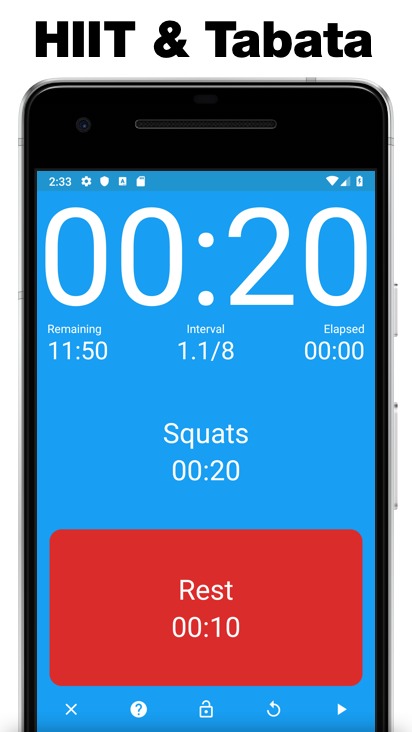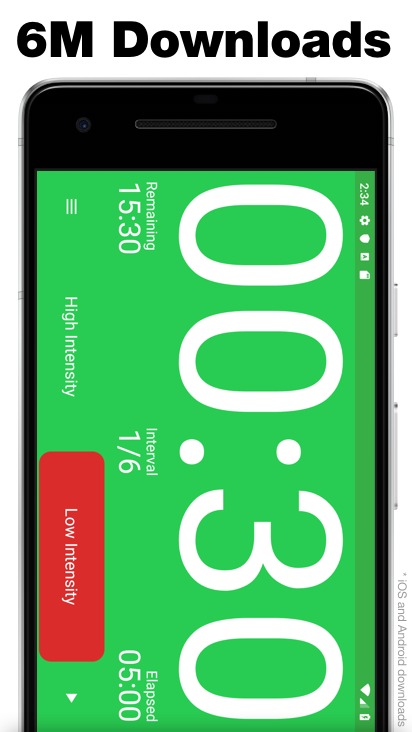 Tabata Interval Timer for HIIT
Tabata Interval Timer for HIIT is an amazing workout timer app for Android. The app is more than just a timer – it allows you to create personal lists of exercises. You can set up lots of kinds of intervals like prepare, work, rest, cool down and so on. While setting up work time, it is possible to choose what kind of exercise you're gonna do.
One of the app's biggest advantages is a clear interface with huge digits and different colors for different intervals. The app has got 40 sounds to remind you of when an interval is over! And you can use voice reminder as well. There is a premium version – you can check its features right in the app, however, if you need a basic timer with extended settings, this one is perfect even without buying a premium!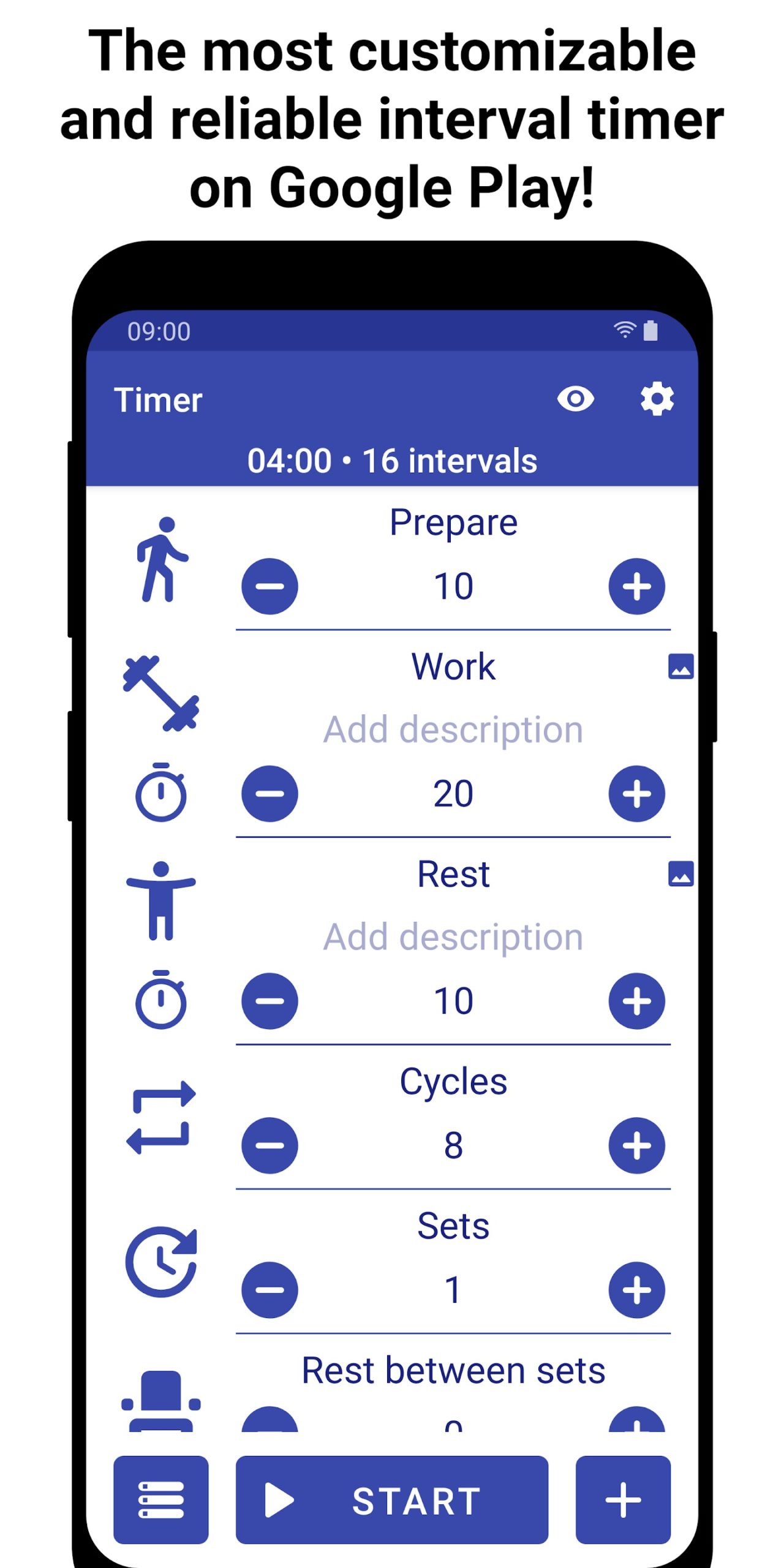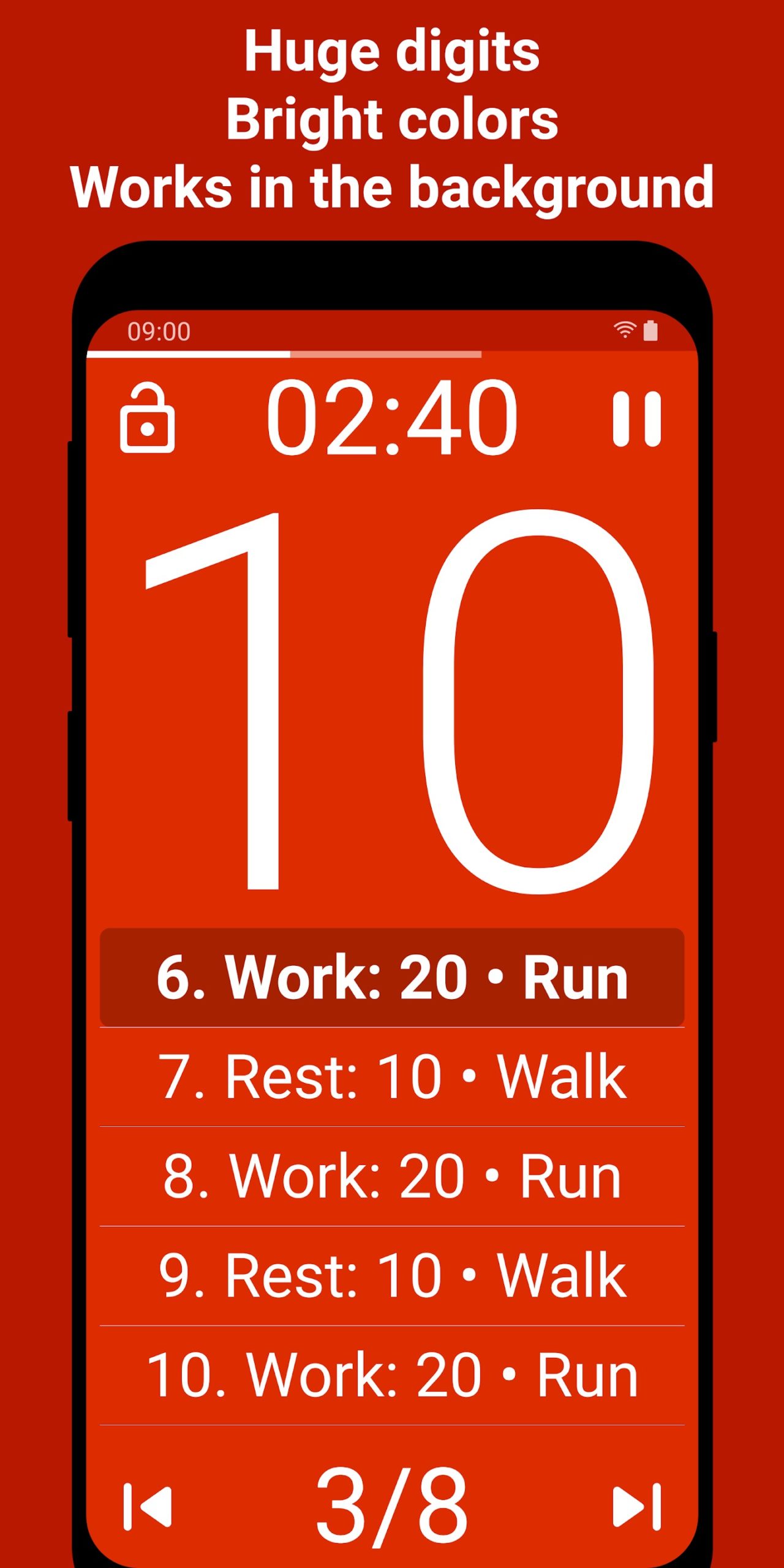 Interval Timer by dreamspark
Interval Timer is one more good-looking workout timer app for Android. The app is pretty simple, but it does its job fine, what else can a one need, right? There are all kinds of interval training – round timer, circuit timer, HIIT, Tabata… The settings are easy to change and in general, the app leaves quite a nice impression.
The only problem is ads – in order to display ads the app needs Internet access, so it doesn't work without the Internet at all, which is a bit frustrating. Apart from that, this app is certainly one of the coolest! If you need something simple, you have found it!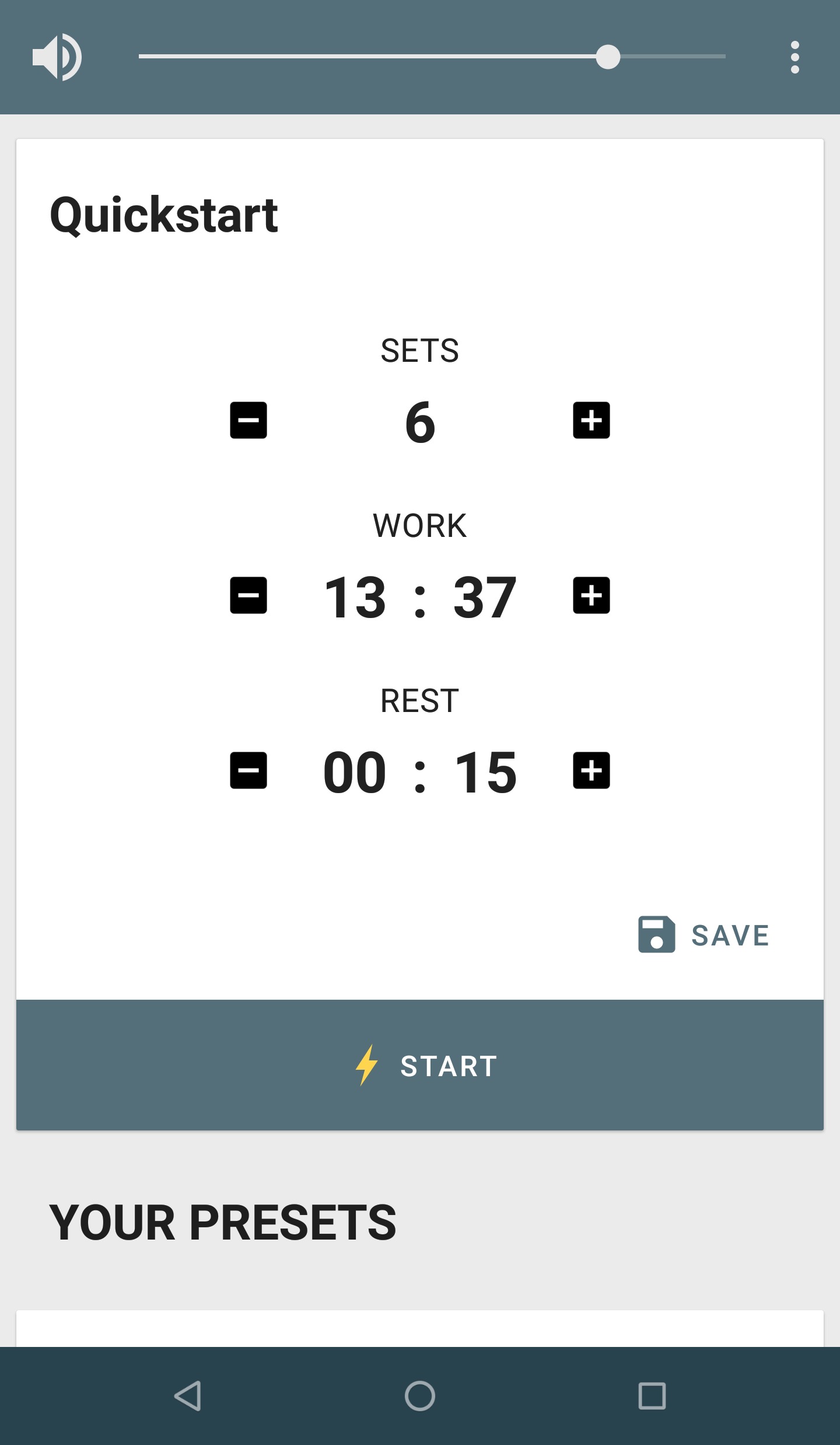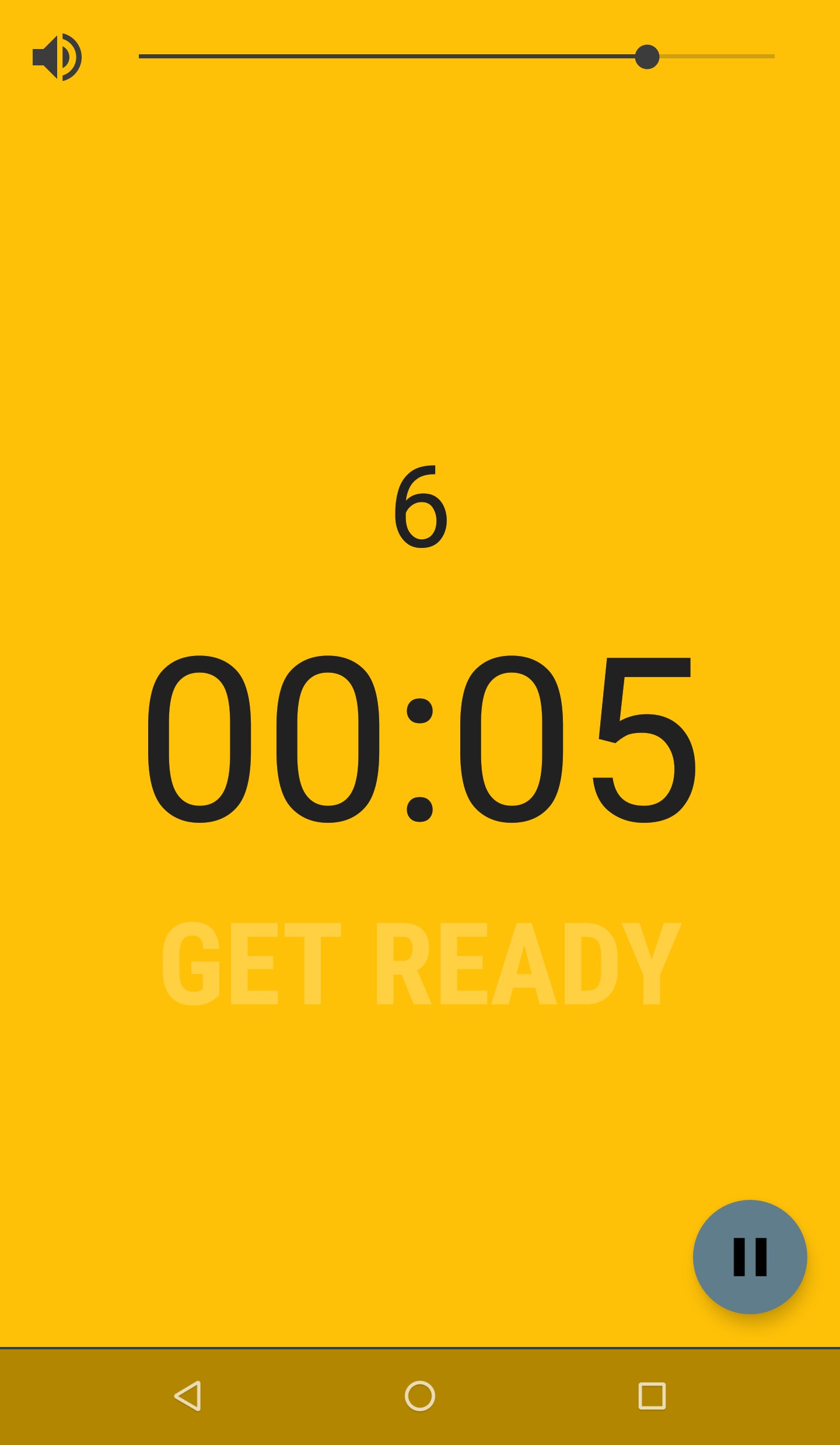 My Tabata Timer
My Tabata Timer is an alternative to the two apps above. This one is also simple & easy to use! Here is how it works – you just tap to start, tap to stop, and long tap to restart. Easy! If you don't like the sounds of the app, you can tap 'mute' by going to settings (upper right corner).
The settings themselves are okay, even more than just okay because, apart from all the usual intervals customization, you get to choose colors for your timer. The colors, by the way, are nice and warm, very eye-pleasing. So, whatever fitness activities you are planning to do, this workout timer will most certainly suit you! All the rest is a matter of taste.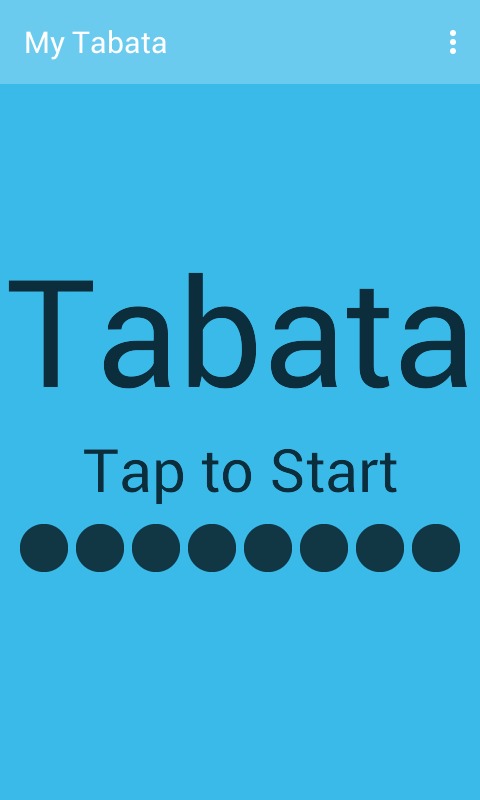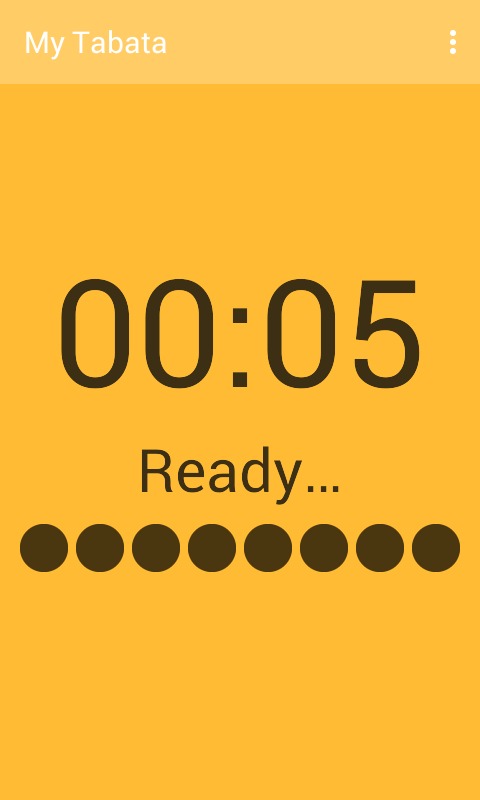 You may also like: 7 Best Crossfit Apps for Android & iOS
Tabata Timer
Tabata Timer is a name that speaks for itself. However, there are not only traditional Tabata intervals (20 seconds work, 10 seconds rest) – you can set any intervals you want to. What's more, you can choose a number of sets you'd like to do and preparation time.
This app may not look as fancy as the other ones for Android, but it has certain features no other app from those above can boast about. First, you can choose background music and, second, you can track your workouts as well as your weight right in the app! Viewing history can be quite motivational.
So, if the old-fashioned design and some ads above the screen don't bother you, this is a nice option to consider!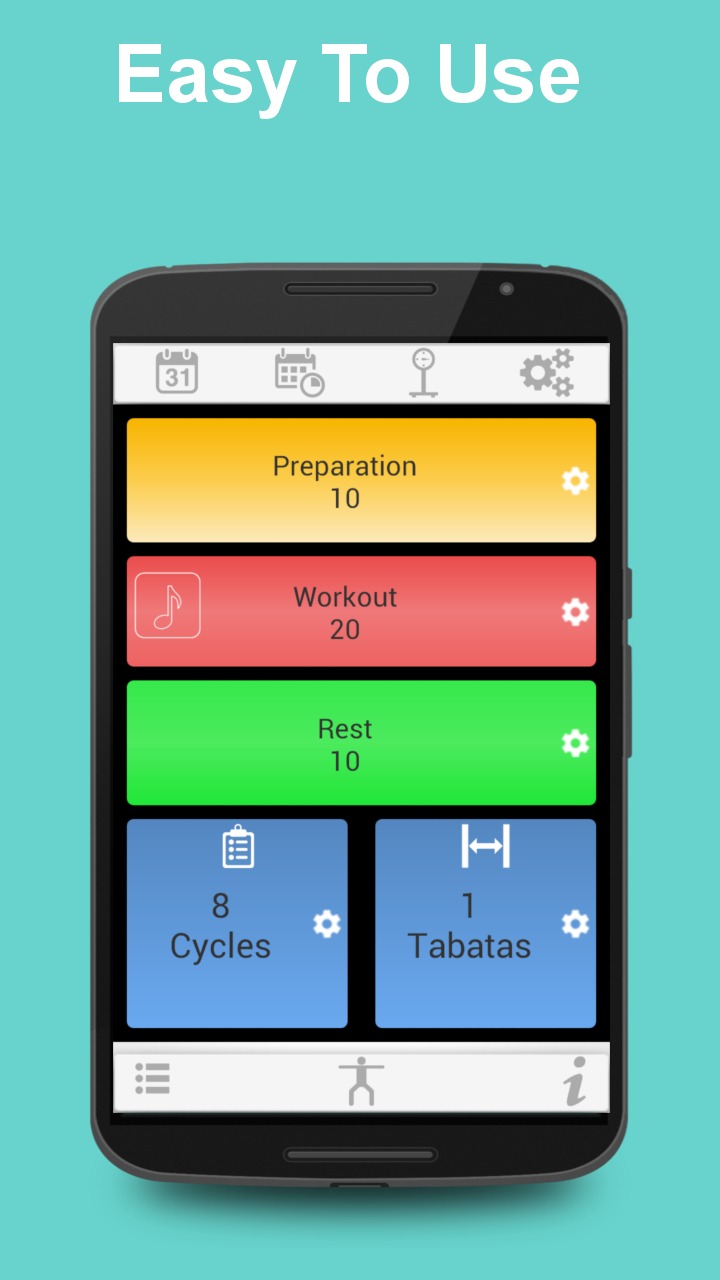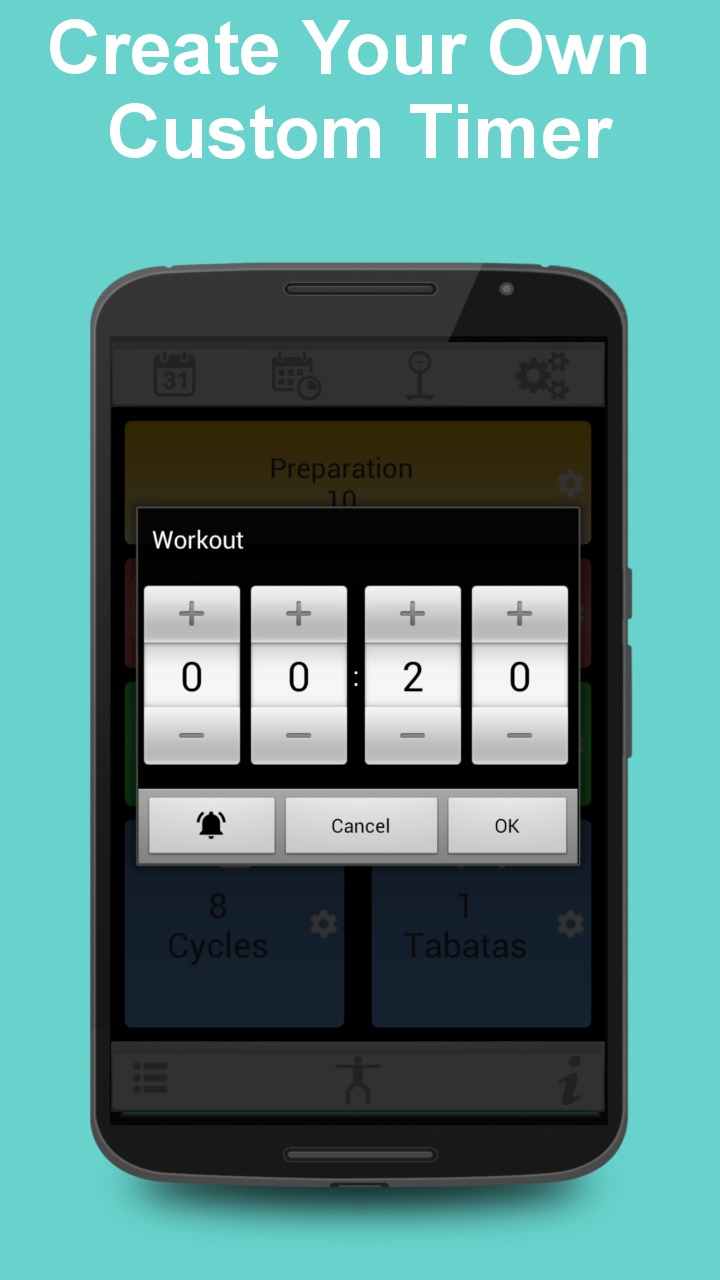 HIIT & Tabata – Interval Timer
HIIT & Tabata app is a simple and absolutely gorgeous interval workout app for iOS that is perfect for intense workouts. This one doesn't differ much from the rest of the apps – it also has intervals customization, choosing a number of sets and all that stuff. What it also can do though is to measure your heartbeat (in case you have a special device for that) in order to detect intervals that are best for you at a certain stage of your workout plan.
As you might have guessed, the app comes in two versions. Going premium gets you rid of ads and opens access to some advanced features. So, download this beautiful app right now and see if it suits you!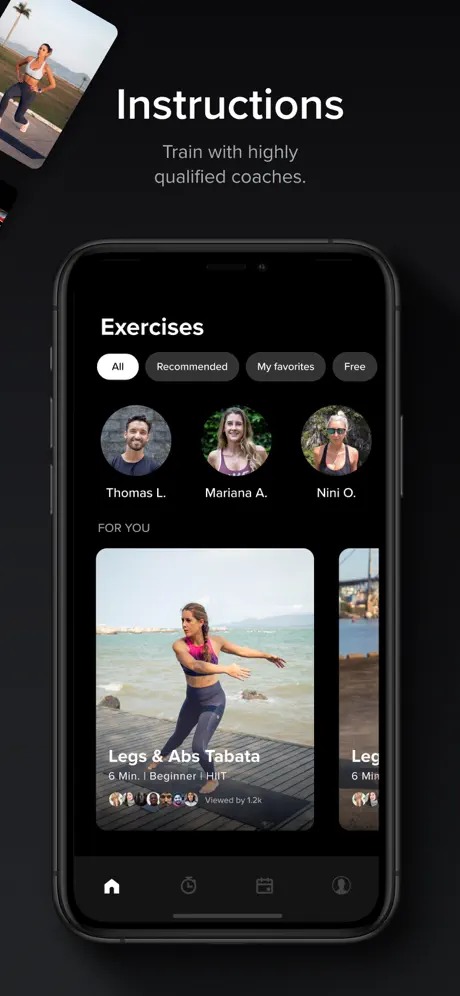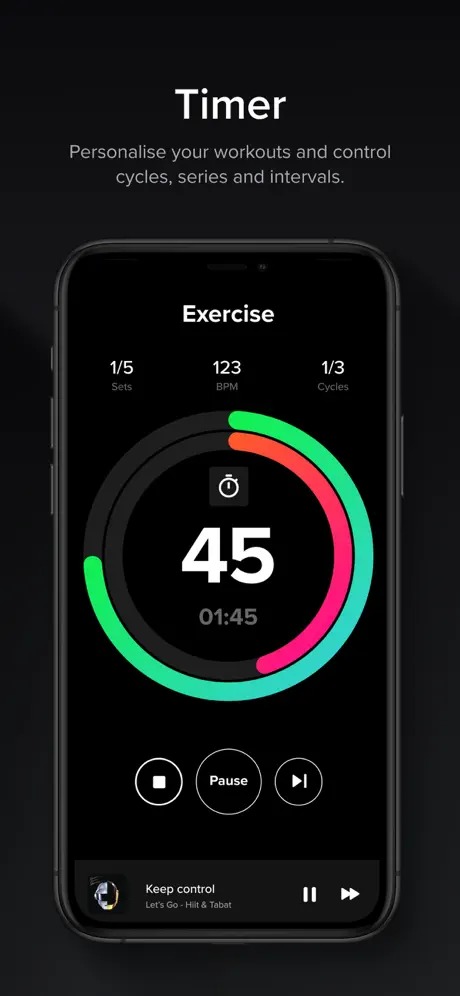 Intervals – Workout Interval Timer
Intervals is a perfect interval timer app for all the types of iOS devices and for all the types of interval work. You can use it not only for workouts but also for many other things, such as yoga, meditation, Pomodoro method, etc.
The app allows you to customize all of the exercises you are planning to do – you can choose a name for each one, a length, a color – all of that will then be displayed (of course!).
The app is integrated with Apple Health, so if you have an Apple Health device you can check some of the characteristics you had during training. These characteristics will also be saved for history so that after some time you could see the progress you've made with interval workouts! Get the app today and enjoy your training!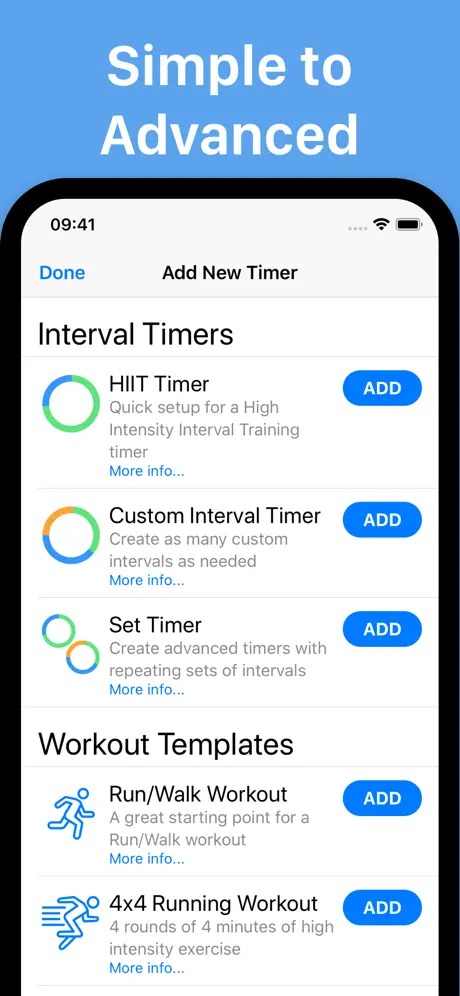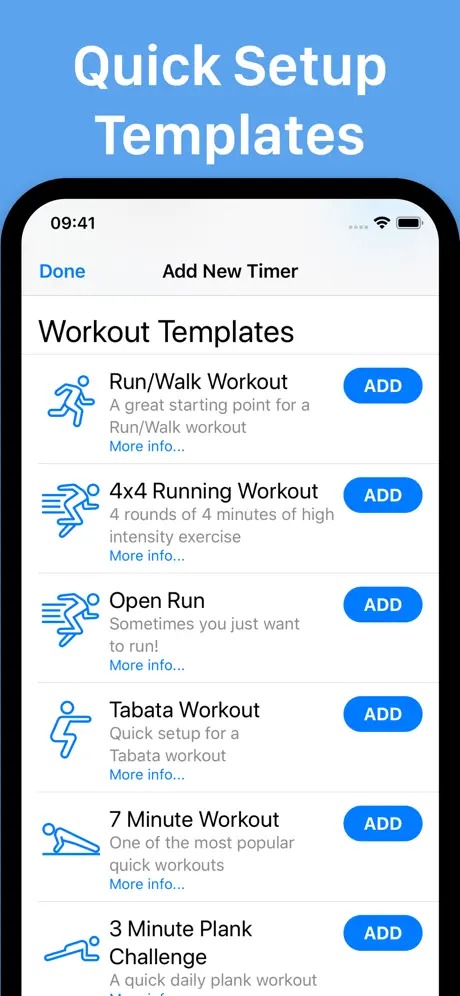 Fiit
Well, this is not exactly a workout timer, but it includes this function as well. It is actually the complete fitness app that includes workout programs, meal planning, statistics tracking, timer, and many more. And it is probably a very effective app since it is really popular on the App Store and it gained high rankings from users.
Moreover, the workout programs are led by famous sportsmen and coaches. You can start exercising from any level: beginner, average, or pro. Anyway, the best advantage here is it is really cool that each program of this app is presented by a well-known trainer.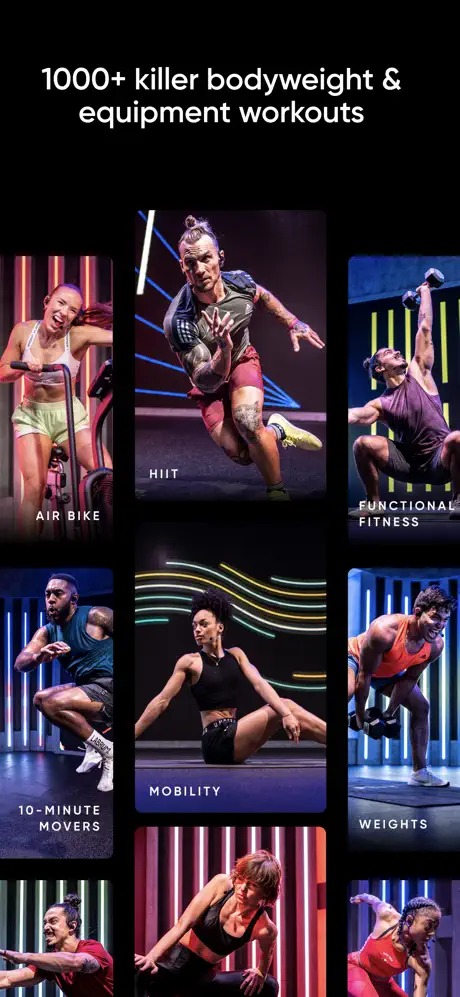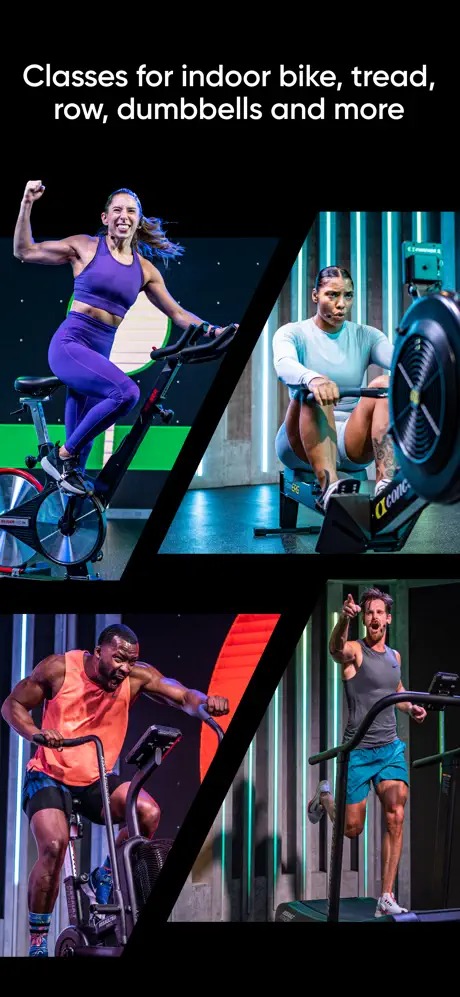 J&J Official 7 Minute Workout
Well, the two last apps can cause some sort of confusion, because they offer basically the same idea – the 7-minute program workout. To be honest, there is no such big difference between them and you just have to choose which one you like more. Well, the only aspect, is that the program of this app might be little bit less diverse, however, it is more convenient in usage.
One interesting fact in this app, that its workout program was designed by Chris Jordan, Director of Exercise Physiology at the Johnson & Johnson Human Performance Institute. Here you can customize your workouts or choose already existing programs. It is better to do them every day for the best effect.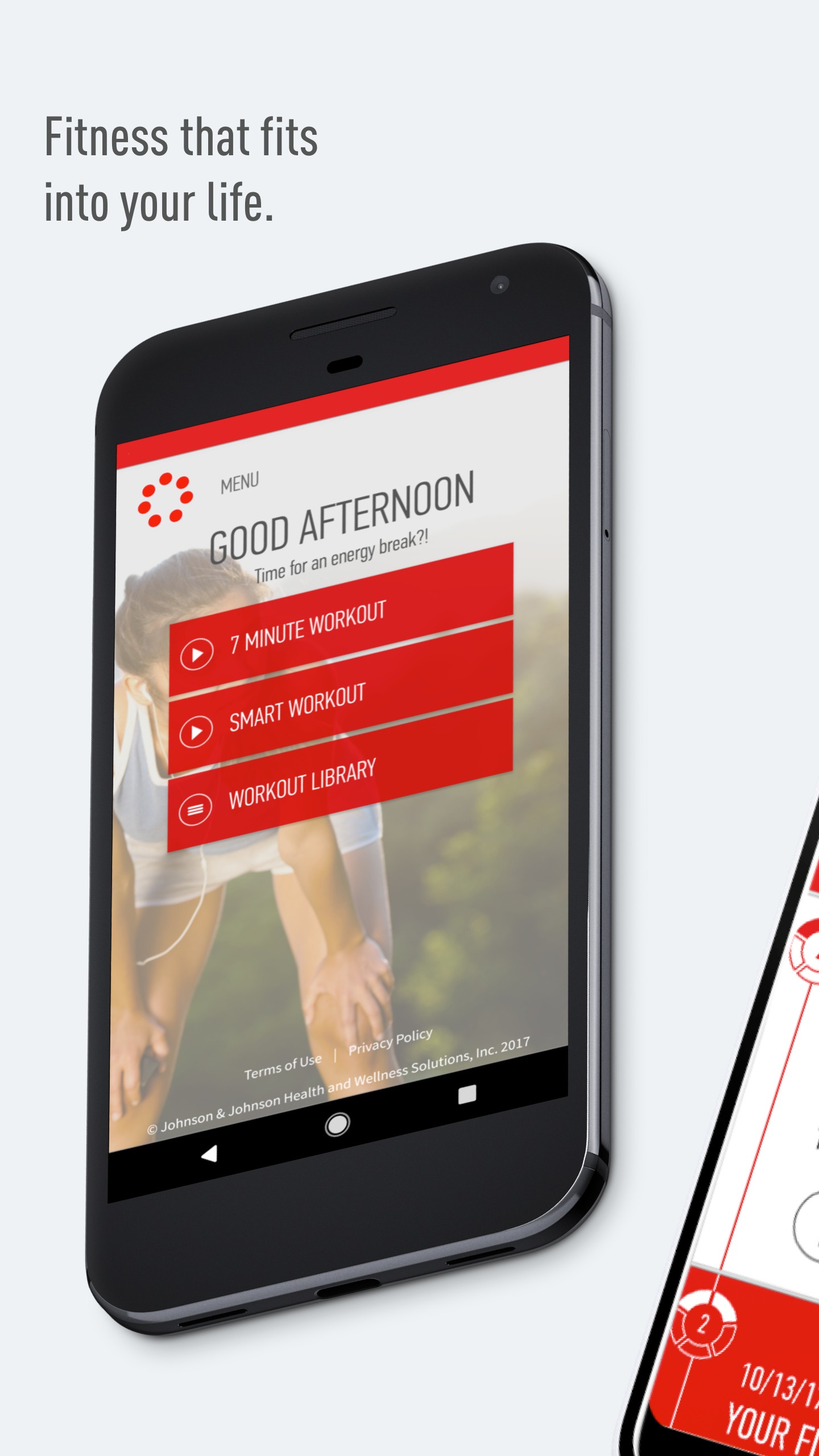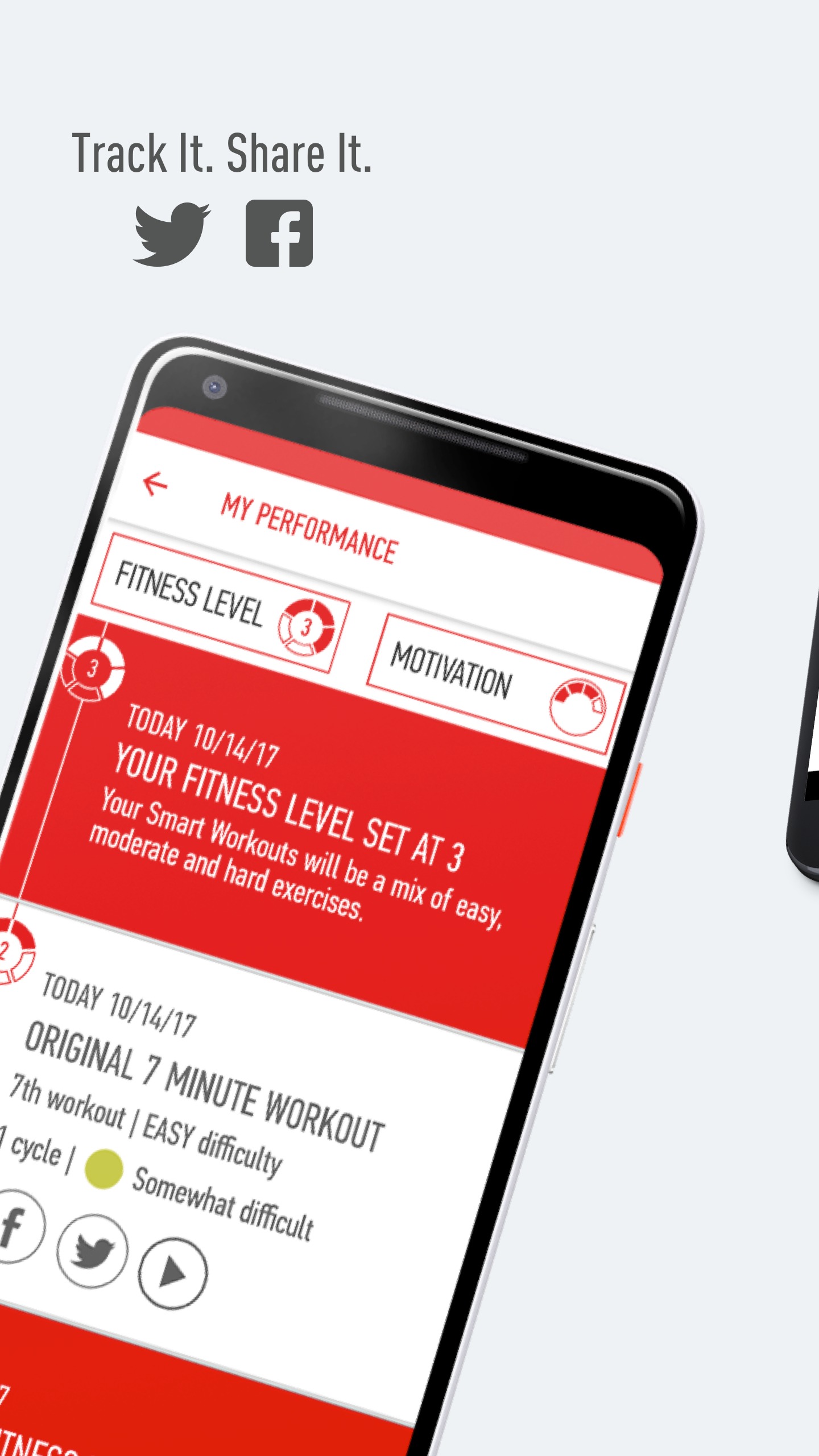 You may also like: 11 Best Apps to Create Your Own Workout on Android & iOS
Seven
This app has gained insane popularity among users all around the world because of its innovative approach to workout systems. As you can understand from the name of it, the whole idea is that this app is to create a fitness program where you have to work out for 7 minutes a day.
You can be the busiest person in the world, but you for sure can dedicate 7 minutes to your workout. Before the workout actually starts, you quickly preview the set of the exercise you are going to make. You can change the programs of workouts, for example, switch from Kung-Fu to yoga and so on.
Each workout lasts exactly seven minutes. No equipment if required. And even though this little amount of time might seem insignificant to some people, after working out for 7 minutes every day you will definitely see the difference.