With the development of technology, our lives are greatly simplified, and even the struggle against dependence can now be easier. In this article, we reviewed the most popular mobile applications for anonymous alcoholics.
You may also like: 10 Free apps to stop drinking alcohol (Andoird & iOS)
12 Steps Companion AA Big Book
The most important step that needs to be done while getting rid of any addiction is the step of acknowledgment of the problem and decision to work on it. The rest is purely technical. However, it is essential too that the plan of recovery is well-done since if you just decide to stop drinking alcohol without any details, there are fewer chances it is going to work.
12 Steps Companion is a great app that will free you from the necessity to spend your time and efforts on the planning and will provide an effective way to get rid of your alcohol addiction. The app includes several methods, techniques, and practices, that all, combined together, are going to help you in this uneasy way.
12 Steps guarantee your full anonymity, and all your personal data will be protected from the 3rd parties. There is a sober timer that you can start as soon as you give up drinking. There are articles about sobriety, alcohol addictions, psychological problems and so on which are highly recommended for reading.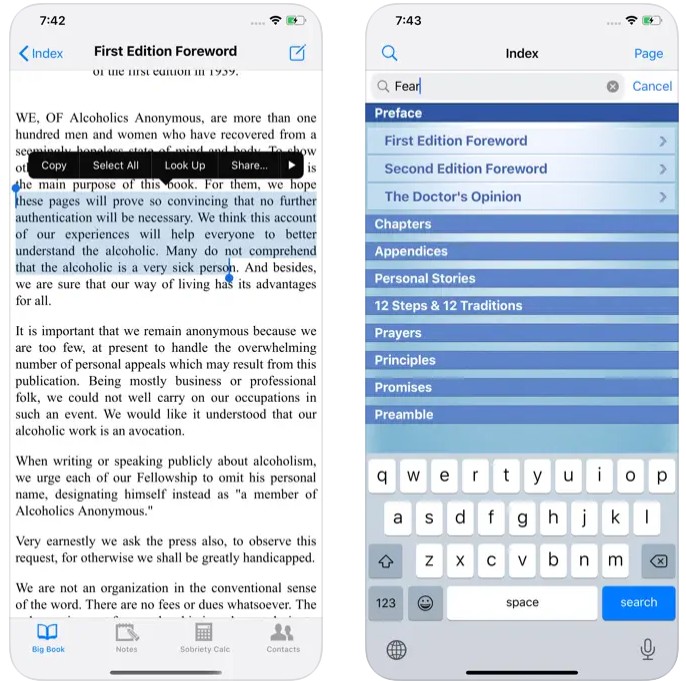 You can also check: 33 Best Health Apps for Android & iOS
12 Steps Alcoholics Anonymous
If you think that you have problems with drinking alcohol and sincerely want to stop drinking, then thousands of men and women will be able to confirm to you that 12 Steps Alcoholics Anonymous has helped and that there is unlikely to be a reason why it should not help you.
If you have a desire to find what it offers and a willingness to make an effort to get it, then you are ready to take certain steps.
Steps are attempts by the first AA members to describe their own experience of transitioning from uncontrolled alcohol abuse to sobriety. The key factors in this, it seems, are humility and the hope for power more powerful than our own.
Since the time drinking alcohol was clearly stronger than us, we had to admit that we probably can not cope with it on our own and it makes sense to ask for help somewhere else.
The application also includes a sobriety calculator, AA literature, and the AA Big Book Textbook.

My Spiritual Toolkit AA Steps
The Twelve-Step Alcoholics Anonymous program has been the main method of treating alcoholism in the United States for more than 70 years: doctors prescribe it. This is the most effective program for the treatment of drug addiction and alcoholism.
It includes work on transforming the personality of a person suffering from dependence into a person recovering from this dependence. AA App – 12 Steps Toolkit – Alcoholics Anonymous helps to work steps 10 and 11 on a daily basis. The app has a built-in calculator. Here, you will mark how many days you no longer drink.
The wisdom of anonymous alcoholics is now always at hand thanks to the application of AA App – 12 Steps Toolkit – Alcoholics Anonymous. In addition, the tool includes a sobriety calculator, through which you will always know how many days you live without alcohol.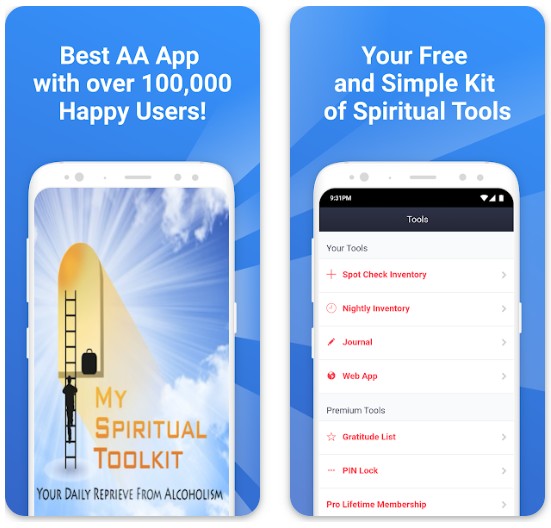 Daily AA Speakers
As you know, a lot of people have problems with alcohol: someone just drinks a lot of beer, and someone's day can not end without a bottle of strong alcohol. However, not everyone is able to speak about the problem, although it is an awareness that is the first step towards getting rid of alcoholism.
If you feel that every day you want to drink something strong and you want more and more, and going to the narcologist seems to be something shameful, you can use the usual application for a smartphone Daily AA Speakers.
You can listen to 5 minute AA speaker tracks daily It is like attending meetings will help you to bring recovery closer each day. You will get daily motivational notifications to listen to AA speakers. Also, read daily inspirational quotes. It really works! Try!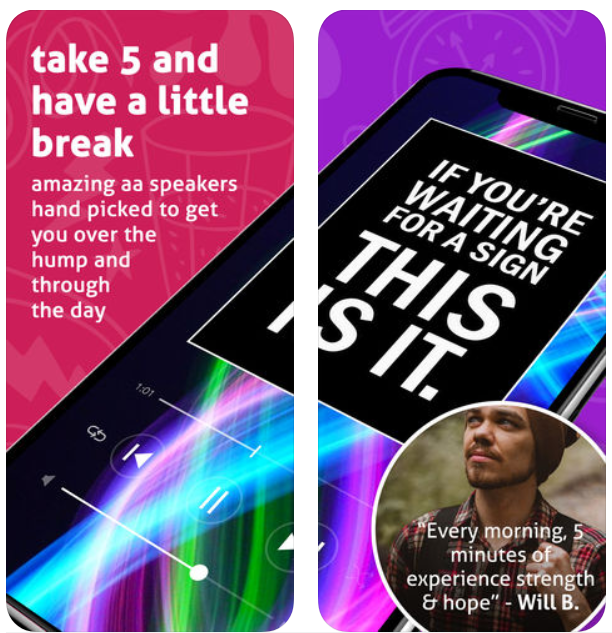 Pink Cloud: AA Meeting Finder
Pink Cloud is a smart tool that helps you to stay sober. It connects more than 100, 000 Alcoholics Anonymous worldwide. Be sure, it' s completely anonymous.
You'll be able to find meetings in your area by the time of day or use a map view. Check-in, bookmark, set reminders, or get directions to the meetings. Meetings are only one of the Pink Cloud features. It offers several other helpful tools.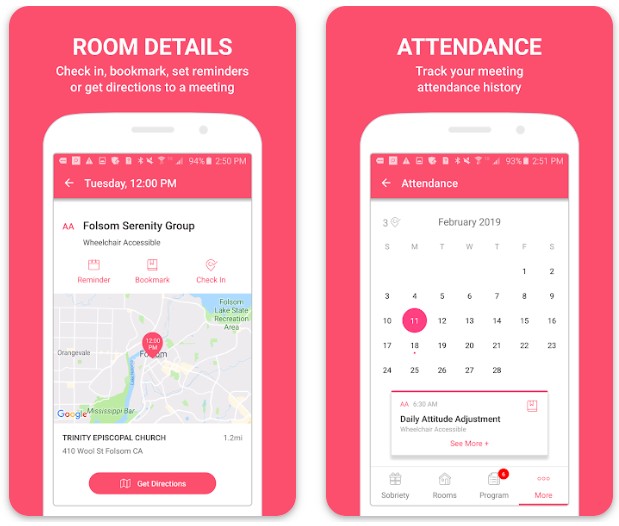 AA Big Book Free
Addiction to alcohol can persist for quite a long time, depending on the severity of the disease. This application does not apply to those specialized to combat alcohol dependence but can be very useful.
The main features of the application:
read the Big Book, Prayers, personal stories and more
find local meetings
talk to others using the app
listen to the podcasts about recovery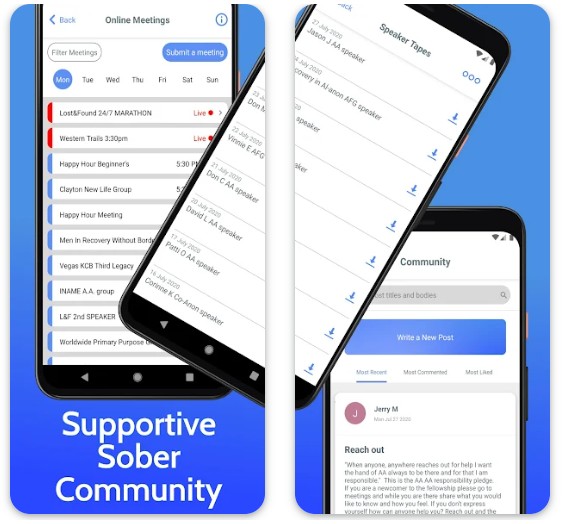 You may also like: 11 Free Addiction Recovery Apps
AA 12 Step App
This application contains the full text of the "Big Book" of the community of "anonymous alcoholics", and also calculates the duration of a sober lifestyle. The AA 12 Step App can perform like your diary app. Write down your short notes in the Journal. You can edit them if needed.
The first step to recovery is the awareness of the alcoholic himself that he has an addiction. When this stage is overcome, we can say that the path of recovery has already begun. The AA 12 Step App is a useful companion in this way.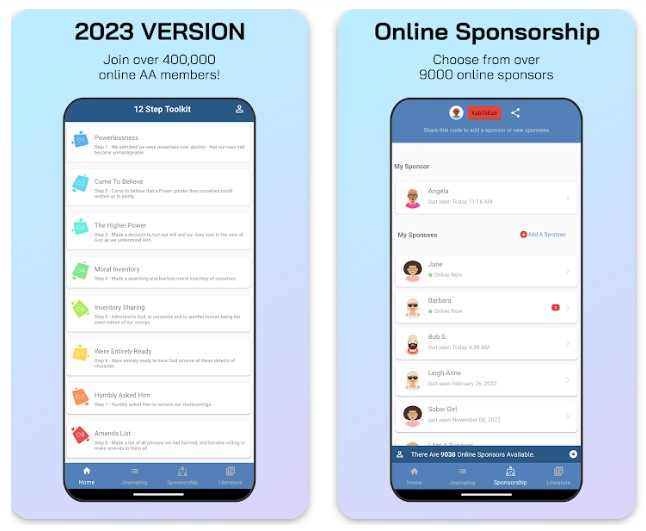 Drinker's Helper – Drink Less
This is a mobile service that aims to help people reduce their alcohol intake. It offers a range of features to help users track their alcohol consumption, set goals, and receive feedback on their progress.
You can just enter the amount and type of alcohol they consume, as well as their drinking context and location.
The app then provides real-time feedback on how much they have consumed, their estimated blood alcohol content, and how this compares to their daily or weekly goals.
Also, this app is designed to support individuals who are seeking to reduce their alcohol intake, rather than those who require professional medical intervention.
What's more, the app design is quite simple and everyone can discover its functions without any problems, and the feedback it provides can be motivating for those seeking to reduce their drinking.
Advantages:
Helps users track their alcohol consumption.
Provides real-time feedback.
Easy to use interface.
Can assist with reducing alcohol intake.
Drawbacks:
May not be suitable for severe alcohol dependency or addiction.
Some users report frustration with its effectiveness.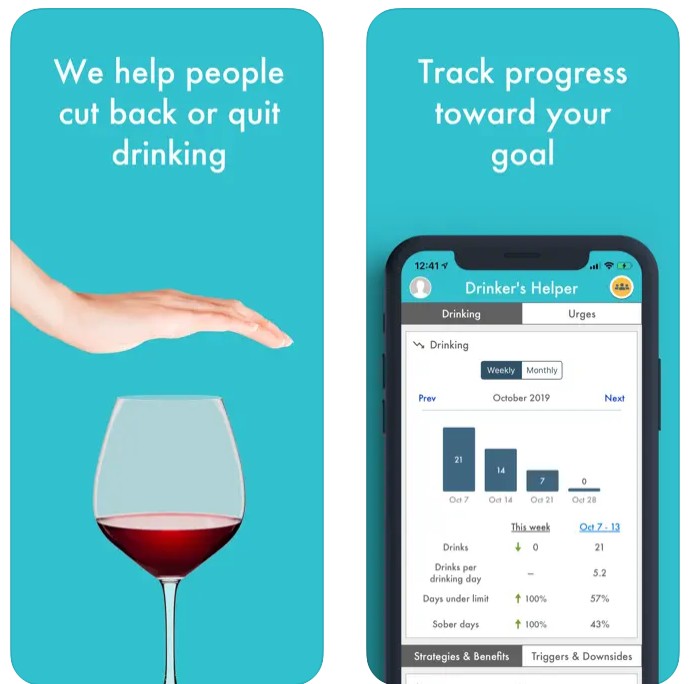 I Am Sober
This is, first of all, the sobriety timer that will help you to keep track on how many days you've spent without any alcohol and not to relapse. What is more, I Am Sober app will help you to build new healthy habits on your way to a new happy life.
This journey, especially at the beginning, can be quite difficult and that is why there is the phone number for 24/7 support. All the data about you will remain completely anonymous. What is more, to inspire other, you can share your own story in this app and other people can read it, as well as you can read those stories when feeling the lack of inspiration.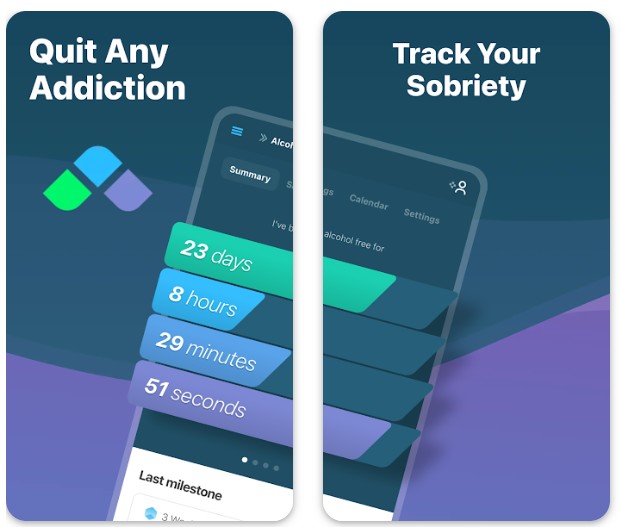 Everything AA
Everything AAit is an app that can help people to change their lifestyle by starting a spiritual, and mental discovery of their souls.
The app offers a variety of features such as daily reflections, meditations, prayers, and a gratitude journal to name a few. Users can also customize their experience by choosing their preferred theme, font, and background color.
However, some images used for daily reflections and meditations can be repetitive, which may detract from the overall user experience.
If you want to get rid of your alcohol addiction you should try to start your spiritual journey. This way you have a chance to feel the world like you never did.
Advantages:
Well-designed user interface.
Offers a variety of spiritual resources.
Customizable features.
Drawbacks:
Repetitive images in some sections.
Limited customization options.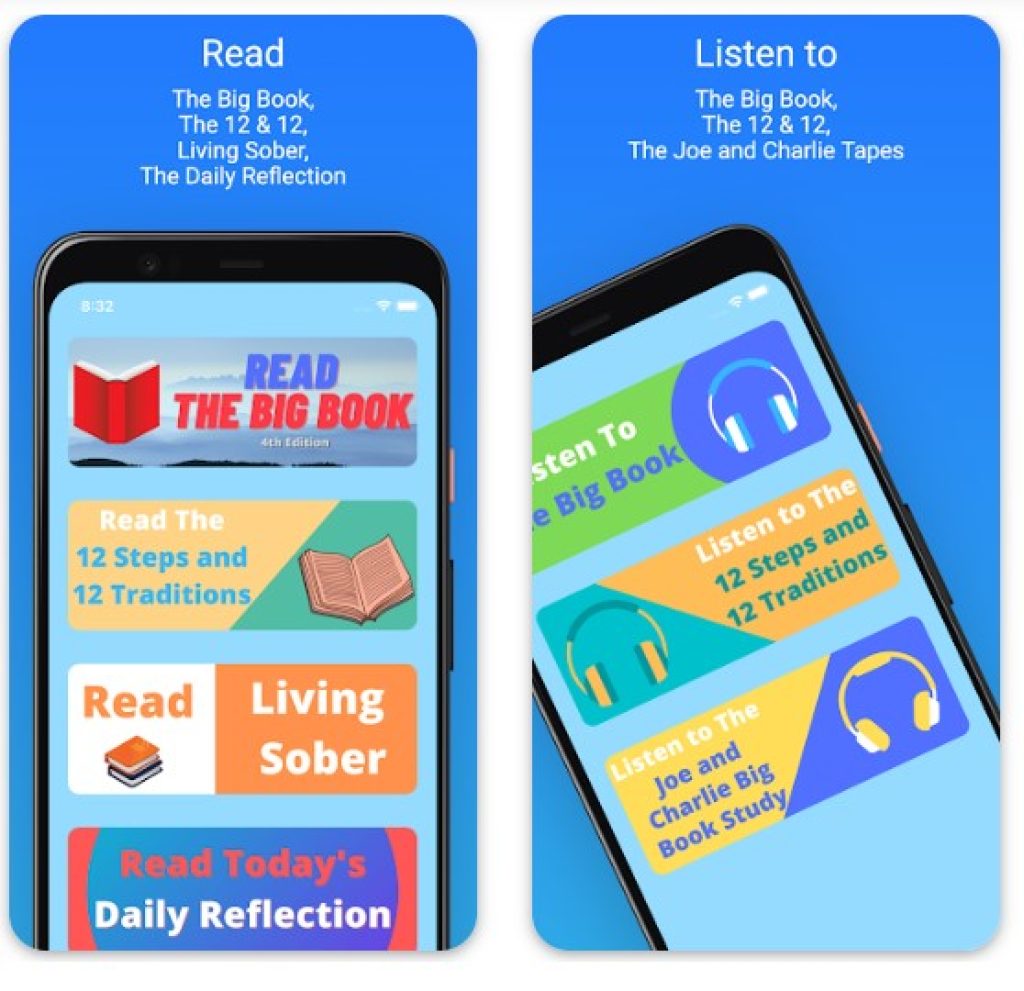 You may also like: 7 Best medical apps for patients (Android & iOS)
AA Speakers
AA Speakers is an app designed for individuals looking to overcome addiction by providing access to a vast collection of Alcoholics Anonymous (AA) speaker tapes.
It is very convenient that the service has a simple design that is not overloaded with plenty of extra functions. There are only the most necessary on the main screen.
Also, the app provides users with access to a wide range of recordings from AA meetings, which can help users stay motivated during their recovery process. There are also a lot of information and tips for everyone who finds a way to get rid of their alcohol addiction but does not how.
However, there are a lot of occasional ads, which can be annoying for users.
AA Speakers is a useful service for all who would like to begin a new life. Although there are distracting ads and some technical glitches, the app is still worth using due to the valuable content it offers.
Advantages:
Provides access to a vast collection of AA speaker tapes.
User-friendly interface.
Helpful for individuals seeking to overcome addiction.
Drawbacks:
Occasional ads.
Some technical glitches were reported by users.