Sometimes you need to transfer files from one device to another. Thanks to messengers and social networks, we can exchange photos and videos with other users.
But, if the Internet is poor, file transfers, especially of large ones, will become a real problem. Still, there are apps that transfer files directly from device to device, i.e. without the Internet.
This list includes the best apps to share files and games with friends. They will make it easier to exchange files between devices.
Share information about any person in your phonebook using these best apps to share contacts quickly.
SHAREit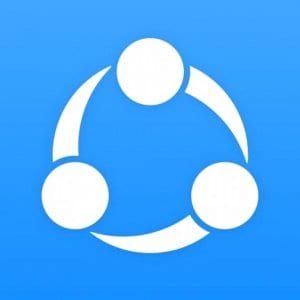 The SHAREit file sharing application is one of the most popular.
It works on the drag-drop principle and supports any type of file. All you need to do is turn on the search and drag and drop the desired file to the icon of the found device.
To work, the application SHAREit must be installed on both devices. This is also a great option for older devices without AirDrop and Bluetooth support.
You will not need any registration to work with the application. You can transfer absolutely any file using this application.
There are no restrictions on formats or sizes. But the most important thing is that you do not need to connect to the Internet to transfer files. Transferring takes place within one Wi-Fi network, or with the help of Bluetooth.
After opening the application SHAREit, three tabs appear before you. Received files (if any), photos and videos on your smartphone, settings.
To transfer a file, just touch it and wait for a while. The icon next to the device appears, so drag and drop the file onto it. A notification will appear on the receiving side that the program is ready to copy.
We agree to transfer. You can set the resolution for a particular device permanently.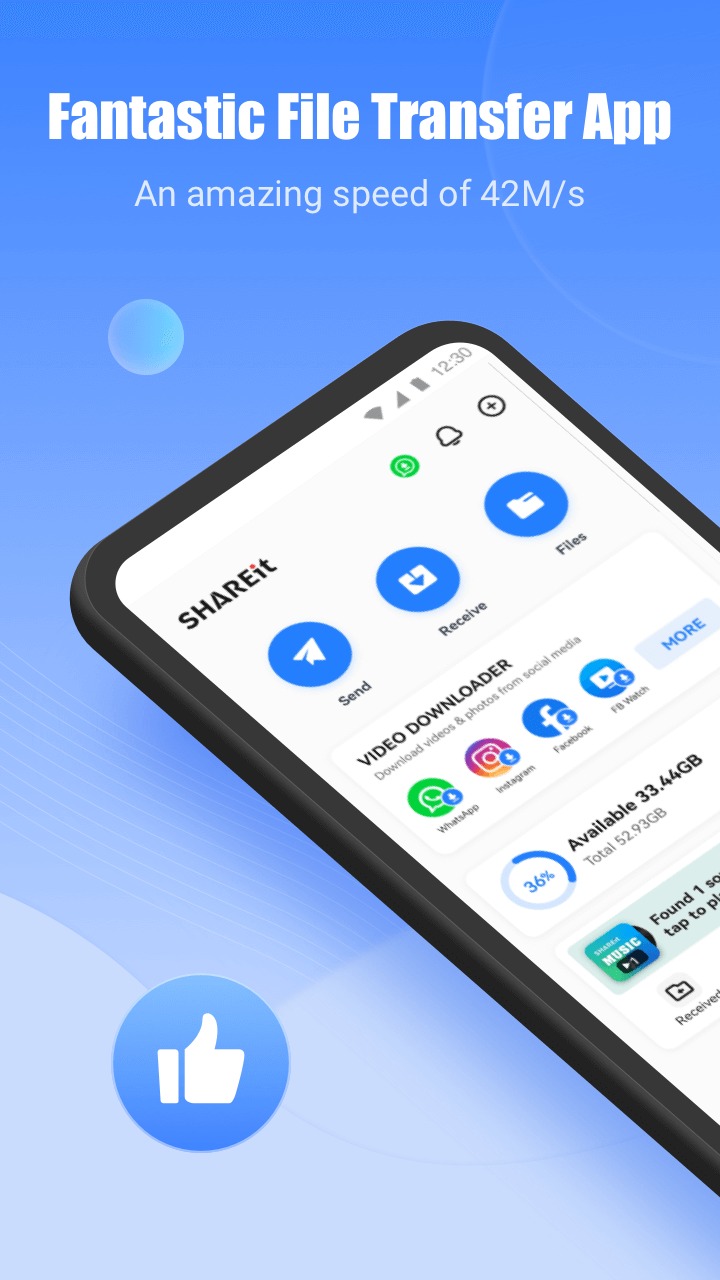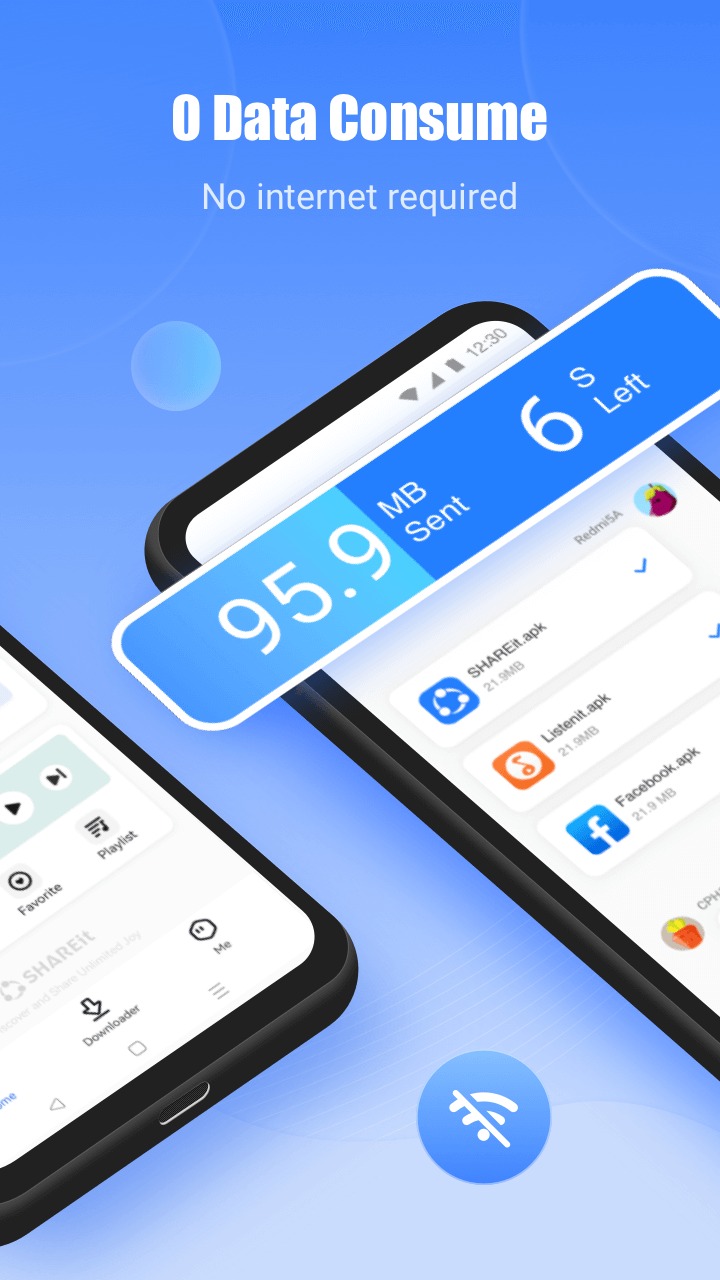 After a moment, the file appears on the receiving device. If it is necessary to transfer several files, we select the necessary one. Then we transfer it to the icon of the necessary device in the same way.



You may also like: 14 Best free photo sharing apps for iPhone & Android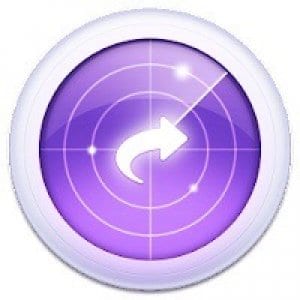 The Instashare app must be installed on two devices between which files will be exchanged.
It allows you to create a Wi-Fi network to which another device will connect. Within this network, you can share files at a short distance.
The exchange is carried out with the help of QR codes. The download link is contained in the code, after reading which the file transfer starts.
Files can be transferred not only from the app itself but also from other applications.
It should be noted that there are no restrictions on the transferred files. In other words, you can pass any file. It can be a photo, video, game or something else. The main thing is that you can then view what you have transferred.
The exchange itself takes place not only via WiFi but also via Bluetooth. This can make life very easy, even if you don't take into account the lower data transfer rate.
Note that if the application Instashare is open and the phone is locked after a period of time, the connection will not happen. But when the application itself can be minimized, the process will not be interrupted.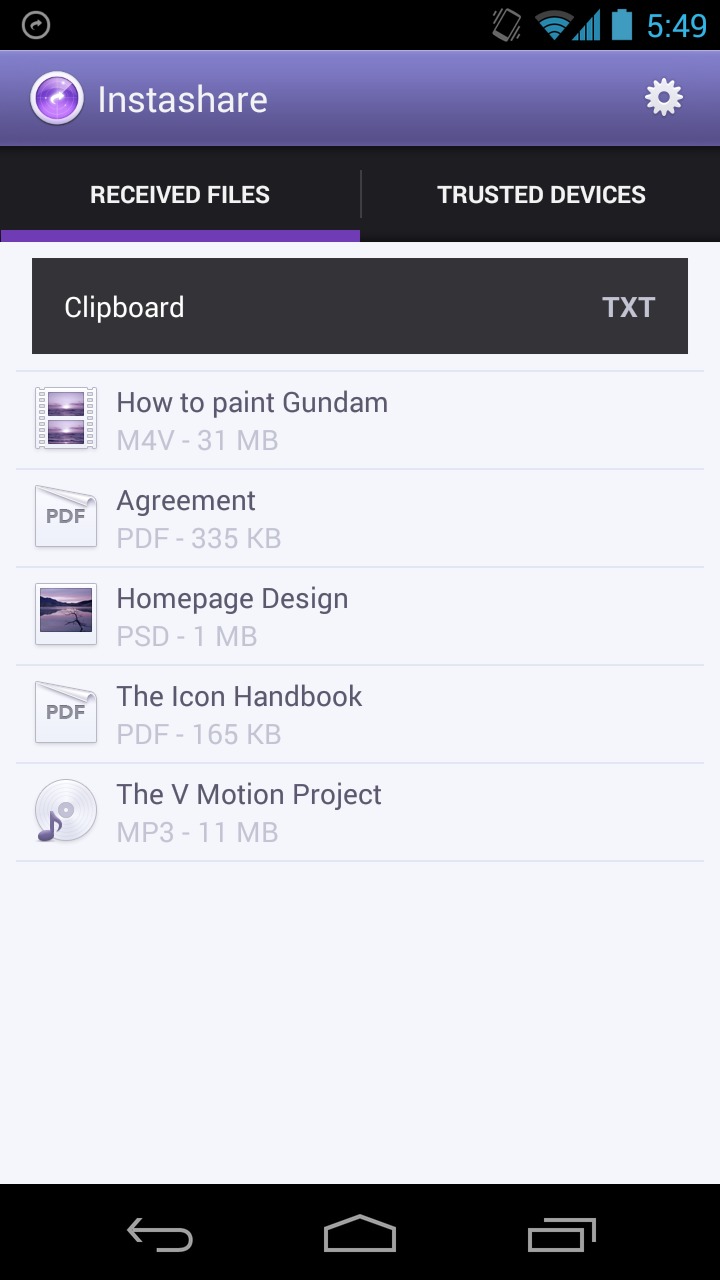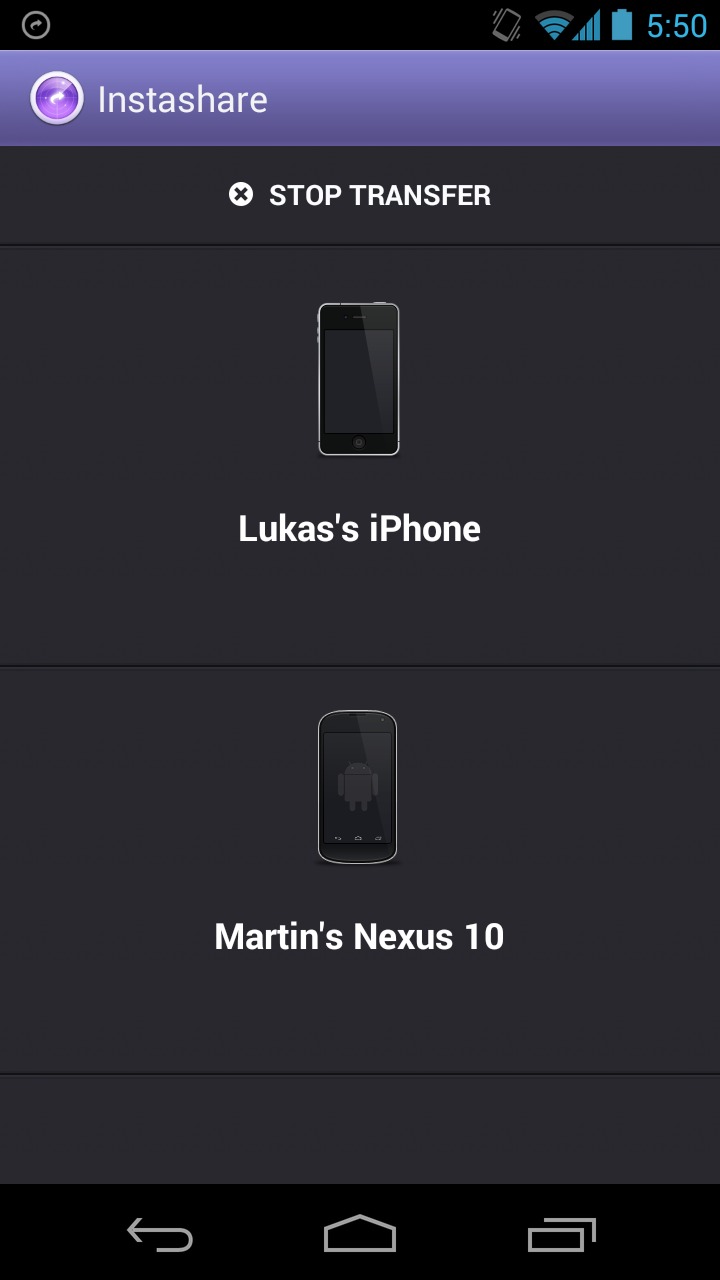 And if you close the application and open it again at all, the downloading process will start. Also, an undoubted advantage is the lack of registration inherent in such services.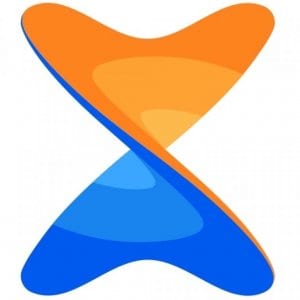 The Xender – Share it app is designed for data exchange within a Wi-Fi between different types of devices. It can be smartphones, tablets or personal computers.
The application can exchange media content, documents, and contacts stored on the devices. It can also view the content of other devices if the settings have been activated.
To work with the program, you need to install it on all the devices between which you plan to exchange data.
By installing this app on your phone or tablet, you will see a short briefing. Several slides of it will give you a complete overview of the program.
Before you can use the app Xender – Share it, you must first configure it by allowing or disabling viewing the device's file system and transferring data. Also, the gadget should be given a name that other devices will see when searching.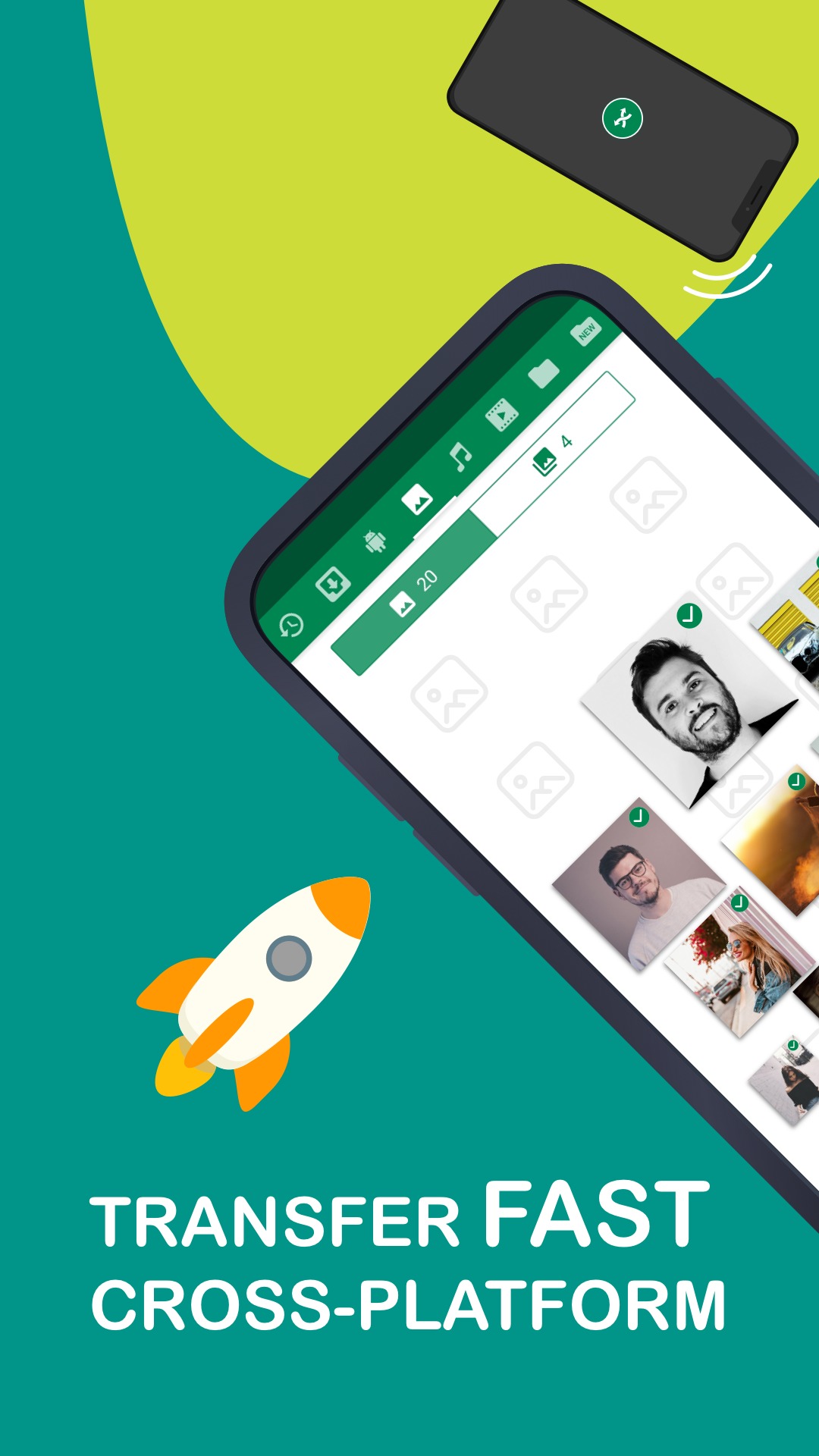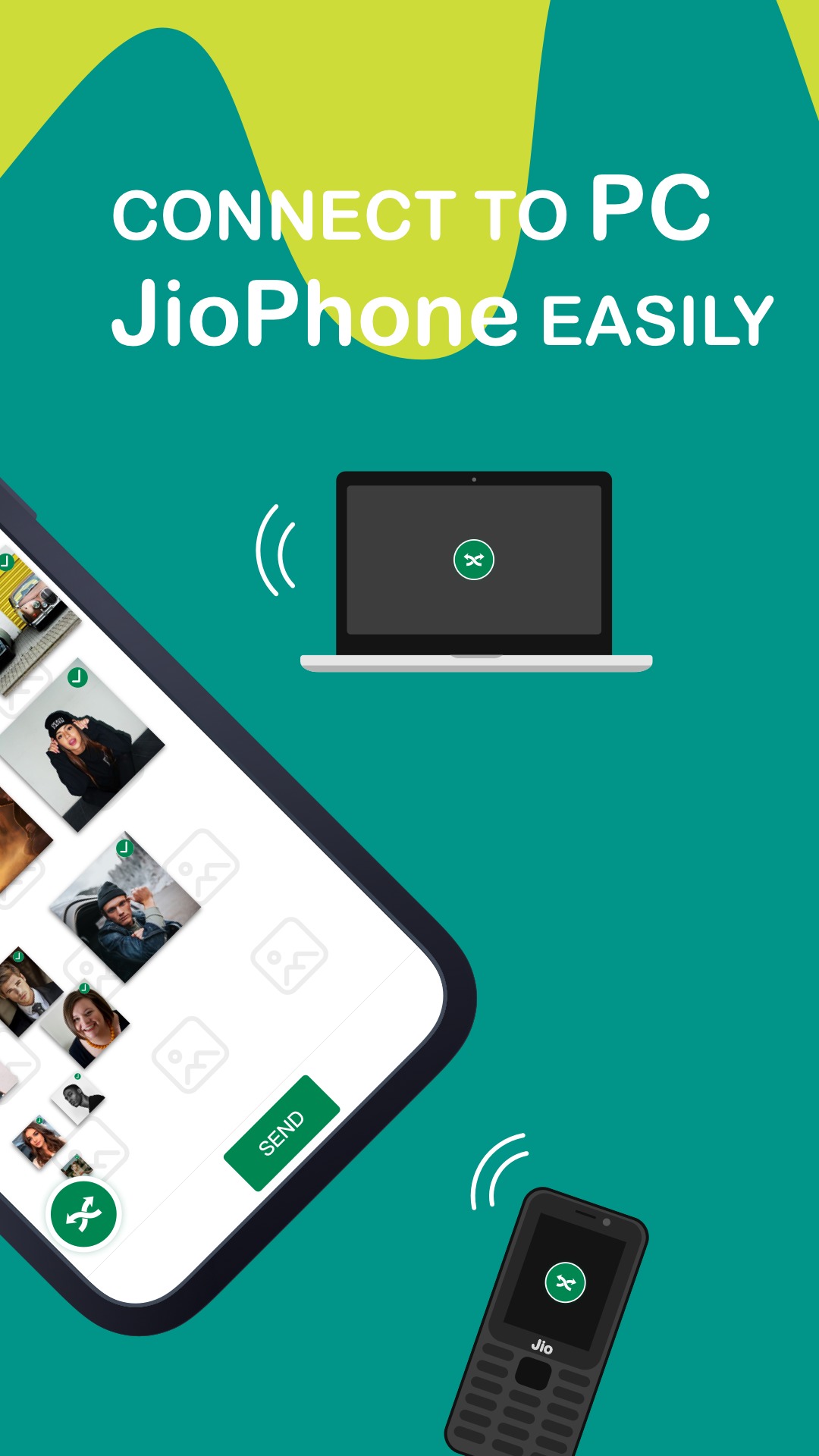 If your phone is allowed to view data, then authorized devices will have access to its entire file system. On your computer, you specify the directories that you are ready to share with other devices.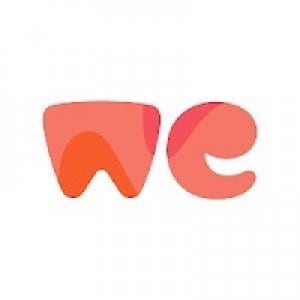 Collect: Save and share ideas is an app that allows you to transfer data between different devices using the Wi-Fi module. There is no need to connect to the Internet.
The application Collect: Save and share ideas has many useful functions and features.
Cross-platform. Transfer information between your phone, tablet, and computer with different operating systems.
Support for different types of files. Photos, videos, documents, messages, contacts and even game installation files.
Here you can view your phone's media content on your computer. And vice versa, view and upload content from your computer to your phone.
Automatically search for other devices in range. The ability to transfer large files, several gigabytes each, to a friend via this app.
Transferring files from one device to another is easy. Install and open the application Collect: Save and share ideas on both phones. On the second device, click "Get File". After that, the network data will appear on its screen, to which you need to connect the second gadget.
Thus, the receiving device creates its own access point. You need to connect to this point from the sending device.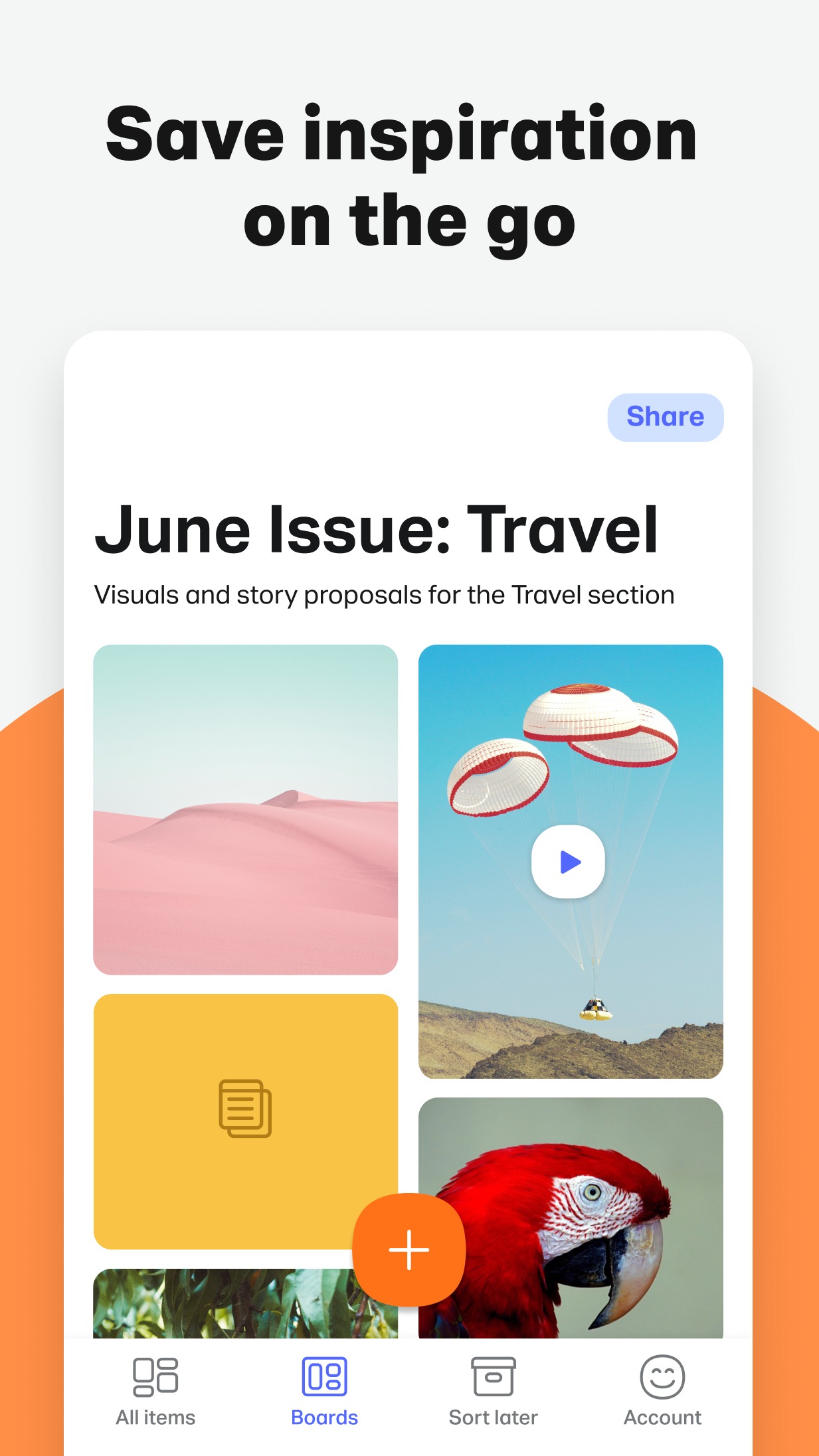 On the sending device, connect to the specified network and transfer the files.



Pushbullet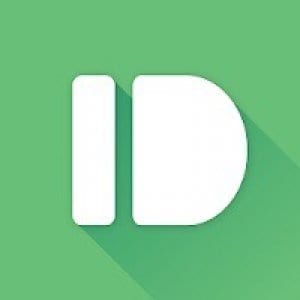 The Pushbullet application will help you easily share files between any type of device.
The home screen is made up of six large, colorful icon tiles, each of which handles its own function.
To start exchanging data between devices, they must be authorized. This is done in a similar way to data transfer via Bluetooth. You find the desired device in the list and select it.
A message appears on the selected gadget asking you to confirm or reject the connection. If the answer is yes, you will see a numeric code that you will have to enter on the first device.
After that, both devices will access each other's data within the security settings. This procedure is done only once.
These devices will then be able to exchange information freely without further confirmation. But, access and transferability can also be activated and deactivated in the settings.
If you select file transfer, a window with new tiles opens. Five of them are responsible for transmitting information of a certain type. "Music", "Video", "Documents", "Photos" and "Contacts".
Tapping each of them opens the files of the corresponding types in the interface. Or the list of contacts, if the "Contacts" function is selected.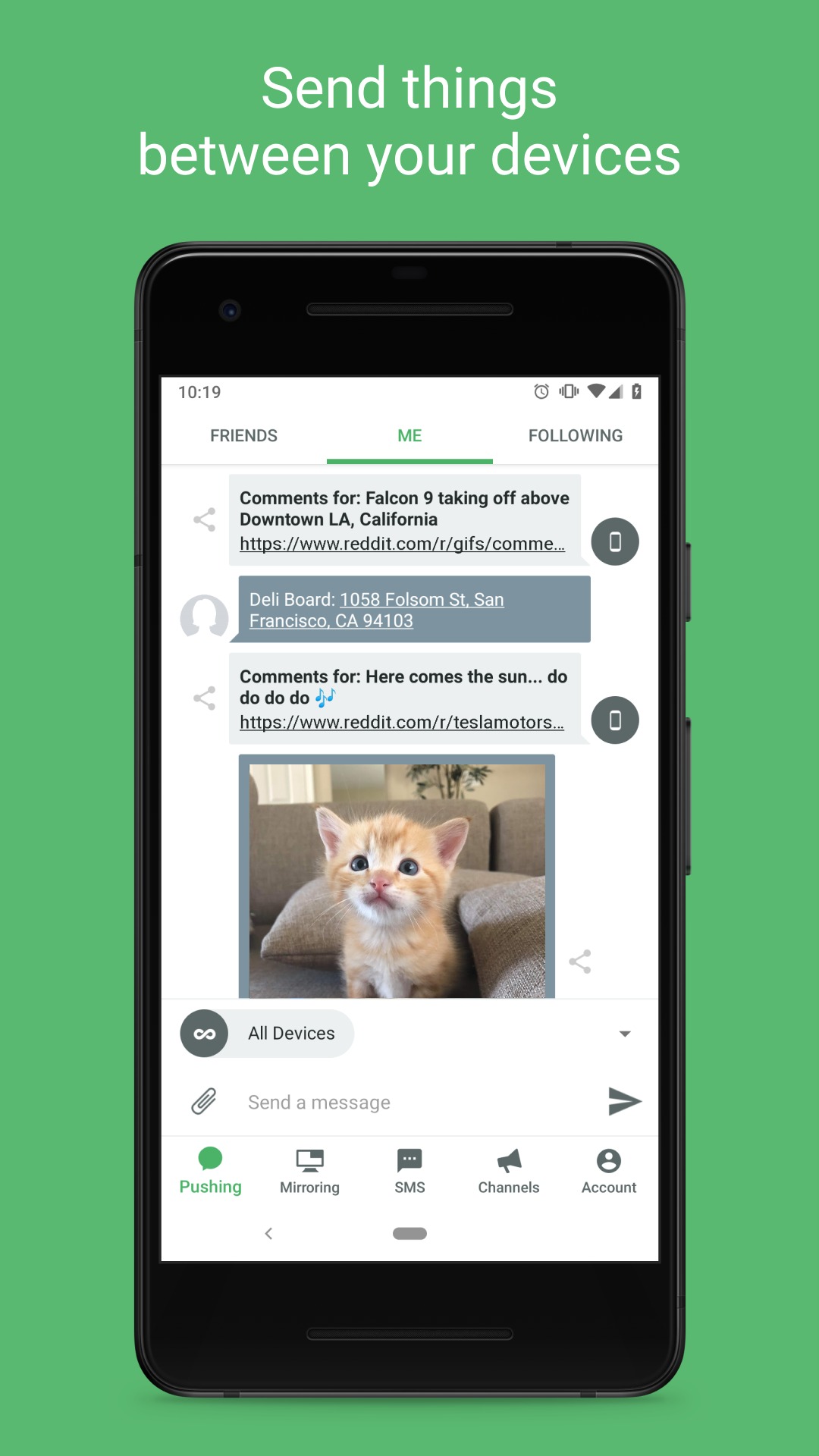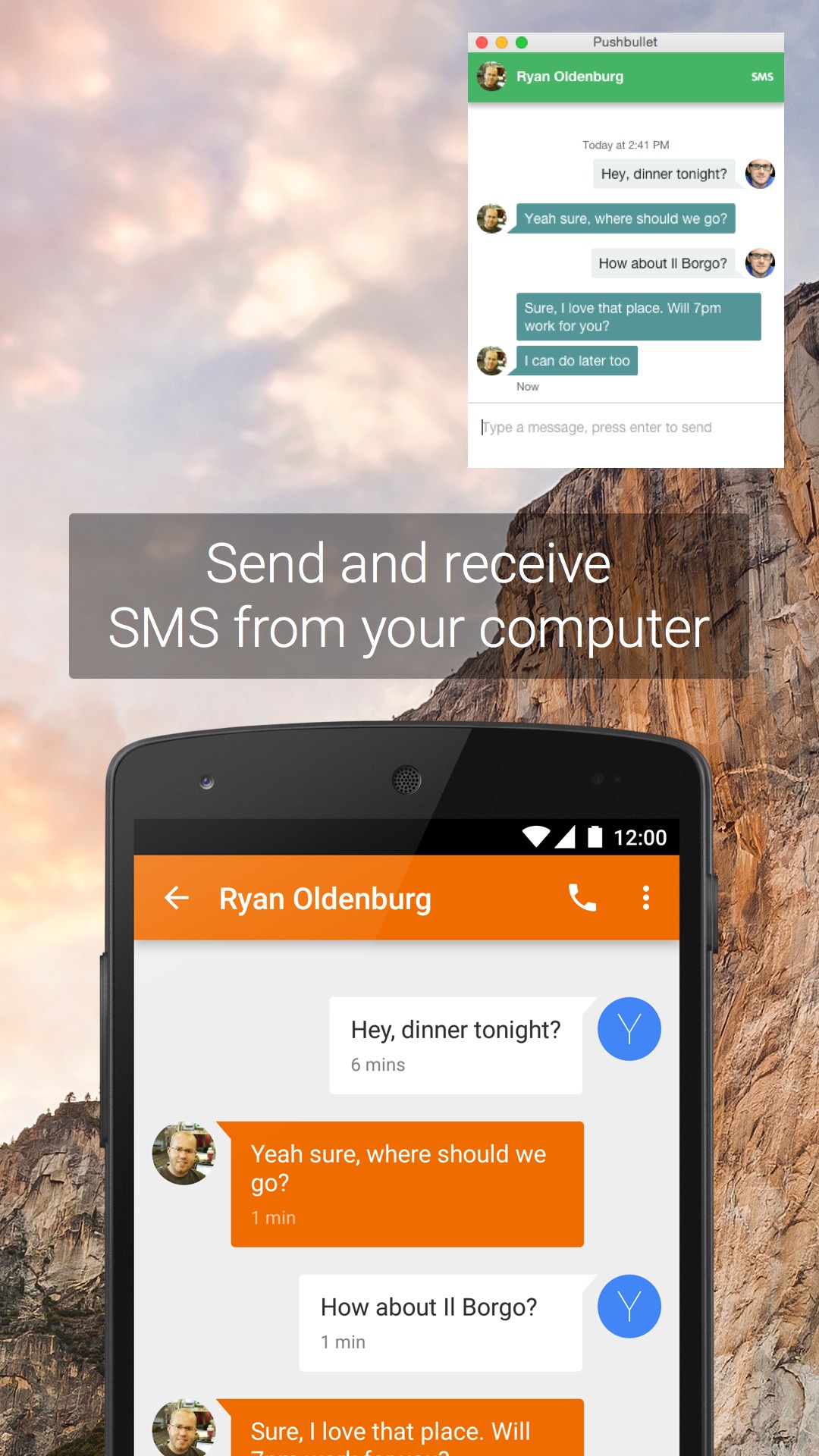 The sixth tile is used to transfer games that the user chooses in the file system.

You may also like: 11 Best Wifi signal strength apps for Android & iOS
AirDroid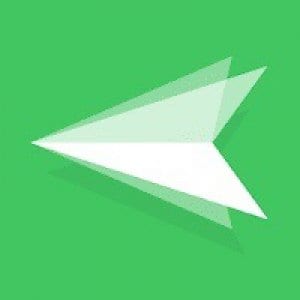 AirDroid is an excellent app for transferring and receiving files, photos, videos and so on.
Transmitting and receiving are incredibly fast. For example, an application of 30-40 Mb from one device to another will be sent in less than 10 seconds.
To send or receive a file, you need to have the file installed on both phones. Then we enter the application AirDroid and select the appropriate function to send or receive. The owner of the second device does the same.
Also in this app, it is possible to transfer the application or game to another device. It is very easy to do this. Open the program on both phones. Press "Send".
Open the "Applications" tab and select the game you want to play. Press "Send" again. On the second device, click "Receive". Wait until it is found.
The receiving phone's avatar will appear on the screen. Tap on it. After sending it to the receiving gadget, press "Install". In the phone settings, you need to allow the installation of apps, otherwise, it will be blocked.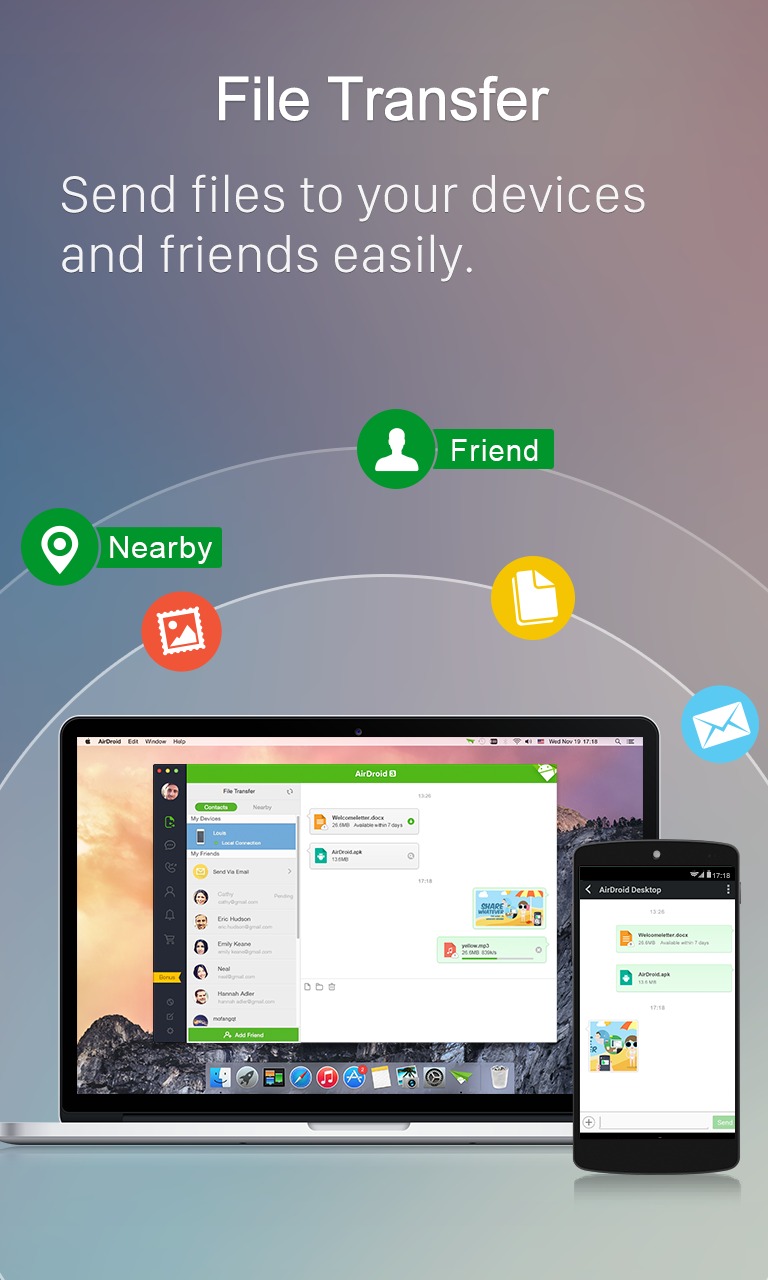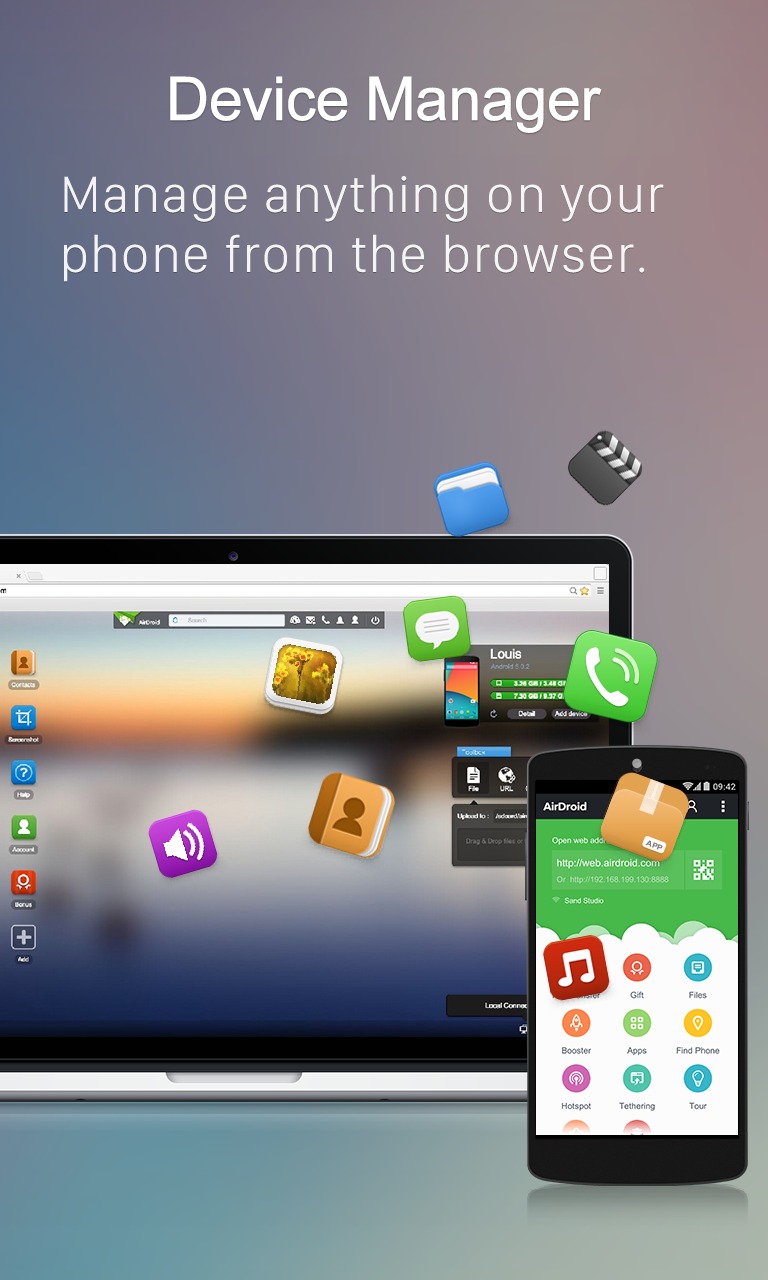 The app AirDroid allows you to share files between any type of device without any restrictions.



Send Anywhere (File Transfer)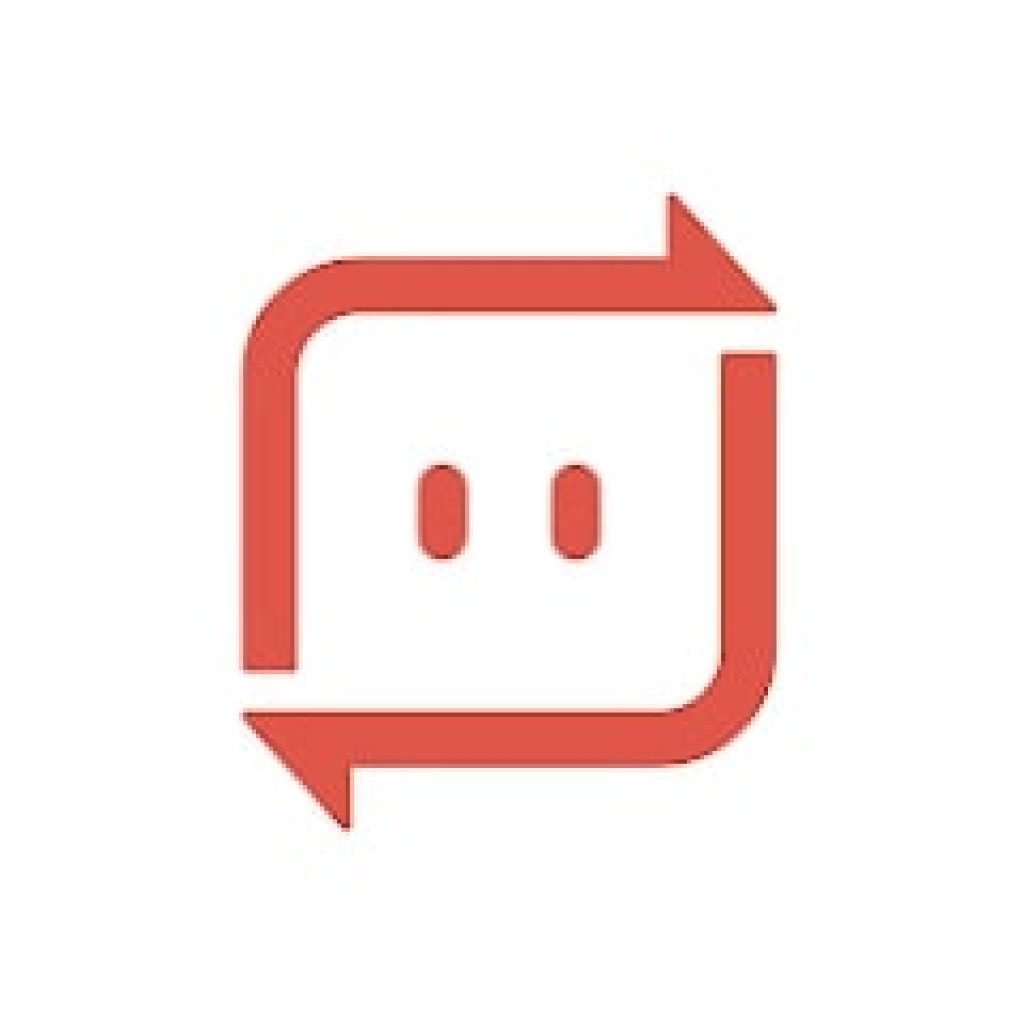 With this app, you can send data, archives, and other information to other users even without an Internet connection. You will be able to share and see the contents of the files using all available encryption types.
To send data, you will need to come up with a secret code of 6 characters. Through this service it is possible to share links, using social networks, forums, groups, and messengers.
The service allows you to send and receive data from different devices, including computers. Fast transfer of information without loss of quality and content will be provided for each user of the service.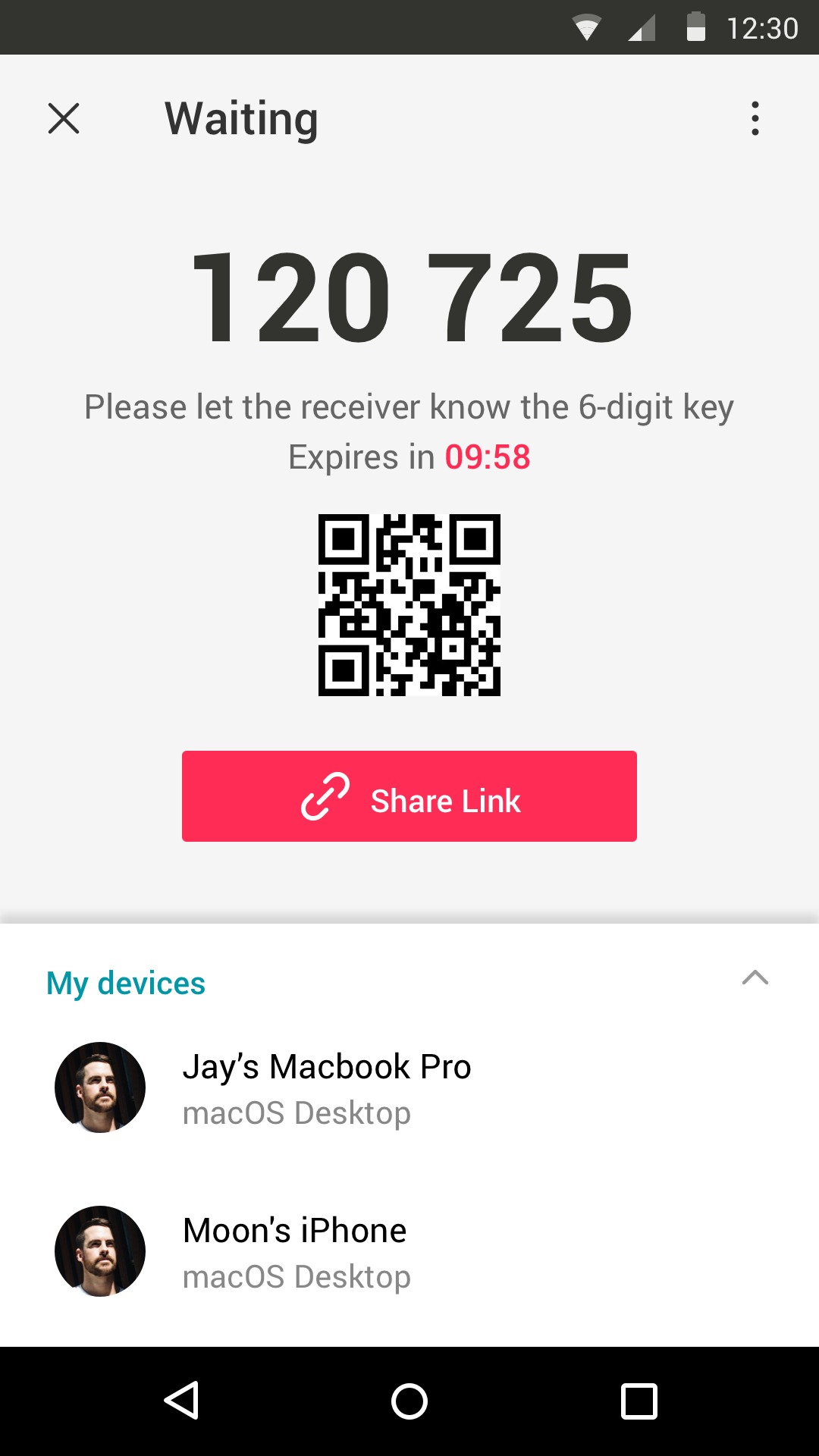 The program supports all file formats and sizes, so it can be used to transfer videos, documents, and other sources.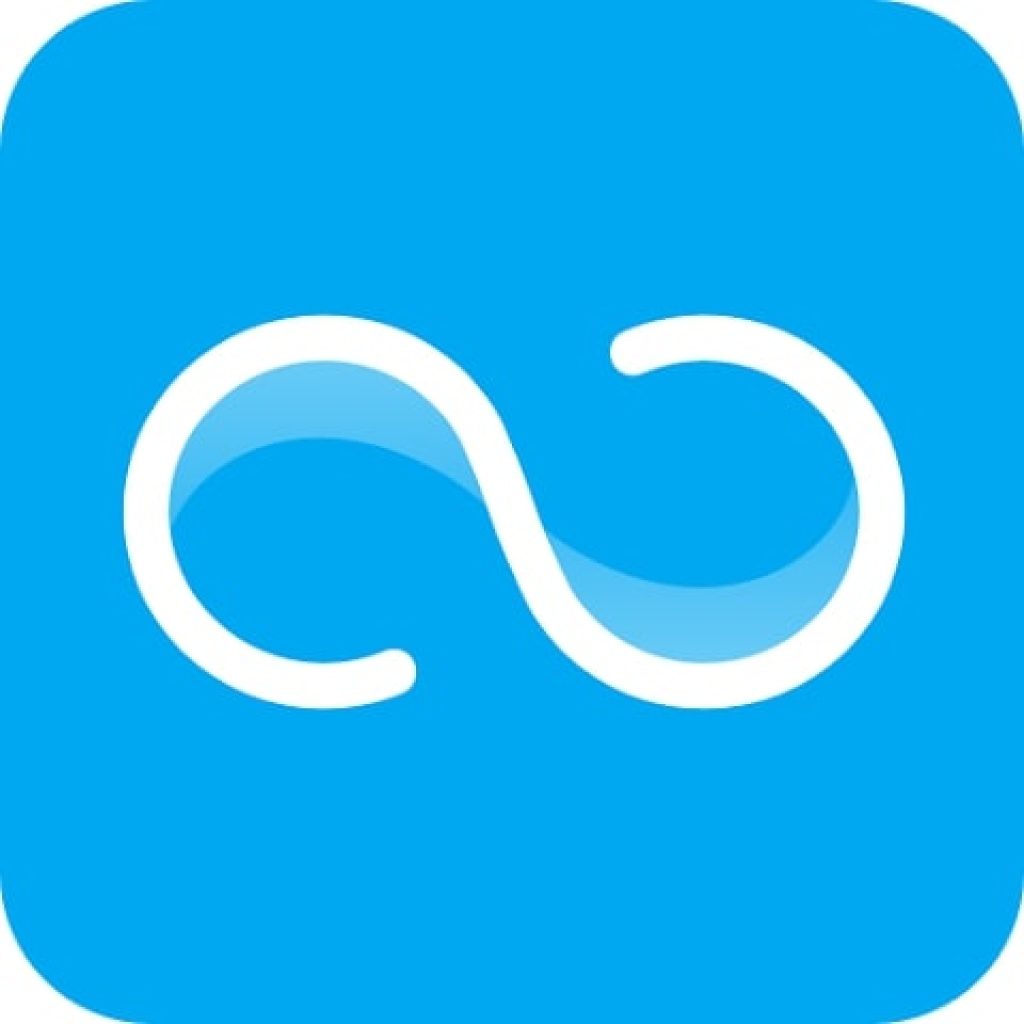 This app will allow you to send information to your friends and family even without a network connection. You will be able to send and open files of all types and sizes using this program.
It is supported on a variety of devices, so it guarantees data transfer without loss of quality. Also, this app works in several languages, so anyone can use it. You can mark any folders, including documents, videos, and music, for transferring data to another user.
To save the information transferred through the app, you need to create an account. After that, the data can be recovered even after deleting it.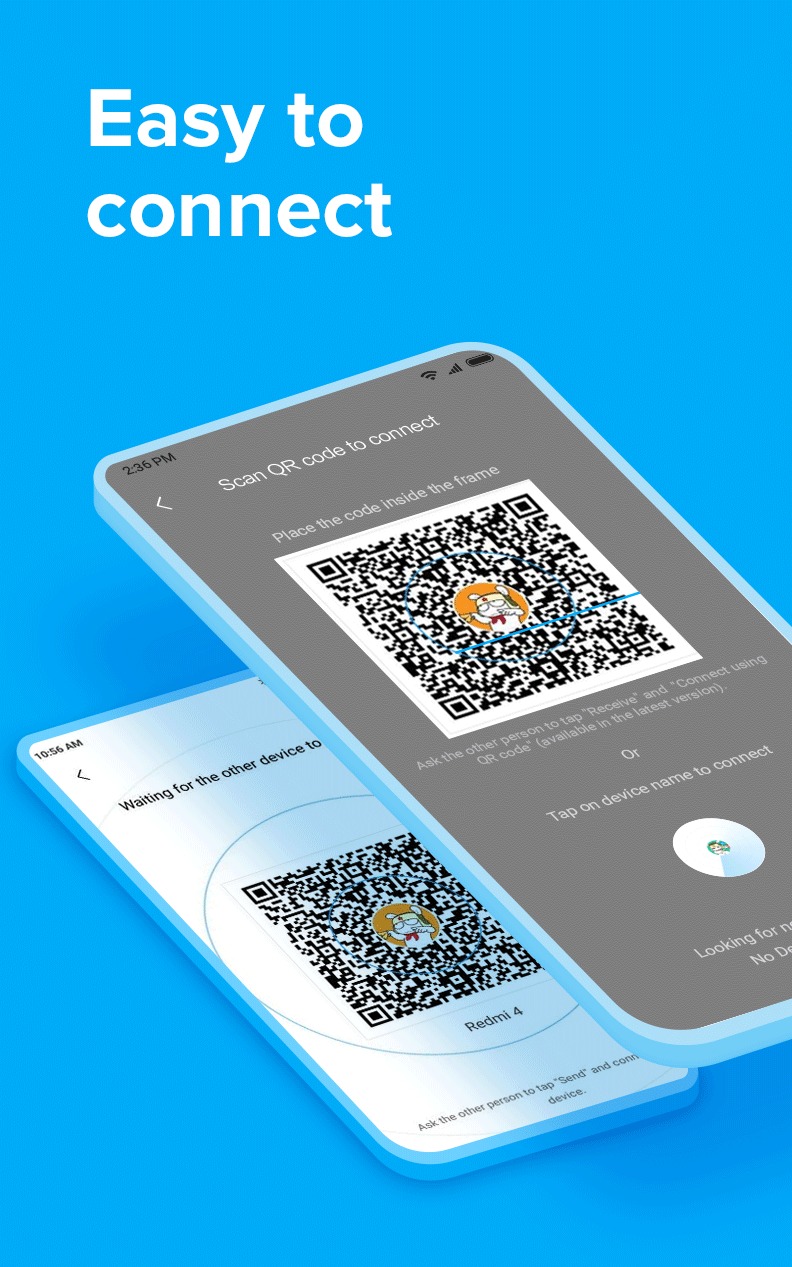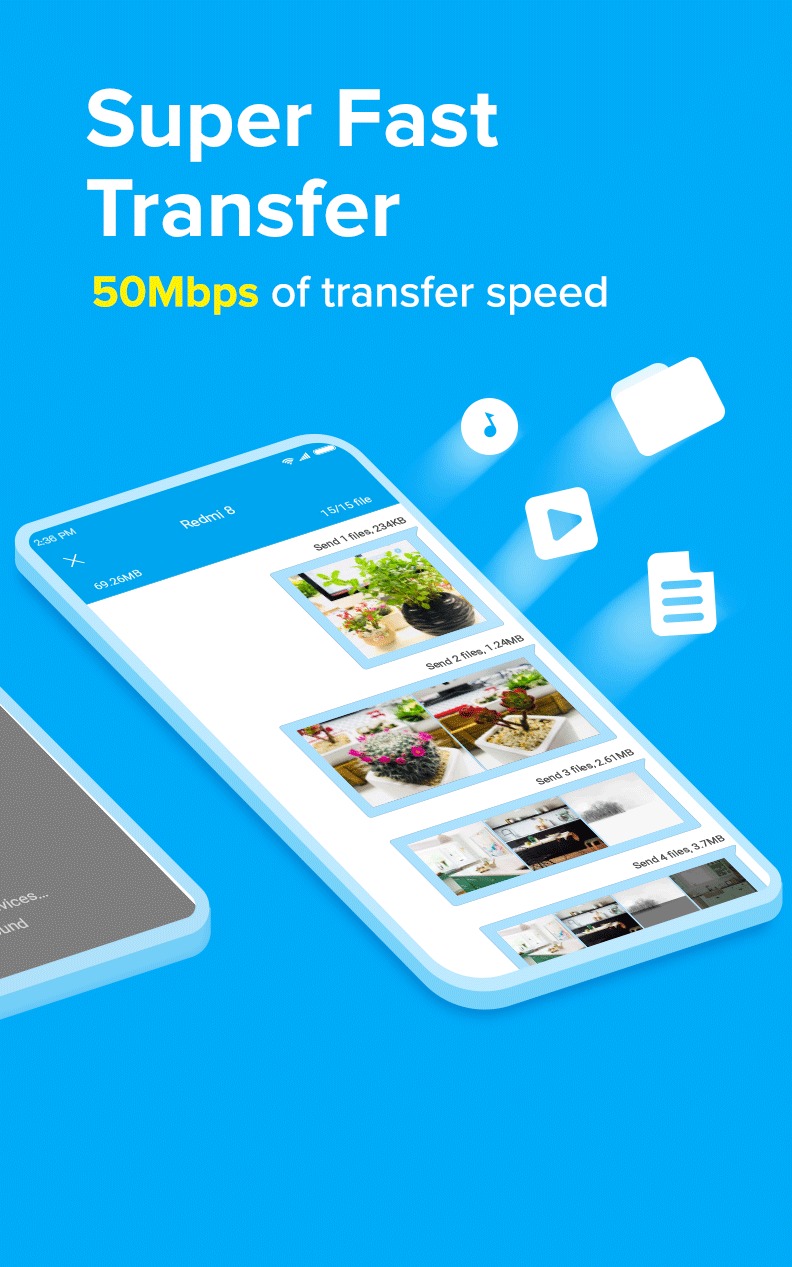 Files transferred through this service must be saved on the device. After that, you can use them for your own purposes, including sending them to your friends and family.



You may also like: 11 Free Apps To Unzip Compressed Files On Android & iPhone
Smart Transfer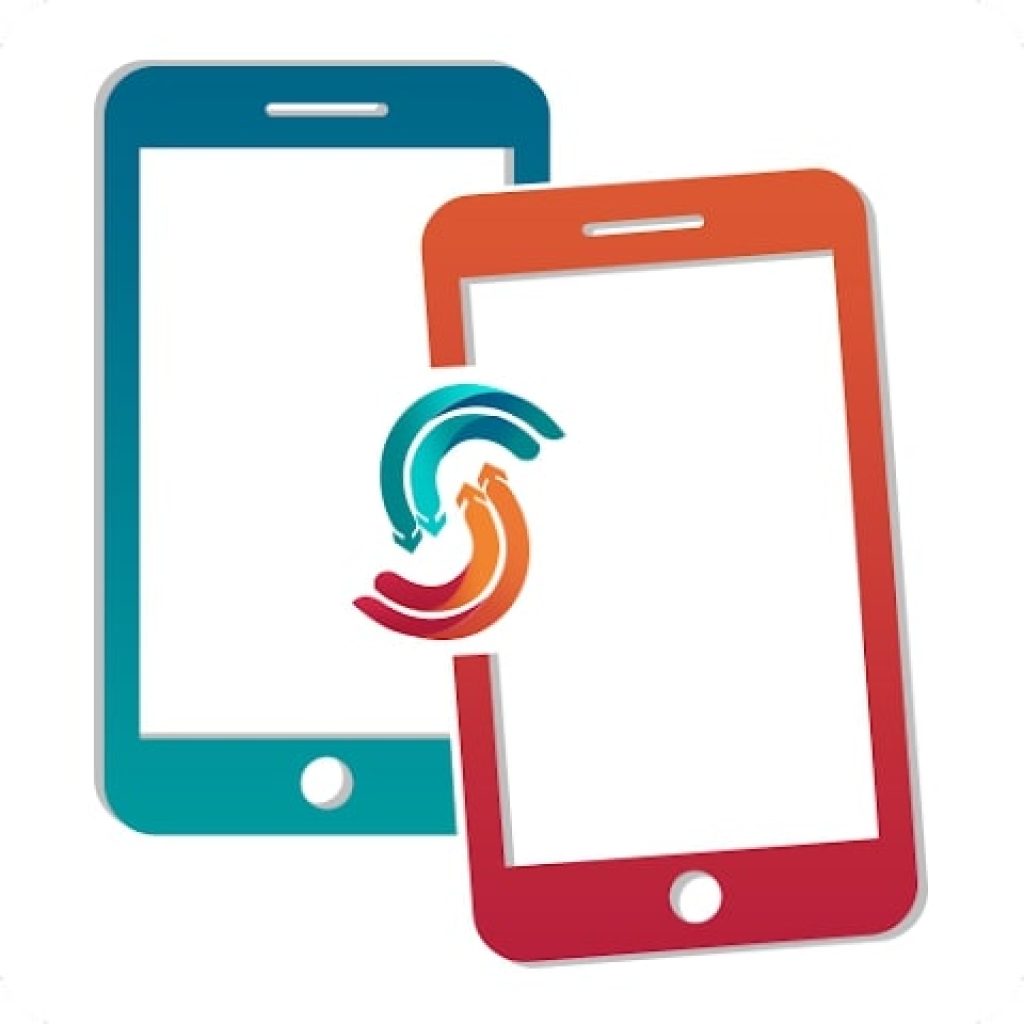 This app enables users to exchange archives, materials, and documents between devices. It is allowed to do this both from a phone and from other gadgets.
To send materials from one gadget to another you need to provide their connection to the same shared network of a wireless provider. Then you have to determine from the list those archives and folders that should be sent.
Then you need to find and choose a recipient who will receive it all. This service also gives you the opportunity to swap and share your mobile data with your friends.
The service guarantees a fast selection and sending of your archive of any size without changing its quality characteristics. After receiving the archive materials you will need to save them for later use.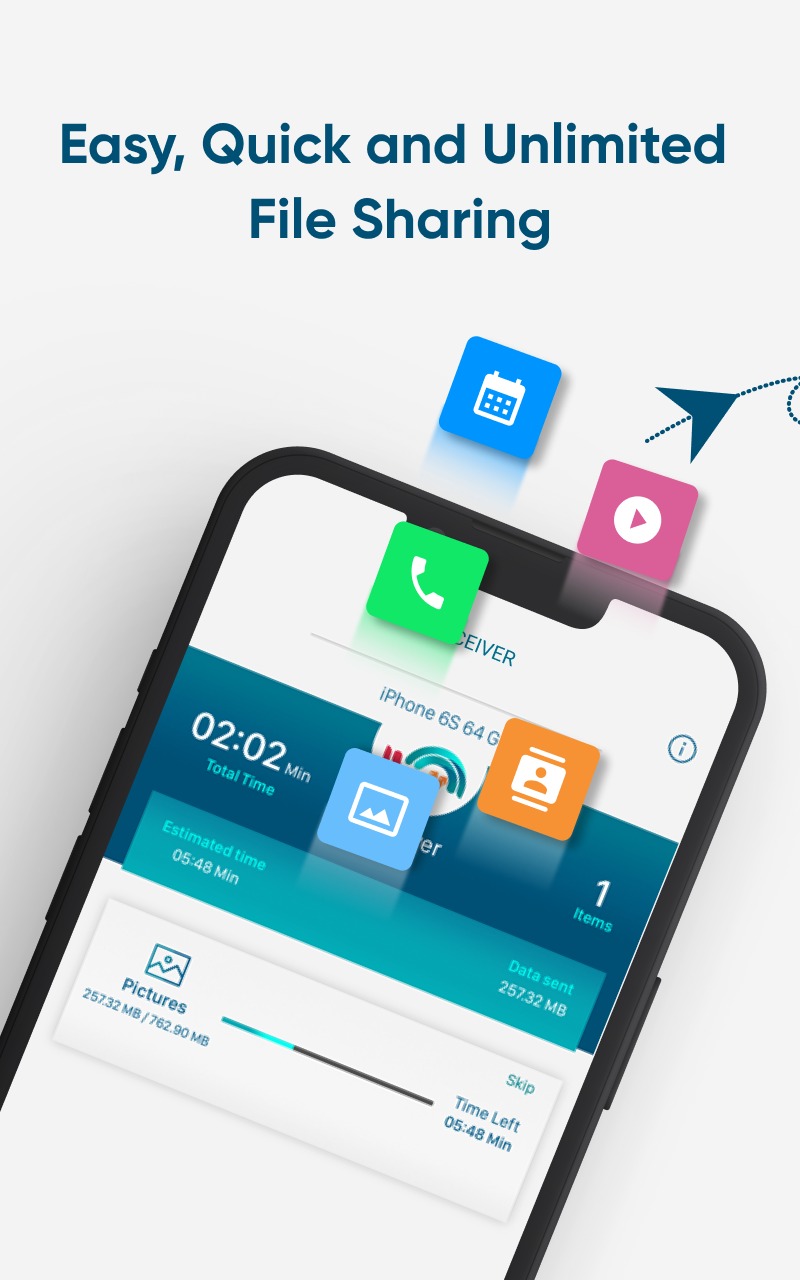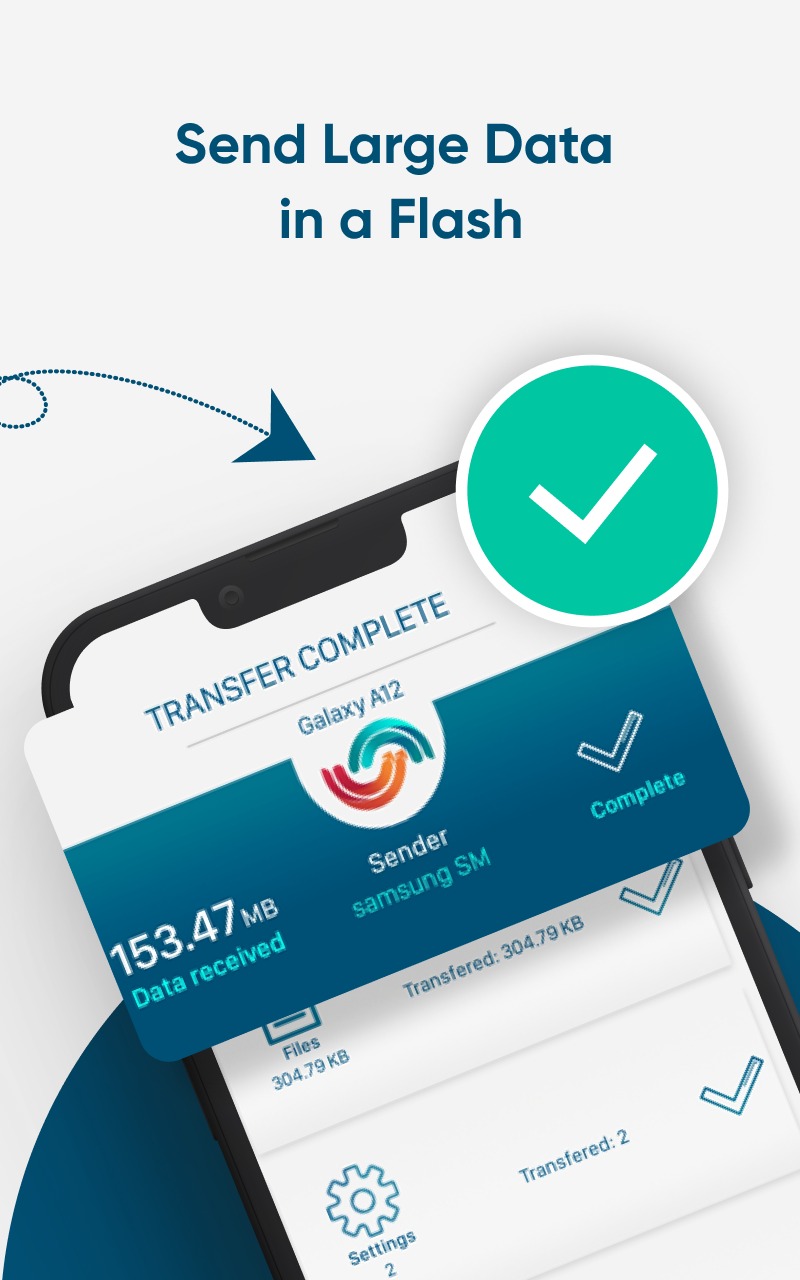 Through the program, you can send pictures, clips, audio files, and other materials. All sent information is stored in the account, so you can restore it even after deleting the app.