Looking forward to experiencing what it was like to participate in WW2 air battles? This article has you covered!
There are plenty of WW2 air combat games for Android & iOS that offer the most realistic gameplay possible. All these games precisely recreated all the legendary aircraft that were actually used during WW2. Plus, a good WW2 game can't be imagined without historical battlefields, and the ones on our list are not the exception.
We've gathered together the 9 best games in that category you may try. Take a look!
Gunship Sequel
Let's start with Gunship Sequel -one of the most-played WW2 air combats on the market.
If your goal is to experience what it was like to participate in the most legendary WW2 battles — this one is for you. This game covers plenty of famous maps for Stalingrad, Pearl Harbor, Guadalcanal, and more. There are three modes — arcade, historic and realistic, so there's something for everyone. Plus, there's a multiplayer mode to start combats with friends.
Along with that, the game provides you with a realistic experience in all ways. First of all, the game comes with solid physics, which means you'll have to consider the weather conditions you're flying in. Herewith, the flying itself is not complicated, and there's a training mission for you to get used to it. The game covers a 360 degrees cockpit view, so you'll have quick access to all the weapons and controls.
The combats are made as realistic as possible — you may literally one-shot someone just by hitting their engine. Besides, the game covers a wide range of flyable aircraft -there are over 30 models now, and more are added regularly. You'll get to improve your planes by getting new armor, weapons, and all that.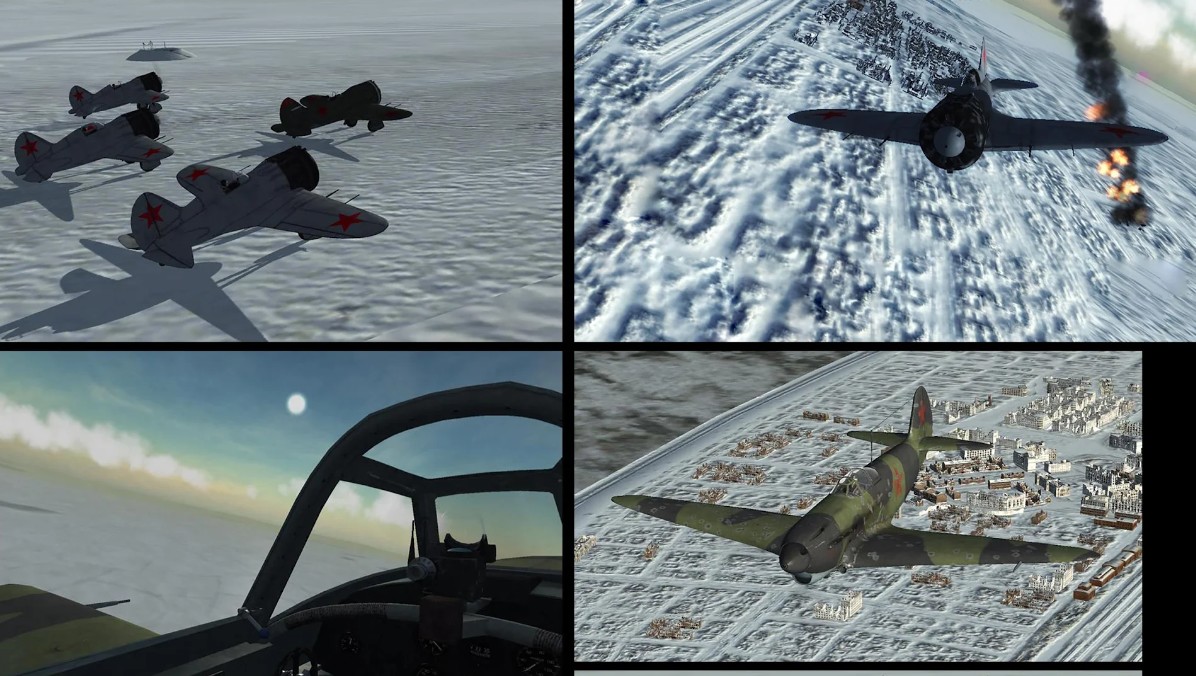 You may also like: 9 Best Naval Strategy Games for Android & iOS
Warplanes
Next, we have an air battle game that lets you participate in WW2 battlefields.
This game lets you become a pilot of an elite force unit of the USSR. USA, Great Britain, Japan, and even Germany. Your goal will be to participate in the most dangerous missions that require all your strategic skills. All these missions may easily turn the tide of war, so the pressure here is quite high.
Additionally, the game overs over 50 famous historical planes — from classic ones to bombers. The aircraft range includes such models as Lancaster, Hurricane, B-17, P-51, and more. Herewith, you won't only get to fly these planes — you'll be able to repaint and upgrade them by your will. More to that, you'll also become a squadron leader, tasked to build a base and recruit the best pilots possible.
As your base will grow, you'll need to build more hangars along with the place for our crew to live. Make sure your area is safe and protected from all possible attacks. You'll also need to train your pilots to assist you in the most deadly missions. All the missions require special plans and skills for your crew, so think wisely before forming a squad for each one.


Air Combat Pilot
This game lets you join WW2 and make your path to victory.
In the first place, this game is not some hardcore sim that feels impossible to play. But it's not just a simple one-tap shooter, either. The main goal of this game is to let you feel the flight and fully enjoy breathtaking combats. Due to this, the game provides you with realistic physics and simple controls you'll appreciate.
Of course, you may need a couple of training fights to get used to the controls, but you'll quickly cope with it. The game covers a wide range of classic aircraft — from trainers to bombers, so you won't get bored here. Plus, there are hundreds of upgrades to add to your planes such as rockets, torpedoes, bombs, better engines, and more. All these things had to be earned by missions, so you'll need to try your best.
There are over 15 objectives for you to pass and an unlimited aunt of scramble missions for free flights. Each objective requires an individual approach — from plane and weapons to strategy. It may not make sense at first, but when you'll start to compete in the missions, you'll quickly figure out what combat style and weapons work best for you.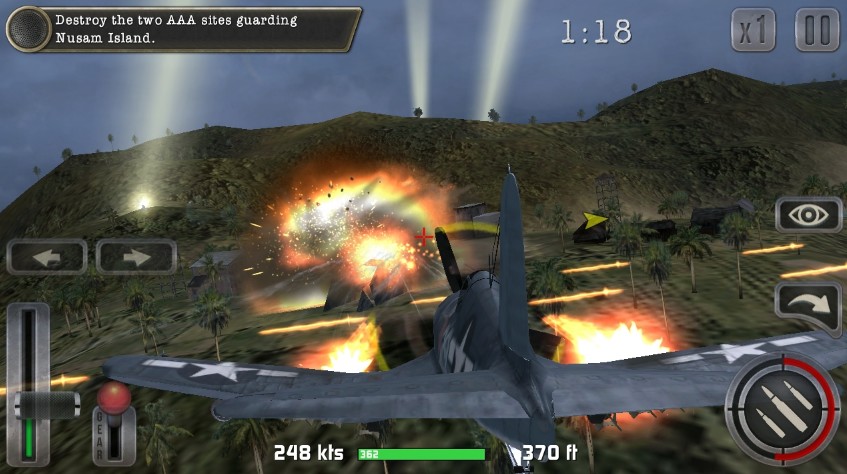 Check also: 11 Best Offline War Games for Android
Wings of Steel
It's an action-packed air combat game that takes place in a WW2 setting.
This game is a combination of well-made 3D graphics and realistic physics — what else you may need from a combat game? It comes with intuitive controls and a wide range of aircraft details recreated from the real WW2 ones. More to that, the game also over realistic ships and vehicles from both Ally and the Axis sides.
The maps and environment are quite realistic as well — it includes either and time of the day changes. As always, all the planes in this game are fully customizable. You'll get to repaint your planes, and weapons like bombs and torpedoes, install more powerful engines and armor. In case your plane will get hit, you'll also need to repair it to get back to the fight.
Besides, the game overs plenty of challenging missions that won't let you get bored. These missions include a dogfight, dive-bombing, escort, career landing, and way more. Plus, there's a cinematic replay mode that lets you review the entire mission for reliving the glory or finding out what exactly went wrong.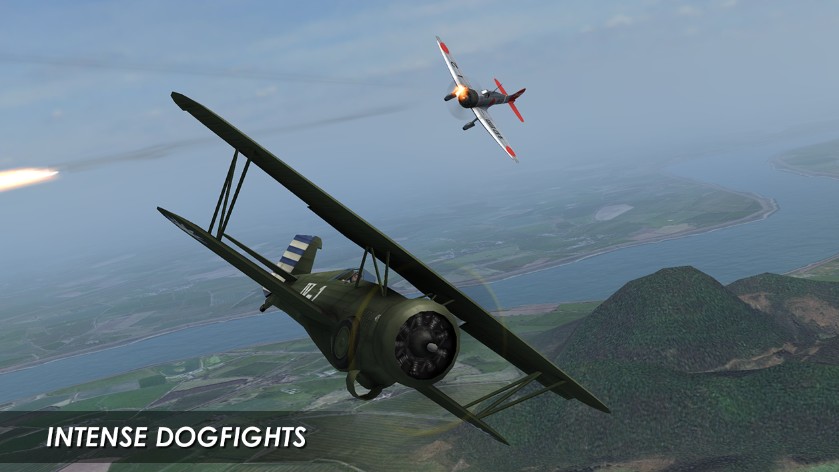 War Dogs
Here is a WW2-era air battle sim that offers an immersive playing experience.
This game features over 20 powerful warplanes of the USA, Germany, UK, Russia, and Japan. There are deadly wedding fighters and all kinds of bombers from dive to heavy ones. As always, you'll get to improve your plane by adding armor, bombs, torpedoes, and all that. Plus, you'll get to learn air combat maneuvers like a barrel roll, wingover, and all that.
As for the modes, the game cover both single and multiplayer campaigns across five war-ranging theaters from North Africa to Japan. Plus, there's a cockpit mode and war emergency power that provides you with the base playing exp on par with console games. The best thing is they get to try multiple campaigns — from British or Russians to German or Japanese ones.
Each campaign has its own goal. For instance, the Russians campaign lets you use cropping winter against German soldiers. At the same time, the German campaign needs you to hold the British forces whatever it takes. The multiplayer mode lets you invite friends and join arena-style battles.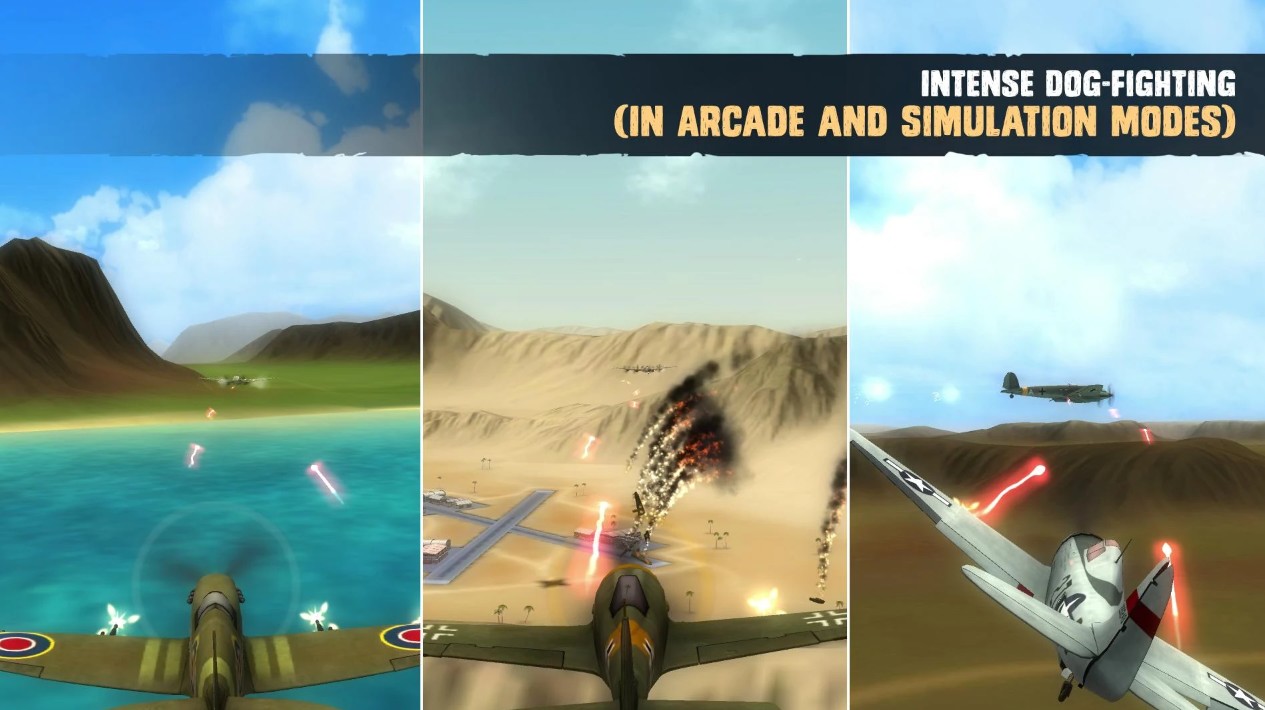 Warplane Inc
It's a warplane military sim that brings you into the world of WW2.
The first thing to be said about this game — is it's not your basic air combat. The gameplay here is unique and you, whether love it or have it — have no middle ground. Unlike its sister games with 360 degrees cockpit view and realistic 3D environment, this game s all about the atmosphere. Don't get me wrong, the design here looks great, it's just very different from what you used to see.
It's a 2D sim with realistic visual effects that won't leave you indifferent. Plus, it's not a casual shooter — the game comes with psychological elements and plenty of storylines, so you won't get bored. Herewith, it's a USSR war simulator, s all the planes and other weapons are inspired by the one USSR used.
To be more precise, the game features plenty of legendary fighters, bombers, and all that. You'll also get to upgrade your planes by adding extra armor, bombs, torpedoes, and all that. Plus, the game has realistic physics, so your plane will depend on weather conditions. You may also get shot or run out of bullets o bombs easily.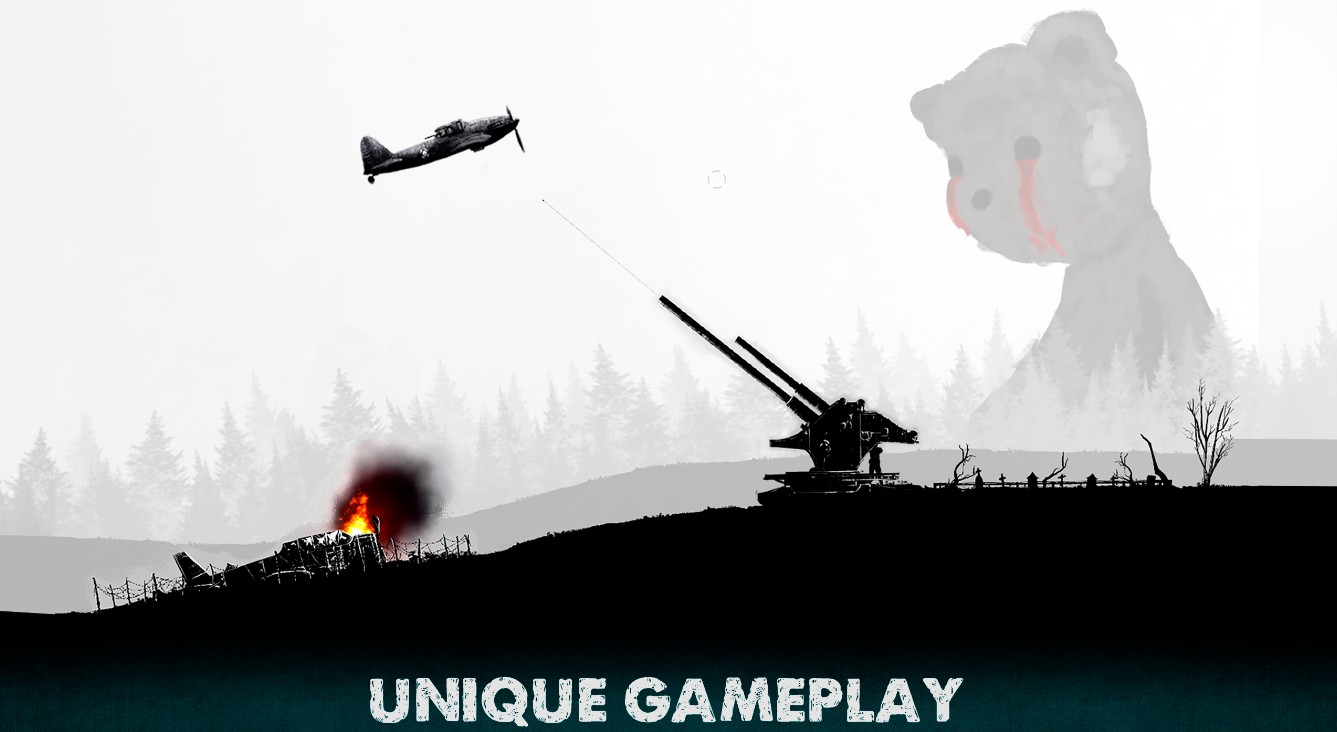 Wings of Heroes
Wings of Heroes allow you to pilot a wide variety of iconic warplanes from different eras.
As a pilot, you'll engage in thrilling dogfights, perform daring maneuvers, and execute precision airstrikes. The game's intuitive controls and immersive graphics make it easy to pick up and play, ensuring an enjoyable experience for both novice and experienced players.
In addition to air combat, Wings of Heroes offers a range of game modes to keep players engaged. You can embark on challenging missions, engage in multiplayer battles with friends and other players, and test your flying skills in various scenarios and environments.
The game also provides players with the opportunity to upgrade and customize their aircraft, unlocking new capabilities and enhancing performance on the battlefield. This progression system adds depth to the gameplay and keeps players motivated to continue improving their skills and collection of aircraft.
All in all, I think that this game is quite a decent one. Though Wings of Heroes provides you with many interesting game options, it can't be as exciting as other apps from this list.


Ace Squadron: WWII Conflicts
In Ace Squadron: WWII Conflicts, you have the opportunity to pilot a wide variety of iconic warplanes from the era.
From legendary fighter planes like the P-51 Mustang and Spitfire to heavy bombers like the B-17 Flying Fortress, the game offers a diverse selection of aircraft, each with its own unique strengths and abilities.
Also, you can enjoy stunning graphics and easy-to-use controls that make it accessible to players of all skill levels, while the challenging missions and AI opponents provide a satisfying and immersive experience.
In addition to air combat, Ace Squadron offers various game modes to keep players entertained. You can participate in thrilling campaign missions that recreate historical battles, engage in fast-paced multiplayer battles with other players, and even test your skills in special challenges and events.
As you progress in the game, you can upgrade and customize your aircraft, unlocking new weapons and improvements to enhance your performance in battle. This progression system adds depth and strategy to the gameplay, rewarding players for their achievements and encouraging continued play.
In general, this is a great WW2 game as it has plenty to offer you. Try every feature of the gameplay to enjoy the air combat.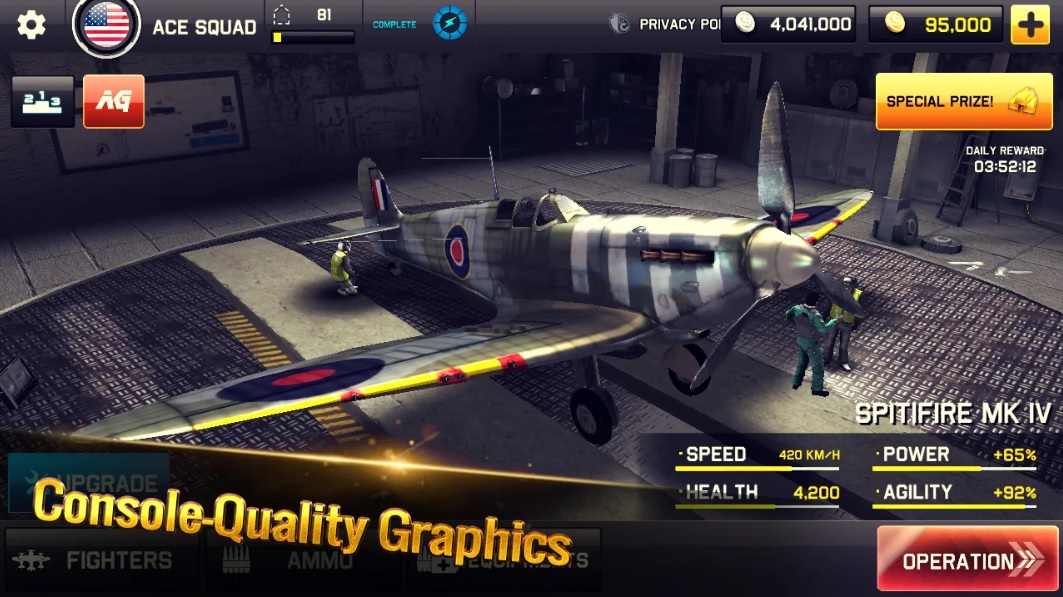 You may also check: 12 Best Space Strategy Games for Android & iOS
Sky Baron
And lastly, we have a historical warplane game with a realistic WW2 setting.
This game is fully focused on a multiplayer mode, so if you were looking for something to play with mats — this is the one. The single-mode is also covered though, but the multiplayer one is what this game is loved for. It needs to be said, this is one of the most beautiful air combat games when it comes to graphics and design.
The game covers over 50 realistic airplanes like Kawasaki, Arado, and all that. All the planes are recreated from the ones that have actually been used during WW2. The good thing is you may customize them by your will by repainting and adding new weapons and armor. The equipment can be bought for in-game coins or exchanged with other players.
Herewith, you'll need to pick the side to play on — it may be the Allies or Axis. Your choice will determine your opponents and the equipment that will be accessible for you at the beginning. The more you play, the higher your rank will be and so is your plane. There are also daily quizzes and bonuses you may earn for entering.