If you have been occupied with an unsettling feeling that you are being tracked online, you have the point! We're all being tracked every time we're doing anything online.

A single site or application may contain dozens of various trackers building a detailed profile of what kind of person you are and what you do online. Fortunately, today some anti-tracking apps endeavor to present you with an opportunity to prevent tracking or limit what info can or cannot be collected.

By the way, take care not only about the security of your iPhone but of the security of your whole house with these apps.
VPN super unlimited proxy VPN
The program is intended to let you change your VPN. This will solve the primary concern of online safety. Not only will the work of targeted marketing campaigns be restricted, but also the information will be concealed from such apps as dating ones, which can boost your safety.
Moreover, this software can be employed to enable you to access the websites restricted in your country.
One can download and install the app directly from the apple store. A free version is available. You can test the main features of the program, but in order to access extra features, you need to create an account and subscribe.

They provide you with many options from a monthly plan to a lifetime one. Keep in mind that there is no money-back guarantee for all the plans.

So, whether you make a decision to cancel the subscription or not, it will just stay active till the end of the paid period anyway.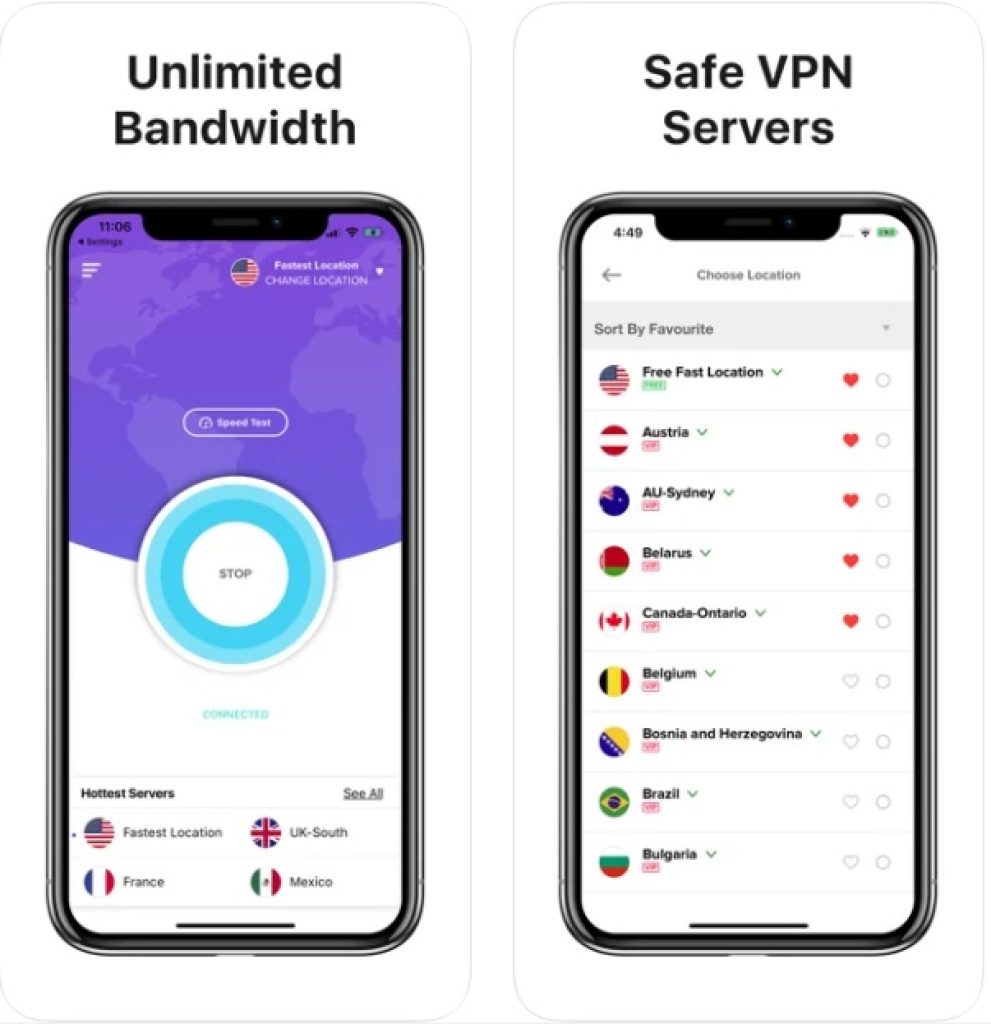 You may also like: 11 Best auto kill apps for Android
Lockdown Privacy
This is an open-source firewall and its main incentive is to block all trackers. When it comes to web browsers, it functions by making use of Apple's VPN setup, but keep in mind that it is not aimed to obscure IP addresses.

The software itself cannot be equaled to VPN. Additionally, it can expose the concealed trackers baked into the installed apps. Any tracking attempt will be prevented and reported. It also lets you view the description of each tracker that has been stopped.
The engineers of Lockdown Privacy take pride in their application's clear and transparent data protection regulations. No information is passed to any third party. So, you shouldn't be worried that your data is safe while running the app.
Lockdown is accessed for free. Though if you prefer to have some extra features, such as a fully unlimited VPN service, you are recommended to opt for it by choosing any subscription.

The customers note that in comparison with the other VPN apps, it doesn't retards the device's internet speed.
You are welcome to explore the highly customized interface. It is effortless to set up and run due to only one button and a few options.

Moreover, the support is very responsive and helpful and the app is constantly getting better.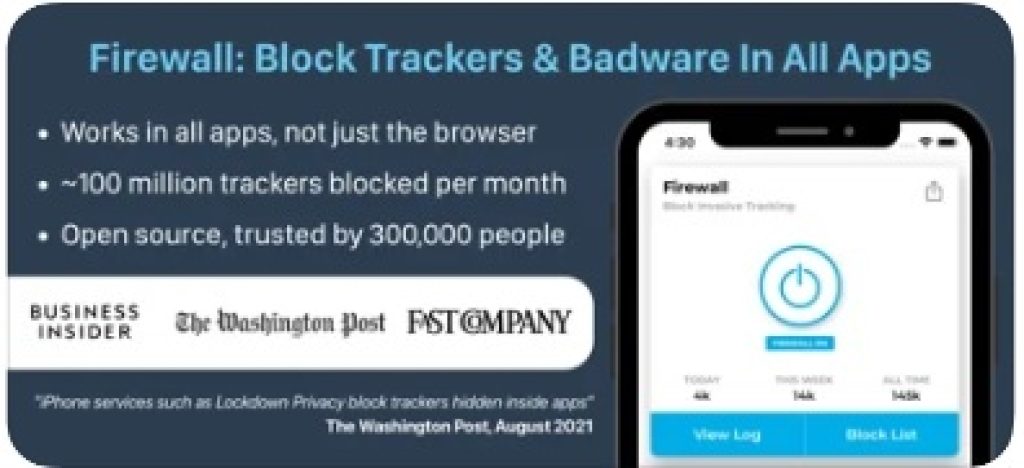 Avira Mobile Security
A so-called all-in-one software, that empowers a user with a wide range of functions. Besides its main function of VPN, it comprises Web Protection, which successfully blocks phishing, malware, spam, and fraud.

Identity Safeguard regularly scrutinizes your electronic mail and detects the addresses that have been hacked. What is more, it enables you to discover, trace, and recover your mobile device if lost or stolen. Such invaluable functions as Contacts backup and Call Blocker are also available.
What helps Avira outperform the other apps in the category is Smart Scan. It is not only responsible for tackling the active malware but also has a bunch of other functions.

It can analyze your settings in order to unveil privacy problems and check the network for possible security problems… Additionally, it constantly strives to improve performance. If there is any app that needs upgrading – it will be identified at a moment's notice!
When it comes to the downsides, we can mention the lack of online assistance so there are complaints about poor customer service. Though there exists a possibility to type your question in on a public forum page.
The app is free and available in-app store. Some extra attributes are restricted and accessible only if paid for.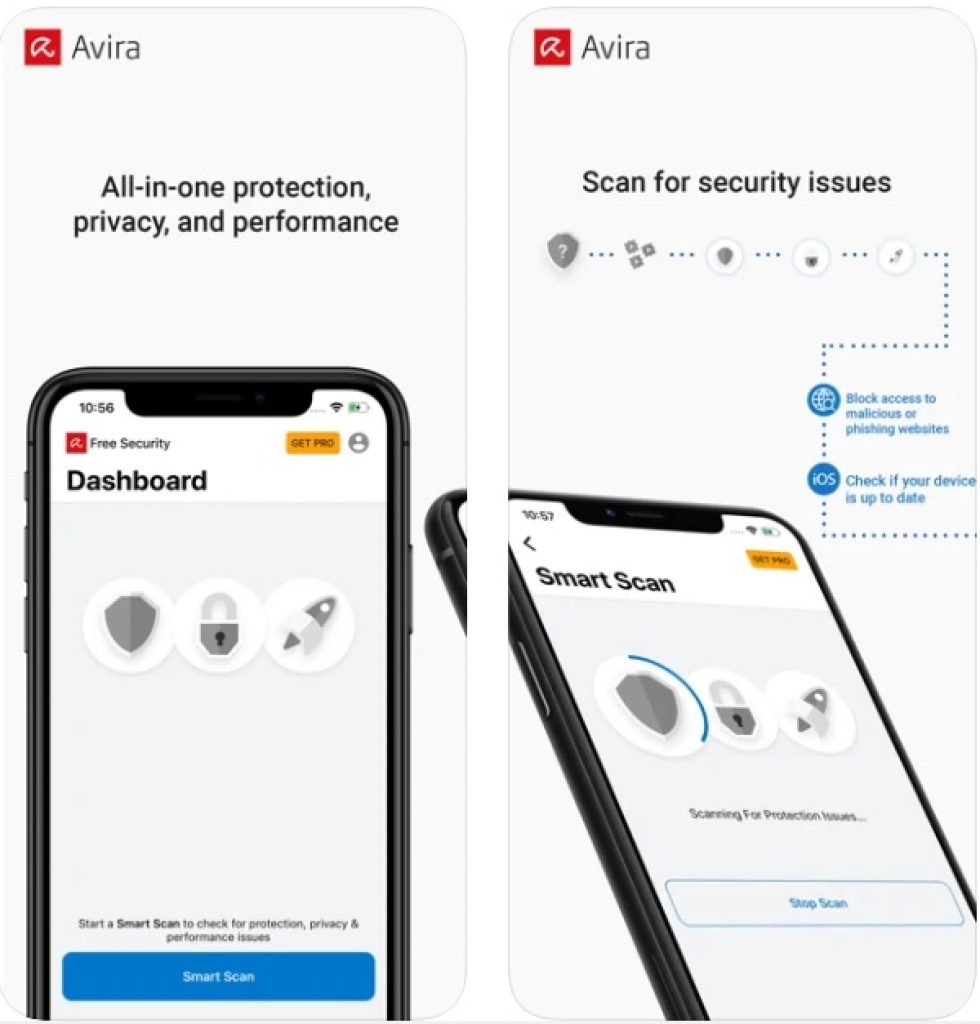 MobiShield
MobiShieldis the next in line. The application is introduced as a "checkup" tool for iPhone. It is intended to assist its clients in evaluating the risks to security.

What is more, a system check is performed by the scanning program. It inspects for common vulnerabilities and settings (for example, location services) which are, as a rule, enabled by the users accidentally.

It can also notice if the gadget was jailbroken or if the installation of the OpenSSH service occurred that uses the default parole (it multiplies the risk of obtaining viruses). Besides, customers can keep track of battery life.

Though this kind of data is not that vital for the users, Firstly, If you've jailbroken your phone, you are likely to be aware of it. As for the basic battery and performance information – anyone can find this piece of data in iOS's default features.
While the app is extremely user-friendly, the menus seem to have been written in very awkward English and may contain slight mistakes and typos, particularly the explanations for scanning.
Users can opt for the VIP license. The payment is quite small: either monthly or annual. Having The VIP membership presents a user with some extra functionality, such as the ability to customize new folders and have the default visibility of files changed.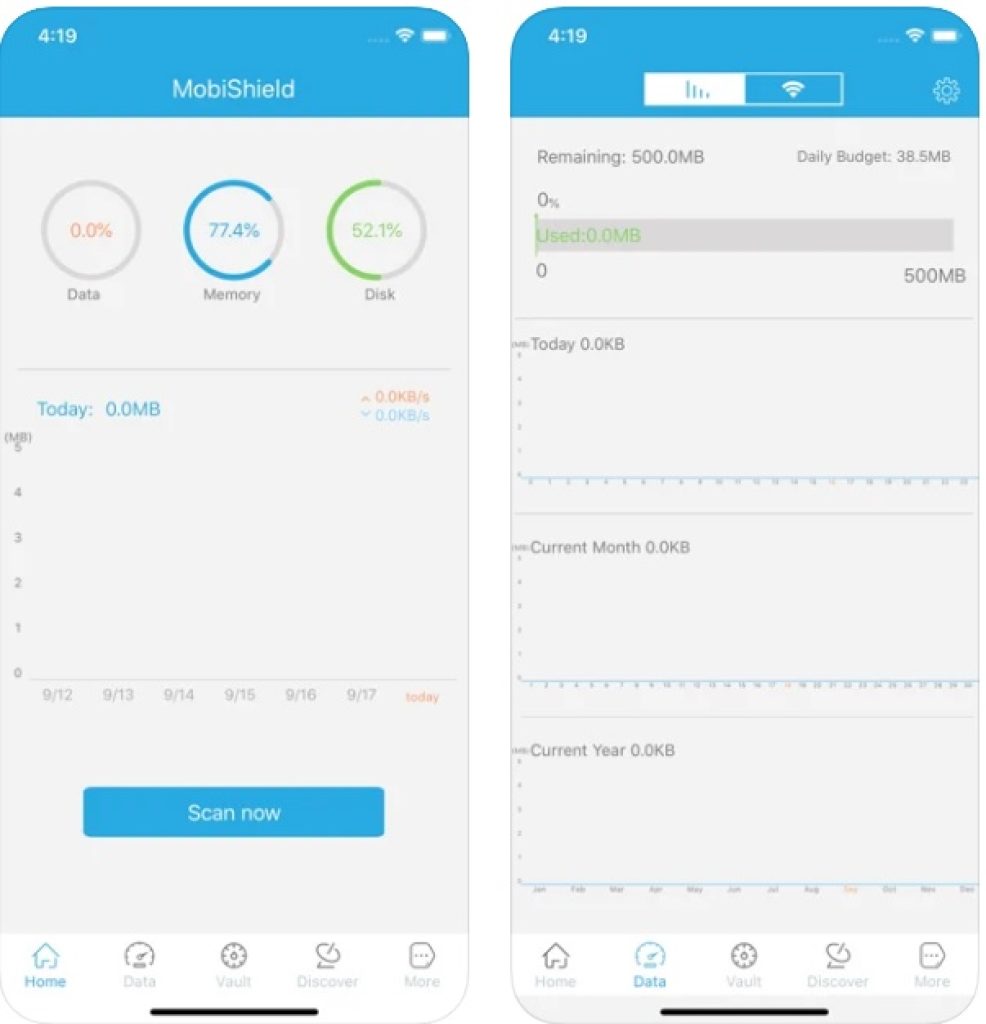 You may also like: 17 Free VPN apps for Android & iOS
Privacy Pro SmartVPN
Unfortunately, there range of opportunities if you are running a free version is rather restricted. With the purpose of fully experiencing all the benefits of the program, you suggested subscribing to a paid plan. All the functions provided by it are absolutely worth every penny.
A most peculiar feature of the pro version gives the user an opportunity to stop anything they wish. It can be emailed, web pages with photos, etc. The result is a higher speed of web-page uploading and fast work of the apps, longer battery lifespan.
Moreover, you are given a report which enlists the striving that is trying to pick up your private data.
In addition, concern about privacy regulations is no longer to worry about as Privacy Pro doesn't trace or accumulate any data of its users or their online movements, except the information that they agree to share explicitly.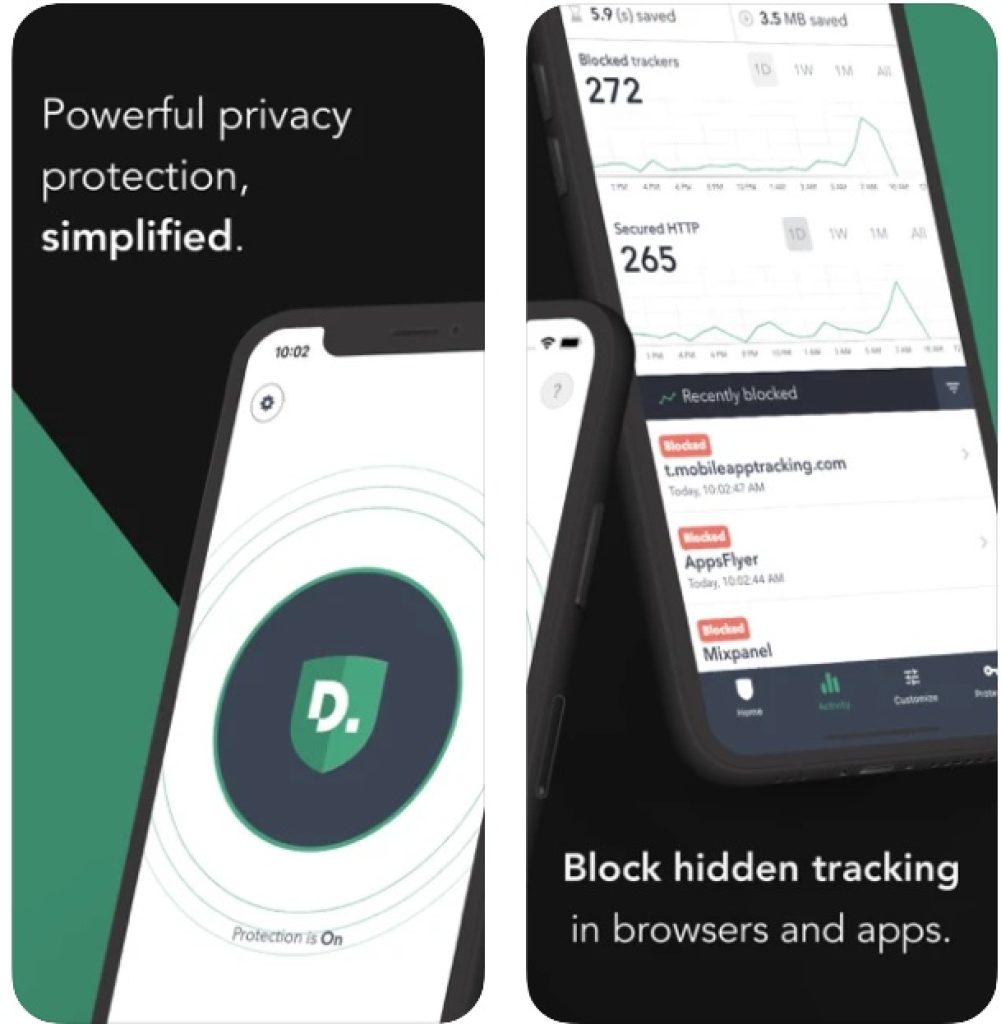 Do Not Track
It is unprecedentedly a gem among all the programs that can be encountered today. It solely deals with hidden tracking. The latter is detected in the applications you run or websites you go to.

The outcome if its activity is more speedy page and app loads as invisible trackers can decelerate your device significantly. The software can also be incorporated into web browsers so all your information is safe from being exploited by any third party.

Transparency is another noticeable feature because "Do Not Track" enables its user to see what they block.
The developers of the program strive to foster such an environment, where the security of its users' data is a prime concern. This is provided by a distinct and precise policy.
You are highly advised to opt for the paid version if possible. One may consider it as a flow, but try to think of it as an investment!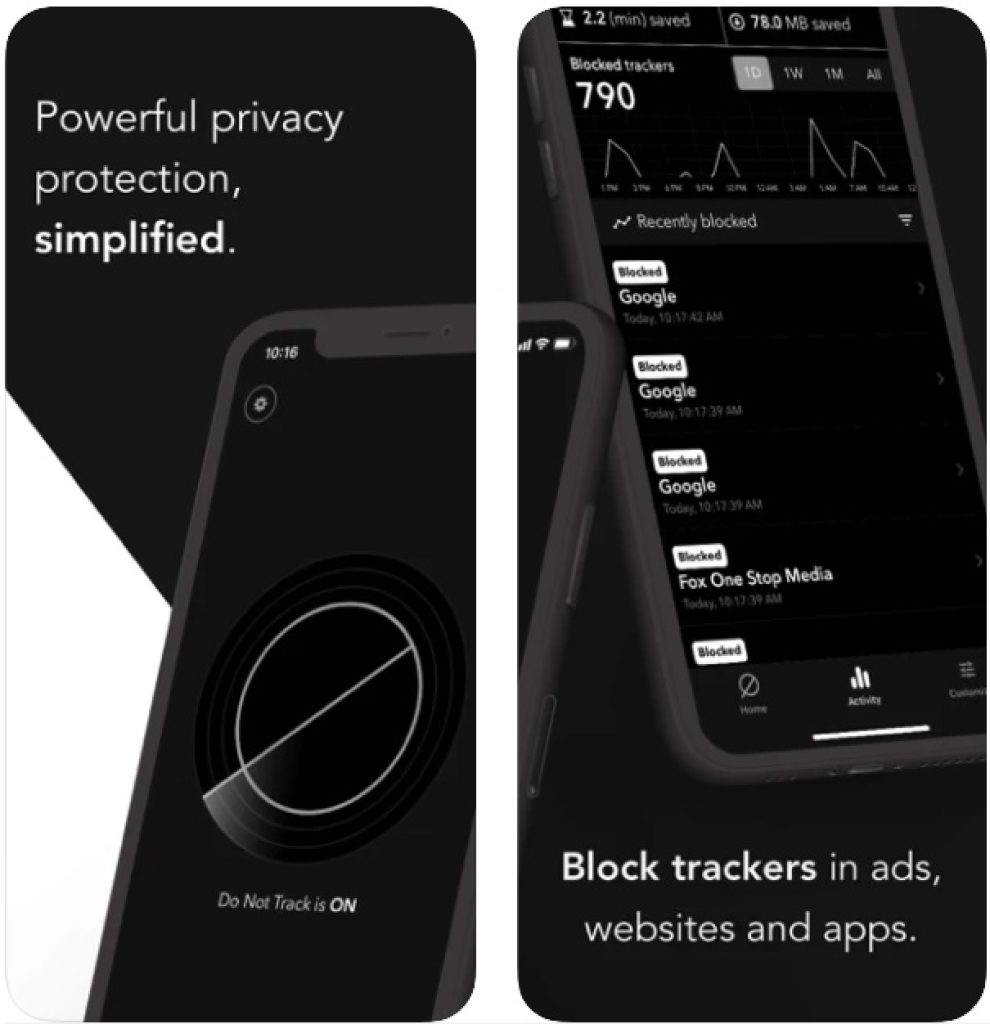 Disconnect Premium VPN
The application has gained a well-deserved reputation as a most reliable means of protecting your data.

Additionally, it may facilitate your admittance to various streaming platforms which are restricted in this or that country. It may become extremely useful in case you travel somewhere and still crave for watching an episode of your favorite series.
One may consider the program's privacy policy a bit controversial. As the developers state that your personal information can be shared in case it is legally demanded.
A bad piece of news is that you will have to pay for a subscription. The price of it varies and depends on the plan you chose. But anyway it is quite reasonable bearing in mind all the extra features it provides its users with.

What is more, there is a possibility to try it out without risking a long-term subscription as the VPN offers a 7-day free trial. So, you have an opportunity to check all the functions the premium version provides its customers with to determine whether the software meets your personal needs.

Moreover, there is a 30-day money-back guarantee, and you are given some extra time to scrutinize all the features and get a full refund in case something goes wrong.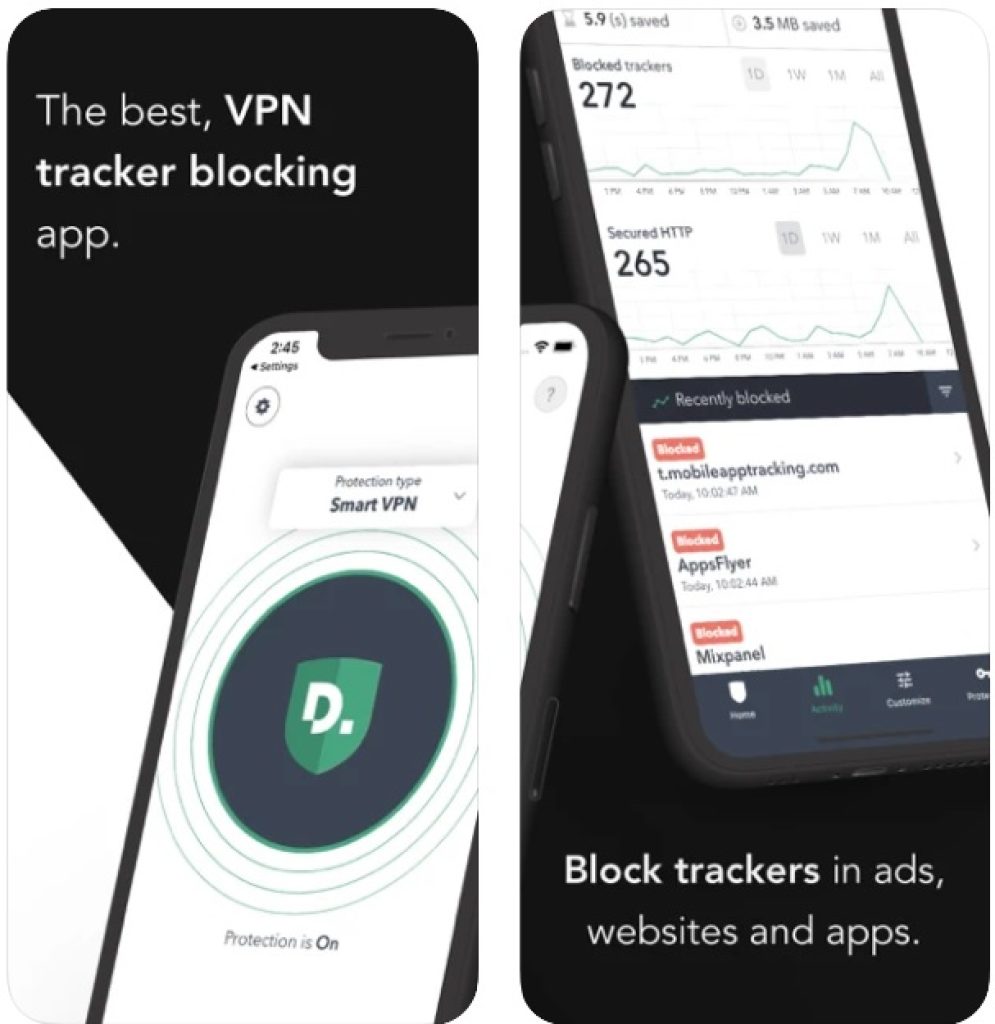 RelyVPN – WiFi Proxy Master
RelyVPN has proved to be one of the most user-friendly apps, it is effortless in navigation and sure to work properly. You turn the app off only manually. Another reason to boast is that it enables its users to have a stable connection and no speed limits.
What is more, it doesn't require registration or credit cards, so you are not urged to hand over your electronic address or other personal details. As you can notice, the data protection rules are quite clear and transparent. What is more, their support is always available for you if any difficulty occurs.
The reasonable pricing is totally worth its money. If you are not sure of that, opt for a 7-day trial period. Unfortunately, there is no opportunity to have a refund if something goes wrong while you have an active subscription.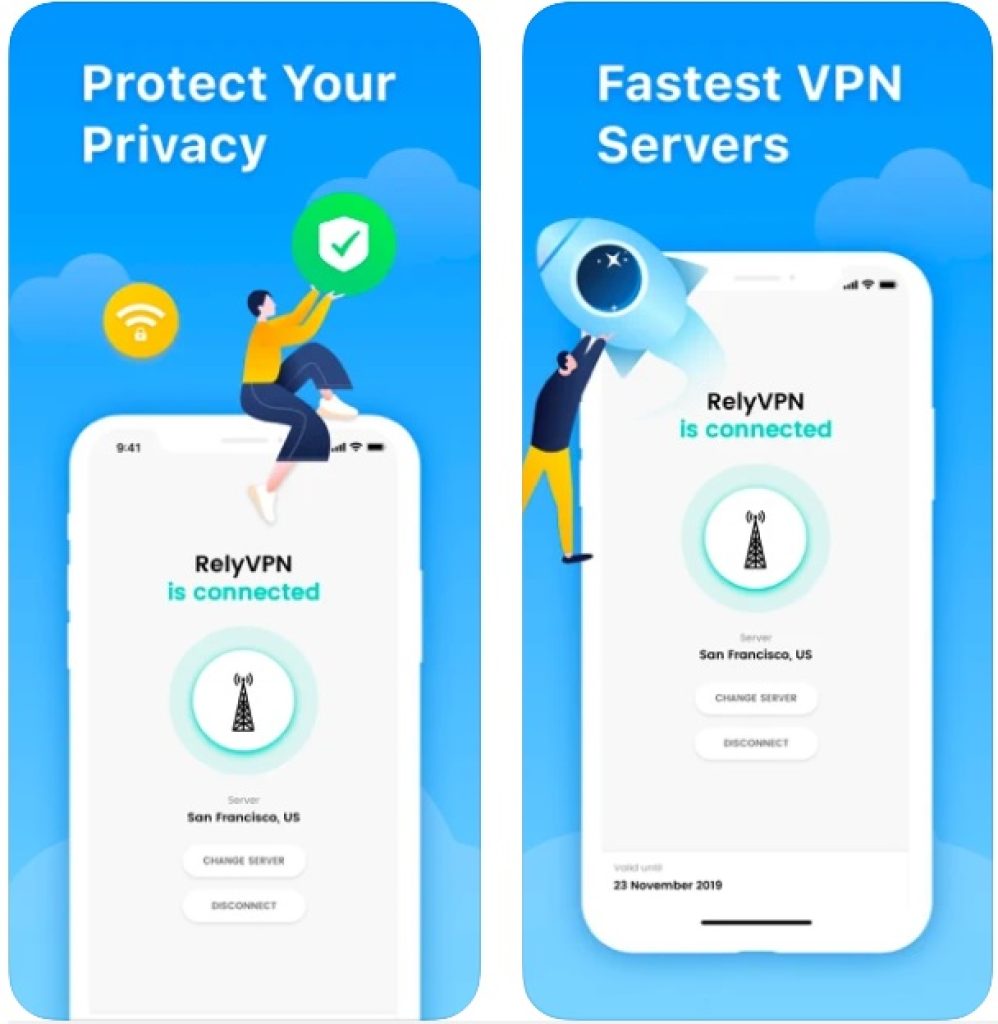 You may also like: 15 Best Android Antivirus Apps
Brave Browser: Fast AdBlocker
This browser will make you completely protected. It possesses a bunch of privacy and security features that provide a user with privacy and security.
Brave will leave everyone standing when it comes to the catalog of the safest browsers on the market. It is intended to find the ads and trackers and eliminate them if they prove to be privacy- or security-invasive, and prevents your personal data from sharing with any third party.

Additionally, it strives to avoid browser fingerprinting. Pay your attention to that the features abovementioned are performed as the default! So, no more torture from ads and trackers for the customers.

Moreover, Brave provides every web page be less filled with stuff. The outcome is speedy loading and mobile data savings.
One more benefit of Brave is that it's free to download and exploit. The developers also offer some awesome additional features, they are subscription-based.