Who doesn't like cooking or eating that has cooked? Show me this mad human, he lies! Everyone, at least, at once cooked something in their lives, whether it is scrambled eggs, bacon for sandwich or sandwich or , maybe, some cupcakes or muffins with blueberry filling and cream cheese on the top of each muffin. I think, your mouths are watering now.
Earlier you had to search for a well-designed cookbook with a lot of real recipes, which you really will be able to cook, even if you are not Gordon James Ramsay, Jamie Oliver, or Rachel Rey. Unfortunately, it is absolutely true. Call me a name of an ordinary human that has a piece of a marble beef or a bottle of a black currant liqueur or blueberries every time when he or she is going to cook something? Now it is all about simplicity and mobile applications, of course!
So let's become a little bit closer to a pleasant part of our lives, to our passion – food. Dedicated to all cooking and eating lovers
We have prepared a full review to an amazing cooking app "12 Tomatoes"(only For iPhone  )
---
By the way, check other posts by FreeAppsForMe: Nike+ Training Club App for IOS full review will motivate you to workout and be in a good shape, in detail, we have described all its features and tested one workout. Another cool review is to FireChat App . It is a competitive alternative to other chatting apps, moreover, it doesn't require any internet connection.

---
  12 Tomatoes
What is it? It is a unique collection of popular, unknown, modern, and old school recipes, which you will want to cook all. There are no strange ingredients and spices ( maybe sometimes) that you won't find in your kitchen or fridge.
Due to its understandable design, a huge rich library of dishes and special features, this app is worth it.
Design and Layouts  
Speaking about the design, it is pretty simple.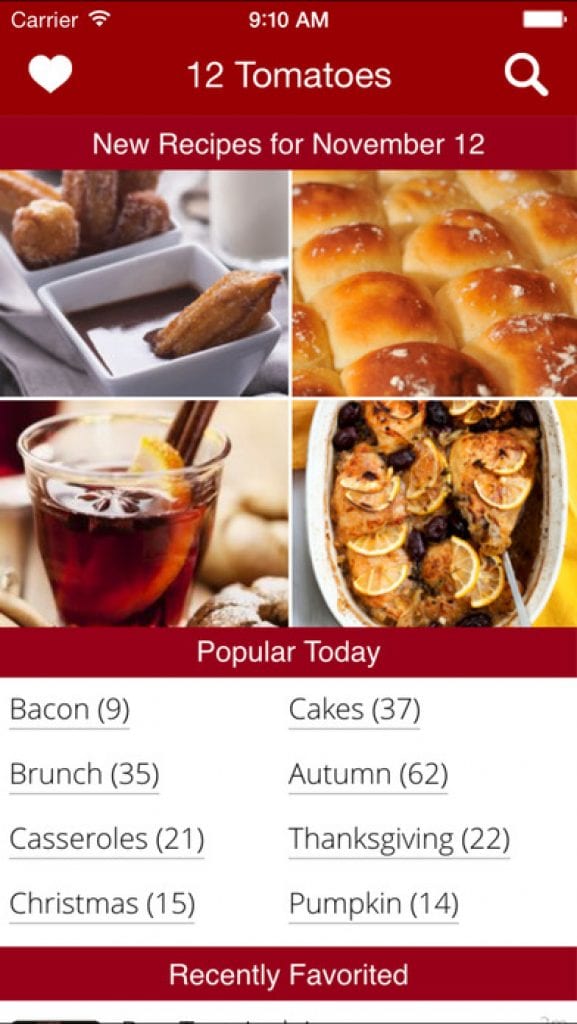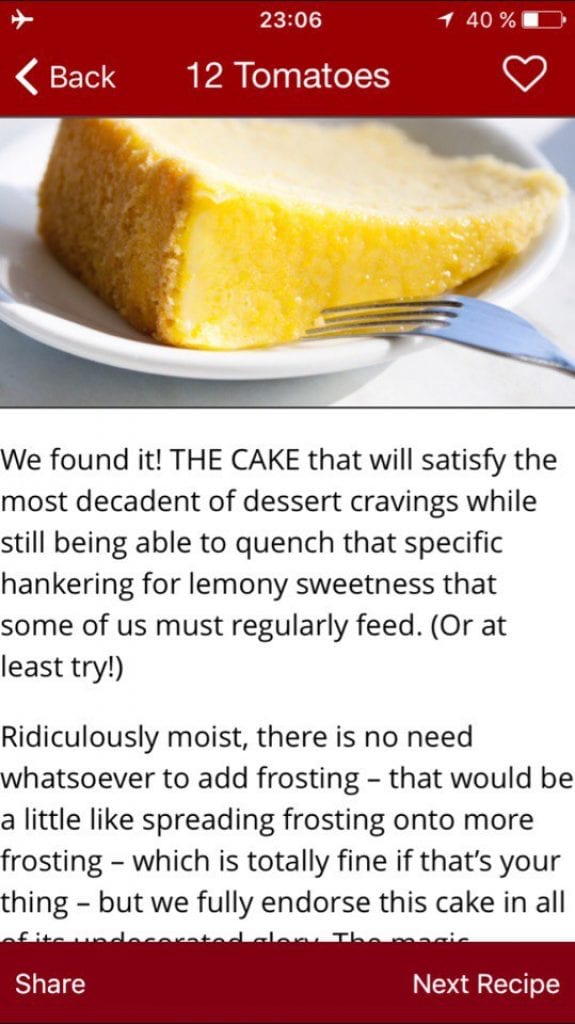 Comparing with other apps for cooking, it is too simple and I hope that developers will take care of it and update it to the modern, colorful and friendly- to -use.
As you can see, the homepage consists of the next sections New Recipes "for today", Popular today, Recently favorited recipes, your favorite recipes in the left top corner, and a searching bar in the right top corner of a display :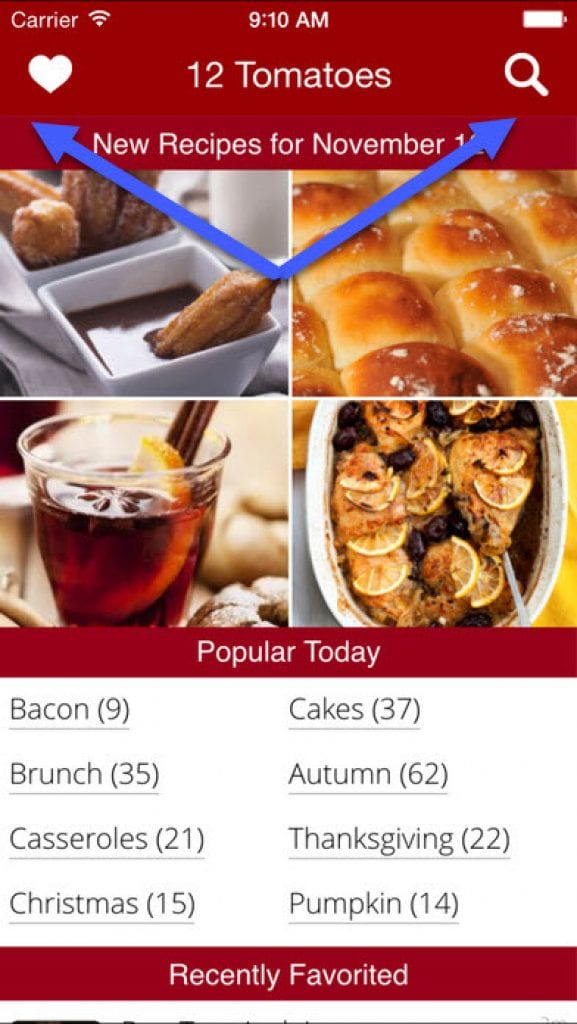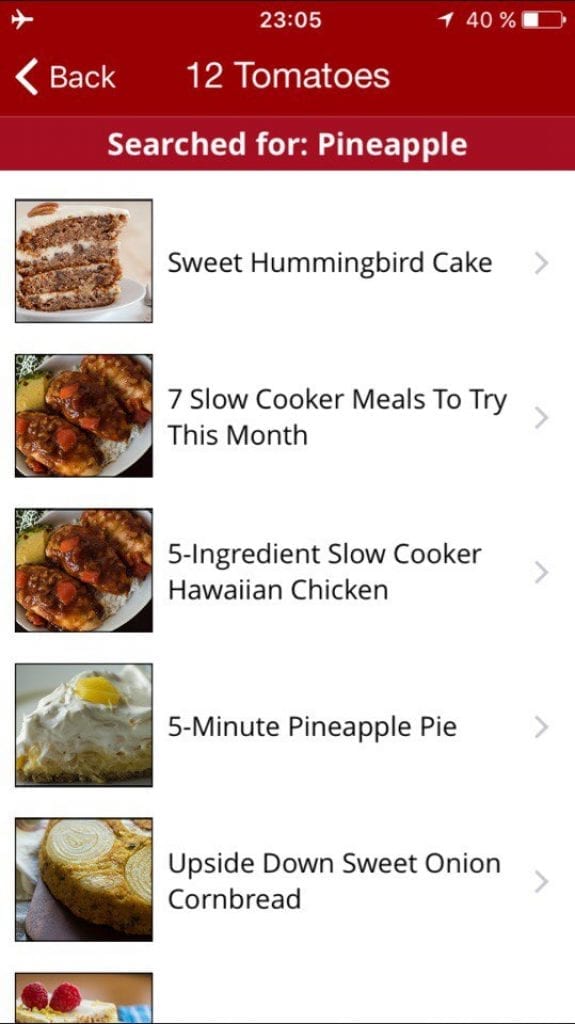 A recipe has a full description and an image of how it should look at the end.
If you want to add a current recipe to your "Favorites", you need to log in to a Facebook account, as well. It doesn' t require too much time and, after that, you will be immediately direct to your 12 Tomatoes account. All you need is to tap on the cute heart and this recipe will appear in your favorite list.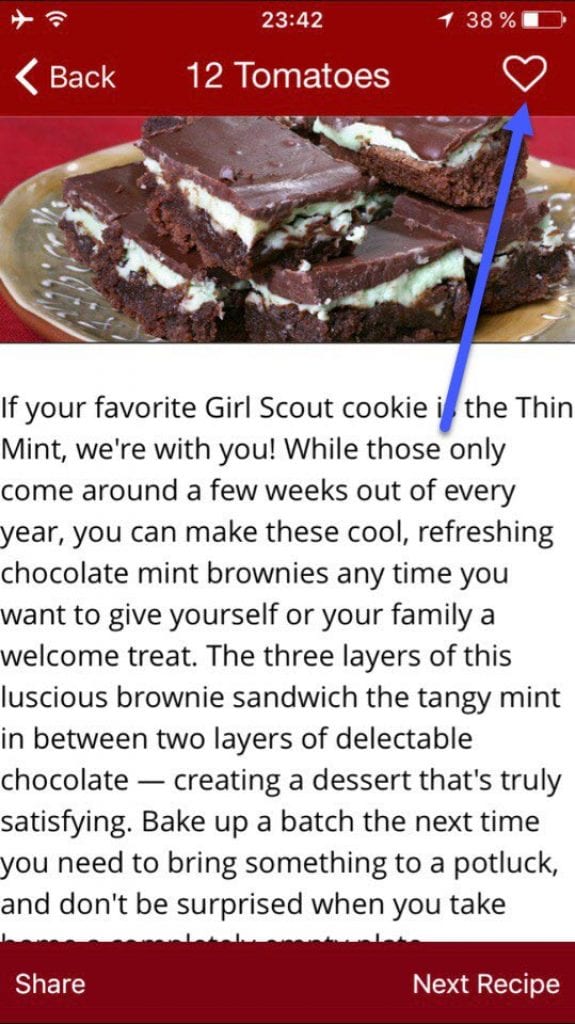 Also, you can share a current recipe with a social network -Facebook. Tap on the button – Share on the left down corner of a display. Or go to the next recipe, using the button Next Recipe in the right down corner of a display.
Features and how it works
As for "12 tomatoes" features, you can see them going to the homepage. I am telling you about a huge list of products you want to cook from, especial events, some national dishes from various countries, alcohol-infused recipes, and that kind of thing! I' ve chosen the category Beverages, and look at the results: all dishes, dedicated to beverages are collected here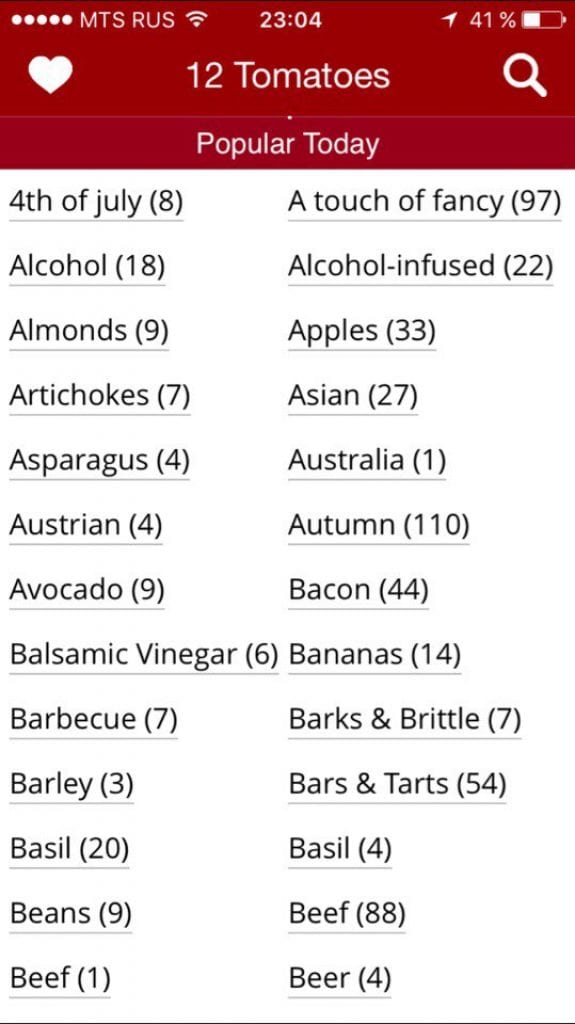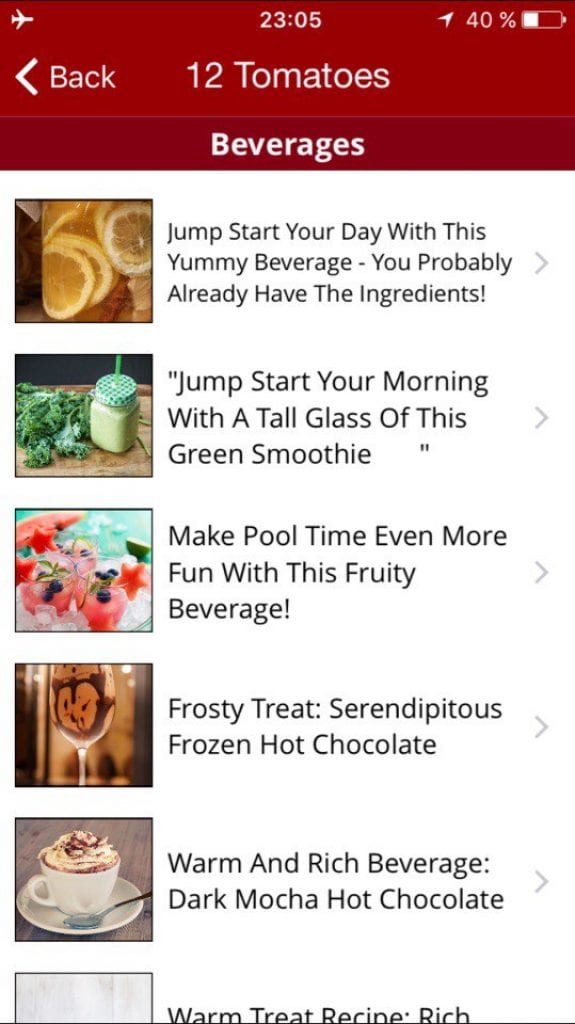 Speaking about your working process, when you will find your today recipe, you are automatically shown for its description, final appearance, ingredients, that you will need, and steps you need to do in order or preparation.
It is very simple, here an example of cooking a Lemon Pie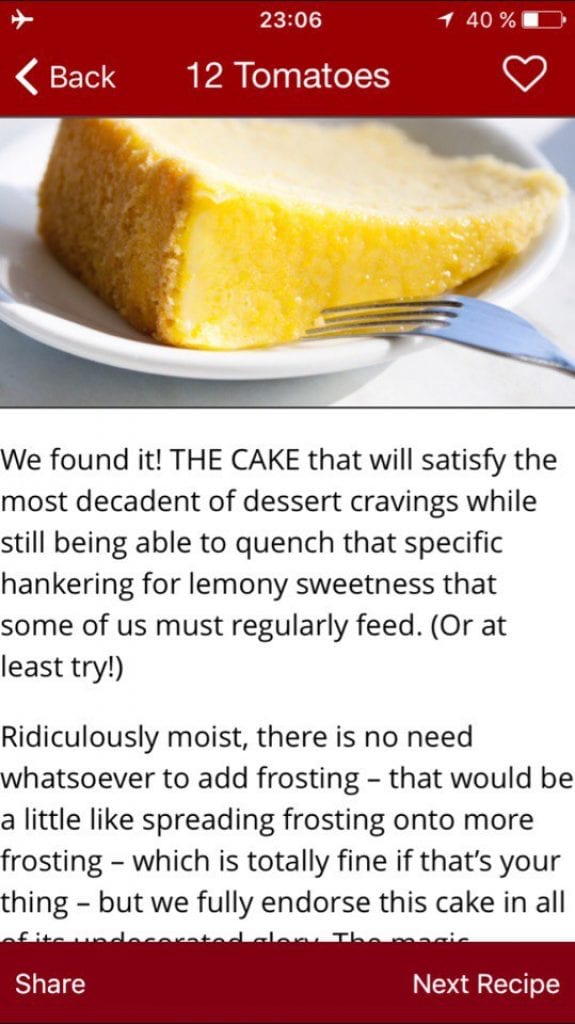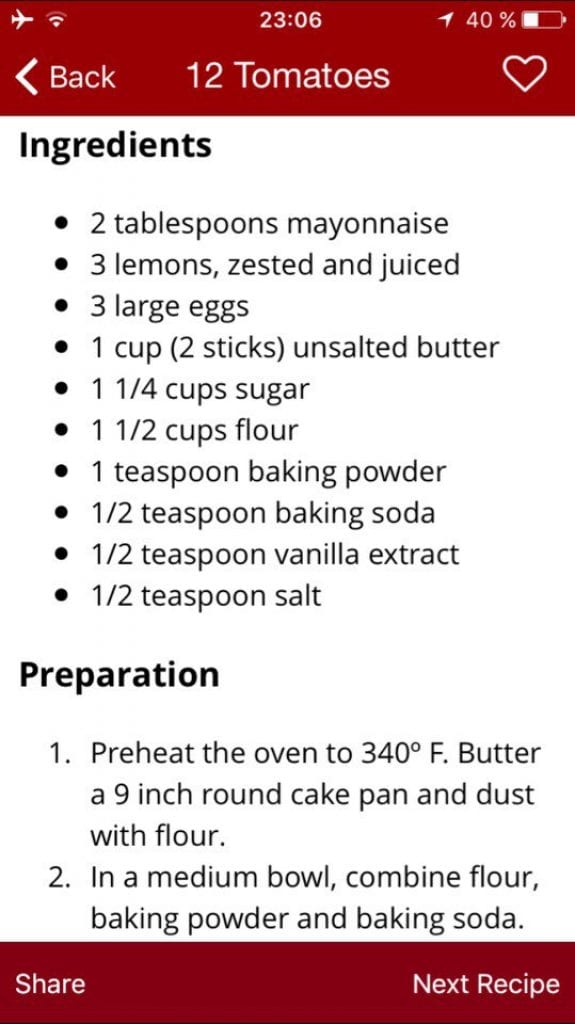 That's all! I hope you will become a master chef in your kitchen, make your life and lives of your friends and family a little bit tasty. See you in other posts by FreeAppsForMe!