The 5 Second Rule is a board game of quick thinking and fast-talking. It is not a rule which applies when a piece of food is dropped on the floor, picked up then eaten in quick succession. Basically the rules are very easy – name three things in 5 seconds flat.
This game is very popular among fans of gathering in large companies. That is why its counterpart in the form of a smartphone application has become very popular.
In this review, we have collected for you the 11 best 5-second rule games, which include the best options and games with the same concept. If you are a fan of fun parties and delicious drinks, you can also try the best drinking game apps.
5 Second Guess
In this game, you can test your reaction and erudition. Answer the questions in five seconds.
This is a quick, easy, fun, and fun quiz for a group of friends.
Each question has exactly 5 seconds, during which you must have time to name (sometimes shout) the answers.The questions are voiced, the text of the question is turned to the player, nothing extra – you just have to assess the player's answer.
Put the phone in the middle of the table and enjoy the game in the company of friends.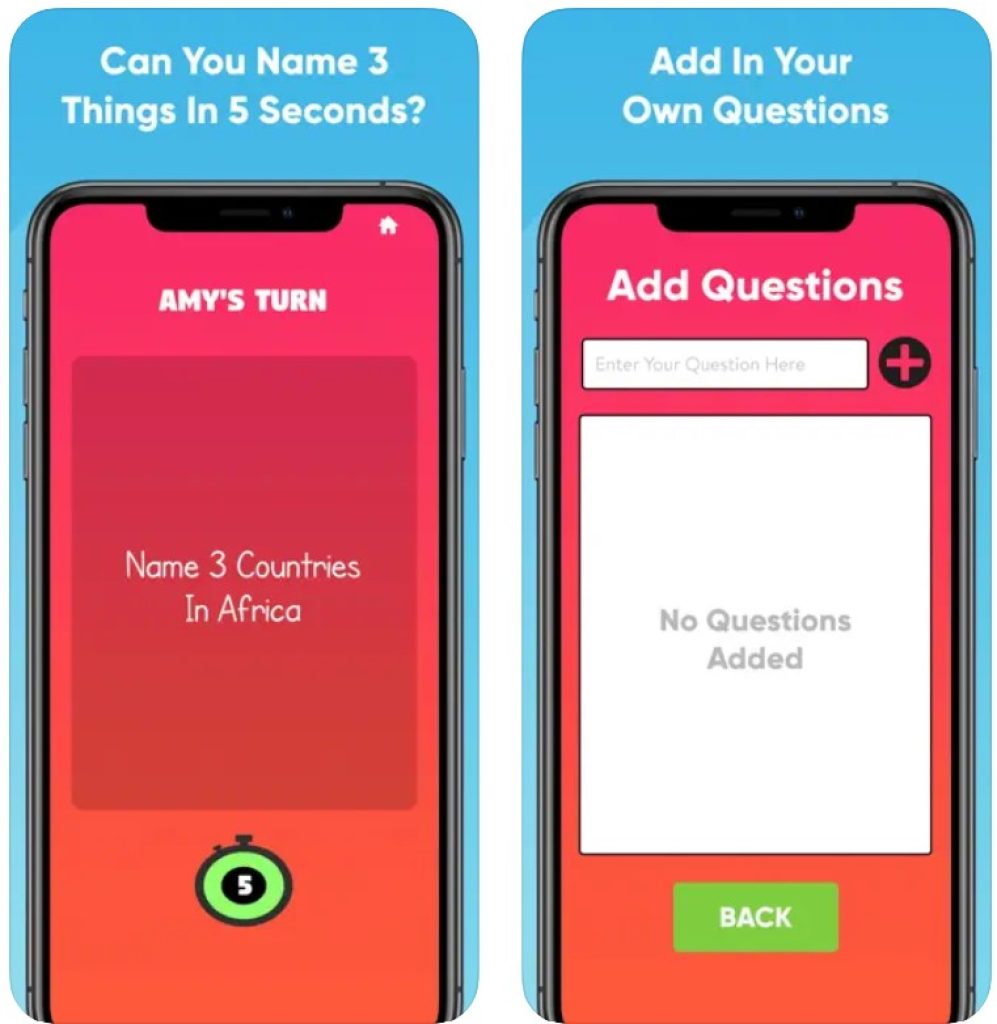 You can also check: 11 Free Scrabble Games for Android & iOS
Heads Up!
From talk show host Ellen DeGeneres, Heads Up! is one of the most popular games. Perfect for all ages, the game's appeal is largely due to its simplicity and the fact that it can be played by anywhere from two people to a huge group.
You hold your phone up to your forehead and a word from various categories appears on your phone screen. Everyone can give hints so you can correctly guess the correct answer. If you guess correctly, tilt the phone screen down to pick up a new card. Tilting will convey the word and also show a new clue. You have a limited amount of time for the correct answer.
Some of the fun deck categories include celebrities, movies, animals, accents, and more. So you'll always find something new to play.
At the end of the round, you can see how well you did. As a fun touch, you can even use your iPhone's front-facing camera to record and then play video of everyone trying to give clues.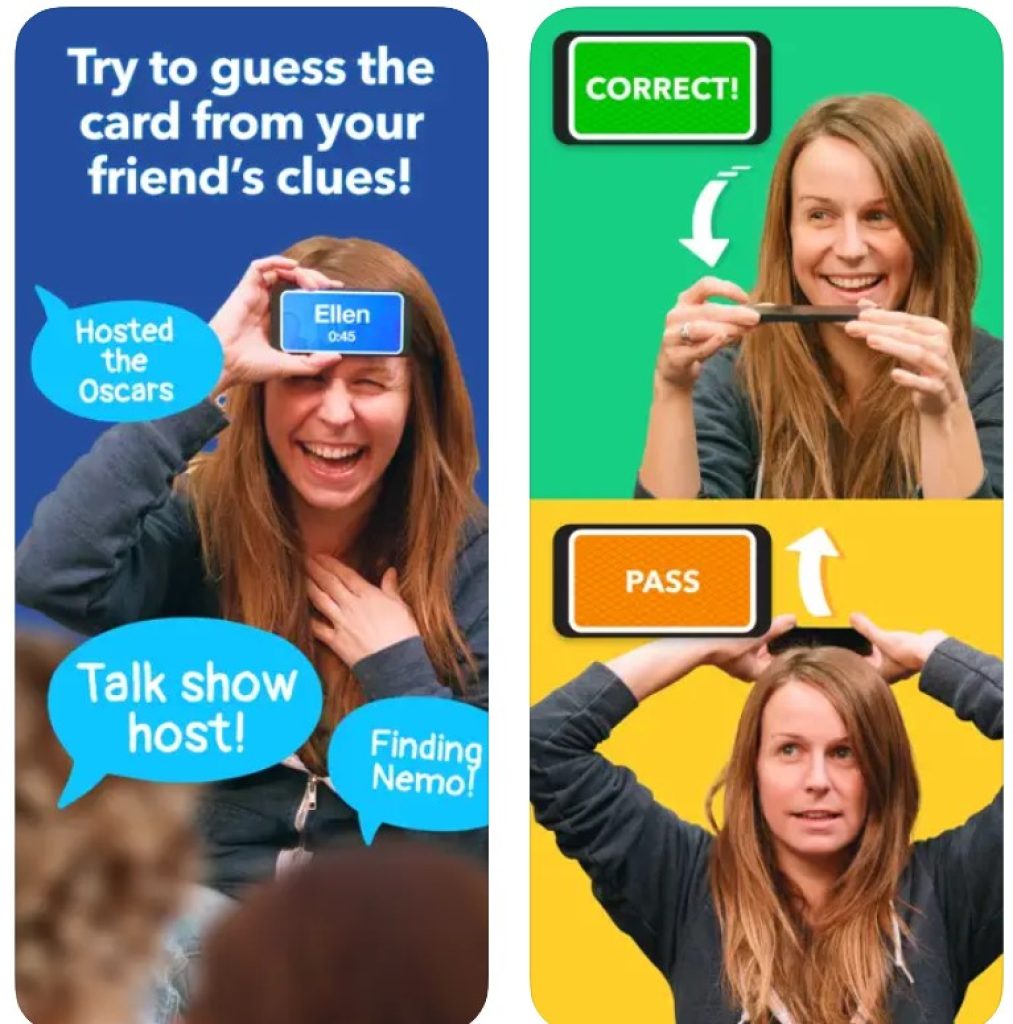 Picolo
Picolo is a simple drinking game that is available for both Android and iOS platforms.
The greatest quality of this game is the easy rules that it has, which are simple to understand, execute, and remember.
The game requires the players to write down their names in the app at the beginning of the game and then follow the instructions that are being relayed on the screen.
There are numerous hilarious challenges being a part of this game and you even have the scope of adding challenges on your own in order to make the game more interesting.
Picolo is a brilliant game for people who do not want to overcomplicate things and enjoy a pass-time that is simple and fun.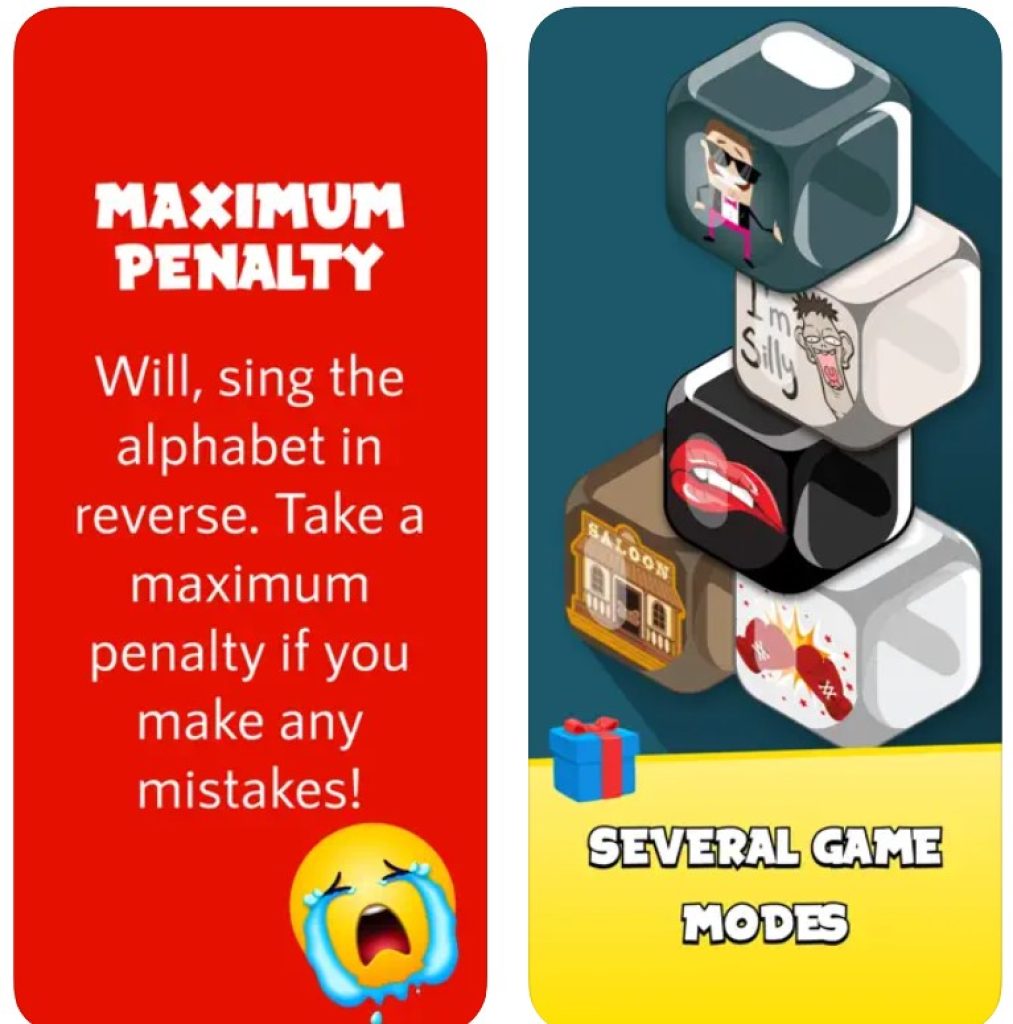 5 Second Rule
5 Second Rule is an entertaining drinking game that best suits those who know how to handle the pressure.
The rules of this drinking game for up to 12 players are pretty easy.
Each player gets asked a question and has got 5 seconds to answer it.
If they provide a wrong answer or fail to provide an answer within time, they are forced to take a shot of liquor.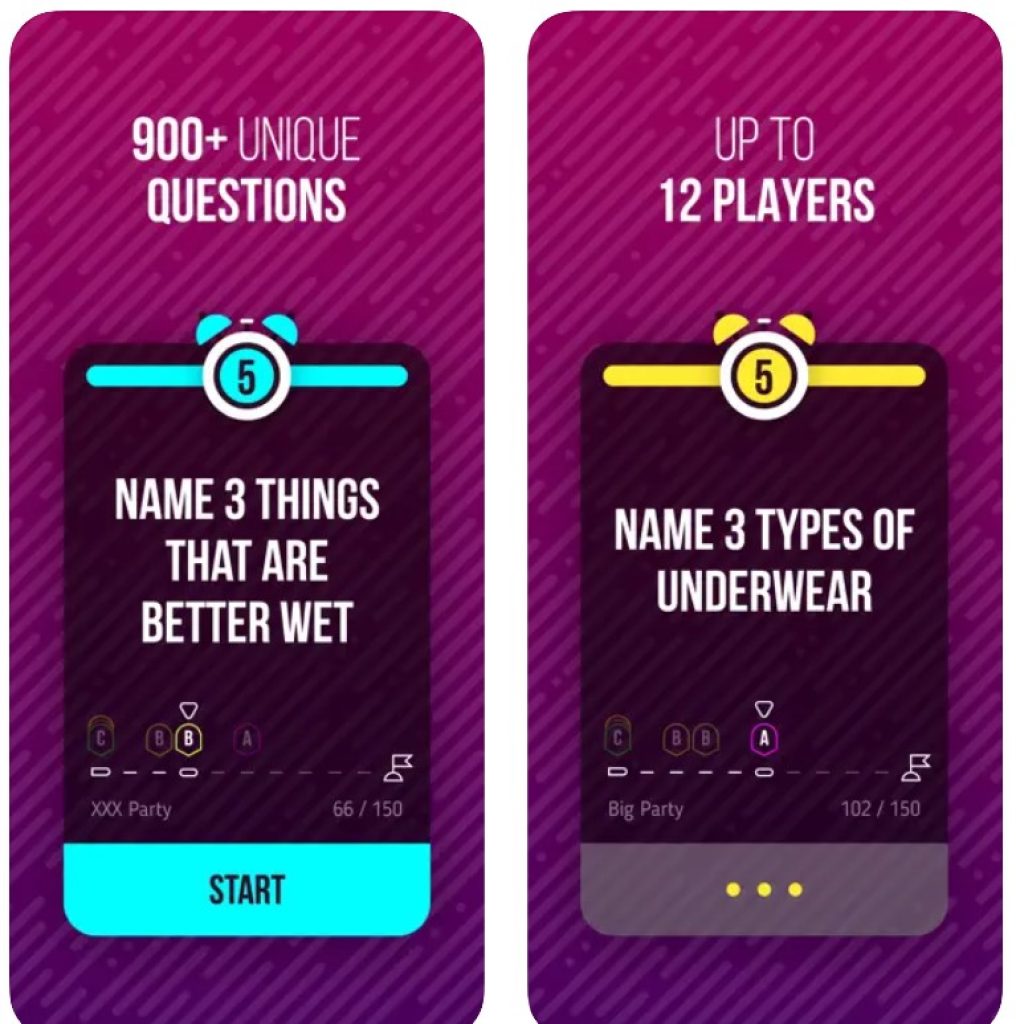 iPuke
iPuke is one of the best drinking game apps that there are out in the market.
It has simple rules and does not have any limit to the number of players who can play this game.
iPuke's rules include choosing the total number of players who are going to play the game and then selecting one card from a bunch of card decks that are available in the app.
The game involves you either completing the bizarre request that has been mentioned in the card or drinking the number of shots that have been specified.
This game is sure to help even the introverts break the ice, or drunk for sure.


King of Booze
King of Booze is a drinking game app that is very popular owing to the large number of truth questions, challenges, and custom challenge input options that it has.
It is a brilliant game that can be played by as many as 14 players with more than 220 different choices and challenges, 3 different game modes, 200 truth fields.
There are 40 cool and trendy avatars that you can select from, support for a gamepad, and 500 spaces for inputting custom challenges.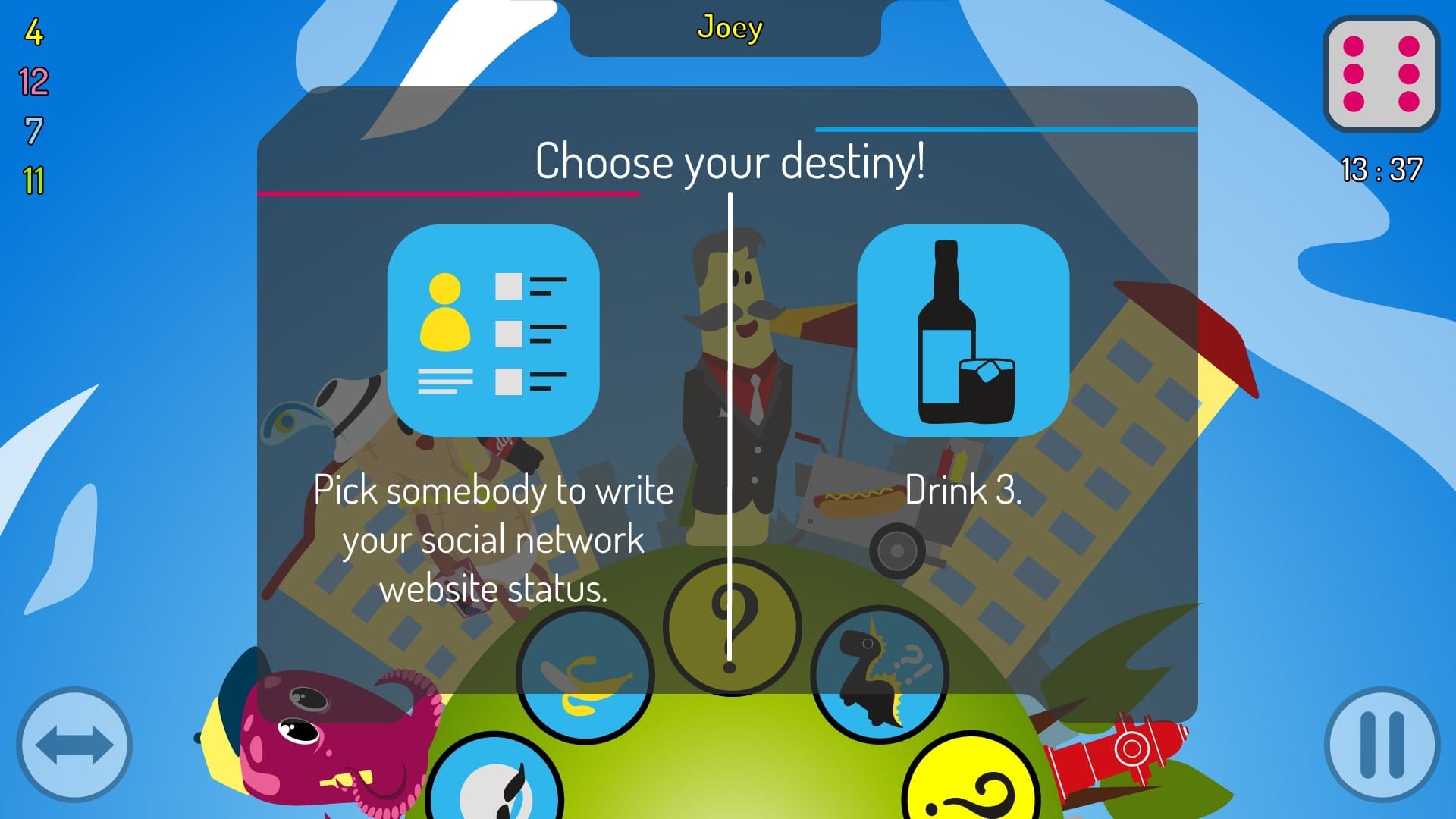 You can also check: 5 Best ludo game apps for Android & iOS
Drinkie
Drinkie is the perfect game for party lovers and provides you with an experience that takes in all the vital elements of the most famous drinking games and amalgamates them into one.
It is a game that is perfect for any occasion and has many custom questions that make the game more fun to play.
Moreover, Drinkie has four different game modes by the names of Tipsy which is perfect for house parties and the like, and Ridiculous which is perfect for silly and crazy parties.
There are also Sexy mode (perfect for getting the night spiced up) and Macho mode (perfect mode to be playing with your bros), thereby providing you with a huge selection of options that you can choose from.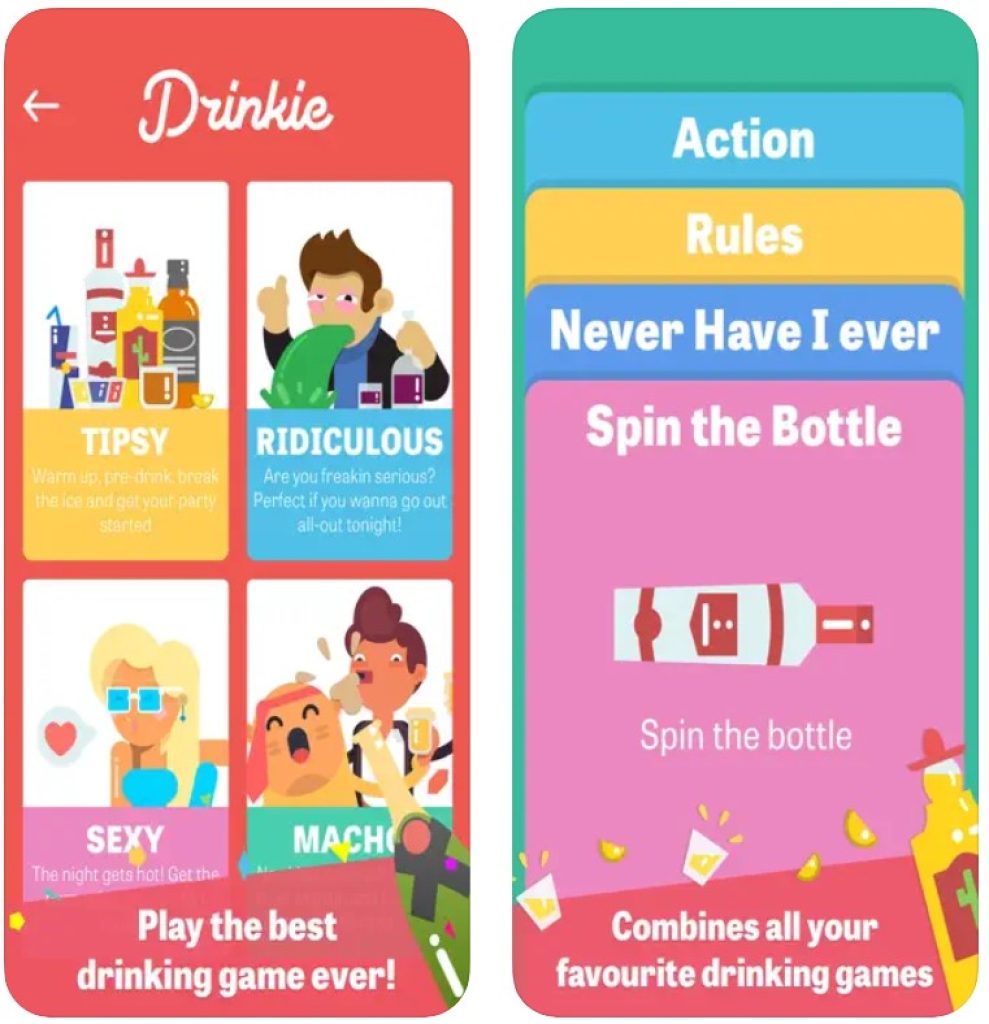 Truth or Dare
This is the most classic drinking game that there is and probably the most fun.
Truth or dare involves a player selecting truth or dare at the beginning of their round and then answering the truth about the question that has been asked on the screen or complete a dare that has been given.
If the player fails to complete the given task or answer the question in a satisfying manner, he/she has to drink.
This is a great drinking game app because there are bonus categories like 'Party' and 'Dirty' which you can unlock as you progress further through the game.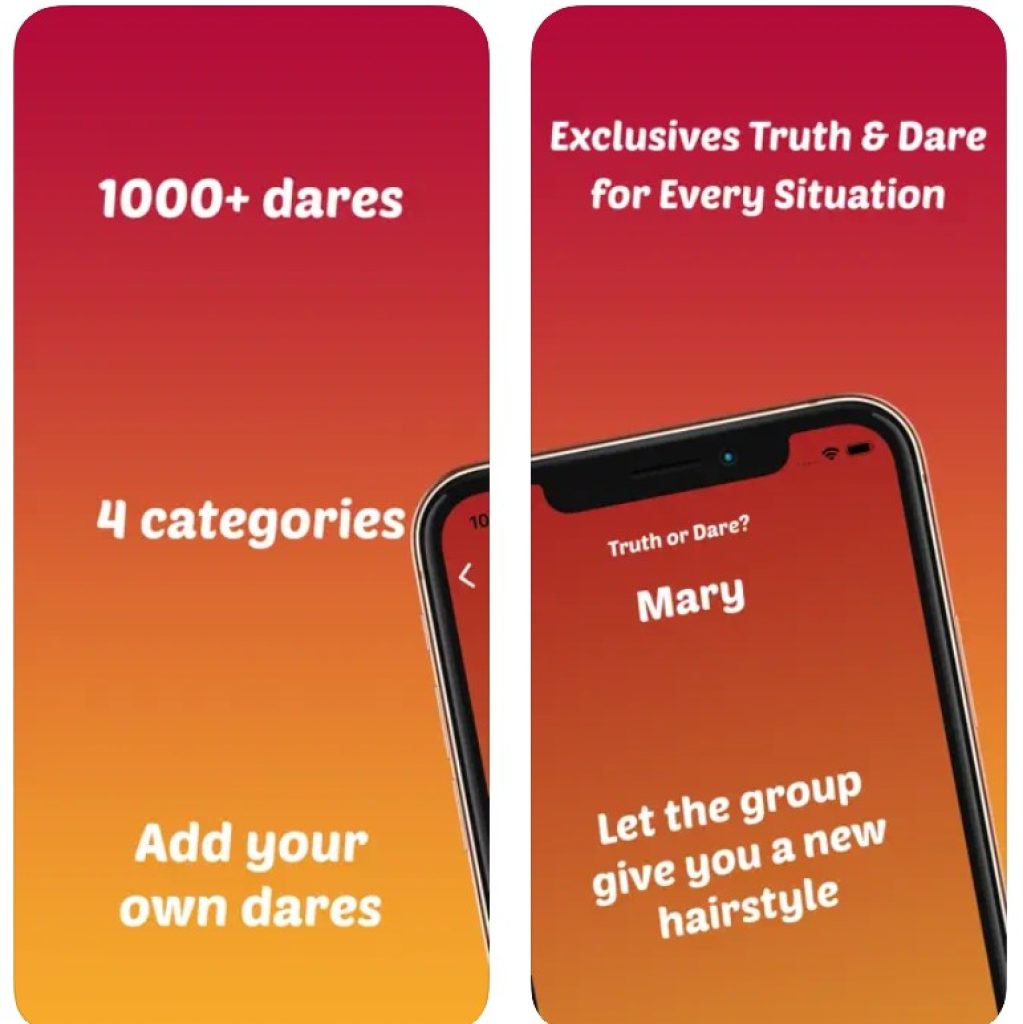 PopcornTrivia
PopcornTrivia isn't the most complex trivia game on mobile. However, people really seem to like it a lot.
It's a trivia game for movie and film buffs. It boasts questions about a metric ton of movies across many genres by people who label themselves as cinephiles.
The developers also add new movies every week.
You go into a quiz about a movie, answer questions about it, and see if you have as much knowledge about a film as you think you do.
The graphics are quite simple, but it kind of doesn't matter because the rest of the game is just that fun. Anyone who likes movies should try this.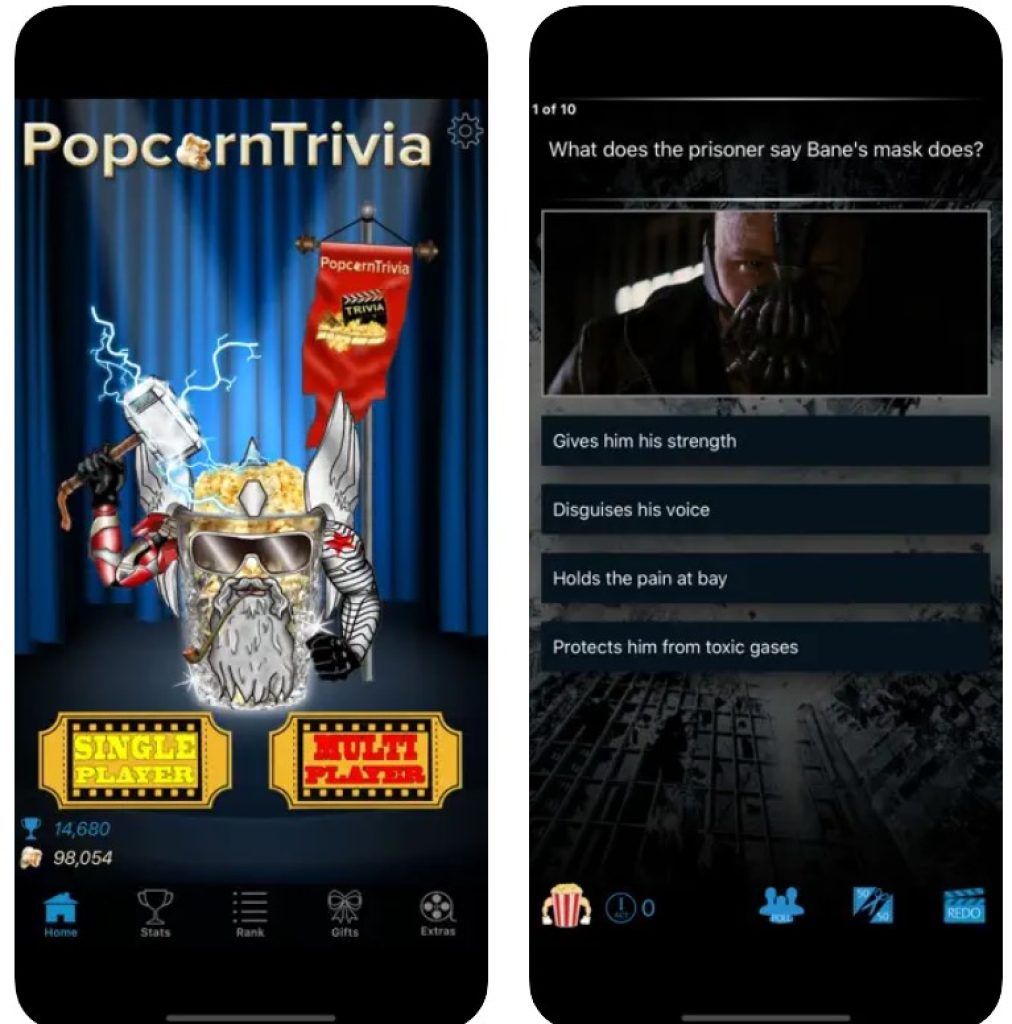 5 Second Rule – Party Game
This app is another alternative to the 5-second rule game if you and your friends are looking for something fun to play at the party.
The main objective of the game is for players to answer a question within five seconds or less. The game is played in rounds, and each round has a designated player who must answer a question posed by the app within the allotted time frame.
To play, the designated player taps the screen to start the timer and is then presented with a question, such as "Name three fruits that start with the letter A." The player must then provide three answers within five seconds or less.
If the player succeeds, they earn a point, and the game moves on to the next player. If the player fails, the point is awarded to the previous player.
The game includes a wide range of questions, from pop culture to general knowledge, making it enjoyable for players of all ages and backgrounds. It also includes various game modes, such as the ability to customize questions and select different categories.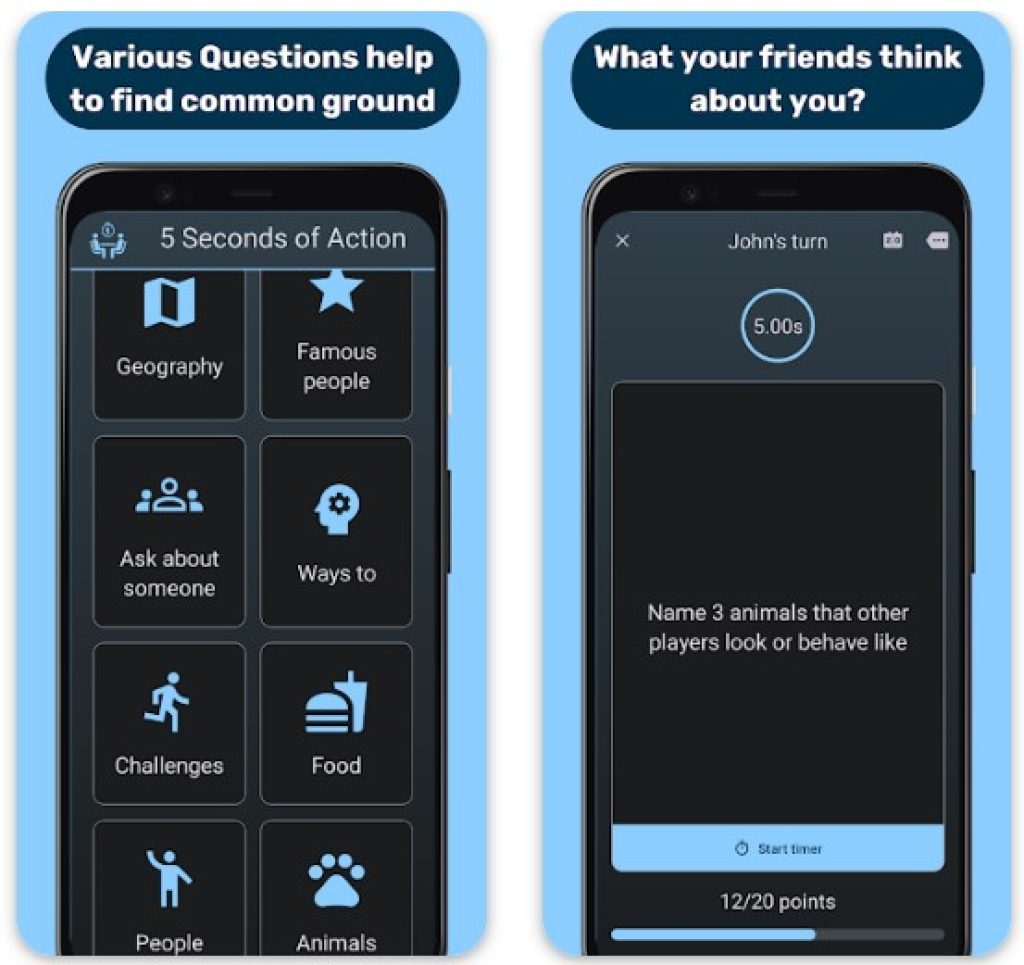 You can also check: 11 Best word association games for Android & iOS
QuizzLand
This one boasts a simple, classic quiz game experience. It asks you a question, you get four choices as an answer, and you keep going until you see how well you do.
It features a bunch of questions across a variety of topics. The game also comes with some hint mechanics as well as some other little mini-games.
We're a little concerned because the game's UI is similar to QuizUp, but it otherwise worked quite well.
There is a freemium element to this along with some advertising. However, the questions are engaging and this one has a lot of potentials.