10 Best Wrestling News Apps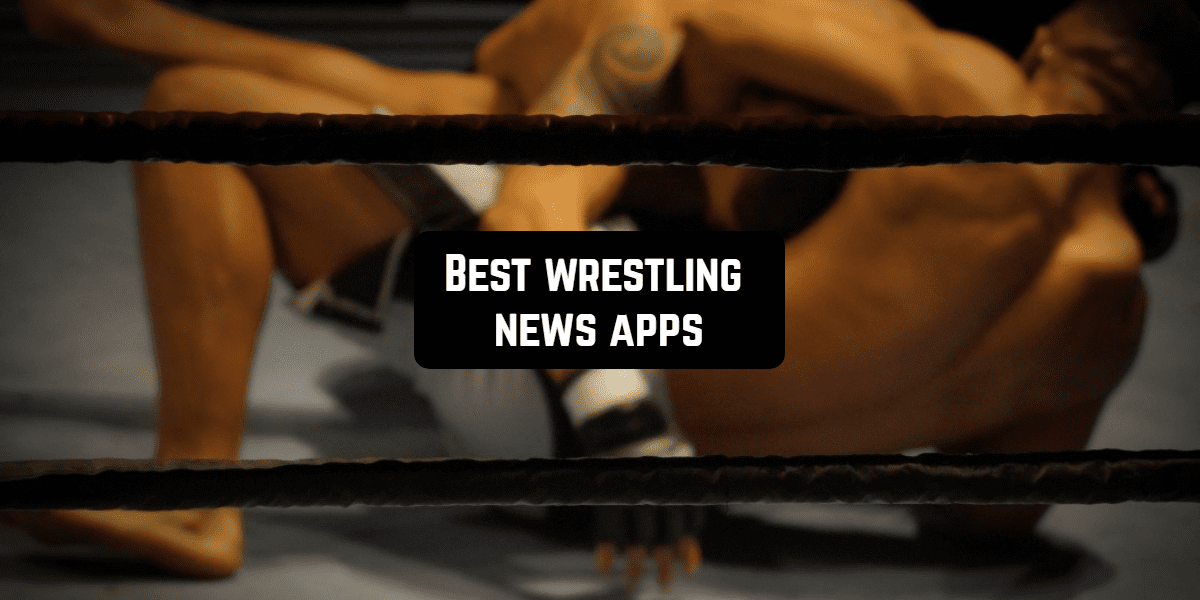 Wrestling can be both competitive and entertaining. Which type do you prefer? Both types are quite engaging and can be intense at times, so no wonder there are so many fans of this sport all around the world.
You may also like: 9 Best Apps to Watch Sports Highlights (Android & iOS)
The news on the subject, however, may be hard to follow. Luckily, there are some apps that can help you keep track of all the events connected with wrestling. Below, we name the best sources!
Wrestling-Online.com
Wrestling-Online.com is one of the most popular information sources to get recent news from the wrestling world. It has been out there since 1998 and still continues to produce high-quality content.
The app represents a mobile-friendly version of the website. It has special categories of news, such as WWE, Impact Wrestling, NJPW, articles, latest news, etc. The articles that you read in the app can be opened in a browser or shared through social media, messengers, or any other apps you have.
You can save the most interesting materials to the favorites to check them out later. The 'favorite' button is situated at the end of the read. You can also turn on notifications to get the freshest facts the moment they are out.
In sum, this is a very nice and simple app to keep track of what's going on in wrestling arenas all around the world. The only drawback is advertising that apparently cannot be removed. However, because of that, the app is free. Get it now and enjoy it!
You may also like: 15 Best Boxing Games For Android & iOS
WWE
WWE is a world-famous company, the abbreviation of which stands for World Wrestling Entertainment. So, it is kind of obvious that the app introduced below is more of an entertainment app that lets you follow all the glamorous news, the careers of superstars, reality shows and other content like that.
There are live shows as well! If you want to get a full access to this feature though, it is necessary to go premium. The company is not just about wrestling anymore. At the moment it also produces clothes, movies, music, computer games. Why? Well, because it is able to afford it!
If you are into wrestling, you've probably watched one of their programs anyway, so you have an idea of what it is all about. So, now you know that they have an app as well. Recommended for all the fans of watching wrestling for entertainment!
Sportfusion – WWE News Edition
If you don't want to have an enormous cumbersome WWE app on your phone, you may try an alternative which is an unofficial WWE News app created by Sportfusion.
The app embraces all of the WWE pieces of news and lets you choose which ones interest you most. According to your preferences, you may follow this or that sportsman, different kinds of events, and other special materials.
There is also a possibility to become a member of the app's community. You should certainly try it because it gives you an opportunity to discuss your favorite topics with like-minded people and share opinions on various subjects that may be difficult to converse on in a real-life (Well, okay, let's be honest – WWE conversations are not the most difficult in life).
You can also turn on the notifications to never miss anything or create the app's widget on your home screen with that same goal – choose an option you like best! Upon the whole, reading articles with this app is quite pleasant. There is even a magnifier tool.
The ads are present but can be removed by a symbolical one-time payment. If you want to read something really bad but do not have time at the moment, then you can save what you want for later reading
What I like most about this app is that all the news is divided into there categories – newest, major, and discussed. It lets you choose what you'd enjoy reading most. The app certainly deserves a download!
Suplex
Now let's get local! Watching other wrestlers may inspire you, but what is more inspiring is your own successes and failures. This app might not fit into the category 'wrestling news', but it is definitely useful for all the fresh wrestlers out there whose careers have just begun.
So if you are a wrestler or a wrestling coach or have a son or a daughter who is attending a wrestling school, then this piece of information is for you.
Suplex is a wrestling journal that allows you to keep track of all the events that you are going to participate in, all the events that happened in the past, your scores in those events, and history of how it has gone with each of your opponents.
For convenience, all the events are divided into seasons, and, by the way, you can view your performance in each season and draw conclusions on how successful you were.
The app is an excellent substitute for a pen and paper method or those tiring computer spreadsheets that some coaches are trying to use.
If you want to access an easier way of organizing all of the information about your wrestling experience, then you should definitely try this app! Download it now to learn of other features that might come in handy.
All Wrestling – News
All Wrestling News (Android) or Pro Wrestling News App (iOS) are different names of the same All Wrestling app designed by CM3 Solutions. The app is not that complicated at all. In fact, for some, it may seem too simple. Even the settings menu is absent!
However, the biggest advantage of this app is that it provides you with different kinds of news on wrestling topic, including WWE results and rumors, TNA Impact Wrestling, Lucha, New Japan, ROH.
You can also view blogs and open links to allwrestling.com and its podcasts. Reading articles using this app could have been much more pleasant if the developers paid closer attention to how it all looks like for the eyes.
It is alright and it is simple, but given the fact that nowadays a one can find lots of different apps and sources connected with anything, the app just loses in its competitiveness. You can try it though! It may look old-fashioned, but it does the job anyway.
Wrestling News World
Wrestling News World is an app that, first of all, covers different kinds of wrestling news – not just WWE, but also New Japan, TNA, Ring of Honor. Secondly, the app is created and supported by WWE insiders and therefore you can get an access to the most up-to-date information from the wrestling world.
Besides, they are streaming live results that can sometimes get to you even faster than it is shown on WWE. Live discussions are also there, so don't forget to turn this app on as soon as the battle begins.
What is also remarkable of the app is weekly quizzes. This light form of entertainment is quite enjoyable. Upon the whole, the app is a good one. However, it has certain drawbacks.
Advertising that can be intrusive at times and slowness attributable to the app even if you have a good internet connection are the main ones. So, if getting an insider information inspirits you, then tap on one of those buttons below to download the app!
ESPN
ESPN or entertainment and sports programming network is an American sports channel that you are probably aware of. Well, if you are not, now you are – there is such a channel. ESPN can guide you through the news connected with lots of different kinds of sports – from NBA to chess.
Wrestling or, in particular, WWE is one of them. Here, you won't see updates on the topic too often as it is usually the case with other apps, however, the overviews of events come in great quality. So if you value quality over quantity, you should at least consider downloading this app.
ESPN also provides you with streams and live scores. You can watch videos, listen to podcasts, or just read. If you are not just into wrestling, you can follow lots of different sports and get notifications on each of them.
The app looks really nice and it is easy to use. So, if you are only into wrestling then choose a more specialized app, but if you can read a piece or two of other sports news, this one will most certainly satisfy your needs!
Check out this article to learn more about the apps similar to ESPN: 17 Best Sports Streaming Apps for Android & iPhone
Pro Wrestling News Hub
As you can see from the name of this app, it is all about the professional wrestling news, which men's it is quite specific. If you are looking for an app that would provide to you a wider range of sports news and stay connected to world sports, you should go for a different app.
Here you will find wrestling and only wrestling. The app is designed in the best traditions of Android apps – maybe this design will seem cheesy to someone. As soon as you open the main page you can see all the latest news about wrestling – you can click on the article and go into a more detailed reading.
The app also demonstrates the information about the upcoming wrestling shows – how many tickets are already sold, which shows are sold out, and who the participants are. By the way, the app is free, however, many users companion about tons of advertisements.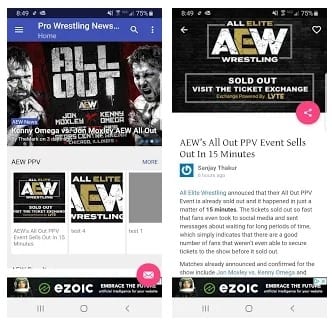 eWrestling News (Android)
eWrestling News for Android is one more app that aims at embracing all the news from the wrestling world. If you are lucky enough to be an Android user, then you'll find these cool features in the app once you've downloaded it:
different kinds of news – top stories, recent news, scores;
social posts created by WWE;
pictures of Divas as well as the news about them;
videos and podcasts.
The app somehow reminds of Feedly. It is also green and the news is presented in a clear manner. Probably when it comes to wrestling, eWrestling News is even more convenient than Feedly.
First of all, it has more special features; secondly, you won't need to choose sources manually and, thirdly, there is a great handy menu that includes four categories: news, breaking (news), videos, and results. So, depending on your interests at the moment, you can choose any category you need to learn the necessary information.
The app is truly amazing – it is worth not just downloading and trying out but keeping as well. Even the ads are not that annoying. It is a pity there is no iOS version of the app.
You may also like: 9 Best Baseball scorecard apps for Android & iOS
WrestleFeed
This app will keep you entertained during the whole day – if you are the true wrestling fan. Well, wresting is a kind of "artificial" sport for entertainment, but, nevertheless, millions of people love watching it, and those who on of it always have their favorites.
Logically, if this sport is so captivating and pompous the app should be like that as well. WrestleFeed follows this idea, and you will definitely like its design of the interface. When you launch the app for the first time, you need to create your personal account or log in with Facebook.
All the news is updated 24/7 and there are updates on a regular basis so you will always have something to discuss with your friends. Apart from that, in WrestleFeed you will find lots of wrestle videos, GIFs, polls on different topics of this sport, quizzes, and many other entertaining elements!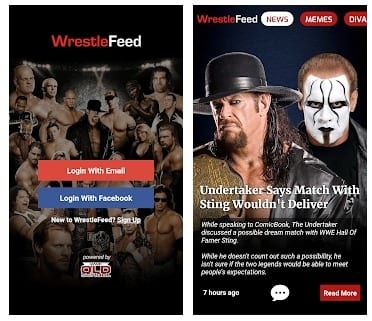 To wrap up, in this article we've discussed 10 best apps for getting and following wrestling news! Stay tuned for new materials on our website and, as always, be smart in choosing apps!