Launchers for Android is a special application that allows you to personalize your smartphone. You can change icons, themes, fonts, home screen views, and much more using only one application.
Some of the applications allow you to customize the appearance of the lock screen and the desktop, so you can stand out from the crowd of other users, for example, 15 Free Lock Screen Apps for Android & iOS (widgets & wallpapers).
It is worth noting that very often have the main drawback – advertising. In fact, developers present their service for free download but find another way to earn money.
They insert ads that can appear on the screen at any time. Sometimes there are so many ads that your smartphone just starts to freeze while you are working.
We decided that such services are not very convenient to use – even if they make your smartphone more stylish. We have collected for you 7 Best Ad Free Launchers for Android, so you can manage the interface for free.
Nova Launcher
Among the users of Nova Launcher is considered one of the most customizable of those presented on Google Play. It was created so that every user could replace the familiar and boring interface with something more convenient or cute.
All control and functionality have a high speed, as well as do not slow down your device in any way. So if you want to download something recommended by other common people to your smartphone, the choice may fall on Nova Launcher.
The whole interface setup can be opened by a simple bottom-up swipe. After this action, the settings menu opens in front of you, where you will make and develop all changes. For example, the easiest change will be the desktop.
You can change the positions of the application icons or group them by distributing them into folders and categories. In Nova Launcher, you can also change the layout, set up a permanent backup, and develop specific gestures. In general, Nova Launcher will help you change the entire system of your interaction with your smartphone.

You may also like: 17 Best clock widgets for Android
POCO Launcher 2.0
Xiaomi is very popular with people. They create and sell great smartphones and other techniques that you will use in everyday life. POCO Launcher is a device that was developed by this company, which makes it perfectly compatible with the devices of this brand.
Of course, if you use a smartphone from another company, you can also easily install the Launcher on your smartphone and apply it immediately.
POCO Launcher has full access to Xiaomi's wallpaper and themes database. That is, after installation, you will get a whole collection of different variations of the appearance of the smartphone, which you can try on your device.
Also, this webcam will allow you to organize quick access to tools such as antivirus, calendar, and so on. In POCO Launcher all applications can be divided into categories or folders – even sorting by color is available.
This systematization will make it easier for you to find a specific service at the right time. Any of them can be presented as a widget on the home screen.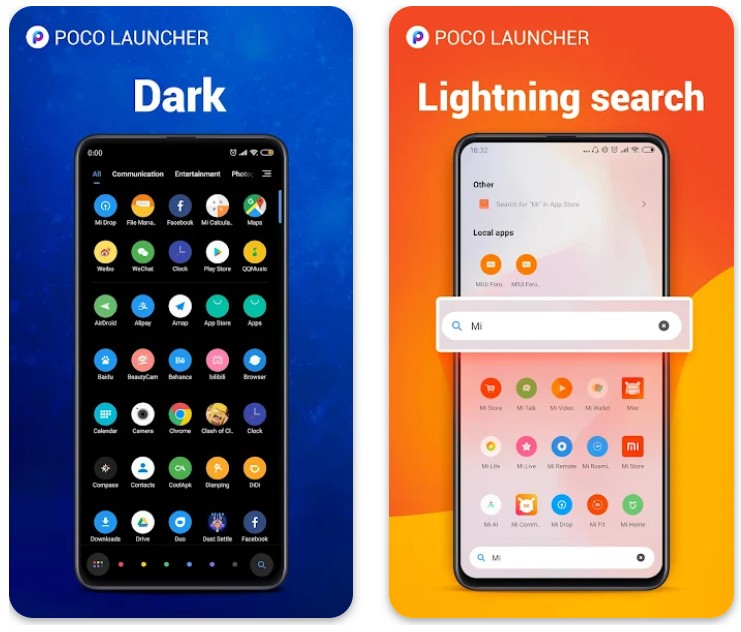 Niagara Launcher
Niagara Launcher is a customizable Android launcher that allows users to personalize their device's homescreen and app drawer. With its comprehensive design, the app provides a great experience for navigating and organizing apps.
One of the standout features of Niagara Launcher is its ability to let users create multiple desktops, each with its own unique layout and set of widgets. This allows for a more organized and streamlined user experience.
Users can also customize the app drawer with different sorting options, such as by frequently used or installed apps. Additionally, Niagara Launcher offers a variety of transition effects to add a touch of visual flair to the user experience.
The app also includes a comprehensive search bar, making it easy to quickly find apps, contacts, and other information. Niagara Launcher supports icon packs, allowing users to further customize the look and feel of their device.
The app s relatively new to the market, but it's already gained the approval of numerous users. This is definitely a launcher with trying.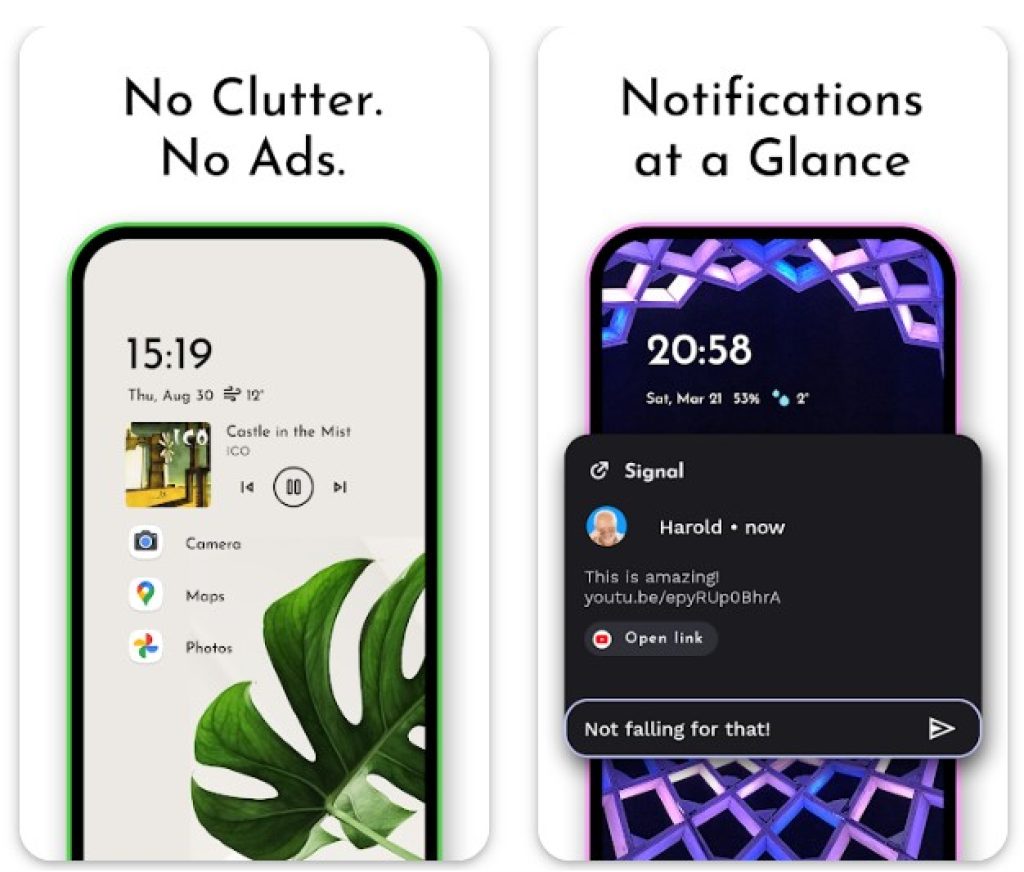 You may also like: 11 Best Talking Alarm Clock Apps for Android & iOS
Action Launcher
This app stands out among other apps in this category because it offers a range of designs for the home screen. It is multifunctional but offers a big number of in-app purchases.
Firstly, after passing a simple installation, you will get to the main menu. Here you can choose a preferred appearance and color theme. By tapping on the buttons, you can pick Day Mode, Night Mode, or Auto Mode. Auto Mode adjusts to your time zone.
Secondly, you are offered application menu styles and ways to open the menu. Users can choose two options to navigate to the home page: click on the button or swipe up.
The app surprises with its unique functions and a quite straightforward interface:
Quicktheme is a function that assists in customizing the design of the screen elements by matching the colors to your screen wallpaper.
Cover is an innovative function. Using it, you can diversify folders on the desktop.
Quickdrawer. By clicking on this button, you will find a conveniently generated list of all your apps in alphabetical order. Some applications you can hide from the desktop.
Anyway, the app is far from perfect, as it often lags.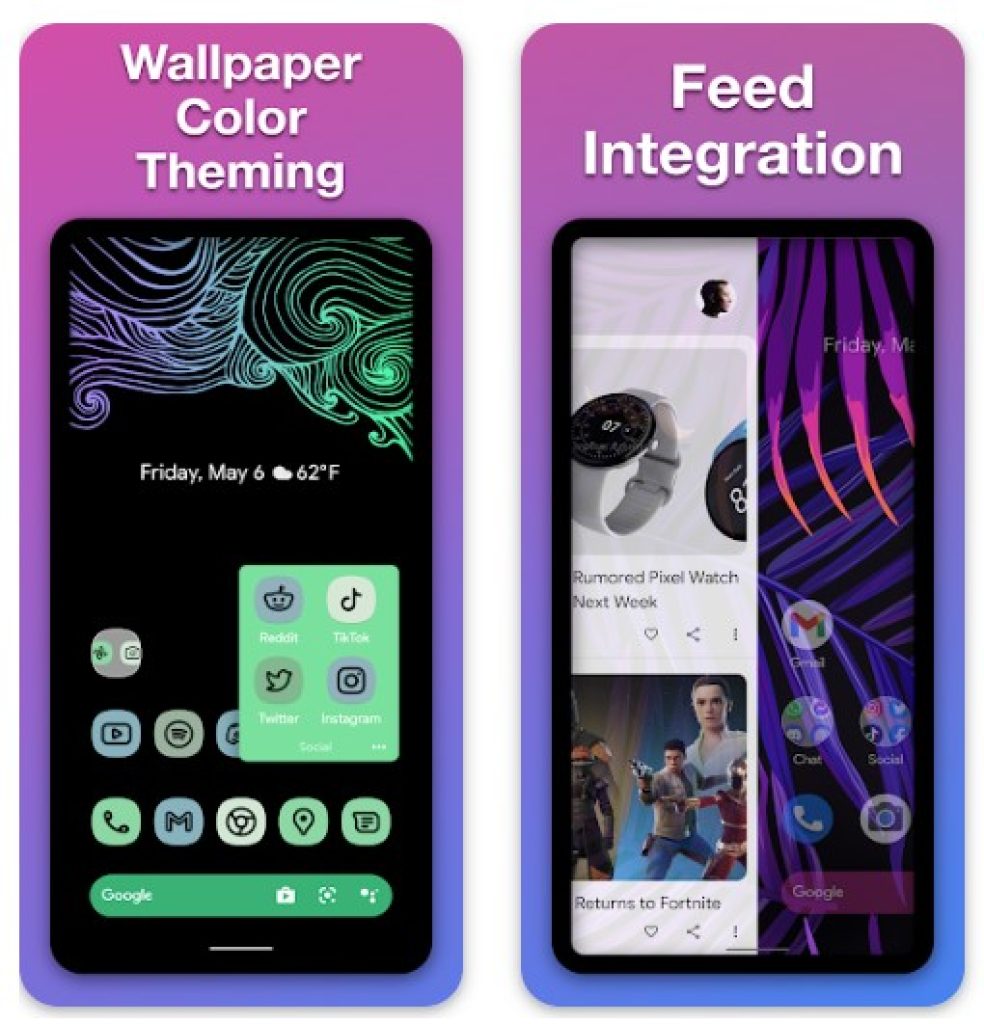 Microsoft Launcher
As you may know, at one time Microsoft produced its own smartphones with a specific operating system. Over time, the company decided to abandon them, and support for such systems ceased.
If you are a fan of such design and previously had experience with it, then Microsoft Launcher – this is what you are looking for. This is a shell for your smartphone, which will be shown to you every time you unlock your smartphone. You interact with it all the time, even when you just open a third-party application.
All the design is made in the style of Microsoft. For example, you can enable the "Wallpaper of the day" function, and the picture on your smartphone desktop will change daily, just like on your laptop.
You can also add various notes to your smartphone screen, constantly reminding yourself of something important. In Microsoft Launcher there are many different applications that are presented by the company itself for general use – for example, to-do lists or display the latest news.
So if it will be convenient for you to use such a "square" design, then do not hesitate to install this Launcher.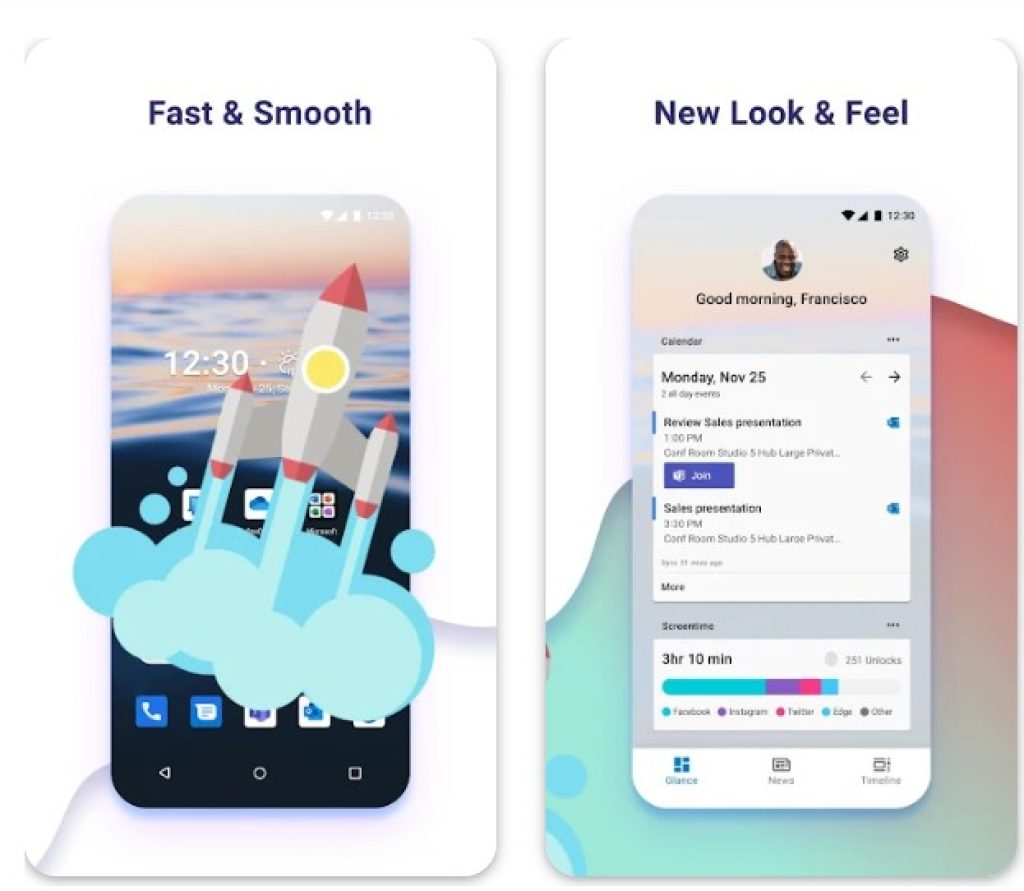 Lawnchair 2
Lawnchair 2 is one of the best applications in the Personalization section for creating a contemporary and concise desktop for your electronic device. However, the gesture function is missing.
After downloading the application, you will see the main menu. This application distinguishes itself from others in that it is simple to utilize. Also, an essential aspect is an elaborate design.
Firstly, the app allows you to choose your preferred color and shape for application icons (square, circle).
Secondly, if you don't require some applications, then you can hide their icons from the desktop. Unfortunately, sometimes hidden apps become visible again.
The application astonishes with its functions and simplicity. If you want to change the theme, then click on the Theme button. There you can choose Icons, Colors and Blur.
If you press the Desktop button, you will be offered various Layouts, the way of Locking Desktop and Transitions.
One of the major and essential functions of this application is the ability to place a Search Bar widget on the desktop.
A significant disadvantage of the application is when you use the app, your electronic device is quickly discharged.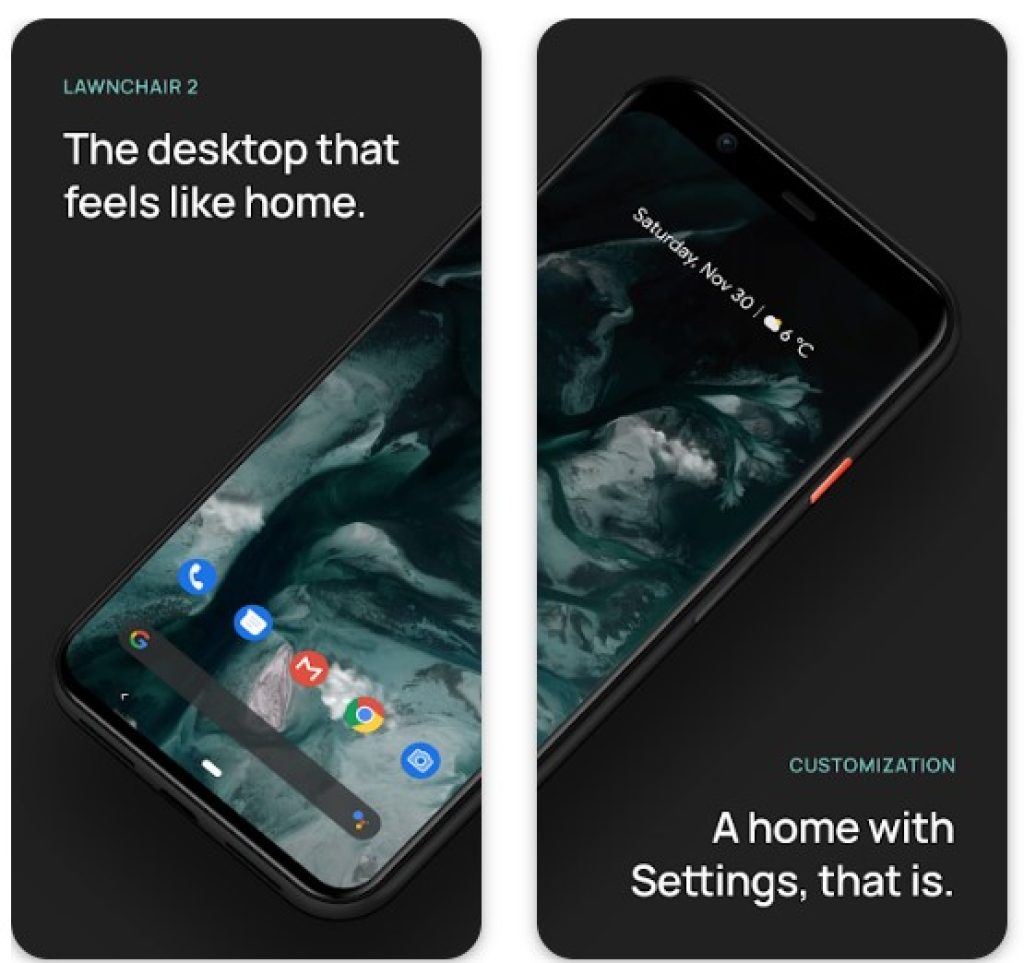 You may also like: 6 Best Microsoft Windows launchers for Android devices
ADW Launcher 2
ADW Launcher was one of the very first programs that allowed you to personalize your smartphone. Even if you didn't manage to use it in 2011-2013, you can start to get acquainted with the updated version – ADW Launcher 2.
It has even more features and design options, being almost another program compared to the old version. Of course, there are still some branded features and chips left, but it is mostly a fully upgraded Launcher.
ADW Launcher 2 allows you to completely change the color scheme of the design according to the wallpaper on your desktop. The system will automatically change everything, you don't even need to go into the settings.
You also have the ability to add your own custom gestures, and later use them in your work. ADW Launcher 2 also has many filters and more detailed settings to help you change the way icons are displayed on icons and even the design.
If your smartphone used to have a different lounge, ADW Launcher 2 will automatically transfer all your old settings to you, so you don't have to spend a lot of time editing the desktop view.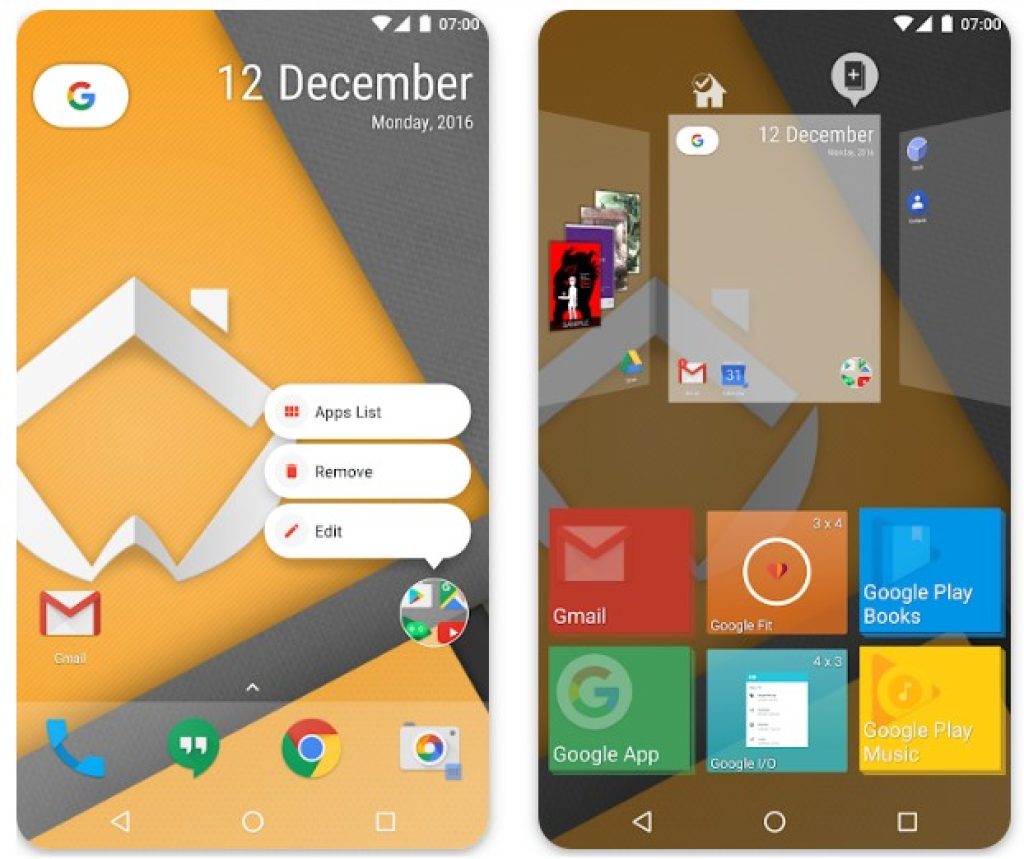 Of course, each advertisement on your smartphone brings some profit to the developer. This is a kind of reward for working on an application, but not always ads are appropriate and sometimes even interferes with your work.
Despite the fact that ads have long been available in the smartphone market, you may not even have heard about some handy applications.
Now you can change the interface of your device from scratch, personalizing some features and access to apps. We hope that we have helped you in search of an ad-free launcher for Android, and now you will be able to fully use all the features of such applications.