Many people have a different attitude to trains. It is not only a means of transportation but also an opportunity to get to know the surrounding world, get acquainted with new people, and even make a career by engaging in cargo transportation. All this had an impact on the fact that games in which trains appear became popular.
Train games are very exciting. There is always something to learn. Some of them develop a speed of reaction, other logical thinking. Traveling on the railroad is never boring.
In addition to unforgettable adventures, the players learn a lot about the real life of railway workers. In the world of trains, a lot, if not all, depends on the time-shifted arrows, the amicably flashing semaphore, the tickets sold successfully, the correct registration of luggage, and safe and profitable freight.
For all avid drivers we also recommend trying these best racing apps for iPhone.
Train Racing Games 3D 2 Player
Train Racing Games 3D 2 Player is a simulator of a driver with a multiplayer mode, which has beautiful three-dimensional graphics.
The project will allow you to sit in the booth of one of the several locomotives available in the game, and also to meet online with other users. The simulator reliably conveys the train's control features, forcing them to monitor the speed limit and change the way in time to avoid collision with other traffic participants.
Multiplayer mode includes contests to overcome one of three distances with a randomly selected opponent. Who is faster to reach the terminal station, that takes his bet and rival. The road itself consists of several turns, traffic lights, where you have to stop, waiting for the green light, and other obstacles.
Despite the size of the map, the locations are made qualitatively and detailed, the weather is changed constantly. At the user's choice, there are several types of cameras, which allows you to choose the view to your liking.
Train Racing Games 3D 2 Player – an excellent simulator that can boast of a realistic control system, nice graphics, and the presence of an exciting multiplayer mode.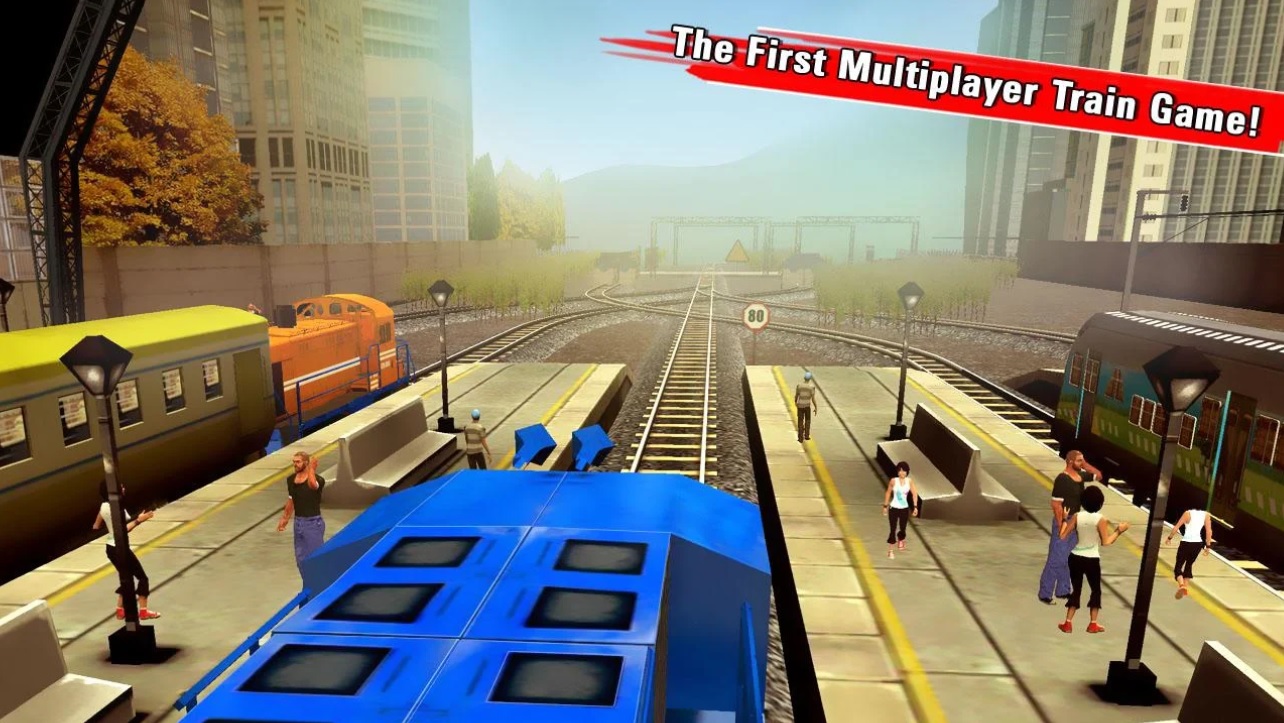 You may also like: 55 Free Games without WiFi for Android & iOS
Kids Train Sim
There are lots of games for kids in every category, however, many developers consider that if the game is made for kids then it should have an archaic and ugly graphics and a pretty dumb plot. There are such train games for kids like these, however, this one is an exception.
You could guess by the name of this app that this is a version of the famous app Trai Sim for kids. And it actually maintains its reputations and matches the expedition of the users!
It has decent graphics, however not too realistic to keep the kids entertained. Choose from 17 fun Trains and drive them in many fun kid-friendly scenarios. There are missions of different complexity, not too easy, but still doable – so the game will be suitable for the kids aged 8-10.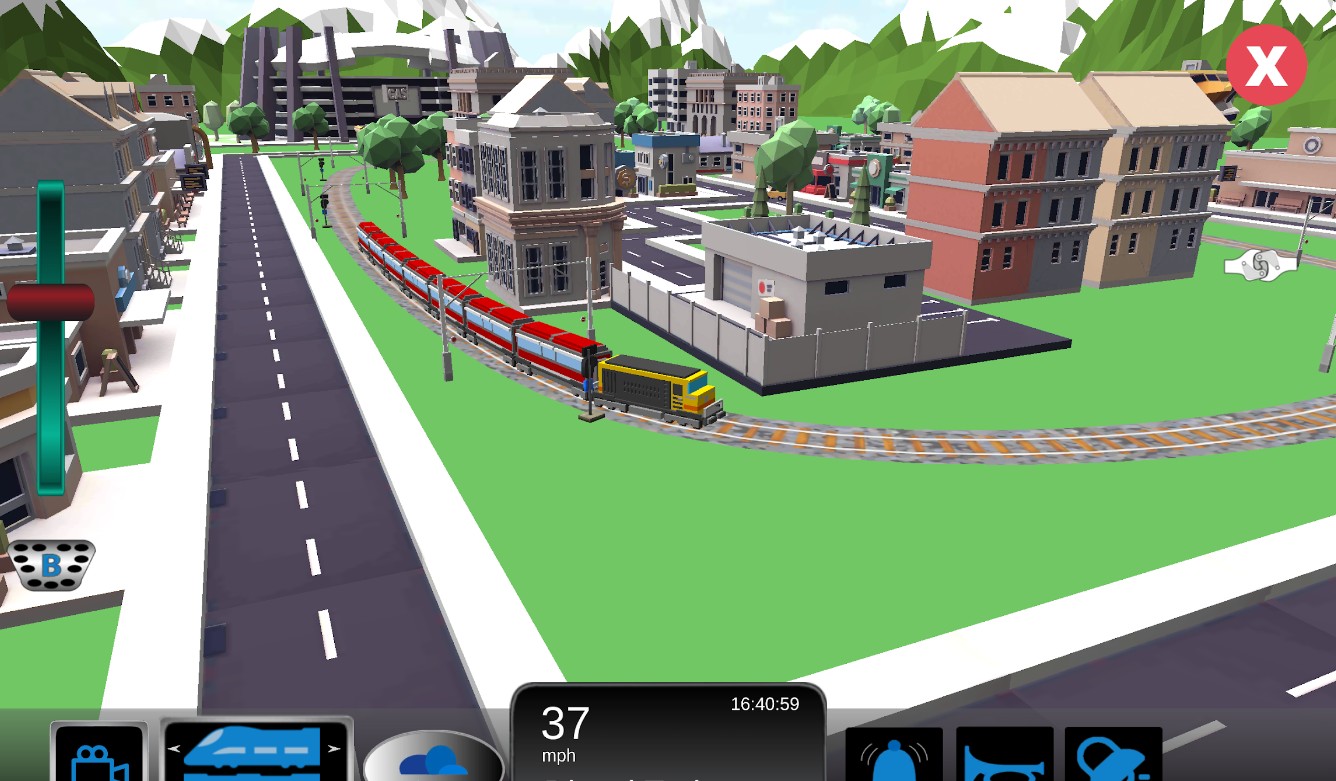 City Train Driver Simulator
Are you a fan of public transportation? Well, for the adults, it will seem a little bit weird however kids and teenagers can be highly interested in this topic. All that logistics, connections, trains, suburban trains, subway… Are you curious to find out how it's all works? Then this app will seem exciting for you.
And even though the graphics of this game is not the best one in the world, you can see that it is quite popular among users all around the world. In the game, you will find the types of public transportation which are presented all across the world, and that what makes this app even more exciting.
You can play for a driver of the suburban or a subway train. All the controlling is quite realistic all the details of the driver's cabin are made in the tiniest detail. Be ready that you will have to drive the train like in the real-life! Dozens of the train types will make your time with this game really entertaining.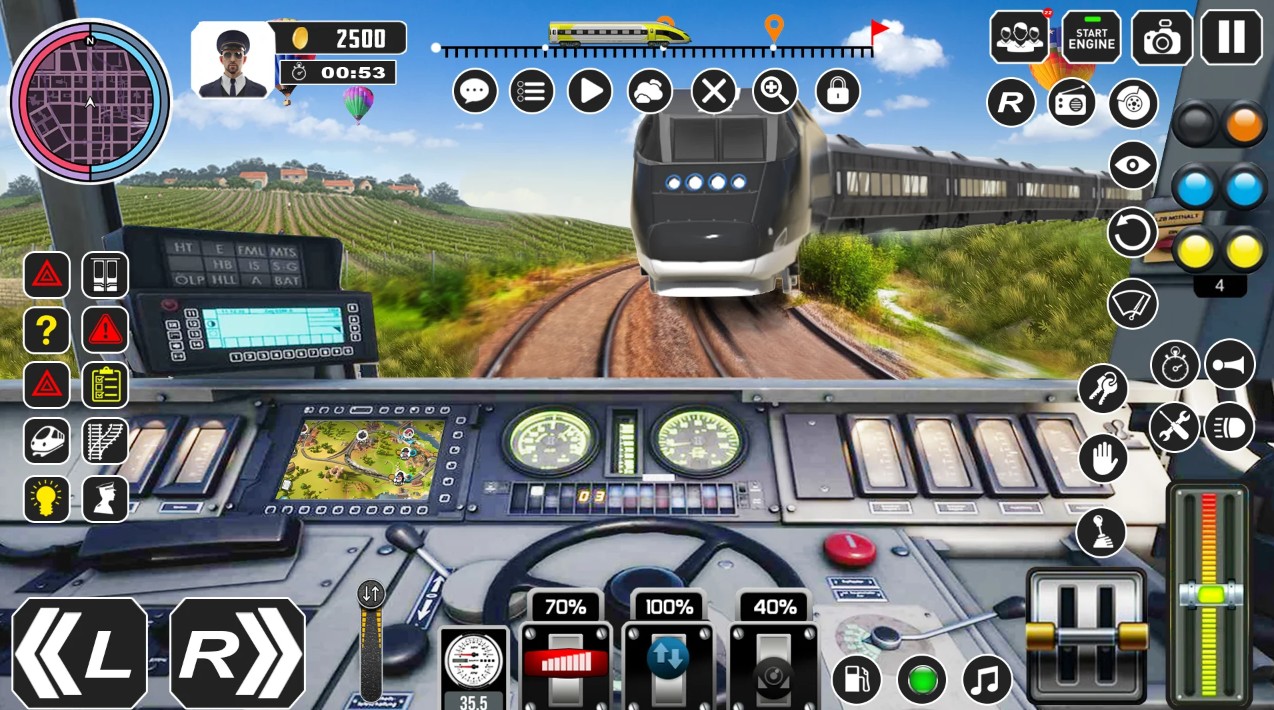 Train Sim
Trian Sim is a train control simulator where you can become a machinist and manage more than 30 types of trains, as well as enjoy a wide variety of urban and rural landscapes.
You can choose the area in which you would like to drive the train: desert, mountain passes, a big city, a port area, a subway. In the Train Sim, even a toy train is available, which can be operated on the playground.
In addition to the toy train in Train Sim, you will find a huge number of locomotives and 25 other types of trains. In addition, the app contains detailed information on each of the available trains.
While the train is moving, you can change the viewing angle and camera position, choosing between the classic rearview, the first-person view from the locomotive cab, the side of the train, etc.
Train Sim is an excellent train simulator. And although it can not boast of excellent graphics, many options and a wealth of landscapes make this game interesting enough to try it.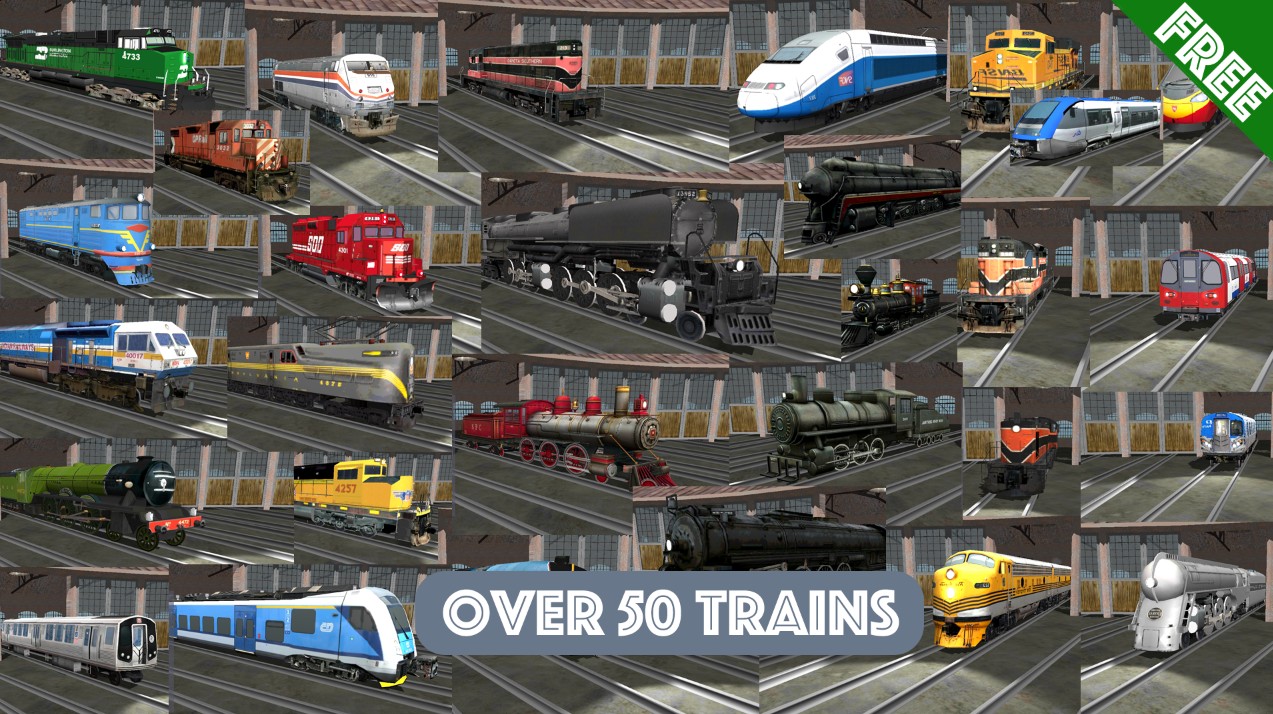 TrainStation – Game On Rails
TrainStation – Game On Rails is one of the most famous and popular train simulators of different eras. In this game under your management and leadership, there are several trains in which there are a steam tractor and wagons.
The wagons can be different by designation: some kind of cargo, some passenger … but any of them you have to send in a way so that the crews earn money and other in-game resources that you can spend on new trains, wagons, etc.
Create your railway empire from scratch and do everything possible to make your company flourish. To do this, it is necessary to build new roads, purchase the newest locomotives and comprehensively develop your Empire. The game is just a huge variety of trains. Their number has already exceeded 1000 units. The game
The game TrainStation – Game On Rails is an interesting and quite good railway simulator with a beautiful design of locations and interface. Perhaps the game will seem too simple for someone, but, of course, understandable and calm, it certainly will find its player.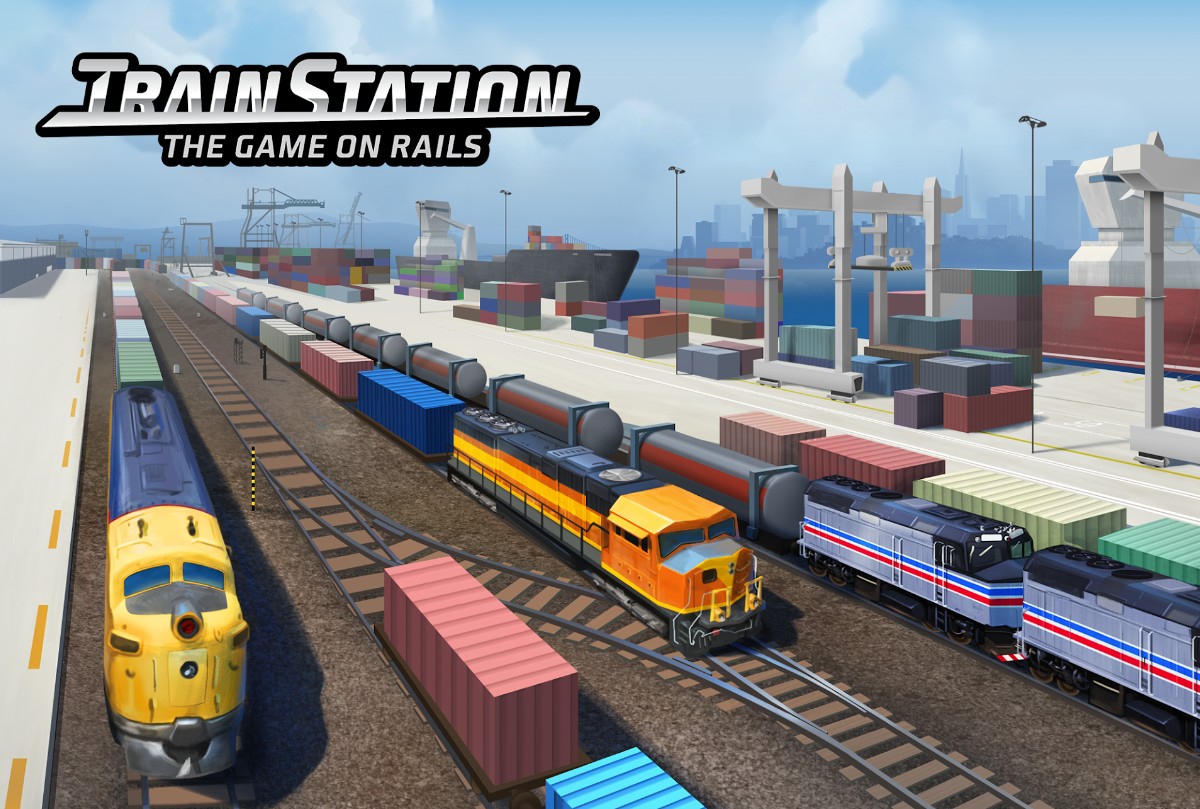 Train Driver
For those who are looking for a game where they can be the train drivers in different weather conditions, this game is the one to go for. It doesn't have any specific features among other similar 3D train simulator games, however, here you can drive the train in the summer, in winter, in fall – choose the season you want!
You are going to drive mainly across North America and enjoy all its beautiful sceneries. By the way, the graphics here are more than decent, and this is another advantage of the Train Driver game.
Don't think that you will be driving only in the countrysides – cities are available as well. The game doesn't make that much sense, but it is a nice train simulator to try.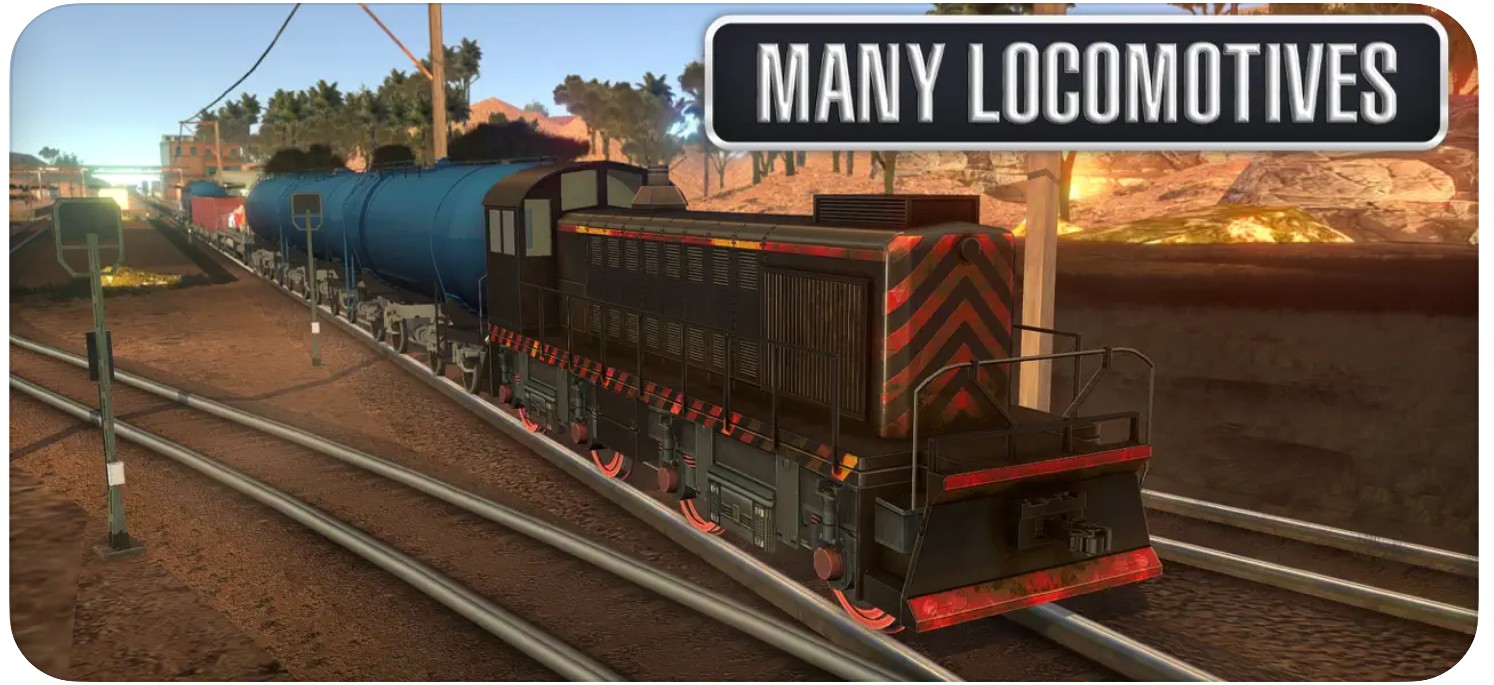 You may also like: 25 Best RTS games for iPhone & iPad
Train Conductor World
The concept of an arcade puzzle Train Conductor World is far from being new. Your task is to control the movement of trains, avoiding collisions, and trying to move as long as possible.
But it is worth saying that the creators of Train Conductor World took as a basis an idea far from new, but coped well with the creation of a new concept.
And so, before us, there are the same railway tracks and the same locomotives, but at the same time a completely new atmosphere of the capitals of Europe, a modified game mechanics, modern graphics, new possibilities.
You will have several tracks in which trains will go. All the routes are numbered, as well as the trains, and you will need to transfer trains from one route to another. If you stop being able to navigate, you can stop the movement of trains just by tapping on the train.
In general, Train Conductor World will require from you not only the speed of reaction but also an enviable smartness, because the use of additional bonuses is the key to success.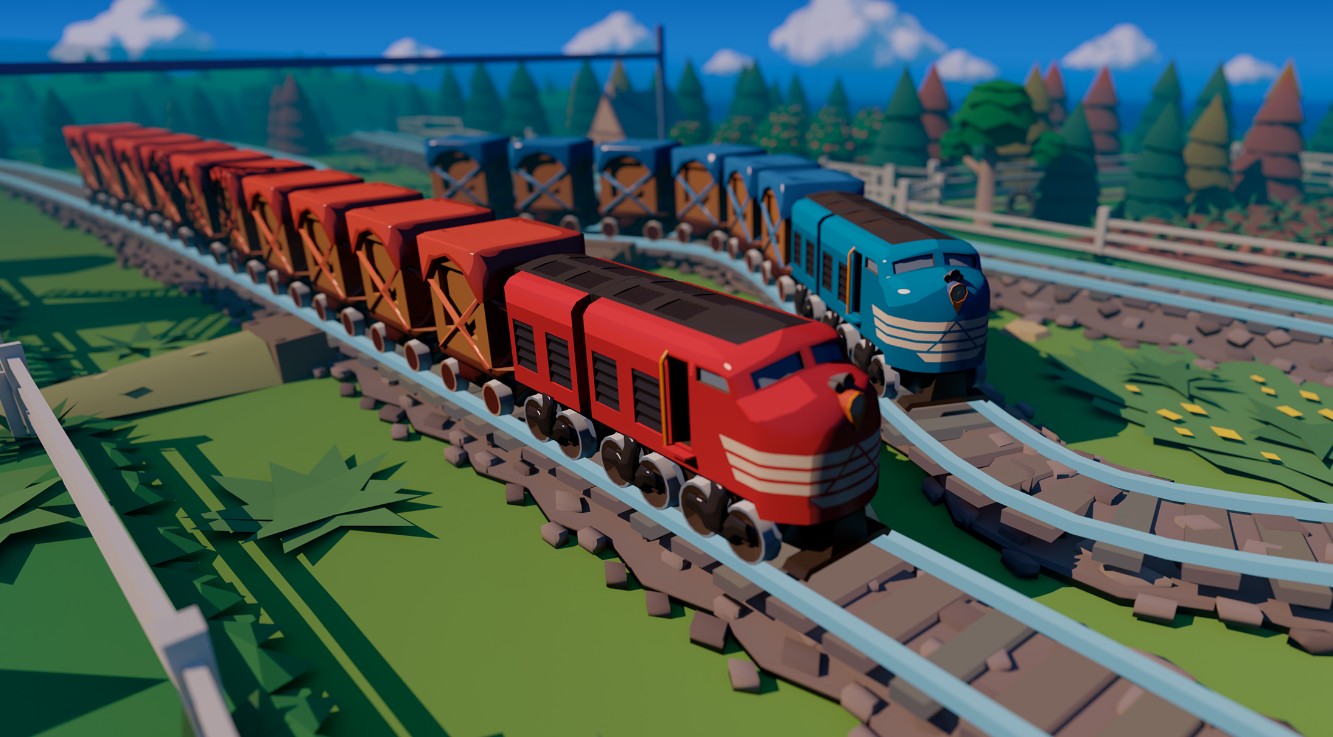 Rail Maze: Train puzzler
Rail Maze: Train Puzzler is a game where you will understand that modern railways are real labyrinths. Train conductors and railway dispatchers need to choose safe routes every time they send trains on the road in order to move trains on complex labyrinths to their destination in time.
Rail Maze: Train Puzzler is a collection of unique puzzles that you have to solve in the least amount of time and moves.
Fragments of the railway are placed on the playing field and you need to connect these fragments in such a way that they form a continuous railway along which the train will be able to pass from the start to the finish.
The game contains 100 of such mazes. Each maze is an exciting puzzle. The difficulty of the game is that you need to choose the safest routes by which your trains will be able to travel as fast as possible.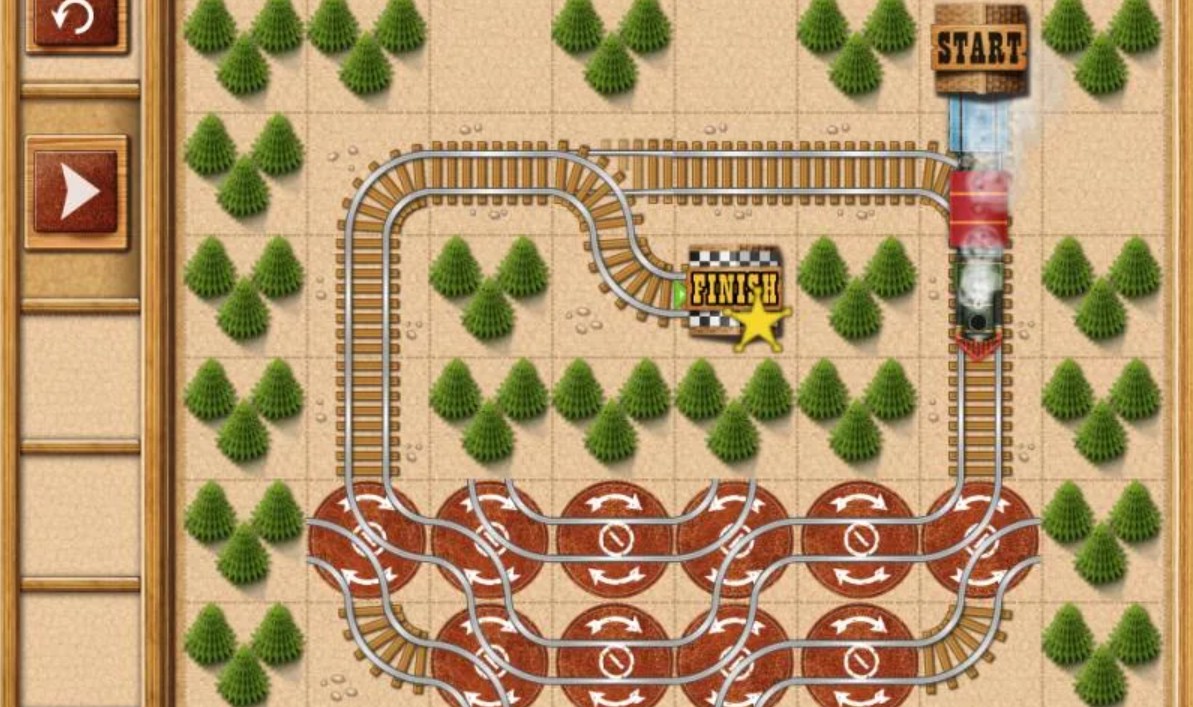 Train Station 2
If you want to become a real king of the railroads, then this game is a challenge that you have been looking for. All that you have to do here is to construct new trains and develop the new railroad system. It is important to note that this game is not the easiest one ever, there are lots of various challenges of different levels.
After you have built your trains and developed a railroad, you will need to transport various carriages on your trains. Those will be raw materials and other things. You can choose from which client you want to get a task – usually, you receive several inquiries and you are free to choose the one you like more.
The ultimate goal of the game is to build a railroad empire with excellent logistics and become the reachest owner of trains.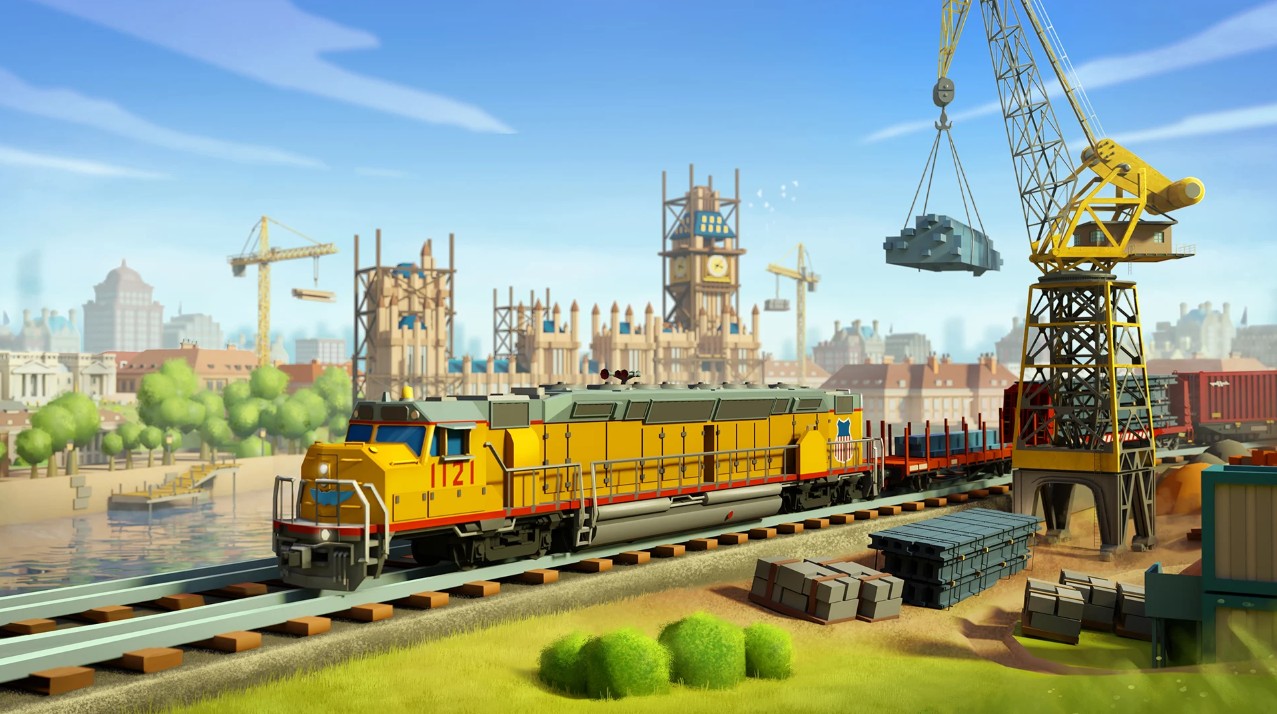 Subway Simulator 3D
The train might seem like a distant idea for most of us – we think of the train as the synonym of traveling long distances and something significant. However, there are trains that we use every day (well, the habitats of big cities for sure). You guessed it! These are subway trains.
Subway trains have their own specific and they require a special controlling approach. That's what you will be doing in this game – develop a system of the underground trains. You will get a chance to be a driver of the train as well.
Have you always dream to try open and close the subway train doors? Well, now you have a game where you can fully enjoy its process. You can drive the train fast or slow – as you wish, but try not to mess up with the schedule too much. You can choose from 10 different trains and, what is more, you can customize them according to your taste.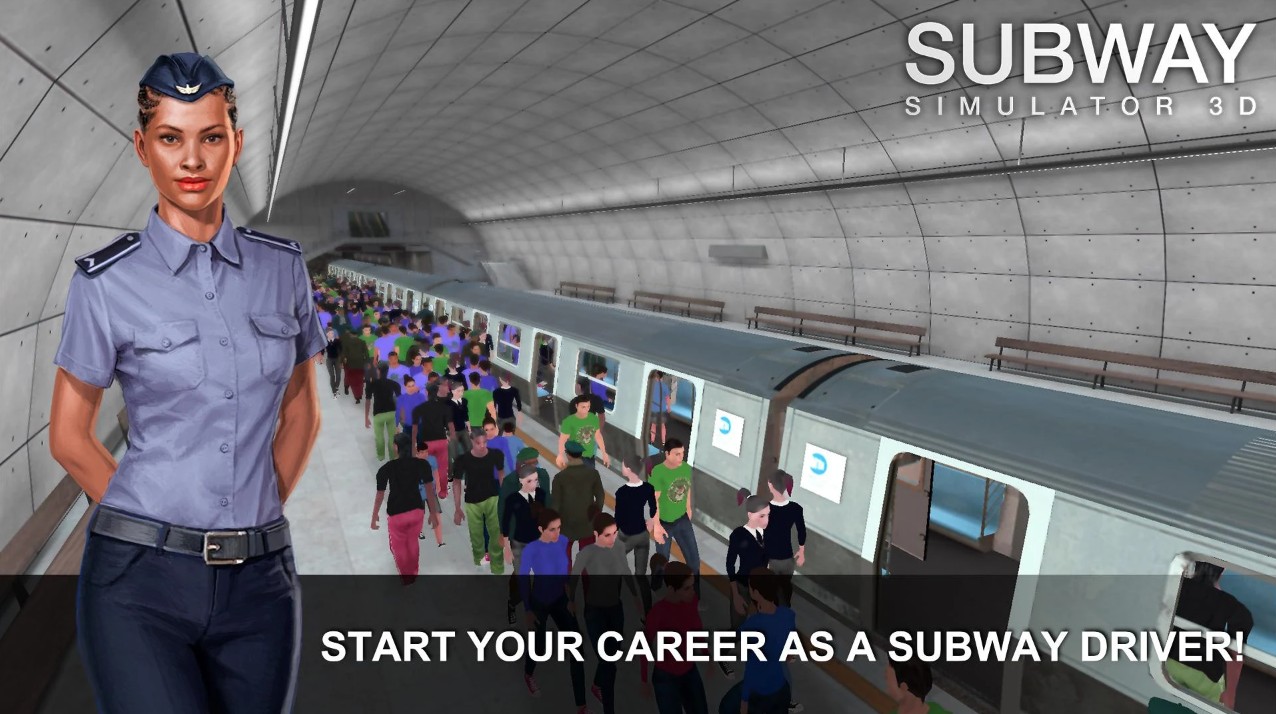 Train Simulator: Railroad Game
In Train Simulator: Railroad Game, you have the privilege to choose from a wide variety of trains, each with its own unique charm and capabilities. From powerful locomotives to charming steam trains, there's a perfect train to suit every train lover's taste.
As you take on the role of a train conductor, you'll improve your problem-solving skills, as well as your focus and concentration, and boost your strategic thinking abilities. The app presents various challenges and scenarios that will keep your mind engaged and entertained.
Not only can you drive the trains, but you can also explore and appreciate the scenic beauty of various landscapes. Immerse yourself in stunning visuals as you navigate through different routes, bridges, and tunnels.
Moreover, the app offers an easy-to-use interface, making it suitable for train enthusiasts of all ages. Whether you're a seasoned train aficionado or a curious beginner, Train Simulator: Railroad Game guarantees a delightful and enjoyable experience.
In conclusion, it is possible to say that this game will be interesting more for children than for adults, but you can try it anyway.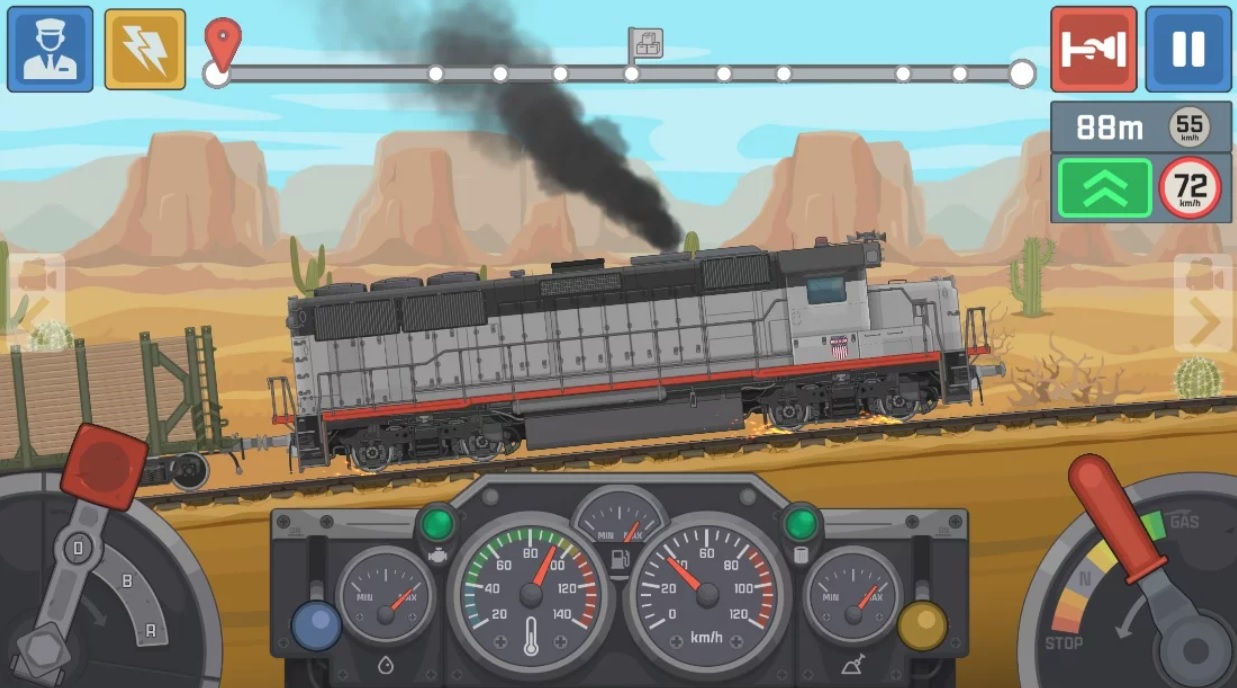 Train and rail yard simulator
This app brings a unique experience of train operation right to your fingertips, offering an immersive and realistic train simulation experience that will leave you delighted and entertained.
In Train and Rail Yard Simulator, you have the freedom to choose from a delightful array of trains. From sleek modern locomotives to charming vintage trains, there's a perfect train for every railway enthusiast.
As you take charge of the trains and navigate through rail yards, you'll enhance your problem-solving skills, time management, and decision-making abilities. The app presents various challenges and scenarios that keep your mind engaged and focused.
Train and Rail Yard Simulator also lets you explore the intricacies of railway management. From coordinating train schedules to ensuring smooth operations in the bustling rail yard, you'll develop a deeper understanding of the complexities involved in running a railway system.
Overall, this is a realistic train simulator that provides you with an opportunity to experience being a train driver.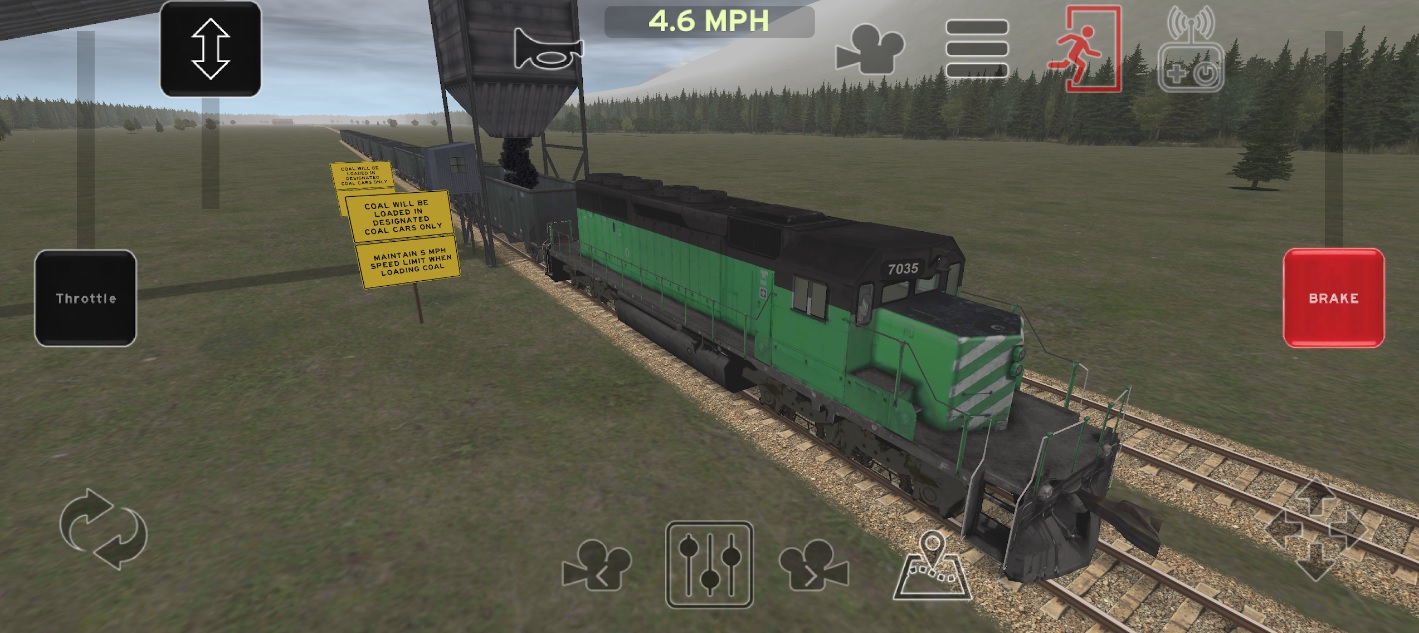 You may also like: 11 Best tank games for Android
Euro Train Simulator 2
If you want to get a chance to feel like a real worker of a European train company Deutsche Bahn, by watching all the trains, controlling them, and building new roads, then this is the game for you. One of the distinctive features of this app is that all the trains are depicted extremely realistically with all the details just like in the real world.
Those trains cover all the major destinations in Europe. Along with that, you will be traveling together with trains and enjoying European sceneries. Throttle, braking, realistic wiper, cab light and headlights, horns, and pantographs are available to the driver and are required to be operated for certain objectives in career mode.
This is more of a strategic game than an action one. The thing is that you have to plan all the schedules and routes for the trains carefully, so there are no lags and collisions. Moreover, you have to compile the schedule in the most efficient way so all the trains are profitable.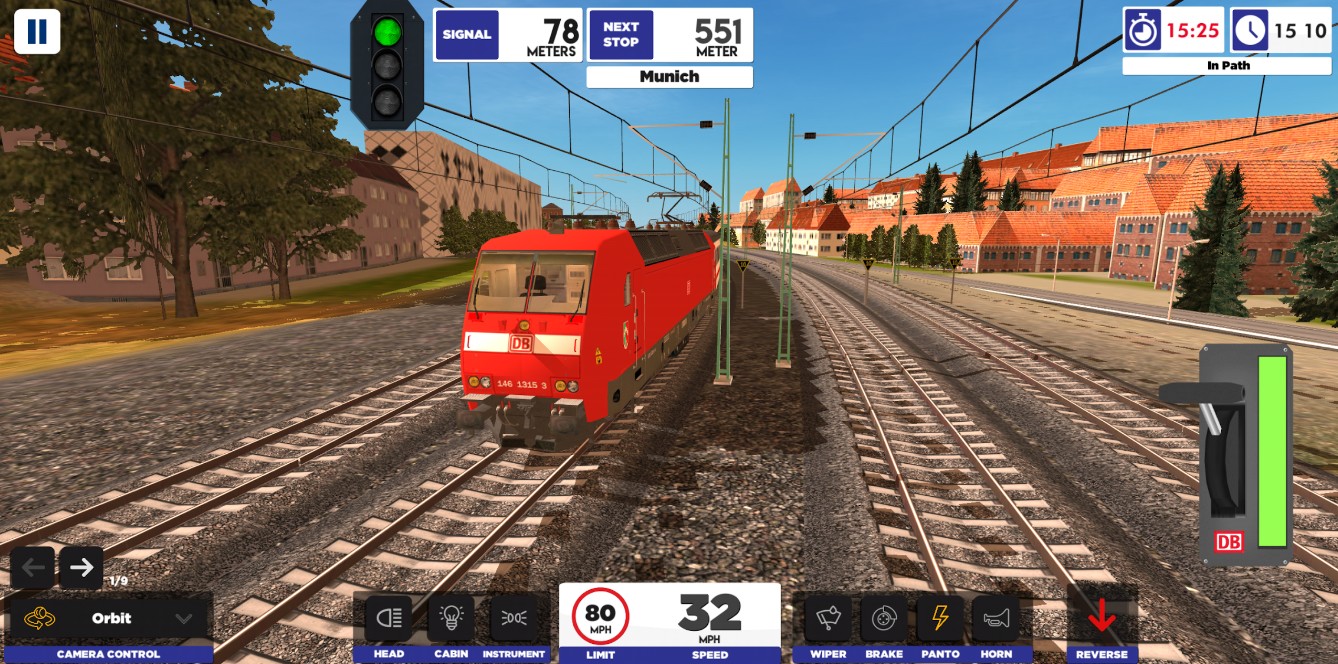 As you can see, you can play train games infinitely. And if you are a romantic soul, and in life – a man with a lot of cares and obligations, these games are what you need to get out of the ordinary and gray everyday life. Just a great way to switch.
It is clear that the main feature that unites all games of this kind is the use of trains, locomotives, wagons, and other attributes of railways in the plot. But the manipulations that the main characters make with them are very often different and crucially different. Browse our list of the best games about trains and choose what you like most.