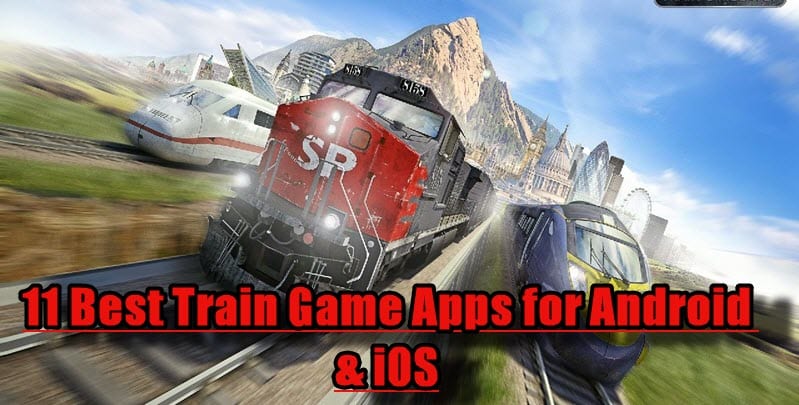 Many people have a different attitude to trains. It is not only a means of transportation, but also an opportunity to get to know the surrounding world, get acquainted with new people and even make a career by engaging in cargo transportation. All this had an impact on the fact that games in which trains appear became popular.
The train games are very exciting. There is always something to learn. Some of them develop a speed of reaction, other logical thinking. Traveling on the railroad is never boring. In addition to unforgettable adventures, the players learn a lot about the real life of railway workers. In the world of trains, a lot, if not all, depends on the time-shifted arrows, the amicably flashing semaphore, the tickets sold successfully, the correct registration of luggage and safe and profitable freight.
So, let's consider the best train game apps for Android and iOS of 2017 in this post.
Train Racing Games 3D 2 Player
Train Racing Games 3D 2 Player is a simulator of a driver with a multiplayer mode, which has beautiful three-dimensional graphics.
The project will allow you to sit in the booth of one of the several locomotives available in the game, and also to meet online with other users. The simulator reliably conveys the trains control features, forcing to monitor the speed limit and change the way in time to avoid collision with other traffic participants. Multiplayer mode includes contests to overcome one of three distances with a randomly selected opponent. Who is faster to reach the terminal station, that takes his bet and rival. The road itself consists of several turns, traffic lights, where you have to stop, waiting for the green light, and other obstacles.
Despite the size of the map, the locations are made qualitatively and detailed, the weather is changed constantly. At the user's choice, there are several types of cameras, which allows you to choose the view to your liking. Train Racing Games 3D 2 Player – an excellent simulator that can boast of a realistic control system, nice graphics and the presence of an exciting multiplayer mode.
Price: free with in-app purchases
back to menu ↑
Train Simulator
Train Simulator 2016 is the continuation of a series of online games in the genre of train simulator, which in truth became a new turn in train simulators. Here you have to become a train driver, both passenger, and freight, and go on real routes, through which you can have fun. Dozens of different types of trains, starting with locomotives and ending with high-speed passenger trains, real-world routes, as well as interesting cargo delivery tasks.
When you start driving a multi-ton high-speed machine, there is only one inexplicable desire to move forward to check all the possibilities of this machine. You have to go through a difficult path, becoming a newcomer in managing the trains and achieving true professionalism. At the same, time dozens of modern trains arrive at your disposal, and you will have to travel on the most popular routes of the whole world.
Therefore, here you will have the opportunity to learn how to manage locomotives. You just need to do everything to get a license for the driver, which allows you to enter the competition for unique awards.
Price: free with in-app purchases
back to menu ↑
Rail Rush
Rail Rush is a runner with infinite forward motion, that is, a game in the genre of 'endless race'. Go as far as you can, collecting all the coins and precious stones along the way. This time you will not need to run anywhere – you will ride a cart on underground mines.
The cart is controlled by touching and tilting the screen to the sides. You can jump from one rut to another, and even stick out of your cart to collect coins and precious stones scattered on your path. The game includes six different worlds, each of which is filled with endless possibilities. Passage of the game will never be monotonous, as the formation of new ruts is made in a new way every time. You can buy new characters on the money earned in the game. In total, the game has more than twelve additional characters.
Rail Rush is a good-looking 'endless runner' with a good control system, original scenario, and exquisite graphics. It should be said, then Rail Rush is one of the best games in this game genre.
Price: free with in-app purchases
back to menu ↑
Train Sim
Trian Sim is a train control simulator where you can become a machinist and manage more than 30 types of trains, as well as enjoy a wide variety of urban and rural landscapes. You can choose the area in which you would like to drive the train: desert, mountain passes, a big city, a port area, a subway. In the Train Sim, even a toy train is available, which can be operated on the playground.
In addition to the toy train in Train Sim, you will find a huge number of locomotives and 25 other types of trains. In addition, the app contains detailed information on each of the available trains. While the train is moving, you can change the viewing angle and camera position, choosing between the classic rear view, the first person view from the locomotive cab, the side of the train, etc.
Train Sim is an excellent train simulator. And although it can not boast of excellent graphics, many options and a wealth of landscapes make this game interesting enough to try it.
Price: free
back to menu ↑
TrainStation – Game On Rails
TrainStation – Game On Rails is one of the most famous and popular train simulators of different eras. In this game under your management and leadership, there are several trains in which there are a steam tractor and wagons. The wagons can be different by designation: some kind of cargo, some passenger … but any of them you have to send in a way so that the crews earn money and other in-game resources that you can spend on new trains, wagons, etc.
Create your railway empire from scratch and do everything possible to make your company flourish. To do this, it is necessary to build new roads, purchase the newest locomotives and comprehensively develop your Empire. The game is just a huge variety of trains. Their number has already exceeded 1000 units. The game
The game TrainStation – Game On Rails is an interesting and quite good railway simulator with a beautiful design of locations and interface. Perhaps the game will seem too simple for someone, but, of course, understandable and calm, it certainly will find its player.
Price: free with in-app purchases
back to menu ↑
Train Simulator 3D
Train Simulator 3D is a perfect train game where you will manage a variety of trains and drive them along the railways connecting different cities. You will cross mountains, tunnels, bridges, etc., try yourself as a machinist in this game for Android. Manage a powerful locomotive and transport passenger and freight trains. Gently stop the train at the stations to pick up passengers. Carry out different loads. Correctly choose the direction and follow the directions of traffic lights. Buy new locomotives and improve them using the money received for the tasks.
The developers represent a large number of different locomotives, each of which has its own specific qualities, as well as a variety of routes. Therefore, you get a great chance to travel the world on modern machines.
Price: free with in-app purchases
back to menu ↑
Train Conductor World
The concept of an arcade puzzle Train Conductor World is far from being new. Your task is to control the movement of trains, avoiding collisions and trying to move as long as possible. But it is worth saying that the creators of Train Conductor World took as a basis an idea far from new, but coped well with the creation of a new concept. And so, before us, there are the same railway tracks and the same locomotives, but at the same time a completely new atmosphere of the capitals of Europe, a modified game mechanics, modern graphics, new possibilities.
You will have several tracks in which trains will go. All the routes are numbered, as well as the trains, and you will need to transfer trains from one route to another. If you stop being able to navigate, you can stop the movement of trains just by tapping on the train.
In general, Train Conductor World will require from you not only the speed of reaction but also an enviable smartness, because the use of additional bonuses is the key to success.
Price: free with in-app purchases
back to menu ↑
Rail Maze: Train puzzler
Rail Maze: Train Puzzler is a game where you will understand that modern railways are real labyrinths. Train conductors and railway dispatchers need to choose safe routes every time they send trains on the road in order to move trains on complex labyrinths to their destination in time.
Rail Maze: Train Puzzler is a collection of unique puzzles that you have to solve in the least amount of time and moves.
Fragments of the railway are placed on the playing field and you need to connect these fragments in such a way that they form a continuous railway along which the train will be able to pass from the start to the finish. The game contains 100 of such mazes. Each maze is an exciting puzzle. The difficulty of the game is that you need to choose the safest routes by which your trains will be able to travel as fast as possible.
Price: free with in-app purchases
back to menu ↑
Trainyard Express
Trainyard Express is a puzzle game with a huge variety of solutions. Understand what's what is very simple. However, it is difficult to become a master in this matter. Your tasks are simple and obvious – deliver the train to the destination station. Red trains – to red stations, blue trains to blue stations and so on. You control the trains, laying the iron tracks, according to which they will follow. You control trains by drawing paths that they will follow. There are no time limits or points – you just need to find the best solution for each puzzle.
The first few puzzles can seem pretty easy for you, but their complexity increases, you will need more practice in the basics. As the complexity progresses, use the theory of colors to combine trains of different colors, using time and all the abilities of your brain to earn more points.
Price: free
back to menu ↑
Kids Trains
Kids Trains is a new arcade, offering your little machinists to take control of their own locomotive. Yes, and not one!
The newly-arrived railwaymen will have to drive their trains along incredible routes. On their way, there will be hills and tunnels, sandstorms and snow blizzards. But such trifles do not bother the true machinists. After all, the train should come strictly according to the schedule, regardless of the circumstances. A delay means losing honor. So be careful. This Android and iPhone game was created specially for kids.
Price: free
back to menu ↑
Train Craft:Build it!

You know exactly what Minecraft is. And now just imagine that you can build not only houses and dungeons, but also real technical constructions from blocks! In Train Craft you have a unique opportunity to create your own railway network, design a real train and much more – and all this is from the blocks.
When you create your own railroad tracks, you can build the most unexpected routes – through the mountains or close to the shore. Once you have built them, you need to try them out in the field – start your train and see how it will go. Besides the standard roads, you can build a system of subways, bridges, tunnels – nothing limits your imagination.
Your trains are operated only by you. If you have a complete network of roads to drive on, you are the only one who chooses the route. The pixel world is ready for your discoveries and accomplishments: build the largest transport network with many branches, underground branches and bridges.
Price: free with in-app purchases
As you can see, you can play train games infinitely. And if you are a romantic soul, and in life – a man with a lot of cares and obligations, these games are what you need to get out of the ordinary and gray everyday life. Just a great way to switch.
It is clear that the main feature that unites all games of this kind is the use of trains, locomotives, wagons, and other attributes of railways in the plot. But the manipulations that the main characters make with them are very often different and crucially different. Browse our list of the best games about trains and choose what you like most.