Nowadays, most of the images and videos that you can find on the internet are labeled with watermarks, various stickers, colorful text, and so on. Using certain tricks, you can get rid of this. For example, to remove emojis from a photo, try these apps.
Also, you might have seen watermarks on videos downloaded from TikTok. You can get rid of them using these best AI watermark removers. Artificial intelligence will detect the right area and remove the unnecessary object on its own. Thus, let's go deeper into their features.
Remove Objects: Pic Retouch AI
This app allows you to remove any unwanted object from a photo or picture without a trace. The number of elements and their size do not matter. It greatly copes with watermark removing.
Get rid of the watermark or logo. Select the desired area and click on the brush labeled Remove Object. Artificial intelligence will do its job so wonderfully that no one will be able to find the place where the watermark used to be.
In just a few seconds, you will get a perfect photo without any extraneous objects. Artificial intelligence allows you to process a large number of photos without losing quality.
In addition to removing unwanted objects, you can use the cloning option. You can place as many copies of objects or images of people as you want on one photo. If there is a person in your favorite photo that you want to forget about, Pic Retouch will definitely do the job.
Use this app as a powerful editor. Remove blemishes, blackheads, and other imperfections on your face with a single click.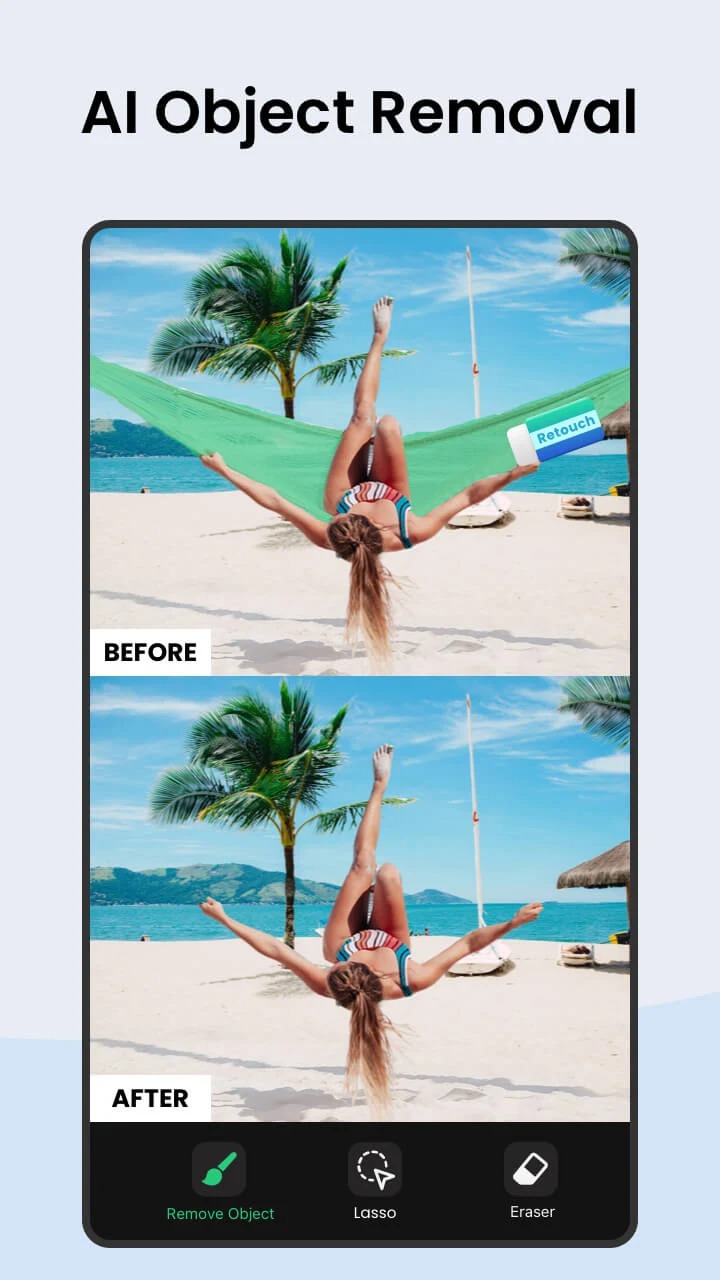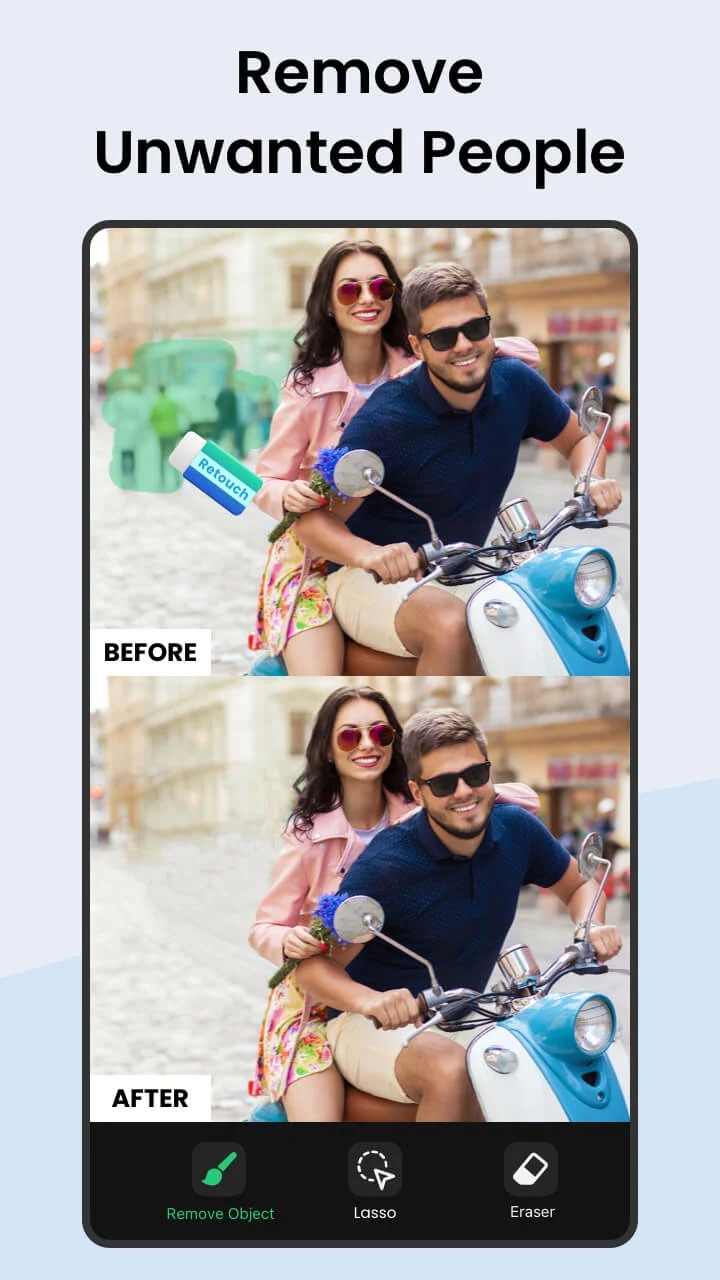 In the app, you will find tools like eraser and brush. With the lasso, you will be able to remove multiple elements or areas at the same time. Pinch scaling allows you to edit the size of elements in your photo and remove them with care.


You may also like: 11 Free Apps to Remove TikTok Watermark (Android & iOS)
WatermarkRemover.io
WatermarkRemover.io makes the labor of a photo editor easier and more enjoyable. The user needs to select the settings and specify the target. Artificial intelligence will independently detect and remove the watermark from a photo or art illustration.
This free app does not require your personal data. It works instantly to remove watermarks from pictures of various sizes and formats. Upload photos, images, and drawings.
The app finds the watermark and detaches it from the file. After that, the extra element disappears and the picture remains intact. All details are preserved in pristine condition without loss of quality.
WatermarkRemover.io can be used for both personal and commercial purposes. There is no maximum allowed number of processed photos here. The watermark removal work takes seconds. Controlling the actions of the program can be done by a user of any age and without experience in this field.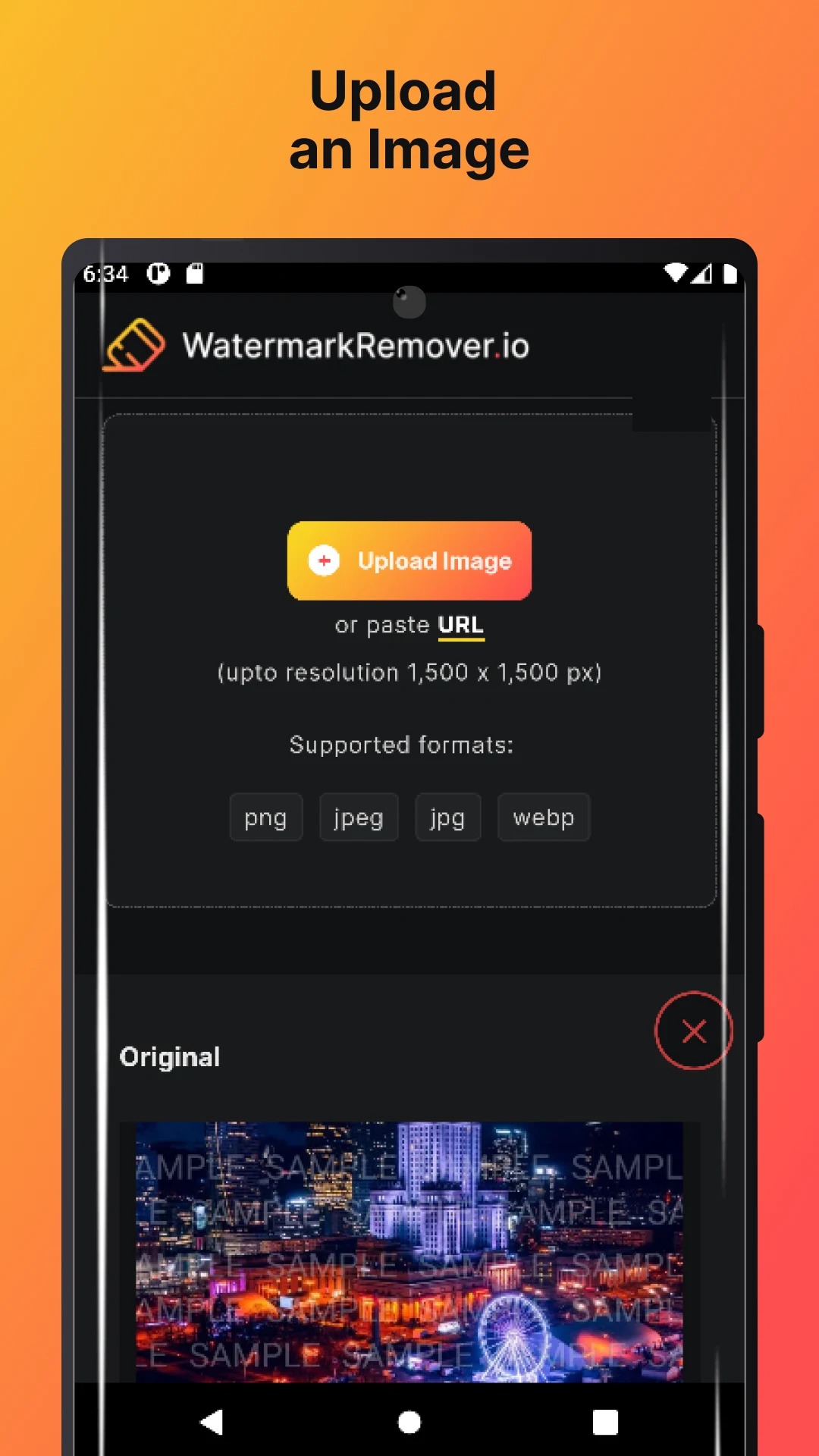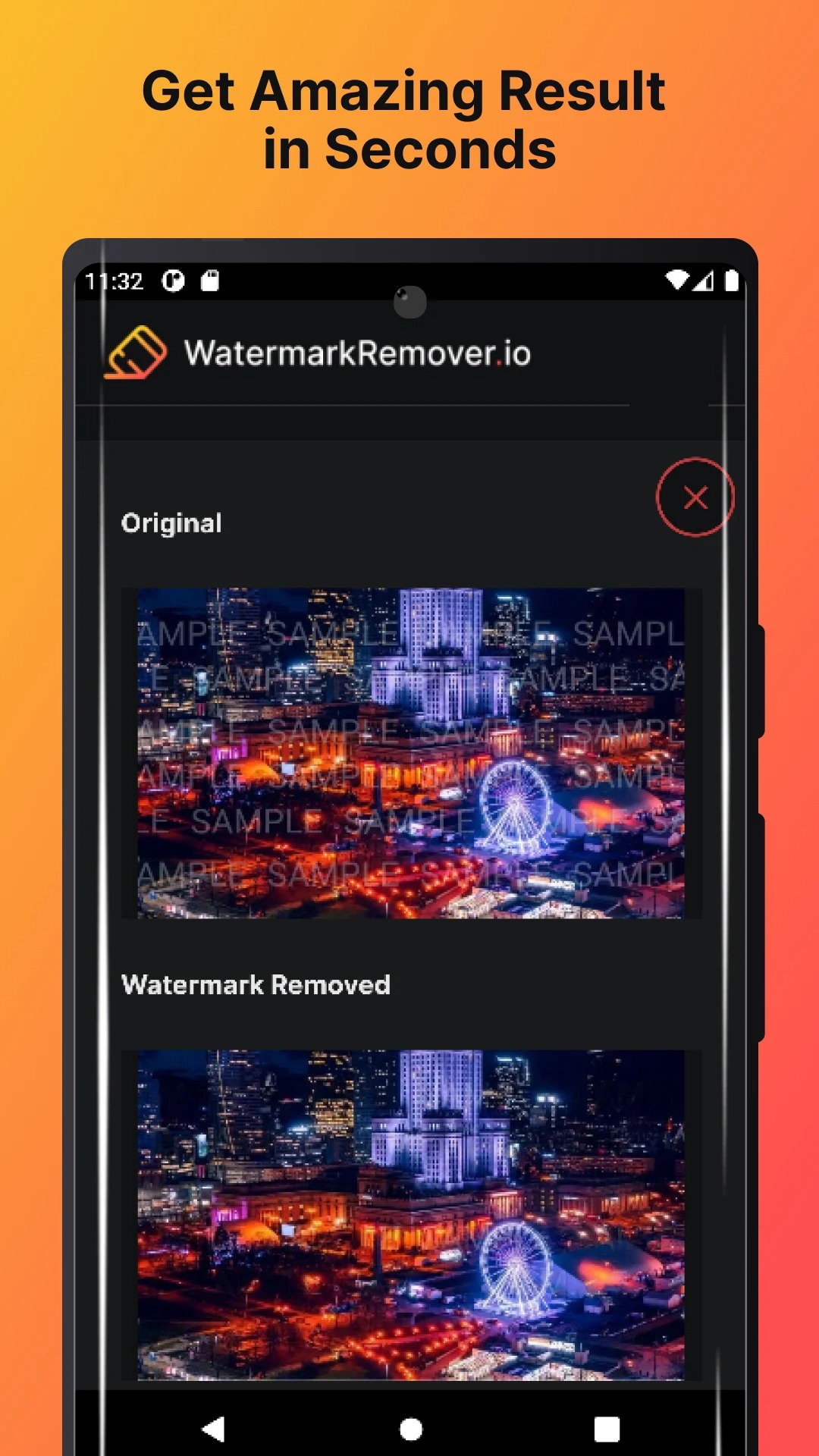 You can remove watermarks regardless of their shape, color, and location. Take advantage of the option to remove multiple watermarks from a single image at once.

Remove Object – Object Remover by TAPUNIVERSE
Object Remover will make every photo perfect. Erase unnecessary elements, including watermarks, from any image. No one will notice your interference.
You can remove a garbage can, people passing by, and other people's cars from the frame with a touch of an eraser. In addition to real objects, you can erase watermarks and advertising logos. Post photos on social networks by painting over license plates and people's faces.
Make every photo perfect. Remove acne, freckles, and scars from your face. You no longer need to look for an angle to hide skin imperfections.
This photo editor allows you to retouch large areas of the image. You can change the size of the brush and eraser. Scale the photo for detailed work with two fingers.
All actions are simple and do not require old-generation photo editor skills. Just point the cursor at the subject or area and select the desired tool.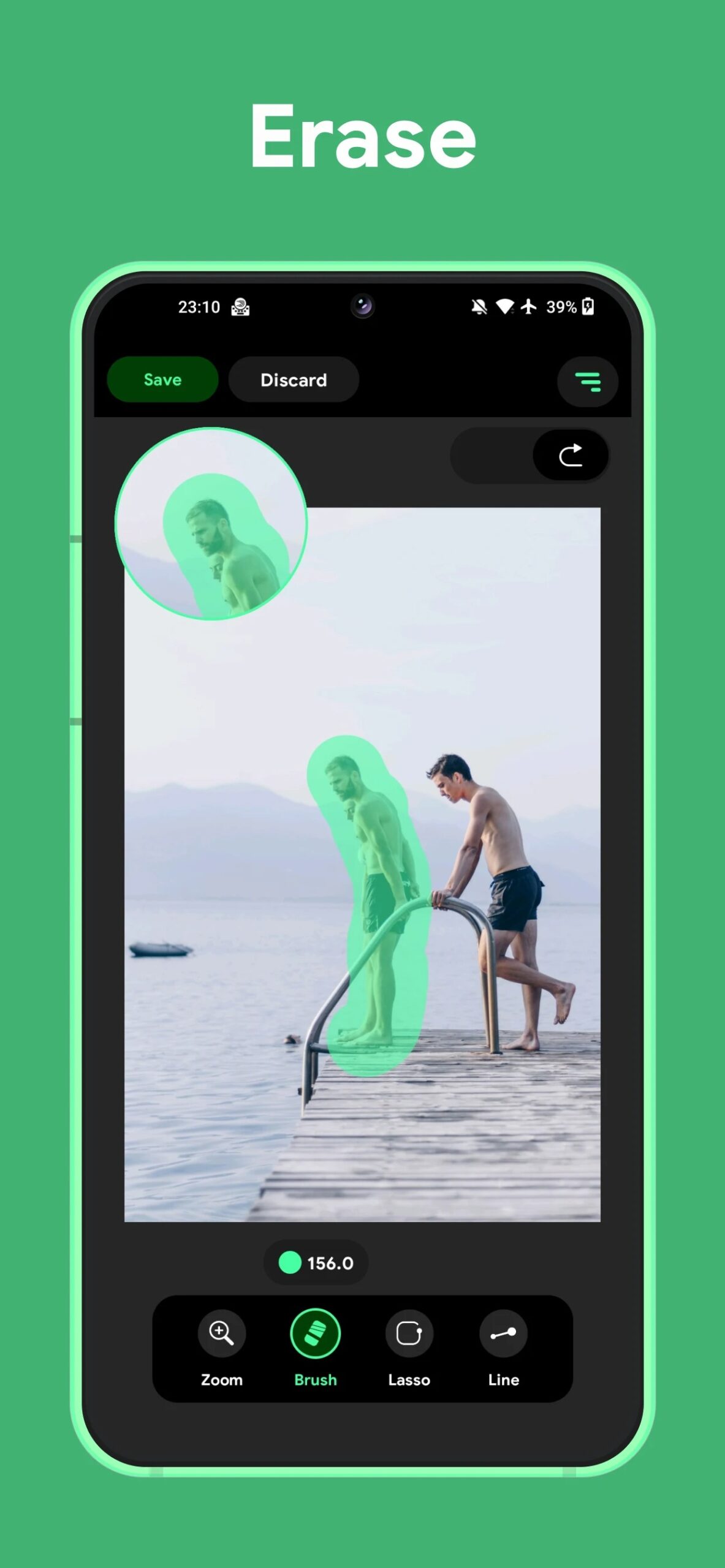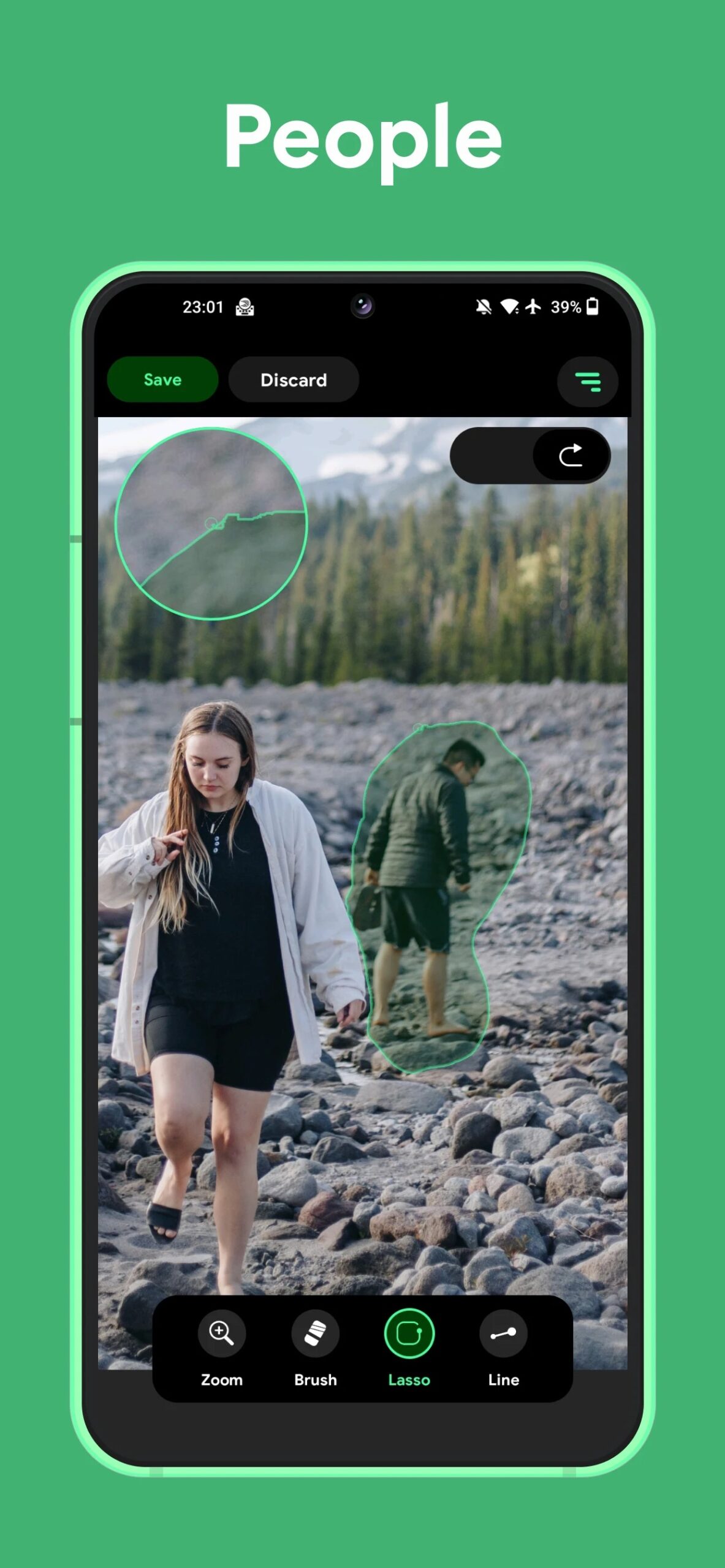 If you liked the app, recommend it to your friends and subscribers. All the work is done by artificial intelligence, which frees you from long routine process.


Photo Eraser – Remove Objects by Aereus srl
Photo Eraser will become your mobile assistant in processing and retouching photos. Remove unnecessary objects from any photo, leaving only a solid background.
Focus viewers' attention on what is important. Erase objects that you consider unnecessary. This applies to watermarks, cars, and trees. Forget about the fact that there were other people in the original photo.
After editing, the photo will have the same background. All the tools are powered by artificial intelligence. You need to select an option and hover over the specified area.
The app will independently find and check the objects that need to be removed. This will make the work much easier and faster. Select the "line removal" option to clear the photo of power lines in a single tap.
Remove any imperfections without a trace. Use cropping for a professional effect. Combine multiple elements into one. Such painstaking work is possible with the help of artificial intelligence. After retouching you will get a perfect photo with a natural background with no signs of correction.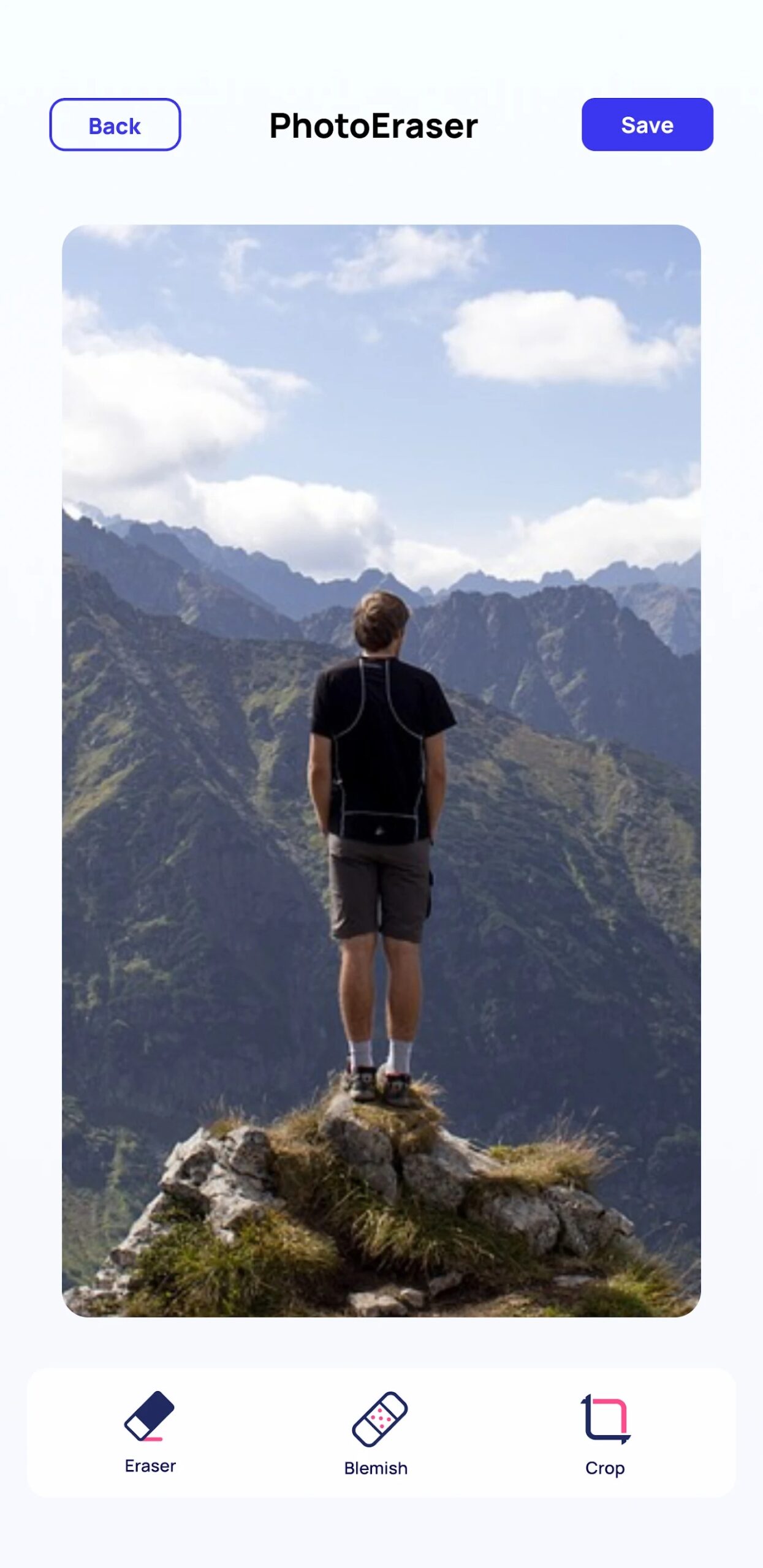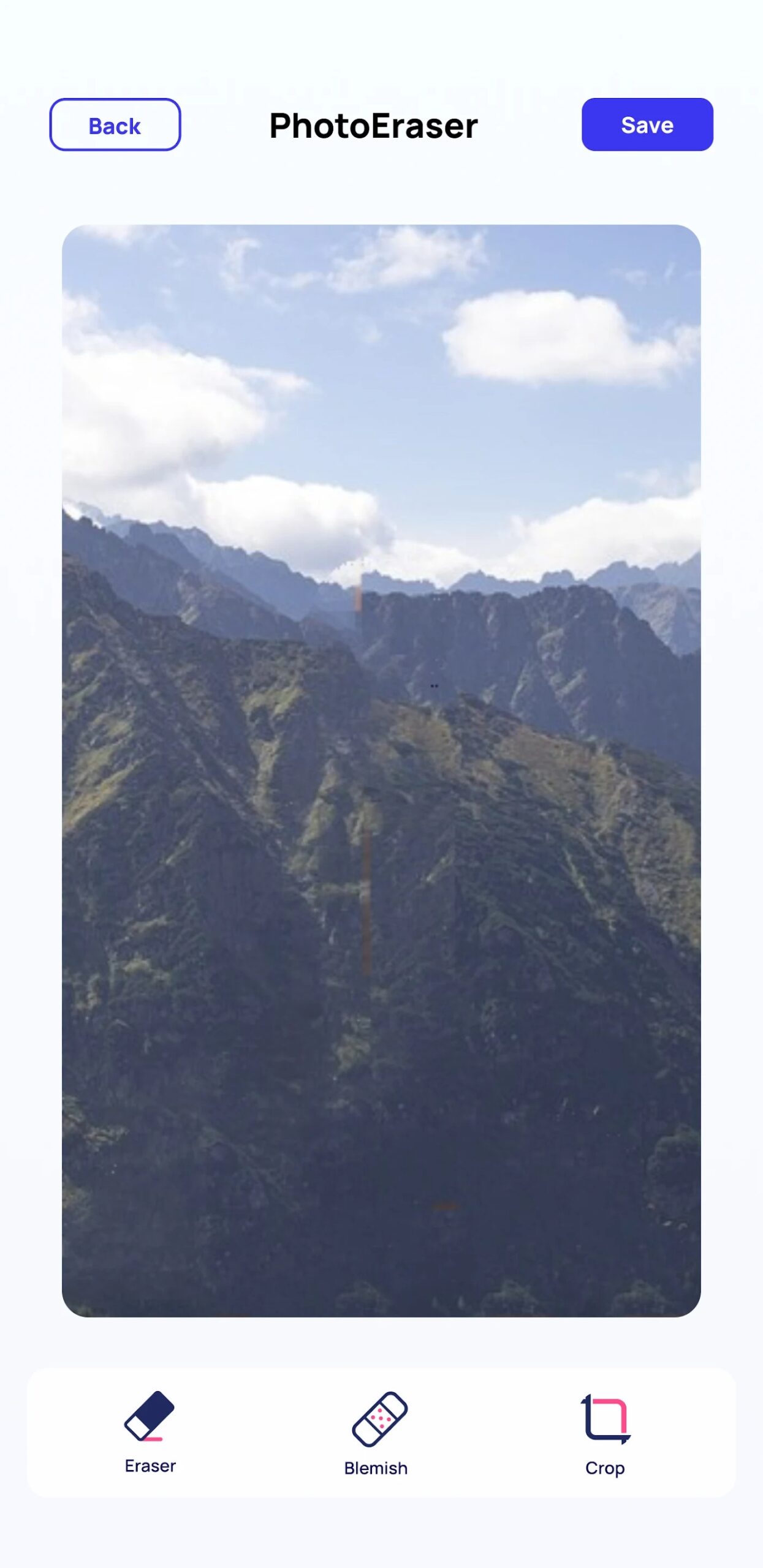 Tell your friends about Photo Eraser's contribution to your published photos. Master a new level of skill and enjoy every photo shoot.


Object Removal AI by AppNation LLC
Object Removal Al makes photo editing a pleasure. To remove any element from your photo, you just press a button. Unwanted objects of any size will disappear before your eyes. Behind it, you will see an original background. No preparatory work and no complicated instructions.
All you need is an interactive eraser to get the desired effect. You can remove the seat or rope to get the effect of flying. You can remove unnecessary inscriptions and watermarks if you download the picture from the Internet. Clusters of objects, groups of people, and natural objects can be removed.
This app helps in the daily work of advertising agencies, designers, and planners. It automatically analyzes and mixes colors in the background to avoid empty space behind the cutout object.
The finished photo is easy to export to your phone's memory or share via messengers. Create collages, and photos for interior decor and exhibition. All of these options are free of charge.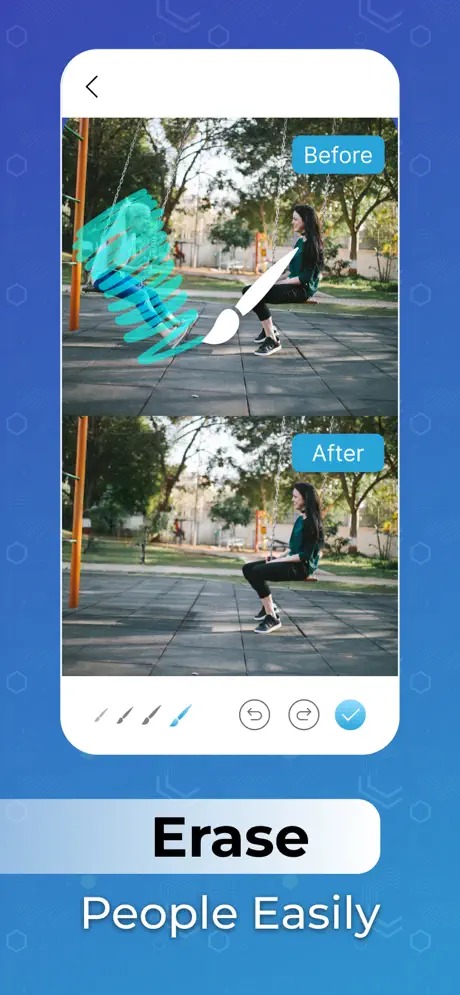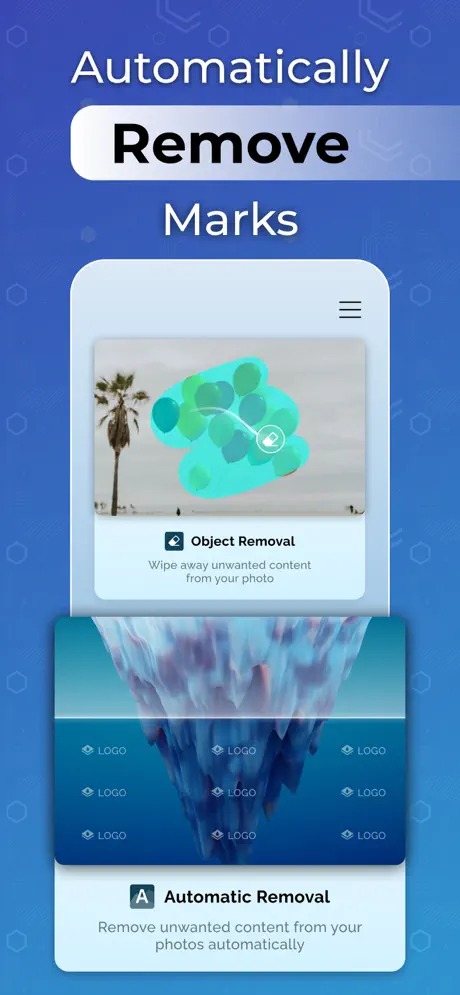 To expand the functionality, you need to buy the pro version. To test the capabilities of Object Removal Al, use the free trial period.

Video Object Watermark Remover by Giang Nguyễn
Video Object Watermark Remover will change clips and movies in seconds. Improve the quality of video files, remove unnecessary elements, and scale footage without the help of experts.
Now you can edit videos on your own. It is not a problem if the video contains a watermark or emblem of another company.
This app will clean the file from the added elements, which will not affect its quality. Any text, including explanatory notes and subtitles, will also be removed with a single tap. Artificial intelligence perfectly copes with the task and does not disturb the composition of the video.
The edited material can be used on TV, social networks, and online services. Let the audience pay attention to the really important things in your video.
You don't need to be a master cinematographer to get the perfect result. Work with the settings to improve the quality of the clip. Change the color palette and highlights, and adjust the clarity of the image. You can even increase the resolution of the video file.
Now even a vintage movie will get new colors. To start Video Object Watermark Remover you need to define the area of work and select the tool.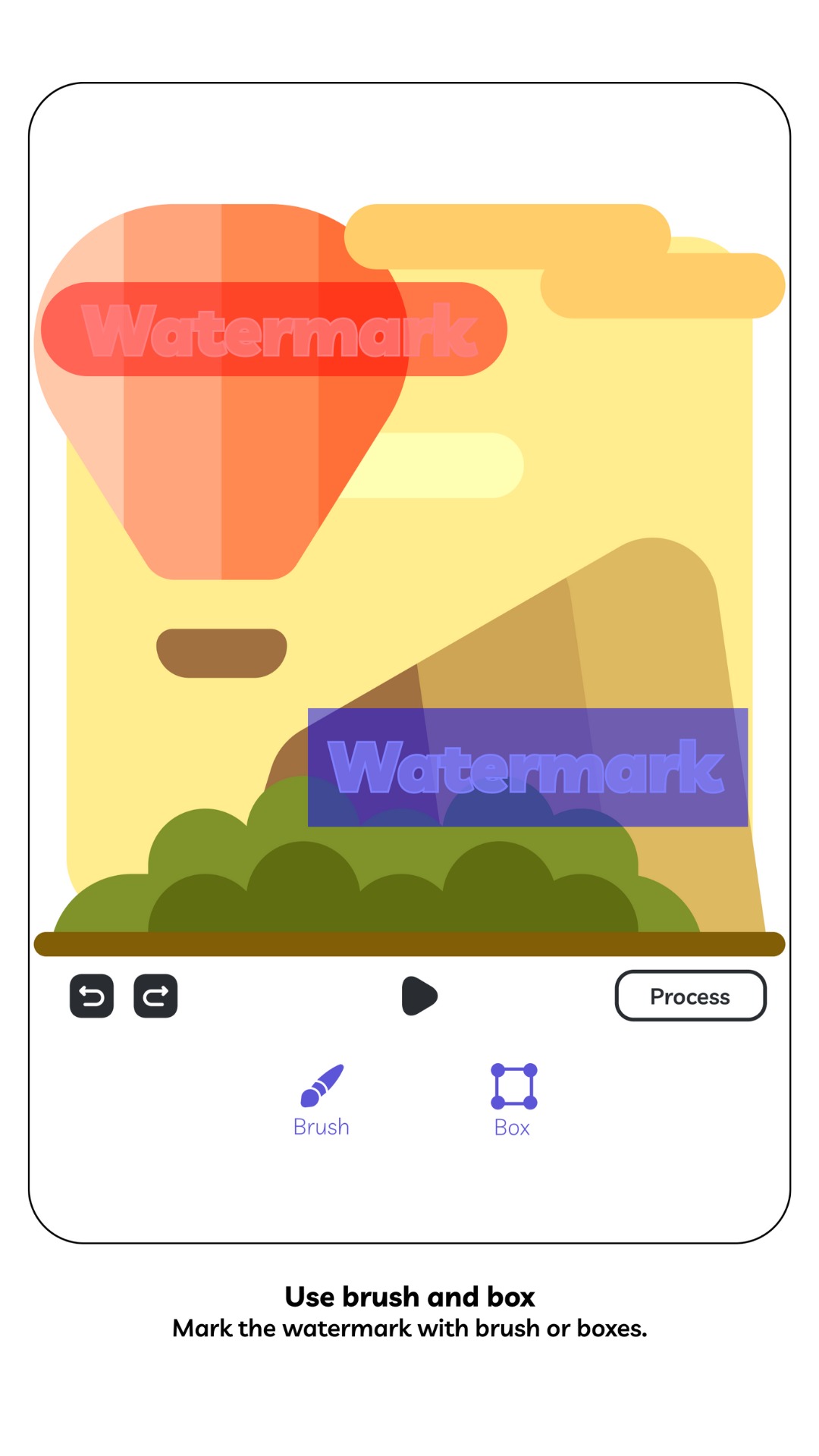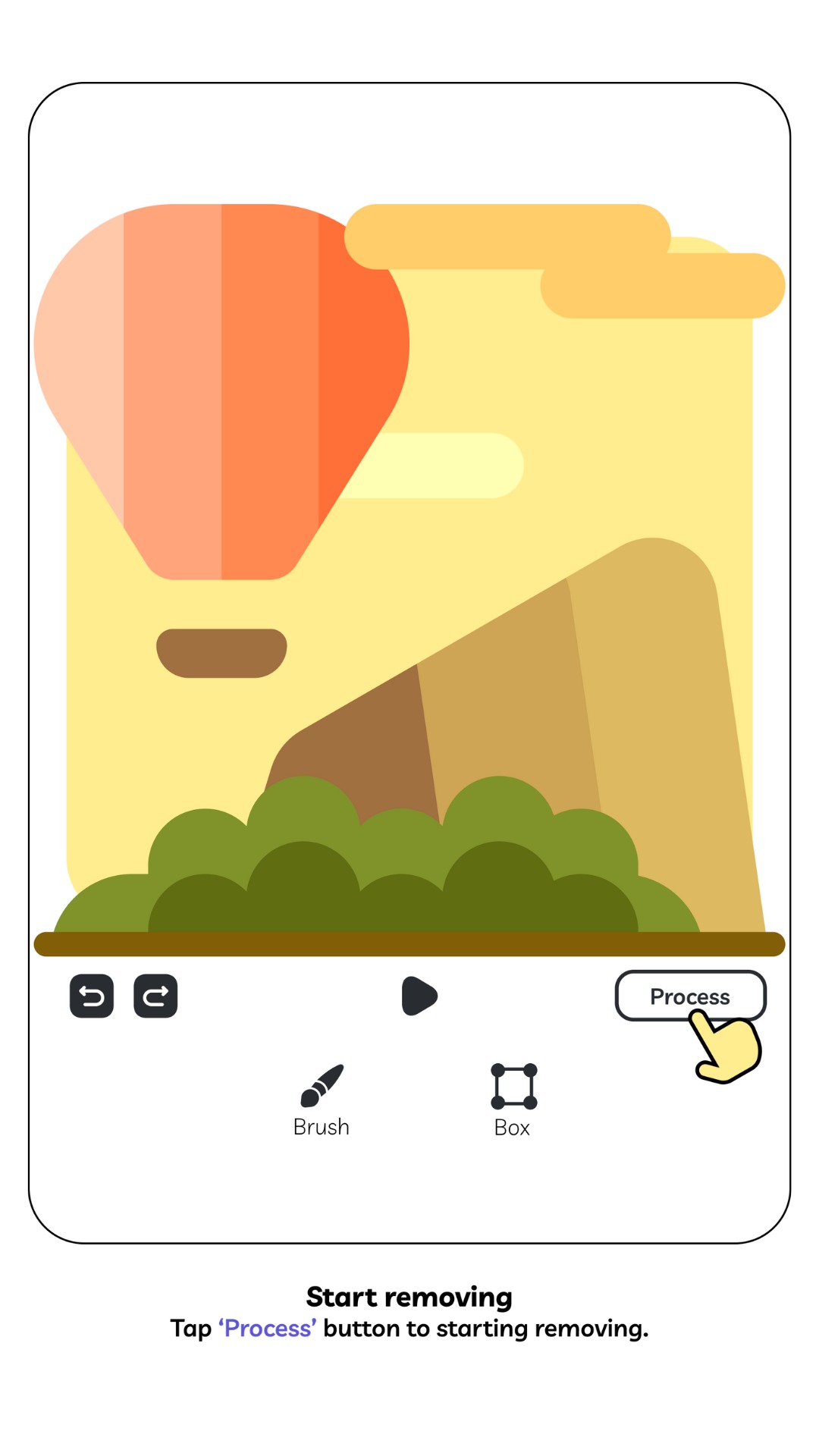 Get a high-quality video without added overlays. Don't forget to save the new version for later use. Don't be frightened by watermarks and symbols: now you know what to do with them.

You may also like: 13 Best Filter Remover Apps For Media (Android & iOS)
Remove watermark video retouch by Sounak Sarkar
This is one of the best apps for professional photo manipulation. If you don't like that your favorite photo contains a lot of distracting elements, use Remove Watermark Video Retouch.
Click on the eraser and specify its area of action. Artificial intelligence will independently determine the boundaries of the unnecessary item and erase it from the image.
Clear the picture taken from any website on which the watermark is placed. Now the video plot will be in the center of what is happening, and the added details and defects will not interfere with viewing.
The app allows you to create high-quality works that can be used for contests or given to customers. And also replenish your collection of publications in TikTok and Instagram. After removing any item you will see a background without spots and holes.
The app automatically compares and mixes colors so that the essence of the video does not change after processing. All the work is done under your control in real-time. You can watch as an unnecessary object disappears from the frame.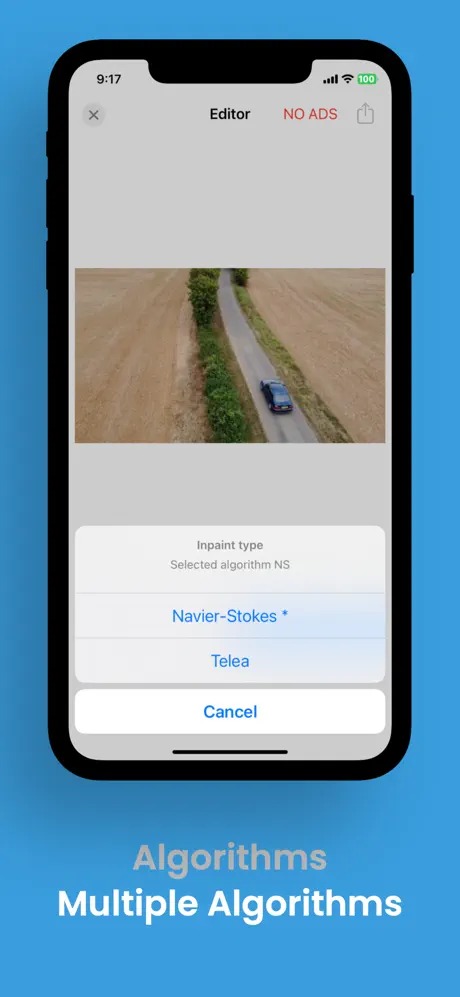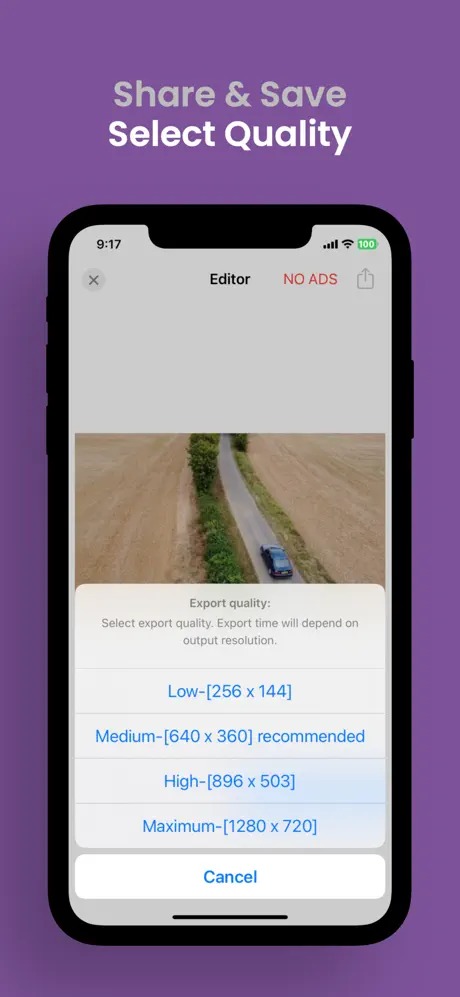 With the Remove watermark video retouch app you will get a fast and realistic effect without reducing the video resolution.

Remove Object – Photo Retouch by Negroni
Retouch any number of photos in just a few seconds. Use this app if you want to remove any objects from your photo. You don't need to be an experienced photographer or have skills as a photo editor. All the basic work will be done for you by artificial intelligence.
This app offers a lot of useful options. You can remove objects that are at any distance from the photographer. Their color, size, and shape do not matter.
Remove a group of objects and replace the background. Here you will find a lot of great options for creative and cute photos.
To use the eraser, just select it in the tools section and point it at the extra item. The program will do the work of detecting and removing the item on its own. Make your planned work even faster with the new Speed Retouch feature.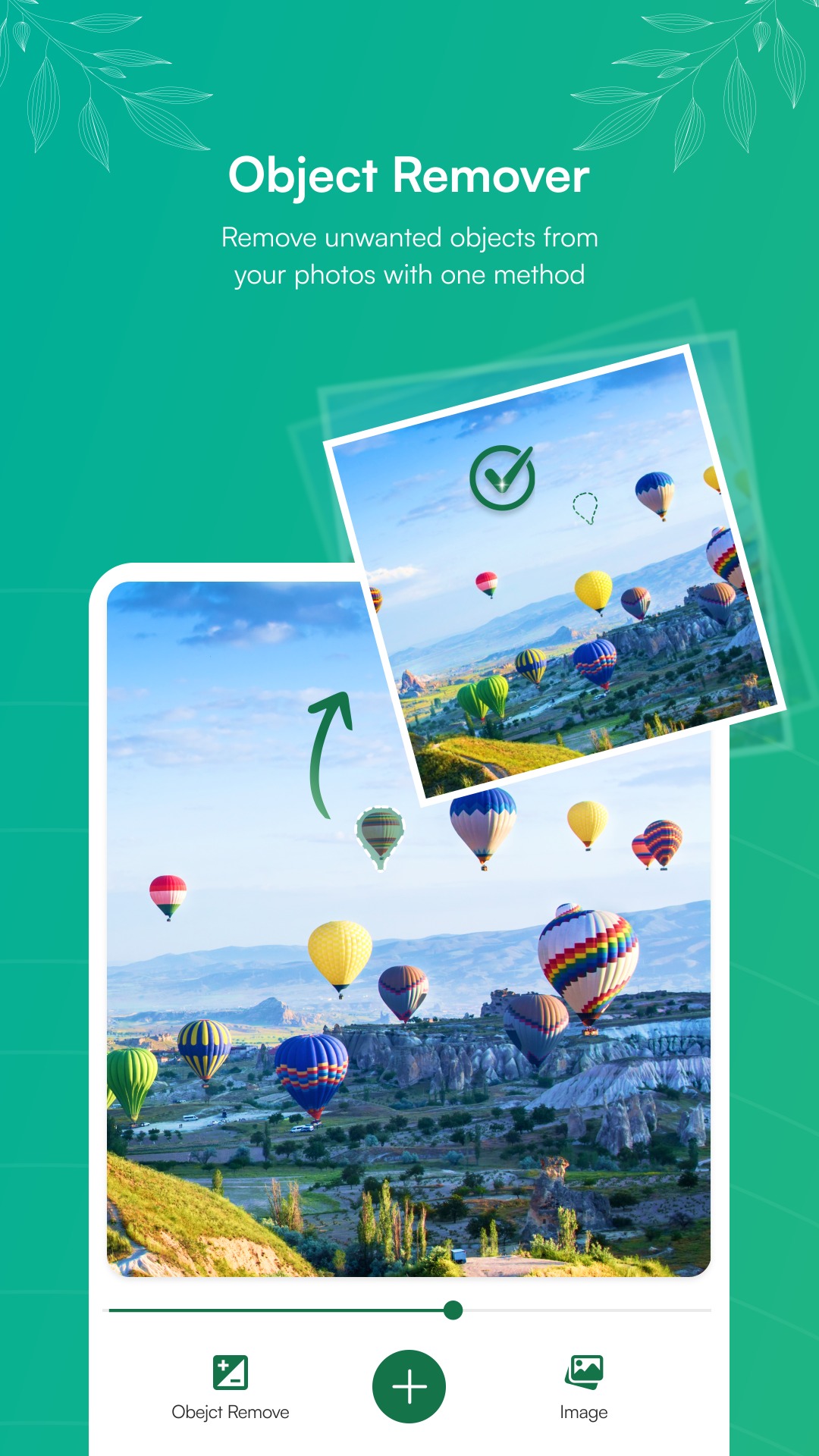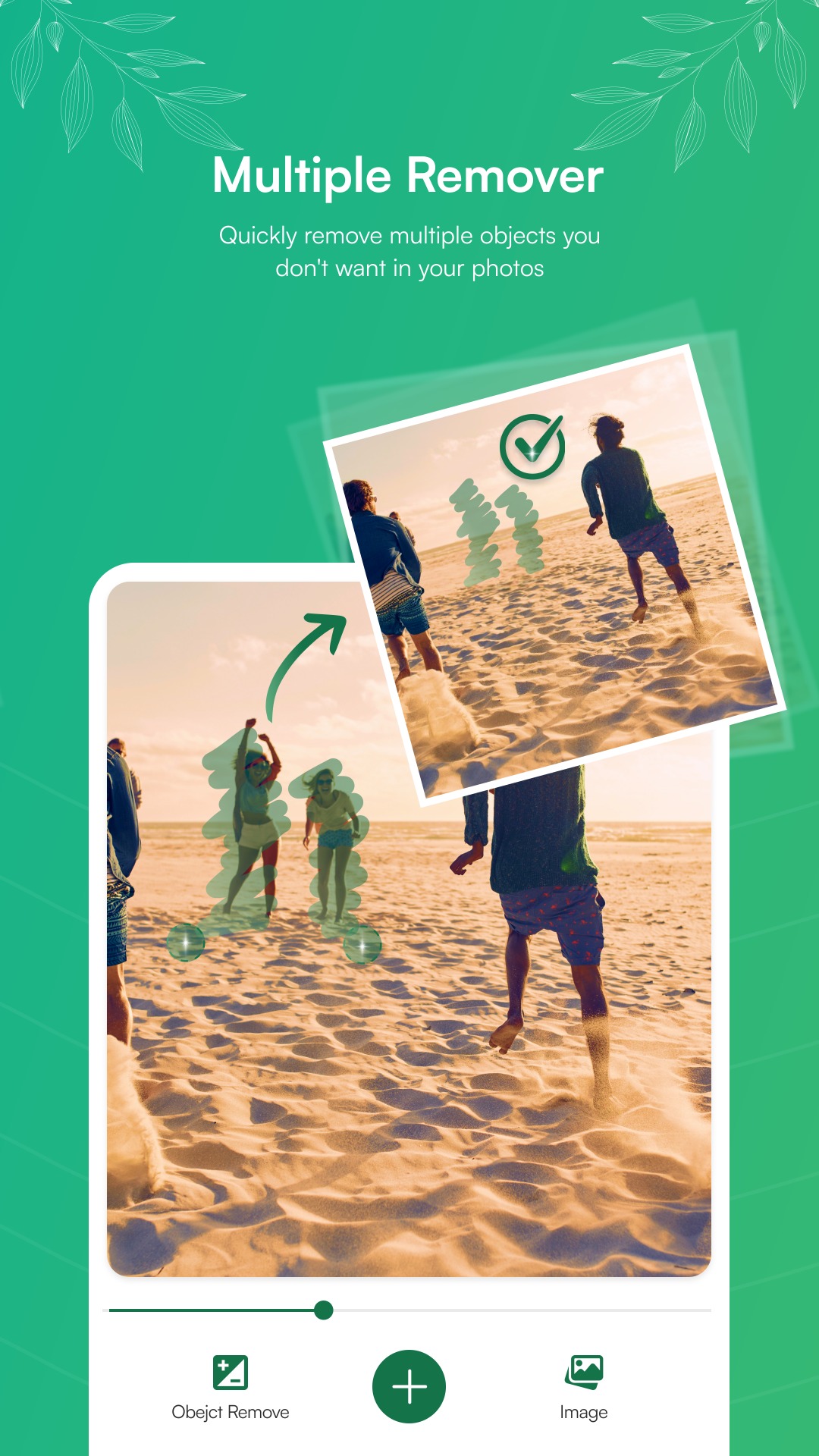 In addition to removing objects and backgrounds, you can use the app as a mobile photo editor. Change the color composition or make the photo black&white. Beautify the photo with a decorative frame and make text captions.

Remove Watermark, Easy Retouch
This app's actions are controlled by artificial intelligence, so the result is fast and high quality. Use the interactive eraser to permanently erase an unnecessary item from a photo or illustration.
You can use it to remove watermarks, text labels, and emblems. Get a clean photo with no traces of processing. By removing an item from an uploaded photo, you will get a clean, flat background. You won't have to think about what to fill the hole.
The composition of the photo will not be affected in any way, and you will be able to draw the audience's attention to the main subject. To use the eraser, just swipe your finger across the screen where the watermark is located. You will see the selected item on the screen disappear.
Don't worry about blemishes on your facial skin. One tap and the beauty filter will give your skin an even tone and glow. With zooming you can check the photo in detail and remove the smallest elements.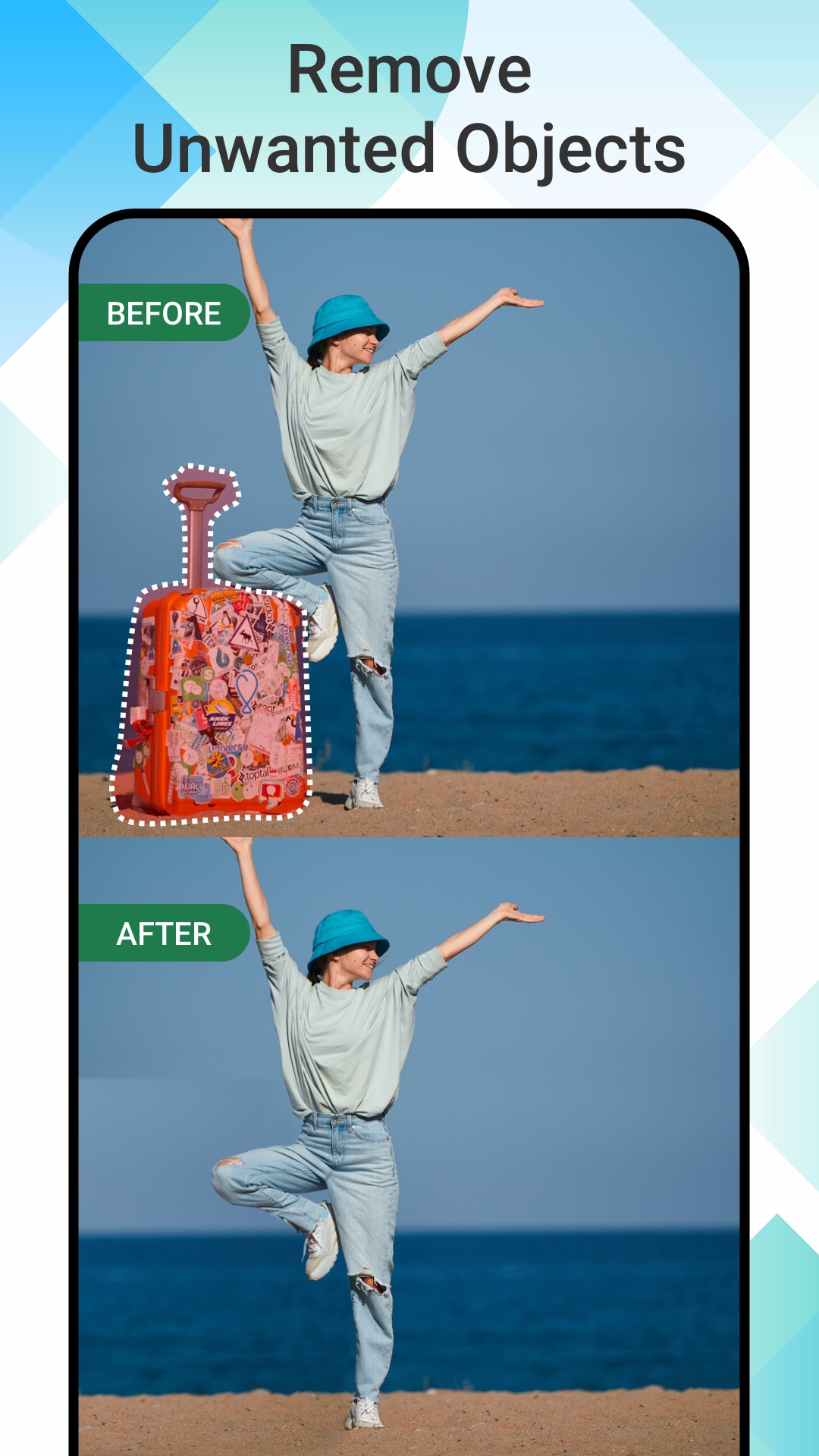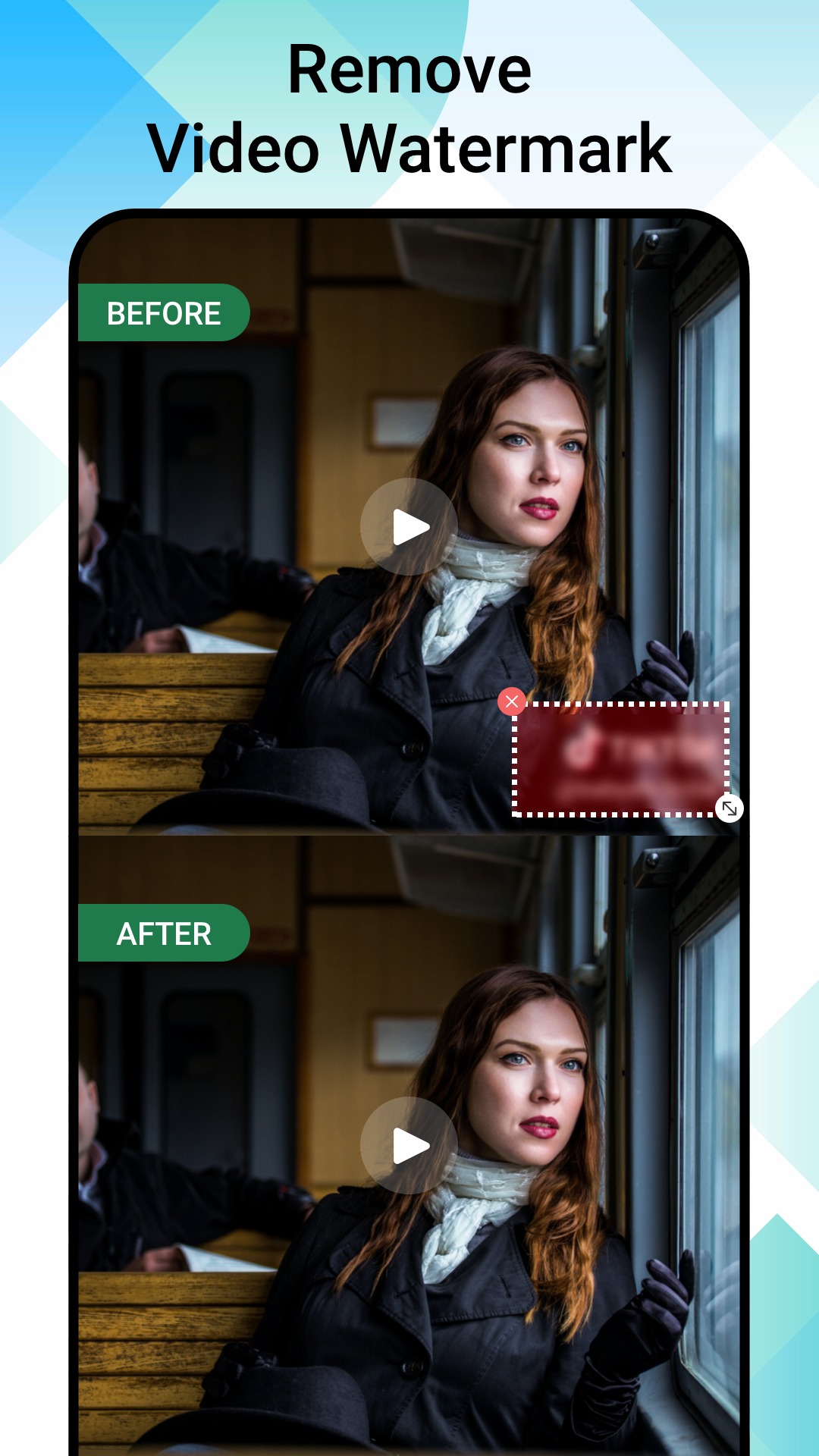 Match the right shape of your tools to the size of your subjects. You no longer have to choose between detailed retouching and image quality. Use this app for free. If you like this app, you can buy some extra tools separately.

Watermark remover, Logo eraser
Don't seek professional help until you've tried this app. Simple and easy to use at home, this video editor offers you a modern way to process video files. It will be useful if you want to remove a watermark or any text from a video. This applies to subtitles and graphic logos.
The other side of using the program is to add these elements to a basic video. You can decorate your clip with captions, text explanations, and atmospheric drawings. Besides, you can adjust the length of the file and trim it to your needs.
If the video you're looking for is displayed with a watermark, it's no reason to start searching again. Just use the eraser option and let the app do its job. Analyzing, searching, and removing elements from the video is automatic.
Choose the Add Watermark tab and specify its image. You can place your logo, caption, or watermark anywhere on the clip. Create a video that meets the requirements of social networks and online services. You don't need to use another editor to customize your file.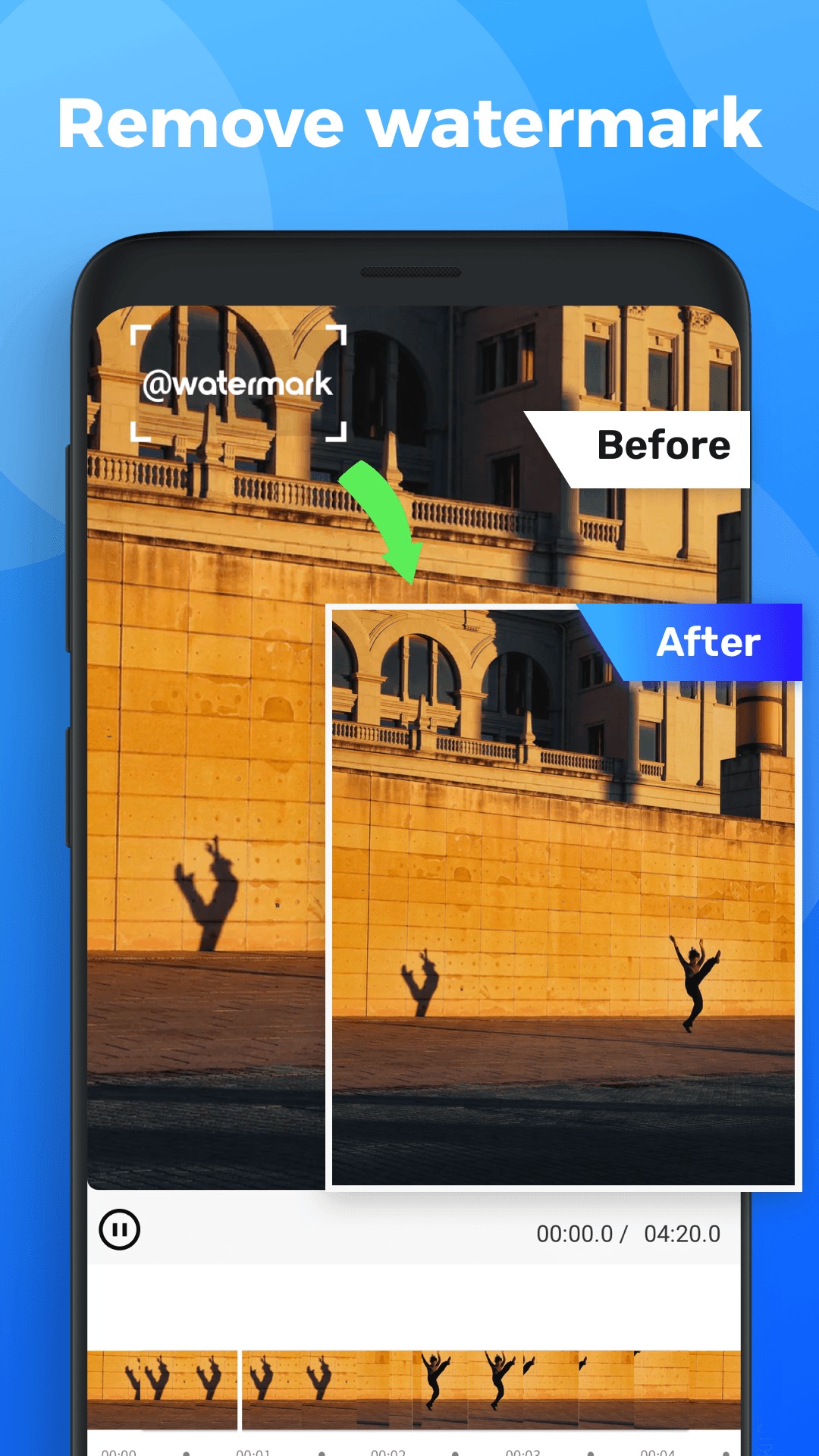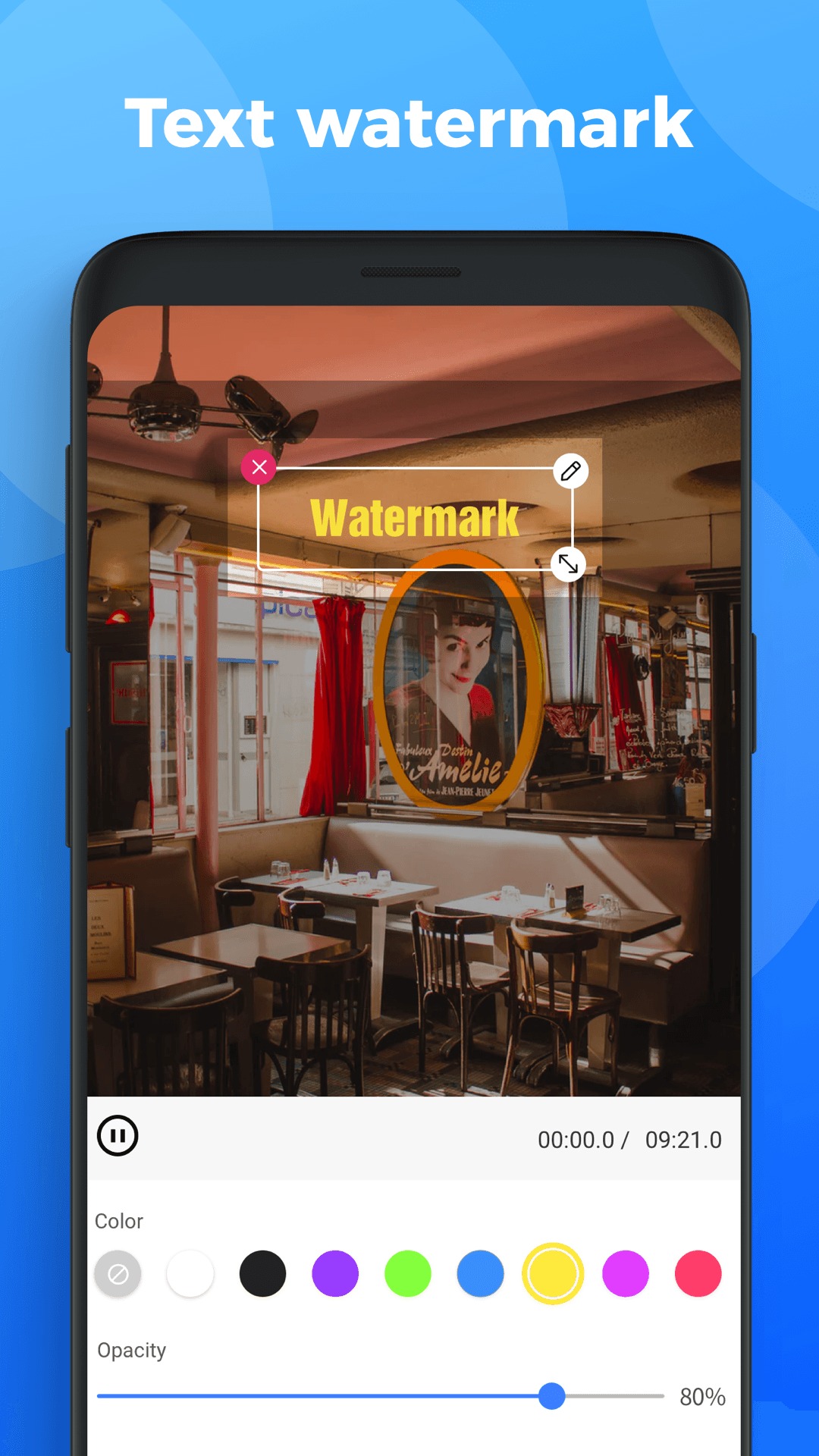 One app for placing and removing extra elements on videos of different formats. The clear menu makes it easy to navigate and find the right option.

You may also like: 11 Best Background Remover Apps for Android & iOS
REMO AI: Remove Object & BG
Edit your photos and images with REMO Al. The new generation photo editor removes any objects, including watermarks, from your pictures and builds a natural background without gaps.
To get pictures with unusual scenery, you can change the background to any of the offered variants. Move the cursor over an unnecessary object and forget about its existence.
This app is based on artificial intelligence. The editor is still in the development stage, but today it has helped to make millions of photos brighter and more attractive. The photo will not suffer after editing, and all the attention of the audience will focus on the main composition.
It is a useful tool for creating advertising brochures and illustrations for magazines and books. Your photo album will look perfect thanks to REMO Al.
If you need to remove overlapping text, watermarks, or stamps, use this editor. The Eraser tool erases entire groups of objects and people. It only takes a few seconds to change the background to an incredible sunset, ocean view, or space landscape.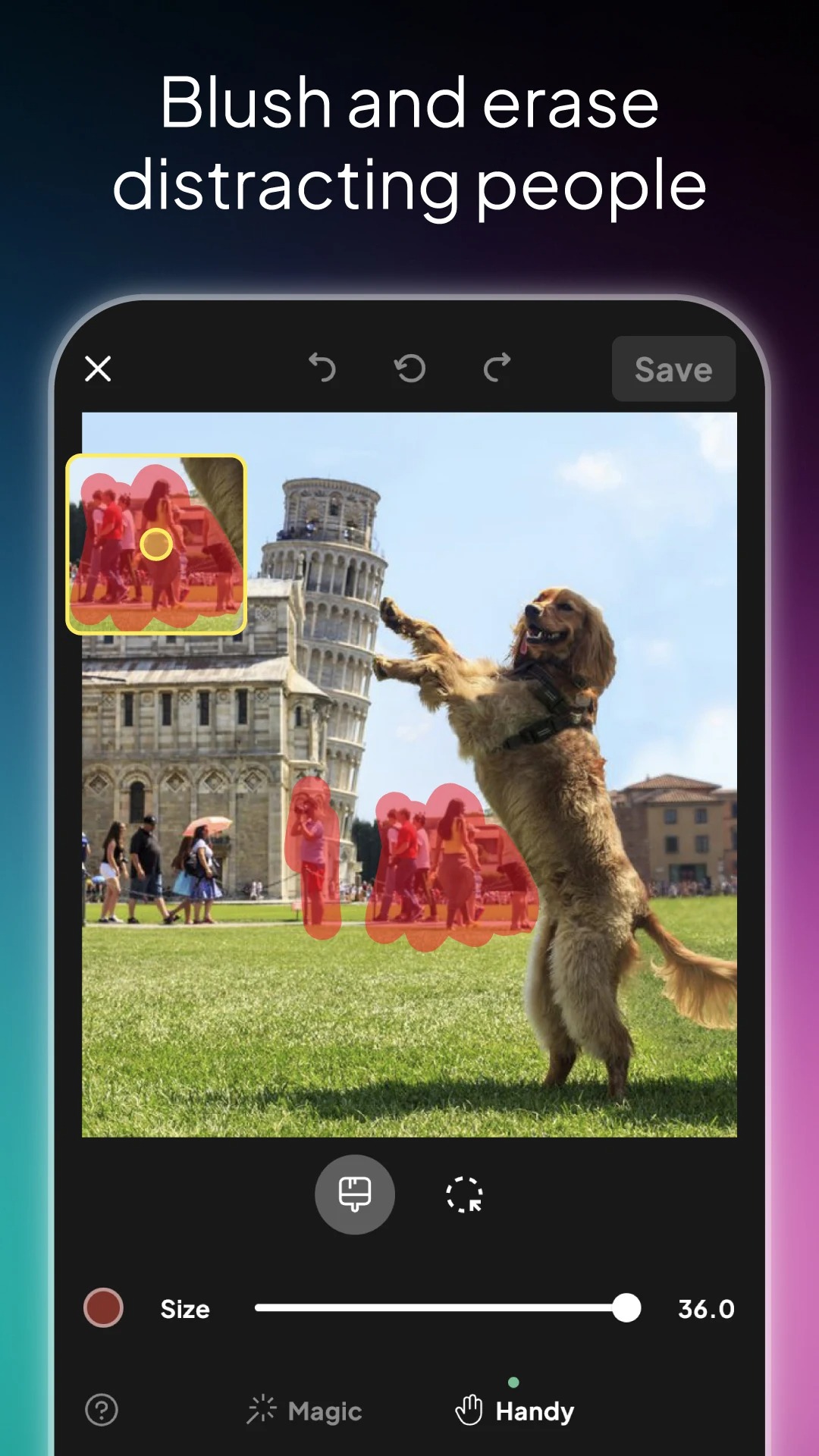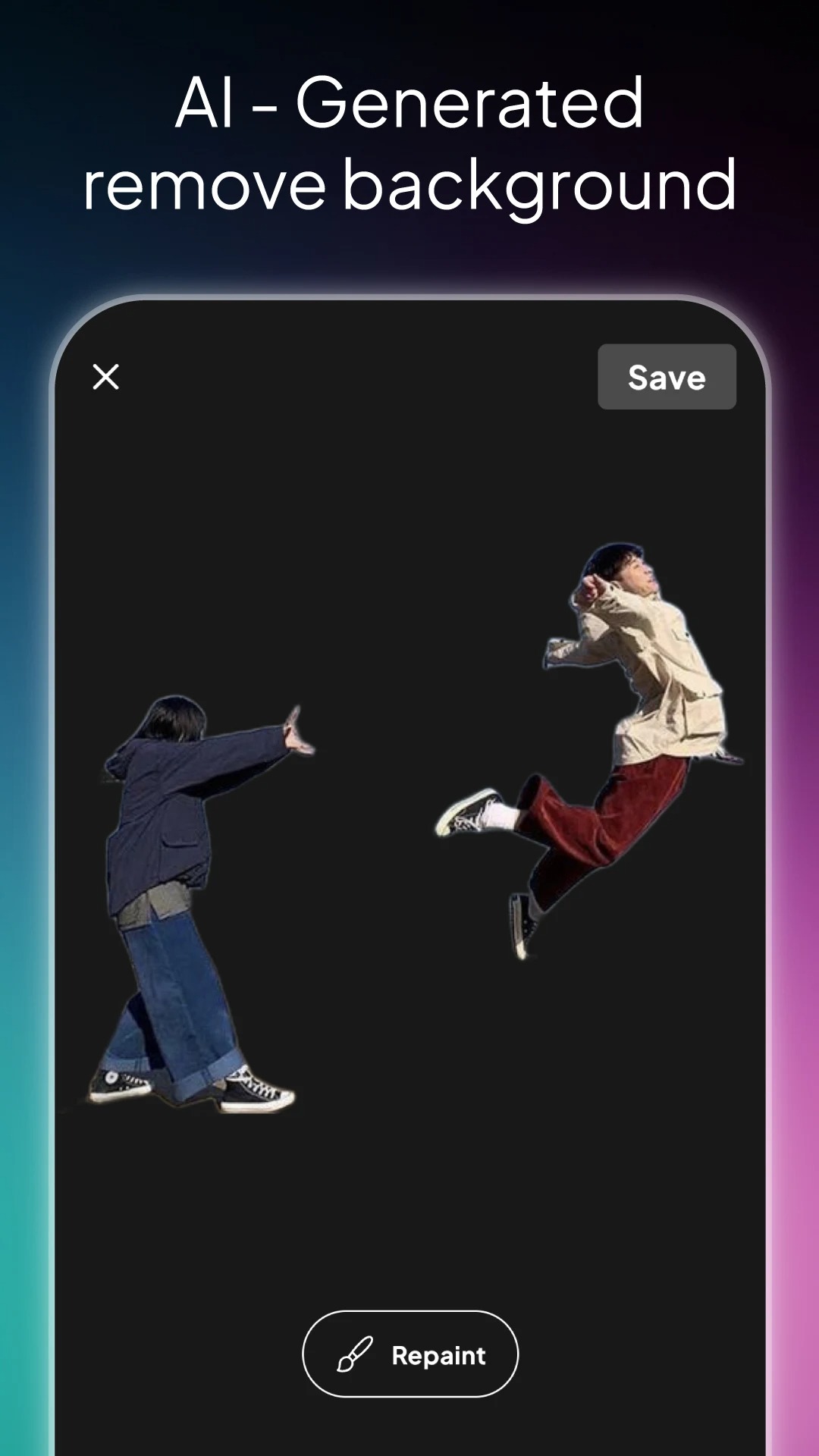 The edited photos are suitable for sharing on social media and other platforms. You can print them out or use them to publish anywhere.