Artificial intelligence can generate anything from natural images to alternate universes. Using this novelty, you can even make your social network profile unique and memorable. For example, by using these free AI avatar creator apps.
Yet, if you have opened this article, whatever your goal is, you need to generate a human face. You specify the parameters yourself, the rest of the work will be done by these best free AI human face generators.
AI Art Generator by TAPUNIVERSE
Al Art Generator turns ordinary text into colorful images in front of an amazed audience. Now you don't need to be trained to work on website constructors to get high-quality themed images. It is enough to describe in a few words what exactly you expect from the finished picture.
In analyzing the text, every detail is important: meaning, mood, and atmosphere. Tell for what purposes you will use the finished picture. You may need to make a collage or a presentation. Or you want to attract the attention of new subscribers on social networks.
Your imagination is no longer limited by drawing skills and the use of computer programs. You are guaranteed to get an image of 100% uniqueness.
Al Art Generator allows you to create images of different complexity. You can order a whole series of paintings in the chosen style. Make any human face so that anyone can't understand that he or she is generated by AI.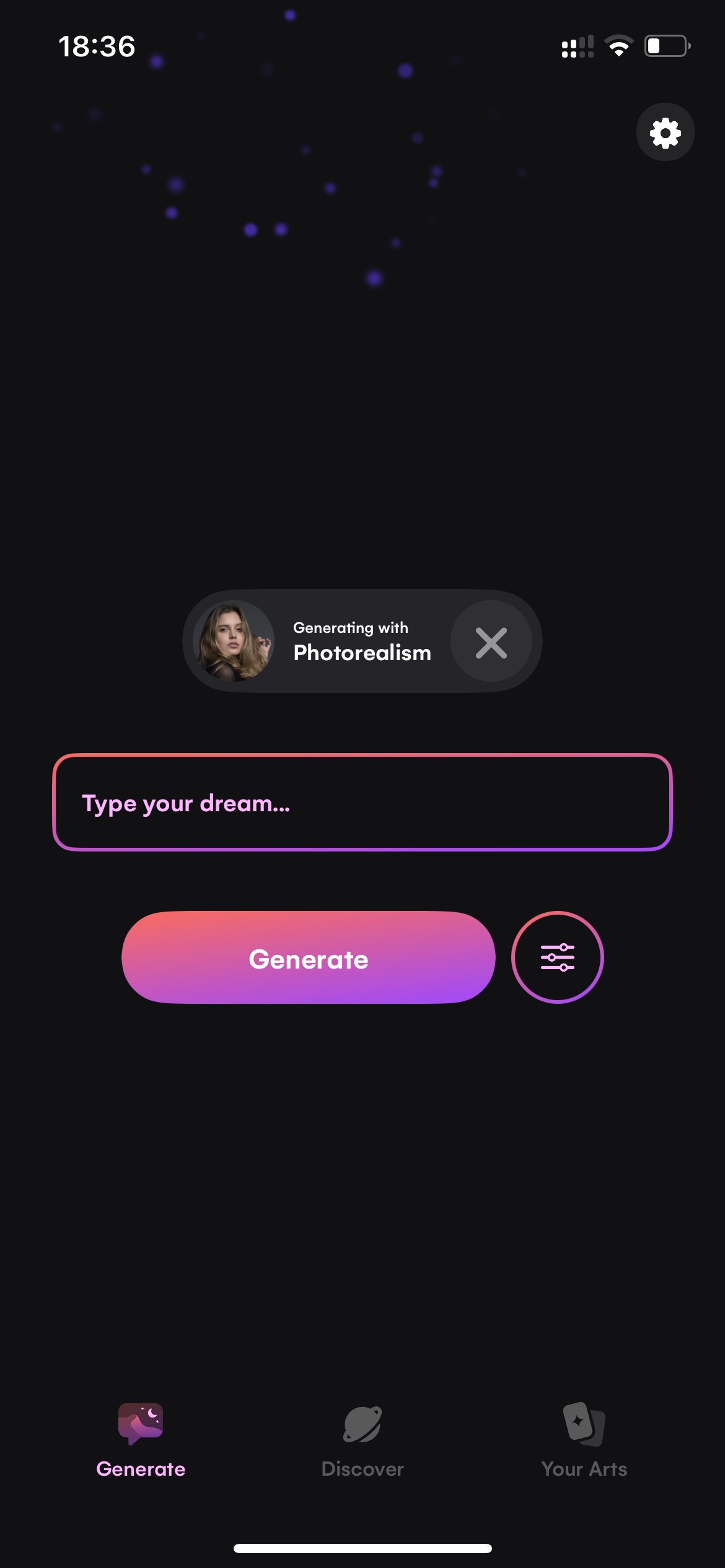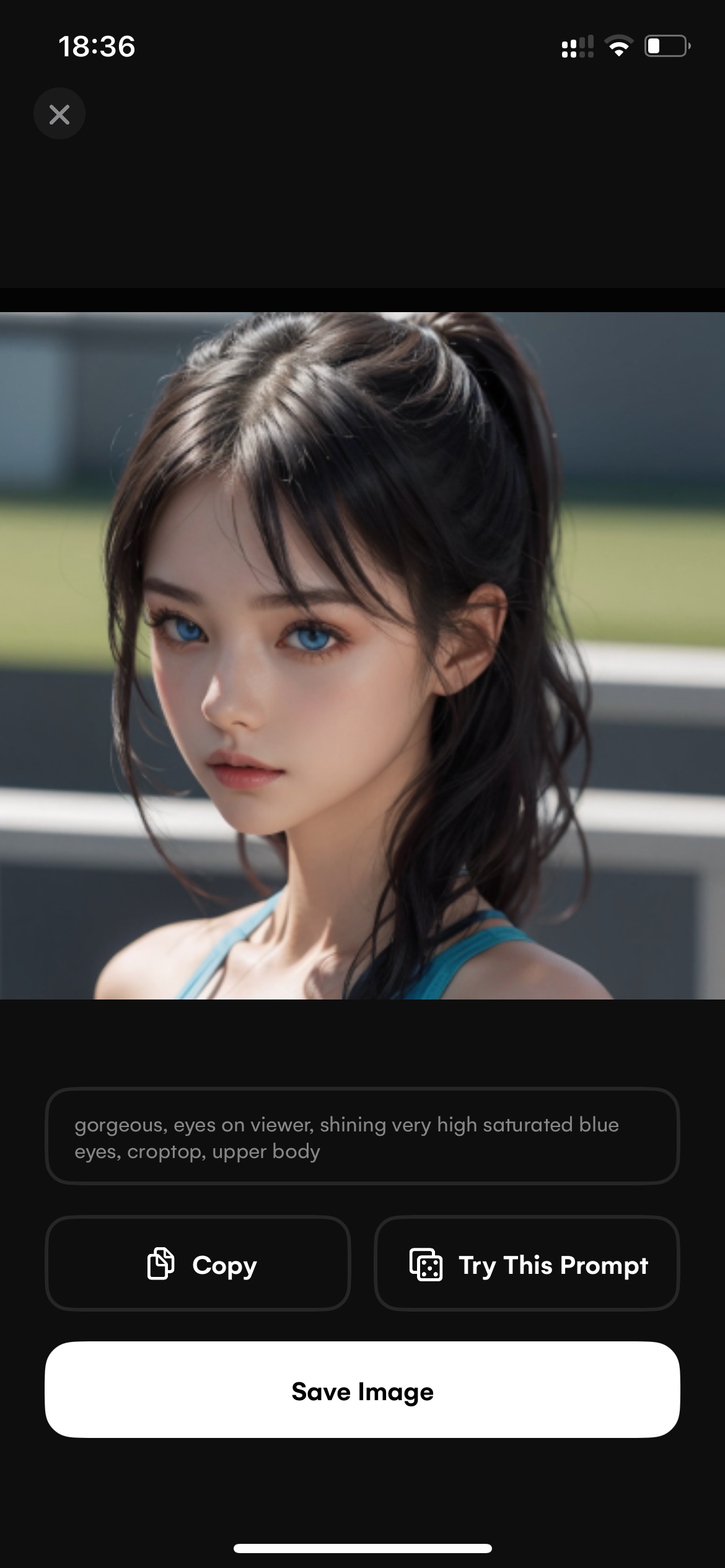 If you want, you can use other images instead of text. It can be your photos, pictures taken from the Internet, or drawings on paper. Master a new stage of artistic creativity.


You may also like: 9 Free Deepfake Voice Generator Apps & Websites
DaVinci – AI Photo Generator
DaVinci helps to get high-quality pictures for all users, regardless of their artistic talent. You don't need to process other images to create your masterpiece. Just a few words about how the perfect picture should look and you will have it in your undivided possession.
Artificial intelligence processes a hint from the user within seconds, and the result exceeds all expectations. To start the generator, you don't necessarily need to use text: upload any picture you want to process. The program will automatically create a new masterpiece based on it.
After you have written a text or uploaded an image, you need to choose the style of the future picture. Choose a realistic for human face generation. Add a little mysticism or noir.
Nothing is impossible for the generator. You can also design digital pictures and tattoos, logos for advertising, and realistic images for magazines and books. Create any number of images in different styles. Your creativity will reach new limits in productive work with artificial intelligence.
Test new images: cartoon and noir sketches, digital photo processing, emojis, and memes. Your social media avatars will attract attention and get lots of likes. Images can be saved on your phone or shared on social networks. Make your creativity more colorful with DaVinci.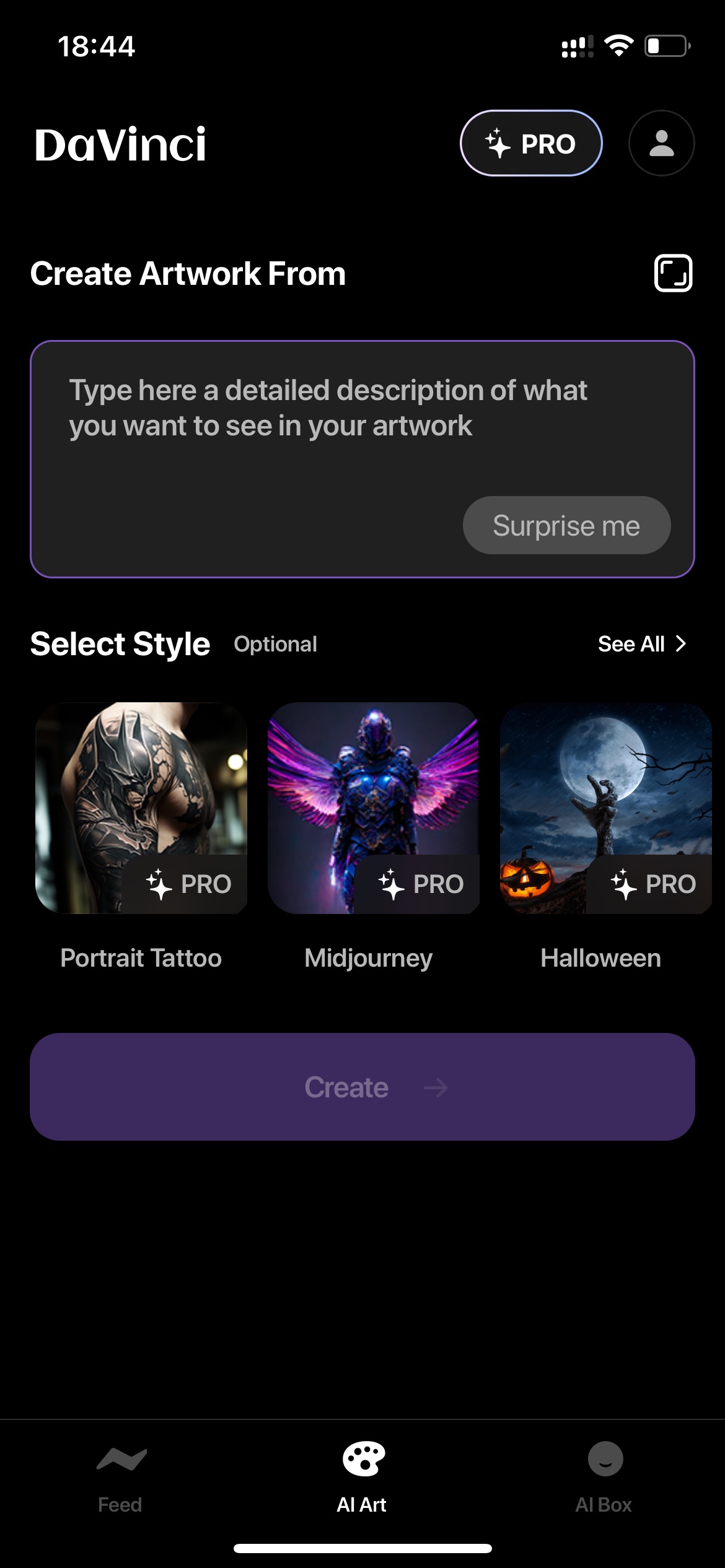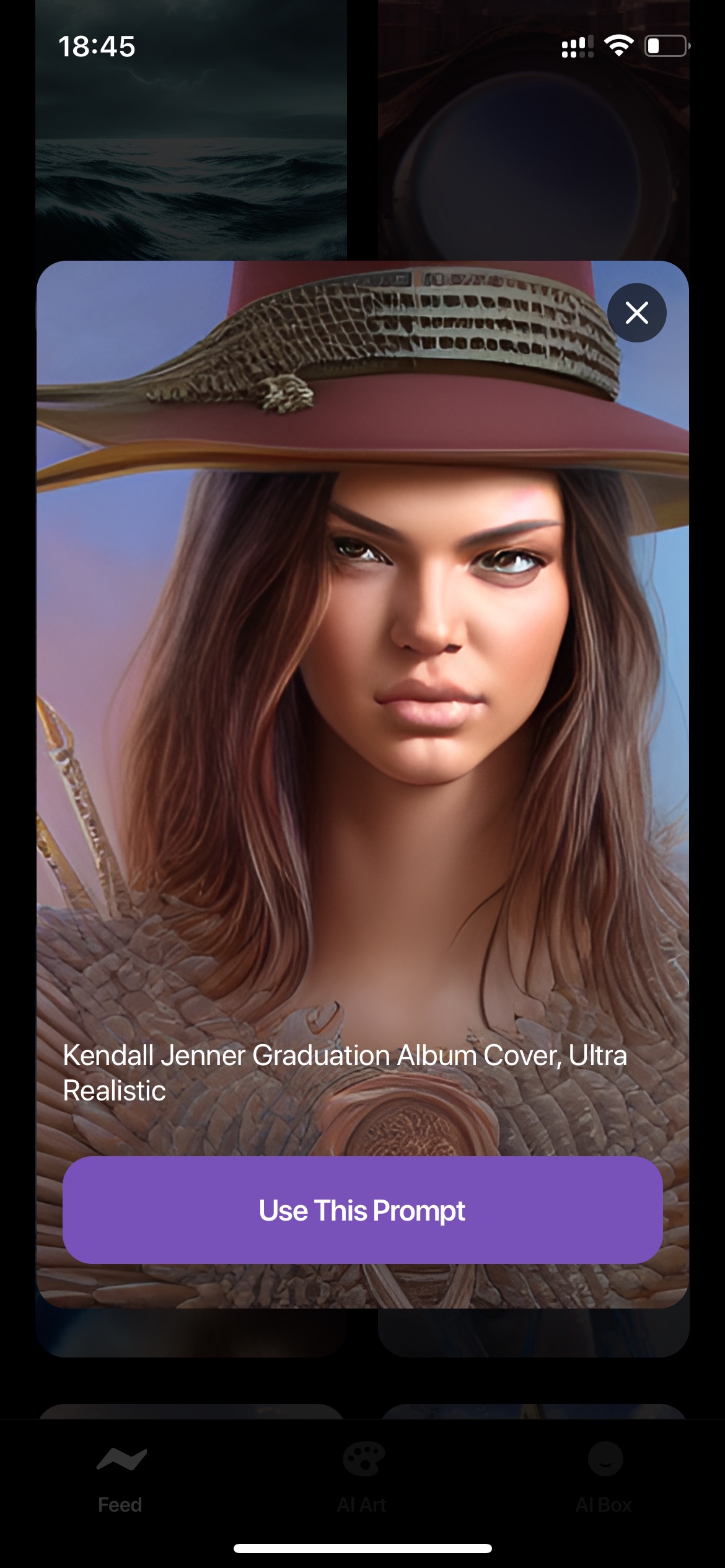 It's worth noting, that the generation process take a lot of time. But the result is incredible and astounding.


Imagine Go: AI Art Generator
Imagine Go brings art even closer and more accessible. The image generator is powered by artificial intelligence. Get ready-made human face for your social media profile or vivid images for effective advertising. Test many styles, transforming your photos or hand-drawn pictures.
The program replaces many artwork apps. The finished pictures are characterized by a vivid visual effect and stunning realism. They are suitable for publication in magazines and newspapers, as a basis for children's art. Coordinate your future work with your clients by showing a possible result.
If the generated photo is not suitable for your purposes, it is enough to slightly change the description of the prompt or upload another photo.
You can get the image at any stage of readiness. Create a layout or sketch, make a single copy of a photo, or display a complete series of images. To get started, provide a text prompt or upload a finished image.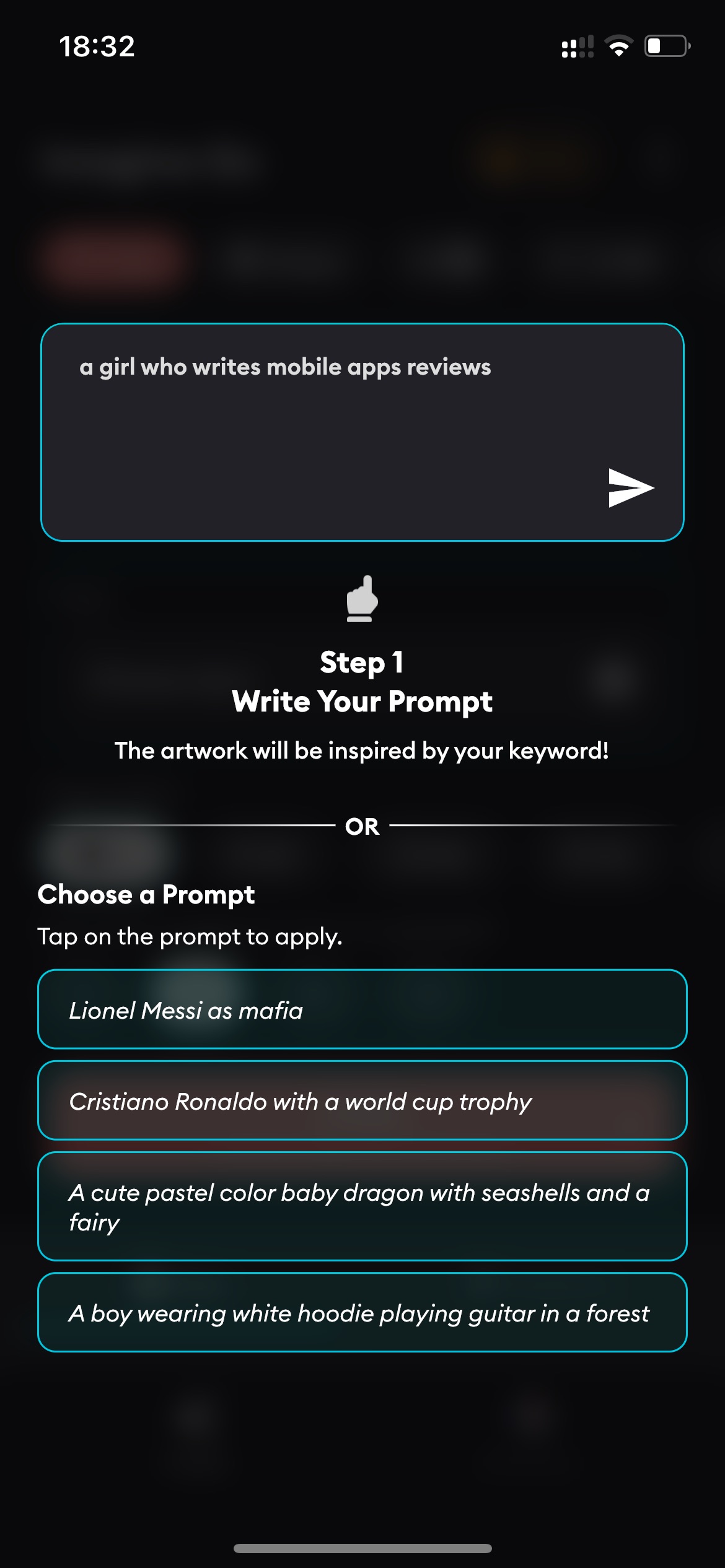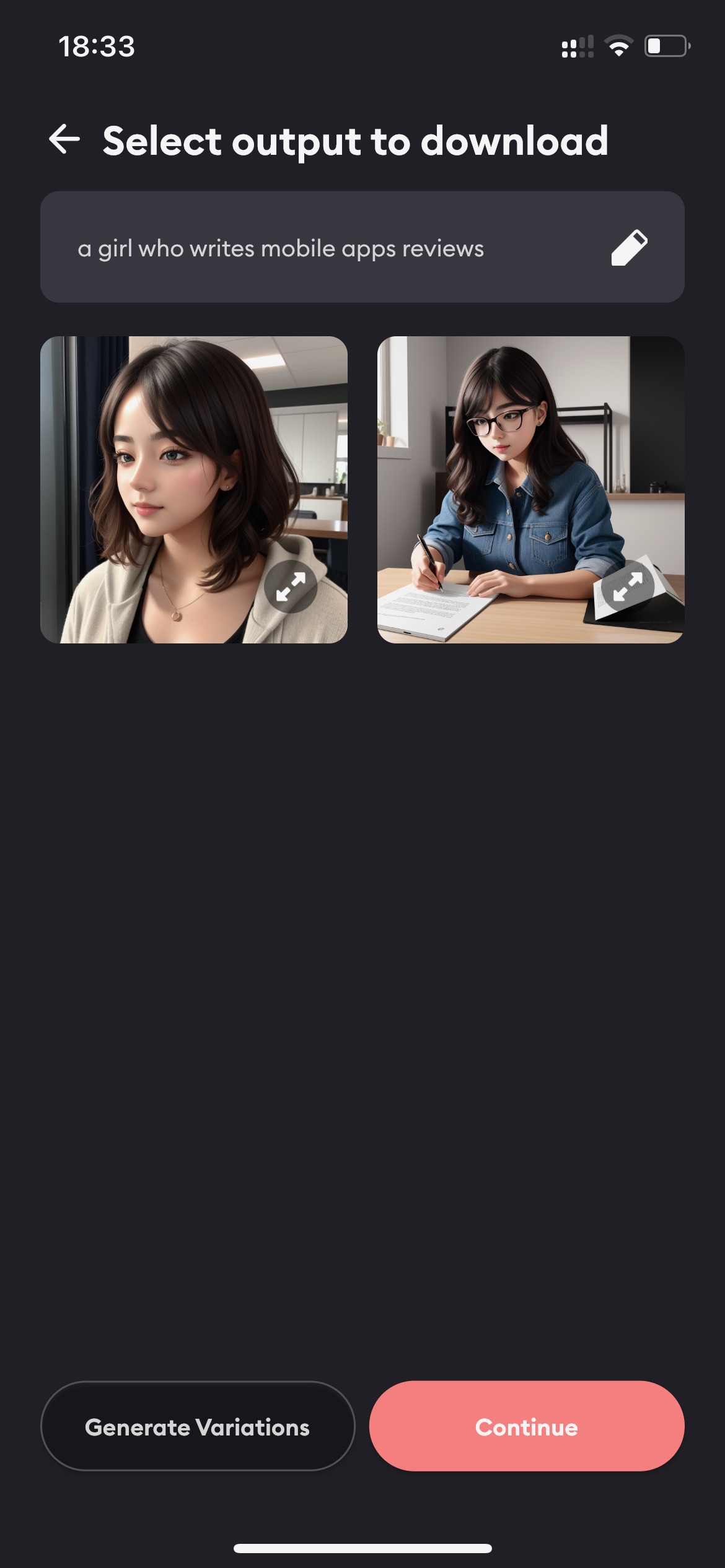 Artificial intelligence analyzes any option. You don't need to write a large text: a few words, word combinations, or a line from a poem or a movie are enough. The initial picture can be taken from the Internet, and created by you on paper. You can use your own picture to try many styles.


Illusion AI
Make your everyday life brighter with Illusion Al. A modern way to create unique images without skills and investments. All you have to do is to give an idea of a future picture and the generator will do the rest of the work for you.
The app turns words into high-quality illustrations in a few seconds. You can repeat these steps an unlimited number of times. Use the generator in all spheres of life: work, study, hobby, and personal life.
Give your friends a funny caricature, and get any human face portrait painted in oil in the style of a famous artist.
The image generator is in demand for representatives of the art sphere. It also be useful for posters, advertising brochures, etc.
To get the desired result from the first time, you need to write a clear and detailed hint. Choose the style in which the drawing will be designed. This applies to the manner of reproduction, the mood of the picture, and the tools for its creation.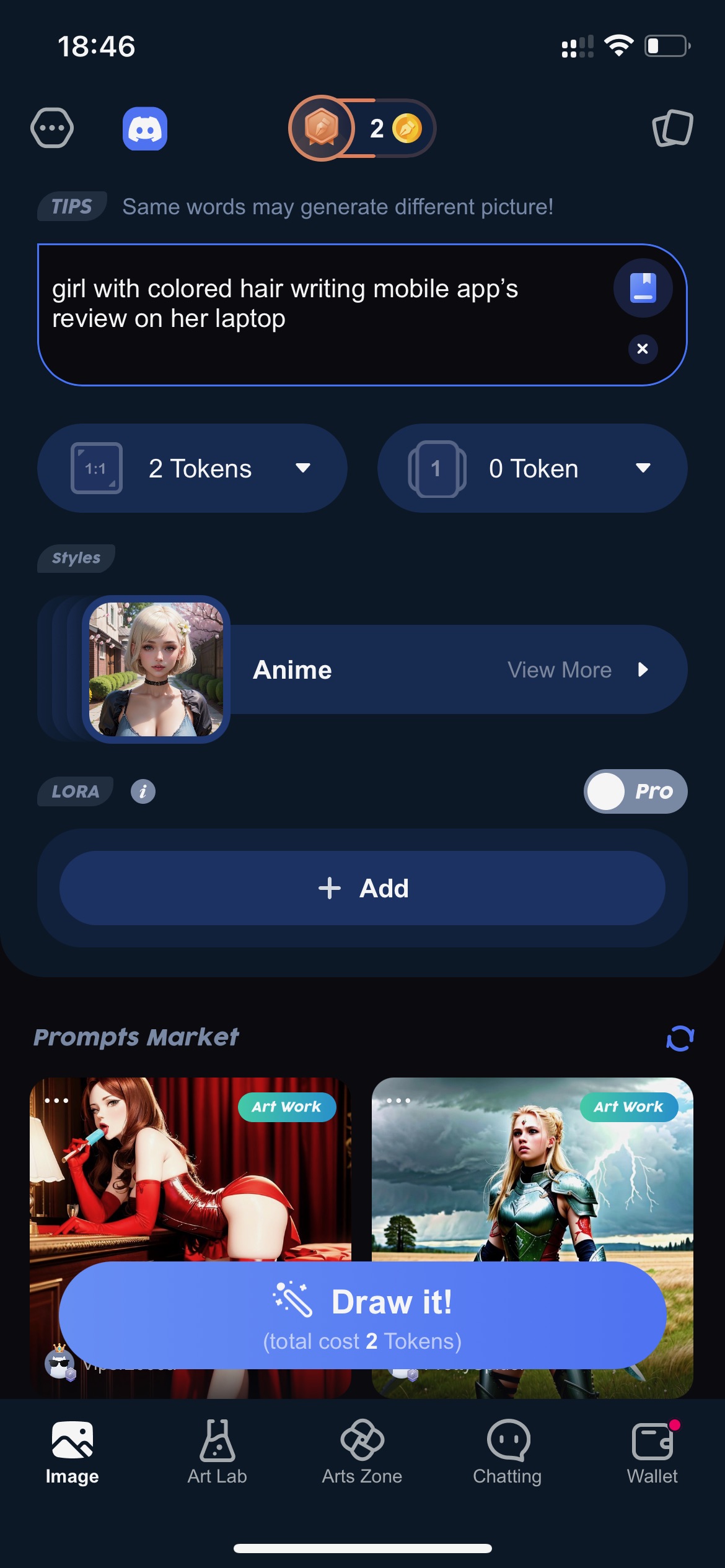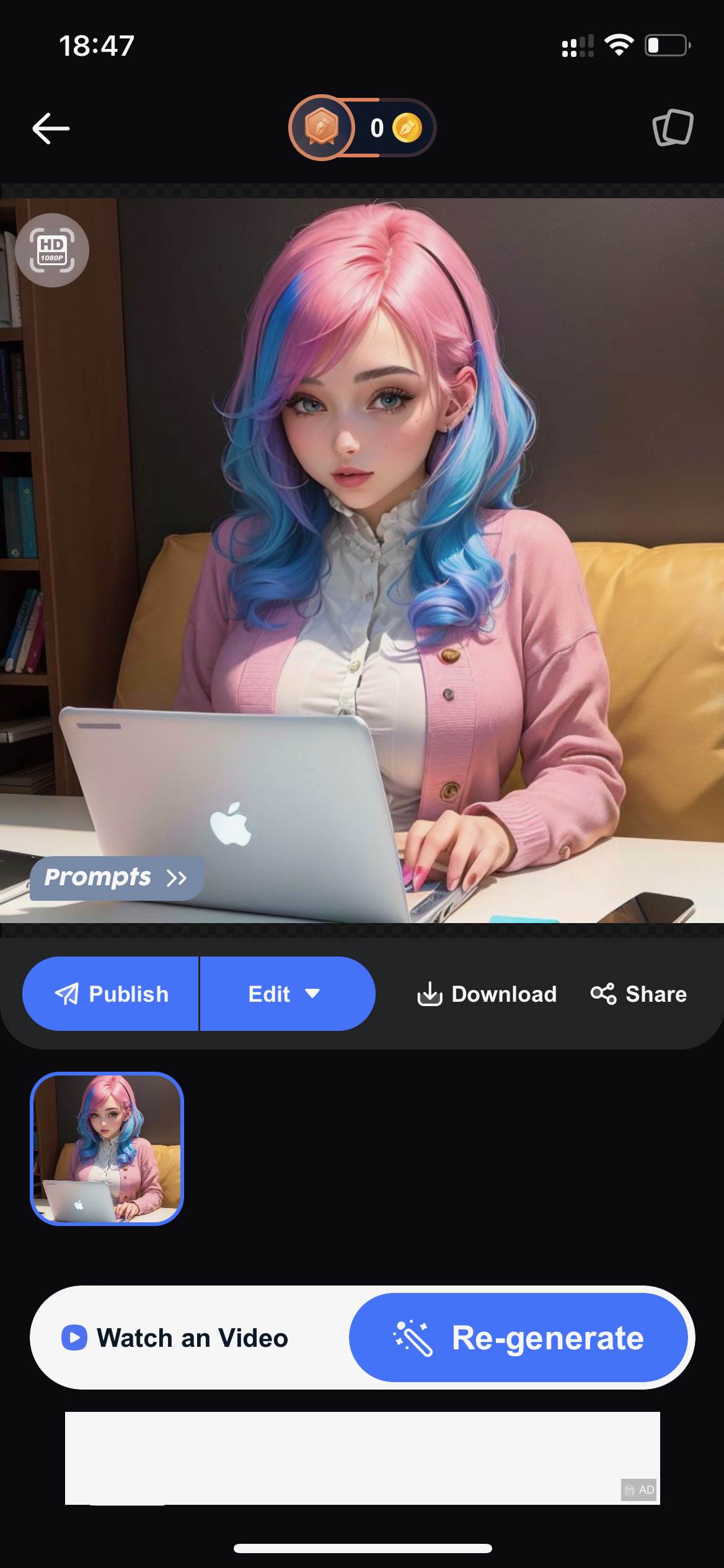 Customize the background and size, and choose the brightness of colors and the atmosphere of the finished picture. All images are characterized by a unique design and have no analogs. Immediately after creation, you can work with them in any direction.


AI beauty by PickerSoftNet
Al Beauty is a tool for creating images of pretty girls. You can use the generated photos for advertisements, computer games, and decorating your room.
The app works based on prompts from users. You need to describe how a beautiful girl will look in the finished photo. Specify her nationality and hair color. Next, choose the style of the photo. It can be a pencil sketch, a portrait in watercolor or oil, or a painting in medieval style.
Do not forget about anime and manga, as well as cartoon effects. Describe the hairstyle, makeup, and clothing. You can choose the background and location for your model's photo shoot. This app will be useful for everyone who appreciates beauty and wants to find more new ideas for their creativity.
Save images with one click. They can be emailed, or used for publishing and advertising campaigns. All pictures are made realistically and are of high quality. Just write a few words and watch them turn into a gorgeous girl without your participation.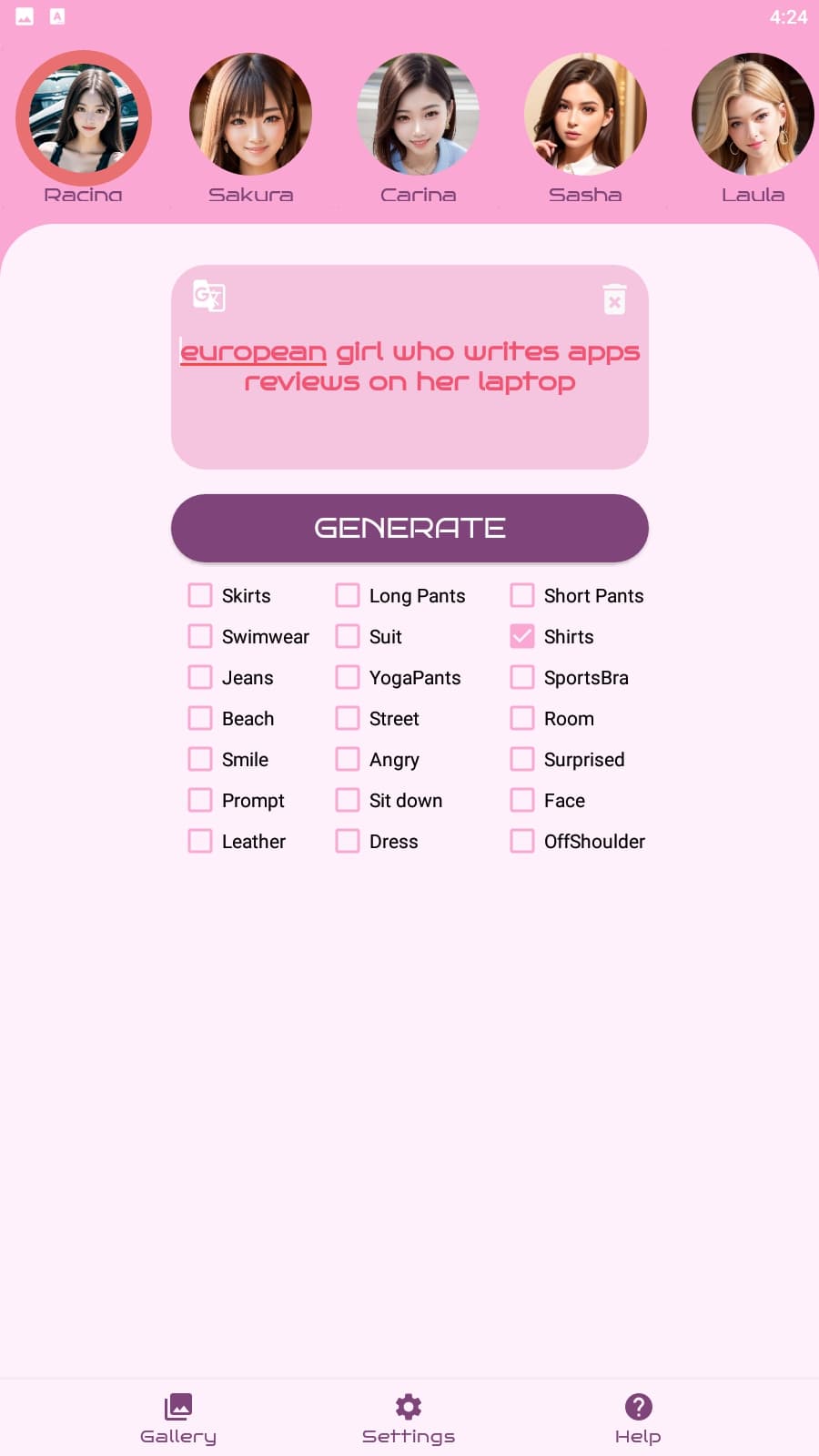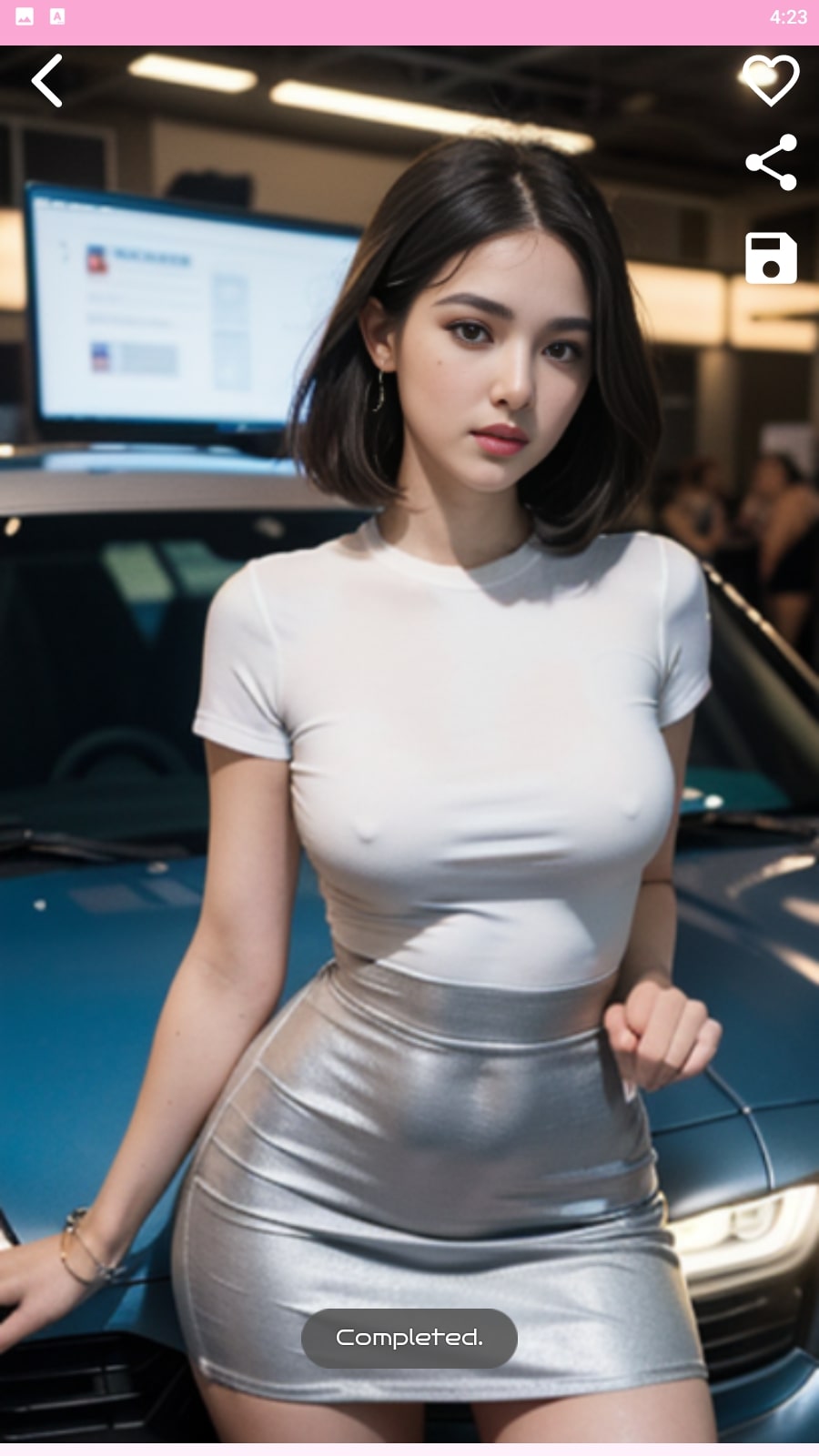 There are no bans on the number of works created here. With this service, beauty and art have become even closer.

Imagine: AI Art Generator by Vyro AI
Go beyond the usual vision of the world with the Imagine app. Conquer new worlds and galaxies, create new universes. The illustration generator is suitable for creating tattoo sketches and advertising logos. On its basis, you can get funny illustrations for books, comics, and magazines.
But all these functions are not comparable to the ability to create a real human face. Take a look at the screenshots below to see how well Imagine has accomplished this task.
Decorate your social media page with professionally processed photos. Watch your pencil sketches take on a finished look. Give ordinary objects unimaginable properties. Show your vision to the world.
The first step is a text prompt. Write in your own words everything you want to see in the picture. This can be a rambling text, lines from famous works, or popular phrases.
Another option is a hint in the form of an image. Just upload a photo or image in the designated field. Next, you will have to decide on the main style. Copy the techniques of famous artists, turn your friends into cartoons, or create a whole collection of authors' emojis.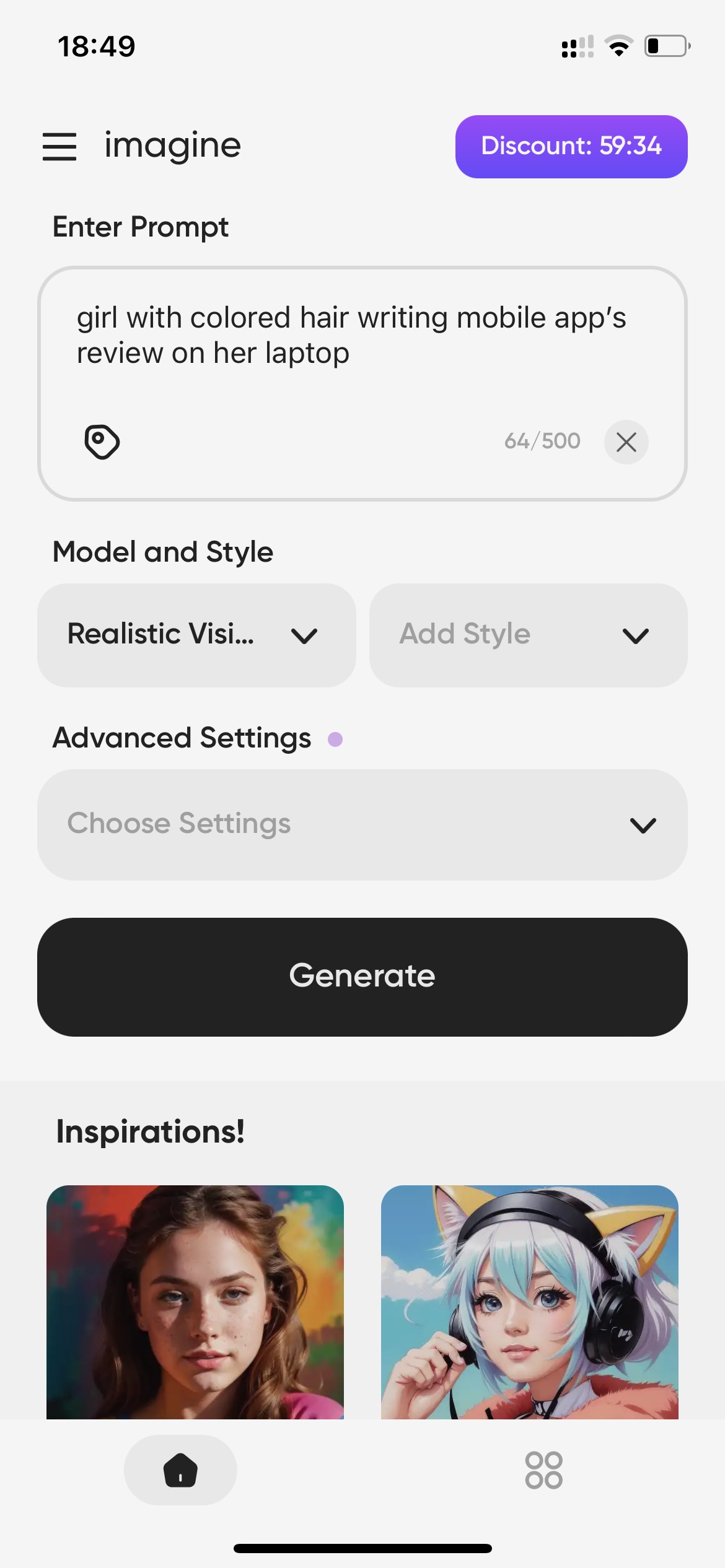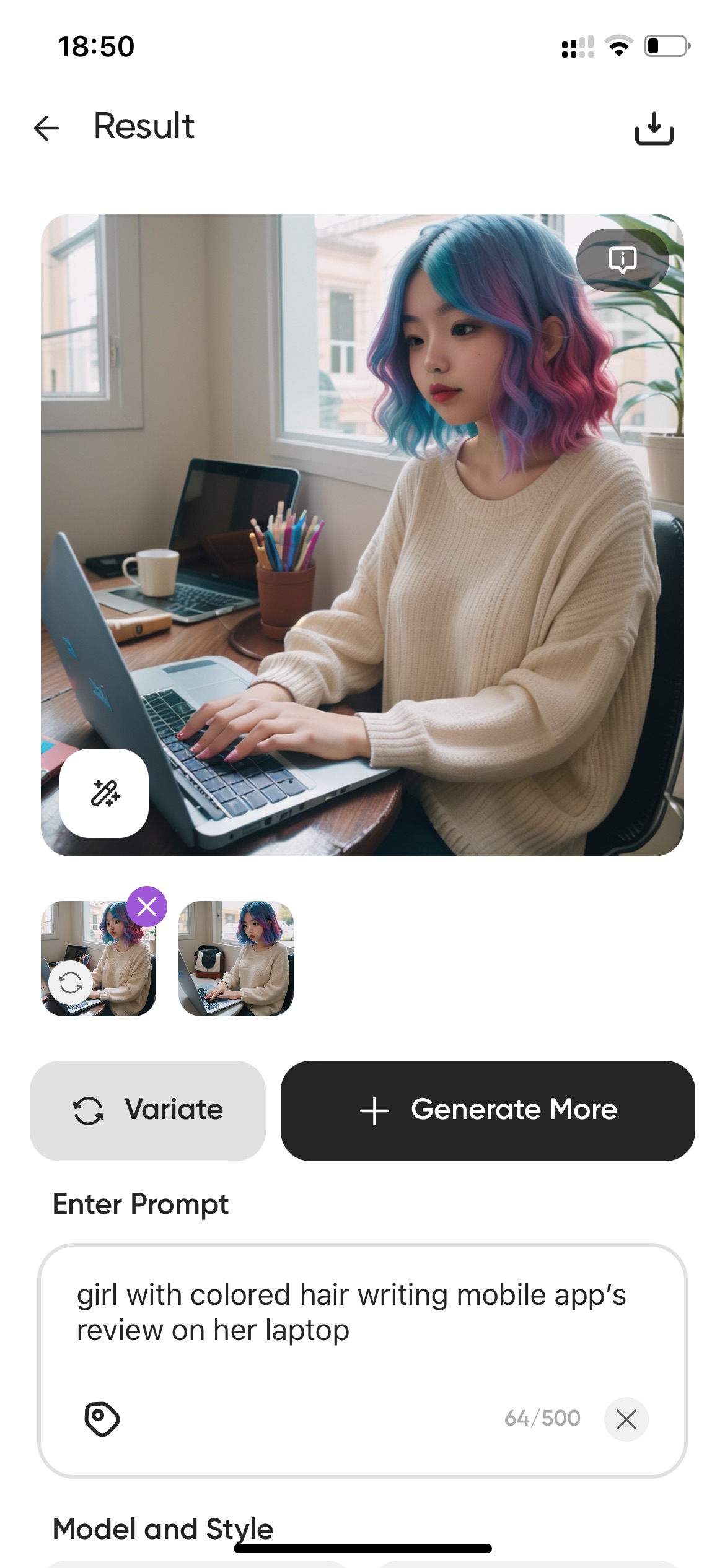 Usually, the generator work takes no more than 10 seconds. You can adjust the image after it appears on the screen. Supplement it with important details, remove unnecessary elements, and change the color scheme. Imagine is an integrative canvas for your creativity.


You may also like: Is it AI? 5 Free AI Image Detection Tools
AI Art Image Generator – GoArt
GoArt is a unique opportunity to visualize words. The app generates new images based on your text prompts or uploaded pictures. The data is analyzed instantly, and artificial intelligence gives the most optimal result.
Here you will find many interesting options including cartoon masks and different painting styles. Immortalize your portrait in a surrealist style. Get a closer look at the manner of Van Gogh and Dalí.
You don't need to know about art to get an original and bold painting. Challenge conventions: experiment until you get the perfect one.
Choose any slogan, or a phrase from a movie, or tell the desired result in your own words. Then specify a style for image processing. Check the work of artificial intelligence and neural networks.
The app works with any photos, including people, animals, and any objects. An ordinary view from the window will acquire a symbolic meaning in the style of cubism or futurism.
The finished image is your property. You can transfer it to NFT format and put it up for sale. You don't need to be a seasoned professional to make real money in the art field. Save your masterpieces in HD format.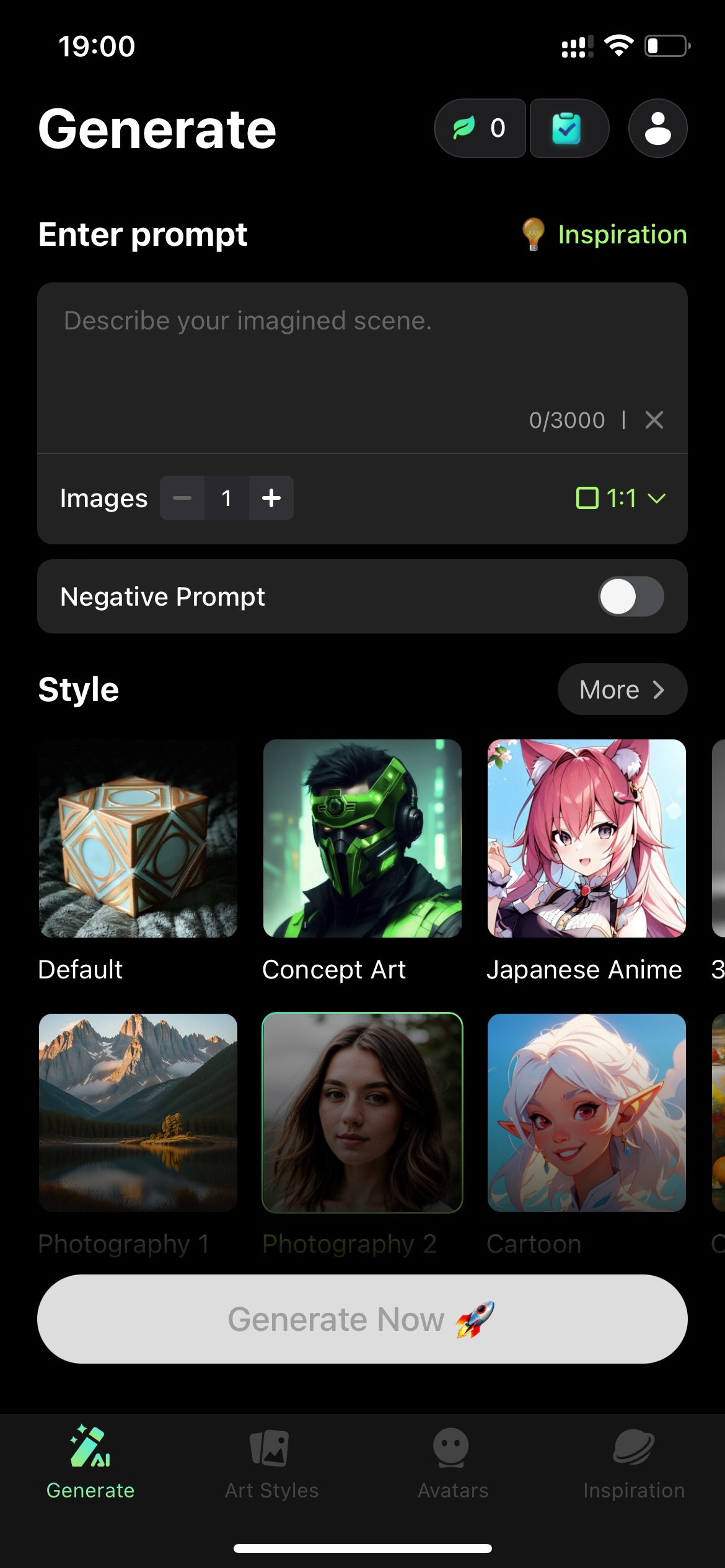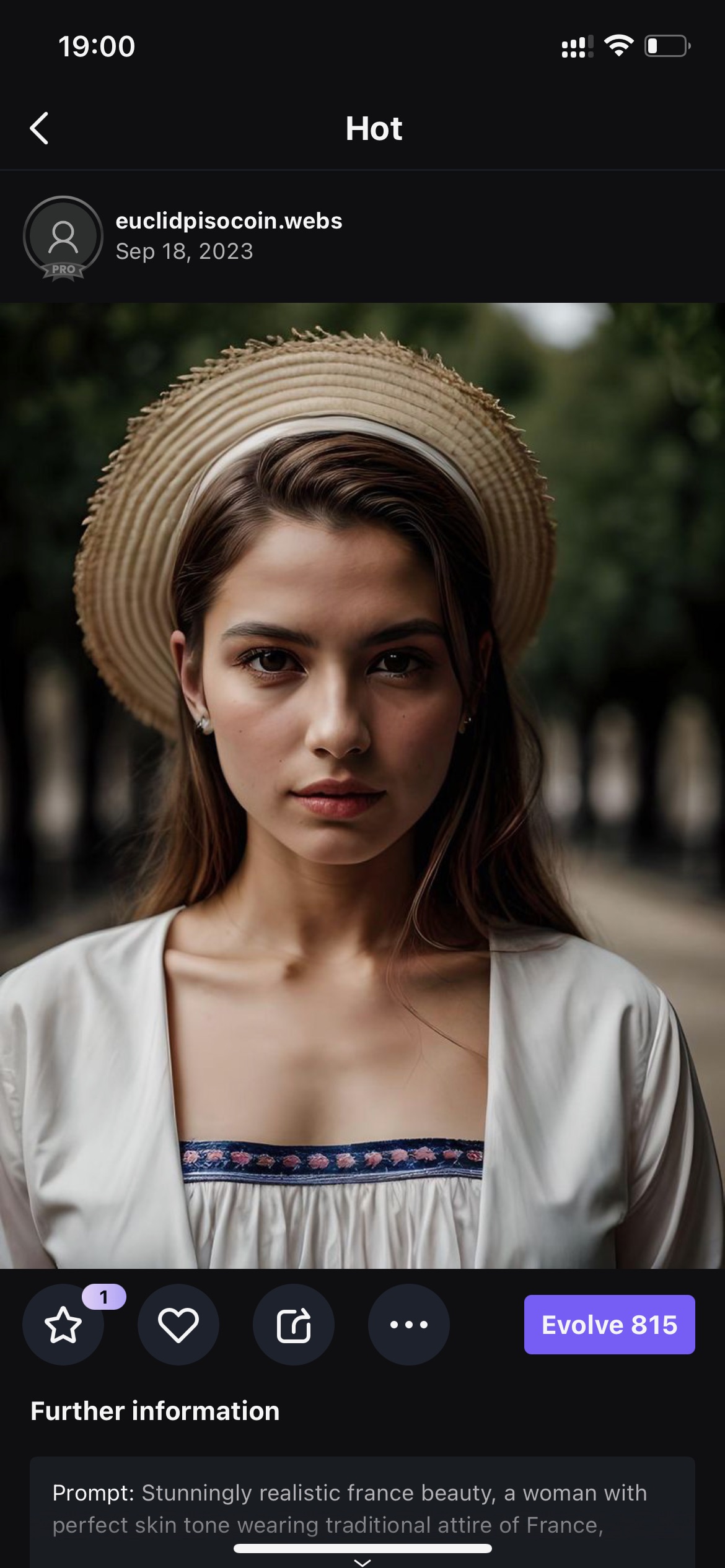 Reveal the secret of your success to your friends and family.


Wonder – AI Art Generator
The Wonder app is the master of transformation in the digital space. Get limitless opportunities to explore different artistic styles. Experiment to find your way in the visual arts.
With the help of artificial intelligence, the creation of unique images is available even to users who do not have outstanding talent. Write down in a separate field exactly how you want your masterpiece to look. You will be able to evaluate the result in just a few seconds.
You are the generator of ideas, and this program will be the executor. How can you submit information for Wonder? It can be an excerpt from a poem or a romance. Write down aphorisms and sayings, and come up with your own description for the future masterpiece.
A few words are enough for the generator to catch the essence of your requirements. Create real human faces or bright pictures with a single touch. Be sure to specify in what style you want to get a painting. You will be able to learn new styles and try yourself in different directions.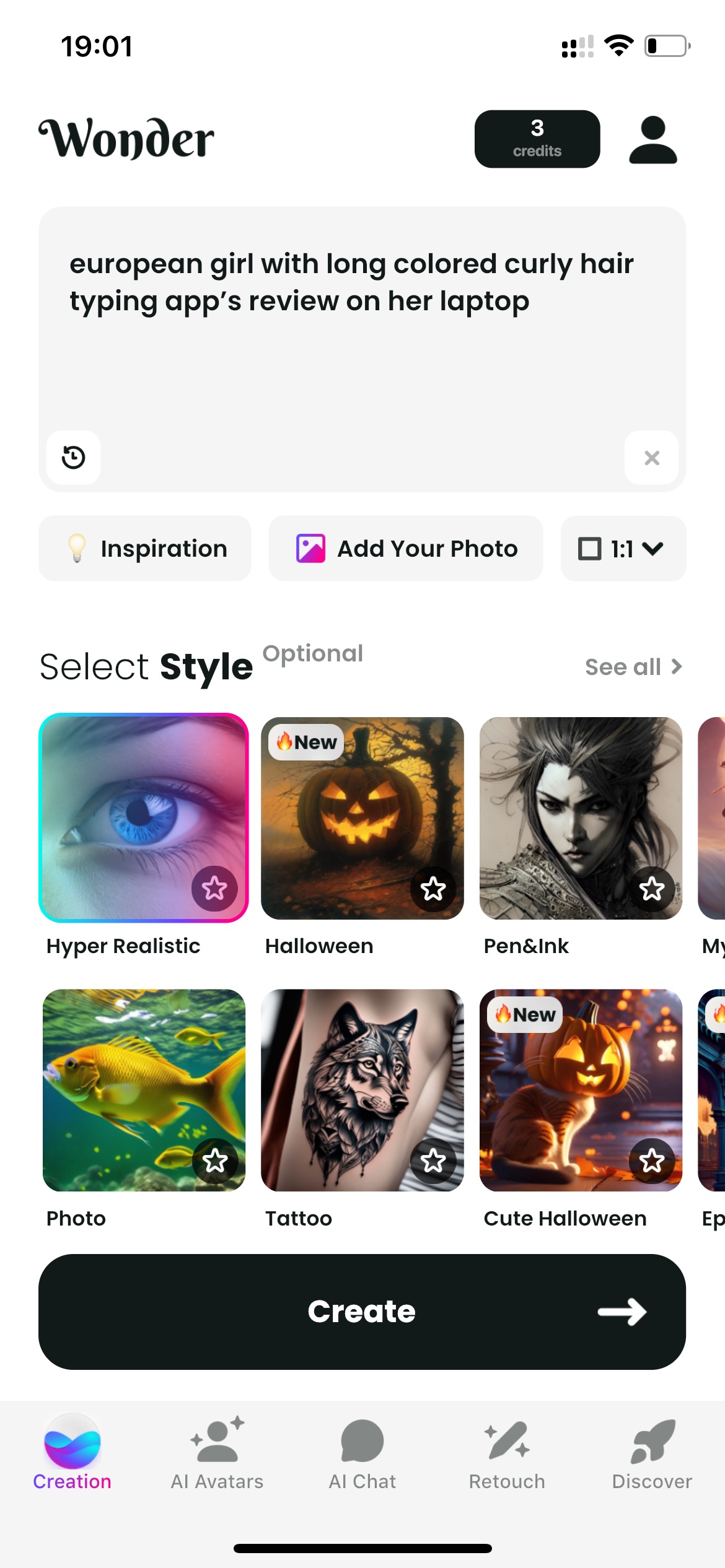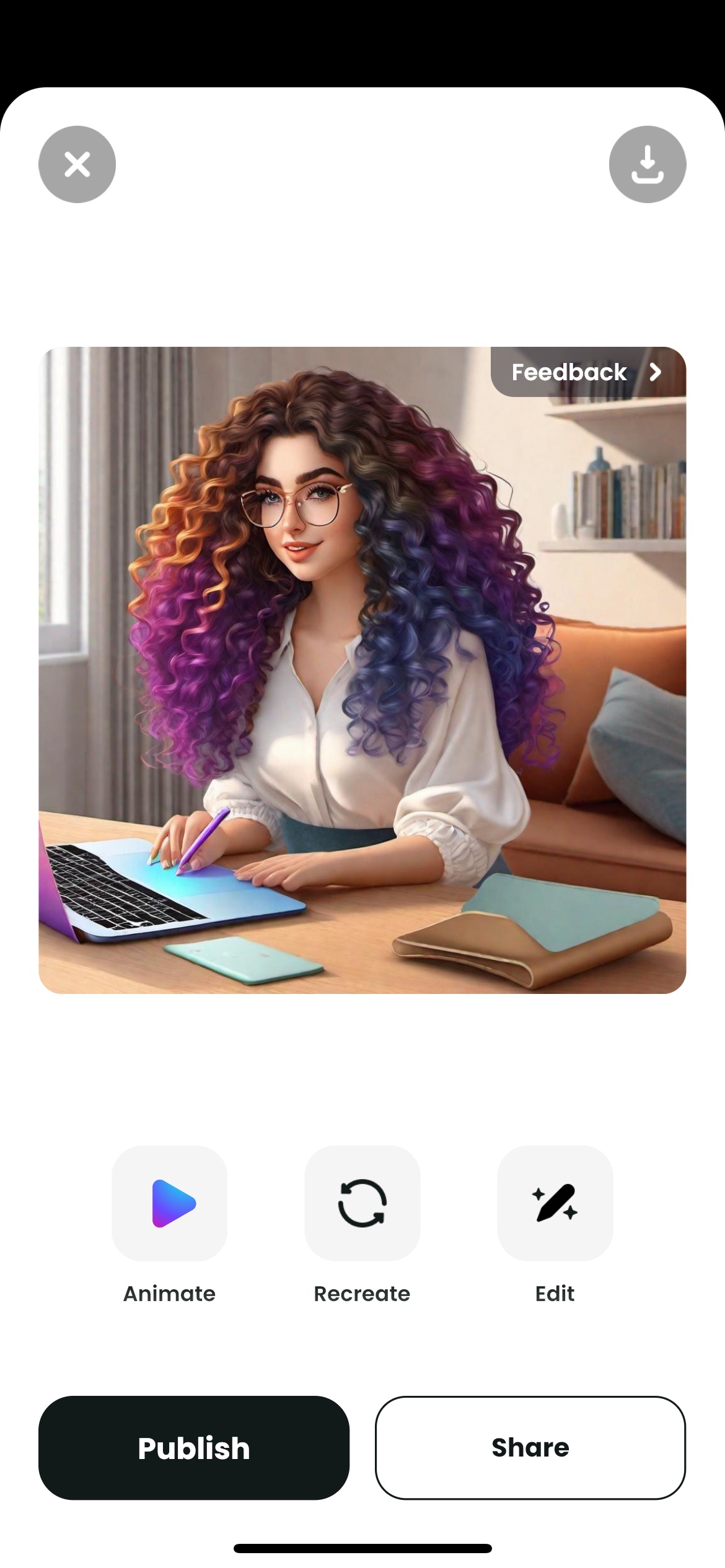 Set up a vote among your friends or subscribers for the best portrait. Ready illustrations can be set as wallpaper on your phone or make an original gift to a friend. Help your child develop a sense of beauty and express the talent.


AI Image Creator by Peace
Al Image Generator adds to your collection of unforgettable illustrations. No matter what you will use the finished image for. Decorate your room for a party or give an original greeting to a birthday child. Complete a magazine or newspaper with explanatory illustrations.
Make each social media post attractive and unique. Design a suitable emblem for an organization or company. You don't need to invest time and effort in the work: leave all the worries to the generator. Just enter a text explanation for the future image.
It can be a word combination, a sentence, or a whole essay. Do not limit yourself to the realities of our world. See how much your imagination matches the possibilities of the app.
Al Image Generator will be useful for teachers and musicians, advertising agents, and students. It is a great interactive platform for designers who are looking for new ideas. Save your finished works in your phone's gallery. To do this, you need to allow access to the storage.
The generated images fit the requirements of the administration of all social networks and messengers. Decorate your account with interesting drawings, and add smileys in correspondence with friends.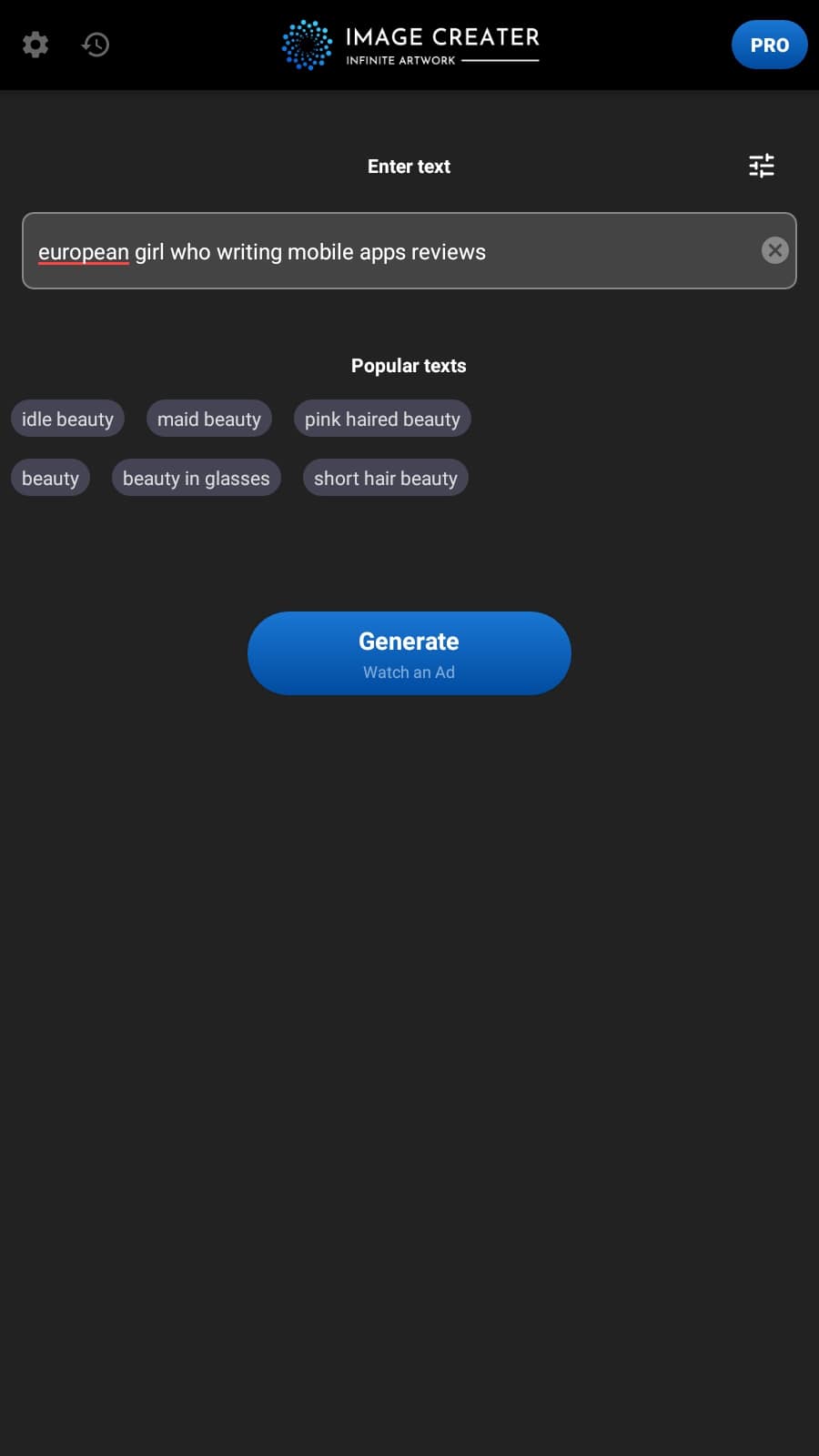 The generator has passed a serious antivirus check, so it is completely safe for your device. Get sincere pleasure from your work with Al Image Generator.

Imagine: AI Draw Art Generator by Bigrowth
Imagine will allow you to forget about the limits and accepted norms in the field of art. With just a few words, the fruit of your imagination will be visualized. The generator converts text into images in real-time.
To work productively with this program, the user does not need drawing skills and work with photo editors. The style, brightness of colors, and manner of the image are chosen by the program based on the words entered.
If you are tired of wasting time looking for a suitable picture on the Internet, welcome to this community of beauty lovers.
Open the generator and write a prompt. There is no limit on the number of words here. It can be a dialog, rhyme, or just single words. Conduct your own research into the possibilities of artificial intelligence.
Modern art copies the style of famous artists of all times, cartoon and anime styles. Do not be shy in expressing your thoughts. The clearer and more precise the prompt is, the closer to the ideal the finished illustration will be.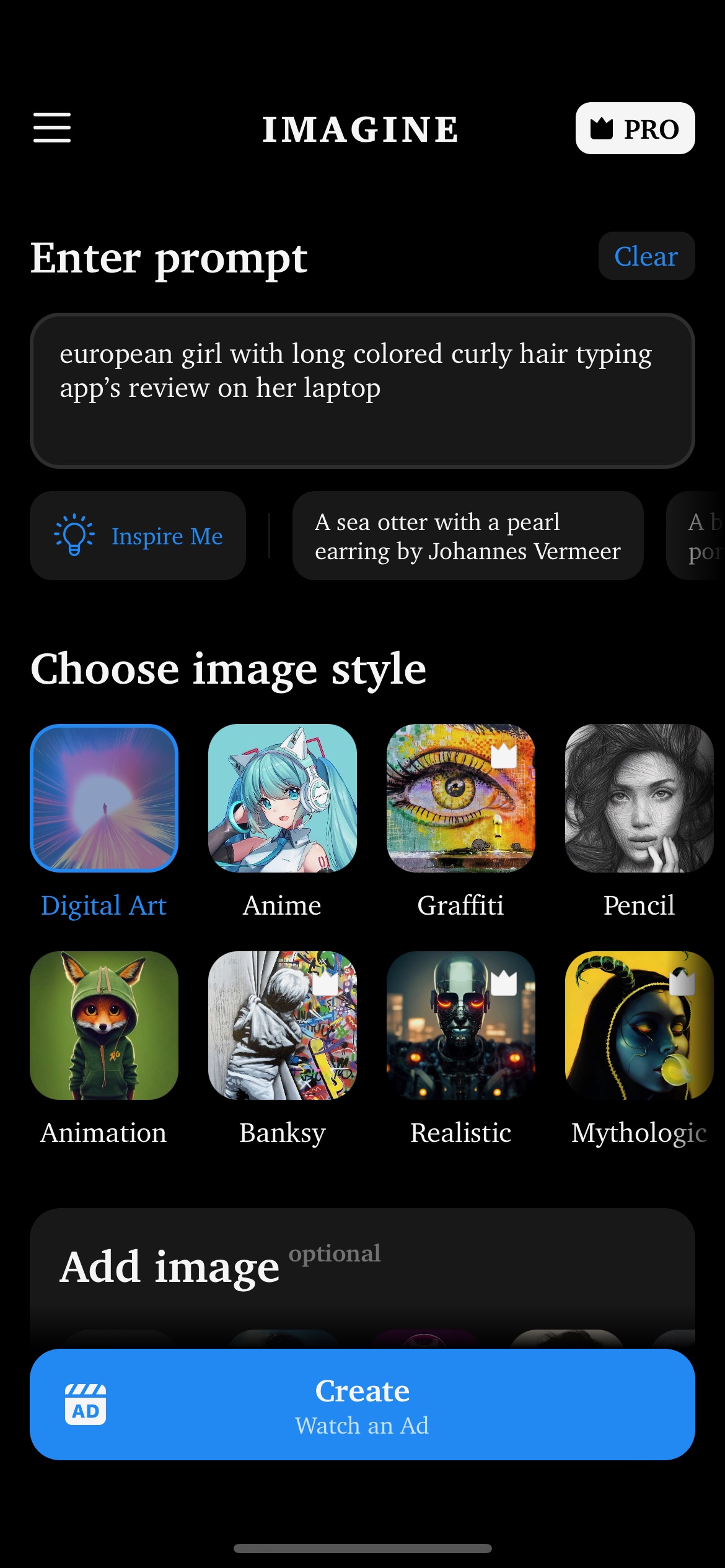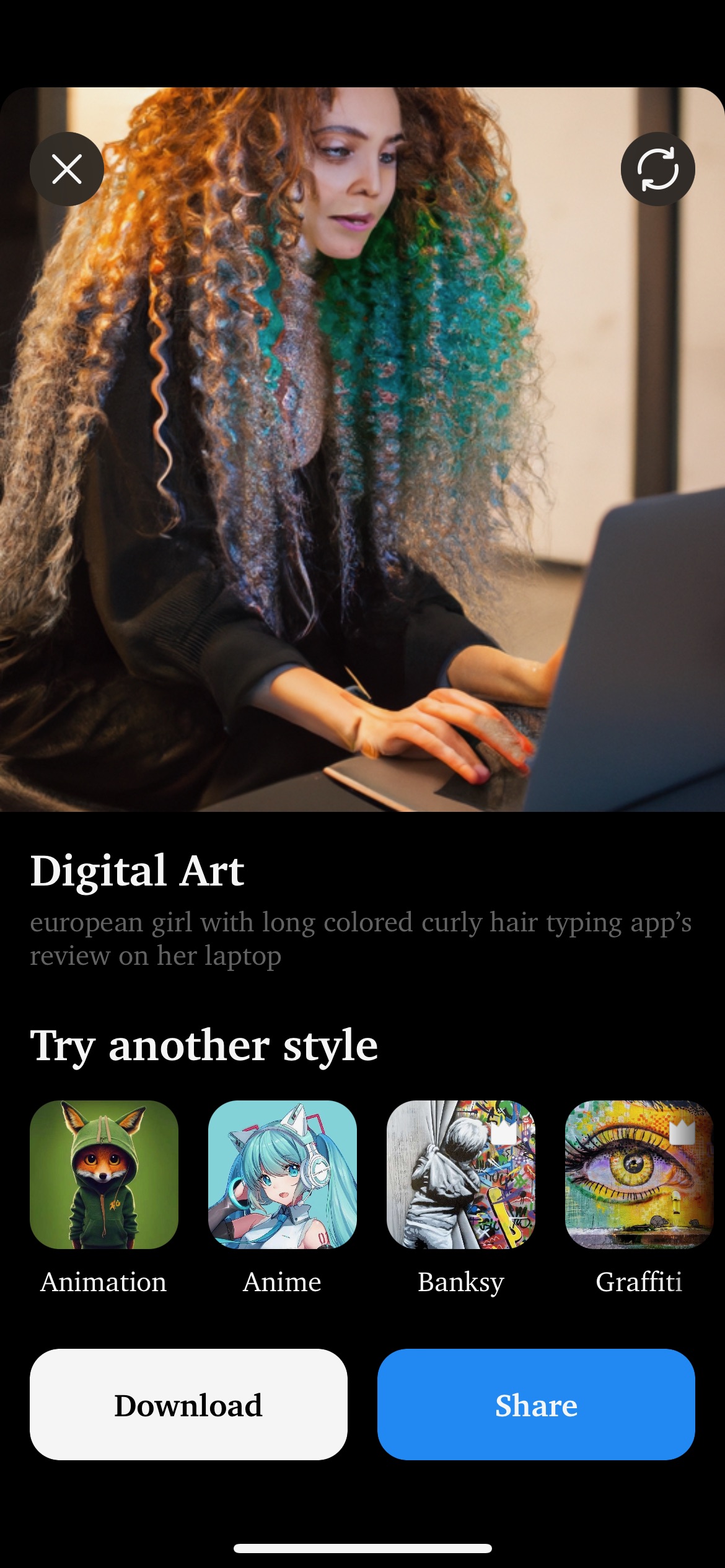 Imagine generates only unique images, so you do not need to check them in special programs.

You may also like: 11 Free AI Background Generators (Apps & Websites)
BeFake AI
Don't pass by an innovative photo editor. Befake Al offers an enhanced version of modern photo art. Add magic and highlights to ordinary photos. Turn yourself into the hero of your favorite movie, and bring characters from a cult novel to life. Now no one will be able to call your photos mediocre.
Remove the boring background and add an intergalactic look. Transport yourself to the depths of the ocean or conquer a mountain peak with a single click. Make your friends believe you've traveled around the world. Any fantastic idea can come to life in ordinary photos.
You can use this app to populate your social media content, make unusual pranks (by generating Timothee Chalamet face calling your phone), or express your style. Leaving conventional photo editors behind AI gives you the power to turn your phone into a time machine or a spaceship.
Upload any photo and test a huge number of editing tools. Choose the background that best reflects your idea. Dress up in an astronaut costume or try on Maleficent's horns. The app is great for users of all ages.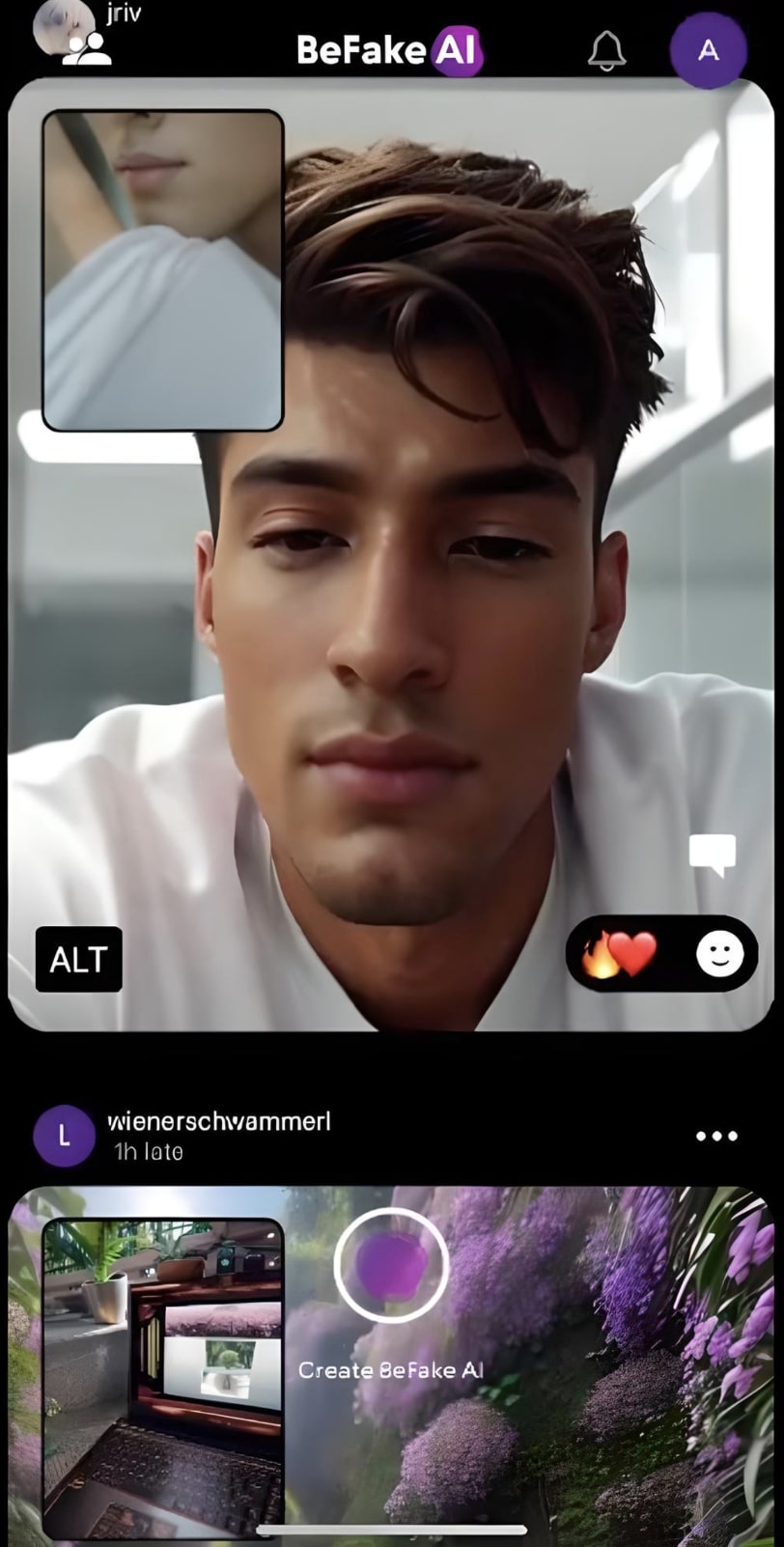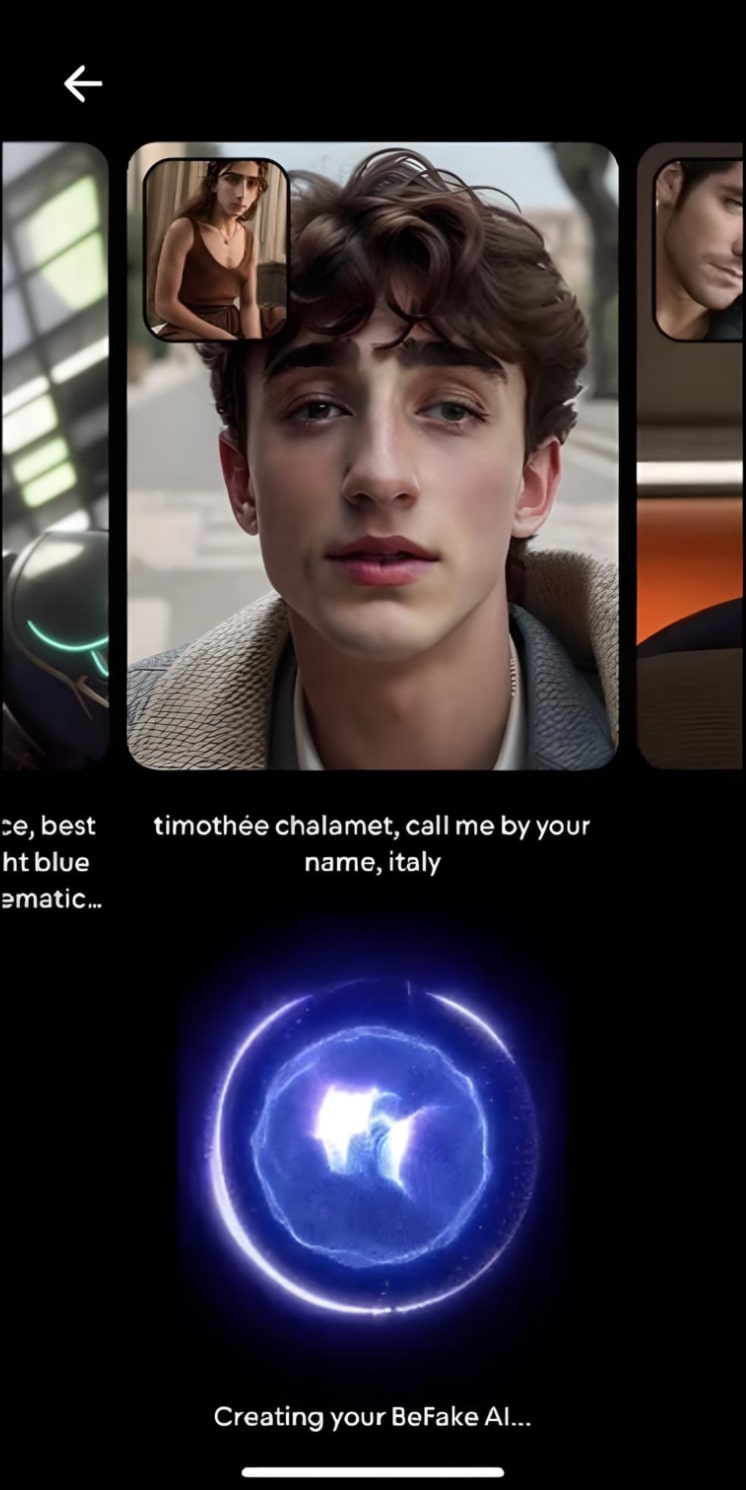 Befake Al offers free photo editor services, but in-app purchases are required to unlock some unique options.