You will probably not surprise anyone at all if you say you have problems waking up. In our world, we are constantly stressed to always be on and we end up in overworking and overthinking. As a result, our body and mind are getting exhausted and beg us for an extra hour of sleeping each day.
Have you seen the studies which have shown that Americans nowadays sleep 2 hours less than they even did in the 70s? So are you still surprised why waking up is such a problem?
On the other hand, what can we do about the rhythm that our generation is going with? We have no choice but to obey. And actually, there is a powerful way to get you out of the bed at any costs – fresh invention in the applications world – alarms which requite you to solve simple math tasks before you can turn it down.
It is guaranteed that you will be awakened and your brain will be in good condition to get out of bed and be ready for a new day.
You may also like: 9 Best Clock Widget Apps That Shows Seconds (Android & iOS)
Mathe Alarm Clock
People who easily wake up in the morning not tired, happy, and cheerful are probably some kind of Satan's power.
There are thousands of tips on how to wake up easy in the morning, there are marathons dedicated to that, thousand theories how to do it, a lot of discussions, but let's be honest, in most cases, it doesn't work or work for a limited period of time.
If you are sure your power of will is too weak to make yourself wake up even with the alarm, then you need an external stimulus to get you out of bed. You should get this app and it will make you wake up for sure even in the darkest morning.
The app helps to wake up your mind by solving easy mathematical tasks. The thing is, to set the alarm off you will have to solve at least a couple of exercises and thus how your mind will have to start working.
This way you will not postpone your alarm again. And the chances that you will fall back asleep are very low since the brain will start working by solving the equations.
The alarm is loud and annoying. The math puzzles are arranged in such a way that they make your brain work. It's like a wake-up exercise. The app has three difficulty levels for the math game. You can set up as many puzzles as you want for solving because you know better how many of them you would need to wake up.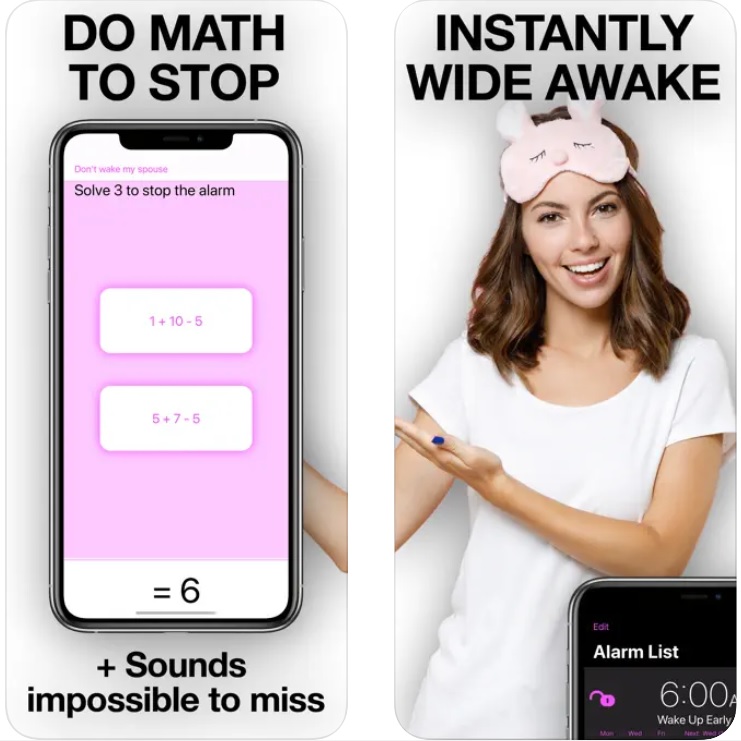 You may also like: 13 Best alarm clock apps for Android
Alarm Clock for Heavy Sleepers
As statistic shows, contemporary people started sleeping almost 2-3 hours less than even 20 years ago. The modern era presses us to be productive all the time and keep up the "hustle" mode.
As a result, many of us destroy our bio clock and get insomnia. And if you sleep 4-6 hours a day it's no surprise that you have problems waking up in the morning.
Well, there is a way to keep going no matter what. With this app, before you fall asleep again, you will have to go through the various tasks and challenges which stimulate your mental activity. You will not fall asleep again as they will lead you right back to consciousness.
But don't think that it uses cruel military methods to wake you up. On the opposite, the app is developed considering the best medicians' recommendations. So no morning stress, only natural methods of warming up. There are also countdown alarms that are perfect for the afternoon siesta.
And there is also an option of a gentle pre-alarm for heavy sleepers so you could wake up a little bit in advance. By the way, have you ever faced a situation when you forgot to set your alarm off, and then you were woken up on a holiday?
This alarm will take care of this problem. If you do the setting previously, then you can not worry about it anymore. You can also restrict alarm to locations.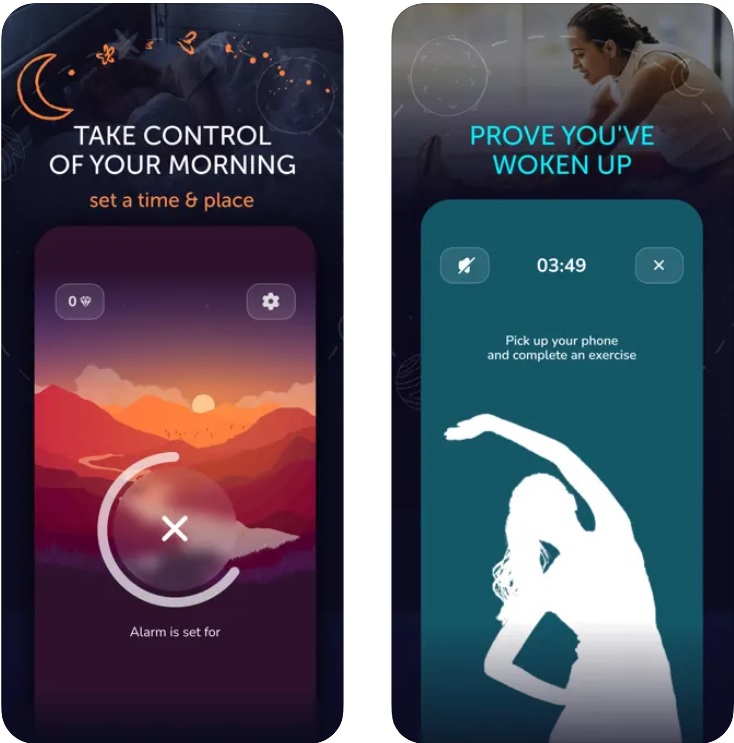 My Math Alarm Clock
My Math Alarm is an innovative alarm that will help people who have trouble with oversleeping.
A distinctive feature of this application is the forced solution of mathematical problems to turn off the sound signal, as well as the absence of the Snooze button, presented in the conventional built-in alarm clocks.
The interface of My Math Alarm is very cool and you will be provided with the ability to customize almost everything.
When you first enter the application, an animation of a mechanical watch will be shown on the main screen. Their design can be changed by swiping up or down; the color changes by swiping left and right.
When you click on the screen, icons pop up on the sides: on the top left is the settings button; at the top right are placed such buttons as Style, Background (there are not only colors but also pictures), Complications, Brightness, Color inside an app, Color of the app icon, No ads.
The alarm function is located at the bottom center; to the left of this is the Tasks button.
Going to the main function of the alarm clock, by pressing the corresponding button the Alarm list opens. When creating or editing the alarm time, you can give the alarm a name, change the Wake-up Sound, change the number and level of exercises to turn the alarm off.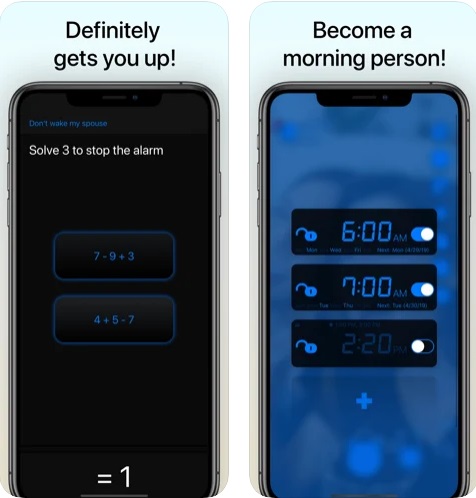 Alarmy
This is one of the most prominent apps in this category and one of the most effective. It includes different kinds of missions and tasks to make you wake up no matter what.
In the Photo mission, you will need to wake up and take a picture of a registered place, otherwise, the alarm won't shut down. In the math mission, you will be solving several easy math exercises to turn the sound off.
Apart from those, there is a Barcode mission, where, in order not to let you snooze, the app will make you take a snap of a barcode. And in the Shake mission, you will have to shake your phone 999 times and only then it turns off.
You will find here some additional options as well. One of them is the current temperature where you can check the weather for a day. What is more, you can customize the app to play your songs and melodies, and you can also change the colors of its background.
However, there is an option to set the alarm gentle or with a snooze option, it's up to you. And you can set alarm clock time easily and quickly through Google Assistant on your home screen.
For the most desperate, there is an option to disable the deletion of the app, so it will prevent your system from deleting this app and keep waking up early.
In total, the app includes 10 annoying alarms to get you out of the bed. Dubbed as "the world's most annoying alarm clock," Alarmy has quickly become the world's highest rated alarm app becoming the favorite mobile alarm clock app among users.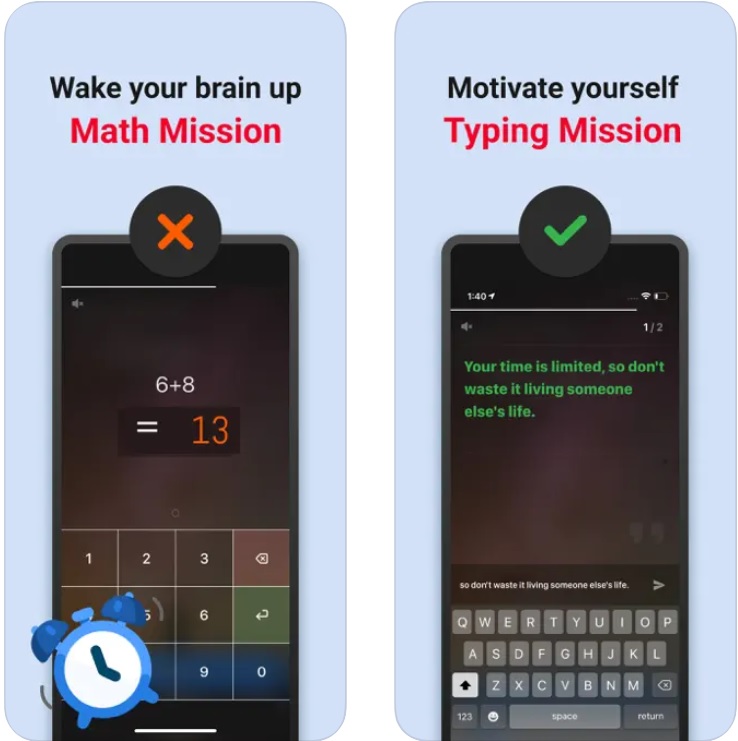 You may also like: 11 Best Talking Alarm Clock Apps for Android & iOS
Puzzle Alarm Clock
With this app, you will run out of excuses for not waking up in the morning. Have you ever thought about how many useful things you could do if you wouldn't procrastinate? Especially it applies to the people who work on themselves and there is no external stimulus to wake them up.
First of all, this app has a really eye-catching interface. It doesn't mean a lot, but hey, isn't it nice that the developers put a thought in it? These apps are always more pleasant to use.
Only after submitting the right mathematical puzzle, the app will turn the alarm down. Who knows, maybe you will even start to have fun waking up with math. You can set different levels of difficulty for the exercises – there are 3 of them – easy, middle, and high.
Puzzle Alarm Clock is an alarm clock app that is sure to wake you up in the morning on the first try. The app requires you to solve various puzzles before the alarm can be turned off
The app offers a variety of puzzle options, including math problems, memory games, and shape-matching exercises. You can choose your preferred difficulty level and snooze options, as well as adjust the alarm tone and volume.
The principle of the app is to make waking up interactive and enjoyable. By solving puzzles, users are encouraged to engage their minds and wake up fully, ensuring they are ready to start their day.
The disadvantages of the application include periodic technical failures that can prevent the application from working properly. Some users have also reported dissatisfaction with the app's limited puzzle options and the difficulty of some of the puzzles.
All in all, the Puzzle Alarm Clock app is a great option for you if you are looking for a fun and effective way to wake up in the morning.
Application features:
An effective way to wake up and drive away drowsiness
Large selection of puzzles and difficulty levels
Useful application in everyday life
Application cons:
• Periodic technical failures in the application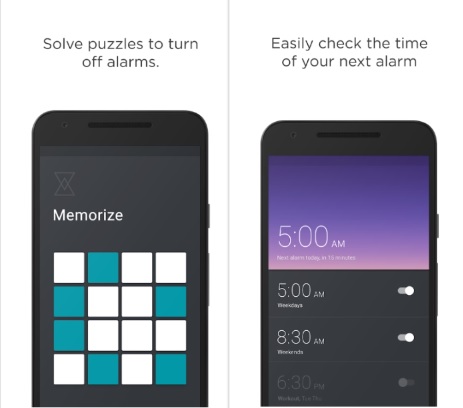 Math Alarm Clock – Wake up!
They say that how you spend the first hours of your day determines your mood and the rest of the day. And, as a consequence, it determines your life.
There is even a book about how powerful the morning routine is, and this book became quite popular recently. So, if you got tired of procrastinating and spending your mornings in bed instead of the living, then you should get the following app.
Here you will get no mercy of the alarm clock until you solve the math task given by the app. What is curious, you will have to spell the answer out loud. otherwise, the alarm will keep going. It is scientifically designed to wake up your brain and it has no snooze button.
If you want you can add your own background in the app to make it more personalized. The app shows the weather forecast for your location. Moreover, you can control it by using your voice.
You can say, for example, "Jarvis set alarm for 7:30 AM" and the app will do so. Say "Jarvis light" to turn on the flashlight. No fumbling for the light at night!
Another funny function here if you set different voices of famous characters to wake you up if you keep snoozing. Those could be Stewie and Hermione, for example. And lastly, the interface of the app is beautifully designed what makes it even more convenient in usage.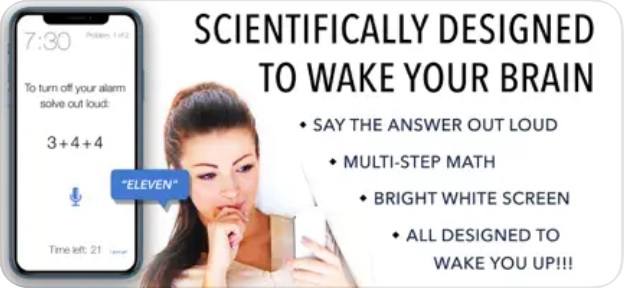 Math Alarm Clock by Mathy
Who says that waking up for you is fated to be terrifying and boring until the rest of your life? You can fill your morning with improving your self-esteem by solving easy math tasks and equations and winning at accomplishing other brain-warming challenges.
This Math Alarm Clock will make you wake up no matter what. It doesn't care if you like math or not – it will help your system to get away from sleeping and start your days productively.
The alarm starts slowly fading in and becomes louder if you don't want to wake up. When you grab your phone you see an exercise on the screen of your phone you must choose the right answer.
By solving multiple of those tasks you will be able to turn the alarm down. By the way, here you have a chance to set the clock on the snooze button.
You can customize snoozing intervals and also choose music for an Alarm. In case if you're afraid to use this kind of alarm thinking you might not solve the task right after sleep, you can make a pre-practice in the app and see what you're capable of.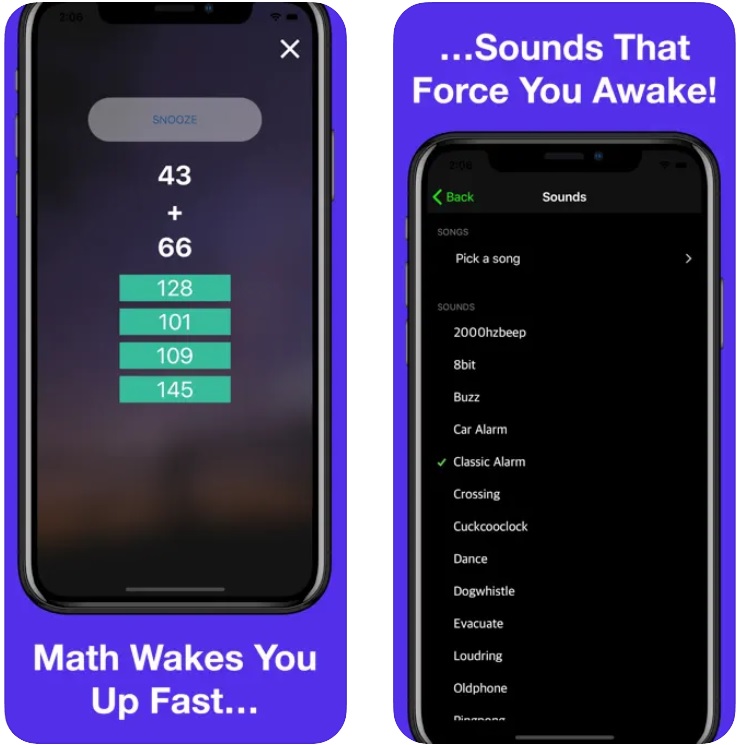 You may also like: 10 Best Atomic Clock Apps for Android
I can't wake up
Now waking up is getting really interesting because now not only you will be solving tasks before full awakening but you will be doing that listening to your favorite tracks from Spotify. Or just choose a track you feel like waking up to. Until you are tired of it, it will definitely help to set your mood to the right note!
This app will prove to you that having problems waking up is not your problem, it's the problem of your alarms. What is more advantageous, you will be waking up to a different challenge every morning (if you wish).
There are several kinds of challenges built in the alarm, for example, math problem, smile detection where you need to accomplish missions before you can turn the sound off.
When you are setting the alarm clock for the next day you simply need to choose the challenge before that and then you wake up to it. The interface of this app might be not the most user-friendly ever, and that's why this app is placed the last on our list.
On the other hand, the range of challenges that it offers is truly impressive – Memory Game, Math Challenge, Smile Challenge (really useful for those who hate mornings), Picture challenge, and of courses, the favorite function of all the sleepers – Snooze.