We love listening to cool music, but it's even more fun to create it yourself! Now you can arrange a real rock concert right on your smartphone! With the Super Drum app, you can feel like a real drummer.
Download the app, read and accept the terms and privacy policy, and get started. The standard drum kit immediately opens in front of you, which consists of the following: two kicks, three toms, two crashes, a splash, a floor, a ride, one close, and one open hi-hate. At the top of the screen, there is a media player that invites you to try imitating a simple melody. Music plays in the background, and you can record your play on top of it and save it, and then share it with your friends.
By the way, you can imitate drums by beatboxing. Do you want to learn to beatbox? Then check out these apps which are great for all who do this activity.
Click on the button in the upper-left corner to open the menu. It contains classes that allow you to get the experience of playing with the same imitation of the proposed melodies (of which there are quite a few and they are all diverse!). There are various genres in kits, you can choose punch rock, worship, vintage, reggae, disco, EDM, or metal.
If you get tired of using the standard type of drums, then in the skins section you can choose fancier skins (electro, Bollywood, Rasta) for a more fun game. Especially unusual are the pads, which are colored buttons that, in addition to all of the above, also have snare and rimshot.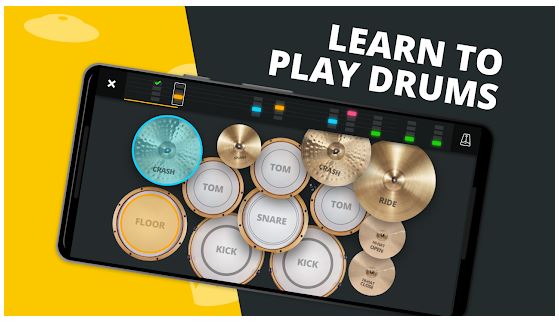 The tracks section allows you to choose tunes of a certain genre and try your hand on your own, without training. My recordings allow you to keep a library of your recordings and track your progress.
And if one app is not enough, you can discover more simulator drum apps here. 
The app is free, so it has ads. For a small fee, ads can be removed. It is possible to configure the use of the application for left-handers. For feedback, developers use email. Our verdict – the app is super-duper cool!