Altimeter elevation apps are a nice way to save up some money. Traveling equipment may cost an arm and a leg, so the fact that it can be substituted by technologies is very heartwarming.
No matter what you need an altimeter for – to see your progress in hiking or to keep your altitude disease under control – the apps below will help you make the necessary measurements.
Note that there's a mix of apps for iOS and Android. Most of the Android apps are in the upper part (2-4). The iOS apps are in the lower part (6-7). The first app is suitable for both systems but works particularly well with iOS.
You may also like: 10 Best thermometer apps (Android & iOS)
My Altitude
My Altitude is an altimeter app that can calculate your altitude – the height from the sea level, location, barometric pressure, and water boiling point.
In order to get all of these measurements, the app uses your phone's sensors and GPS. In the newer iOS devices, it is just the sensors – they're really powerful there and therefore are able to deliver accurate results without GPS.
If your phone has been through a lot already but still working well, you don't need to buy a brand new model. This app, as well as many others, can provide you with the needed data without advanced sensors. The accuracy will be more than fine for an average user.
My Altimeter app does not need an internet connection which is great since there's a big chance you won't be able to get it. If you want to, you can take pictures right in the app. The pictures will contain all the parameters so that you could boast on social media about how high you've managed to get.
All in all, this is a wonderful app! If you have an iOS device, you'll certainly be content with it. If you use Android, you can also use this one but keep in mind that there are other apps below that may work even better with your phone.
Get the app and see if it fits your needs!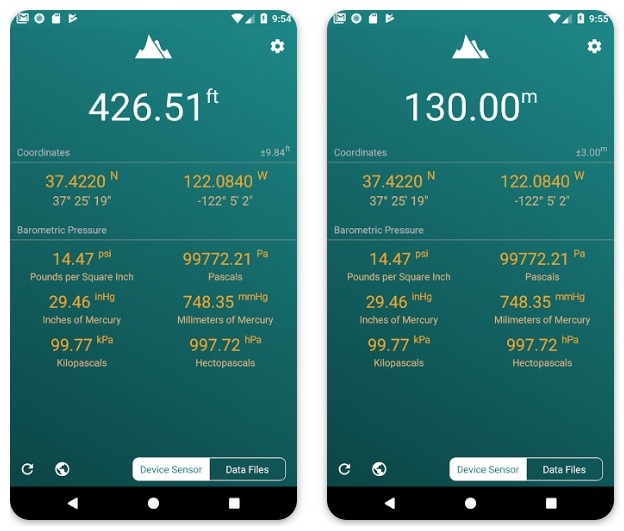 You may also like: 11 Best Feet Meter Apps for Android & iOS
Altimeter
Altimeter is an app that can measure altitude. Do you like sports or just active walking? Then this program will come in handy for you. The Altimeter app is based on GPS satellite data. If possible it uses a barometer if your phone has one.
You'll be able to use the location photo function and capture colorful locations. It is also available to share pictures with your friends in various ways. To all of the above, the program shows accurate data. But it sometimes requires an internet connection so that your location can be determined faster.
This program has a lot of features. Altitude will be shown in meters. There is a smart compass, a section with latitude and longitude readings.
Besides, the utility will show you the current name of the area you are in. This app is free and works online and offline. Users really adore this app because it has a lot of features. It will come in handy both on an ordinary walk and on a long hike.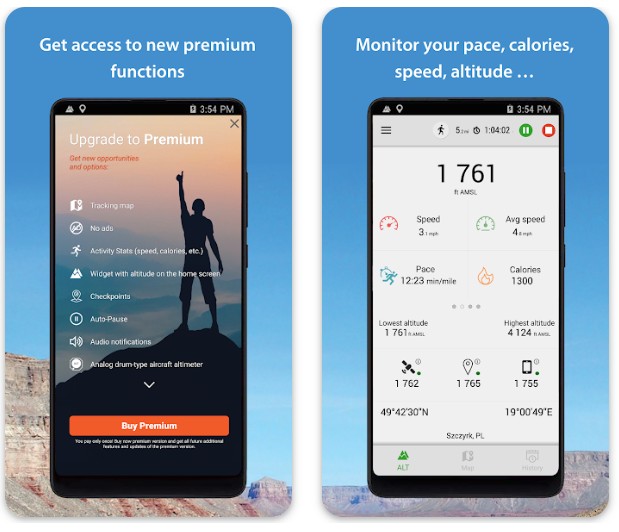 My Elevation
My Elevation is one more app that can be found exclusively on Google Play. This one works only with a data connection and only if you have your feet on the ground. The app won't tell you your altitude when you are on a plane.
The reason for that is the following: the program uses latitude and longitude to find out your altitude and it is unrealistic to measure those while you are above the ground. So, beware of that!
The app has such a useful feature as 'follow me' mode, which allows you to record your route and then analyze how much you've progressed, where exactly you've been, etc. We find that this feature is not useful if you are on a long journey – you'll definitely need that battery for something else! However, if you're just hiking, you can use it.
It's kind of cool because it helps you keep the memories of your journey and not to get lost the second time you go there. What's more, you can mark the most remarkable locations on the map to be able to come back to them in the future.
The app has one more useful feature for those who don't worry about the phone's battery – giving information and links to Wikipedia about the places you're passing through.
If you consider it helpful, why not use it? Although, of course, there are many other sources of information. The problem with all of them is that you need to have an internet connection which is not always available.
To wrap up, this is not the best altimeter app out there but it has its advantages. If you don't mind having to use an internet connection and draining the battery, you can get the app. Our guess is that it's most suitable for short-distance hikes or for purposes other than traveling.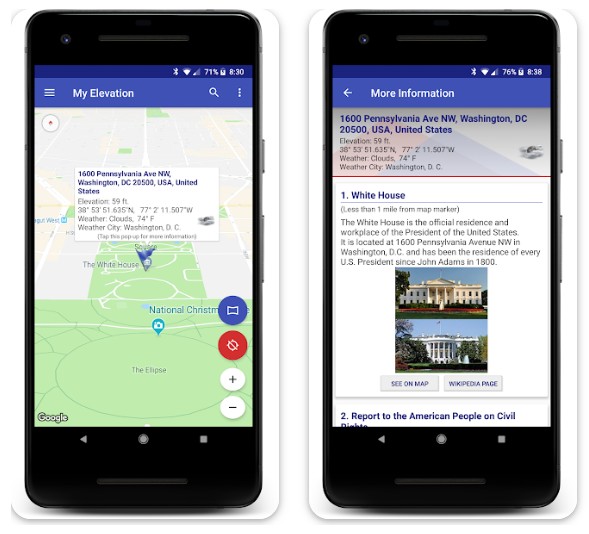 Altimeter Offline
If you are traveling to the places where you have no internet connection, and you know you will need an altimeter make sure that you downloaded this one. The thing is this app has an internal tracker build into the app system that allows it to make the measurements even without the global network.
It doesn't matter if you want to go hiking, trekking, cross-country skiing, and climbing both mountains and peaks – Altimeter Offline got you covered. Well, the measurement can sometimes be not exact because eventually this program doesn't have access to the Internet but it is decent enough to use.
It has a super-simple interface design – so if you like something more elaborate you should go for another app. However, does design matter that much in the altimeter apps?.. By the way, this app is available both for iOS and Android.
All the geographic coordinates will be displayed. When you have an INternet connection you can always share your location with your friends via social network. One more advantage of Altimeter offline is that when you close the app it automatically shuts the GPS tracker down in order to save your phone's battery life.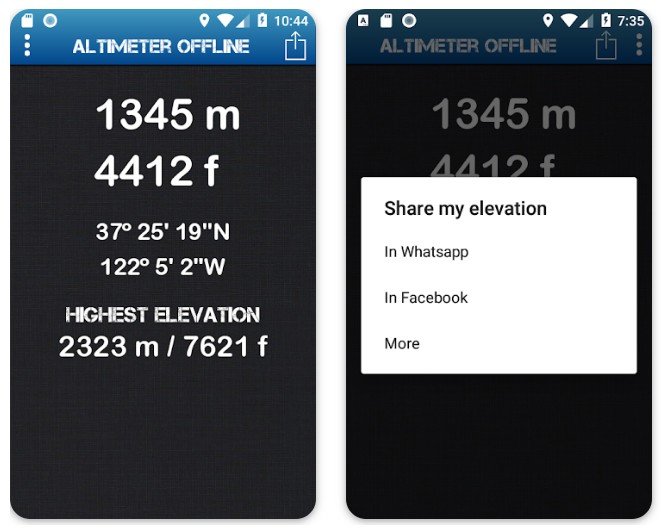 You may also like: 11 Free hiking apps for Android & iOS
Altimeter free
Altimeter free app is a gorgeously looking app for measuring height above the sea level. The app's only disadvantage is that it includes ads. Apart from that, it is a really cool professional altimeter. It uses both barometer sensors – if your device has them – and GPS.
If you want to, you can record your altitude trend by setting a time interval. If you do that, you can eventually view beautiful graphs and histogram charts.
One more useful feature is taking pictures. If you want to tell the whole world (or just your subscribers) that you've climbed that amazing mountain, you can do this right in the app. It is easy and it is pretty!
In sum, this is a great marvelously looking altimeter that has all that you need to get the most accurate results. If an ad or two from time to time is alright with you, then you can enjoy this beauty for free! If not, you can pay some money to thank the developer.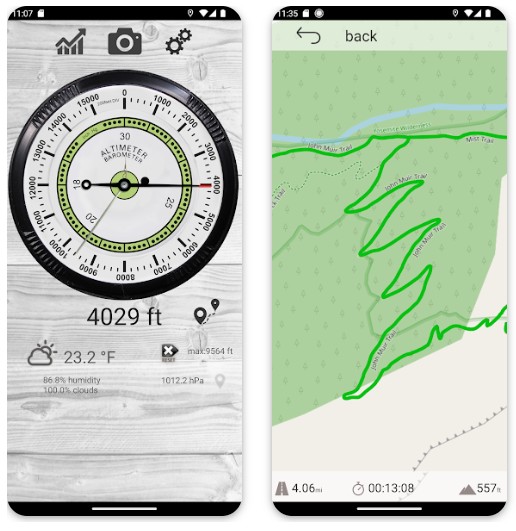 Travel Altimeter Lite
This one is the app for iOS devices. Travel Altimeter Lite's work is based on pressure changes. So, first, you need to set reference pressure and altitude, and then when these change, the app will show you how they change.
The sensors used in this app are considered to be really accurate so don't worry about whether there's something is wrong.
Compass is also included in this app, so real-time orientation, if you need it, is ensured! As for the main function which is showing altitude, the app is quite unique. Its developers took care not just of accuracy, but also of style, which is why there are several beautiful backgrounds like this:
These backgrounds are changing depending on the time of day. How cool is that? Upon the whole, three parameters are shown on the screen: altitude (or elevation), latitude, and longitude. If beauty is important to you, try this one!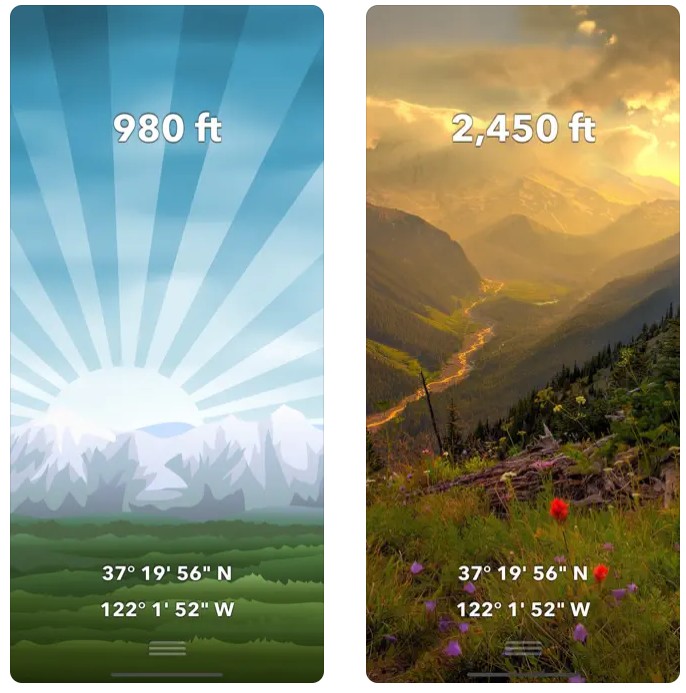 Barometer & Altimeter Pro
Barometer & Altimeter Pro doesn't have any optional or unnecessary features. Just the essentials – a barometer and an altimeter. Both work really well.
The results are got through the phone's sensors and, additionally, through GPS. The sensors are used first to get the most accurate results possible.
By the way, this one works only with newer devices such as iPhone 6 or later models. If you have an old device, then it's better to get an app that can work only with GPS. The results may be not as accurate but at least you will get something.
If you have a new model and like minimalistic interfaces, then it's just your duty to get this app! You will certainly like it. Not only does it give you the most accurate measurements but it also doesn't contain any ads and doesn't require an internet connection.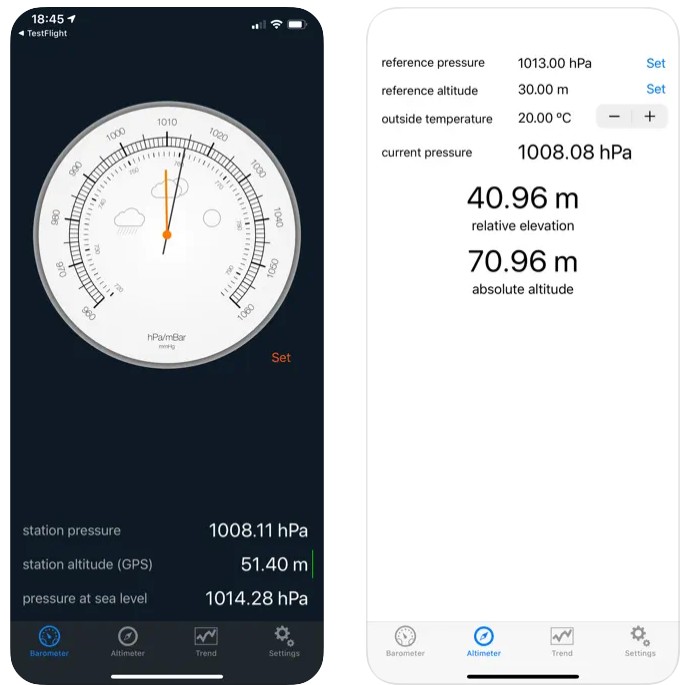 Barometric Altimeter
Barometric Altimeter is an altitude measurement tool. It uses GPS technology to determine your altitude and displays it on your device. With this application, you can quickly find out what altitude you are at when hiking, climbing or flying.
One of the main advantages of the Altimeter app is its simplicity. It is easy to use and does not require special skills or knowledge to operate.
However, some users report that the app's accuracy can be questionable in certain situations. It seems to work best when the device has a clear view of the sky, which is not always possible, especially when hiking in heavily forested areas.
One disgruntled reviewer said, "I climbed a mountain with this app and it showed me that I was on top before I even got there! Not very accurate, if you ask me."
Just be aware that this may not be the most accurate tool.
Application features:
Convenient to use
May be useful to you when traveling.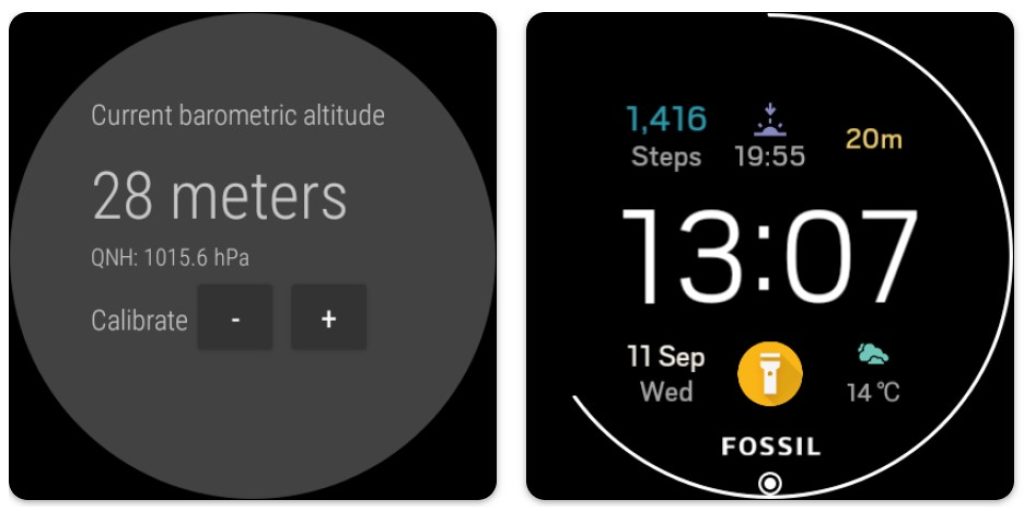 Compass Altimeter
Compass Altimeterapp is a handy tool for you if you are an adventure lover who enjoys hiking, climbing or flying. This application helps you measure altitude, distance, speed and temperature.
With a user-friendly interface, the app can track the user's location in real time and accurately display the height above sea level.
One of the advantages of this app is that it works offline, which means you can use it even in remote areas without an internet connection.
However, some users have expressed dissatisfaction with the app's accuracy. They claim that it gives incorrect readings or lags when measuring altitude.
Despite these issues, the Altimeter app has received positive feedback from the majority of users who find it useful for outdoor activities.
So if you want to track your height and location while walking outdoors, this app might be worth a try! Just be sure to cross-check readings with other devices or methods to ensure accuracy.
Application features:
Convenient to use
Does not require internet connection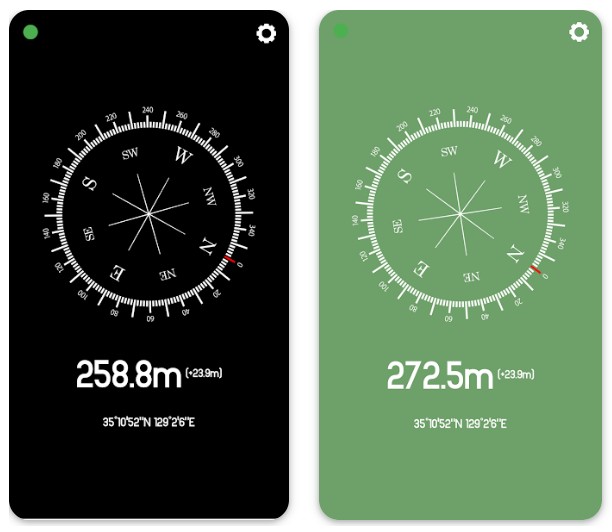 Altimeter Plus
Altimeter Plus is a popular travel app that helps you measure your altitude while traveling.
It uses the GPS and other sensors in your phone to give you accurate data about your current altitude, as well as other useful data such as barometric pressure and weather conditions.
One of the main advantages of the app is its ease of use. You simply launch the app and it automatically starts measuring your height.
It also allows you to track your altitude over time so you can see how much you have climbed during your journey.
One potential downside of the app is that it relies on your phone's sensors, so it might not be as accurate as a dedicated altimeter. Additionally, some users have reported issues with the application crashing or freezing.
While there are some potential downsides, most users find it to be a reliable tool. So if you're planning on hitting the road soon, this app could be the perfect companion!
Application features:
Convenient to use
May be useful to you when traveling.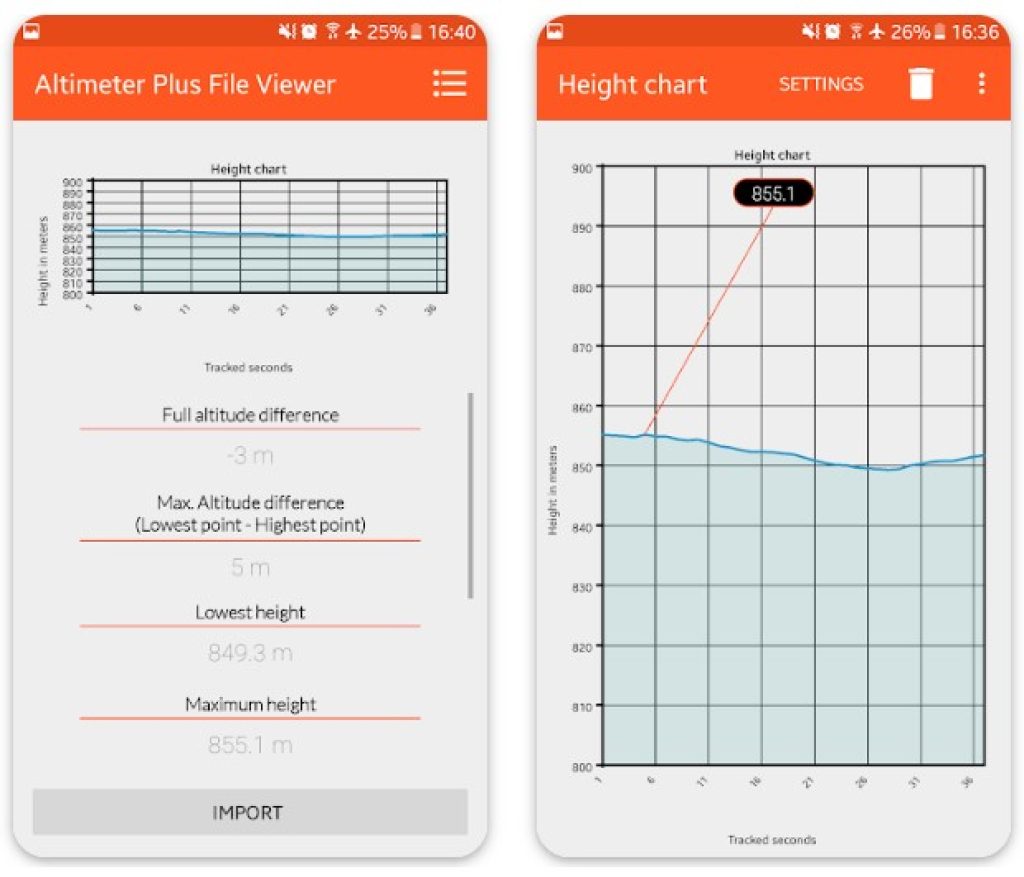 You may also like: 15 Best pedometer apps for Android & iOS
Altimeter Watch
Altimeter Watch is an app that allows you to measure altitude using GPS. The app displays your current altitude in meters or feet, as well as your location on a map.
One of the advantages of this application is that it works offline, so no internet connection is required to use it. Plus, it allows you to set waypoints and track altitude over time, making it a useful tool for hiking and other outdoor activities.
However, some users have reported accuracy issues with the app, and some have stated that it gives inconsistent readings.
Additionally, some users have complained about the app's user interface, stating that it can be difficult to navigate.
Despite these complaints, the app received mostly positive reviews, with users praising its ease of use and usefulness for outdoor activities.
If you're looking for an easy and reliable way to measure your altitude, an altimeter watch might be worth trying. Application features:
Does not require internet connection