If you're planing to renovate or make small changes in your room, you start out by measuring everything. But let's be real: we all hate crawling around with a ruler trying to get the sizes right.
That's why we've rounded up the best free room size calculator apps for Android & iOS you could try. These let you calculate any area within a few minutes, no equipment needed.
With these apps, you'll be able to find out how much floor space you have and even make house layouts. These are also must-haves if you're shopping online and want to ensue all furniture pieces will fit in. Let's dive in!
AR Ruler App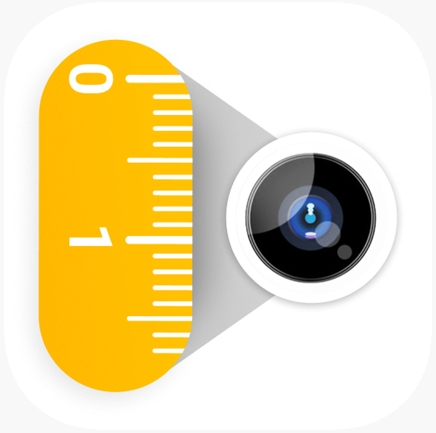 Augmented reality technologies are actively used in apps that take measurements. The AR Ruler App is a service that is one of the most popular tools for measuring absolutely everything with your smartphone.
Augmented reality technologies are used while you turn on your smartphone's camera through the app, and all you have to do to measure is aimed at a specific plane.
Measurements can be taken in a variety of systems and measures, from millimeters to inches. In addition to room parameters, you can also measure ranges and angles if you need to.
As for rooms, the AR Ruler App will automatically calculate area and perimeter in a special mode, so as not to burden you with unnecessary calculations. For easier work with non-standard shapes, the developers added more options – so you can measure not only the square and rectangular rooms but also those that have a round shape or the shape of a polygon. Note, that AR Ruler App requires the ARCore library for the service to work properly.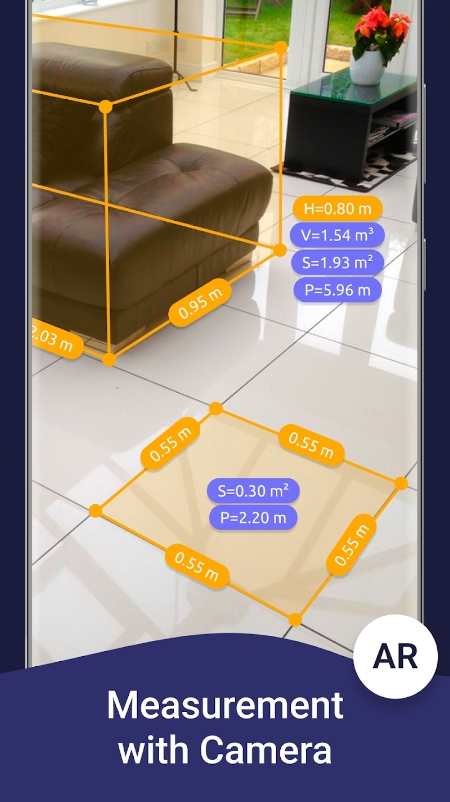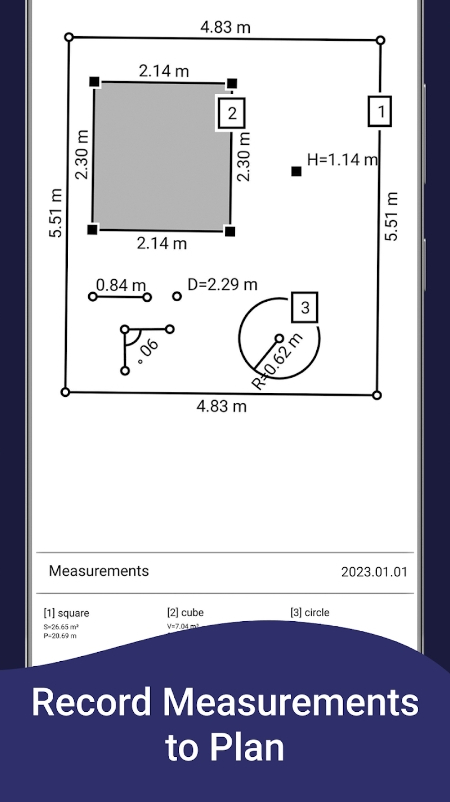 You may also like: 11 Best Tape Measure Apps
ImageMeter – photo measure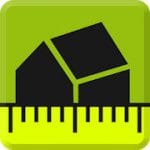 If you work in construction and deal with customers, then you know that it is not always possible to go to the place. Sometimes you need to remotely tell you approximately how much the repairs will cost, how much construction materials will be needed, and so on.
ImageMeter will help you determine the size of the room just from the photo, and with the help of this approximate information, you can already make the necessary calculations.
ImageMeter also works not only with photos but also with laser calipers and pointers. They can be synchronized with the app via Bluetooth to get the most accurate dimensions. It is also best to calibrate the device before taking measurements.
ImageMeter suggests that you use for this any object whose dimensions you know – then it will be considered as a reference. The application allows you to get dimensions from photos even if you have already left the room and have not had time to measure anything in it.
You can add text notes to the photos or audio messages that will be useful for further work.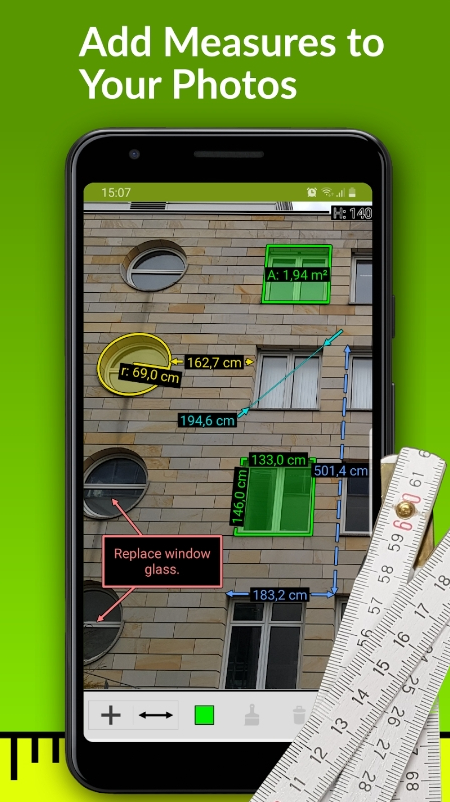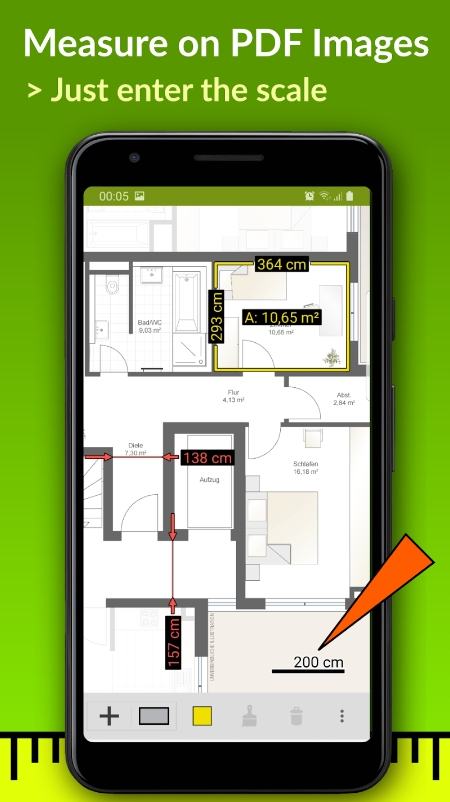 magicplan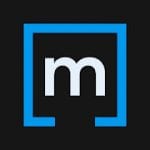 You can measure rooms not only to calculate the details of repairs and furniture but also to build a complete room plan.
Magicplan is an application that allows the user in a short period of time to create a detailed floor plan or house plan with all the rooms, as well as to assess their size and immediately transfer everything into the drawings. For this purpose, the application uses modern technology that automatically creates 2D or 3D sketches.
For the most accurate sketch using magicplan you can add photos in 360 degrees, so you will be able to convey all the furnishings and all the parameters of the room. This approach minimizes the risk of errors in the reports because you can always prevent them.
The drawings, which are created in magicplan, immediately show the dimensions of rooms, doorways, windows, and other important details of the room.
It is worth mentioning that the free version of the application is quite limited – you are only allowed to create 2 projects. If you plan to work with the service for a long time, you will need to buy a subscription – it will give you even more functionality and features.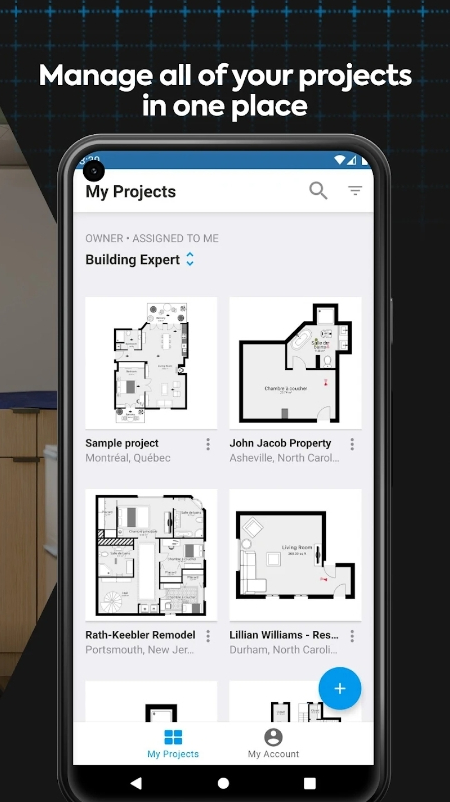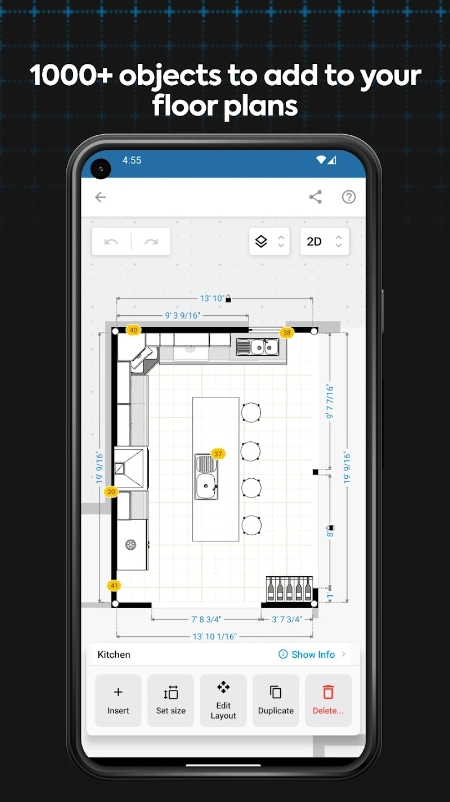 Area Calculator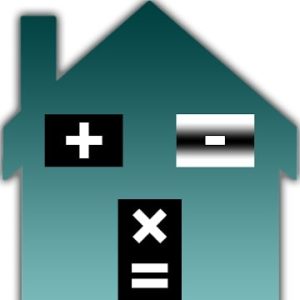 Area Calculator is an app that helps you record areas of an area and get the necessary parameters.
In doing so, you will be able to cut out unnecessary objects such as doors, windows, and other parts.
The app also has a surface calculator. It will help you get accurate parameters that may come in handy during repairs. Then you can send all the records by mail in PDF and CSV format.
This program also helps with calculating the materials you need. For example, if you have painted the walls in the kitchen and the paint is almost running out, you can't calculate by yourself how much more you will need. This is where the calculator will help you.
The app is also great for real estate agents. Experts can calculate various indicators, add up, save, and send the result to the mail. The app is unique in its segment. It does not require long training, because even a beginner can quickly understand all the tools.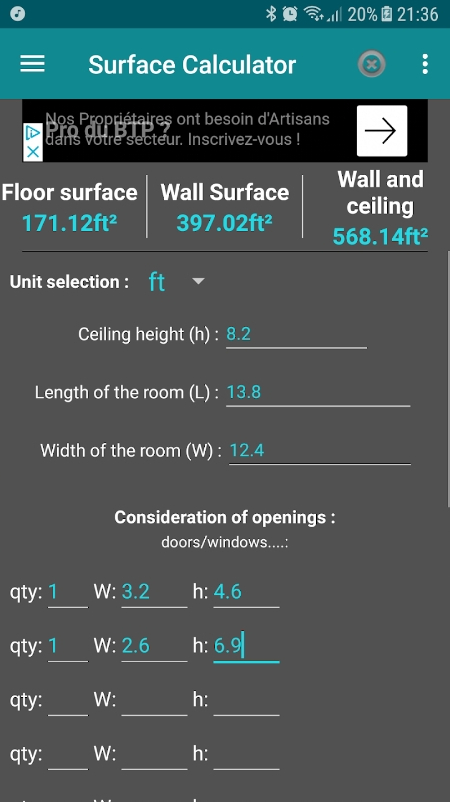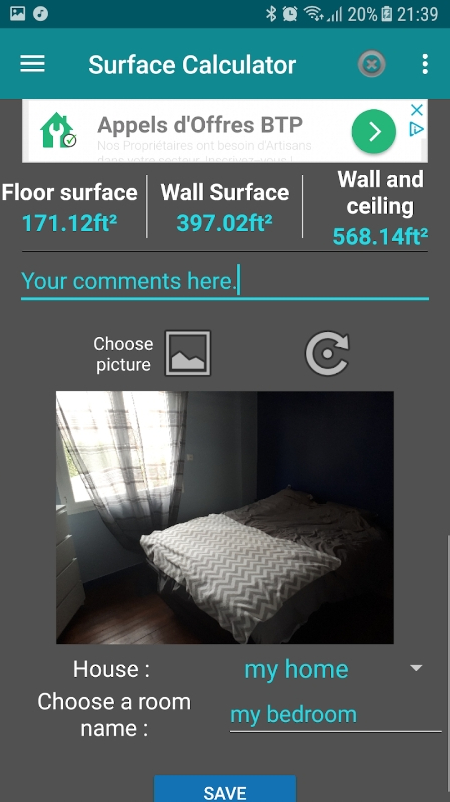 AR Plan 3D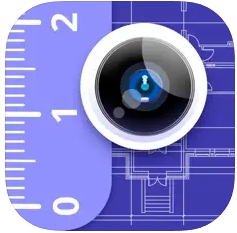 It's an innovative app that lets you measure your room with nothing but your cam. It uses AR tech and a lidar scanner to find out all the sizes of your place within secs. The app has a simple UI, so you'll quickly figure out how to use it.
Of course, it may take you a few mins to get used to the mechanics if you've never used such a tool, but it won't take long to get over with. All you need is to lay a visual ruler on any surface and watch the app do its magic. It works great for 3D floor plans and saves you tons of time (and money).
You can use the app to estimate the perimeter of the room, the ceiling height, window size, and whatever else. You can also switch units to maximize comfort, and there are quite a few options here.
You can also save all the sizes with just one tap for further use. And if you need to send it to anyone, you can easily do that as well. In fact, you can generate a full-on house layout with any additional tools or experience.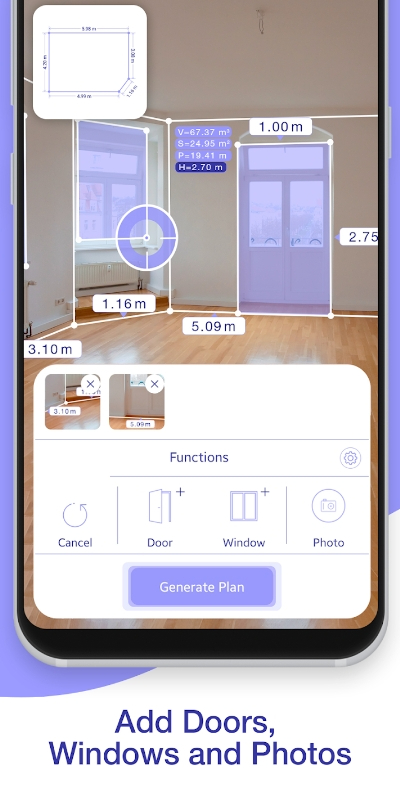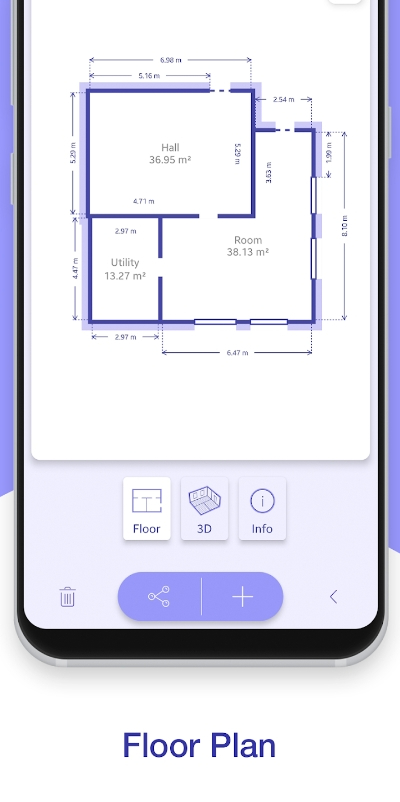 Moasure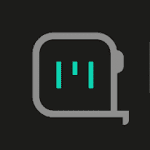 Moasure is an application designed to measure everything you want. It is worth mentioning right away that its functionality is not compatible with all devices but with most modern models.
Moasure requires the correct smartphone sensors, which will be used to take measurements. Now you will not need to carry a ruler, a laser gauge, or a tape measure. Moasure will do all the work for you.
In order to take a measurement and get a result, you will need to move your smartphone. For example, you would start by placing it in one corner of the room and then move it to the opposite corner.
Using the accelerometer and gyroscope, Moasure will calculate the size and give you an approximate result – with a very small margin of error.
You can also use the app to measure angles, the interior and exterior dimensions of rooms, and much more. Also, note that the app almost ignores obstacles – the space around them is measured as if they do not exist at all.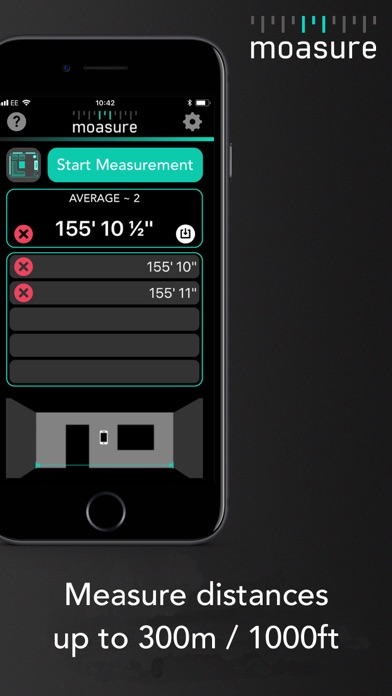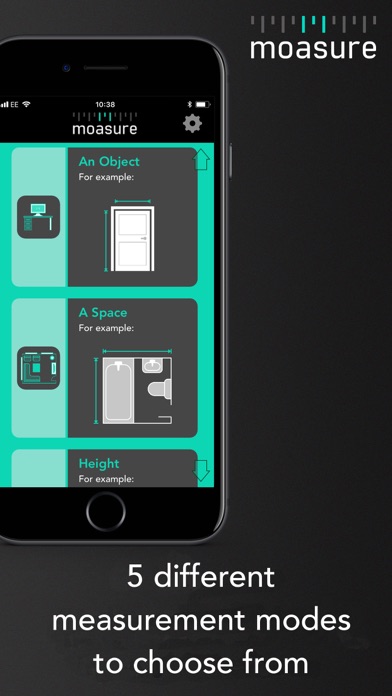 Quick Measure by Samsung Electronics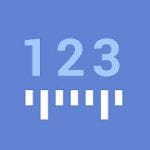 Samsung Electronics does not fall behind Google and also presented its own application for virtual measurement. Quick Measure will allow you to take any measurements in virtual reality while recognizing the size of any objects, people, rooms, and so on.
For objects and rooms that have a classic rectangular shape, the service can also calculate the area and perimeter. More non-standard shapes, such as a circle, can also be measured in radius and area.
In order to measure a room, you will need a camera. It measures the length between the walls and gives you a quick result. Without a camera, unfortunately, Quick Measure may not work correctly or may provide users with limited functionality.
All measurement results will automatically be saved in the history of the app so you can get the numbers you need in a timely manner if you need them. The best way to work with Quick Measure is to use the DepthVision camera for the most accurate results.
Samsung smartphones are usually equipped with it, but if you use a different model, the service will probably work correctly on your device, too.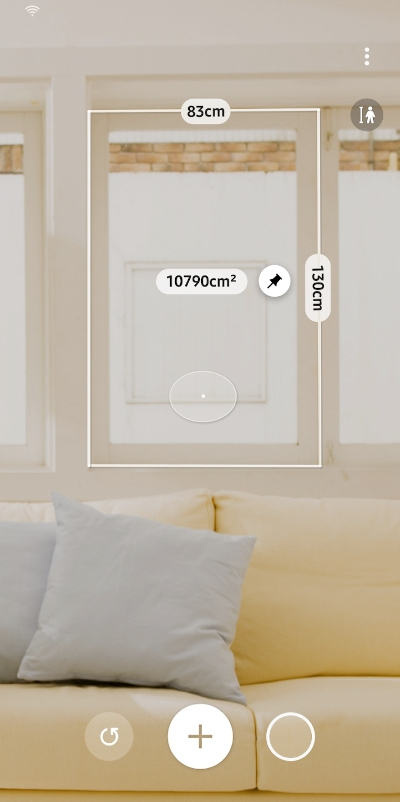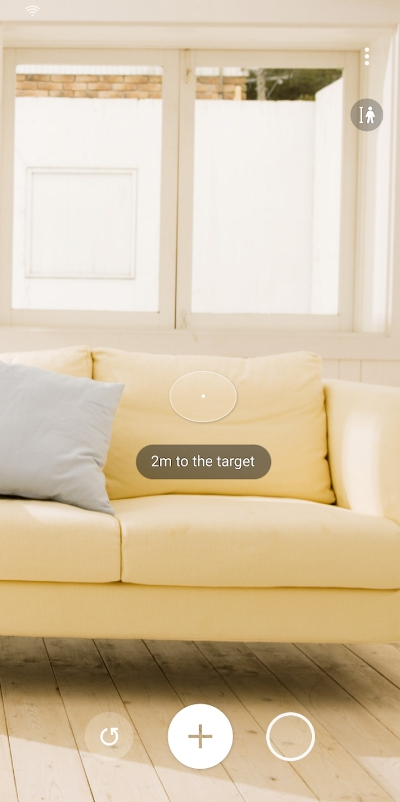 Check also: 15 Best Measure Distance Apps
AR measure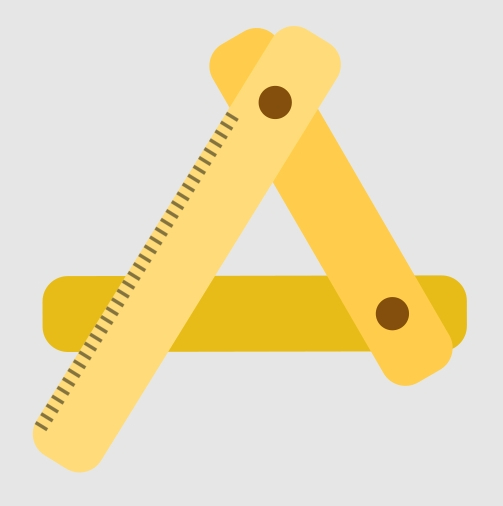 When you are told that you need to measure something, the first thing you definitely think of is a tape measure. You need to find a tape measure or a ruler, measure all the parameters of a room or an object, and only then fix the results.
With AR measure everything will become much easier – you will only need to take a smartphone in your hands and start measuring. To get the detailed parameters of the object you just need to point the camera and scan it, and the application will give you the measurement results.
AR measure will allow you to know the parameters and dimensions of your room without a tape measure – at least approximately. A photo of the measurement results can be sent directly from the app, without having to worry about the additional details of editing.
Users also use AR measures to find out how much it will cost to ship their parcel – often postal services are guided by the dimensions of this or that box.
Just a few clicks on the screen and you get the information you would have had to get through manual and time-consuming measurements. AR measure at the same time does not have a complicated interface, so you can quickly understand all of its functionality.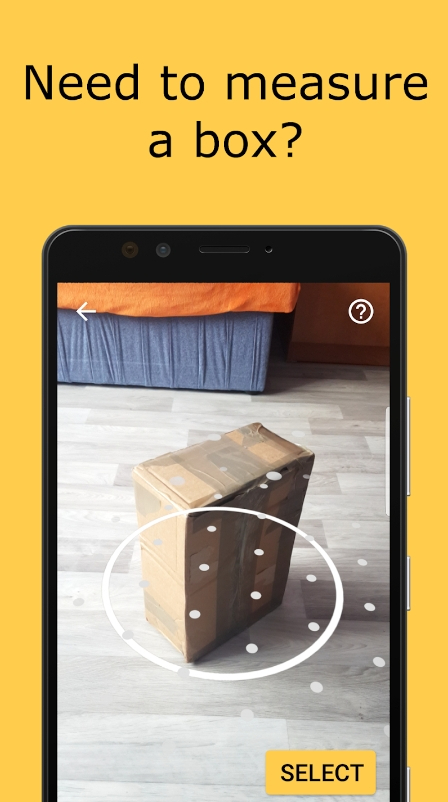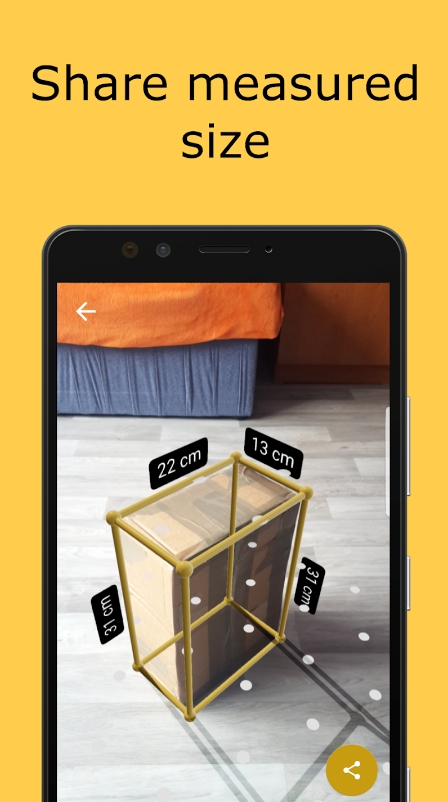 SizeUp – a Smart Tape Measure
Not all smartphone measuring apps have a high level of accuracy – even the developers say so. But the SizeUp app recommends itself as the most accurate and correct digital measurement tool.
It can measure the width, length, and height of anything you want. This digital tape measure works quite simply, and users can actually find out the parameters of literally every object or room in their home. After a short measurement, you will immediately see all the results on the screen.
SizeUp allows you to measure in centimeters or inches, whichever system is most familiar and convenient to you. All measurements are taken between two points designated by the user – for example, it could be two corners of the same room.
The results can be saved in a special section of the application for later use. It is also worth noting that SizeUp has a certain margin of error – it can reach only 2 cm and this is its maximum value. So you can safely continue your calculations without worrying that the data obtained will be far from reality.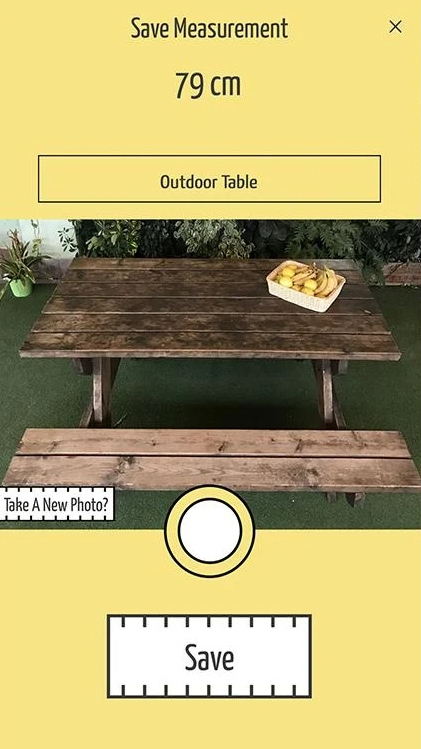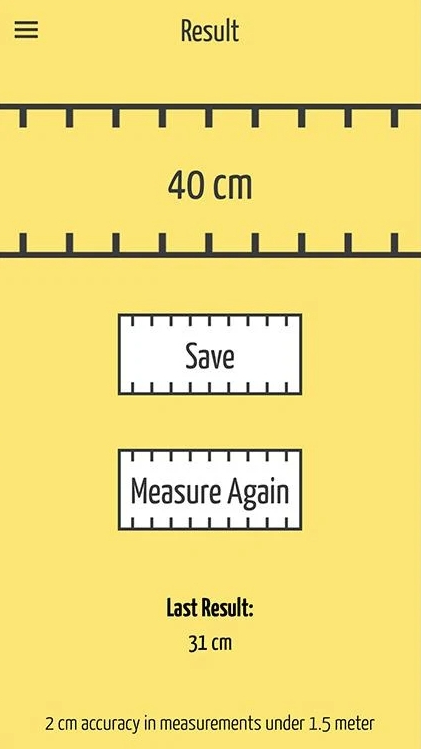 SimplAR Measure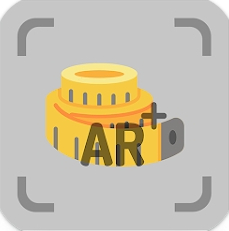 Your smartphone camera can not only take pictures and record videos. It can also act as a measuring tool that allows you to get all the data about the dimensions of a certain room.
The SimplAR Measure app uses the standard smartphone camera to place the measuring tape in augmented reality mode. This approach significantly speeds up the entire measurement process, as well as helps to make a three-dimensional floor plan, which will display the dimensions of absolutely every measured room.
Of course, in addition to the rooms, SimplAR Measure also provides more detailed small measurements. For example, measuring a box, closet, or even a suitcase. Your camera will measure anything and everything around you.
As we said, the data is obtained with a virtual tape measure, which must be placed on a flat surface. It, just like a classic tape measure, extends from one point to another, allowing you to calculate the exact dimensions and distance.
SimplAR Measure is a beta version at the moment but still shows excellent results and high accuracy of the obtained values.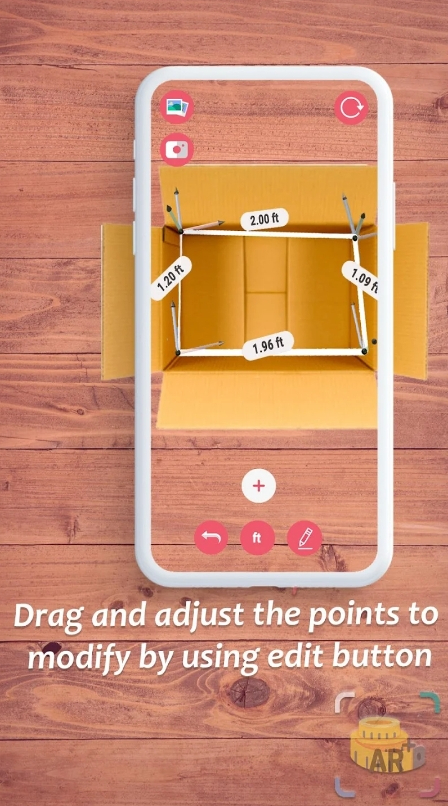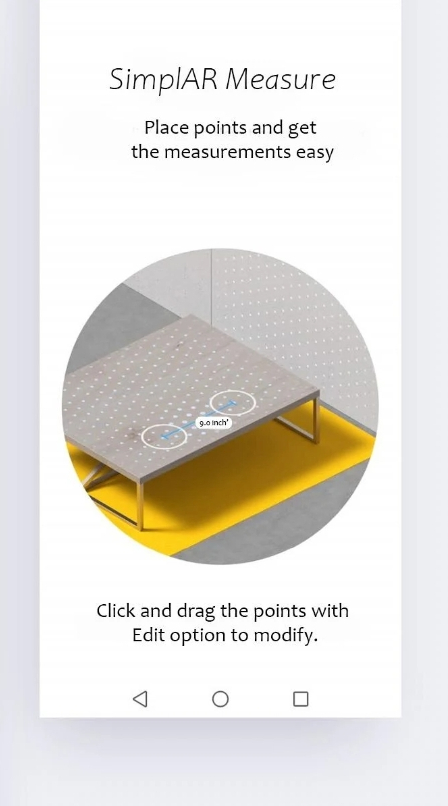 GRuler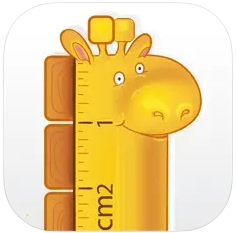 Many developers are trying to attract users' attention with unique designs, unusual features, and other details. GRuler decided to do something simple and their unique tool of attraction was an ordinary giraffe.
He will accompany you during all the measurements, which makes the app not only useful but also cute. Of course, the main measurement tool here is the virtual tape measure and the ruler, with the help of which absolutely all the calculations are performed.
GRuler uses ARKit technology for measurements, which allows you to measure complex objects, not just the classic rectangular shape. To measure a room, you will need to select the entire floor area, and then you will get the measurement results.
You can share them via social media messages or save them directly in the app so that you can access them later. Managing the ruler and data in GRuler is simple enough and understandable for any user.
By the way, the app can also save photos on your device along with the measurements, so you can share not only text results but also visual images.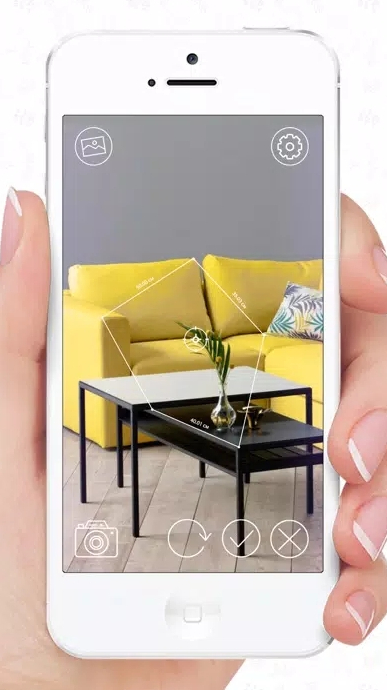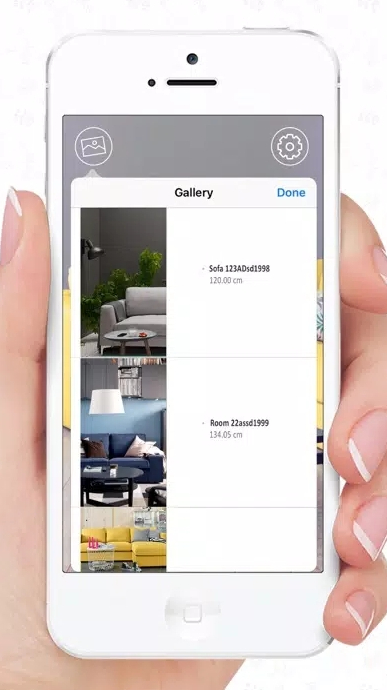 AR Ruler
This app will turn your phone into a full-on measuring tool. You'll get to find dimensions of any object and even measure your entire place. No need to carry around a ruler or count anything on your own – the app will conveniently do it for you.
The whole process is beyond simple, and one you've tried it a few time you'll be able to measure big surfaces within a few mins. At this point, objects will take literal secs, so this app is a huge time saver. All the sizes show app on your screen, and you can save them for further use, too.
You'll get to estimate length, height, width, and all that. The app covers diverse units, you can easily switch if needed. The only thing you should consider while using this one is that you should stand at least a couple of meters away from an object to get accurate results.
The app works great if you need to make a floor or room plan. It works in both 2D and 3D, so you're all the way covered.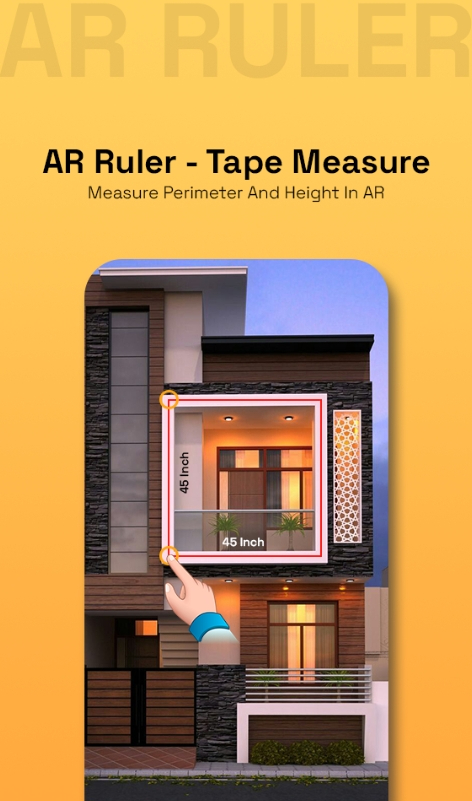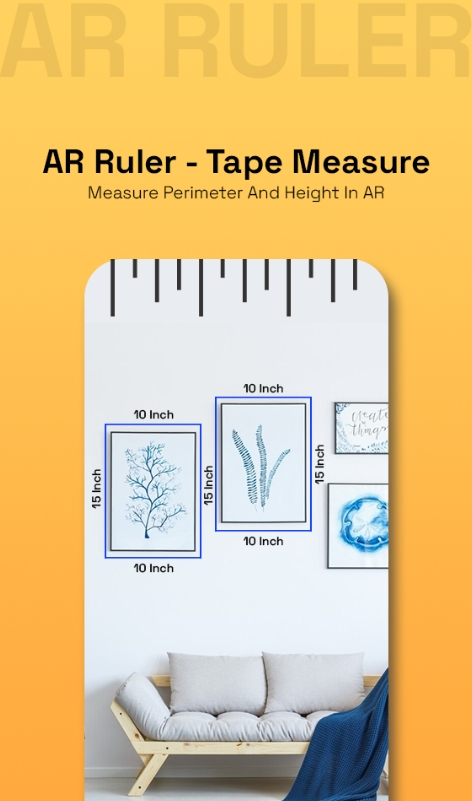 You may also check: 11 Free Room Layout Planner Apps
Measure Tools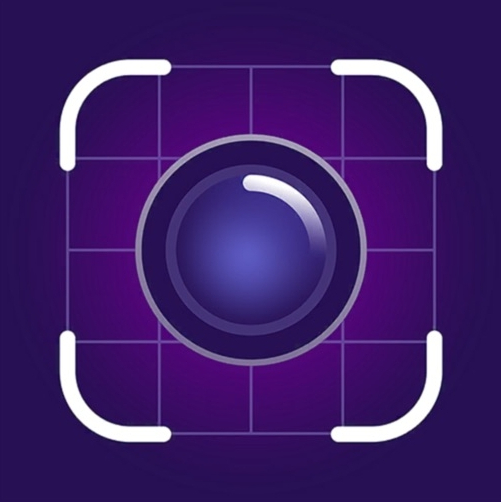 To wrap up, there's a ruler app that lets you measure whatever you want 2 times faster. No need for a real ruler or any other additional instruments. All you need is your phone and a little bit of patience.
The mechanics of this app are quite simple. Just lay a virtual ruler on any surface you would like to estimate. You'll need to add two points and the app will do the rest. It literally takes two taps once you'll get used to it.
It works on horizontal and vertical objects, just make sure to switch modes for accurate results. You can also use the app to previews sizes of furniture or other objects inside of your room. It's a muse-have if you're in a middle of renovation or plan to buy new furniture.
Plus, the app can automatically calculate the area of any object once you get all the sizes. You can also save and share the sizes withn secs.