This is the new kind of apps that is supposed to help you to solve this everlasting problem – losing your phone somewhere in close proximity to you. To be honest, this is quite a sophisticated method of finding your gadget since it doesn't require any additional gear except clapping. You can get one of the apps from the list and check if they work in reality.
Along with that, the phone is not the only thing that you can lose in your house. There are also Key Finder Apps to Try in 2021 and they are proven to be working. It's funny how you can find anything with these apps now!
Clap To Find My Phone
Here we have a trendsetter for everything. In case you're wondering how can the app work by clapping, there is a sensor that can recognize sounds of clapping (when the app is in work mode) and therefore point to the place where your gadget is.
Apparently, after downloading the app you need to configure the settings. Just enter the app and then click on the left icon in the upper corner of the screen and then get redirected to the on/off function. Turn the notification on and lay your phone somewhere.
Then make a couple of claps and you will see how the flashlight of your phone will work along with the notification sound. By the way, this method works in a radius of 7 meters.
Apart from that, there is also a "don't touch my phone" function that you can activate and lay down your phone somewhere. If someone decides to pick it up, the siren will go out.
In addition, if your phone doesn't have a feature of fingerprint lock protection, with this app, you can set it.
And speaking about other features of this app, there is indeed a lot of them:
You are enabled to find your phone not only by clapping but by whistling as well;
This is an option in case clapping won't work;
Opportunity to set up the charger disconnect alarm (especially useful if your charger is weak and torn);
Along with that, the app allows you to set up the battery alerts when the power is enough or low;
There is a spam-blocker option: if a certain number calls too much or sends too many SMS, the app will block it;
The same will happen if any number sends the content which is identified as harmful;
The app can also disable your flash for certain periods of the day;
Lastly, you can pick the hazardous numbers yourself and add them to the blacklist, so the app will block them.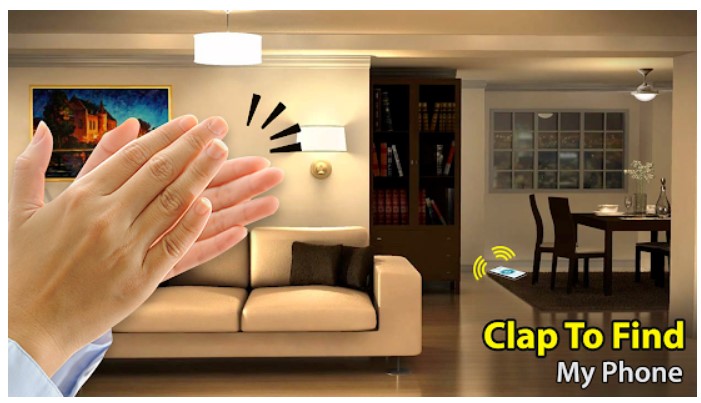 You may also like: 9 Free Chord Finder Apps for Android & iOS
Clap to find my lost phone
Basically, an analog of the previous app, but a little more simple. However, be prepared that Clap to find my lost phone has a much easier interface design and overall it's not that pleasant in usage as the top-runner of our list.
Overall, it is typical Android app. We also have to warn you that as soon as you open this app you will bump into the bunch of ads. The app is free though.
In order to activate the mode of finding your phone by clapping, you need to click on the "start" button at the top of the screen. You can also choose whether you want to use the app just once or every time. You can choose whether you want to switch on the flashlight and configure the volume of the alarm. However, you ca switch down all those things leaving just a vibration for finding your phone.
You can download this app and try it, however, lots of users complain it doesn't work at all.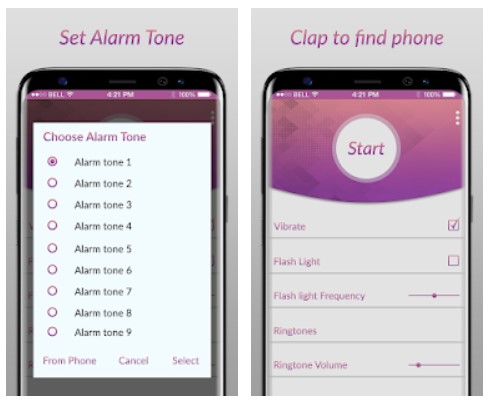 You may also like: 7 Free Apps to Lock Phone for Period of Time (Android & iOS)
Find my phone clap – finder
To be honest, firsly we were sceptical about this app, but it has more than 10 million downloads on Google Play that is already a great sign. You just open the app and click to switch on the finding option.
Then you can lay down your gadget somewhere and try to clap – see if it works on your gadget. As for our opinion, we coulnd't even open the app, but those users who managed to do it say, that there are tons of ads and that it's even hard even to exit the app without not clicking on ads.
And despite the fact that the functionality of this app is rather controversial, you can still try to download this Find my phone clap and see if it's compatible with your phone.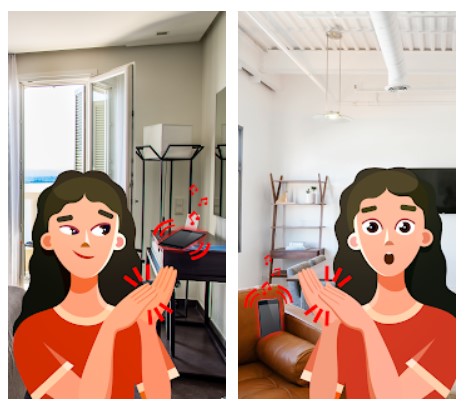 You may also like: 9 Best Screen Record Apps for iPhone
Find My Phone: Clap & Whistle
If you see this app on Google Play you'll be terrified how little effort the developers put in its description. We decided to structirize all the information about this app here – and it still leaves the questions whether it works properly or not.
The interface design is minimalistic and feels nice to utilize – you see all the essential options right in front of you when you open the app. By switching it on you basically choose which sounds you want your phone to make when you clap. You can choose flashlight, alarm and vibration and also configure the volume of each.
Then tap on "activate" button. Leave your phone somewhere and then try to clap or whistle and see if the app works. Don't go away too far – the range of capture is about 7 meters. Another cool thing is that you can also customize the colors of the interface.
And unlike in the case with the previous apps – this app seems to be way too sensitive. Even the tiniest sounds can cause the alarm. The ads are there, but the amount is not excessive. And summarizing all the points and being completely honest, it still doesn't work on every single device.