In case you've been involved in design, poster production, or just a passion for graphics, you're clearly familiar with the concept of clip art. In general, by clip art we mean any graphical objects that can become a part of a large project or make something new in the photo.
We can say that this is one of the most important tools in the design and processing of photos, if you want to give it some individuality.
Of course, many designers create and use them on laptops and computers, because it's much easier to work with graphic objects. But there are times when you need to edit a photo right away, or you just love to add clip art elements to your photos before sharing them with friends or social networking sites.
In any case, nowadays it is possible to use them even on mobile phones, without using anything auxiliary. We have selected 9 best applications for you to use clip arts, stickers and even edit your photos.
You may also like: 9 Best Witchy Photo Editing Apps For Android & iOS
PicsArt
Photographers and enthusiasts of photography and processing are familiar with this application. PicsArt allows users to make changes to their photos, easily retouch any shortcomings, convert photos into real works of art and much more.
You can edit professional snapshots as well as create memes and jokes. Filters, millions of stickers, and a huge library of clipart files give you the freedom to be creative and create something new.
In PicsArt you can not only use ready-made stickers and cliparts, but also create your own! You can do this in two modes. The first and simplest is that you can take a finished image with a sticker and just cut it into a new layer!
At the same time, a separate folder is created in the application, in which all your clipart are saved. So you can use it from unlimited time and quantity.
Using the second way you will need to spend a little time. You can draw the sticker yourself using PicsArt tools. Next, cut the item and save it in a separate gallery of the application. In any case, you will be able to create your own details as well as use elements from the huge collection of the application itself.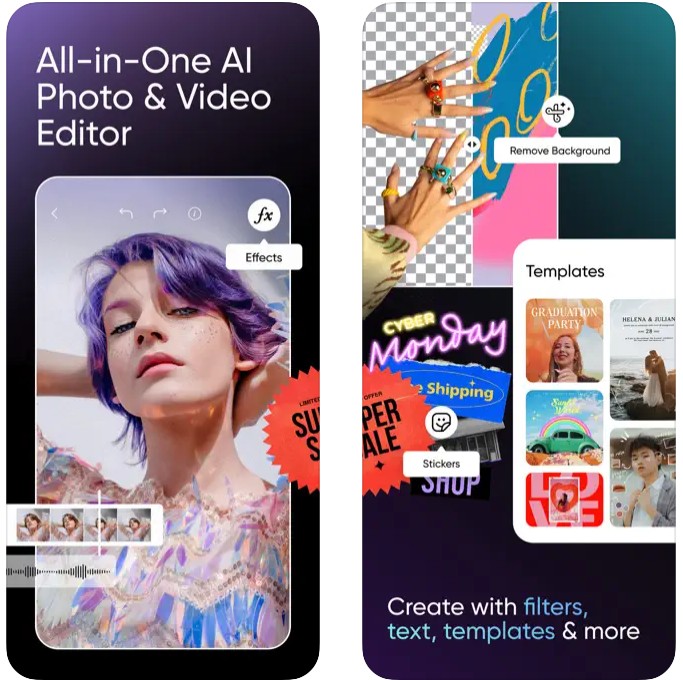 You may also like: 11 Best fake hair clipper apps for Android & iOS
FlipaClip
FlipaClip is a popular animation app that helps you create your own animations and clips. It offers a range of tools and features that make it easy to create high quality animated content.
The main function of the application is to help you create animations using various tools including brushes, pencils and erasers. It also provides layers and frames for precise animation control.
You can import audio and images, add text, and adjust animation playback speed.
You can create a new project and start drawing on the canvas with the provided tools. You can then add frames to create an animation sequence. The app saves the animation as a video that can be shared on social networks.
Some of the downsides of FlipaClip include random crashes that can result in data loss. Users have also reported that the app is missing some advanced features such as the timeline editor.
Disgruntled reviews indicate that newbies may find it difficult to use the app due to its steep learning curve.
Application features:
Allows you to create your own animations
Large selection of brushes for painting.
Application cons:
Technical failures
Uncomfortable learning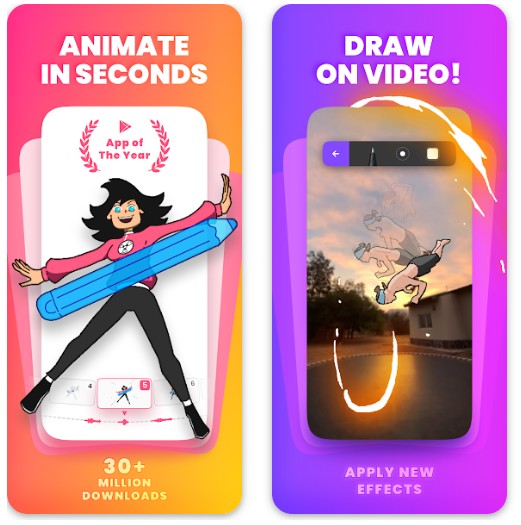 LightX
LightX is sometimes called the "simplified version of Photoshop" for smartphones. This is a justified title – the application has a wide range of features and capabilities, each of which you can use even if you do not have editing skills.
You can not only apply basic effects – such as sepia, black and white and the like, but also add multiple exposures, blur the background and, of course, use stickers and clipart!
Photo frames for collages, a library of stickers and the ability to create memes right in your smartphone – in our opinion, this is an impressive feature for mobile applications. Inside LightX all stickers and clipart are divided into special categories.
For example, you may encounter love stickers, dialogue clipart, congratulatory elements and many others. A huge library is constantly updated by developers and almost every update you can find something new for yourself. After adding these elements, you can easily change their position and transparency.
This way you can create a multiplicity of stickers with different transparency. You can't help but mention the possibility of drawing, so you can add a piece of yourself to the photo, creating your own image on top of the image.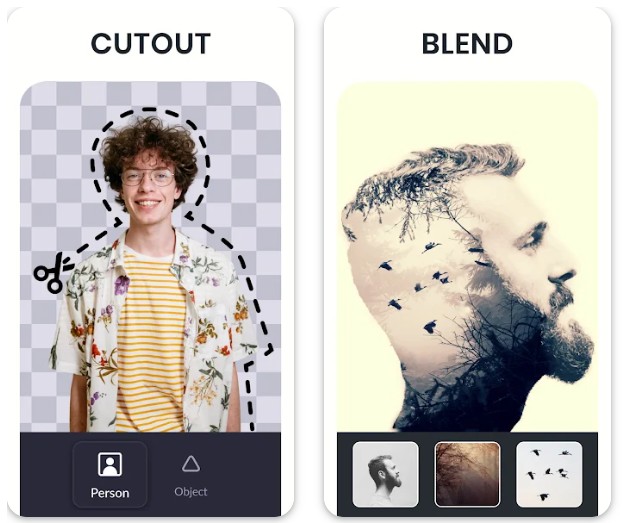 PhotoGrid – Video & Pic Editor
One of the most popular applications with clipart and stickers. In fact, it makes it easy for you to manage all the image parameters – from the size of the snapshot to the creation of a mosaic of photos and overlapping images.
Such an application is suitable for any amateur photographer, especially if you do not like boring pictures and like to make something new in the news feed of your friends.
PhotoGrid is used by more than 300 million users around the world and you can easily become one of them, as they have preferred this application for a reason. You get animated filters, more than 500 stickers, and their collection is constantly growing.
In addition to the usual retouching and improved image quality, you can also personalize your shot. For example, PhotoGrid has a huge number of bright collage templates, each of which can be highlighted with stickers or drawings.
In addition to clipart, you can also add text extracts and draw graffiti on top of the image yourself. So you can create your own and unique snapshot – just by opening a gallery with stickers and choosing the one you like the most!
In PhotoGrid, you can create your own personal album from the elements you like the most – for example, special clipart or a template. Using this album, your photo editing will take even less time than it could have taken.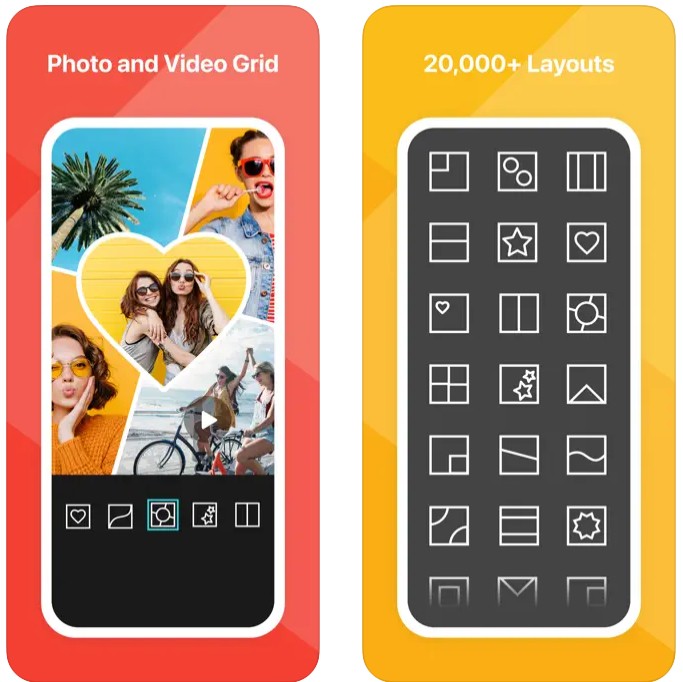 Pins – An easy and simple photo collage app
There are also a lot of applications for users who aren't too demanding on functionality, which will allow you to process the snapshot beautifully.
Pins will help you to fully customize your photo – that is, you can change it beyond recognition – so that the original will not be visible at all.
The app allows you to create a beautiful and original photo collage using a variety of editing tools – stickers, fonts and inscriptions, image processing or basic photo frames.
From the very beginning, you will be offered to choose the size of the image depending on your goals. You may want to print the result in the future – that is, you need to create it immediately according to the standards that you set for the printer.
Pins allows its users to choose the size of the final image without restrictions. You can also try out different filters on each of the collage images, as well as a small inscription or a whole text note.
Stickers and clipart can also help you – for example, to create a footnote of the dialog on the picture or something else. There are absolutely different stickers.
Pins even has a collection of sketchy clipart styles. This gives the photos a special charm and even makes them sophisticated. With an iOS smartphone, it's a good idea to try out Pins – you might be fascinated by these sketch stickers.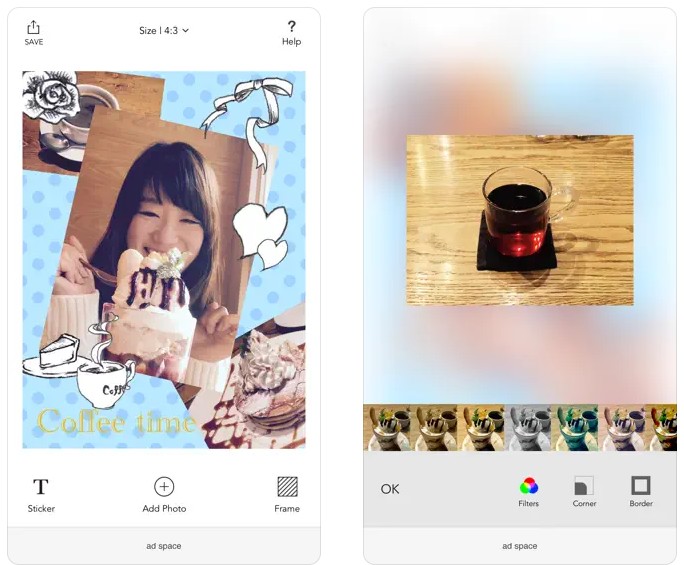 LINE Camera – Photo editor
A lot of people know this cute little bear with the application logo. LINE Camera has gained wide popularity among children, teenagers and youth.
After all, this application will help you to make your photos unique and highlight them among the gray and boring pictures in your news feed.
LINE Camera is convenient because you can edit photos in any way convenient for you. You can also use the full functionality of the application to make a photo the way you like it.
When it comes to editing only, LINE Camera has a great "Beauty" feature that makes you even more attractive with just one click of a button (although we have no doubt that you are attractive without filtering).
More than 1000 marks and stamps are at your disposal, which you can easily use on your photos. You can also insert text clipart – LINE Camera has many fonts, some of which are artistic.
In total, there are more than 5,000 stickers and clipart files in the app – and they are constantly updated! LINE Camera is updated weekly, so you get a new batch of jewelry for your shots every week.
All cliparts are made by professional illustrators and differ in quality. You can send your results to one of the social networks – for example, Facebook, Twitter and …LINE! Yes, LINE has its own social network where you can post your processed images and collages. Download LINE Camera and show everyone how you can work with photos.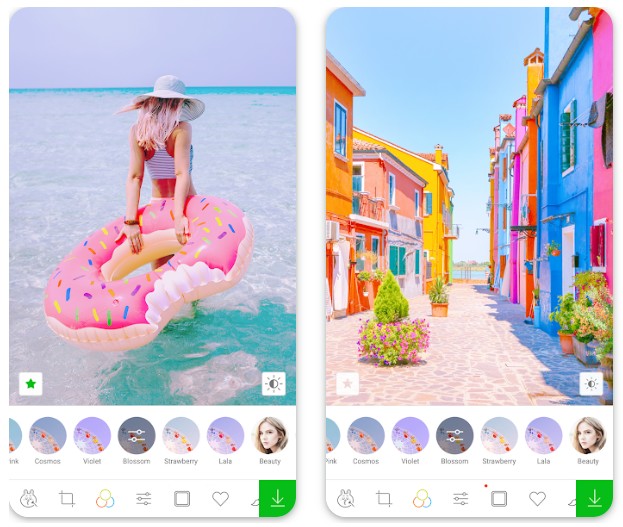 You may also like: 9 Free clip art apps for Android & iOS
Canva – Graphic Design Creator
Canva is a great service for graphic designers and all those enthusiasts who want to get involved in design.
The application has both a web version and a version for Android and iOS. So we can say that Canva is so multiplatform that you can use it on all your devices at once!
The design created with the help of this application will seem incredibly simple to you. The process itself won't take long, as the developers have been counting on the service for beginners, not just for pros.
You'll be able to create a variety of projects that make it easy to achieve your vision – using stickers, editing images, and creating something entirely of your own.
Developers immediately give you the choice – you can start something completely own, and use the ready-made layout or design. The second option is not so easy – some of the layouts are paid (to be honest, about half). But even free options are original and quality templates.
With Canva, you can create your own clipart. Since the application is designed for professional designers, it has all the tools that will allow you to create something qualitative and beautiful. You can immediately apply your logo to a template, so you can see if you need any further work.
A nice bonus in the application are constant motivational and humorous quotes and samples of films – while you are engaged in creativity, you are supported in this.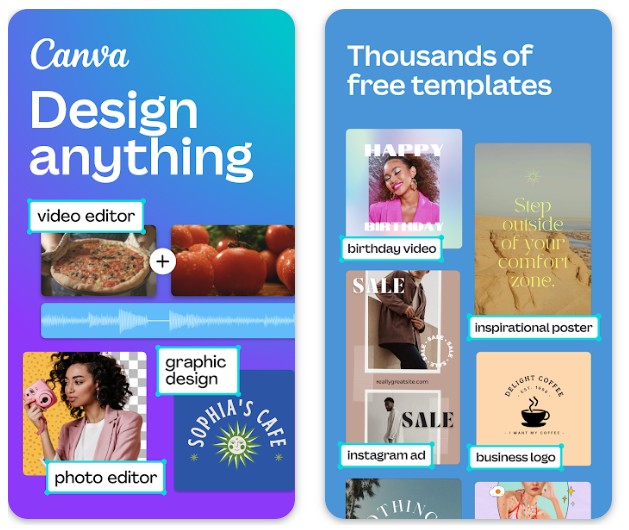 Clip Studio Paint
Clip Studio Paint is a great drawing app that will help you create professional drawings, comics, and 3D models.
If you want to create comics there are different speech bubbles, frames, and action lines where you can put your text in. There are various fonts available.
You can adjust the size of brushes to your preference.
The best part of Clip Studio Paint is that you can add movement, and sound movements to your drawings. So you can actually create a movie.
The app supports Samsung Galaxy S Pen.
Create whatever number of screen tones you wish. Manage several projects at a time, invite your friends to work together as a team.
Go to the official website where you can see others' work and get some inspiration. The Youtube channel regularly uploads tutorials for beginners! Easily share your work with others, you can even post a time-lapse of your work.
The disadvantage of this app is that it's free for only 3 months and a minimum of 3 GB of memory is required. It is better to use on a tablet as there are a lot of small buttons.
The price of this high-quality app is definitely worth it as the opportunities you get are endless.


PicCollage Grid & Photo Editor
A huge number of downloads in the App Store, as well as high marks of users immediately attract your attention to PicCollage in the category of Photos.
Such good ratings are not in vain – it is probably one of the first and still developing applications that allowed users to change photos right in their smartphones.
In PicCollage free stickers, clipart, as well as fonts and complete postcard layouts. Developers are constantly updating holiday templates in accordance with the dates – for example, by the end of October, users received thematic clipart and templates for Halloween celebrations, and by Christmas, developers are already preparing new frames and jewelry. You can also use themed wallpapers.
PicCollage has exclusive artists and illustrators working with it. They are constantly updating the gallery of the application in order to give you even more space for creativity. You can also work in a free style – that is, without templates, hints or stickers, you can create your own photos or drawings.
This way you can upload your own original clipart or save it in your phone. If you want to use ready-made stickers – then at your service is provided search for keywords – it works in several languages, which greatly facilitates your search for thematic stickers.
In addition to the free application, there is also a Premium version. Of course, it has a lot more content and more tools, but in general, the free version is enough to make your photos original. If you don't have enough free clipart collection, then you can buy a subscription, and there you will get many more thematic stickers.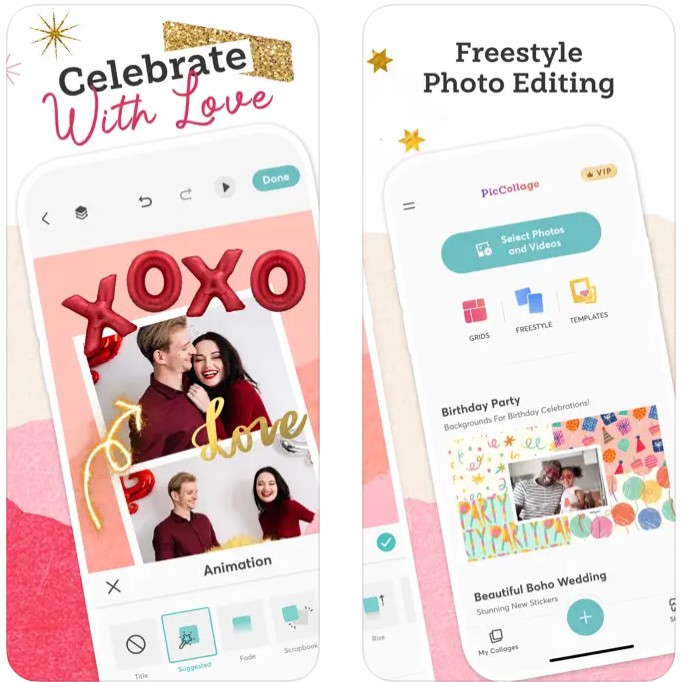 CapCut
CapCut is a video editing application that allows you to edit your videos and create flashy clips. Thanks to this application, you can unleash your creativity
One of the main features of CapCut is the ability to cut and merge videos, which allows you to cut and merge different clips. The application also includes filters, transitions, and various editing tools such as adjusting brightness, contrast, and saturation.
CapCut's principle is to provide you with a convenient and affordable video editing tool. The app's interface is easy to navigate and offers a range of features suitable for both beginners and more experienced editors.
One of the downsides of CapCut is that it can be slow and stutter, especially when editing longer videos. Also, some users have reported that the app crashes or freezes while in use.
Some reviewers also expressed dissatisfaction with the application's watermark, which cannot be removed without upgrading to the professional version.
Application features:
Large selection of functions for editing clips
Easy to use
Application cons:
Technical failures during which all work may be lost
Slow operation and freezes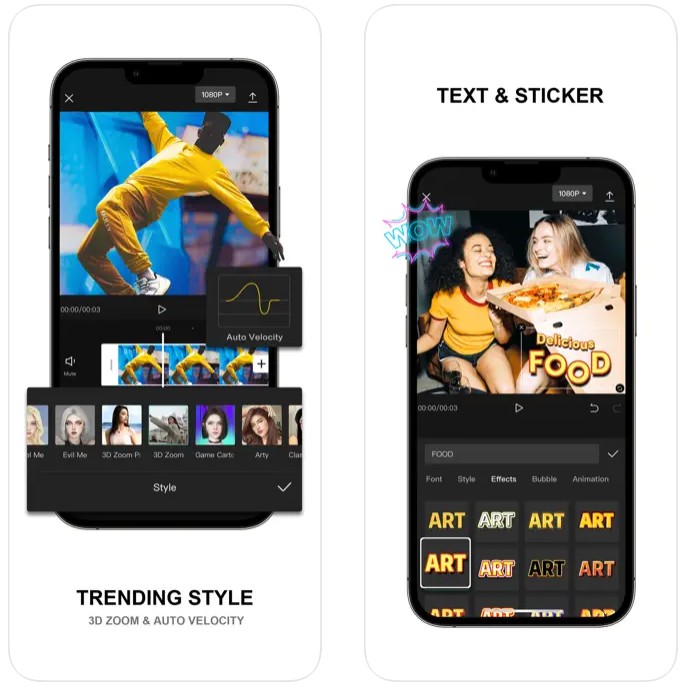 You may also like: 11 Best Apps To Transform Photo Into Anime Drawing
VideoLeap
VideoLeap is a video editing application. It offers various features that allow you to edit and create professional looking videos.
With VideoLeap, you can trim and merge video clips, adjust video speed, add filters and effects, and create photo and music slideshows. The app also includes advanced features such as chroma key, key frame animation, and text overlay.
You can import video and image files from your device's camera roll or cloud storage, and then use the editing tools to modify your content.
Although VideoLeap is a popular video editing app, it does have some drawbacks. Some users have reported issues with the application crashing or freezing, which can be annoying when working on a project.
Others point out that the app's pricing structure can be confusing, as some advanced features are only available through in-app purchases.
Although the app has some limitations, it is generally well received by users and provides a solid editing platform for those who want to create and edit video content on their mobile devices.
Application features:
Intuitive and easy to use interface
A large selection of functions for editing and enhancing videos that are in no way inferior to professional ones.
Ability to choose the quality level of the finished result
All your projects are saved inside the app
Application cons:
Users complain about the technical support of the application
Periodic technical failures
In order to get full features, you will have to subscribe to the application for a fee