17 Best Anger Management Apps for Android & iOS
The modern world is full of stress, triggers, and emotional aspects that are difficult to overcome at times.
We do not part with the thing that is our assistant in overcoming these triggers and self-control every day, which we do not even recognize. Phones, tablets, computers, and other gadgets can set our mood, restore emotional balance, and teach us to listen to ourselves and our bodies.
You don't have to limit yourself to simple pedometers and calorie counters – the world of mobile apps is so diverse that we can find a solution to our psychological problems by simply typing the correct requests into mobile app markets. And what should be these requests we will discuss in the following article.
AIMS for Anger Management
What is one of the most important aspects of anger treatment? Obviously, this is support, and this application will help you find it. AIMS (Anger and Irritability Management Skills) was developed to help people suffering from anger and wanting to cope with it.
The application has a system of support in any of your conditions and the purpose of the exercises to cope with it. From relaxing music exercises to breathing exercises.
The App contains everything you need to deal with this condition. Even the most ordinary users can create anger management plans and methods that can help them based on their preferences.
Based on feedback, the app has helped many people who are struggling with anger and people who are trying to help others in anger management.
You can also check: 13 Best breathing apps for Android & iOS
Breathe2Relax
Breathing is one of the most important actions of your life, and you probably don't even know how to do it right. You have most likely heard that in order to calm down you need to slow down your breathing and start breathing calmly. But do you keep it in your head at all times?
This application is designed to focus on learning simple breathing exercises that will help you to calm down and take a deep breath at the right time. A pleasant female voice helps to relax and focus on the exercises while you look at a number of beautiful landscapes, and calm music helps you to breathe peacefully.
The app is very easy to use and has a load of customization options such as the narrator's voice loudness, visualized timers, and music tracks on the background. Breathe2Relax is very useful in stressful times and helps to control your anger and anxiety.
Calm
Calm is, obviously by its name, an app for calming down after times of stress and anger. The application has many options to choose from depending on what you want to get from the application.
It provides a wide range of meditation programs depending on what you want and times you can spend on meditation. The programs are different according to your preferences, for example: to manage anxiety, to improve concentration, to learn to meditate, to reduce stress, etc.
Calm also allows you to manage your sleep time. The many sleeping stories included in it, which will help you fall asleep relaxed and happy.
The Calm interface is intuitive and very clear, so you can get started right away without wasting hours on the instruction manual. And in case you want the best apps for yourself, Calm is an Apple award-winning application.
Pacifica
How often you consider yourself a person who needs a personal therapist at your hand? The therapist session can be too expensive and afterward have no effect on you. It would be amazing to have a free trial on therapy but there is a belief that no free therapists exist, and that's why…
You need this application. Pacifica app can be classified as your personal portable therapist. It has great tools at giving you what even some specialists can't offer.
Pacifica has the means to provide cognitive-behavioral therapy, daily rate what you want to track (e.g. happiness, sleep time, etc.) even chatting with its users. Chat is represented as different communities that you can join and talk freely with people in it.
The app has visualizations such as breathing sessions or public speech. The narrator's voice is asking you questions and helps you to answer them.
Pacifica is truly an amazing app that provides huge support for people who want to take care of their mental health and even therapists sessions sometimes offer less than Pacifica's free version.
What's up
What's up helps you to cope with your mental health problems such a depression, anxiety, anger. It uses the best of Cognitive Behavioural Therapy and Acceptance Commitment Therapy to help you!
The app includes a habit tracking program that allows you to monitor the progression of habits you are working on, whether they are useful and beneficial, or harmful and unhealthy.
There is also a chat forum where you can freely post everything you feel, ask for advice or talk to others. However, the application does not include private chats, you can talk to the person only by replying to the person's messages, which are open to everyone.
What's up has a very clean and delightful interface, which is also customizable. You can choose from over 20 themes, depending on what you consider to be the most comfortable.
The list of features is huge, you can try them all yourself by downloading the application from the Google Play or iTunes store because the application is absolutely free.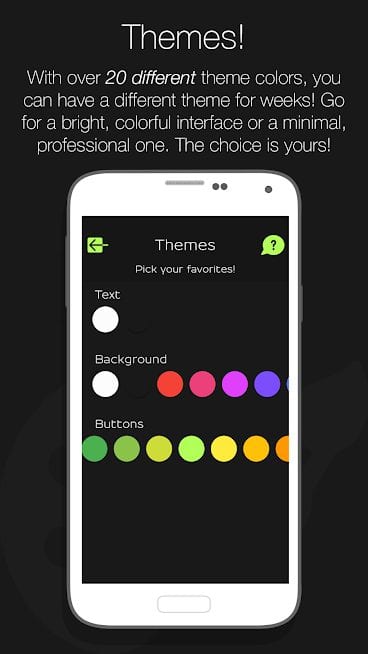 Headspace
If you ever wanted to learn how to meditate right this is the app you need. Headspace is a professional teacher of breathing and meditation. It will show you what meditation is, why you need it in your life, and, most importantly, how to do it right.
The app offers you a 10-day introductory meditation course, after which you will understand how to do it and how important it is in your life. After a 10-day course, meditation will be like a game for you and the app will track how many times you meditate and how long you meditate.
However, the app has a paid monthly subscription that may discourage you from continuing to use the app after a 10-day introductory course, but even these 10 days you can enjoy a meditation course and decide for yourself whether you are ready to continue this lifestyle with meditation.
Wysa: Anxiety, therapy chatbot
Imagine a mood tracker, anxiety helper, mindfulness coach, and mood-boosting friend that are all collected into one. Wysa is an emotionally intelligent Chabot that has every above-said feature inside it.
Creators made an app be able to help users by such functions as building confidence; reducing self-doubt; managing anger, conflicts at work; etc. You will be able to practice CBT, relax, and focus on peaceful well-being.
When you first enter the application, Wysa introduces itself and suggests you enter your nickname. Next, you can select the challenges for building your space.
After all the settings, the main page opens with such tabs as Home, Therapist, Self-care, and Journal. The My packs section will be available for you. There you can find tasks to achieve certain goals.
Rootd
Rootd is a simple game-oriented tool for dealing with (mostly) anxiety problems. This little monster friend in your pocket will help you any time you struggle from a panic attack or anger. The app has an offline functionality because panic attacks do not rely on wi-fi and can strike you anywhere you go.
Little guy Ron, that's the name of your new monster friend, can help you to understand the roots of your problems and offer you his help with breathing and meditation exercises. The app has many different tools for managing mental health management such as visualization, lessons, and so on.
Rootd has a very user-friendly interface, so you won't have any problems with it, allowing you to start using the application right away.
Moodpath
Moodpath is a good universal application for monitoring your mental wellbeing. The experts recommend that you use the app to make full use of your daily free time to work on the treatment of mental health symptoms.
The App provides audio and visual exercises based on cognitive-behavioral therapies to work independently when you are not with your therapist.
MoodPath Journal, one of the features of this application, allows you to record your symptoms in it. After 14 days of this program, you will receive appropriate recommendations for treatment.
The most important feature of MoodPath is in connection with your therapist all along the way. The app can be connected via the therapist's service called Aurora, so he/she can get all the information about your mental health, treatment progress, and so on.
MoodPath, also, has a connection to therapy service "BetterHelp" to ensure you get the best help from both of these services.
You may also like: 11 Best symptom checker apps for Android & iOS
BetterHelp
If you don't have the opportunity or don't want to visit a therapist, but you really need it, then there is a real alternative. BetterHelp is an e-consultation service with real professionals to provide you with the best diagnosis and proper mental health care.
After a few questions, you will be matched with your counselor and you will start a session with him or her. The sessions take place in the "consulting room", which is similar to a video session on Skype.
Therapists will work with you and tell you about your diagnosis after a while. The program includes a variety of homework and exercises that they strongly recommend you do.
Many people who couldn't come to the therapist's appointment, went through the course of this application and were able to go and try real sessions of therapy on their own.
7 Cups
7 Cups provide its users with good e-consultation service and many other features to help you cope with anger, anxiety, depression, stress, and so on. It also provides a variety of exercises and tools for daily maintenance of mental wellbeing and assistance in all situations.
The application focuses on conversations with the "listener", who becomes your therapist depending on the problem you have chosen at the beginning of using the application. After the initial test, you will be matched with the listeners, who will be ranked according to their assessments, such as professionalism, response time.
7 Cups is an anonymous service, so you don't have to worry about these nuances. The community forum is free to communicate with people with the same problems or on any other topic you wish.
Mind Shift
Mind Shift concentrates on minimizing anxiety and relieving stress with a variety of tools and approaches used in cognitive behavioral therapy.
The app includes a number of features to help people cope with anxiety, such as the "Active Steps" category in the app, which focuses on progress in coping with anxiety, helping to prevent it from occurring at the very first symptoms.
"Chill Out Tools" offers meditation and breathing exercises to reduce the impact of mental health problems on you and shift your attention away from them.
Mind Shift provides tools for you to describe your triggers when you are facing anxiety and offers materials on how to prevent them according to the triggers you have. It also includes various tests to identify triggers and questions with answers after the test on how to avoid triggers.
Mind Shift has a simple and intuitive interface with a very good color gamut that contributes even better to your peace of mind.
Happify
Happiness is the opposite of all the negative emotions. In some sense, you can "train" yourself to be happy – being sad or depressed is just a hazardous habit that you acquired under the constant stress. But did you know that with the cognitive exercises you can reprogram your mind on the positive vibe?
Happify is the app that is aimed to help you to start a new happy chapter in your life. Do the exercises that you will find here on the daily basis and you will see how you are getting calmer and more relaxed.
When you open the main menu of the app, you can see several categories of the exercises that are meant to bring various positive emotions to your life. For example, there are exercises to feel more grateful, inspired, to develop your empathy, and so on.
Another advantage of happify is its super convenient user interface. Everything is crystal clear but the app doesn't look too simple. Happify works like a game. You need to solve small riddles and do the quizzes to help your mind to get away from negative thoughts.
All the games work without WiFi. As you are completing more tasks in the app, you are getting rewards. There are also meditation practices that you can discover.
Angrr – Anger management
Angrr is an app to help you deal with your aggression and manage your anger.
When you enter the app, you will be suggested to take an anger test that will help you find problem areas in your emotions. You can also study the physical symptoms of anger, look at real-life examples of their expression, and try to find a solution to each of the problems.
Angrr has a feature to subdue your anger through 4 stages. These steps include Fidgets (you will have to tap an image till your mind returns to calm), Move (you may do any physical activity till the counter gets to 0)
Breath (you will have a breathing assistant), and lastly Calm (a guided mindfulness exercise to help you with anger controls).
Simple Habit
If you have problems with anger, you feel like you're under the constant pressure, anxiety, stress and being caught up in negative emotions in general, then you probably caught the habit of getting nervous and blow off at even not so important things. You can totally fix that by building a new habit to stay calm whatever it is there.
Simple Habit is a meditation and calmness app that will help you to keep the cold mind even in the most stressful situations. It is recommended by many influential media sources, such as the New York Times, Esquire, and many others. It is one of the most habit-forming apps on the market.
Here you will find the breathing exercises – it is a known fact that the right breathing is the most effective method to combat anger. In the beginning, you can choose 5-minute long exercises and then make your sessions longer and longer. Depending on your stress level it is also recommended to do the meditation exercises.
Overall, building a new habit to breathe should significantly reduce your negative emotions and teach you how to deal with the most difficult situations. There is a lot of other useful features in the app, such as ASMR podcasts for better sleep, and so on.
Sanvello: Anxiety & Depression
Sanvello is an app that will help you feel better.
The system of how the Sanvello app works is clear: you track your mood or some periodic feelings (such as anger or depression). The application will then create a personal pack for Braving your negative emotion. By taking an example of anxiety, the pack will include 5 steps.
The first one is the video of how this emotion works, after watching it you will have the overall understanding of what is going on. Then, you will have to read the anxiety loop and listen to signs and symptoms.
Sanvello will suggest you plan your goals on how you will deal with your negative emotion (you will also be asked questions for a better outcome).
The last step is calming your breath with a relaxation journey (the speaker will go through all done actions and sum up how much progress have you made). In case you don't want to listen to the prerecording there is also written text (placed on the right from the Listen button).
The application's interface itself is accessible to anyone. Small tips from the developers will accompany the newcomers.
You can also check: 33 Best Health Apps for Android & iOS
Stop Breathe Think: Meditation
SBT is a meditation app that offers you daily plans based on what you feel.
The application effectively copes with feelings of stress, anger, or other negative emotions. If you need help with your mental state, then you will need to very truthfully note everything that you feel.
First, you will have to breathe deeply for 10 seconds, which will allow you to move away from the malicious mood. Next, notice how you feel physically, mentally, and emotionally.
After that, you will be redirected to a page with recommended results. In the case of the main negative emotion of anger, you will be offered such packs as Equanimity, Cause and effect, Relax, Ground, Clear, and Change. In each of them, you will find several options of the voice on which the meditation session will be held.
The voice you choose will tell you exactly how you can relax and about what you need to think at that moment. For example, put your hands on your knees, breathe deeply, and think about what led you to an irritable state. After going through all the steps, you can fully delve into the problem and find a solution.