Honestly, I don't know a single person who has kids and who has never had a necessity in a babysitter. But when you decide that you are definitely gonna get one, what do you do?
Who do you trust? This is not just a belonging you need to take care of, it's your precious baby – and here comes the point where a lot of people get caught up in never-ending anxiety. It is good if your friends or family can give you contacts of a caregiver, but what if you're the one in your surrounding who has a child?
That's why we prepared a top 9 best apps for babysitter search. They have been proven as trustworthy and secure, fast, easy, and convenient.
You may also like: 15 Best Baby Development Apps for Different Ages (Android & iOS)
Forget the nightmare of leaving your baby to an unknown person hoping for the best, just read the reviews! Use filters to find the best match for you. Establish the wages. Have quality time with a babysitter you eventually find.
Bambino: Babysitting made easy.
Bambino app tells us that it's time to look at the way parents find, book, and pay trusted neighborhood babysitters at the new angle. If you have been looking for a while for the app that would help you to find someone to look after your child while you're away here comes the deal.
In the app, you can find thousand of babysitters around. People can rate them, so you can see who's the best one. You can monitor the recommendations made by your friends as well. You can read all the bio about any babysitter, what are their skills, knowledge, experience.
To find a perfect match, you need to enter your data into the search bar and requirements you have for a babysitter and look for ones around. The app has even taken the hassle out of paying with standardized rates and simplified payments made straight through the app.
The app profoundly cooperates with other social networks which are today's necessity. Bambino simply connects you with your friends that are already in the app and pre-populates your profile with your name, photo, and email address, which you can edit anytime.
The app respects its users' privacy and never posts on your wall or monitor your friends for spam. Or, if you're a babysitter yourself, you can use Bambino as well. Choose your wages and flexible hours. For the best babysitters app makes promotion in the local area.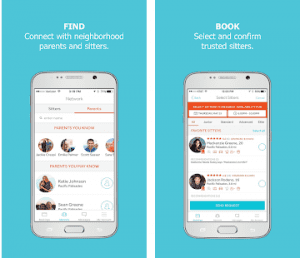 You may also like: 15 Best baby photo editor apps for Android & iOS
Care.com: Find Babysitters & Caregivers
You used to have a need to be well-connected in order to find a good babysitter. Now that everything is displayed online, you can join the wide community of Care.com and find a perfect babysitter for your child. By the way, not only for your child. There are also options to find senior care, pet care, housekeeping, or tutoring needs.
You can scroll through the feedback of other users and see who is the person you would trust your child to. There is a rating system as well. Each caregiver has a photo and profile information. It is also possible that interested caregivers can text you and you then respond later (or ignore).
Another convenient function in the app is that it combines the management of bookings, interviews, and payments – all in one place.
It is secure to make payments via the app. Later you can also leave your comment on a certain babysitter you worked with. But pay attention when you send personal messages via this app – some users say it is not instant.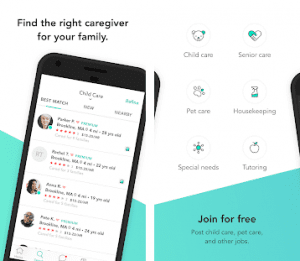 5miles
Yep, it's a little bit confusing that you found the garage sale app on this list, but it can actually be the place where you can find a babysitter for your child. Since the babysitter is a small job, it's not profitable for seekers to work officially or via an agency. Thus, they use all the informational means to find possible offers.
And where would you find the people who need help with the babysitting? Of course at the apps that involve locals. The person, selling a bike might also be a father of 3 kids who doesn't have enough time to mix family and business. Thus, in 5miles you will find not only buy-sell offers but many babysitting services.
When you open the app you can see the main menu with several categories for an easier search. You just need to choose the "services" section. For sure there are people who are willing to help you to take care of your child and earn a little money.
Not forget to mention the safety aspect. Obviously, you don't want to trust your child to a person you've been familiar with for one hour. For those purposes, there is a review section in the app.
You can easily read what other clients say about this person – of course, try to avoid people without reviews at all or take the additional time to know them better. The payment methods are decided between you and your babysitter. If there are any problems occurring in that field, you can always mention it in the reviews.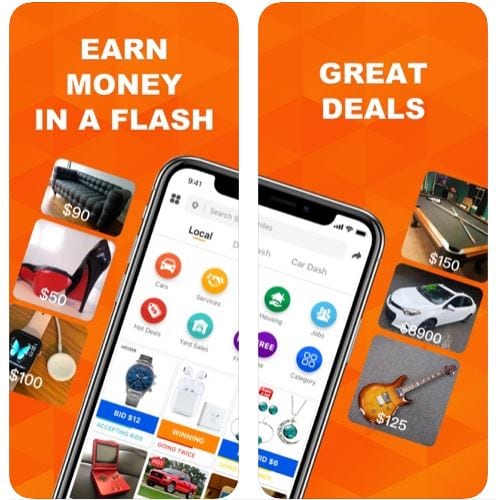 Sittercity
This app will help you to find the best-experienced babysitters around your area. You will be provided with all the necessities to find the best match for you and your family.
Actually, it used to be a web source, and it had existed since 2001, so it is plausible to say that these guys are pretty experienced when it comes to the right selection of a caregiver.
All the facts listed above sound like a good reason to trust this app. When you post a vacancy, you bring all the details and features of your order. This way, a babysitter can understand your needs more clearly.
When a certain sitter responds, you'll get an immediate notification. There are also filters built in the app so you can specify the experience and skills you are looking for.
All the sitter profiles with contact info, photos, background checks, and parent reviews are available and thus it is easier to find someone you really trust. For the sitters – you get a possibility to be instant with your replies and get a really beneficial deal for yourself. All the payments are made via the app.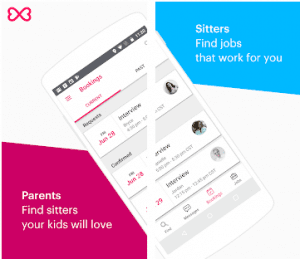 UrbanSitter – Find a Local Caregiver You Can Trust
Judging even by the name of this app you can say that this one is made to make the search of a babysitter in a big city less problematic. Unlock your personal network with UrbanSitter: book a local babysitter, nanny or caregiver you're connected to through friends, co-workers, moms groups and parents from your kid's school.
All the sitters in this app are verified by the safety check and other background checks so you can stay calm about leaving your child with a true professional, even if you find a last-minute babysitter. Moreover, here you have a perspective to find a future after-school sitter and homework helper, for a smooth transition into the school year.
So if you want to find someone fast and with a requirement that someone is trusted and knows your local area – you can use this app. You can make an interview via the app and see if you and the specialist match each other. Or you can even find a full-time nanny. Or maybe you just need a morning helper, when your child is packing for school?
Babysitters, represented in this app also get CPR training. The time is flexible so you can adjust the time you're gonna work with them up to your needs. For the babysitter, since this app is more serious than the previous ones, the wages are higher and the possibilities to earn money are real.
Full-time, after-school or occasional jobs, you decide. You could earn up to $1,000/wk or more, especially as parents are looking for childcare and a homework helper now that children are back to school.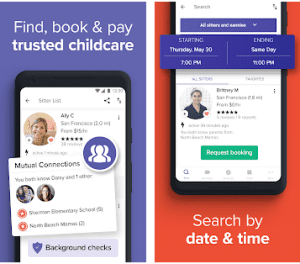 You may also like: 9 Free typing apps for kids ( Android & iOS)
Bubble – Find a Babysitter Now
If you find yourself in a trap of a constant babysitter search, this app will save your situation by giving you quick access to thousands of babysitters around. It was created by the developers from the UK and was acknowledged as one of the best babysitting apps in this country. The web-portal WIRED called this app safe and secure when it comes to a fast babysitting search. You will notice that your life is getting much easier when you got Bubble – you can finally plan your life, like trips, night out or business-deals.
It doesn't matter if you book a babysitter last-minute or in advance – you can count on it! You need just to enter your requirements into the search bar and see the people you find in your area. You can view feedback about them, including feedback from your friends. It is super simple and you can do it just in a few taps. It is important to read information and reviews about a babysitter before you book one. All babysitters' ID and background are checked.
When you cooperate really well with a certain babysitter you can save their page in favorites so you can get quick access to them later. Here you can be sure that you will pay the exact same price as it listed in the app – because all the payments are made through it. For the babysitters, it is a great opportunity to find more jobs in their local area.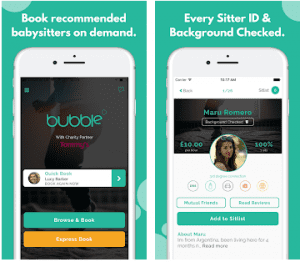 Usit: On-Demand Babysitting
If you're looking for a babysitting job app without any elaborated requirements and features and the main criteria for you to find the job fast/to find a babysitter fast, then this app is your best choice. This app was created, first of all, for students, who are looking for a way to earn some money.
So in case you are a parent and you are looking for an experienced 40-year-old professional in child care, this is not the type of app you need to use. Here you can find the help of young students who love kids and who are willing to help you at an affordable price.
When you first open the app you need to choose whether you are a student or a parent. In the first case, you need to upload your picture, describe your experience in babysitting, highlight the living area, and enter the information about the hours of availability.
For parents, you need to enter the info about your address, the number of kids, and the age of kids, at which time of the day you need a babysitter and some other preferences.
Sitters can browse through the jobs, applying for the one that fits their schedule best. It is also essential to highlight the description of the profiles that are super easy to read – you see the name, age of a babysitter, their experience, and the general information about them.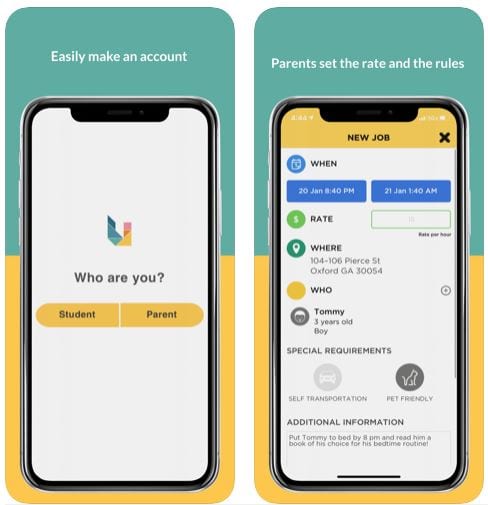 Wyndy: College Babysitters
One more app that is extremely convenient for both babysitters and people who have kids. The best advantage of it is its incredibly convenient interface and the possibility to create a profile or a vacancy in one minute.
When you first open the app, you can see 3 options – whether you want to create the job, or you are a babysitter looking for a job, or, you can first go to the section parent connections where you can consult with other parents over the babysitting experience.
If you're looking for a babysitter, then the app will detect your location and will show you all the babysitters around you. For better convenience, choose those who have located nearby you, therefore, they will always be in a walking availability.
All the accounts contain very detailed information – about the babysitting experience, the hourly price for services, home address, hours of availability, and reviews of other parents.
For the parents' profile, it is essential to mark the information on how many children you have, at which time you need the babysitter, whether you want it on a regular basis or it is a one time job.
If you found an offer that you are interested in but you don't want to contact that person yet, you can save the profile to your favorites. After a parent and a babysitter have chosen each other it is essential to make the schedule and fix the wage. All the payment processes are controlled by the app.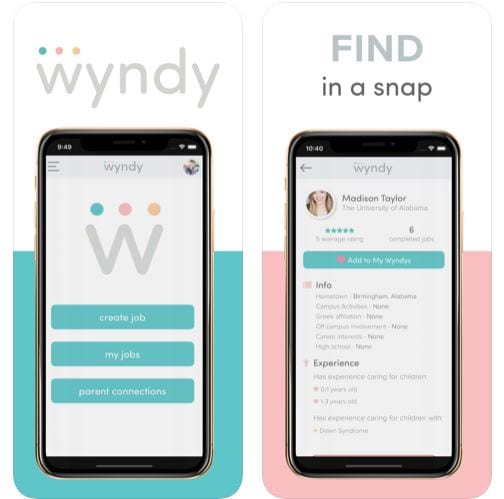 You may also like: 9 Best apps to help you with homework (Android & iOS)
MamaHelpers – Helping Employers, Helpers, Agencies
And our list is being closed with a pretty much curious app. This app is one of the most fast-growing on the market. It has a great network of domestic helpers, employers, and agencies.
So, in other words, you got everything in one place. If you trust the agency more when it comes to a babysitter search then you can use the app as well. But there are also options to hire a "loner". Within 4 months, MamaHelpers hits 150 thousand registered foreign domestic helpers and connects with more than 50 agencies and training schools worldwide.
And yes, it is worth mentioning that this app specifies mostly on foreign workers. And thousands of families have already found their great helpers using this app. The app has a great list of caregivers, professionally trained, with certificates. Its ultimate goal is to build transparency and trustworthiness in the industry.
At the same time, using technology to support a one-stop solution, making the entire hiring process easy, hassle-free, and efficient for employers. The app is aiming to offer everyone the best deal to the extent where it is possible.
This app has its own training program so it is more than worth to be trusted. MamaHelpers Academy was established to help domestic helpers upskill themselves and enhance their knowledge in caregiving and nursery.
Parents can find the best babysitter by establishing filters, selecting information, making appointments with future caregivers. For caregivers, submitting documents via the app is the saving of time and money. It is also possible to find a job overseas.