Anime is a Japanese animation that is popular all over the world. It is available both as a full-length film and as a series. Works made in the style of anime have many features, but the most important is the visual style. Anime-style backgrounds, animations, and characters are hard to confuse with anything else.
We decided to collect notable mobile games made according to the canons of Japanese animation. We tried to make sure that the list also included games for the understanding of which it is not necessary to watch hundreds of episodes of any series.
You may also like: 8 Best Legal Apps to Watch Anime Online
Epic Seven
Epic Seven is an epic game with an animated RPG world. Anime lovers will absolutely love this game.
In the app, there are over 1000 stories, fully playable 2D animation, strategy that is shaped by story, interesting raid labyrinth, PvP arena, and many other enjoyable features.
In the app, you will be provided with the virtual assistance of cute drawn characters. The interface of the Epic Seven is super colorful and easy in use.
One of the needed settings in the game is the ability to find flexible multilingual support. This means that you will have the possibility to change the display and voice language.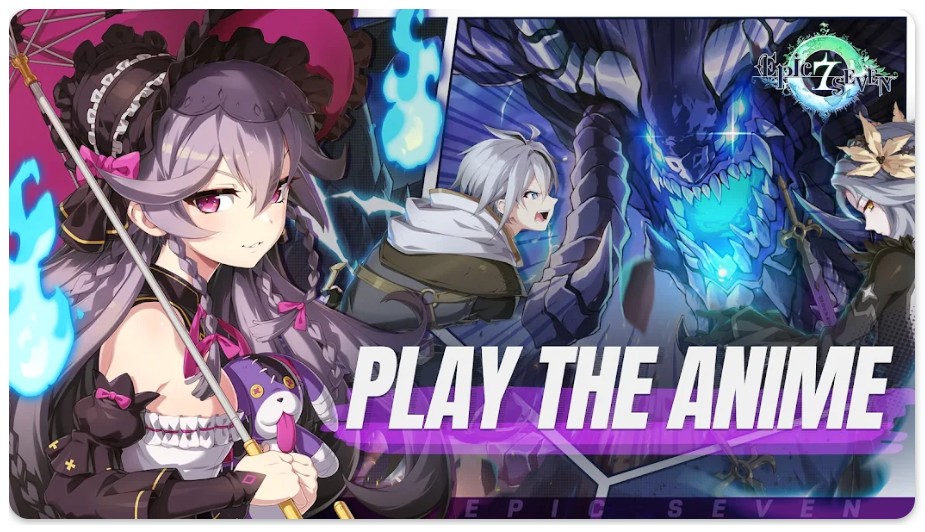 You may also like: 10 Free Anime Drawing Apps for Android & iOS
Azur Lane
We all know, that eastern culture is totally different from the western one. Azur Lane is a perfect example of these differences.
The game is a mix of RPG, 2D shooter, and strategy. The main peculiarity is that the characters in the game are anime girls-ships.
You'll pump them up, and then put them on the battlefield and dodge enemy shells in real-time. The ships will automatically shoot at your opponents.
Here you have to collect anthropomorphic girls who act as warships.
Subsequently, you will use them in battles against the bad guys. Events unfold in an alternate universe from World War II.
Aside from the obvious similarities to the Kantai Collection series, the story borrowed some characters from Hyperdimension Neptunia and Armored Trooper VOTOMS.
It's a pretty good collector's game, especially for fans of the genre.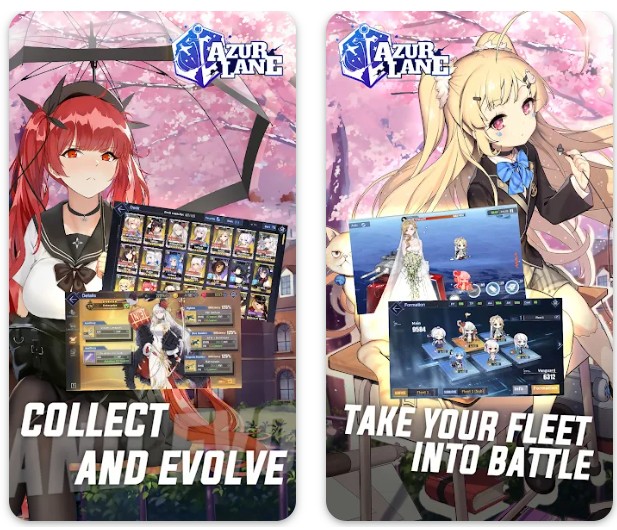 Honkai Impact 3rd
Many anime-style games are either visual novels or jRPGs whose gameplay dynamics leave a lot to be desired.
But there are more spectacular games for fans of Japanese animation. One of these is Honkai Impact 3rd.
It's a full-fledged three-dimensional action game in which you control a group of characters and can switch between them.
Each of the Valkyries has unique abilities that set them apart from the others.
Honkai Impact 3rd has a full-fledged story, but there are also multiplayer elements with the co-op for cooperative play.
Honkai Impact 3rd repeated the path of Azur Lane in many ways. The universe began with a mobile game and ended with its own anime.
Basically Honkai is not different from the usual gacha games, but the emphasis is on action, hack-and-slash, and RPG elements.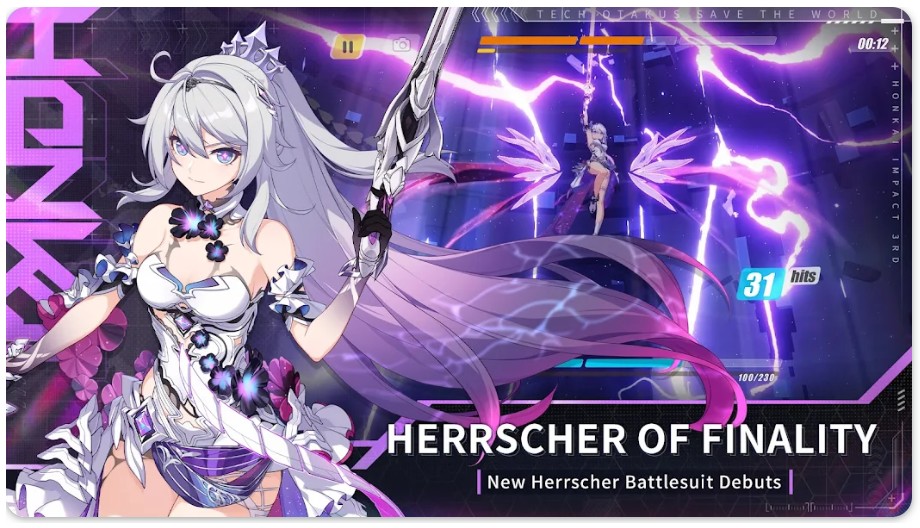 BLEACH Brave Souls – 3D Action
Now some games for anime cartoon fans.
Bleach Brave Soul is a project based on the Bleach series about Ichigo Kurosaki.
Ichigo is a fifteen-year-old high school student who suddenly gets the powers of the death gods and is forced to fight against evil spirits and protect people.
Brave Soul is a full-fledged three-dimensional action game, but with simplified graphics compared to the TV series.
The game has a story, and familiar characters, and the ability to compete with other real players.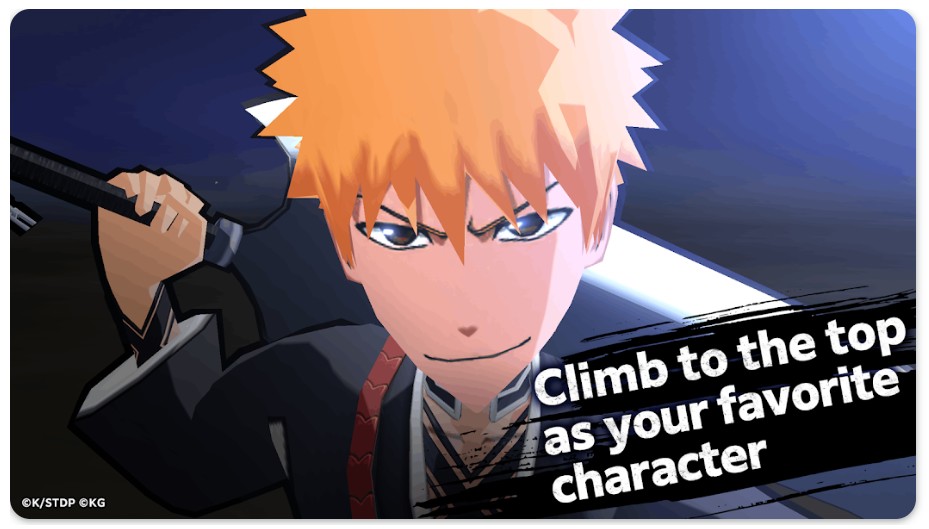 Tales of Wind
Of course, we could not do without a representative of the MMORPG genre.
The most notable with anime graphics is a project of Neocraft studio – Tales of Wind.
The action here takes place in the city of Laplace, on which the shadow has fallen. Now it is up to you and the other players to bring back the light
You will be pumping heroes, catching pets and riding animals, fighting monsters, participating in PvE-events, and decide who is stronger in PvP-modes.
Fans of the genre should be familiar, and the cute anime artwork is a nice bonus.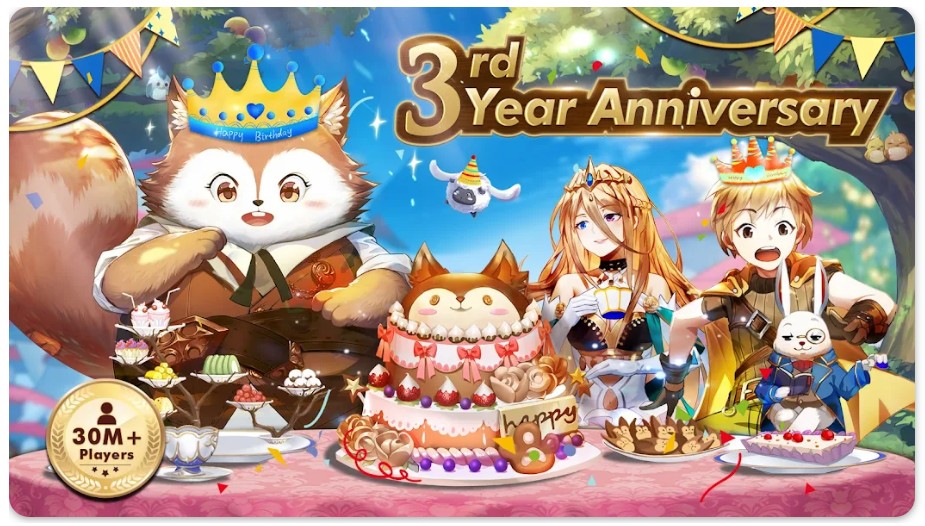 Manga Clash – Warrior Arena
Manga Clash is a turn-based RPG game with hundreds of heroes, from anime and manga, who are ready to be placed in the team for the fight. The game will perfectly suit anime fans.
In the application, there are cross-server battles, where you can become a champion and beat players from other servers. The formation of the system can be customized and be based on each hero's position and abilities.
One of the enjoyable additions is the combined skill of Hero that caused a big amount of critical damage and you.

DRAGON BALL LEGENDS
Dragon Ball Legends is a fighting game with a little bit of RPG, collectibles, and an admixture of action, where there is a story mode as well as PvP-battles with other players online.
You can also collect a huge number of Dragon Ball anime characters.
The mechanics are similar to other conventionally free mobile fighting games but consist mostly of a series of simple taps and swipes.
This series of games has always seemed a bit boring, and Dragon Ball Legends is not much different in this respect.
But, fans consider it the best for the mobile platform.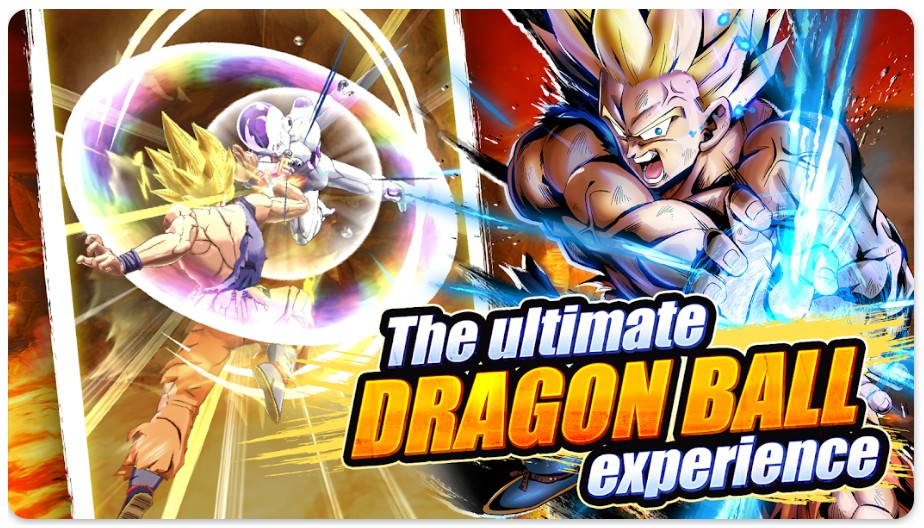 You may also like: 11 Great Animeflavor Alternatives
Fate/Grand Order
Fate/Grand Order refers to the ultra-popular anime series.
You collect characters from this large and long-lived anime universe and fight the bad guys.
There's a story mode, online-PvP, plus it's pretty friendly to F2P players who don't make in-game purchases.
A nice bonus is a full voice acting of all the characters.
It's one of the few mobile RPGs that supports landscape mode – the more space the better.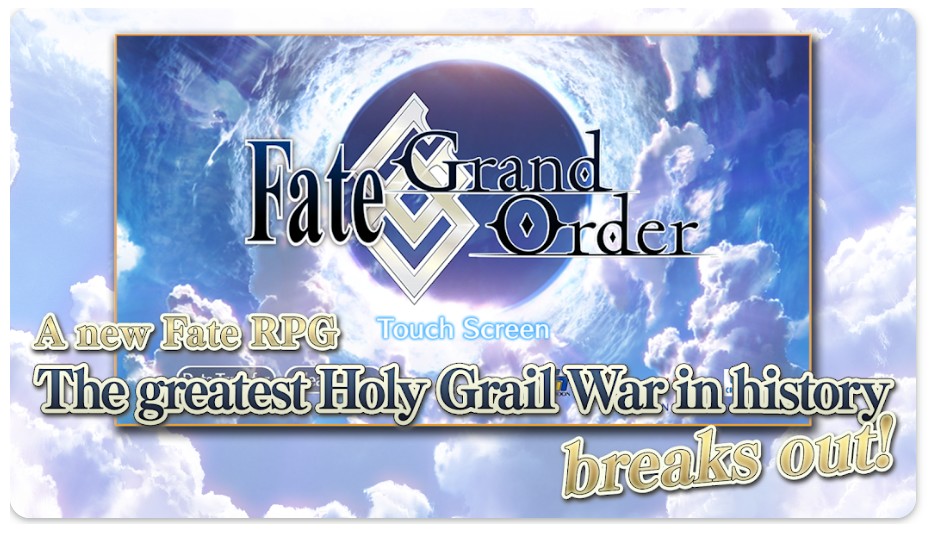 ONE PIECE TREASURE CRUISE
One Piece Treasure Cruise is a collectible adventure game with RPG elements.
You've definitely played something like this before.
Here you'll encounter over 1,000 characters from the anime, as well as great elements of the original story.
Combat mechanics are the usual set of simple taps, so in this respect, there is nothing interesting here, although for the style in general everything fits more than.
As for the quality, it's a little above average.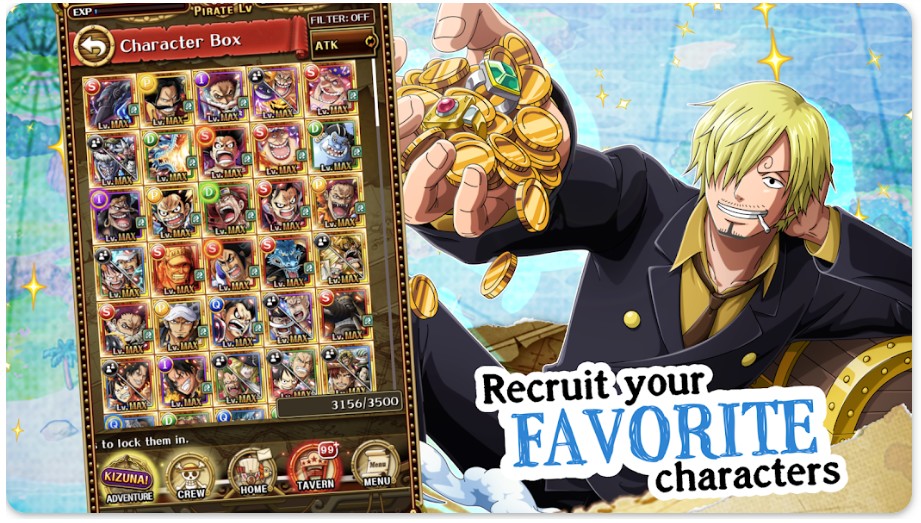 Attack on Titan TACTICS
Attack on Titan Tactics is a mobile game based on the popular action fantasy series.
Developed by DeNA Studios, who also have Pokemon Masters and Final Fantasy Record Keeper under their belt.
But, this game is special: it is a mixture of RPG and strategy, generously spiced with gacha elements.
Players control many heroes from the original anime and lead them into battle against villains. The plot follows the events of the first season of the anime.
Fans of the universe, suffering from nostalgia, as well as new players who have just begun familiarity with the series will be satisfied. The mechanics of the game are simple and straightforward.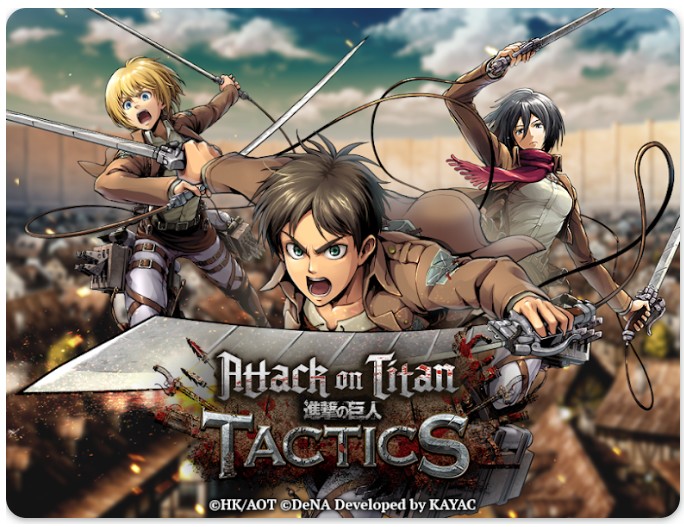 Game of Dice: Board&Card&Anime
The Game of Dice is a game from a Joycity corporation with magic girls as the main characters that play the dice games.
When you first enter the application, the graphics will catch your eye immediately. You will surely be impressed and interested in the introduction to the story.
The interface is appealing and the animations (that sometimes show up to present the scene or the characters) are professional. The background consists of a table and the board where the dices are.
While playing, you will be provided with the main characters' text bubbles that are often given to clarify some action.
The colors of the interface will give you the impression of passing a night in a club and feeling the right atmosphere. The system how the game is designed can remind some players of the system of monopoly.
Therefore, the Game of Dice is easily understandable. During the game, you will be drawn in and will feel the desire to win without fail.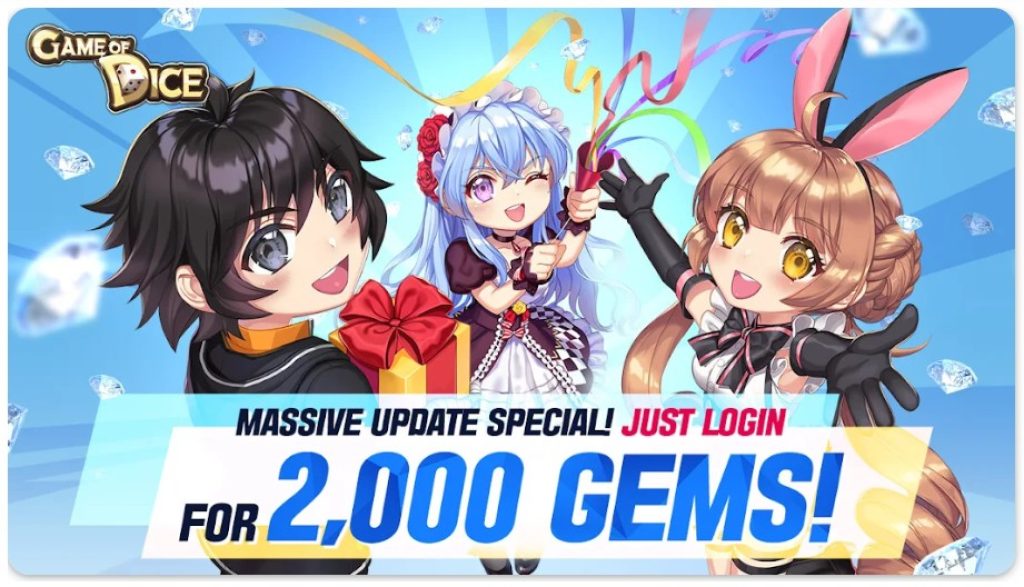 Lord of Heroes
Lord of Heroes is a fantasy RPG that combines turn-based combat and a rich storyline. The game takes place in a world where heroes fight monsters and villains to save the kingdom. Already excited? Then let's explore!
Here is a short list of some tasks that you will have to complete in this game:
complete quests
fight enemies
collect resources to upgrade their characters
The game features a range of heroes with unique abilities, and players can team up with others to complete quests and earn rewards.
We liked the graphics of this game, even when it's not top-notch. With detailed character designs and impressive special effects that bring combat to life, the process of playing is rather pleasant. The game also has a varied soundtrack that enhances the effect of presence.
Apart from that, in this game, you will discover guilds, PvP battles, and various game modes, including a tower defense style mode that many gamers adore. But the overall game is quite difficult and it might be tricky to progress without in-app purchases.
Summarizing all the points, Lord of Heroes is a fun and engaging RPG with great graphics and plenty of features to keep players entertained. True anime fans will probably find that exciting.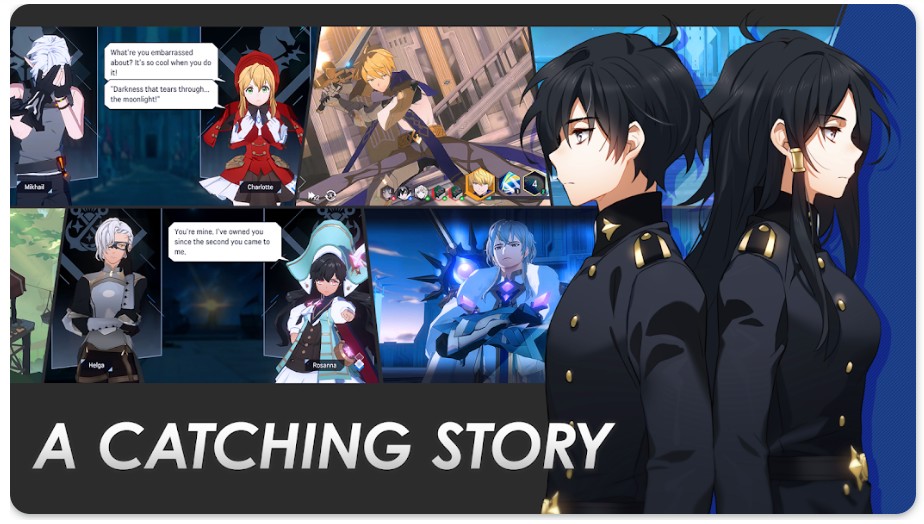 KonoSuba: Fantastic Days
The next app that we have on our list is going to be a little bit different, but it still contains the stylistics of Tales games.
KonoSuba: Fantastic Days is a fast-paced anime game based on the popular anime series KonoSuba (just like Tales). Find your favorite characters and enjoy playing! The game is executed in a cute-kawaii anime style.
In the game, players can form a group of up to five characters and fight various monsters in real-time battles. You will find such interesting features in KonoSuba, such as story mode, events, and daily quests.
Authentic graphics
Interesting gameplay with the ability to try yourself in your favorite anime
Game mechanics in which you may have to spend money
The graphics in KonoSuba: Fantastic Days are top-notch, with colorful and detailed character designs and amazing special effects during battles. The game also features original anime voice acting, which enhances the effect of presence.
One of the game's unique features is the "Suba Seal" system, where players can customize their characters with different abilities and characteristics.
But keep in mind that in this sense the game really relies on gacha mechanics, which can make it difficult to get rare characters and items without spending real money.
To sum it up, KonoSuba is an interesting and less intense game that will be a subject of interest to all gatcha fans. Try it today and you won't regret!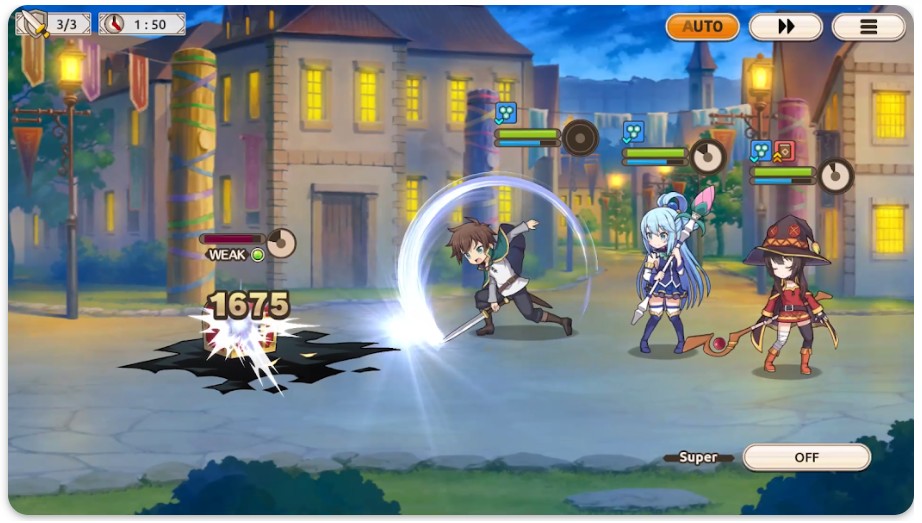 Eversoul
Our next choice is Eversoul which is an app that combines strategy and RPG elements. Unlike the majority of anime games, it has 3D graphics that make it stand out from the overall crowd. But keep in mind that this type of graphics will require a more powerful hardware to run this game.
If you like games where the action takes place in intricate landscapes and you are enjoying special effects, then Eversoul is definitely your choice.
Main features:
Coolest 3D graphics
Lots of captivating landscapes and special effects
Interesting gameplay
A lot of characters with different powers
One of your main missions here is to save the world. There are additional fun missions here for the players, who like interesting internal stories.
We really liked the character designs that are also well crafted, with detailed animations and unique abilities.
The game also requires some strategic thinking in case you want to defeat your enemies in no time.
One of the coolest things here is the abundance of characters to choose from. Each with its own strengths and weaknesses, and can upgrade its abilities as they progress through the game.
But just like the majority of anime games nowadays, t can be difficult to progress in this game without in-built purchases.
Additionally, some players have complained about the difficulty of the game, which can be challenging for those new to the strategy genre.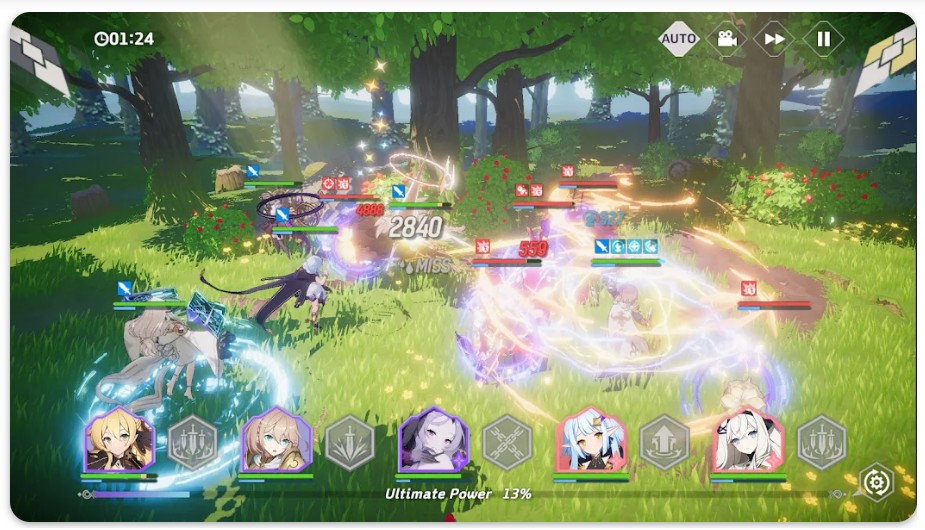 You may also like: 11 Free Open World Games for Android
Princess Connect! Re: Dive
Princess Connect is an RGB action game for mobile and pc that has a magic tale as a plot.
When you download this game for the first time, you will be able to see the detailed graphics in the high quality, all the buttons are stylized and the music choice fits the vibe and the actions of the characters.
Furthermore, the background is developed; it makes the player dive into the atmosphere of the exciting game.
The characters are impressive and well-drawn. The designs are original and their appearances make you want to play. Their voices are appealing too.
The buttons are easy to reach and the app does not lag. The action scenes are detailed and adrenaline-inducing.
Almost all the voice actors are popular among the youngsters; this makes Princess Connect even more interesting to play. The cutesy style of this game, with the plot twists and the fighting scenes, are perfectly mixed.
The application offers with no clue an unforgettable and engaging experience.