Nowadays, absolutely every person needs a medical examination at least a couple of times a month. However, no one wants to get to an unqualified doctor. That is why this article will present the 11 best apps for physicians, which will help specialists provide the right medical care.
Moreover, we want to recommend you check out the article about the medical ID apps so you'd always have your ID by your side.
Medscape
This app can be called a real leader among all utilities of this kind due to the abundance of various functions that doctors need so much. This program has literally everything from fresh medical reports to the necessary literature. In a word, everything you must have in one bottle.
The most important functions of the utility that are worth the user's attention:
the presence of numerous educational resources, such as a tablet identifier that checks the interactions of certain drugs and a number of others
step-by-step videos of a number of procedures or operations, such as pulmonary resuscitation of the heart or the installation of a pin in a certain bone
more than several hundred medical calculators filtered by physician activity, speed, and usability
unique option of the app, "search for a solution," which allows you to put any ambiguous issue in a particular medical field for discussion and get an opinion of qualified specialists
list of more than five thousand different drugs, dietary supplements and plants, containing complete information about each of the objects
news reports from areas of medical fields such as dermatology, cardiology, pharmacology, and others from real specialists in their field
the opportunity to check with the latest news from the Food and Drug Administration regarding trials of new drugs, improvements to existing ones and much more
built-in activity count, which allows you to calculate the number of steps you took per day, as well as calories, and possibly other enzymes
To summarize, Medscape will be the best solution for both a novice medic and an already qualified doctor. It is thanks to the fact that the app is constantly improving that it was able to become the best among other programs. Download this app and minimize the risk of erroneous medical decisions.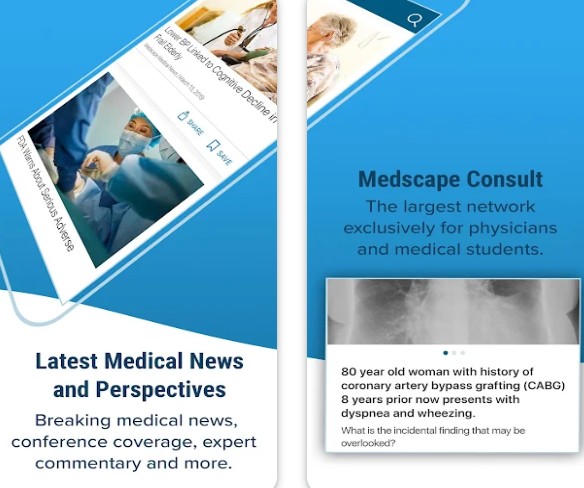 You can also check: 7 Best medical apps for patients for Android & iOS
DailyRounds – Cases, Drug Guid
DailyRounds is the most detailed and clear collection of information for doctors of various specialties. He has the most recent academic research from leading surgeons, scientists, and even students. In addition, reputable organizations such as the Indian Association of DVL vouch for the utility.
The program has the following characteristics:
competently compiled questionnaires with the choice of response options that will help maintain your knowledge in good shape and explore your field more deeply
constant updates of news and medical reports from leading doctors of all specialties of the world, as well as certified experts and professors
participation of users of the app in events as important to the medical world as Dermacon, IRIA or CSICON, which help specialists share the latest data and learn something new
abundance of various auxiliary tools for doctors, such as calculators, enzyme meters, time of medication
unique option "electrogastrogram," which allows you to determine cardiac fluctuations, the highest point, heart rate and numerous other factors
To summarize, the Daily Rounds will make you an indispensable assistant on the road to becoming a worthy doctor. It doesn't matter who you are – everyone can find something different for themselves. It is worth noting that the utility was recognized as one of the best on NDTV.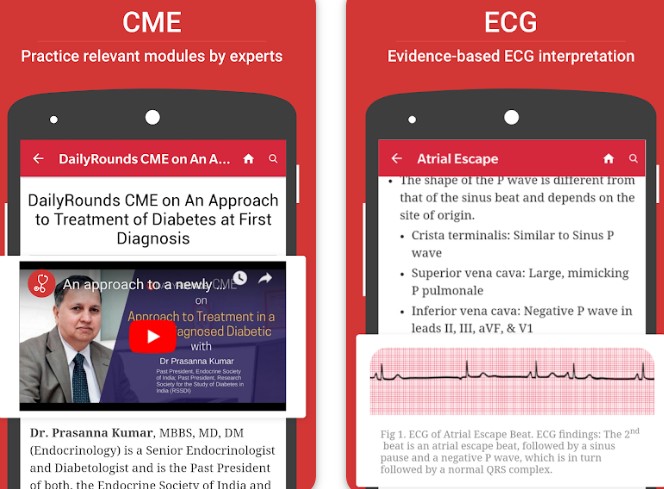 Clinical Sense
Clinical Sense is rightly considered one of the favorites in the field of patient care. The program has all the necessary number of functions so that the doctor can familiarize himself with the patient's diagnosis and gain new knowledge. The app makes you feel like a real master of healing.

A number of the most important characteristics of the app:
availability of a big list of information on various specializations, be it venereology, gastroenterology or even flaw detection
studies of students, nurses, professors and doctors, allowing to identify a more detailed and clear analysis of the treatment of diseases and diagnoses
visualization of the processes of various operations in virtual reality format, for example, injecting a solution into a human vein
variability in the choice of testing for more advanced knowledge acquisition in a particular area or for diagnosis
training videos on the most complex and time-consuming operations on various organs and bones of the human body from qualified surgeons
In this way, you will be able to take the first steps towards improving your medical ability along with Clinical Sense. It is worth noting that the utility comes first in the "utility" category according to research in many countries. Try downloading it and making sure of everything yourself.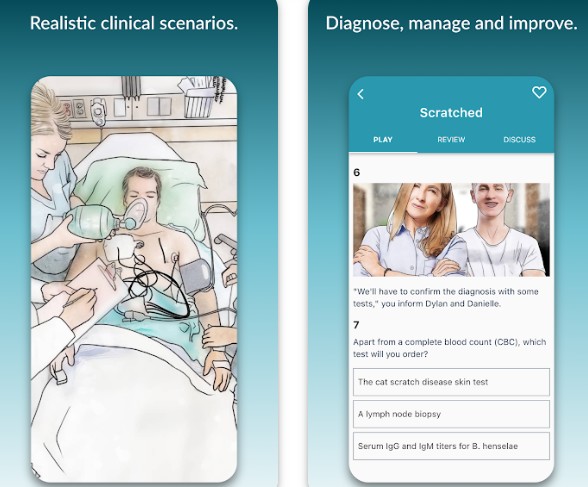 Prognosis : Your Diagnosis
Prognosis is the best option in order to make the clear diagnosis and find methods of its treatment. The developers have done a tremendous amount of work in order to get as much information as possible on each type of disease. In addition, all information in the utility is confirmed by leading experts.

The developer's bias on the following options of the program:
variety in the choice of information and information in a particular specialty, as well as examples from the practice of other practitioners
a high-class assistant built right into the app, with the ability to structurally introduce characteristic symptoms for diagnosis or prescribe treatment
detailed description of each of the currently known diseases with the attached list of necessary drugs and techniques in case of worsening of symptoms
visual demonstration of the affected limb with a full description of the nature, method, and classification of a certain injury
availability of a filtered list of different medical reports and terms to improve your skills in a particular specialty
As a result, this program helped not one thousand doctors due to its elaboration and examples from the experience of professors. The utility has received numerous of awards, one of which is a win in the WSA in 2012. By downloading this app, you can boldly say that your medical knowledge will increase.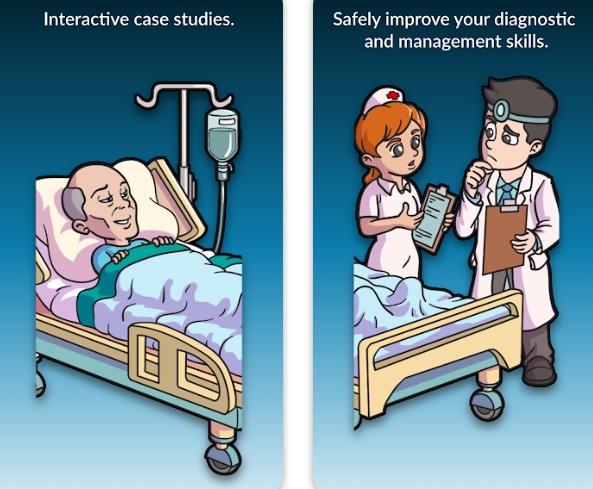 Explain Medicine
Explain Medicine can be called a worthy assistant to medical practitioners in performing operations. This app has one of the largest lists in the world with information on various types of diseases. Thanks to the convenience of the interface and the simplicity of the design, it will be easy to get information.

Some interesting options of the utility:
well-researched articles and essays by well-known doctors and practitioners that will help you in the study of many medical disciplines
the presence of a forum where you can post a difficult issue for discussion, see information on your specialty and just get to know other users
a well-developed system of the app, configured for convenient search of only the most necessary information and filtering of the auxiliary
user-friendly interface and ease of use coupled with a design that protects your vision and minimizes eye interaction as much as possible
constantly updating existing information and downloading new information thanks to the work of more than two hundred qualified specialists around the world
So Explain Medicine is your best help in finding all the information you need on almost any medical issue. Nowadays, the utility is used not only by students, but also by practitioners, which indicates a quality standard. Try to download this program and gain new knowledge.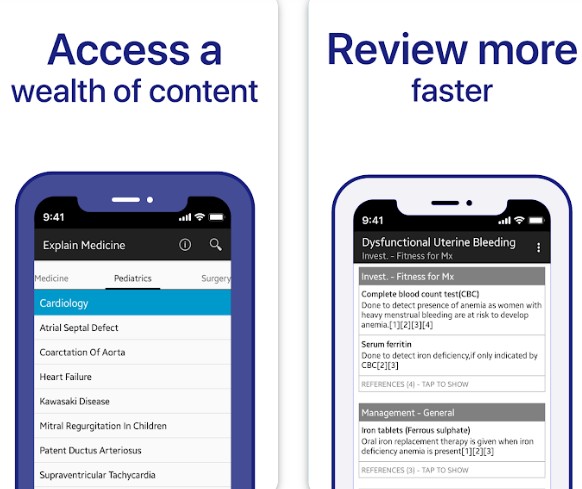 Harrison's Manual of Medicine
The developers of the utility spent a tremendous amount of work creating this app because it stores information submitted from different sides. The program not only has clearly structured information, but also exposes numerous of problems in medicine. However, for each struggle, doctors find a solution.
Some easy-to-use features of the app:
variability in the choice of treatment methods for a particular disease, as well as useful tips and methods for providing first aid in specific cases
a smart filter system inside the utility, allowing you to choose from countless streams of information only the most necessary to solve any issue
an infinite number of different pictures and animations of the anatomy of the human body, including all layers of tissue, veins, and bone for a more detailed examination
detailed instructions for each of the sections of medicine, helping novice doctors to quickly comprehend the basics of healing, and specialists to improve existing abilities
Ultimately, we can say that the utility is truly indispensable in a number of aspects, for example, the study of the anatomy of the human body. Developers are constantly improving the program so that training becomes as simple as possible.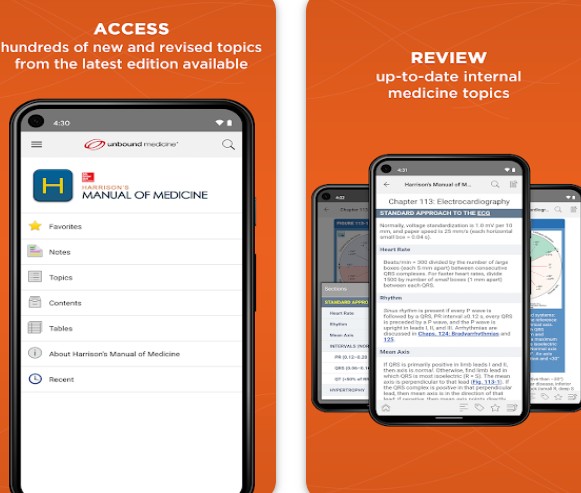 CURRENT Meg Diag & Treatment
Among all CURRENT Meg is the best informant in the area of the latest medical discoveries. All scientific works of scientists in the app have been collected for more than ten years. In addition, you can see several different points of view on the same issue in the utility.

The most interesting characteristics of the program:
a high level of resolution for all illustrations, pictures and video clips in the utility, which allows you to more accurately understand, say, the structure of a person's body
availability of various examples and articles on performed operations, methods of treatment, innovative methods, for example, blood transfusions
smart search technology that allows you to find the necessary information in just a couple of clicks without any difficulties
absence of annoying factors and advertising integrations, which allows you to focus exclusively on what you are studying at the moment
Summing up, we can say that the program is really worth your attention due to the reliability and clarity of the information. It is worth noting that in the utility, all articles are written in a compressed format. This program has been helping many physicians for more than one year.


You may also like: 13 Free medical terminology apps for Android & iOS
HealthTap for Doctors
This app is truly unique because it combines several important aspects of the doctor's profession at once. In addition to the usual search for information on various issues of medicine, you can consult with other doctors via video link. The utility can create a common chat for a specific area.
Some of the most important characteristics of the app:
availability of assistance in various categories of care, whether it is the health of an adult, child, or elderly person
the possibility of combining specialists of one medical industry into one group for the purpose of consultation, support, as well as mutual exchange of knowledge
communication with other users of the app using audio or video calls, which will allow more experienced specialists to assist students
the ability to create a special waiting room for all your patients in order to more clearly organize the schedule of appointments
Thus, the utility really justifies all the positive reviews of satisfied users and publications. Due to the fact that this app has gone down the path of quality, not quantity, the world will be able to see many more qualified specialists in the future.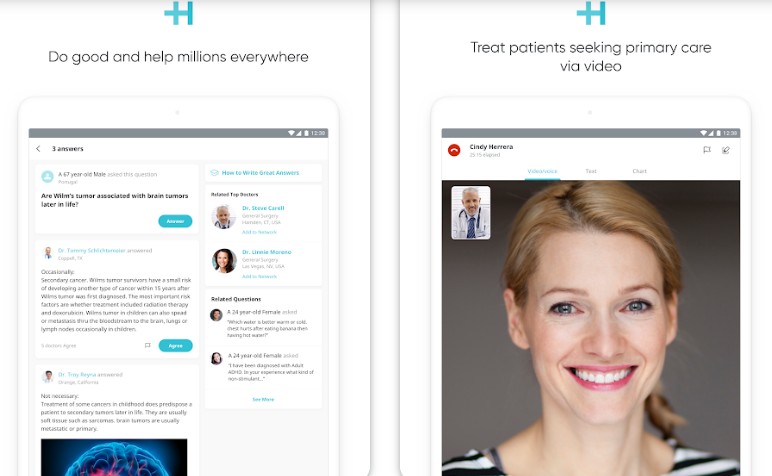 Practo Pro – For Doctors
A good doctor knows how not only to treat his patients with dignity, but also to take them in an organized manner. However, combining such actions as taking patients or prescribing medicines requires a competent approach. It is at this time that the Practo Pro comes to the rescue.
Thanks to the developed interface of the utility, as well as easy-to-use management, it becomes much easier to admit patients. In addition, the program allows each of your patients to leave feedback on your work, which allows you to extract all the shortcomings and then correct them.


Patient Medical Records & Appo
This utility combines everything you need: from the schedule of recording patients to the information on each of the drugs. The program can track both progress in treating the patient and prescribe additional medicines. In addition, there is the possibility of remote communication with patients.
It is worth noting that Patient Medical Records has such an advantage as a smart notification system that allows you to come to the aid of patients at any time. It is important to say that you can download all the necessary files for a specific patient in order to take all the necessary treatment measures.
The program has a rather large library with articles from various fields of medicine. Well, if you decide to organize the work of your staff, then this is not a problem – invite everyone to the app. As a result, the functionality of the utility will be able to facilitate the work of both practitioners and certified doctors.


You may also like: 9 Best Medical Records Apps for Emergency Cases
Millidos – Pediatric Drug Dosa
This app can be called truly multifunctional because it has both medical aids and special medical calculators or counts of bacteria in the body. In addition, the program has numerous methods for treating a particular disease. The utility has a big list with a description of drugs and other medicines.
It is worth noting the presence of such an option as a "warning," which makes it possible not to make a mistake with the prescription for a patient. In short, Millidos can help doctors of literally all specialties.