Ordinary photos became boring to viewers and users of social networks long ago. According to statistics, Instagram, for example, has a dynamic content in the form of video clips, which is gaining much more views and interest from the viewers. What to do if you have already shot a static image?
There is a great option to add some life and movement to your photo. What about converting photos to GIF animation? If you think it's impossible, we're ready to convince you. This is exactly what iOS and Android apps have been developed for.
With their help, you can easily add animation on top of your picture, without damaging its quality and making it a little more interesting. We have selected the best applications in this category for you.
Get as many photos as you want using these best photo apps that take multiple pictures.
GIPHY – Animated GIFs Search Engine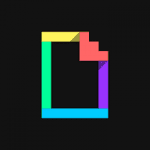 GIPHY is a huge internet catalog of GIF-files for any case of your life. If you have seen the animation somewhere, you will find it in this application. Through the application, you will be able to share animations in all social networks, as well as to create something new and unique by yourself.
In the GIF directory, you can find content from different areas of life – even moments in the life of celebrities or clips from your favorite movies and comedy programs. Static images are in the past, and you can correct them and bring a little flavor of life!
Perhaps you are tired of writing text on the picture that can be expressed by animation. The "Happy Birthday", "Smile" or just LOL stickers can make boring photos a little bit brighter. Ordinary emojis are so old that they don't impress anybody anymore – unlike GIPHY.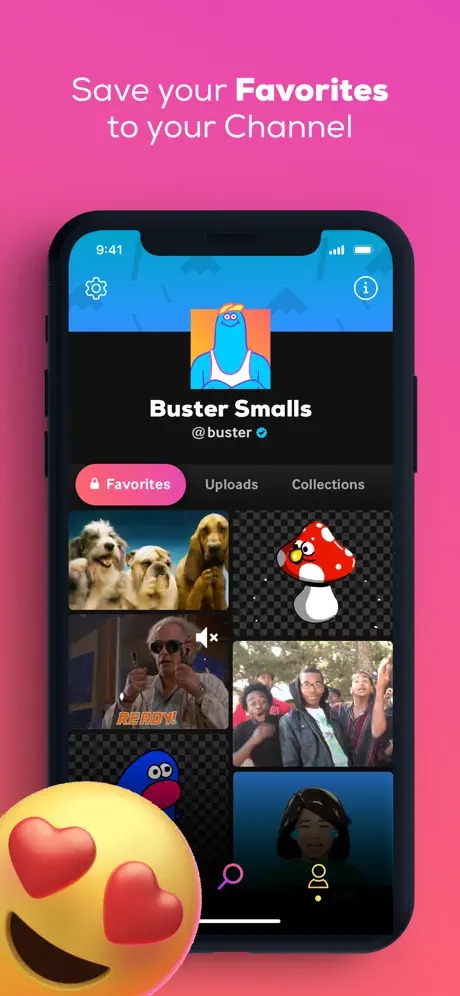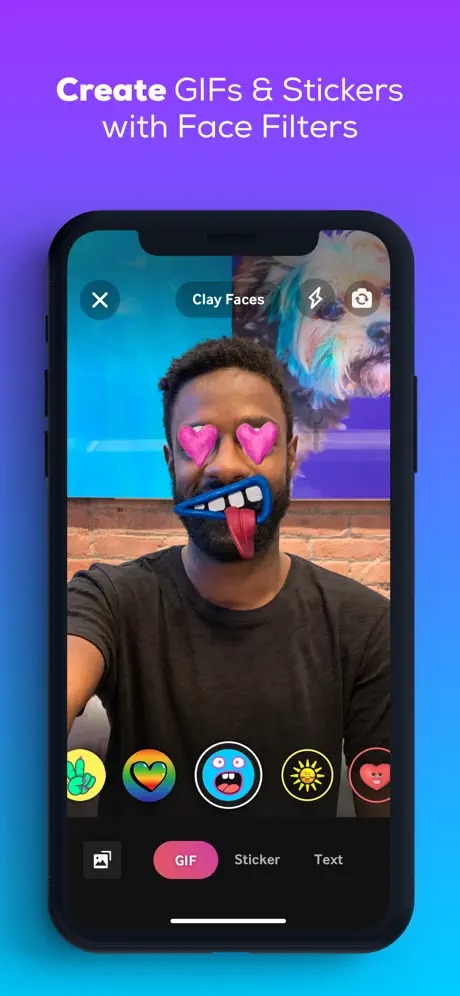 Look for new or familiar GIFs, animate your photos and congratulate your friends in an original way – all in one GIPHY app.


You may also like: 11 Free Apps to Turn Photos Into Sketches (Android & iOS)
Loopsie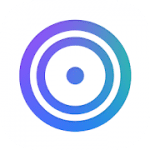 Loopsie will help you make interesting effects on photos and videos. The result of your work will fascinate the audience, even though you won't even put a lot of effort and won't use professional techniques to shoot.
The entire processing process takes just a few minutes to get your content noticed, and it's really unique.
How does Loopsie work? The effect we're talking about will require you to shoot a short video. In the editing format, you choose the part of the video that stays dynamic – the rest of the area will be static and will not change as you watch it.
The part that stays in motion will be in the loop. Among the news feeds, your live pictures will stand out.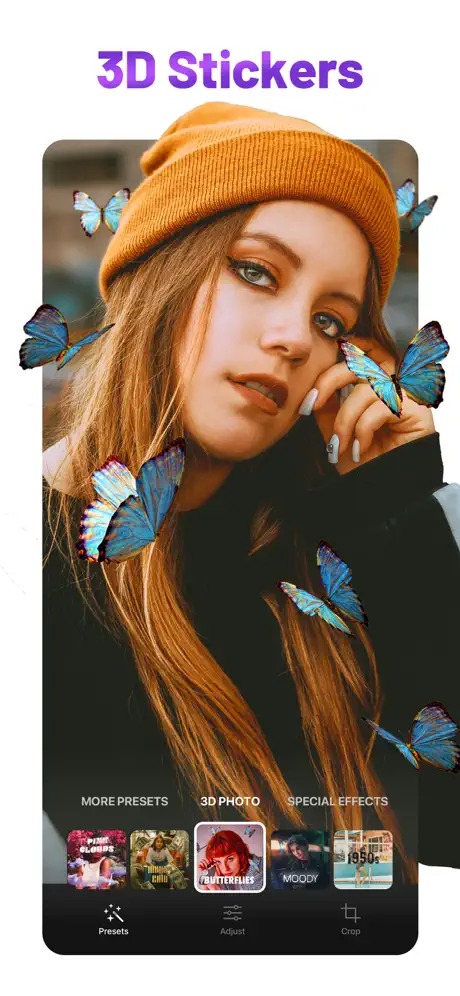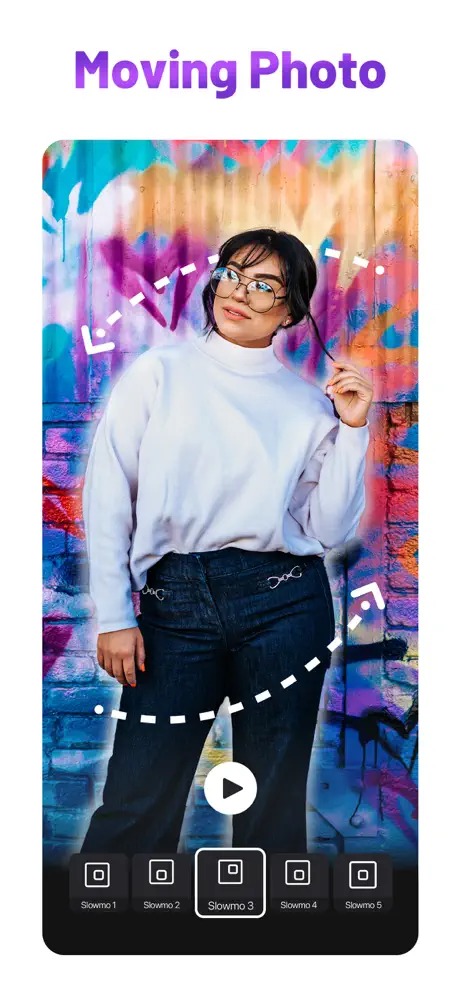 By the way, the looped part of the video will be processed like a real video clip. You will be able to apply stabilization effects, autofocus, as well as automatically fix all the failures. Of course, the application has its own subscription, which expands your capabilities and provides access to processing effects.


StoryZ Photo Motion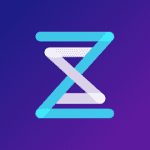 This application can be called a great tool for both professionals and beginners who want to do something unusual.
There are creative people who actively create their masterpieces in the application and they form a whole community. You get the chance to see their work among the first – StoryZ publishes the best works on its home page every day.
StoryZ will save your draft if you don't have time to finish your project and you will be able to continue working after a while. What can you create? The simplest thing is a double exposure. So you combine the photo and video while keeping the picture still.
StoryZ has a segment of tools to help you mix images and videos. You can also create your own motion in the picture: the motion and ripple tools will help you do this.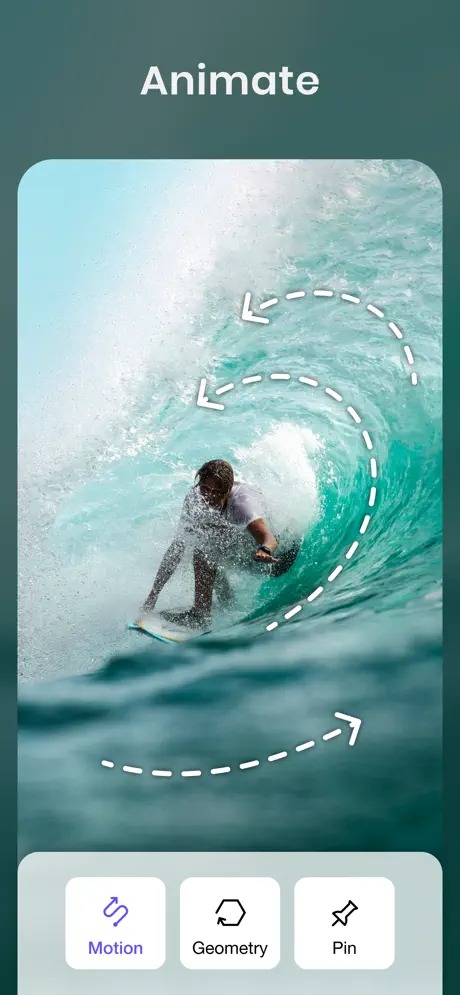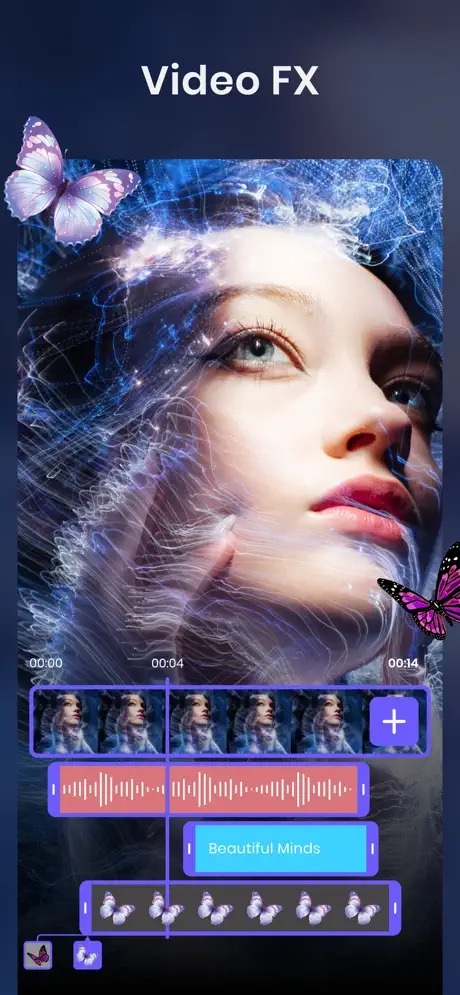 With your own hands, you can turn flat, monotonous images into whole stories, or at least add some life to them – which is also a real plus. The main thing is that you can do it all with quality – StoryZ allows you to work and share in 4K mode.


Animate Me – Funny Face Swap and Moving Pictures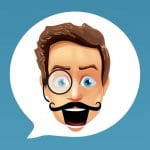 The animation is often designed to entertain the viewer. If you want to make your friends laugh or smile, you can use the Animate Me app. The service is very easy to use and you will immediately understand how you can create animations.
Animate Me actively creates postcards and greeting snapshots that you can use to congratulate your friends and family on holidays. How it works: you choose a postcard that fits your event and choose the person who will congratulate you – most likely, it will be your picture.
On GIF, you can put a quote or holiday verse that will be sounded during playback. So you get a dynamic postcard that you can send to your friends right away.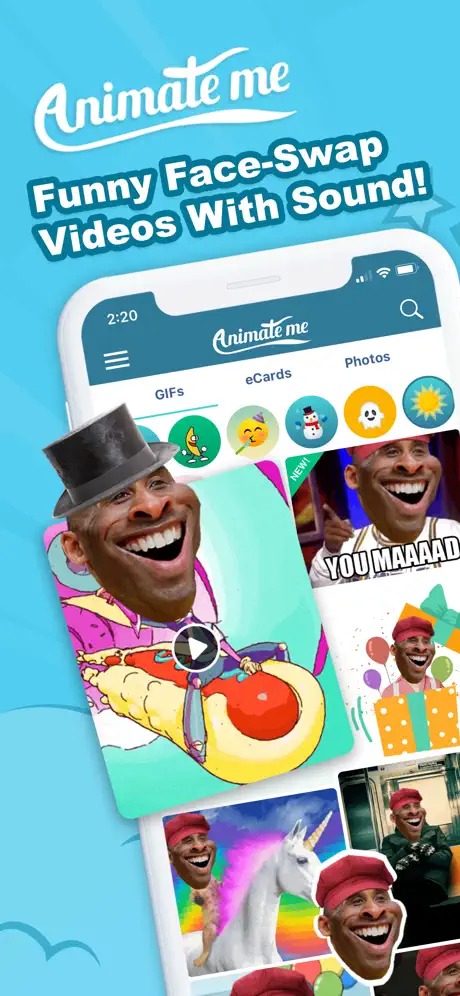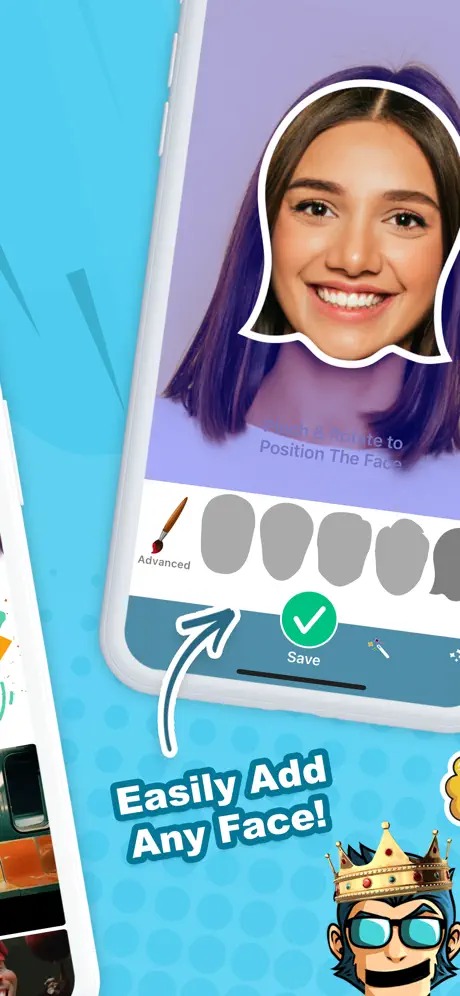 Especially during the holiday season, you can create one animation that you can either send to all your friends or post to social networks – directly from Animate Me. If you buy a subscription to the service, then you will be able to receive constant updates of sounds, postcards and effects.

Movepic – Photo Motion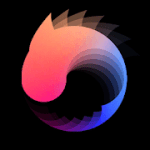 Add some animation to your social life. Filters, effects, tools – all this will help to add creativity to your photos. You can also use Movepic as a standard photo editor – the application also has basic tools in the form of brightness, contrast, as well as duplication of layers of the image in different colors.
The sky, clouds, and sea will become more colorful and move as if you were shooting a video in nature. Night shots of stars can also come alive a little bit – just add the stars' movements and loop in the result.
Even if the photo was taken long ago, you can breathe new life into it. If the original file is suitable for use as a living wallpaper, you can save it as a wallpaper and place it on the home screen or lock screen directly in the app.
Movepic also has a Glitch effect. It creates a number of "frames" of objects and with its help, the snapshot starts to "twitch" as if it were a TV interference.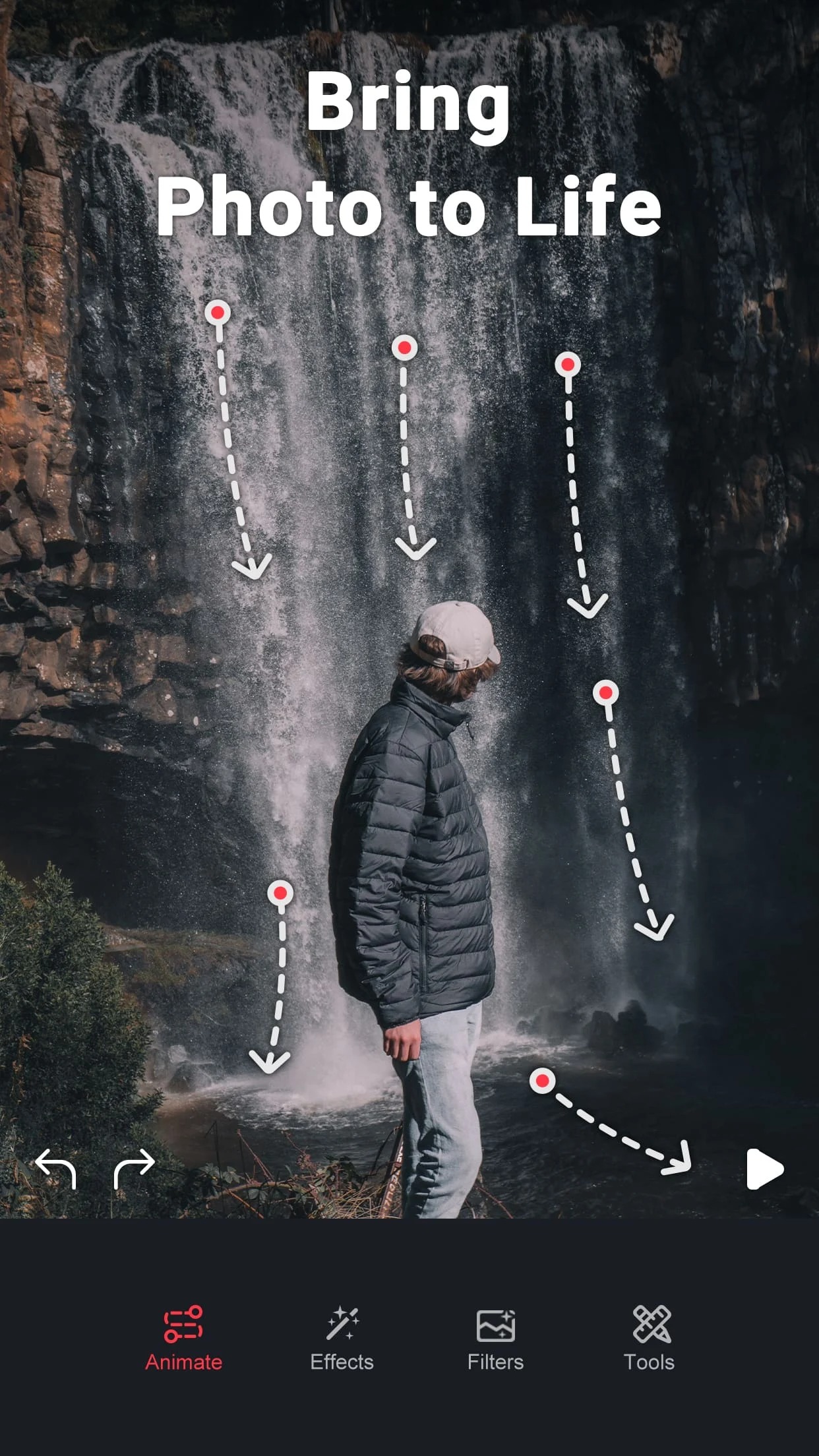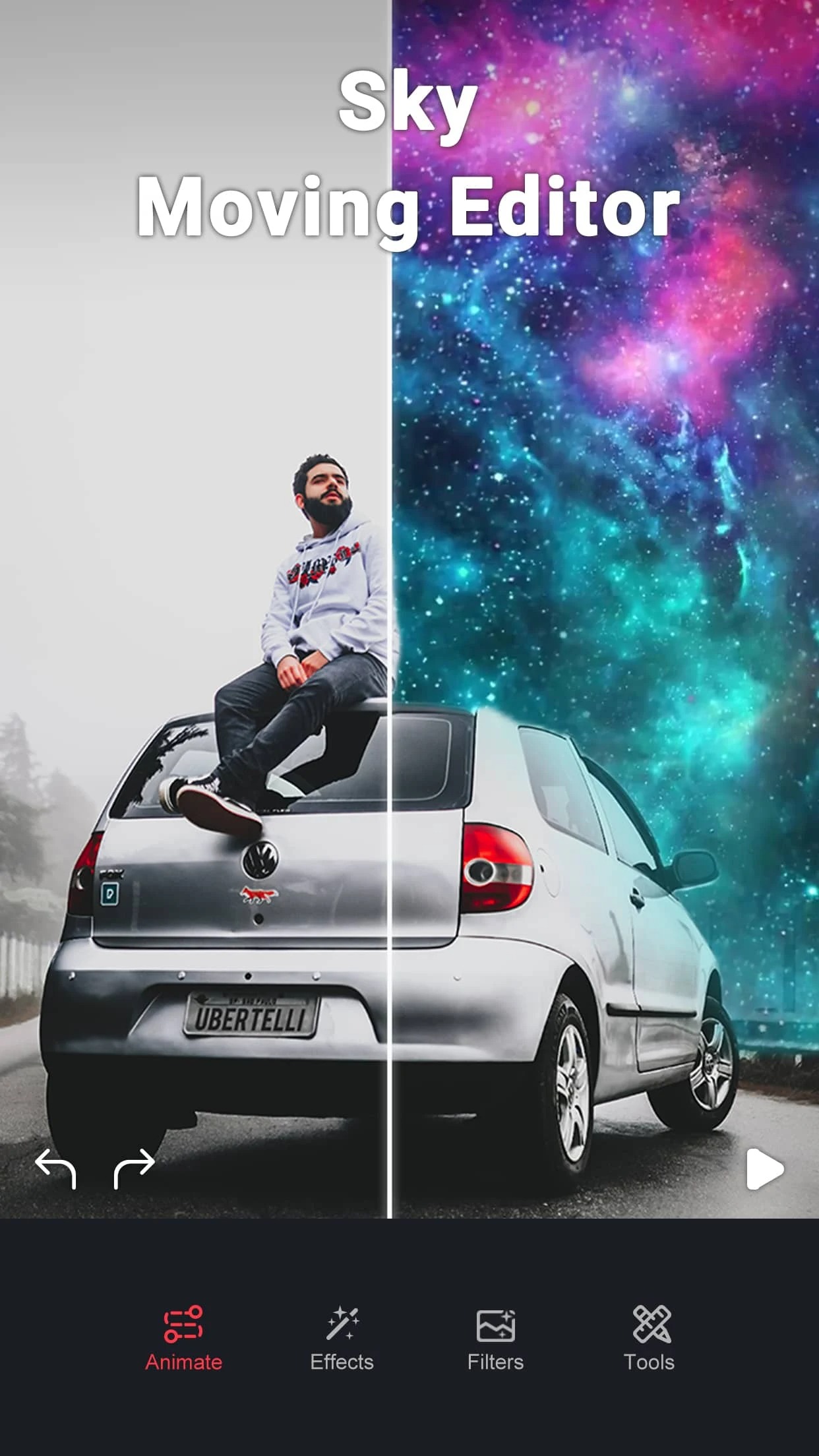 The FX camera can only help you create new masterpieces – all the effects are immediately applied to the picture. In general, Movepic is easy to use, and if you're having trouble, just watch the video tutorials from the developers.

You may also like: 6 Best photo contests apps for Android & iOS
Enlight Pixaloop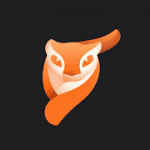 Excellent free application Pixaloop became almost a conqueror of Instagram and its stories! Your photos will start to live their own lives, while charming your friends, family and subscribers. There are several effective and powerful editing tools in the application, which will give a fantastic effect of video clips.
The application has a fixed pattern of cloud movement, which you can apply to any photo with skies. You will need to select the part of the photo, which has a piece of sky, and Pixaloop animates it itself.
On the contrary, if you want to make a photo out of a video, use the "freeze" tool. You also highlight the desired part of the picture, and stop it. When you add motion to standard snapshots, the Pixaloop will show you the direction of motion and you can also adjust it yourself.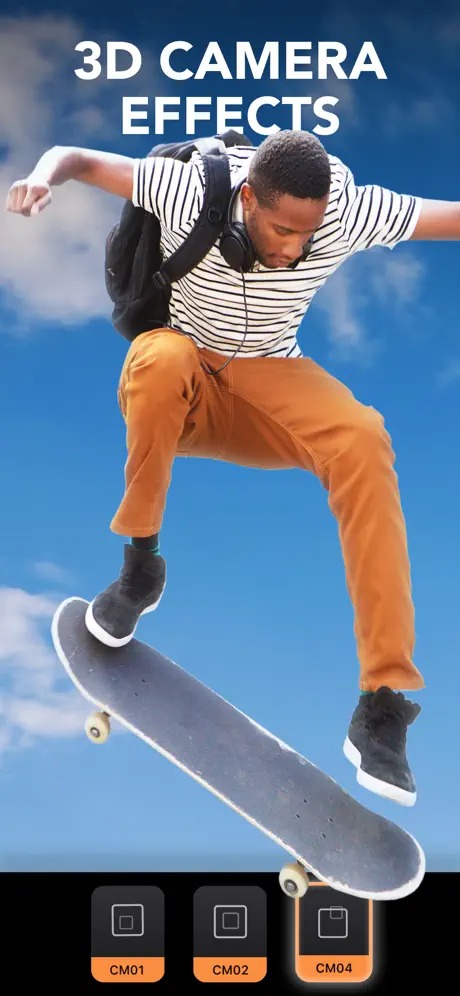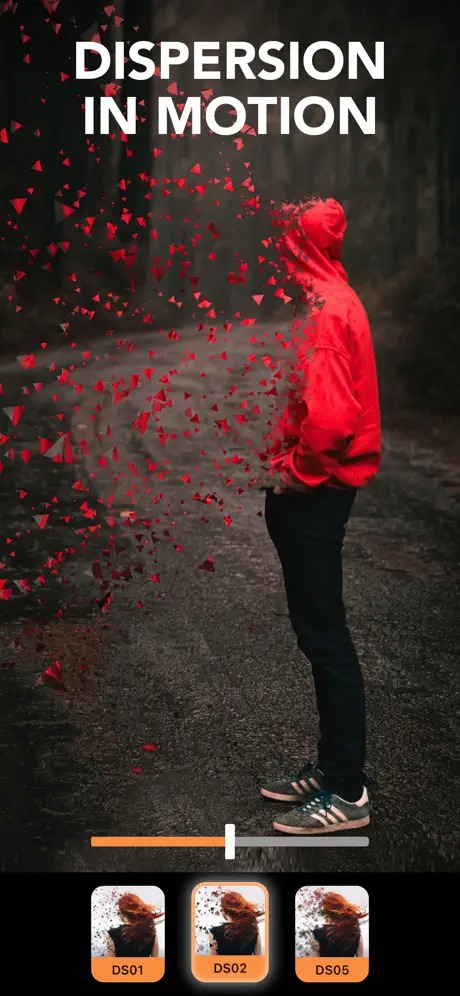 There's a whole community of people in social networks who love Pixaloop and only edit in it. You can find their works on the hashtag #Pixaloop. If you want to become a part of the community or see your work on the developers' page, you can publish the content and the best works will be posted in Pixaloop.


PixaMotion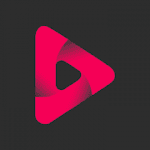 PixaMotion brings your photos to life with moving backgrounds, animation effects and video elements. The result is a short video that can be converted to GIF animation. Try to diversify your desktop with live wallpapers – not just standard from your smartphone's catalog, but original and individual.
Animation can be created from different source files. You can combine in one file 2 photos, cyclic videos, ordinary video files or just add animation effect over the photo.
To add motion to a static photo, you can use "geometry" or "motion" elements. You will need to highlight key points on objects and they will start to move!
You can simply overlay small animated effects – reflections, snow – on top of your photo.
Animation can also be done from a single image – create a mask of the object on a separate layer of the project and change it – when you switch layers, you will get the simplest animation of only 2 elements.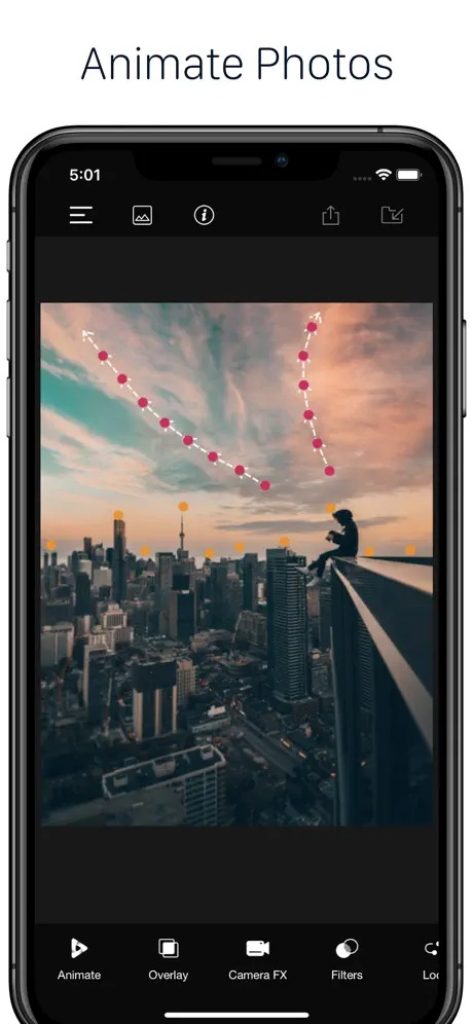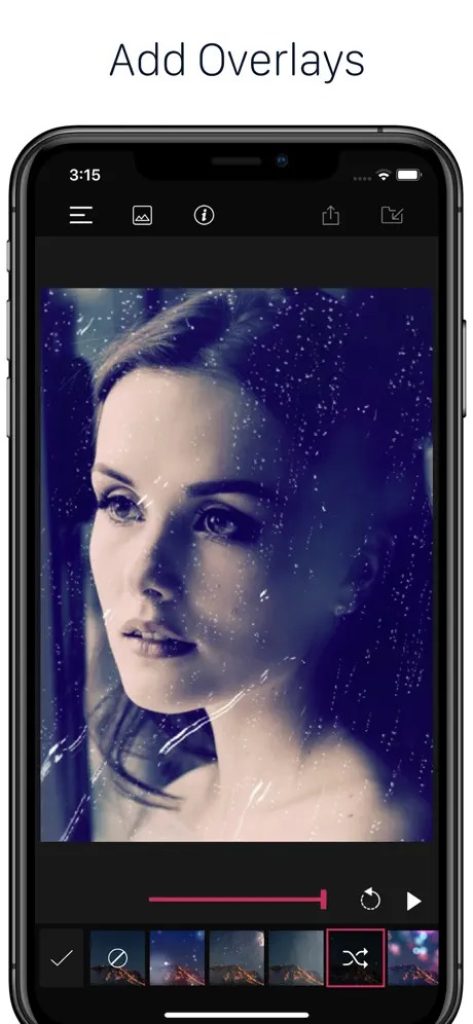 Save the result in your smartphone memory and share it in social networks – your stories will be much more interesting and your account will be more attractive.


VIMAGE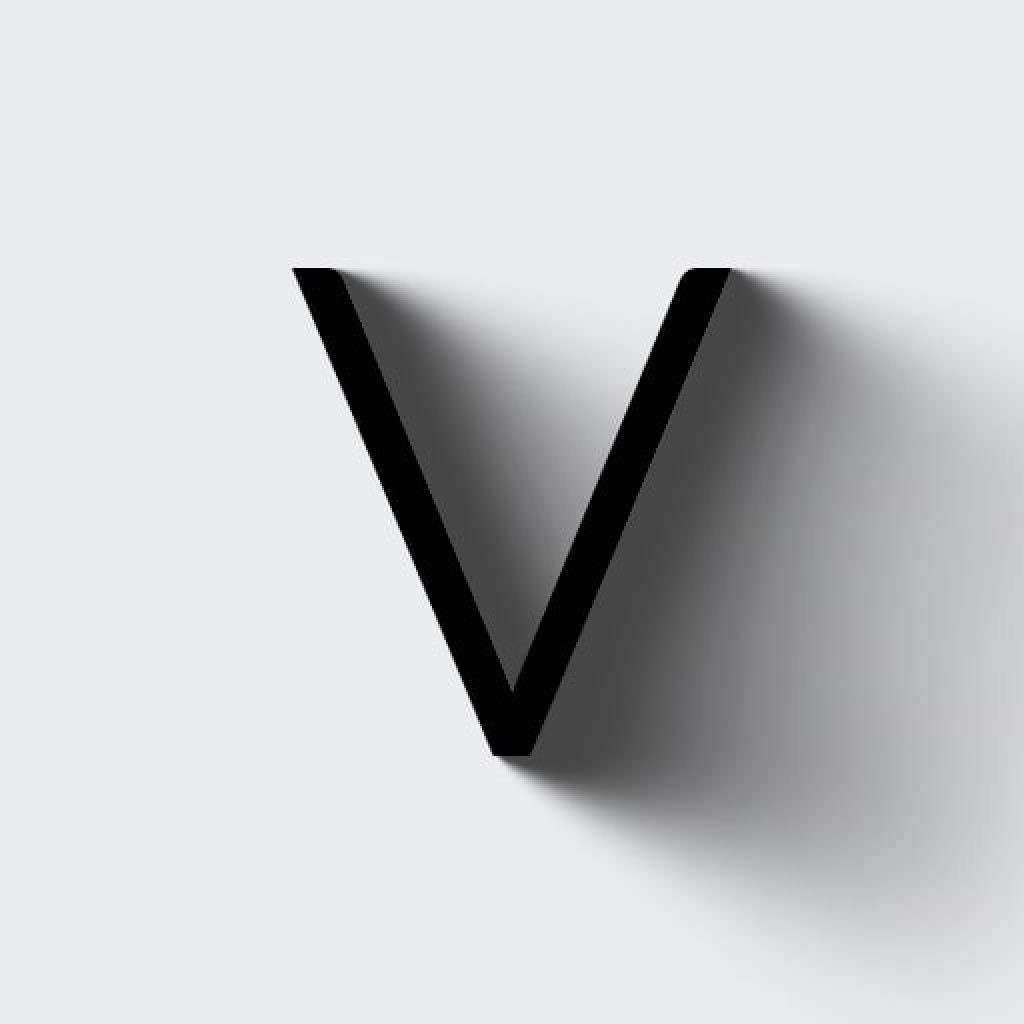 With this app, you can learn how to take professional photos without any special knowledge of design or Photoshop. To do this, the service provides an extensive range of effects and tools.
With the help of this app, you can make a whole animation. It will not be difficult to achieve dynamics in your photos thanks to the free tools available.
Also in the service itself, you can try the new 3D camera to get unusual photos. You can add text to photos by changing their color, font, and size. Use universal tools that allow you to change filters, brightness, contrast, and other characteristics. You can create many layers on one photo at once.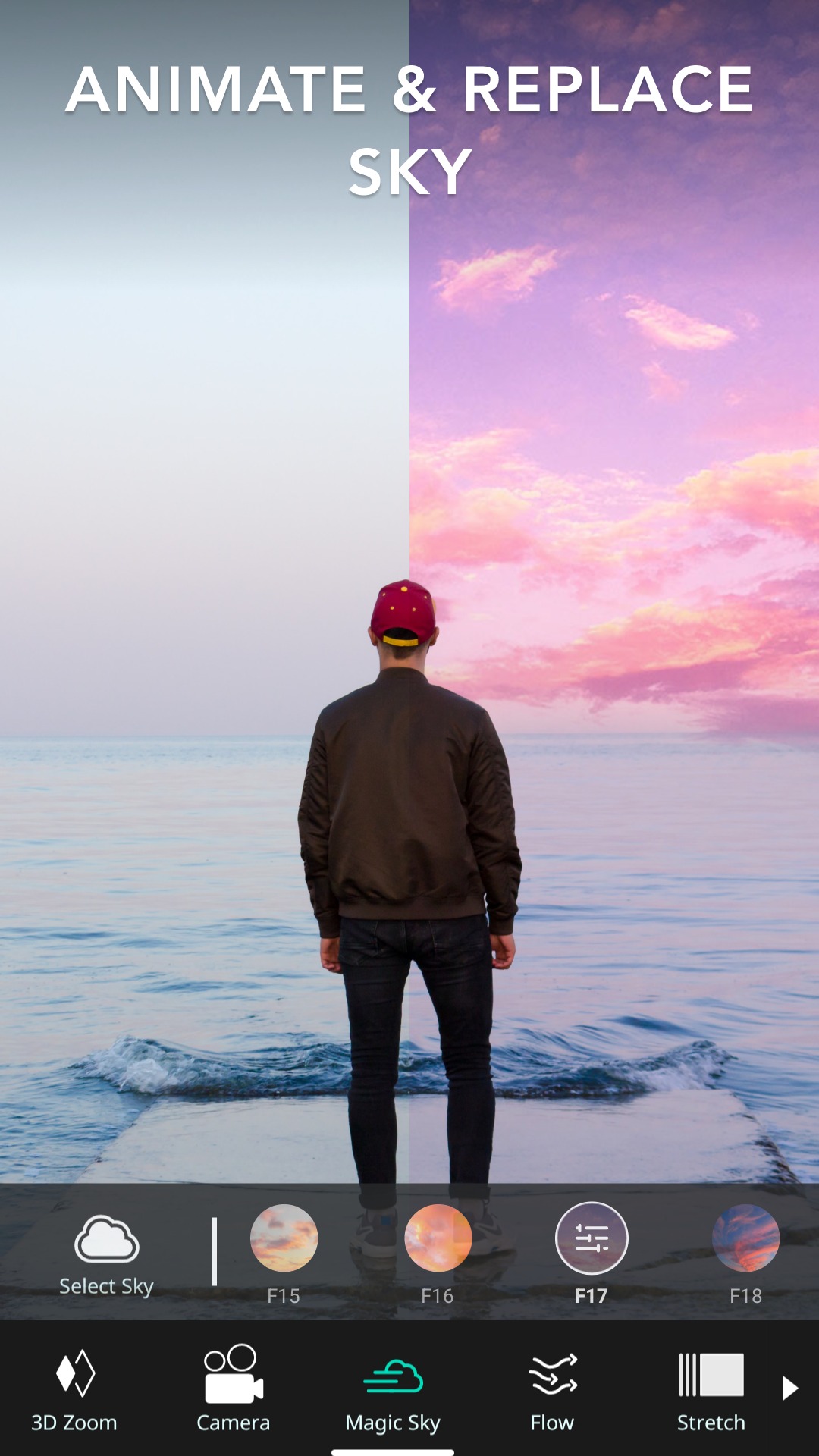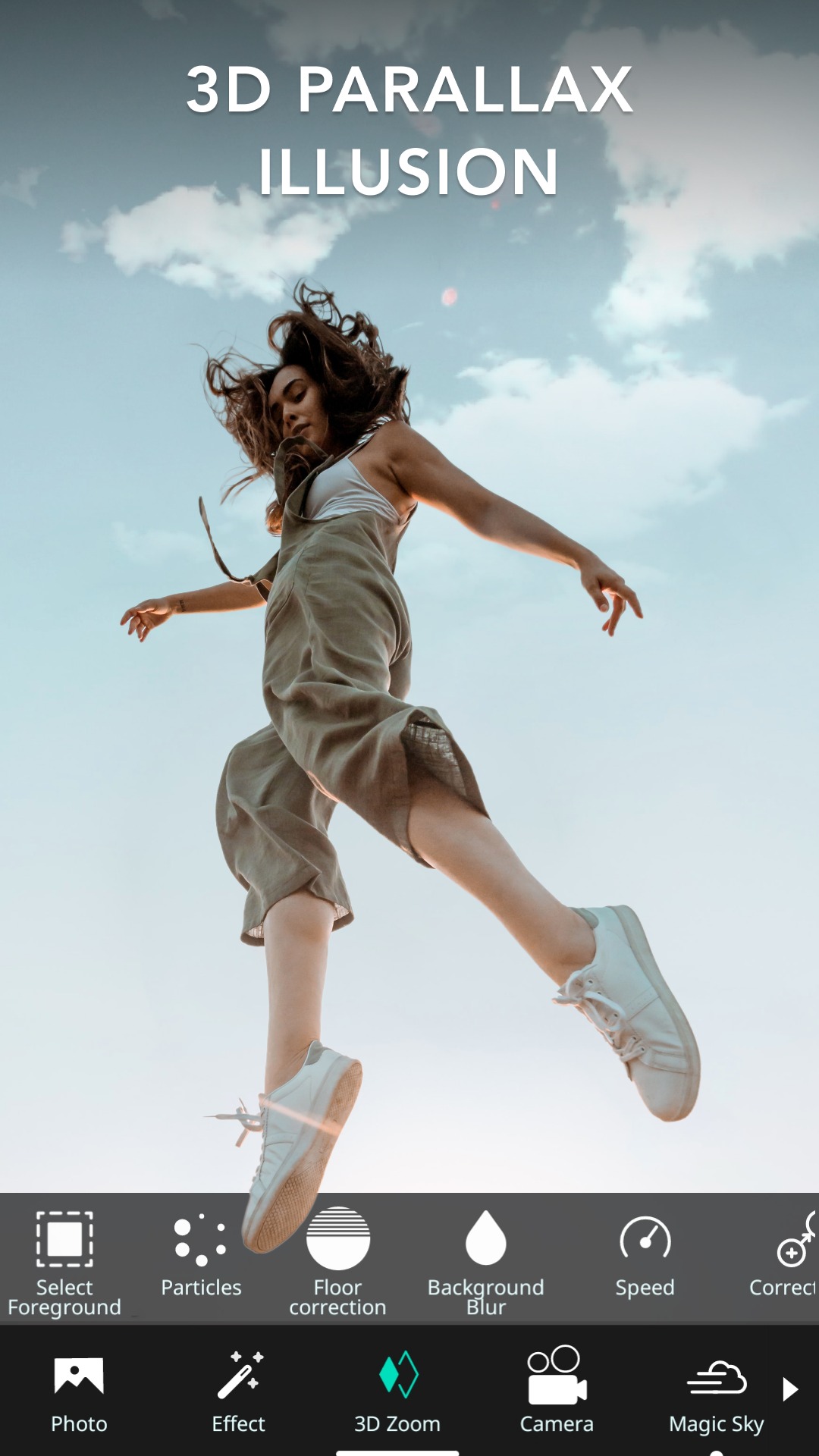 After editing, you can export and save your work from the program. Thus, you can edit them again later, or send them to your friends, publish them on social networks, and so on.


You may also like: 8 Best Body Slimming Photo Apps (Android & iOS)
Live Photos: Animation Maker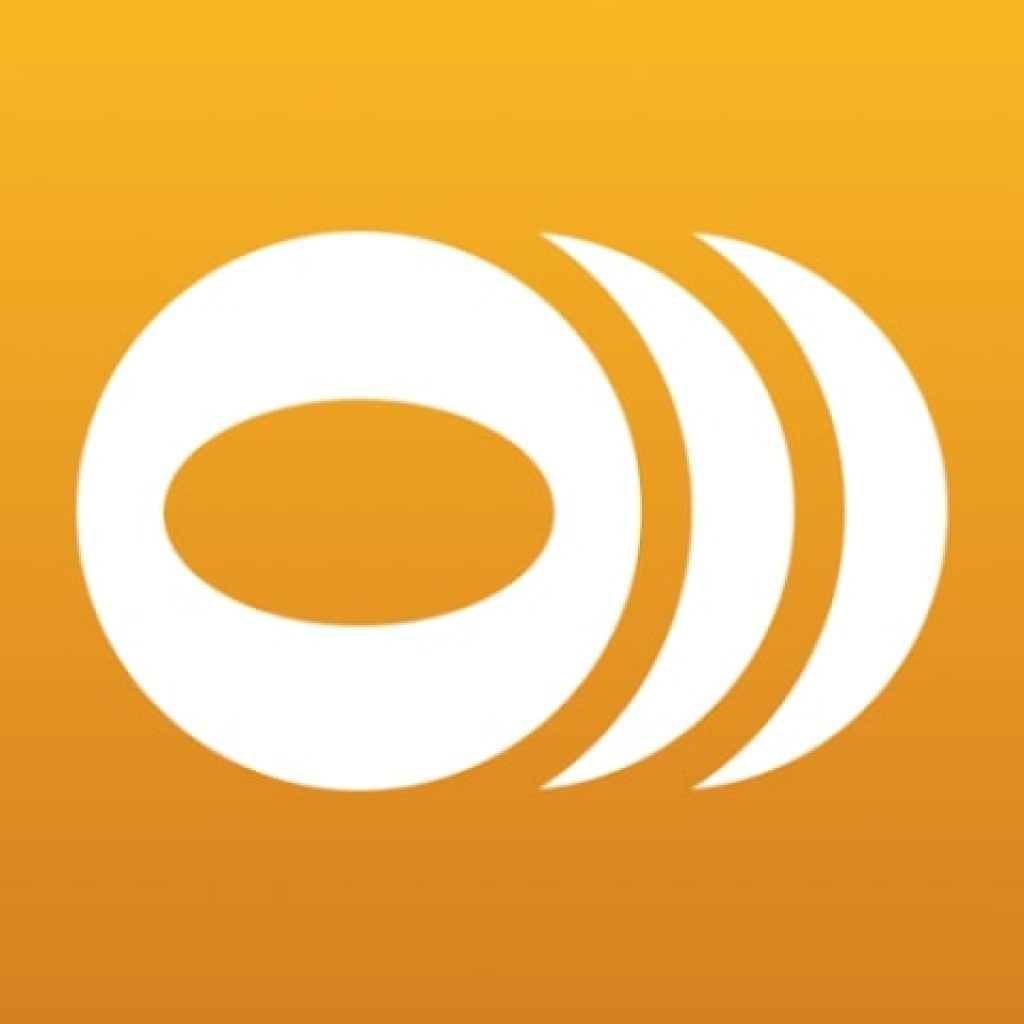 With this modern service, you can create videos and clips, using animated instruments. For your photos and pictures, you can try different programs and effects.
Create short videos for free in the form of gifs and short videos for publication in social networks and other online venues. For this purpose, an extensive range of different 3D functions is available in the program.
Create animations using ready-made templates and layouts of gifs, images, stickers, and emojis. For animation, you can use blanks from the gallery or other sources. For this purpose, you will have both photo and video materials available.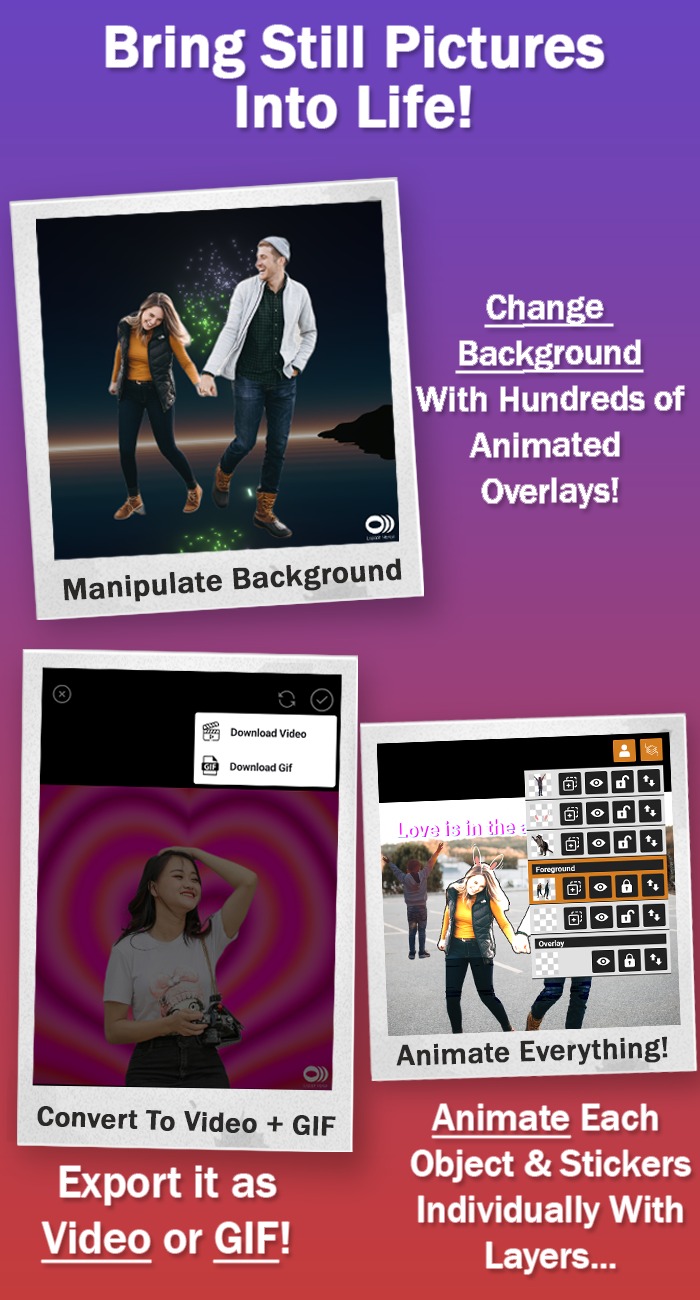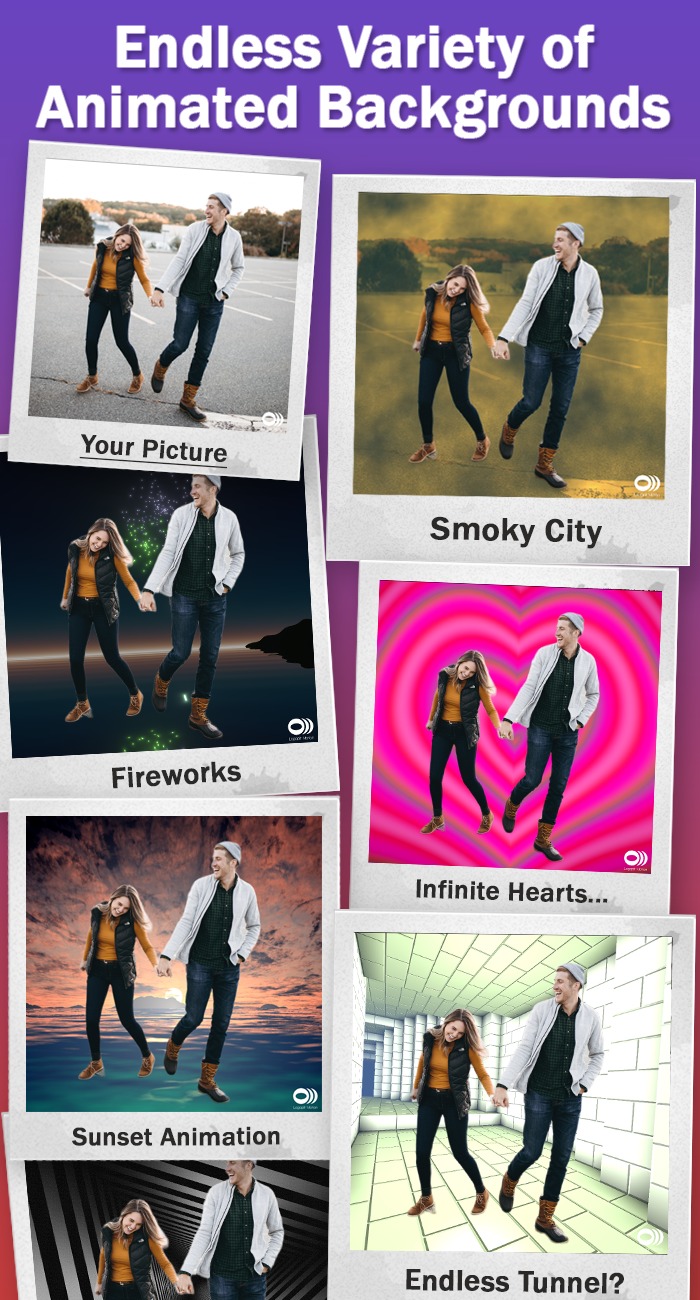 You can also add extra accompaniment with audio files, choosing them from the app or your own archive. The largest duration of the animation is 15 seconds. To make your work even more unique, you can use text by changing its font, size, and other indicators.

The desire to make your social networks more interesting is justified. Your popularity directly depends on how much people like the content. Even if you're not chasing popularity, you can easily experiment with your photos.
For example, you can add the effect of snowfall or garland lights to winter photos. Now you know which apps you can use to create animations directly from the ready-made shots. Don't be afraid to create something new!