Getting to know a new person can sometimes be challenging. Especially if he or she is sympathetic. Sometimes we don't know how to start a conversation, even if it's in an online format. Cliched "hello" and "what's up" have long been outdated and will definitely not attract attention.
There are many unusual ways to make introductions. One of them is extraordinary phrases that will remain in the memory of the interlocutor for a long time.
To save you from a tedious search, we have reviewed these apps to choose the best pick up lines. Try these best love poems apps for Android & iOS to wow the person even more and make him or her your new lover.
Pick Up Lines
The Pick Up Lines app includes a collection of quite interesting options for starting a romantic conversation.
It attracts from the first use – the interface is made in pleasant colors, and all the information is conveniently structured.
There are a total of 7 categories, among which you will find flirty, funny, cute, and others. You can also suggest your own option and the developers will definitely consider it. If they like your suggestion, you will see your pick-up line in the list of available ones.
All phrases can be copied for use in other apps. If you sign in with a cloud service, you can access all your saved phrases on any device.
One of the things that makes this app awesome is the ability to check the rating of a particular line. Each phrase has a mark in the form of the likes it has received from other users of the app.
This way, you'll know which option is attractive. You will also see the top 20 best phrases, which are presented in the service.
In the Secret section, you will find options for special occasions. If you still have any questions about this, you will find the answers in the Pickup Coach section. This free app works smoothly and without any limitations.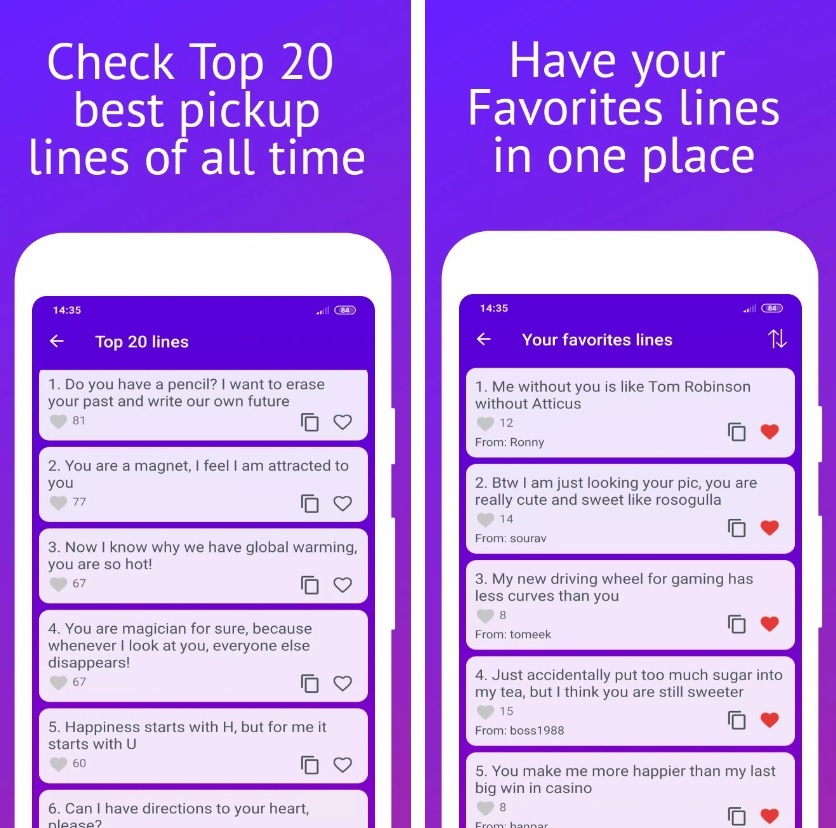 You may also like: 10 Best Truth Or Dare Apps For Couples And Parties (Android & iOS)
Pick up lines
This app will be useful for anyone who wants to be the center of attention of the opposite sex. The right phrase is the key to the success of further communication.
All the phrases collected here are suitable for use in any place. You can try them in a message, on the street, at the party, or in any other place.
Thanks to this service, you'll always be ready for any circumstance. There are funny and romantic options that will catch anyone's attention.
They will help you save a lot of time thinking about how to start a conversation in an outstanding way.
You'll have access to more than 3,000 pickup lines, each with its own uniqueness. They are all conveniently divided into 16 categories, making them easy to find. Each phrase can be copied for use in communication services.
Add the best ones to your Favorites section. Share a phrase you like with your friends using a special tool. This free app works offline so you can use it even in emergency situations.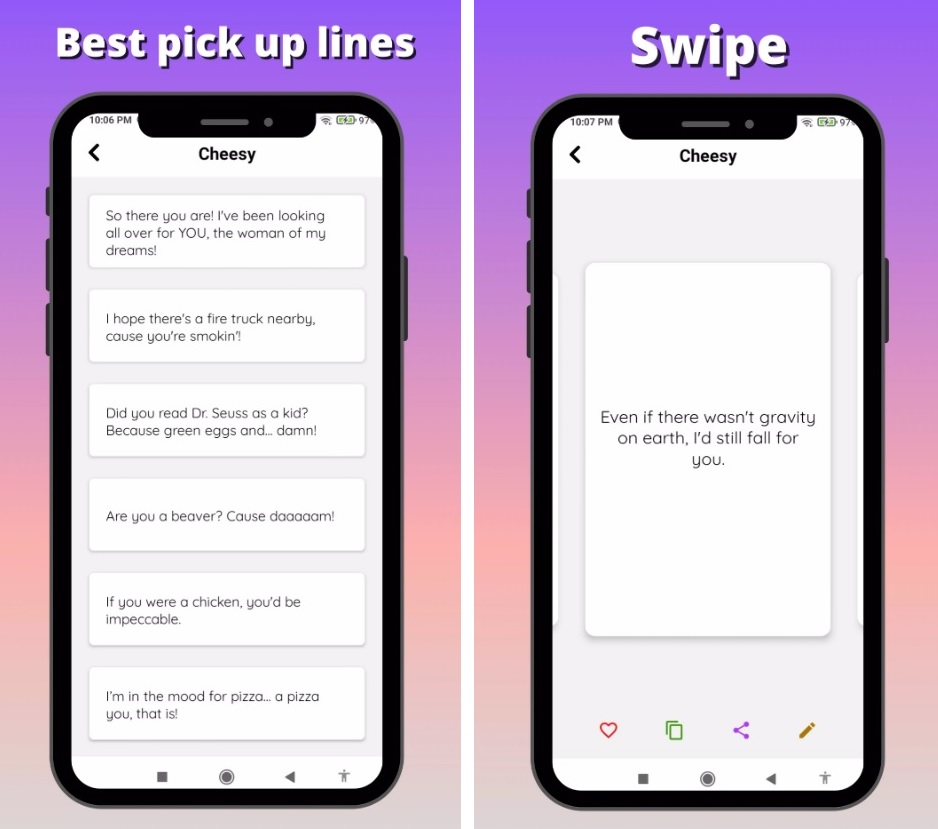 Best Pickup Lines
If you don't know what to say when you first meet someone, this app will be a great help. It will choose the right phrase for you, which will cheer up the person you like and definitely attract attention.
You'll always have this service at your fingertips, so you'll be able to find a way out whenever you need it.
The whole process will only take you a few seconds, bypassing unnecessary internet search services.
The collection of ready-made phrases here is really massive. Moreover, the authors are constantly adding new options so that your ways of dating are always varied.
There are funny, romantic, sweet, flattering, and other amazing lines. All of these are sure to help you get what you've been seeking.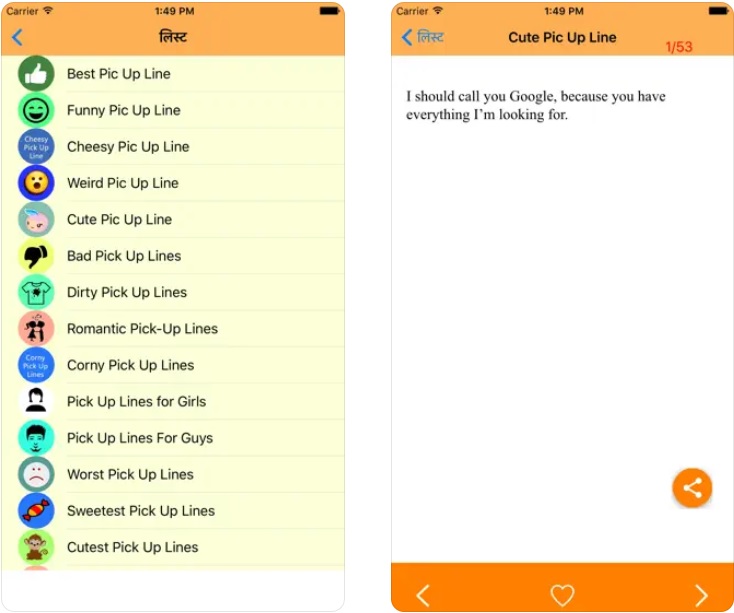 Pickup Lines Flirt Messages
This app has a diverse library of phrases, which has completely different unusual categories.
For example, funny, Halloween, computer geek, Christian, and others that are not available in other services.
The phrases you like can be highlighted and added to your favorites. You can copy any phrase you prefer for use with other services.
All of them are suitable for communication with both men and women.
This free app has a nice design and a clear interface. Even a beginner will be able to quickly understand all the tools.

Flirty Pickup Lines
This service will help you earn anyone's attention with a few catching words.
You only need to perform some fast actions to get the perfect result. In the "Best" section you will find those options that have already been thoroughly tested among a huge number of users.
They will help you to show wit, cheer up the interlocutor, and cause romantic feelings to you. All of this will eventually lead to a date.
New phrases will appear here every day, ready to use. You can share them right from the app. Among the services available here are Whatsapp, Tinder, Instagram, and others.
This app is available to all users completely free of charge. It also has a nice design with fun style icons.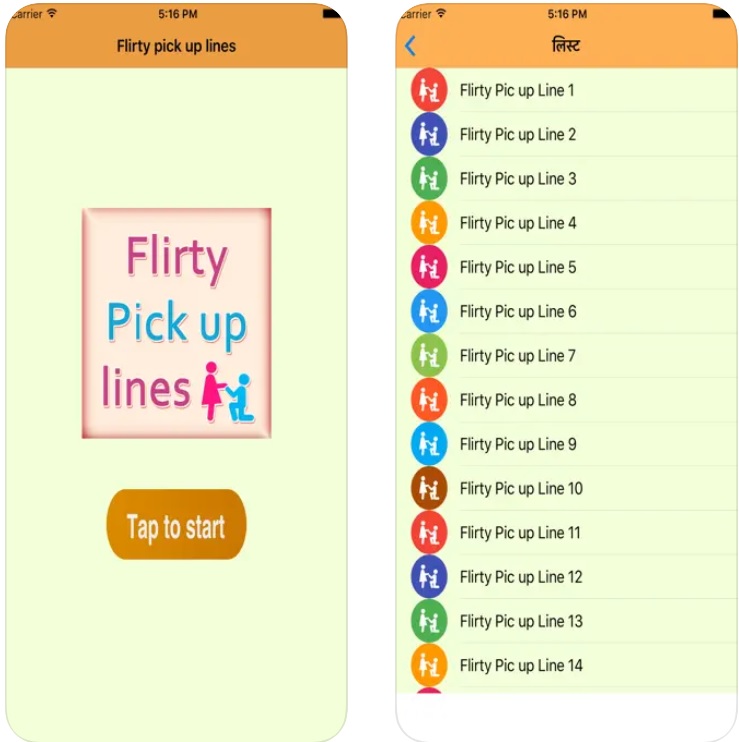 You may also like: 7 Best Love Percentage Apps for Android & iOS
Pick up lines
This app has useful tools in its suite. It will help you in chatting with the person you want to ask out.
In addition to a large collection of pick-up phrases, the app will also give you some tips on how best to build a dialogue.
Like in similar services, here you will be able to add the lines you adore to the Favorites section. That way, you won't have to waste time looking for it later on.
To use a quote, copy and paste it into the input field of the message in the app where the communication takes place.
When you select a cue, swipe to the right to see the next option. Swipe to the left to go back to previous phrases.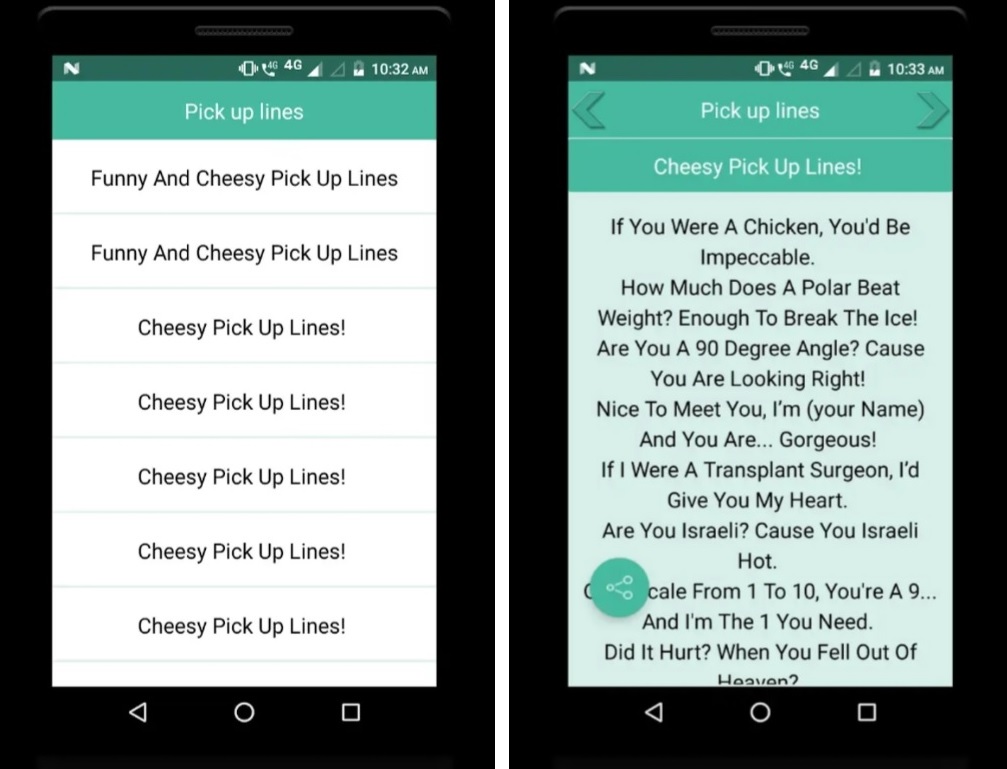 Best Pickup Lines
This app is last but not least cause it will be a great friend and helper when it comes to picking up a person of the opposite sex.
There are different lines here, funny and romantic, each one really works.
To use them, you can manually copy and paste them into a message field in another service.
You can also use special tools. They will allow you to share the phrases on social networks and messengers. For example, Instagram, Whatsapp, Line, and other social networks or by email.
This app is completely free. It has cute graphics and a user-friendly interface. You can share pick-up lines on Instagram, Whatsapp, Line, and other social networks or by email.

Pickup Lines – Flirty Messages
Pickup Lines – Flirty Messages -are the solution to many of your problems if you don't know how to flirt or communicate properly. It is a free mobile application that offers its users a wide range of pickup lines.
It provides many pickup lines in different categories such as funny, romantic, cheesy and naughty. You can swipe left or right to view different pickup lines, and you can also save your favorite lines for future reference.
Teach you how to communicate with the opposite sex
Takes all your embarrassment out of you
Teach funny flirting
There are technical flaws
The positive features of this application include the fact that there is a "Shake" feature that allows you to shake your device and get a randomly generated capture line. It also provides users with the ability to share pickup lines with their friends through various social media platforms.
While the app is generally well received, some users have reported issues with the app's functionality and interface. Some users note that the app freezes or crashes from time to time, while others note that the ads displayed in the app can be intrusive.
Despite these shortcomings, the Best Pickup Lines app offers an interesting and easy-to-use platform for those looking for pickup lines for a variety of situations.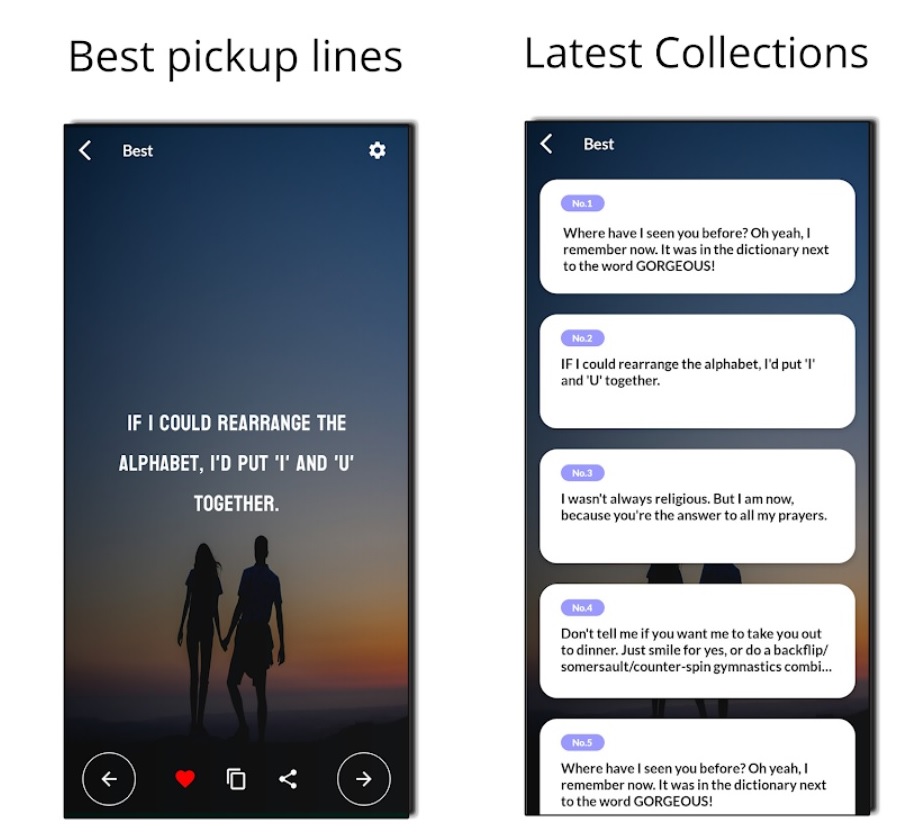 You may also like: 11 Best love horoscope apps for Android & iOS
Pickup Lines – Flirt and Love
Pickup Lines – Flirt and Love is a mobile app that brings you a collection of witty, funny and romantic pickup lines that you can use to break the ice with a potential love interest.
It has a simple and user-friendly interface due to the fact that its menu is extremely simple, and the navigation is intuitive, and the pickup lines are sorted into different categories, such as funny, wacky, romantic and others.
Gives you a lot of choice
You can overcome your insecurities
Easy to use
There are technical flaws
Perhaps not all tackles are as brilliant as they seem at first glance
You can easily browse through the categories and choose the lineup that best suits their personality and the situation they're in.
One of the advantages of this app is that it gives you a wide choice of communication lines, which can be useful for people who find it difficult to strike up a conversation with strangers. Plus, the app lets you save your favorite pickup lines, making it easier to access them in the future.
The app has some drawbacks. For example, some users have complained that the pickup lines provided in the app are not very efficient and they have not had much success using them.
In addition, some users note that the application contains ads, which can be annoying and interfere with the work.
"Pickup Lines – Flirt and Love" can be a fun and entertaining tool for those who want to break the ice and start a conversation with a potential love interest.
While this may not be a reliable solution, it can give users the option to choose from a variety of dispensation lines and help them become more confident in their approach.